Stunning new Adult Only Simpson Hotel
Waterfront location
5 en-suite rooms
Access to the sea 1-minute walk
Tavernas/shops/cafés 4-minute walk
Paxos is one of our guests' favourite destinations, making it the natural choice for a new Simpson Hotel. We are delighted to have found Waterside House, a charming seafront property in the harbour village of Lakka to complement Purple Apricot, our first Paxos hotel which opened in 2013.
In a place where views are routinely sublime and the sea is never far away, stunning Waterside House still manages to impress, with its prime location overlooking the quieter end of Lakka harbour. The property was updated to its current, 5-suite magnificence by its English owner, providing generously-sized accommodation for couples just 3-4 minutes' stroll from Lakka's tavernas, cafés and shops. For May, June, September and October, when Paxos is at its most appealing, Waterside House will be run as an adult only hotel, an exclusive younger sister to our enormously popular Purple Apricot.
The five guest suites are located in two separate villas, with a spacious living area in each and a private terrace or verandah for each individual suite. The view feels almost hypnotic, as boats of all sizes navigate the horse-shoe shaped protection of Lakka bay. The suites are bright and airy in tasteful island style, blending exposed stonework, reclaimed timber and cool tiled floors to create comfortable spaces to relax. The living areas add a real home-from-home dimension, with an honesty bar for pre-dinner drinks, while outside there's a small massage room for treatments which can be booked locally. Best of all, Waterside House has direct access to the sea below the house.
The hotel is run by the wonderful Dora, an English-speaking Paxiot lady who will serve breakfast and in the best tradition of true Greek hospitality, she will also ensure the informal, friendly atmosphere that is the hallmark of all Simpson Hotels.
Layout
5 double/twin suites (sleeps 2)
Lower villa
At pool level and reached by 10 steps from the driveway
Shared open-plan living room with honesty bar in kitchen 
Neptune

– 

ground floor double bedroom (160cm x 200cm bed, can be configured into twin beds on request) with en-suite wet room, doors to a private terrace
Poseidon

– 

lower ground floor double bedroom (200cm x 200cm bed) with en-suite bathroom with shower, doors to a private terrace
Upper villa
Reached by 34 steps from the pool level

Shared open-plan living room with h

onesty bar in kitchen 

Galatea

– 

ground floor double bedroom (160cm x 200cm bed) with en-suite shower room, doors to a private terrace
Capheira

– 

first floor double bedroom (160cm x 200cm bed) with en-suite shower room and private balcony
Aphrodite

– 

first floor twin bedroom (90cm x 200cm beds, can be configured into a double on request) with en-suite shower room and private balcony
General
Adult Only 

(18 years or older)

Concierge service
Complimentary WiFi
Breakfast included daily and served by swimming pool
Please note the Jacuzzi in gallery image 3 is not in use
All bedrooms are air-conditioned with Bluetooth speaker, safe, tea and coffee making facilities, mini-fridge, iron, ironing board, hairdryer
Complimentary Korres bathroom products, bath robes and slippers
Simpson Travel pool towels
Laundry service available (payable locally)
Cleaning three times per week with a light daily clean
Linen changed twice weekly (changeover and then once during the week)
Pool towels will be changed on request
Small massage room (treatments booked and paid for locally)
Sea kayak available for guest use
Shared swimming pool 8m x 5m (depth 0.8m – 1.7m) reached by 9 steps from the drive
Weekly barbecue or Greek themed evening (booked and paid for locally – minimum 6 guests)
Due to the number of steps up to the pool and the steep driveway, Waterside House is unsuitable for guests with reduced mobility
The village gates are locked between 7pm-7am when vehicle access to the hotel is not possible
Taxis and the local bus can be taken from the main car parking area for the hotel (4min walk)
WiFi
All properties with WiFi are able to support basic functionality such as web browsing and checking emails*
* We aim to offer an uninterrupted service but sometimes due to factors beyond our control reliability can be affected.
National tourist licence (EOT): 0829K91000568601
Located just above Lakka harbour
Access to the sea 1min walk
Tavernas, shops and cafés 3-4min walk
Harami beach with taverna (high season) 12min walk
Gaios 20min drive
Loggos 10min drive
Transfer Corfu airport to Paxos by hydrofoil, sea taxi or ferry (depending on the mode of transport and the departure port, the journey will take between 1hr 10min to 2hr 15min)
Shared minibus transfer from Paxos port
Not included as all amenities are within walking distance
Hire cars can be booked and paid for locally (subject to availability)
Limited parking at the hotel so cars may need to be parked in the local car park (4min walk)
Customer feedback
We have some fantastic memories of Waterside House. Not least, the wonderful warmth and hospitality provided by the lovely Dora and her small team of Spiros and Maria. We will miss Dora's delicious home-cooking at breakfast and the mountain tea! Her Greek supper enjoyed with fellow guests was one of the highlights of our stay. We also very much valued the calm, professional and extremely helpful concierge service we received from Andonis. Waterside House is gloriously idyllic – a beautiful place to relax and unwind and one to which we hope to return. A perfect experience from start to finish. Thank you to all the Simpson Travel team!
Caronne & Jeremy – September 2019
A week in fabulous Waterside House, now I feel refreshed and restored! Dora has been a great hostess, breakfasts a joy and the Greek supper a very happy evening.  Thank you to ALL the staff for making my stay such a delight.
Anita – June 2019
The travel arrangements were faultless and all Simpson representatives excelled at their jobs. We thoroughly enjoyed our twin-centre holiday in Paxos and Corfu and returned home feeling rested and rejuvenated.
Graham Langridge – Galatea – June 2019
Thank you for what was a truly wonderful honeymoon experience. We're so glad we booked our holiday with you. Having spent the first week at Bella Vraka Suites, we then stayed in The Poseidon Suite at Waterside House – we can only say this was our dream! We feel it is without a doubt the best room in the house for several reasons. It's so spacious and the stone walls make for much cooler atmosphere in the heat of the day, the bathroom is fabulous with the most amazing sea view from the window and it's beautifully equipped. The terrace is extensive and enjoys plenty of shade, whilst also retaining a view that we will forever remember. Waterside House honestly felt like something special. A quiet, understated spot overlooking the beautiful bay of Lakka. It's like experiencing luxury in a very unassuming way. With such few rooms it was the perfect quiet place to relax, unwind and soak in this wonderful Greek Island. The service and facilities were also exceptional. We especially enjoyed free use of the kayaks, which we took out daily to meander around the bay. We can truly say that this was a top notch holiday that we will remember forever. Thank you very much for your attention to detail and dedication to ensuring our honeymoon was the best ever holiday!
Louise & Jerem – Poseidon– May 2019
Another wonderful stay. Although the weather has been changeable, it has not taken away from the beauty of his lovely hotel and surrounding hills and valleys. We have explored fully with wonderful walks – with some minor detours along the way! Once again all of the staff – Spiros, Maria, Andonis and 'our star' Dora, have made this a special and memorable stay. We will be back.
Rod & Jan – Galatea – May 2019
This is the end of a perfect 2-week stay. We have walked miles with our friends following off-road tracks and seeing the olive groves, spring flowers, old buildings and amazing views. Many thanks to Dora, Maria, Spiros and Andonis for making us so welcome. See you all next year.
Shirley & Geoff – Capheira – May 2019
Wonderful place – can't believe the colour of the water – amazing! We have followed many tiny paths and explored all over discovering secret coves. We will get home really fit despite all the food! Dora is a star, as are all the other staff. We will be back.
Jane & Bob – May 2019
Thank you for another lovely holiday in beautiful Paxos and a big thank you to the staff who made our stay so enjoyable.
Russell & Heather – May 2019
Had a brilliant holiday. Loved Lakka and Waterside House and the staff. Thank you Dora for all your kindness and hard work – we will be back.
Colin & Maureen – Neptune – May 2019
Just to say thank you for a fantastic holiday. The best view we have ever had from a hotel terrace! Dora was a great hostess – catering to our every need. Really appreciated her getting me mint tea bags for my morning cuppa. Have made some lovely friends – a very relaxing and enjoyable holiday. All the Simpson staff have been great. We hope to come back in the future!
Jane & Neil – Poseidon– May 2019
Waterside House really is a unique place to rest, recharge your batteries and simply enjoy being in a wonderful location. Everyone, Andonis the Simpson Travel representative, Sharon the gardener and Tony the owner combined to make this another memorable Simpson Travel holiday. We have already booked for next year! I particularly enjoyed chatting to Dora and Tony over a cup of mountain tea following my very early morning jog. Dora is a completely delightful person who takes great pride in her role. Her aim is to ensure that every guest enjoys the best possible stay and she manages to do just that! Her special evening with all the other guests was a real highlight of the week.
Sharon & Simon Harcourt – Neptune – September 2018
Simply wonderful! Waterside House is excellent in all aspects, and in particular the incredible staff – Dora the manager, Maria who cleaned our room, and Andonis, the Simpson Travel representative. It's so good that guests were rebooking for next year before finishing this year's holiday. Awesome all round.
Steve Hope – Capheira – September 2018
Staying for a week at Waterside House was a magical experience. We were totally looked after by Dora, who was delightful and could not have been more welcoming and helpful – and she cooked the most delicious breakfasts. My sister and I stayed at Waterside for total relaxation and to get away from it all, and we were not disappointed by our experience. Our week in Lakka and Paxos was quiet, friendly and totally unspoilt. If you are looking at getting away from it all, I would certainly recommend Waterside House.
Pippa Mills – Aphrodite – May 2018
A fantastic location and a fabulous property which could not be faulted. We shall definitely be returning.
Mrs Sandra Potter – Aphrodite – May 2018
This was our third Simpson Travel holiday, but our first visit to Paxos and what a lovely island it is. We stayed at Waterside House which is a new feather in the cap for Simpson Travel. As always the whole holiday from landing to take-off was made as relaxing as possible by the Simpson staff who handled us with kind, friendly and hugely efficient kid gloves. The accommodation is of the highest standard imaginable, the location and view perfect. For the standard and type of holiday that Simpson provides, I cannot conceive of anyone else doing a better job or even coming close.
Mr & Mrs Johnson – Neptune – May 2018
Our choice of Greek properties is as diverse as the islands themselves, ranging from simple seaside charm to genuine luxury and style. Much of our portfolio is privately owned, and price alone is therefore not a universal guide. We contract all our accommodation in person, and each property has its individual appeal. To help you make the right choice based on your own priorities, we have devised a simple grading guide to be considered in conjunction with each individual property description, awarding up to a maximum of five stars for the below categories.
* For further clarification on Facilities and Amenities, please view the 'Details' tab for each property or speak to one of our experienced sales consultants.
There are few better ways of relaxing than on a luxury holiday in Paxos, where days fill up beautifully with sunbathing, swimming, snorkelling and dining in style, the sea just metres from your table. Amble through ancient olive groves and you'll catch glimpses of startlingly turquoise bays, the dramatic west-coast cliffs or the Epiros Mountains. In spring, there's also a haze of purple honesty, wild irises and lilies and a sky that's alive with birdlife, from hawks to skylarks.
Complete the picture with a stay in one of our handpicked luxury villas, apartments or our unique Adult Only Simpson Hotels and make the most of this peaceful island.
Aphrodite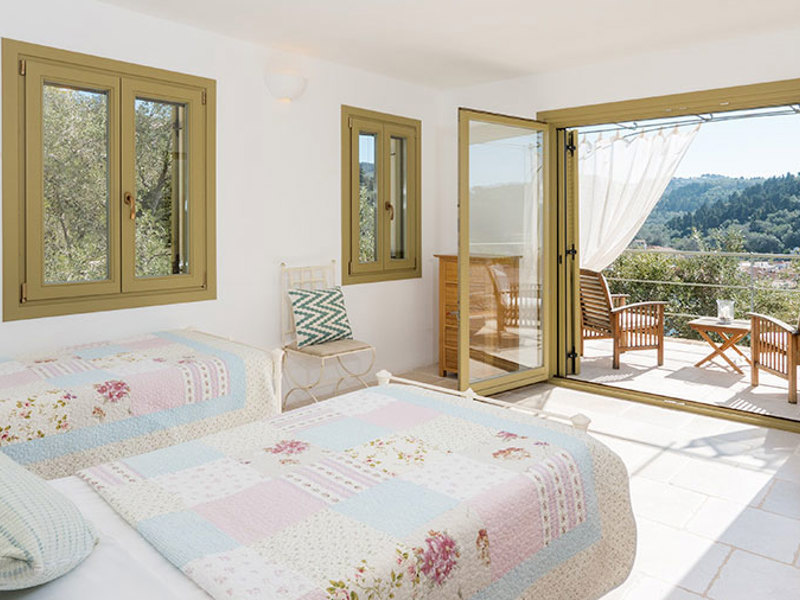 Full details
Aphrodite
Upper villa
First floor twin bedroom (90cm x 200cm beds, can be configured into a double on request)
En-suite shower room
Private balcony
---
Capheira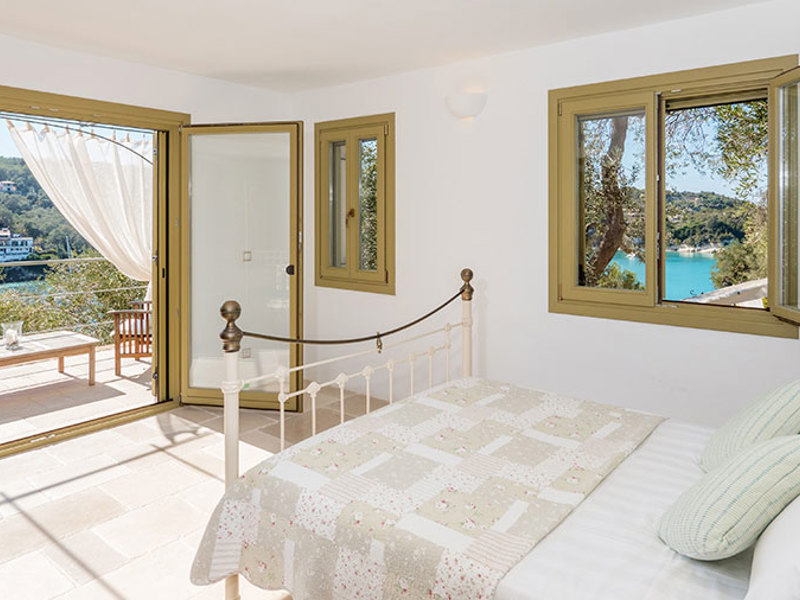 Full details
Capheira
Upper villa
First floor double bedroom (150cm x 200cm bed)
En-suite shower room
Private balcony
---
Galatea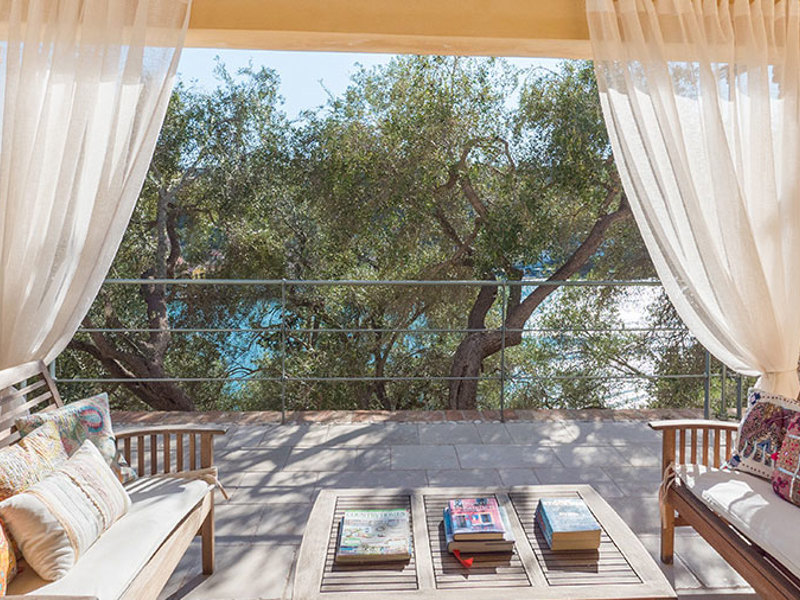 Full details
Galatea
Upper villa
Ground floor double bedroom (150cm x 200cm bed)
En-suite shower room
Doors to a private terrace
---
Neptune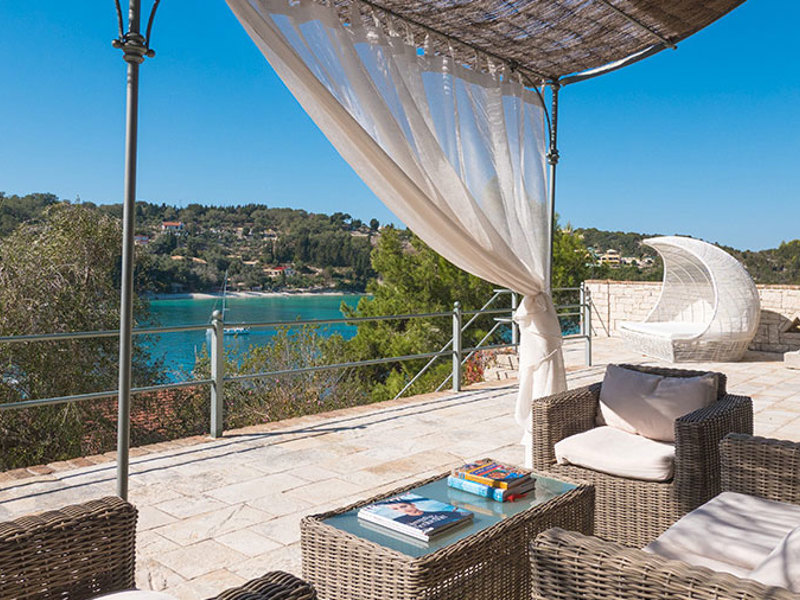 Full details
Neptune
Lower villa
Ground floor double bedroom (180cm x 200cm bed, can be configured into twin beds on request)
En-suite wet room
Doors to a private terrace
---
Poseidon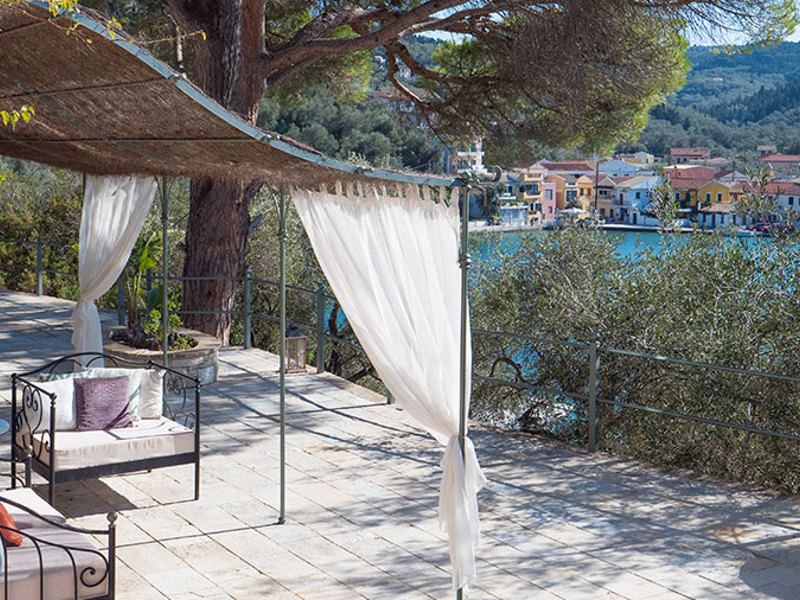 Full details
Poseidon
Lower villa
Lower ground floor double bedroom (190cm x 200cm bed)
En-suite bathroom with shower
Doors to a private terrace
---
View holiday Booking Conditions
Simpson Travel in the press