Delightful new Simpson Hotel
6 suites – Adult Only
Light, bright and welcoming
Glorious harbour views
Gaios tavernas and shops 5-minute walk
With its emerald sea, moon-white beaches and enchanting harbour villages, there's nowhere quite like Paxos to soothe your mind and open your eyes to the natural beauty of the world. Life here is disarmingly simple, and all that's really needed to appreciate it is your own comfortable spot and a glorious view, both of which charming Bay View delivers from its gentle hillside position above Gaios.
Set in one and a half acres and spread out over three individual buildings, we are delighted to introduce our latest Simpson Hotel on the island. Bay View's six suites are light, bright and welcoming and the simple style allows the views to take centre stage, using occasional flashes of colour to create a restful atmosphere. Each suite has its own large balcony or terrace with fine views of Gaios and the Ionian Sea. You'll find everything you need to hand, including a kitchenette and a small fridge so you can have your morning tea or evening G&T just the way you like them.
The hotel is the domain of Villy, a long-term Paxos resident with a passion for her island and very happy to share her local knowledge. It's blissfully easy to lapse into the laid-back rhythm of island life; linger over breakfast served on the beautiful dining terrace, then laze by the new pool or spend the day discovering Paxos' tiny hidden coves and perfect picnic spots in a small hired motor boat. Then, as the sun dips low over the horizon, it's just a five-minute walk into Gaios for drinks and dinner. Slow and sleepy in May and October, Gaios opens its arms to visiting yachting flotilla in the main summer months, creating a livelier atmosphere. However, if you prefer a more intimate setting, simply pour yourself a drink and retreat to your terrace to enjoy the herby fragrance of a Mediterranean evening beneath a canopy of southern stars.
Layout
Six 1-bedroom suites (sleeps 2)
Accommodation
Complimentary WiFi
70 steps throughout the property between entrance, breakfast area and pool
All suites accessed by steps (not suitable for guests with walking difficulties)
Air conditioned
Safe and TV (English-speaking news channel)
Bluetooth speaker
Complimentary Korres bathroom products
Bathrobes and slippers
Iron, ironing board, hairdryer
Simpson Travel pool towels
General
Adult only (18 years or older)
Shared swimming pool 8m x 3.5m (depth 1.1m – 1.6m) – to be completed for 2019
Daily breakfast on dining terrace – terrace to be completed for 2019
Tea and coffee available
Honesty bar with water, wine and beer
Local concierge service available in the mornings and one hour in the evenings
Maid service 3 times/week with linen change or light clean on other days
Laundry service available on request (payable locally)
Uneven footpath leads down from the pool area into Gaios
Small outboard motor boats can be hired from Gaios
Shopping can be bought in Gaios and delivered
Takeaways can be ordered and delivered
WiFi
All properties with WiFi are able to support basic functionality such as web browsing and checking emails*
* We aim to offer an uninterrupted service but sometimes due to factors beyond our control reliability can be affected.
National tourist licence (EOT): 38383
Tavernas/bars/mini-markets (Gaios) 5min walk
Nearest pebble beach 15min walk along Gaios harbourfront
Transfer Corfu airport to Paxos by hydrofoil, sea taxi or ferry (depending on the mode of transport and the departure port, the journey will take between 1hr 10min to 2hr 15min)
Shared transfers to and from Gaios port
Customer feedback
What a perfect location for our second stay in Paxos – but our first Simpson holiday experience. It has been first class thanks to Villy and her lovely and efficient staff. Nothing was too much trouble. We also had the honour of meeting Graham Simpson himself – a charming and personable gentleman. We would love to return and/or visit some other Simpson destinations.
Kate & Roger – June 2019
What a pleasure to enjoy the attractions of Bay View – so perfect in every way. Thanks to Villy and her team for their friendly assistance in making our week in Paxos so special.
Anne & John – June 2019
Bay View in Gaios was a delightful experience. Its location is near the town but totally private and peaceful with a glorious outlook. Villy is a happy local perfectionist and her staff are very friendly and efficient and nothing is too much trouble. They go the extra mile to make your stay memorable. We found the whole Simpson holiday experience first class and will definitely use the company again.
Mrs Kathryn Isherwood – May 2019
We had a wonderful two weeks at Bay View – Villy was an exceptional host – friendly, welcoming and attentive, absolutely nothing was too much trouble, so helpful and informative for trips and eating out. Nika and Mirella worked so hard to keep our apartment spotless and provided wonderful breakfasts, always with huge smiles. Nika's omelettes were to die for! Fabulous location with incredible views and great for local walks and plentiful tavernas and shops on tap in Gaios. Fantastic holiday – we will be back.
Lesley & Jonathan – May 2019
This was our first Simpson experience – it was first class. This was our first visit to Paxos and we have fallen in love with it. A truly wonderful stay with Villy at Bay View. We hope to return. Thank you.
Carol & Alan – May 2019
Thank you Simpson Travel for another wonderful relaxing holiday, made special by Villy, for whom nothing is too much trouble, a delightful host. We have been looked after by Nika and Mirella, both so friendly and cheerful. We hope to return and enjoy the Paxos experience again. It was perfect. Thank you.
Steve & Rita Watkins – May 2019
We had a lovely week at Bay View. Location of the suites is fantastic. Villy was an excellent host – looked after us very well and had lots of good ideas on places to visit and restaurants, bars, etc. Nika and Mirella looked after us really well – excellent breakfasts! Excellent holiday – thank you. Hope to be back.
Bob & Jan – May 2019
I've had a wonderful week. Everything was just perfect! I came alone for some thinking time and it was exactly the right thing to do. Villy was always at hand if you needed anything – but you have your own space here and can be as sociable (or unsociable) as you like. The room and its view were incredible and so relaxing. Nika and Mirella are so lovely and smiley and the breakfasts were always wonderful. The island is lovely for walking and swimming, pottering about, reading, thinking whatever you need to do. Thanks so much to Villy and the team.
Sarah – May 2019
Our choice of Greek properties is as diverse as the islands themselves, ranging from simple seaside charm to genuine luxury and style. Much of our portfolio is privately owned, and price alone is therefore not a universal guide. We contract all our accommodation in person, and each property has its individual appeal.
To help you make the right choice based on your own priorities, we have devised a simple grading guide to be considered in conjunction with each individual property description, awarding up to a maximum of five stars for the below categories.
* For further clarification on Facilities and Amenities, please view the 'Details' tab for each property or speak to one of our experienced sales consultants.
There are few better ways of relaxing than on a luxury holiday in Paxos, where days fill up beautifully with sunbathing, swimming, snorkelling and dining in style, the sea just metres from your table. Amble through ancient olive groves and you'll catch glimpses of startlingly turquoise bays, the dramatic west-coast cliffs or the Epiros Mountains. In spring, there's also a haze of purple honesty, wild irises and lilies and a sky that's alive with birdlife, from hawks to skylarks.
Complete the picture with a stay in one of our handpicked luxury villas, apartments or our unique Adult Only Simpson Hotels and make the most of this peaceful island.
Bougainvillea Lower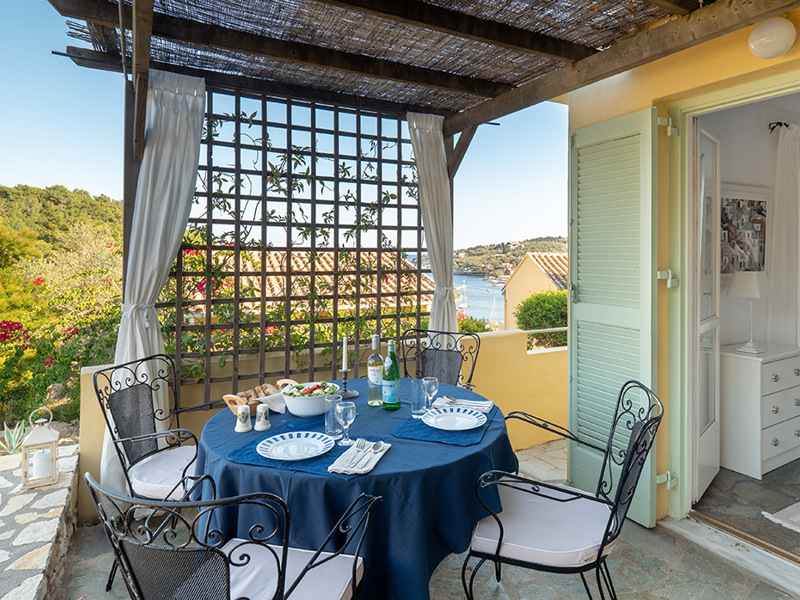 Full details
Bougainvillea Lower
13 steps to entrance
Open-plan living/dining/kitchen area
Small kitchen with mini-oven, 3-ring electric hob, kettle, toaster, coffee percolator, small fridge
Double bed
Shower room
French doors lead to furnished terrace area with seating area
Port and Gaios views
---
Bougainvillea Upper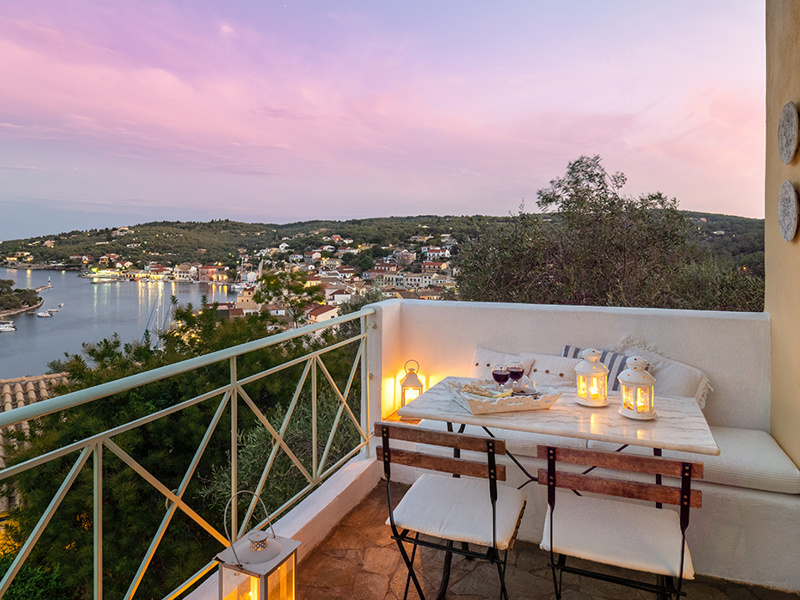 Full details
Bougainvillea Upper
13 steps to entrance
Open-plan living/dining/kitchen area
Small kitchen with mini-oven, 3 electric hobs, kettle, toaster, coffee percolator, small fridge
Twin beds
Shower room
French doors lead to furnished terrace area with seating area
Port and Gaios views
---
Jasmine Lower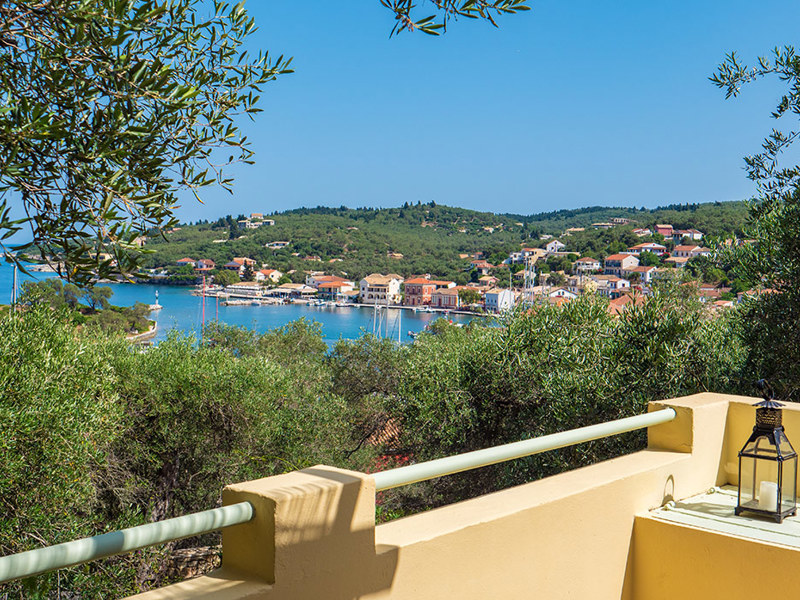 Full details
Jasmine Lower
39 steps down to entrance
Open-plan living/dining/kitchen area
Small kitchen with mini-oven, 3-ring electric hob, kettle, toaster, coffee percolator, small fridge
Double bed
Shower room
French doors lead to furnished terrace area with seating area
Port and Gaios views
---
Jasmine Upper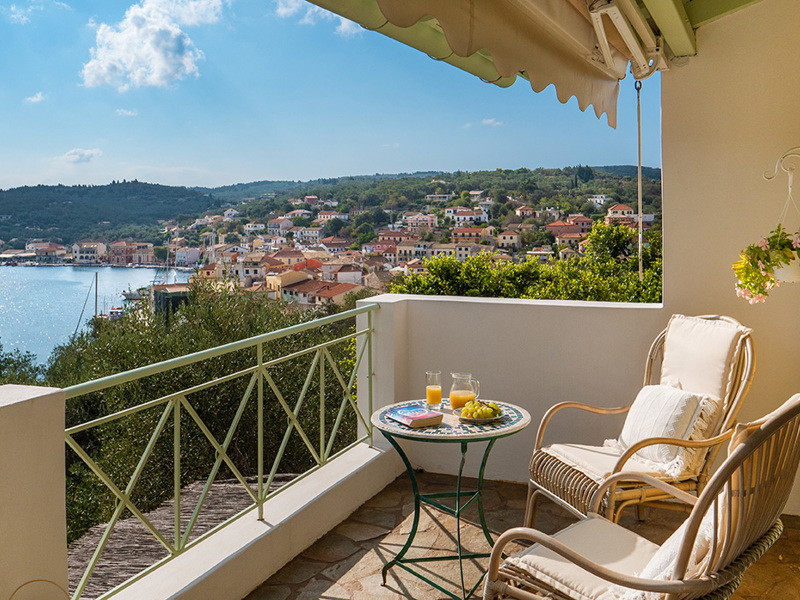 Full details
Jasmine Upper
13 steps up to entrance
Open-plan living room/bedroom
Small concealed kitchenette with 2-ring electric hob, kettle, toaster, cafetière, small fridge
Double bed (can be converted into twin beds on request)
Shower room
French doors lead to covered furnished balcony (2m x 5m) with seating area
Port and sea views
---
Mimosa Lower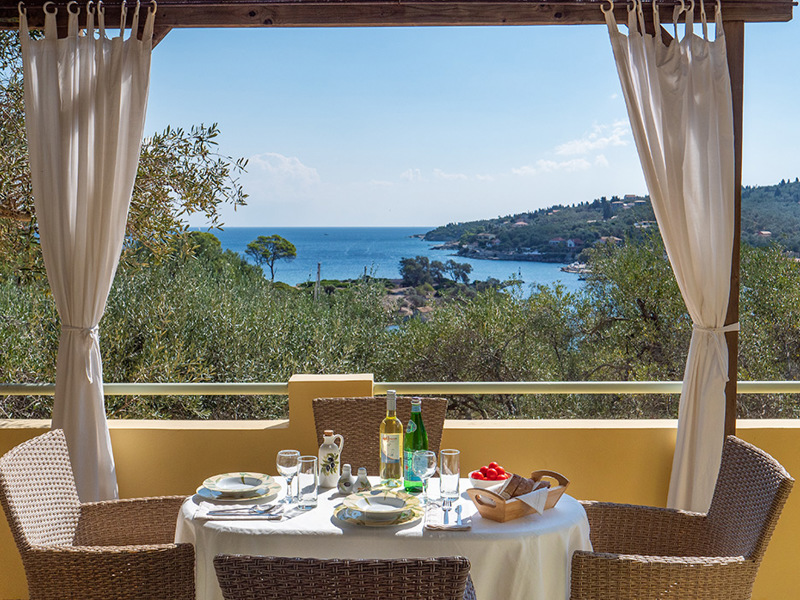 Full details
Mimosa Lower
39 steps down to entrance
Open-plan living/dining/kitchen area
Small kitchen with mini-oven, 3-ring electric hob, kettle, toaster, coffee percolator, small fridge
Double bedroom
Shower room
French doors lead to furnished terrace area with seating area
Port and Gaios views
---
Mimosa Upper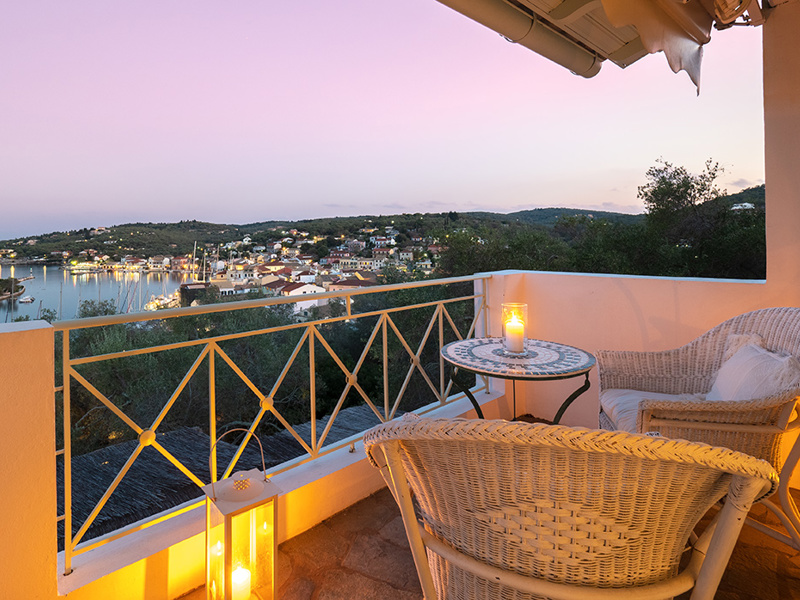 Full details
Mimosa Upper
13 steps up to entrance
Open-plan living room/bedroom
Small concealed kitchenette with 2-ring electric hob, kettle, toaster, cafetière, small fridge
Double bed (can be converted into twin beds on request)
Shower room
French doors lead to covered furnished balcony (2m x 5m) with seating area
Port and sea views
---
View holiday Booking Conditions
Simpson Travel in the press