Explore holidays in Paxos
There are few better ways of relaxing than on a luxury holiday in Paxos, where days fill up beautifully with sunbathing, swimming, snorkelling and dining in style, the sea just metres from your table. Amble through ancient olive groves and you'll catch glimpses of startlingly turquoise bays, the dramatic west-coast cliffs or the Epiros Mountains. In spring, there's also a haze of purple honesty, wild irises and lilies and a sky that's alive with birdlife, from hawks to skylarks.
Complete the picture with a stay in one of our handpicked luxury villas, apartments or our unique Adult Only Simpson Hotels and make the most of this peaceful island.
A selection of our holidays in Paxos
* Prices include seven nights' accommodation, flights and transfers/car hire, based on the lowest rate for maximum occupancy.
Our guide to Paxos
Introduction to Paxos
Small in size, big on tranquility
When Poseidon, the God of the Sea, wished to find a quiet place to live with his lover, Amphitrite, he chipped a corner from the island of Corfu with one mighty blow of his trident. And no more peaceful a corner could he have chosen.
Even by Greek standards, Paxos is laid back. At just 10km long and 3km wide, there isn't space here for the distractions offered by other islands – not once the patchwork of ancient olive groves, secret herders' tracks and dazzling white pebble beaches has been accounted for. Though, somehow, an impressive 60 tavernas not only survive but thrive!
Nothing to do but relax
The concept of itineraries has never quite made it to Paxos. From late breakfast to early nightcap, there's nowhere in particular you need to be – a refreshing selling point that's at the heart of this beautiful island's calming, almost meditative appeal.
Having wandered the cobbled lanes of one of the island's only three villages – Gaios, Loggos and Lakka –there are always sufficient hours left to while away at a quaint little harbour's edge. Sitting. Relaxing. Revisiting the thought that life at such a pace is how we all, in truth, should be spending our days.
A community lost in time
Part working fishing port, part yachting honey pot, each of the villages has its own charm – built, in the most part, using the local white stone. But the islanders come as a single community. One of those idyllic populations built on tradition and trust.
Visitors are met with open arms, while manic sightseeing is met with blank expressions – after all, there's no need to hurry; the stunning views and tavernas aren't going anywhere. The only timetable, it seems, is for the boat to a neighbouring island (and even that's to be taken with a pinch of salt).
Get even further away from it all
The boat trip in question delivers the already de-stressed visitor to Paxos' even tinier sibling. This, the very smallest of the Ionian Islands, is Anti Paxos – renowned for its white sand and aquamarine sea. Don't forget to pick up your mask and snorkel and, if you're going hiking here, find yourself a 'spider stick', essential for breaking through cobwebs spun between the trees on either side of your path.
Very few people actually live on Anti Paxos all year round. In the summer months, however, those that return are often preoccupied with their vineyards, claimed to be the smallest in the world!
At a glance
Currency

Euros

Flight Time

3 hours 15 minutes

Time difference

+ 2 hours

Language

Greek

Visa required

Not for UK citizens
Food & drink
A taste of Paxos
Greek cuisine is wonderfully uncomplicated. The simple flavours of olive oil, lemon and herbs are combined with exceptional home-grown produce and the fruits of the azure sea to create one of the world's healthiest diets.
A variety of small mezedes often starts proceedings. These divine dips include soft-roasted aubergine mashed with garlic, tangy feta whipped with chilli, stuffed vine leaves and courgette flowers. Look out, too, for skillet-cooked saganaki in its many guises – from golden pan-fried cheese to prawns simmered in ouzo-spiked tomato sauce. The freshest fish and meat follow. And it's unthinkable to eat either without a bowl of fresh salad drenched in olive oil; always seasonal and made with just a few ingredients to ensure the taste of each really shines.
Wherever you eat, pastitsada – chicken or veal cooked with cinnamon and onions – is a great recommendation. And a visit to Paxos is never complete until you've devoured a generous bowl of the island's traditional fish stew. Bourdeto, the carefully thrown together celebration of scorpionfish (often livened up with paprika), is a credit to Poseidon himself.
Paxiot tipples
Although ouzo is Greece's best-known drink, you're certain to discover Tsipouro (or raki) too – a grape-based spirit that's typically served as a welcome drink. 
A glass or two of caramely, sweet Metaxa brandy rounds off a supper perfectly, especially sipped under a star-filled sky to a soundtrack of crickets.
Eating locally 
All three of the island's villages – Gaios, Loggos and Lakka – offers a choice of tavernas. And they all make perfect people-watching spots from which to let time slip effortlessly by. Those around Gaios harbour have the most variety in their menus, although others on the island also offer outstanding Greek food, served with a little more peace and quiet.
For beach tavernas, we suggest Levrecchio beach beside Loggos, Harami beach (especially for lunch) and Monodendri and Mogonissi beaches – each with a choice of eateries.
Dinner perched atop the sheer cliffs of the island's western edge makes for a classic Paxos evening. Our guestbook provides a host of recommendations, all overlooking the relative drama of the west coast's more rugged shoreline.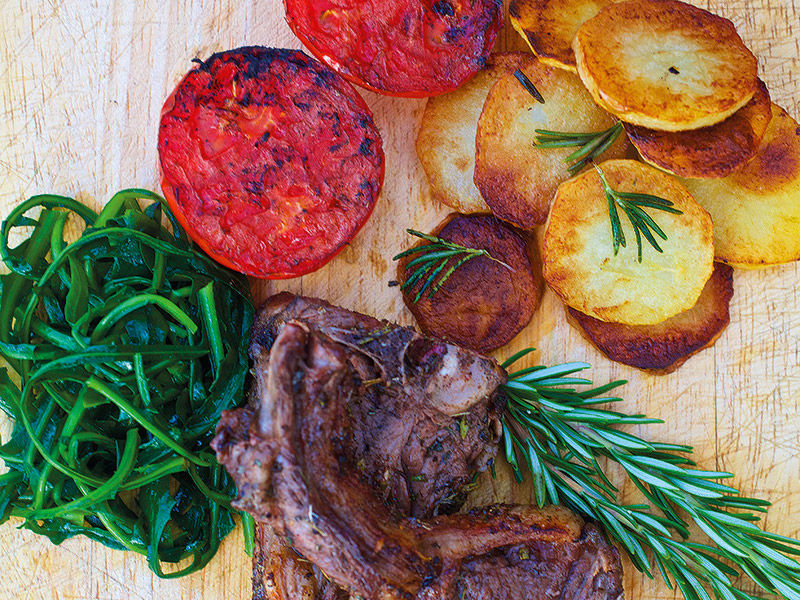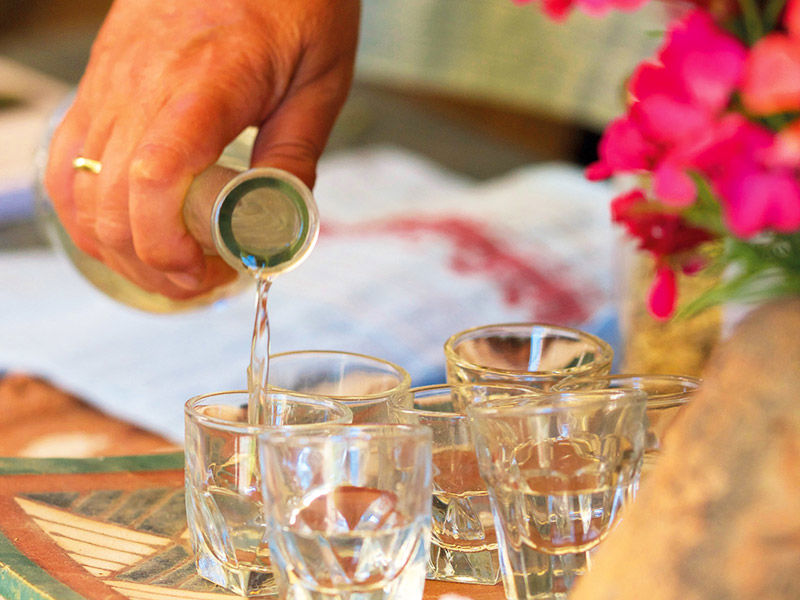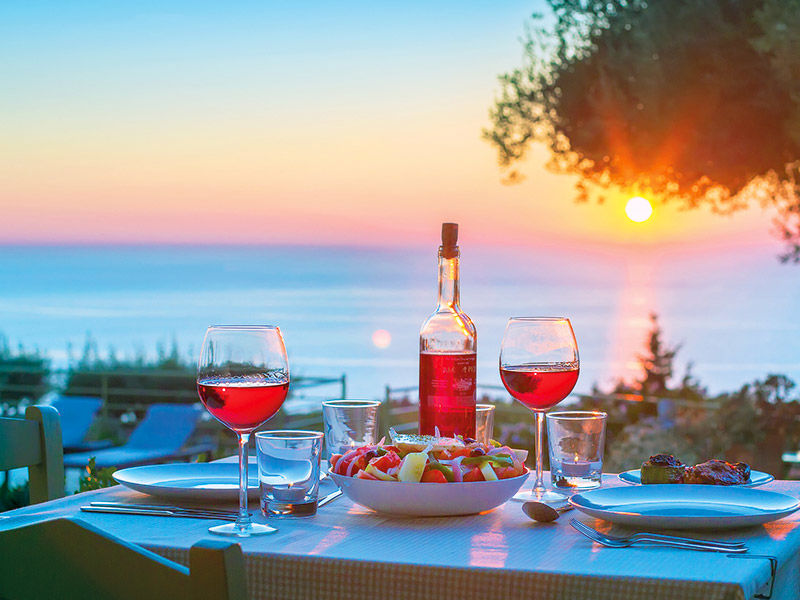 Beaches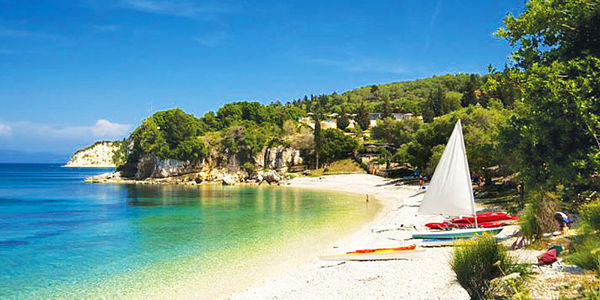 Monodendri
This beautiful pebble cove comes complete with parasols and two tavernas, one with a salt-water swimming pool. The crystal clear water here makes it perfect for snorkelling.
Getting there…
It's just 7km north of Gaios. Follow the east-coast road signed for Lakka and Monodendri beach.
Footnotes…
A well-deserved lunch will earn you use of the restaurants' sunbeds and pedalos – as well as a handy parking spot. The beach gets busy in July and August.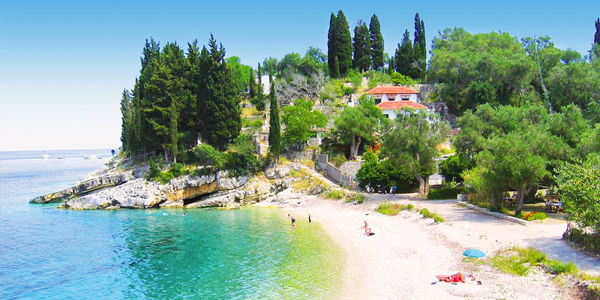 Levrecchio
A pretty beach within easy walking distance of Loggos. The taverna is well known for its excellent food (do try the courgette fritters) and has a large shady garden – a welcome respite from the sun.
Getting there…
An easy stroll south from Loggos, but if you're driving, head up the hill to the south and look out for the signpost on your left.
Footnotes…
There are no sunbeds or parasols and the beach can be crowded at the weekends.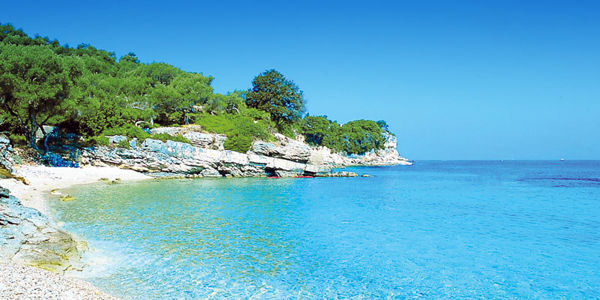 Marmari
An unspoilt pebble beach near Loggos that offers lots of (very welcome) natural shade. Handily, it's connected to Levrecchio beach with its quaint taverna by a narrow, tree-lined path.
Getting there…
Park at Levrecchio and enjoy the five-minute walk through the olive trees sweeping down to the beach.
Footnotes…
You won't find any sunbeds or parasols here so make sure you take your own shade.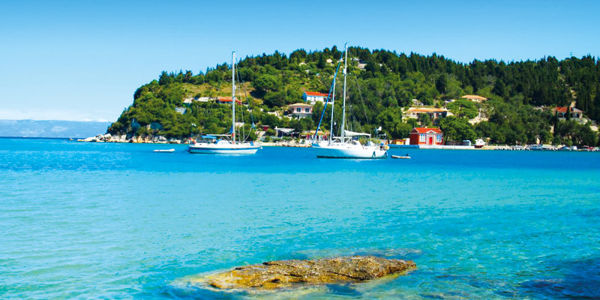 Harami
A child-friendly pebble beach with a paddling-friendly soft, sandy seabed. It's home to a good lunchtime taverna that has superb views of Lakka harbour.
Getting there…
Park at the car park in Lakka and follow the headland north for an easy five-minute stroll.
Footnotes…
A handful of sunbeds can be rented for around four Euros a day each.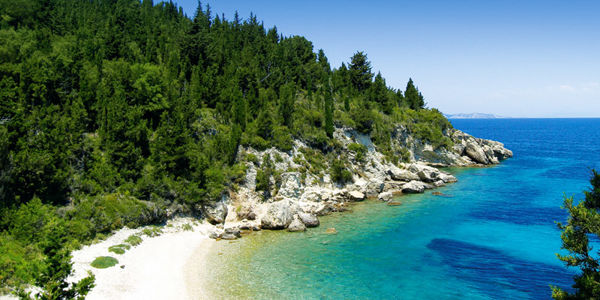 Kipos and Kipiadi
Kipiadi is one of the island's largest beaches and, with the coming and going of yachts, provides lots to lazily observe. Kipos is smaller, but all the more peaceful for it.
Getting there…
These two beaches are signposted on the east-coast road, about 1.5km before Loggos. There's no direct road access – park and walk the final 300m.
Footnotes…
Kipiadi also offers flat rocks – perfect for those who prefer to bask rather than bathe in the sun. Neither beach has any facilities, so be sure to pack a picnic.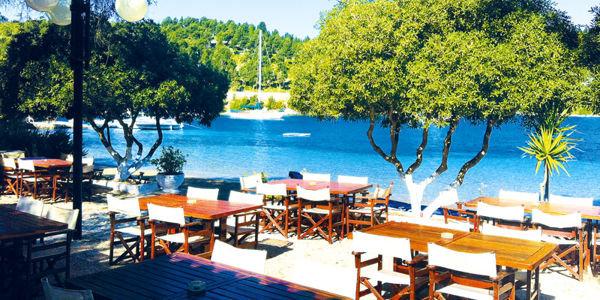 Mongonissi
The water here is stunning jade – best remarked upon over a glass of local wine at one of the beach's two tavernas. One is large and traditional Greek; the other serves Italian meze with cocktails.
Getting there…
You'll find this beach just south of Gaios at the end of the island. Both tavernas have their own car park.
Footnotes…
You'll find the ideal play space for little ones as the man-made sandy beach shelves gently into the bay.
Things to do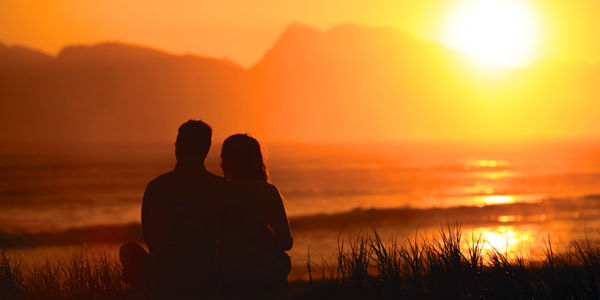 Breakfast on the beach
The pastries available from the Gaios bakeries are to die for. Get a memorable head-start on the day and watch the sun make its debut over the sea from one of the east-coast beaches, then head into the village for a little breakfast heaven.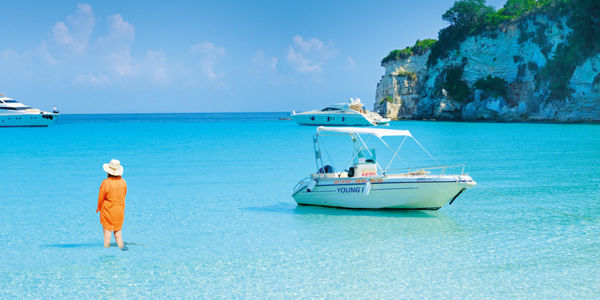 Take a coastal journey
Pottering along the coast to the chug of an outboard motor is a classic Paxos experience and captaining your own craft is a fun way to avoid the (relatively) crowded Antipaxos excursions. Chart a course for the drama of the west-coast cliffs.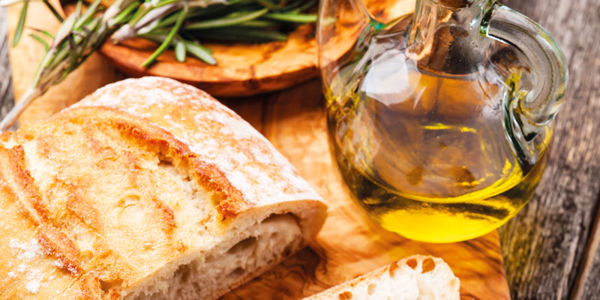 Sample the Venetians' favourite olive oil
As the guardians of 250,000 olive trees, the Paxiots know a thing or two about olive oil (the Venetians reputedly rated it above any other). For top quality at local prices, buy direct from a local producer in Gaios. Perfect with fresh local bread.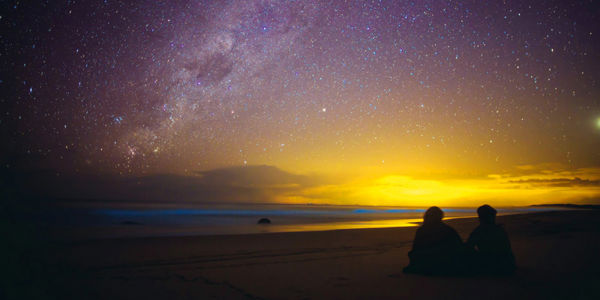 Experience the Plani beach stars
Evening is the best time to venture onto the west coast's Plani beach. On the sunset side of the island, it eeks the lazy days out that bit longer. When the sun dips beyond the horizon, lie back and take in the dazzling array of stars.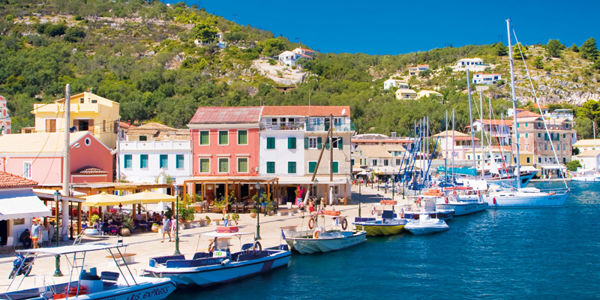 Gaios
Visit the capital and discover traces of Venetian and British history amongst colourful waterfront buildings. Life's livelier here than in the other villages, making Gaios your go-to late night destination.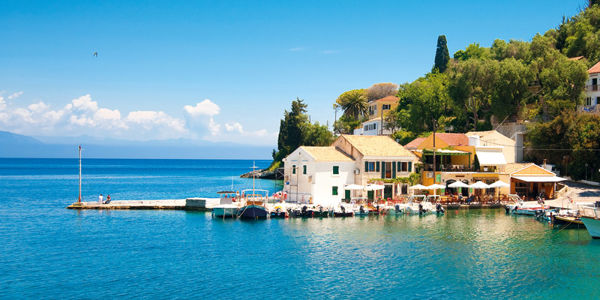 Loggos
A small fishing village on the east coast. A generous handful of tavernas, boat hire and bars surround a quaint harbour: the perfect spot for freshly caught dinner by the water.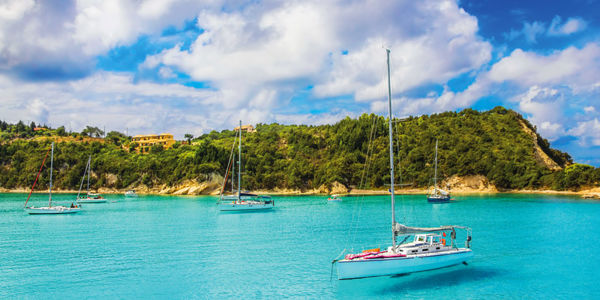 Lakka
Blessed with stunning sea views, Lakka sits at the northernmost tip of the island, set around a gorgeous horse-shoe bay. Sheltered from the open sea, the water is excellent for swimming.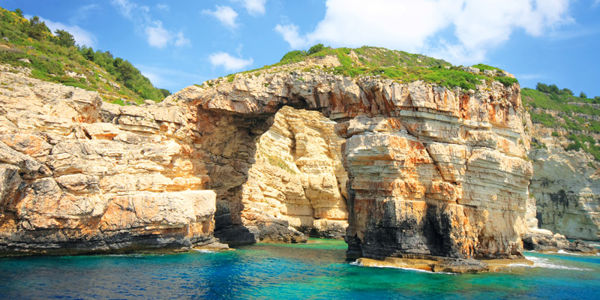 The Tripitos Arch
On an island made for walking, the Tripitos Arch Route is a must. This picturesque stroll offers the rare photo opportunity of a natural limestone arch towering above the sea.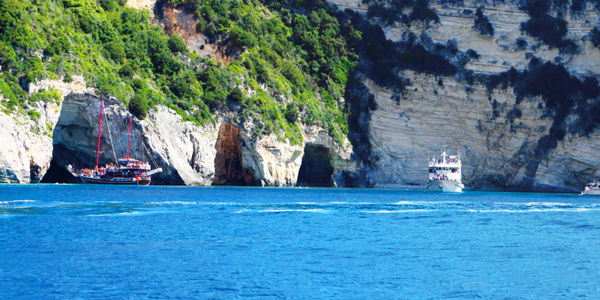 The Blue Caves
A gem of the southwest coast, the aquamarine water reflects on the ceilings of these limestone sea caves, some of which are so big, boats can venture deep inside.
Events
Easter is the biggest event on the Greek calendar, marked by traditional processions, masses and feasting. The date changes each year and is often later than in the UK.
What's on in May
1 May
Labour Day is a public holiday, celebrated with picnics and the gathering of spring flowers. Many shops close but restaurants remain open.
21 May
The Ionian Islands commemorate their official unification with Greece which took place in 1864.
What's on in August
15 Aug
The Feast of the Virgin Mary (Apo Kimisis tis Panagia), a major celebration held on Panagia Island by Gaios harbour.
End Aug/early Sep
The fortnight-long Paxos music festival features Greek and international artists playing mainly classical music.
What's on in September
8 Sep
The Virgin Mary's birthday (Genisis tis Panangias) is celebrated throughout Greece with religious services and much feasting.
What's on in October
28 Oct
'Oxi' Day ('No' Day) celebrates the Greek refusal of Italian occupation during WWII with marches, parades and much flag flying.
The Road Less Travelled
We asked our local representatives in Paxos to share a few of their favourite 'off the beaten track' experiences. Here are some of their suggestions…
Enjoy the flora and fauna
By day, take a walk around the island and wander through the olive groves. In May, the island is covered in wild flowers and aromatic herbs and you may be lucky enough to stumble upon a colourful patch of orchids or freesias. The scent is incredible and the air is full of butterflies. Keep your eyes open for hoopoes swooping by at this time of year too.
Dive in sunlit caves
Blue Pot, a natural cave formation found on the island's west coast, offers the best diving around Paxos. The water here is a stunning bright blue and you can swim through an arch into an open-topped 50m cavern. A small tunnel to the sky lets in a magical ray of sunshine which illuminates the cave like a spotlight.
Take in the windmill views
A gentle trek through glorious olive groves leads to a beautifully old (but ruined) windmill at Lesianitis. The view from the ancient arched doorway is of unspoiled hills gracefully tumbling their way down to blue waters – then on to Panagia Island and, in the very distance, neighbouring Corfu. From the top of the windmill you can even see the far-off island of Lefkada.
Watch a firefly display
At the beginning of the summer season, Paxos is a truly magical place to be. When you're enjoying an after dinner amble back from the taverna, be sure to stop by one of the island's many olive groves. The experience of walking through a thousand fireflies dancing in the night sky is like passing through a constellation of stars, there are so many of them!
Climb Ypapandi's bell tower
Turn off the main road running through Lakka towards the tiny village of Ypapandi and you won't be disappointed. You can't miss the pretty white bell tower, which seems to have stood proudly over the village forever. If the door is open, make your way up the 68 steps, stopping at the small windows on the way to admire a different view from each one.