Explore holidays in Tuscany
From the moment you arrive in Tuscany, you are invited to share in its grand passions and indulgent pleasures – world-famous wine, mouth-watering food and epic histories. Each of Tuscany's ten provinces has its own unique personality, but wherever you stay, you'll find yourself surrounded by a verdant patchwork of olive groves, cypress trees and vineyards. From the birthplace of the Renaissance, Florence, to the narrow streets of hilltop San Gimignano, Tuscany makes for a stunning escape. 
To complete the picture, explore our collection of handpicked villas and charming apartments.
---

Explore our pre-bookable experiences in Tuscany
---
A selection of our holidays in Tuscany
* Prices shown are for a seven-night stay at the lowest accommodation-only rate.
Our guide to Tuscany
Introduction to Tuscany
Where pleasure takes priority
How it's possible for any kind of 'normal' life to take place in Tuscany remains a mystery. With its undulating landscape where solitary villas or ancient hilltop towns sit perched in splendid isolation, this is a place for epic histories and fine romance; surrounded by a verdant patchwork of olive groves, cypress trees and vineyards, hours should be consumed with feasting and fine wines – and then gently walking or sleeping it off. And as a destination with breathtakingly beautiful art and architecture, surely the only way to spend a day is in a state of wonder? Tuscany gives you permission to indulge in the pleasure of doing it all.
Your first ports of call
Strict building regulations ensure that Tuscany's ten provinces remain beautifully unspoilt, but with 23,000 square kilometres to explore, where do holidays begin? For many, this journey of 1,000 experiences begins with the unmissable trinity of Florence, Siena and San Gimignano. 
Tuscany's capital and the birthplace of the Renaissance, Florence, is a living art gallery, whilst Siena, known for its expansive piazza, superb duomo and Il Palio, the white-knuckle horse race, is a time-slip into the Middle Ages. The towers and narrow streets of small, hilltop San Gimignano are from the same era and crammed with opportunities to shop, eat and admire historic frescoes, along with stunning views.
Chianti, for the ultimate tipple
Tuscan life flows on its world-famous wines and Chianti, tucked between Florence and Siena, is the epicentre. Medieval Greve is seen as the gateway to this region with a wine museum, impressive September wine festival and plenty of restaurants around its triangular porticoed piazza for sampling the grape and the good.
Historic Panzano nearby hosts the Vino al Vino, an annual gathering of winemakers for tastings and live jazz, and Radda in Chianti, from its beautiful hilltop location, also pays regular homage to its local producers, hosting the Radda nel Bichiere in June. To see the wineries in action, time your holiday to coincide with the grape harvest in late August/September.
When in Florence…
Home to Michelangelo's David and paintings by the likes of Da Vinci, Botticelli and Caravaggio, Florence is one of Europe's finest cities of art. And yet with its iconic Duomo, churches, and squares, not least the famous Piazza della Signoria – a social hub since the 13th-century – masterpieces are everywhere. And this is a place to be sociable. There's a lively nightlife and countless restaurants, café's and wine bars. And from the jewellery for sale along the famous Ponte Vecchio to the designer boutiques – this was the birthplace of Gucci after all – a chance to shop is never far away.
Tuscany for tots, tweens and teens
From children's activity packs and interactive exhibits in museums to the world's best gelati, Tuscany caters for the younger generation – and welcomes them like a favourite grandchild in restaurants. Of course the whole region is a history lesson brought to life and climbing historic towers and medieval fortresses can be fun, but if that doesn't cut it for older children, there are street parties and lively festivals, bike rides along Lucca's ancient walls, Siena's exciting Palio horserace or, south of the city, the adventure park of Saltalbero, in the spa town of Rapolano Terme, with tree walks and horseriding.
At a glance
Currency

Euros

Flight Time

2 hours 5 minutes

Time difference

+1 hour

Language

Italian

Visa required

Not for UK citizens
Food & drink
A taste of Tuscany
The origins of Tuscan cuisine lie in cucina povera: peasant food that was simple, cheap to cook and followed a firm 'waste not want not' approach. Today, restaurants, and the more traditional trattorias and osterias, share a genuine passion for these homespun recipes and fresh, seasonal, locally sourced ingredients.
A culture of hunting and foraging is reflected in many traditional dishes, with the intense flavours of wild boar, pheasant, porcini mushrooms chestnuts and black and white truffles appearing when they're in season. Given Tuscany's diverse terrains, local specialities vary hugely – and not just from province to province, but between towns and villages. But there are a number of kitchen staples, including beans, salt-free bread, pecorino cheese, piquant cured meats, chicken liver pâté and plenty of Tuscany's world-famous olive oil. And this being Italy, pasta (often served with hare or rabbit meat sauce or mushrooms) and pizzas are always an option.
Being among a people who adore their food, you'll also find many opportunities to count your gastronomic blessings. From cheese to steak, strawberries to truffles, bruschetta to honey, there's a sagre or food festival that brings Tuscany's foodies and visitors together in a particularly celebratory fashion.
Tuscan tipples
To stay in Tuscany and not taste its world-class reds is to miss a little of the region's heart and soul. Sangiovese is traditionally the dominant grape variety and makes up 80% of the famous Chianti Classico blend. Look out for the supreme Brunello di Montalcino, alongside a host of excellent reds as well as the boutique range of Super-Tuscans. These emerged in the 1960s and are more expensive and experimental.
For something a little whiter and often sweeter, there's Vin Santo, a traditional straw wine usually accompanied by cantucci (almond biscuits). And if you like coffee, you'll find more choice than in the average high street coffee house – it's a passion here.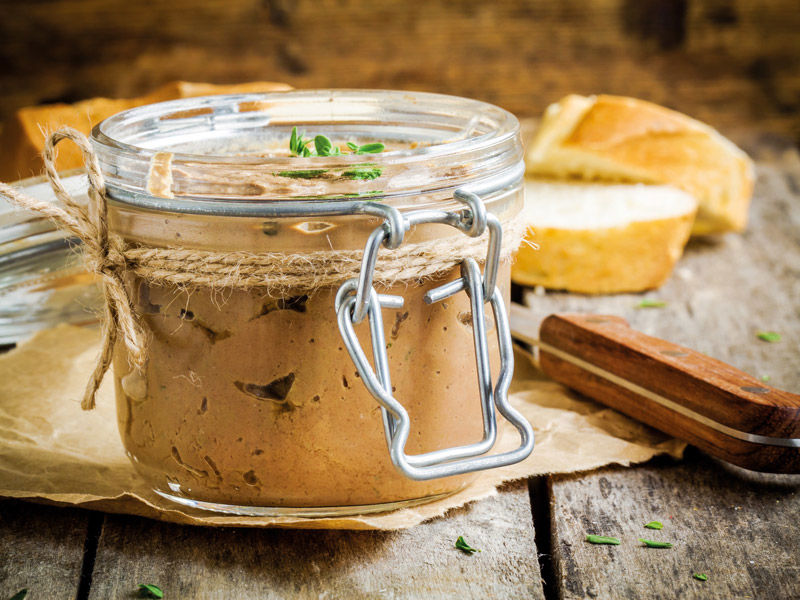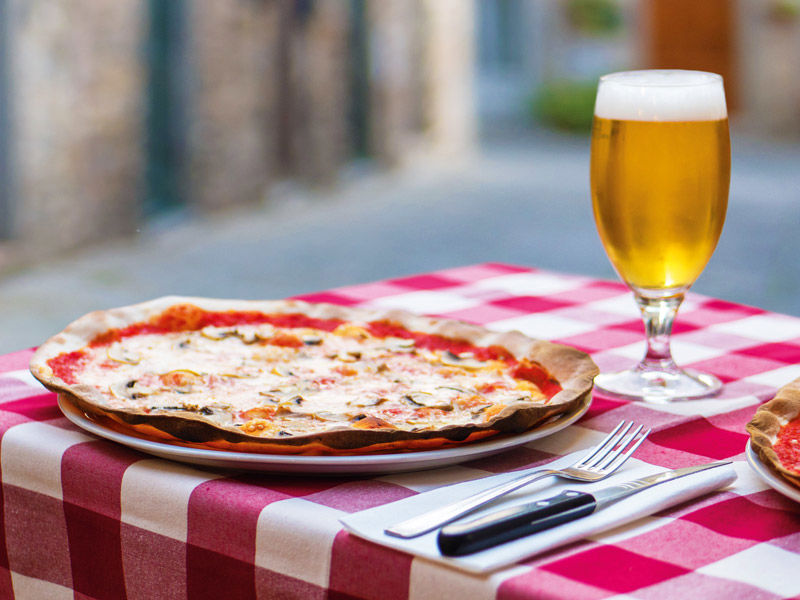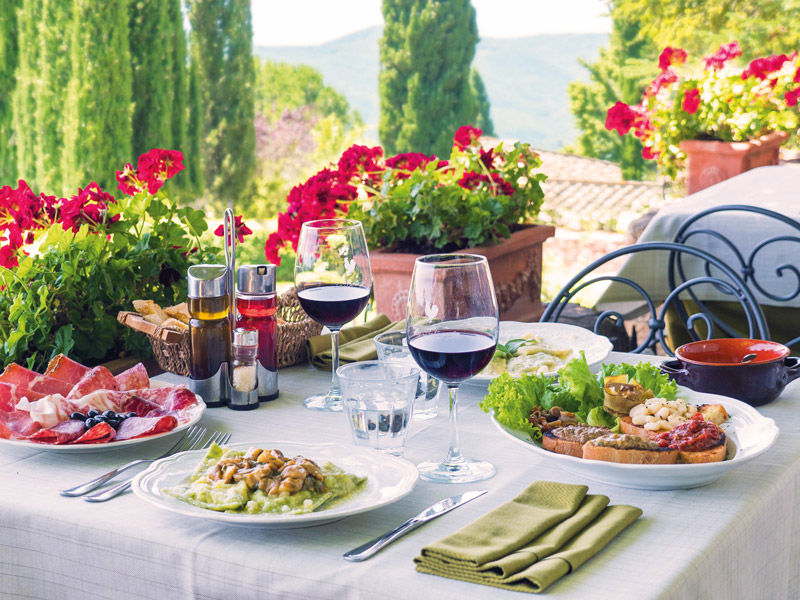 Towns and villages in Tuscany
Arezzo
Gold has made Arezzo one of the wealthiest towns in Tuscany, but the history of its impressive Duomo, churches, museums, Medici fortress and ruined Roman amphitheatre enriches it still further. The rather magnificent sloping Piazza Grande, which appeared in the film Life is Beautiful, plays hosts to an antiques fair on the first weekend of the month and the highly competitive Joust of the Saracen tournament in June and September, with fully costumed medieval pageantry, is not to be missed.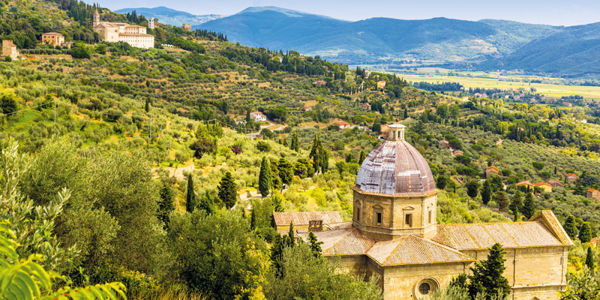 Cortona
St Francis of Assisi chose hillside Cortona as the location for his first monastery in 1211. However, the city dates originally from Etruscan times and impressive tombs from that era are part of the sprawling valley view below. Presided over by the imposing Palazzo Comunale, the main square is at the heart of community life. And being near Montepulciano and Montalcino, there are great reds on offer in the many restaurants. In June, the city hosts the film and arts Tuscan Sun Festival.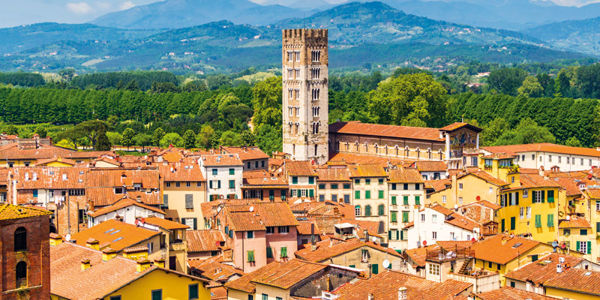 Lucca
A walk along the Renaissance walls is one of the must-dos in Lucca, the birthplace of Puccini. However, the town itself is an easy day of strolling with its cobbled streets, charming squares and lovely gardens. It also has its own share of churches and museums. Explore the 11th-century cathedral and bell tower and the beautiful Palazzo Pfanner, from Portrait of a Lady, starring Nicole Kidman. And between café stops, there's retail therapy along the Via Fillungo.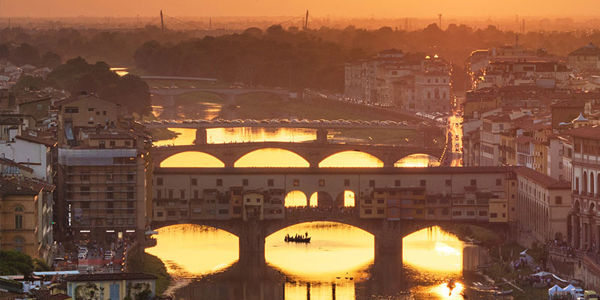 Florence
On the banks of the Arno, over which the jewellers of the Ponte Vecchio ply their trade, Florence's iconic architecture, art and sculpture alone will absorb you for hours, from its magnificent domed cathedral and bustling Piazza della Signoria to The Birth of Venus. But lovers of beauty in all its forms will find a home here, be it in a designer boutique, strolling the famous Boboli Gardens or in one of the many restaurants, where world-famous food takes centre stage.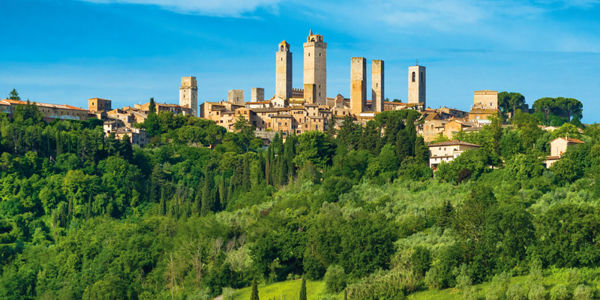 San Gimignano
Once there were 72 towers in this pretty hilltop town, built in the 13th century as symbols of power between wealthy local families; now only 16 remain standing. Climb the Torre Grossa, the highest, for a bird's eye view of the town and then explore the little shops and restaurants tucked along the narrow streets below. The historic centre is a World Heritage Site, which includes the ornate Duomo, Collegiata di Santa Maria Assunta, and the Musei Civici.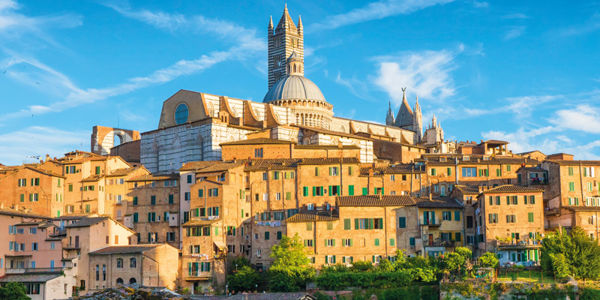 Siena
Bankers and merchants brought Siena its wealth, embodied in its grand Piazza del Campo, the site of the Palio, the famous bareback horse race. This medieval city is also known for its sumptuous Duomo, intended to be "the greatest monument to Christianity" and it's certainly a city that rivals Florence for its art. Sample it at the Pinacoteca Nazionale or the Santa Maria Scala. However, to really get to know Siena, simply wander, sipping, dining and shopping along the way.
Things to do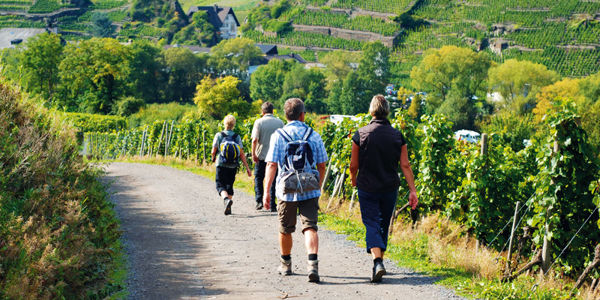 Enjoy a walk with your wine
With its lush, green countryside and countless wineries, Tuscany was made for enjoying both. Trekking hotspots include Garfagnana, Lunigiana, Casentino and the Florentine hills. To combine wine, the Brunello Trail takes you through some of the world's most famous vineyards, ending up in Montalcino.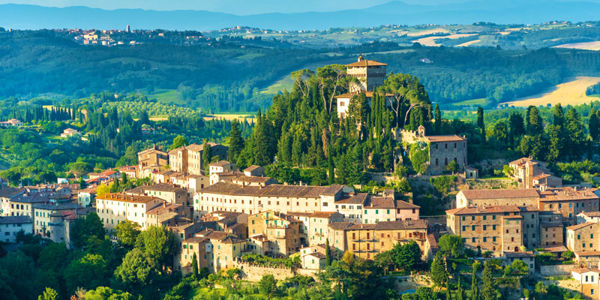 Discover bijou Cetona
Surrounded by breathtaking scenery, the pretty hilltop village is crowned by La Rocca, our fabulous 10th-century fortress turned villa, with the designer Valentino as a close neighbour. Relax in the main square, explore the tranquil churches and visit the archaeological music for a taste of pre-history.
Get in hot water
Tuscany, and the Siena province in particular, is bubbling with mineral-rich thermal baths, as nature intended or with graceful architecture and spa complexes attached. For natural hot springs to ease away stresses and strains, there's Saturnia, an hour from Siena and Petriolo, 20 minutes away.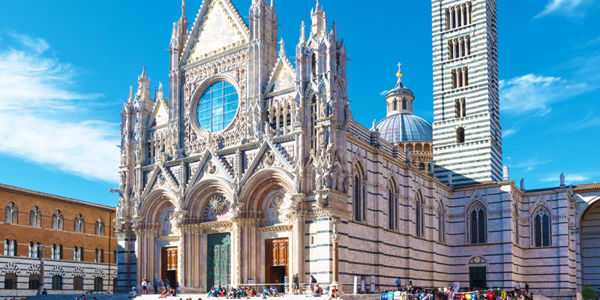 Visit Italy's most elaborate Duomo
If you need an excuse to visit Siena, the Cathedral of Santa Maria Assunta is it – a majestic Romanesque-Gothic creation and, artistically speaking, one of Italy's most elaborate. Book the guided Porta del Cielo (Gate to Heaven) tour to marvel at the spectacle from above.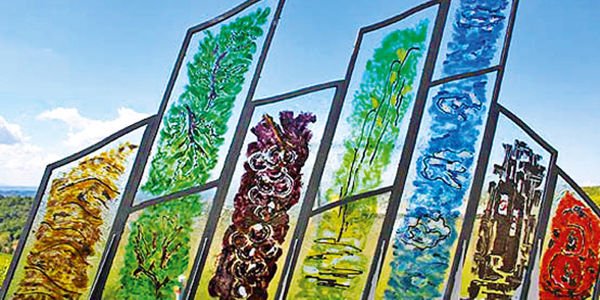 Spot a contemporary sculpture
Enjoy a quirky take on the classic arts' scene at the Parco Sculture del Chianti, a hidden gem that's great for families 16km south of Radda. Aside from the woodland beautiful park, there's international artwork and weekly sunset jazz and opera throughout July and August.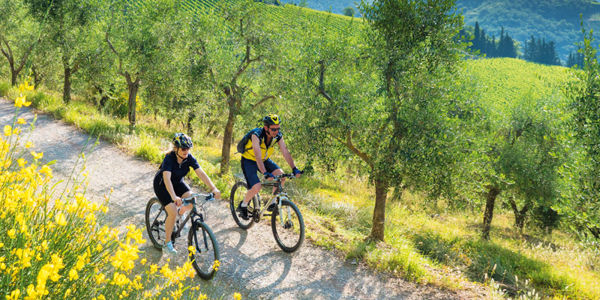 Explore on two wheels
For cyclists Tuscany's rolling landscape is a dream and a challenge. Follow the famous L'Eroica course, which starts in Gaiole in Chianti and takes you along unpaved, gravel tracks through Siena, Montalcino, Val d'Orcia and Crete Senesi – with exceptional food stops along the way.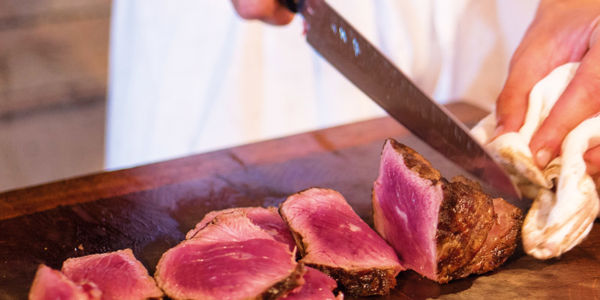 Dine with the butcher of Panzano
With a shop playing retro disco, three restaurants and a sandwich bar, Dario is the world-famous butcher of Panzano in Chianti. Dine on lavish steaks and hamburgers flame-grilled in front of you and if you go on the first Sunday of the month, there's also an artisan market nearby.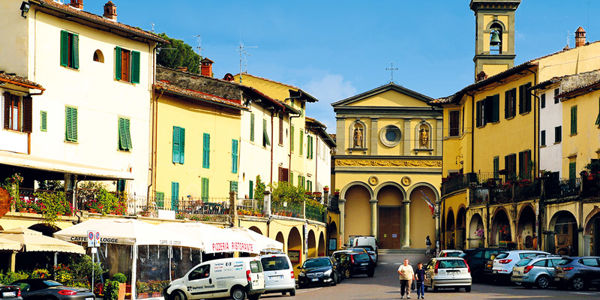 Catch the buzz in Greve's main square
As well as the Chianti Classico Wine Festival in September, Greve's expansive Piazza Matteotti is a hub for restaurants and hosts a Saturday market and arts and crafts on Sunday. It's flanked by delicatessens, inviting little shops and cafés for a spot of unhurried people watching.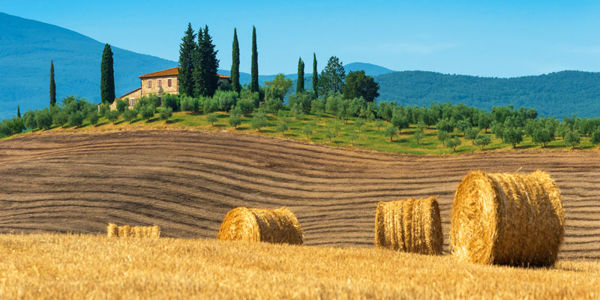 Drive through the Crete Senesi
Unlike the lush green of Chianti, this dramatic expanse of undulating countryside consists of golden wheat fields, dotted with cypress trees and hilltop villas. South of Siena, its name means 'Sienese clays' after the area's distinctive grey soil that creates the effect of a lunar landscape.
Events
What's on in May
11 May
Dating back to the middle ages, Cortona's Giostra dell'Archidado, is a crossbow tournament. Expect to see knights and ladies, flag flyers and crossbow shooters in fine period costumes.
What's on in June
16 Jun
Pisa is illuminated in the Luminara festivities, honouring its patron Saint Ranieri. Over 70,000 candles outline key palaces, bridges, churches and towers that overlook the river Arno.
17 Jun
Regata di San Ranieri is a boat race along Pisa's River Arno between the four ancient town districts. Covering a distance of 1500 metres, it's a nod to the region's ancient maritime history.
24 Jun
Gioco del Ponte, Pisa. A military parade is followed by two teams competing in a show of strength to see who will be victorious in pushing a cart and opposing team off the sliding rail.
24 Jun
Catch the final of Calcio Storico in Florence, a combination of football, rugby and wrestling – played in period costume in the square in front of the Santa Croce church.
What's on in July
The Lucca Summer Festival brings music to Lucca, throughout July, taking place every year in Piazza Napoleone. Previous acts have included: Simply Red, Lionel Richie, Tom Jones and Van Morrison.
Mid Jul-Mid Aug
Lucca's Puccini Festival attracts a worldwide audience. Beautiful performances take place in Torre del Lago's outdoor theatre.
Various weekends throughout Jul
The Medieval Festival of Monteriggioni is a fully-costumed spectacle of historical pageantry, with parades, concerts and fireworks.
End Jul
Held on the Island of the same name, the Capraia Festival showcases concerts in the newly restored Chiesa del Convento di Sant'Antonio.
What's on in August
16 Aug
The annual Palio horse race in Siena draws crowds to the packed Piazza del Campo. Watch riders battle for a banner – costumed processions precede the race, and a street banquet follows.
27 Aug
Eight divisions take part in Montepulciano's barrel rolling race, Bravio delle Botti. Weighing 80 kilos, they're rolled along the main street of the town – an arm aching 1,800 metres.
What's on in September
3 Sep
Originating in the 16th Century, Arezzo's jousting tournament, Giostra del Saracino, is a colourful presentation of knights charging at the Saracen with lances!
3 Sep
Make your way to Siena's Pienza Pecorino Fair to try and buy some of the best cheeses in Italy. And stay around for the Cacio al Fuso, a cheese rolling competition.
7-10 Sep
Rassegna del Chianti Classico in Greve, is an annually anticipated showcase for Chianti Classico wines. Buy a glass to taste up to eight wines from the exhibiting stands.
What's on in October
6-15 Oct
The Sagra del Fungo e delle Castagne – Siena's celebration of all things mushroom and chestnut with nature walks and tastings of traditional porcini mushroom and chestnut dishes.