Explore holidays in Skopelos
A trip to this idyllic location – wonderfully green, unspoilt and peaceful – is about enjoying a world which moves at a different pace. Skopelos Town is a Traditional Settlement of Outstanding Beauty and you'll find Ottoman and Venetian influences in the island's 300 monasteries and churches. However, from the mountains and deep pine and horse chestnut woods at the island's heart to the tiny coves, sleepy beaches and abundant wildlife, this is truly a destination for nature lovers and the romantic at heart.
Choose a luxury villa in Skopelos and you'll soon understand why they filmed Mamma Mia! here.
A selection of our holidays in Skopelos
* Prices include seven nights' accommodation, flights and transfers/car hire, based on the lowest rate for maximum occupancy.
Our guide to Skopelos
Introduction to Skopelos
A quietly confident gem
To round the fiercely imposing headland that hides Skopelos Town from the open Aegean is to happen, all of a sudden, upon the archetypal Greek scene. Ancient terracotta-tiled buildings race one another down a hillside to reach the azure blue bay below – a landslide of whitewash flecked with shocking pink bougainvillea.
Your arrival here by boat – the way everyone arrives – is a fitting one for an island so nonchalant about attracting tourism. Agriculture is the mainstay of commercial activity; olives and plums growing across a land too mountainous to ever consider hosting an airstrip.
An island at its own pace
The largest of the Sporades Islands, Skopelos is still less than 100km2. From a lush interior, criss-crossed with goat tracks and dotted with bright blue beehives, rise two mountains which preside over the leisurely comings and goings of craft on the azure waters all around.
Lunching in waterfront tavernas, relaxing in secret courtyards and wandering the wonderfully serene landscapes form the mainstay of activity here. You'll gain a proper appreciation of the here and now – and of a landscape unchanged for thousands of years.
The Chora
Sitting under the watchful eye of the steadfast Venetian fortress high above, the tumbling of meticulous, freshly whitened buildings that make up Skopelos Town's northern flank is known as the Chora.
The muse for many a Greek oil painting, the Chora is the heartbeat of the island; a charming tangle of cobbled alleyways, expertly navigated by black-clad priests.
As curiosity draws you higher, snatched glimpses of the Aegean give you a sense of just how high into the labyrinth you've climbed. But the explorer can meander happily here without fear of getting lost; downwards only ever leads back to the harbour below.
A Greek tragedy averted
Amid even the briefest of explorations, Skopelos evokes glimmers of déjà vu – vague recognitions of scenes from the hit musical film Mamma Mia!, which was shot here in 2007.
When Hollywood departed, fears stirred that fame might go to the island's head. Happily, though, the Skopelites' steely determination was enough to protect their cherished land from the ravages of tourism and its beauty remains remarkably free of gaudiness – from pine-clad mountains to its charming, unspoilt coast.
Even by Greek island standards, this is a place where time has stood still. And the serenely relaxing holiday to be enjoyed here will be all the more memorable for it.
At a glance
Currency

Euro (€)

Flight Time

3 hours 30 minutes

Time difference

+2 hours

Language

Greek

Visa required

Not for UK citizens
Food & drink
A taste of Skopelos
Happily, island food is typical of the Mediterranean. It's locally sourced and traditionally prepared, with shared starters called orektika, preceding main dishes of fish or meat which lend sumptuous flavour to hearty casseroles... and roasts.
The local cheese pie, so proudly Skopeletian, is said to have made its way here when a girl from neighbouring Alonissos married her Skopelos husband. But whatever its origin, you'll be glad to have tried it.
Plums provide the key dessert ingredient on the island, harking back to the days when Skopelos was renowned for producing some of the finest prunes in the world. The tradition of massaging each fruit by hand as it came out of the oven may be a thing of the past, but the island's moreish plum recipes will be around for years to come.
Skopeletian tipples
Tsipouro may be the local drink, but thanks to the Cretans, viticulture is alive and well on Skopelos. Local wine is white, refreshing and a good accompaniment to many a meal, but for something with added interest, look for retsina which is made by sealing wine vessels with pine resin.
Eating locally
Whichever stretch of sea you favour as your evening's backdrop, there'll be a waterfront taverna to suit. For something a little fancier, head for a Glossa roof terrace in the north or the nearby port of Loutraki.
Skopelos Town is one of the loveliest harbours in Greece and offers plenty of tavernas tucked away amongst the cobbled streets, whitewashed houses and overhanging balconies. For a waterfront setting, try Agnondas, where you can watch the fishing boats going out for the evening catch. The best sunset dining is at one of the beach tavernas in Panormos.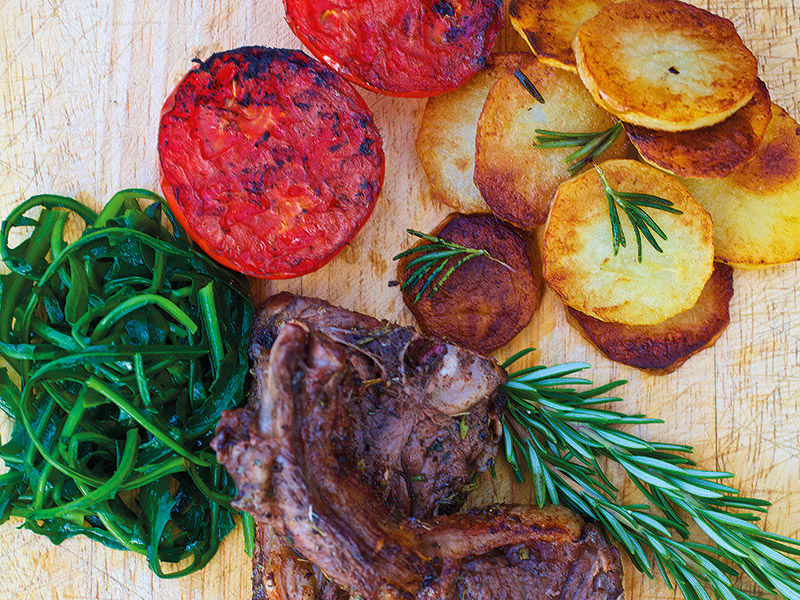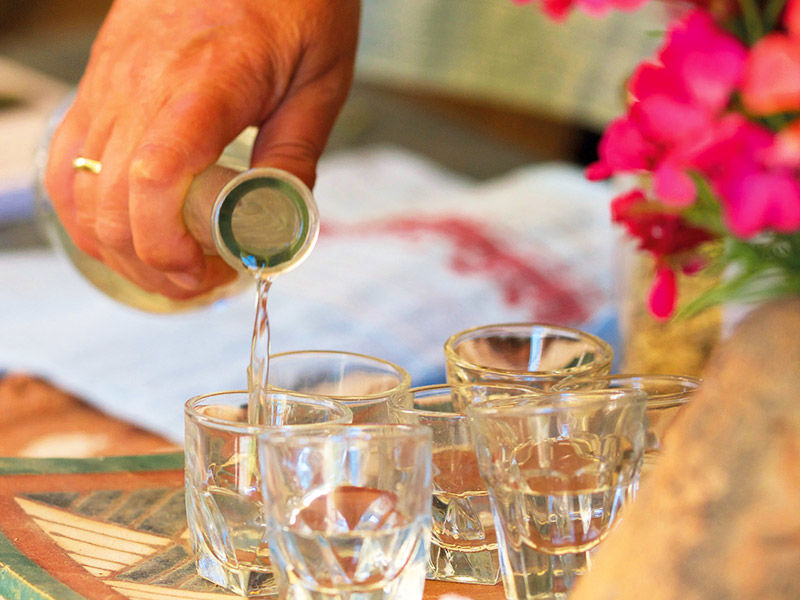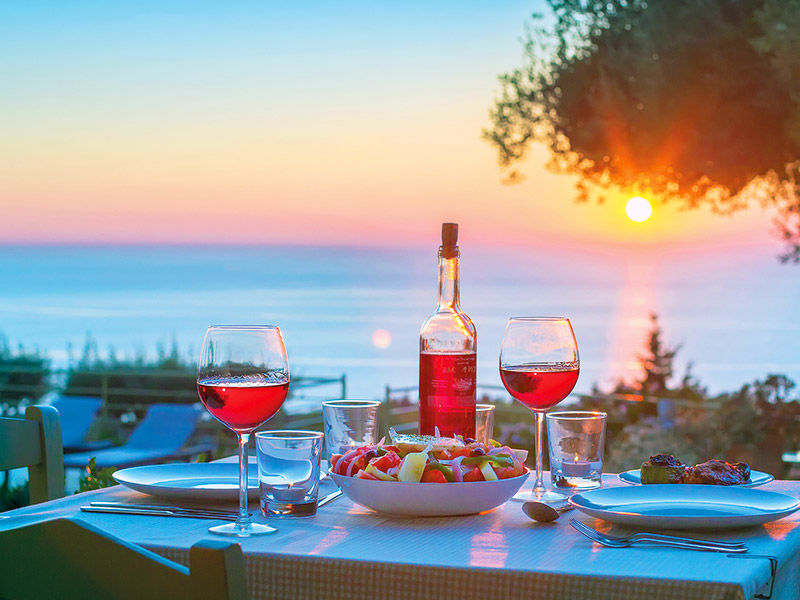 Beaches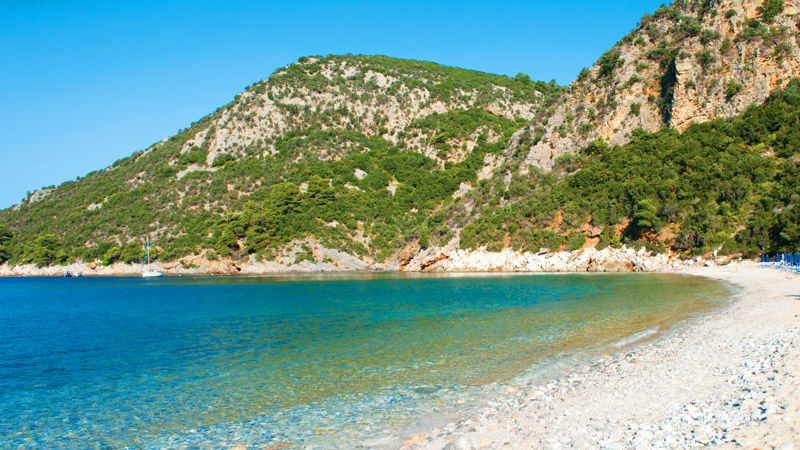 Limnonari
A beautiful crescent of white sand edging a dazzling turquoise sea. Diminutive in size, Limnonari is perhaps more cove than beach – and its position on the sheltered side of the island keeps it warm.
Getting there…
9km from Skopelos Town and a short distance from Agnondas.
Footnotes…
The taverna here is renowned for its exquisite olive oil, made from olives grown in their garden. Diners are welcome to use a sea water swimming pool too.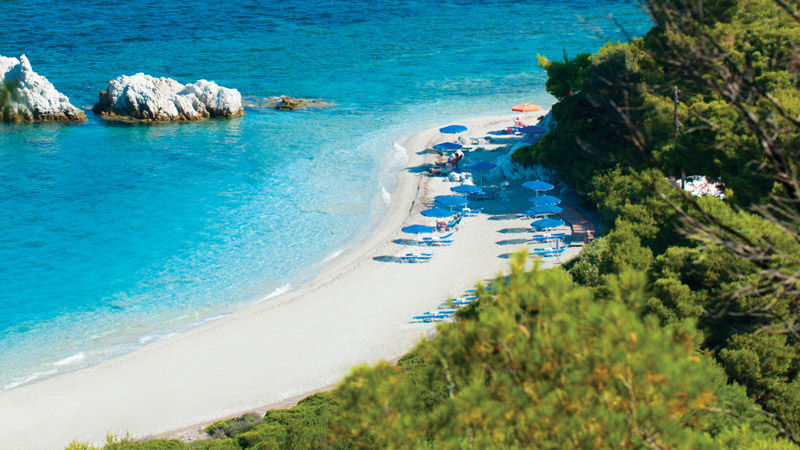 Milia
A delightful pine-fringed, shingle beach and the island's longest. There are sunbeds, parasols and a taverna and Cantinas for drinks. It's also one of the few beaches on Skopelos with watersports.
Getting there...
The beach is 13km from Skopelos Town. Turn off the main road, down a 300m tarmac track. Park by the beach or at the top of the hill and walk down.
Footnotes...
A walk round the rock leads to an even quieter spot.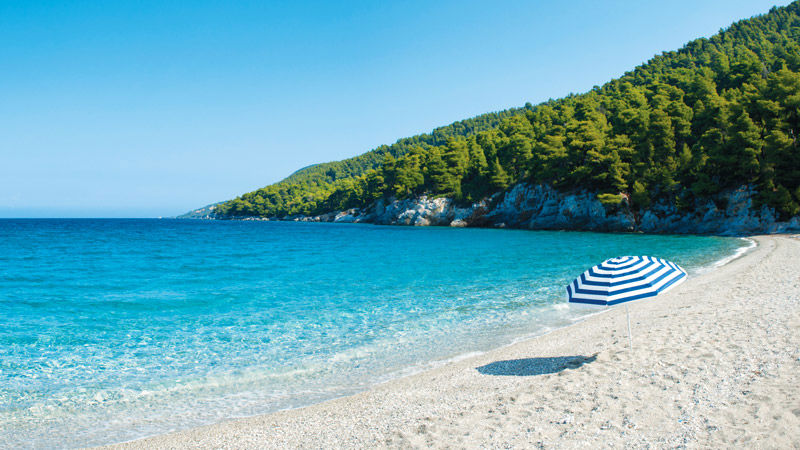 Kastani
Next door to Milia, and somewhat smaller, this is the beach made famous by its starring role in Mamma Mia! Pine trees on either side reach out to touch pristine water.
Getting there...
15km from Skopelos Town and easy parking at Kastani beach bar.
Footnotes...
The beach bar attracts a younger crowd and, with them, some lively music.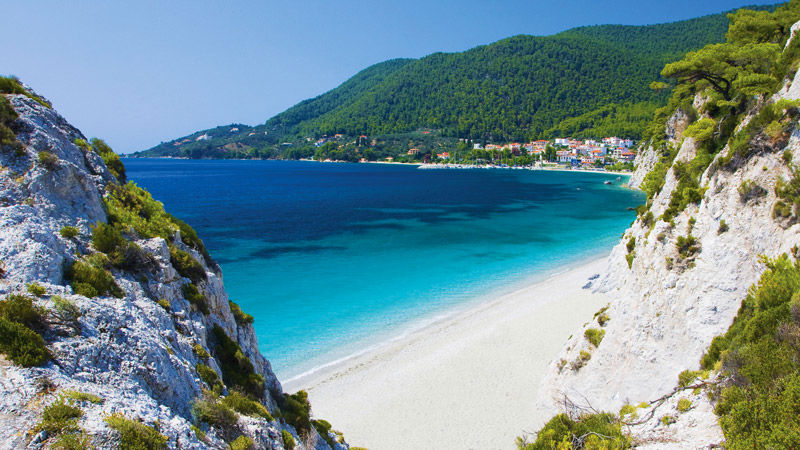 Hovolo
One of the most stunning beaches on the island. A total lack of facilities adds to its natural elegance, as do the pine-covered rocks that form a majestic backdrop.
Getting there...
Park at the small harbour in Elios and walk to the left around the large rock.
Footnotes...
Take a parasol and picnic for a lazy day surrounded by nature at its best.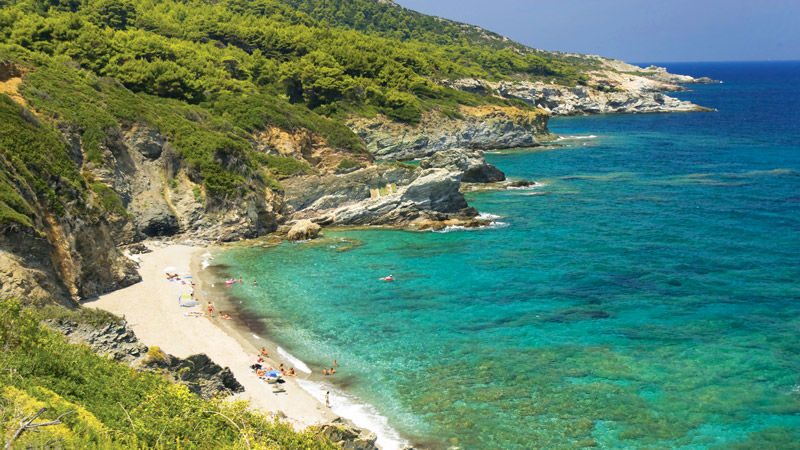 Perivoliou
A wild and winding drive leads to beautiful clear blue waters lapping at impressive rocks. Ideal for snorkelling, this is the north-east at its dramatic best.
Getting there...
Around 50 minutes by car from Skopelos Town in the direction of Glossa.
Footnotes...
Best enjoyed with a picnic, but be prepared to carry it down some 30 steps to reach the beach.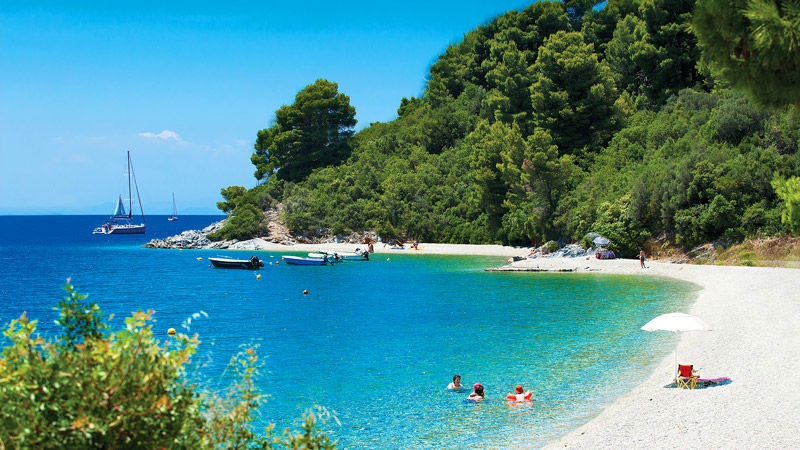 Panormos
A long shingle beach on the west coast of the island, which drops quite suddenly into the sea. This is a great spot for late afternoon swims and to watch the sunset.
Getting there...
The beach is 12km from Skopelos Town on the main road. Parking nearby can be tricky in the busy season.
Footnotes...
There's a selection of tavernas for drinks and snacks.
Things to do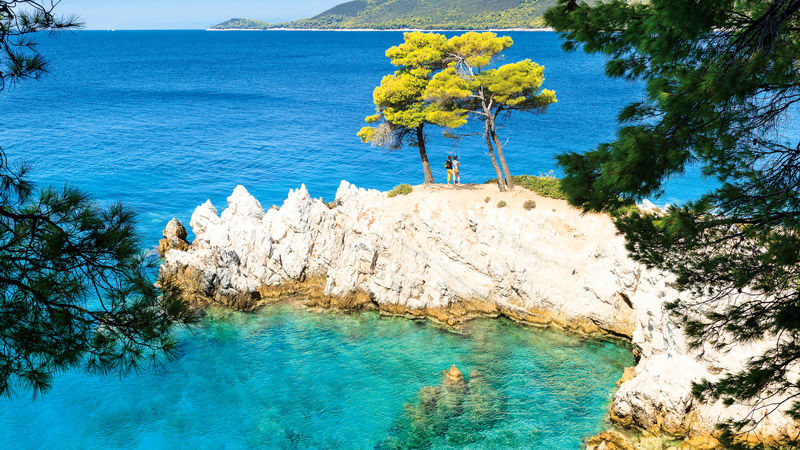 Discover a deserted cove
At the end of a dusty road just before Agnondas lies a series of tiny coves, ideal hideaways for undisturbed fishing and snorkelling. The waters here are somehow more turquoise than elsewhere on the island; the pine trees somehow more green.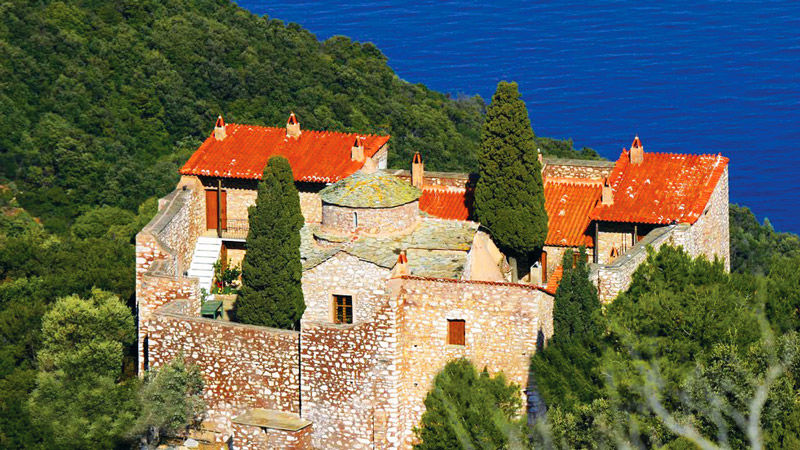 Visit an historic monastery
Skopelos is famous for its monasteries, some of which are still inhabited by religious orders. Those of Evangalismos, Sotiros, Vavara and Prodromou offer the best insight into religious life on the island and all are within 20 minutes of Skopelos Town.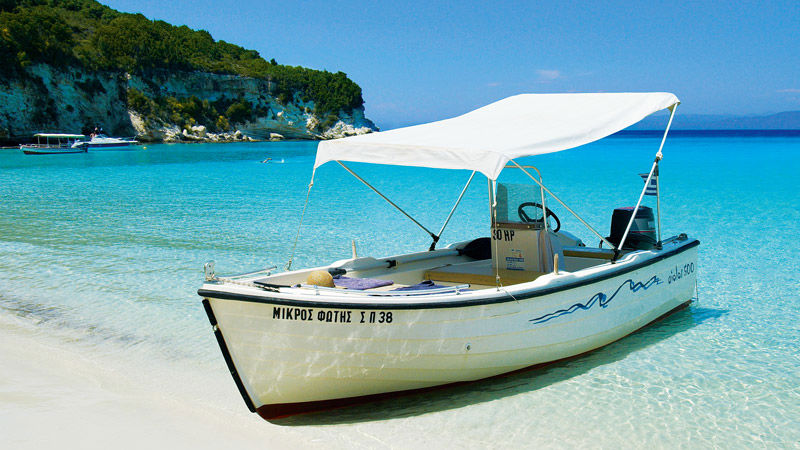 Get away from it all
Hire a boat and see a very different Skopelos from the sea looking back. Viewed in her entirety, you'll appreciate just how lush, green and unspoilt the island really is. And a leisurely potter, parallel to the coast, will turn up intriguing caves and coves without fail.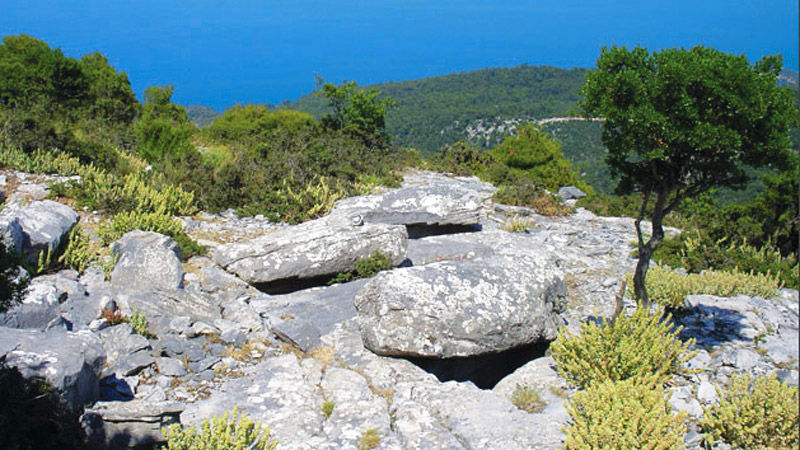 Explore a pirate's tomb
At the summit of Mount Delphi are open tombs, so large you can walk inside. Dating back to Neolithic or Minoan times, nobody knows for sure who's buried there, but the so-called Pirate Graves are the stuff of local legend.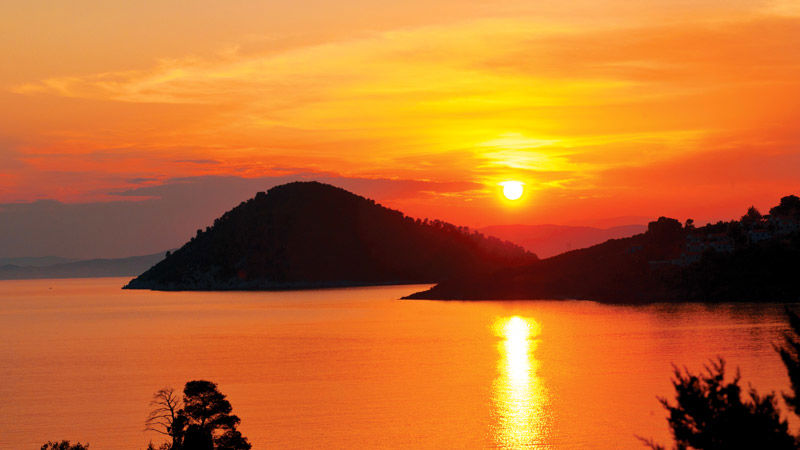 Paddle into the sunset
Could there be a more beautiful sight than that of sunset on the sea? Put paddle to water at Agendas or Elios for a surprisingly relaxing hour or two of sea kayaking and you won't be disappointed.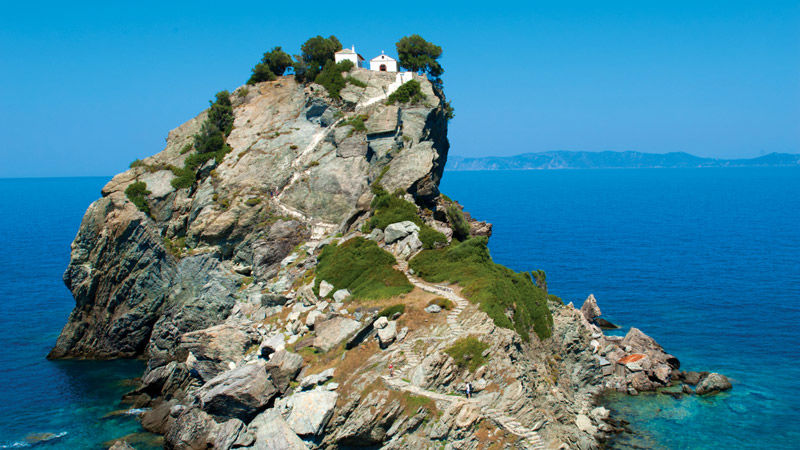 Relive the Mamma Mia! Wedding
High on a rock, the instantly recognisable Agios Ioannis chapel is the wedding venue of movie fame. Accessible via 200 stone steps, the views of the coast are incredible. Arrive early for romantic seclusion (and be the first to ring the church bell).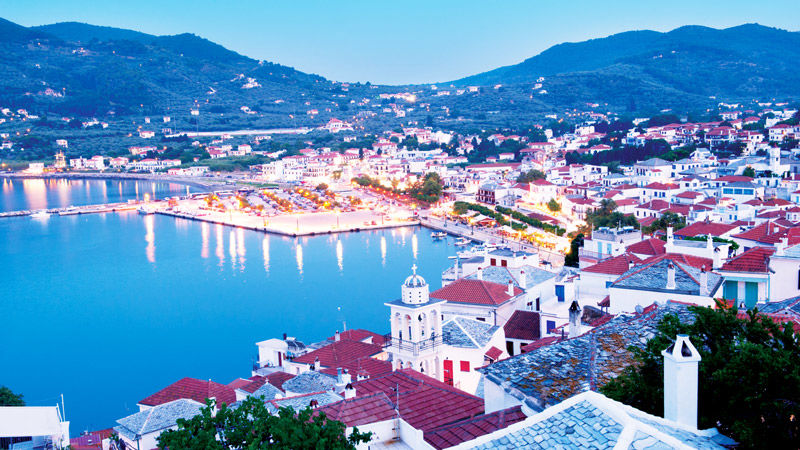 Fall in love with Skopelos Town
Declared a 'Traditional Settlement of Outstanding Beauty', Skopelos Town is the jewel in the island's crown. Head for the buzzy harbour for tavernas, cafés and bars, then wander upwards through a warren of cobbled lanes and hidden courtyards, each more secretive than the last.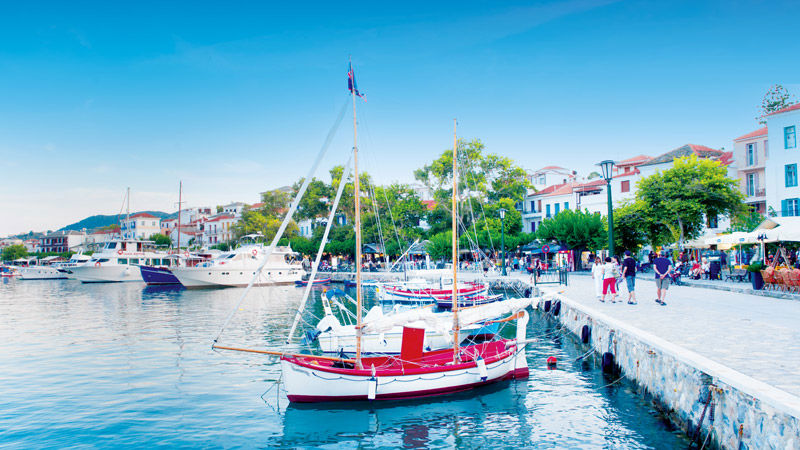 Charter a boat to Alonissos
Sailing to Alonissos aboard a traditional caique is how it really should be done. The waters around this neighbouring island are home to monk seals and dolphins who often form the welcome party. A careful exploration of the Blue Cave shouldn't be missed.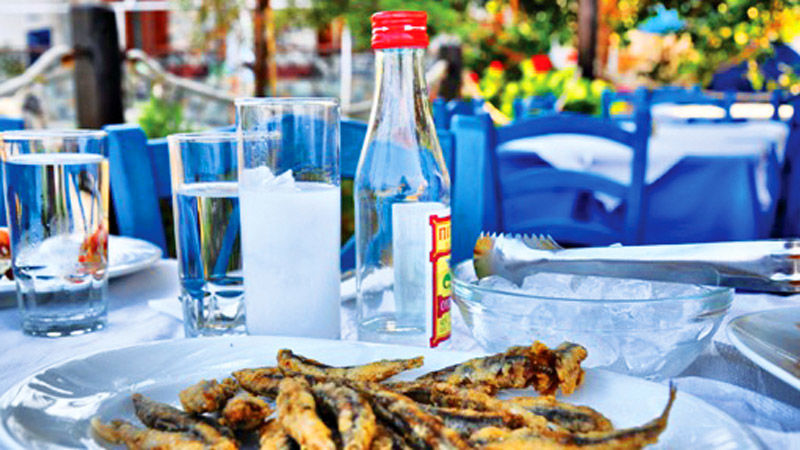 Glossa
A traditional village set in the mountains, Glossa is loved for its narrow streets, wriggling between whitewashed houses down to the sea. There's a delightful old café in the square and views to Skiathos.
Helpful phrases
| | |
| --- | --- |
| Hello | Γεια σou (Ya soo) Informal, Χαίρετε (He-re-teh) Formal |
| Goodbye | Γεια σου (Ya soo) Informal, Γειά σας (Ya sas) Formal |
| Please | Παpακαλώ (Pa-ra-ka-lo) |
| Thank you | Eυχαpιστώ (Ef-ha-ri-sto) |
| Yes | Ναι (Neh) |
| No | Οχι (o-hee) |
| How are you? | Tι κάvεις; (Tee ka-nis?) Informal, Τι κάνετε; (Τee ka-ne-teh?) Formal |
| I don't understand | Δεν καταλαβαίνω (Then katalaveno) |
| I'm fine, thank you. | Είμαι καλά, ευχαριστώ. (Ee-meh ka-la, ef-ha-ri-sto) |
| Do you speak English? | Μιλάς αγγλικά; (Milas angliká?) |
| My name is... | To όvoμά μoυ είναι... (To o-no-ma moo ee-neh…) |
| The bill please. | Toν λογαριασμό, παρακαλώ. (Ton lo-ga-ree-as-mo, pa-ra-ka-lo) |
| How much is it? | Πόσο κάνει; (Po-so ka-ni?) |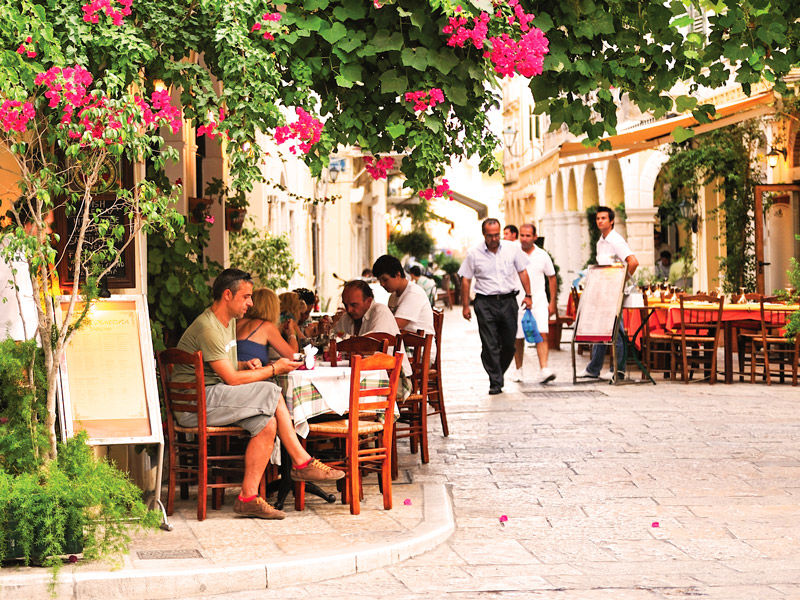 Events
Easter is the biggest event on the Greek calendar, marked by traditional processions, masses and feasting. The date changes each year and is often later than in the UK.
What's on in May
1 May
Labour Day is a public holiday, celebrated with picnics and the gathering of spring flowers. Many shops close but restaurants remain open.
What's on in June
Jun
Navy Week celebrates the ancient connections the Greeks have with the sea.
What's on in August
6 Aug
Locals and visitors gather on the beach at Loutraki to eat seafood and drink wine, accompanied by traditional music.
11 Aug
Neo Klima's Squid Night is a fish and seafood feast, with the opportunity to join in with Greek folk dances and listen to traditional music.
15 Aug
Assumption of the Virgin Mary (Apo Kimisis tis Panagia), a major religious festival celebrated at Glossa.
Last week of Aug
Skopelos Prunes Festival, with traditional music and dancing, accompanied by prune dishes and wine.
What's on in September
8 Sep
The Virgin Mary's birthday (Genisis tis Panangias) is celebrated throughout Greece with religious services and much feasting.
Mid Sep
Glossa holds a wine festival with lots of free tastings.
What's on in October
28 Oct
'Oxi' Day ('No' Day) celebrates the Greek refusal of Italian occupation during WWII with marches, parades and much flag flying. 
The Road Less Travelled
We asked our local representatives in Skopelos to share a few of their favourite 'off the beaten track' experiences. Here are some of their suggestions…
Enjoy some live music
Stunning Limnonari beach becomes even more special at night when your meal at one of the bay's two excellent tavernas can be enjoyed to the sound of live acoustic music. Local musicians appear here at least twice a week to entertain diners under the moonlight. The perfect way to unwind after a hard day's sunbathing.
Discover a secret picnic spot
A short drive from Agnondas Port lies Cape Amaranths. After walking through pine trees (brushing against oregano, sage and thyme along the way) you'll arrive at three trees standing on a limestone headland. There, a lazy picnic lunch will be accompanied by the sound of the sea lapping against the rocks.
Sip a Tsipouro
Gathering for a glass of the local clear brandy is a timeless tradition in this region of Greece – and there's no better place to do it than in the pretty fishing port of Agnondas after a late afternoon swim. Aniseed in taste, Tsipouro is often served with a meze of seafood, making it the perfect way to try new and exciting fish dishes.
Witness an Aegean sunrise
A dawn walk up to Mount Sendoukia to watch the sun rise from beyond the island of Alonissos is well worth the early start. Views to Evia on one side of the island, and even Halkidiki and Mount Olympus on the other, are a photographer's dream. Even if it's just once on your holiday, set an alarm clock!
Enjoy your coffee with a view
Sitting as it does, high above the town, Skopelos' ruined Venetian castle is perfectly positioned for a morning coffee overlooking the old port. Take the steps up from Panagitsa Church for views of fishing boats returning to the harbour far below, while the first yachts of the day venture out for a little island hopping.