Explore holidays in Provence
There's no better way to while away leisurely holiday hours than by visiting the many Provençal villages with their cobbled streets and cafes. Hilltop towns glow in pale golden stone, surrounded by vineyards, olive groves and fields of fragrant purple lavender. From celebrated Gordes to charming Eygalières, each town has a market to help you discover local produce, or treat yourself to a long lazy lunch; from pavement cafes to Michelin stars, the midday meal in France is nothing short of an art form.
The cities of Avignon, Orange, Nîmes and Arles offer an architecturally rich and cultural day out but try to make time for lesser-known gems like Vaison la Romaine, Uzès and Ile sur la Sorgue for a less crowded but equally impressive picture of the history of the region.
A day at the beach is always an option but you can find other open water options closer to home, from child-friendly paddling in the River Gardon below le Pont du Gard, to kayaking down La Sorgue as it winds its way through the Luberon. Close to Avignon, Lac de Monteux has a lifeguarded beach and various water activities for all ages.
This is a destination to rival any other. Complemented by our selection of handpicked villas we can help you make the most of your luxury holiday in Provence.
---

Explore our pre-bookable experiences in Provence
---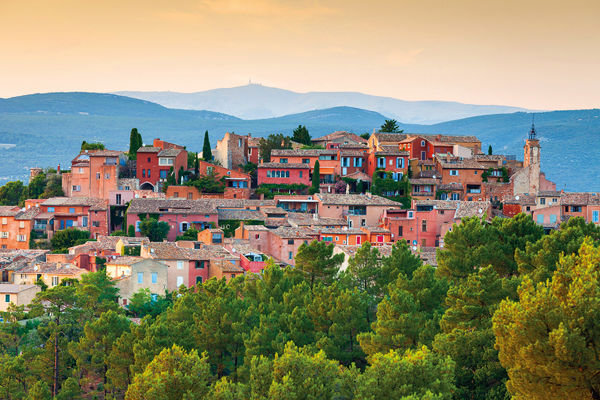 A selection of our holidays in Provence
* Prices shown are for a seven-night stay at the lowest accommodation-only rate.
Our guide to Provence
Introduction to Provence
An influential past
Of all the corners of this alluring country, few have quite the draw of Provence. The self-styled jewel of France's crown has been a must-see since the 14th century, when popes fled Rome for Avignon. But they weren't the area's first Italian visitors; the impressive amphitheatres and shady stone squares of Arles, Nîmes and Orange standing testament to a past of Roman occupation.
Today, tourists come with a more innocent agenda: the rural dream of French country living. They find it too – alive and well in every sense – without ever having to stray too far from the conveniences of modern luxury. It's possible, within the realms of reality, to entertain daydreams of living in Provence. A distracting possibility that makes you love the area all the more.
A bouillabaisse of landscapes
Squeezed between the majestic Rhône River and France's Italian neighbours, the region of Provence-Alpes-Côte d'Azur bulges into (rather than edges) the Mediterranean Sea – too rich in culture, history and gastronomic pizzazz to sit comfortably within its own 31,000 km2.
As the chic Riviera gives way to rolling hills, the old province of Provence offers vistas of a granite-flecked landscape dotted with lavender fields. Arguably the wildest of these views feature the Camargue – a place where red salt lagoons camouflage the unexpected presence of pink flamingos and where herds of white horses wander, captivating in their mystique.
Immortalised in oils
Artists have flocked to Provence for centuries, in awe of its magical light. Cézanne, Picasso and Van Gogh – all found inspiration here; their works lending an air of familiarity to places you've perhaps never visited before.
It's an artistic je ne sais quoi that's never faded, as a morning spent drifting between boutiques in elegant Aix-en-Provence will prove – or a wander round the fountain-graced squares of Saint-Rémy-de-Provence, an historic town of sufficient Provençal charm to have once wooed Van Gogh himself.
A predictably perfect scene
For many, the very mention of Provence conjures images of a sea of lavender – perfect rows of mauve striping the landscape to converge in a place far beyond the horizon. The Luberon is the setting, and this 'parc naturel' lives up to expectations, or perhaps exceeds them, with soaring mountains and perfect hilltop villages.
Among them, the cobbled streets of Gordes offer an unforgettable stroll and the chance to soak up a thriving arts scene that's interrupted only for views over the region's most stunning landscape.
Where past and present meet
France's second city can also lay claim to being its oldest. Ever since Greek traders settled in this sunny corner of the Mediterranean in 600 BC, Marseille has been humming with the comings and goings of a significant port, although today's tourist is likely to have been drawn by the beautifully regenerated city centre, rich in museums, seafood restaurants and boutiques.
Avignon, too, offers an oasis of city vibes in a land famed for its dreamy, faraway countryside. Here, Roman grandeur meets medieval character in a delightfully vibrant town, so rightly one of the region's best loved.
At a glance
Currency

Euro (€)

Flight Time

1 hr 50

Time difference

+1 hour

Language

French

Visa required

Not for UK citizens
Food & drink
A taste of Provence
In this part of the world, aperitifs are (almost without exception) taken with tapenade – a salute to the quality of the area's olives – spread unctuously over bread in anticipation of the traditional starters of the region, which, at their delicious best, feature local truffles.
Lamb is often considered the star attraction, and the kind that was born and raised in Sisteron is particularly notable for its taste and quality. Rabbit graces many a table here too – slow cooked in white wine with garlic, mustard and fresh herbs. And look out for Daube Provençale – a local stew of slowly braised beef with red wine, onions, herbs and garlic, usually served on pasta.
Of course, the sea is never far away – either as the crow flies or the menu reads – and you can't leave Provence without trying the fresh fish bouillabaisse.
In Provence, dessert typically allows the area's abundance of fresh fruit to show what it can do. Tastes of every imaginable topping flow from kitchen to table with ease: apricot, lemon and, of course, apple – available everywhere in the region under its famous tarte aux pommes guise.
For a traditionally Aix-en-Provence experience, ask for the bill early, and make an evening stroll even more enjoyable with a bag of calissons – a delightful local sweet made with candied fruit and ground almonds.
French tipples
For all the regalia of French wine, it's pastis that clinches 'national drink'. This star anise flavoured aperitif was invented in southern France and is considered the proper way to ease into things. But thoughts soon return to wine and, in Provence, the rosé the area is so rightly famed for.
Being the first port of call for France's ancient Roman guests, the vineyards here can claim to be the country's oldest. And they continue to produce Grenache, Syrah, Cinsault, and Mourvèdre grapes of stunning quality – blended to create a refreshingly dry style.
Bandol and Cassis are names to particularly look out for, although – in the north of the region, where the baton is handed to red wine – the mighty Châteauneuf-du-Pape remains unchallenged in both quality and fame.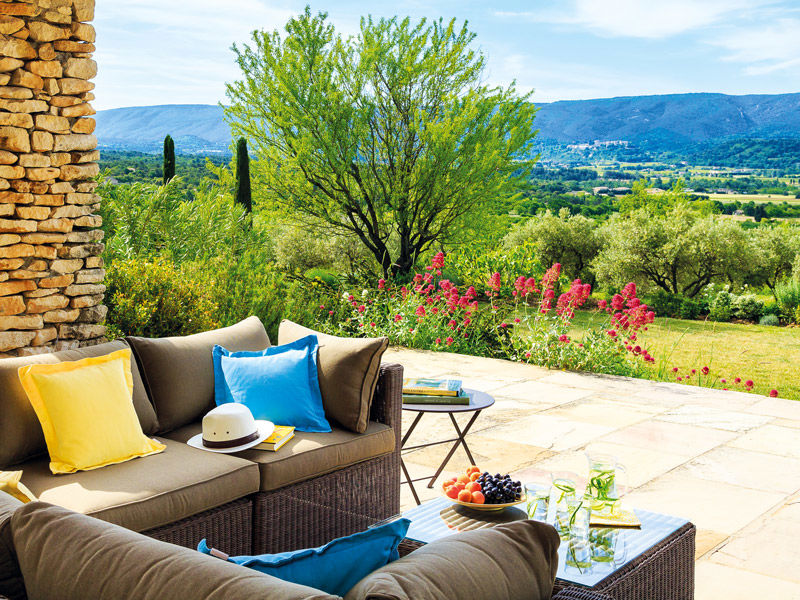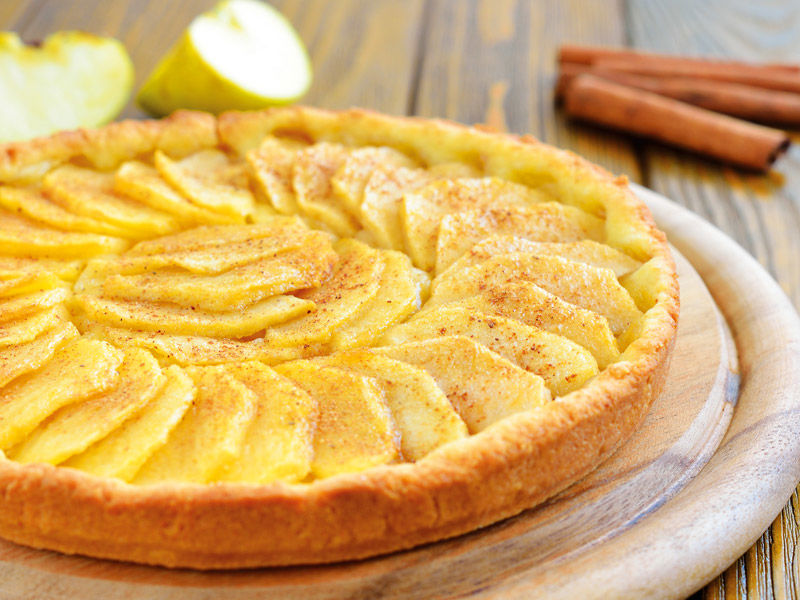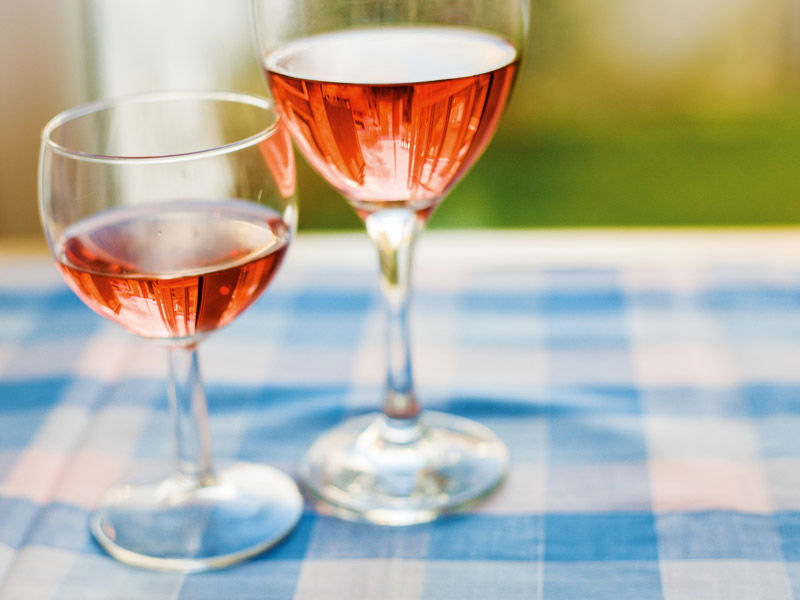 Beaches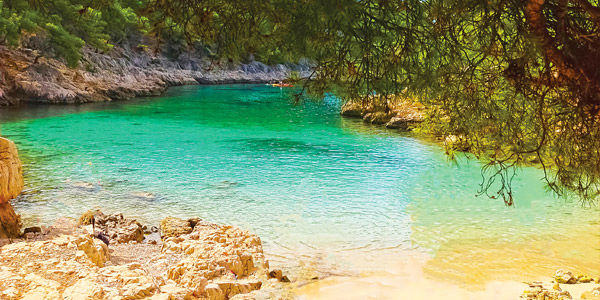 Cassis (and the Calanques)
An oasis of serenity beyond the bustle of Marseille. The calanques, or small bays, of Port Pin and En Vau offer lovely little beaches – all clear water and utter seclusion.
Getting there…
Exit the A50 at junction 8 for Cassis. The calanques are a 45-minute walk from the Col de la Gardiole car park.
Footnotes...
With good facilities, Sormiou is one of the most beautiful of the calanques and is fully supervised in the summer. A boat tour from Marseille is the best way to arrive.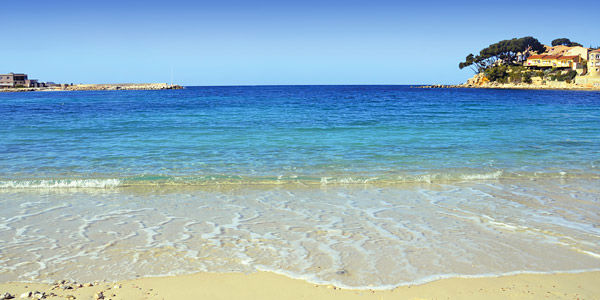 Bandol
A glorious crescent of fine sand is flanked by rugged inlets. Beaches to the west of the La Ville Tranquille earned the town its nickname with quieter, more secluded sunbathing.
Getting there...
Take the A50 in the direction of Toulon and exit at junction 12, following signs for Bandol on the D559.
Footnotes...
Several family-oriented beaches can be reached on foot from the central marina. Manned by lifeguards in summer, these offer a large selection of bars and restaurants along the seafront.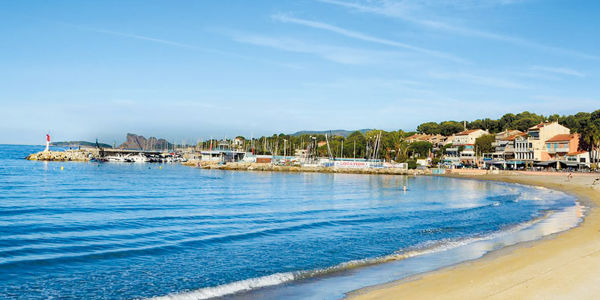 Les Lecques
The popular beach of Saint-Cyr-sur-Mer, pretty Les Lecques, is 2km of soft sand surrounded by wooded hills and stunning scenery. Nautical activities abound, from sea kayaking to water tubing.
Getting there…
Take the A50 (heading east from Marseille or west from Toulon) and exit for La Bourrasque (exit 10). Follow the signs to Les Lecques on the D559.
Footnotes…
There's no shortage of restaurants and cafés in Saint-Cyr-sur-Mer and the best come with memorable views across the bay.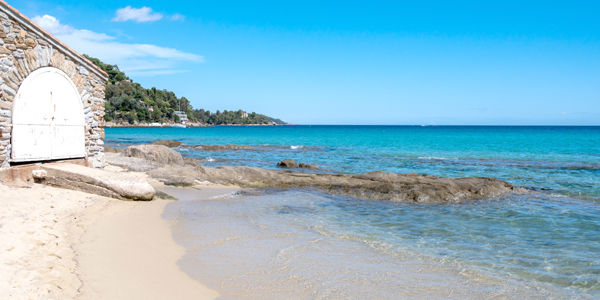 Saint Clair
Small and secluded, with clear water and soft sand, plus pedalo rental. Several beach bars and restaurants. A personal favourite of our France Contracts Executive Jonathan!
Getting there…
Take the St Tropez road from Le Lavandou Port. The beach is about 1.5 km away from the centre of Le Lavandou.

Footnotes…
There is parking nearby, or you can walk from Le Lavandou in around 20 minutes.
Port Grimaud
Snuggled up against Saint-Tropez, this seaside town is built on reclaimed marshland. Criss-crossed with canals, it's popular with boat owners, while its stretch of golden sand attracts sun-worshippers.
Getting there…
Head south from Sainte-Maxime on the coast road or east from Saint-Tropez on the D98A.
Footnotes…
Shallow with gently sloping sand, the water is perfect for families. Further out, windsurfers and kayaks provide more energetic fun.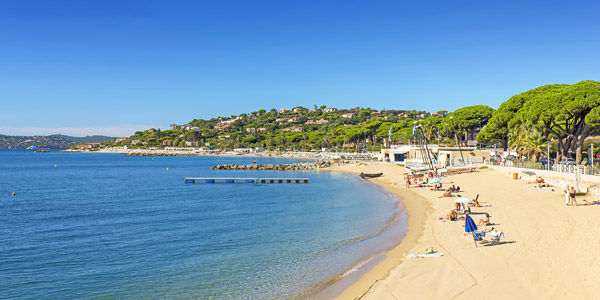 Sainte-Maxime
Clean, white sand edges a beautiful bay of crystal-clear water, just round the headland from Sainte-Maxime town. A few rocky outcrops provide interesting snorkelling opportunities.
Getting there...
Head east from Port Grimaud or west from Saint-Raphaël on the D559. The beach is to the west of Sainte-Maxime.
Footnotes...
The water here is shallow making this a great beach for little ones. There is also ample parking along the coast road, a short walk from the beach.
Things to do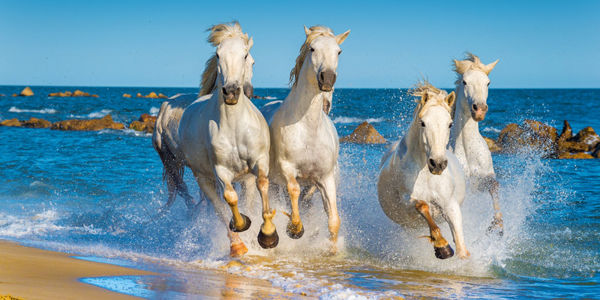 Take a ride on the wildside
Riding through the splendour of the Camargue on horseback is a liberating way to experience this protected wetland. Europe's largest river delta is also home to flaming pink flamingos and the famous Camarguais horses.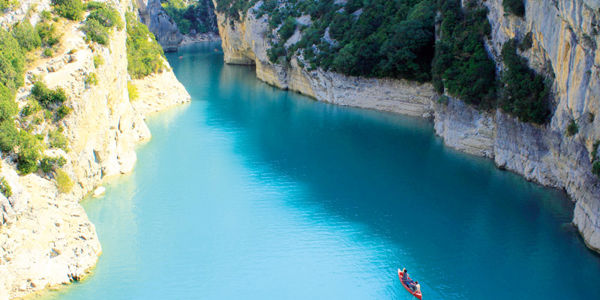 Paddle the Gorges du Verdon
Famed for its 700m walls and brilliant turquoise waters, the 'Grand Canyon of Europe' offers the chance for a truly memorable couple of hours in a kayak. A detour to the village of Moustiers-Sainte-Marie above (one of France's prettiest) completes an unforgettable day.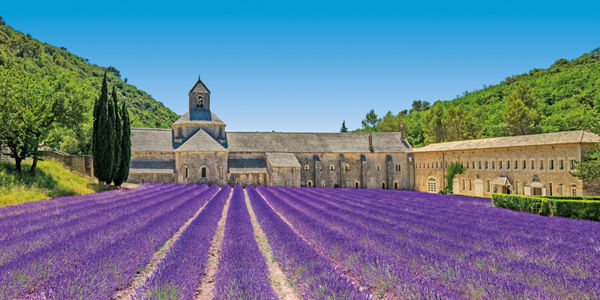 Get waist-deep in lavender
See this archetypal Provençal scene for yourself around Mont Ventoux in the Luberon and again close to the simply beautiful 12th-century Abbaye de Sénanque, 4km from Gordes. Found in soap, cosmetics and even food, the region's 'blue gold' even has a museum dedicated to it in Coustellet.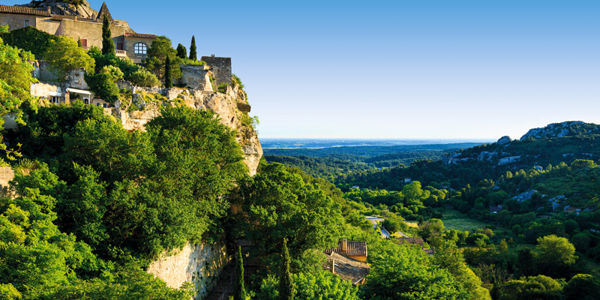 Step back in time
For a village with a population of just 22, tiny Les Baux-de-Provence pulls a big crowd – not least for its reputation as one of the most beautiful villages in France. Spectacular views from a ruined castle are well worth the 15km drive north-east of Arles.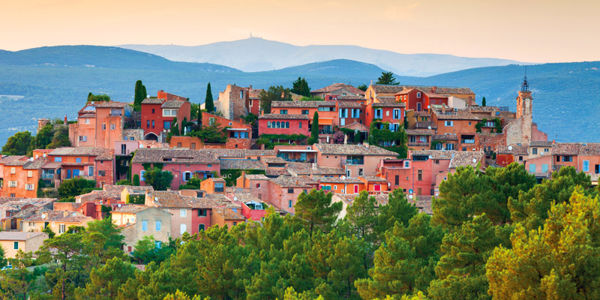 Walk the ochre path
Officially one of the best-looking villages in France, Roussillon offers a good selection of cafés. It's the terracotta landscape all around that provides the real attraction though – and a short, easy hiking trail beginning near the centre of the village.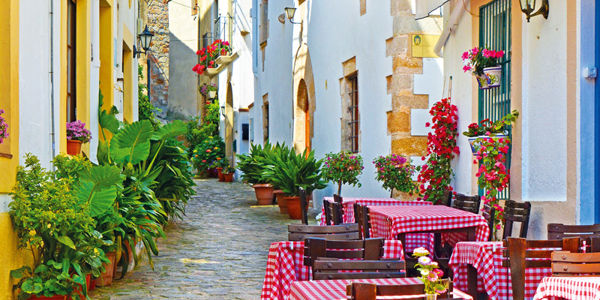 Discover a page-turner
In a typically Provençal town awaits a perfectly French café scene – all check-clothed tables spilling out onto quaint cobbled streets. Stunning Lourmarin is the home of Peter Mayle, author of A Year in Provence and even the briefest of visits shows why a year could never be enough.
See life through the eyes of Cézanne
In the artist's hometown of Aix-en-Provence, follow a well-trodden path taking in the landmarks and landscapes that inspired the post-impressionist's greatest works. Tickets and guidebooks are available at the Aix-en-Provence Tourist Office.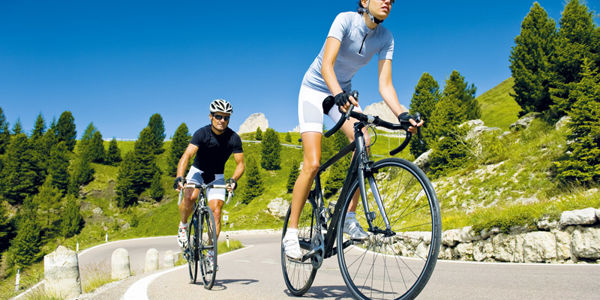 Cycle the Tour de France
The world's most famous cycle race is no stranger to the rolling hills of Provence and you can follow in the tyre tracks of top athletes on the road up Mont Ventoux. Bikes can be hired from almost every town in the region, with alternative routes to suit all abilities.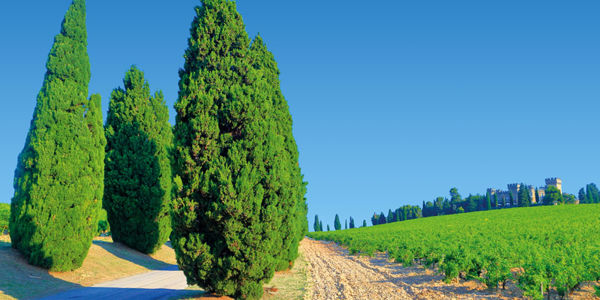 Follow the popes to Châteauneuf-du-Pape
This medieval village, with its 13th-century château, was the summer bolthole for the Avignon popes. Now its name is known for its presence on the labels of some of the world's finest wine. A Museum of Wine and vineyard tour offer a glimpse into the area's culture.
Events
What's on in May
17-28 May
Festival de Cannes may draw in crowds of film professionals, but the outdoor Cinéma de la Plage screens a different film each night, including premieres.
25-28 May
Formula 1 makes its way to the French Riviera for the Monaco Grand Prix – watch the drivers pass luxurious yachts as they whizz their way through the track.
31 May-4 Jun
Les Voiles d'Antibes celebrates classic yachts. There are themed events, exhibitions and concerts in Antibes too.
What's on in June
Every June, usually towards the end, Festival d'Aix-en-Provence takes place – an open-air international music festival dating back to 1947.
5 Jun
Whit Monday. The end of the Christian season of Lent and a public holiday throughout the country.
10-12 Jun
Attend cooking classes and demonstrations with chefs from around the world at Les Etoiles de Mougins – the International Festivals of Gastronomy and Lifestyle.
Mid Jun
The Jumping International de Cannes is a great equestrian event with show jumping at its heart.
19 Jun-5 Aug
Chorégies d'Orange is a celebration of all things opera. With various performances, check the dates and book online at choregies.fr.
What's on in July
Every Jul
Each July, Rencontres Internationales de la Photo, showcases new work on various heritage sites, spanning the summer months.
The Avignon Festival brings together the contemporary performing arts throughout the month of July – with around 300 performances.
19-28 Jul
Jazz artists from around the world flock to Marseille Jazz des Cinq Continents. With a variety of ticket packages, make sure you pre-book online at marseillejazz.com.
21 Jul-17 Aug
Festival International de Piano de la Roque d'Anthéron is a classical music festival that focuses mainly on the piano, covering all styles of music – including electronic music.
What's on in August
15 Aug
Assumption Day. The Roman Catholic celebration of Mary, mother of Christ, being taken to Heaven sees banks and many businesses closed.
Mid Aug
Festival de Jazz de Ramatuelle focuses on swing jazz, but there's a free fringe festival that promotes local musicians.
What's on in September
12-17 Sep
Just under 600 yachts are showcased at the Yachting Festival de Cannes, spread between the Vieux Port and the Port Pierre Canto.
End Sep
Set in the iconic Port Hercules, the Monaco Yacht Show is an event where you can admire, visit and purchase one-off superyachts. 
End Sep
Les Voiles de Saint-Tropez hosts racers and sailing enthusiasts as they compete in the bay of Saint-Tropez – you can expect to see modern sailing boats alongside traditional yachts.
Towns and villages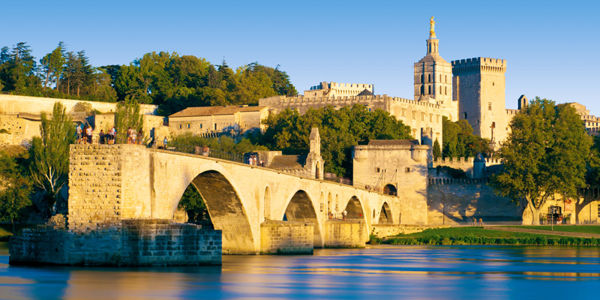 Avignon
The impressive medieval fortifications and enormous tower of what was once the Papal Palace are a focal point of Avignon – until you discover the city's famous bridge. Jutting into, rather than over, the Rhône River, the Pont d'Avignon, known as 'the broken bridge', provides a perfect view back to the town's medieval skyline, and a reminder as to why the characterful city deserves its status as a UNESCO-protected site.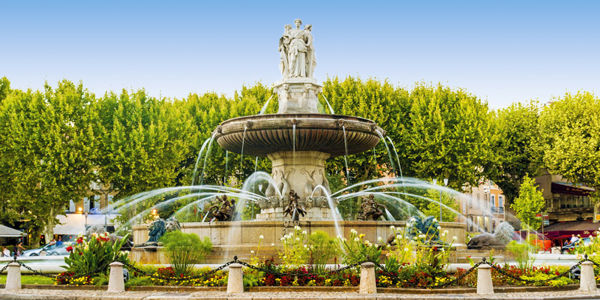 Aix-En-Provence
Boasting the kind of beauty usually reserved for smaller towns and villages, the pretty avenues and winding lanes of Aix seem never-ending to the casual stroller. Here, 16th-century townhouses surround immaculate squares – all quite befitting of the smart Roman street plan upon which the town is built. It doesn't take long to see why this is often referred to as 'The City of a Thousand Fountains' or why Aix was so irresistible to the likes of Cézanne and Hemingway.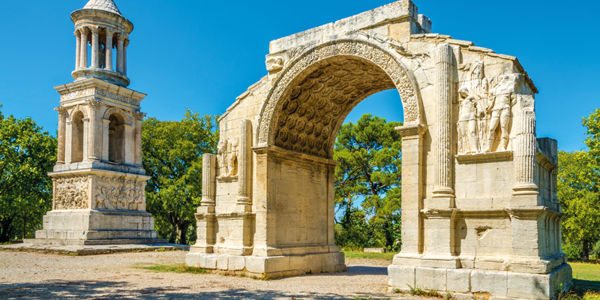 Saint-Rémy-de-Provence
Nestled among the foothills of the Alpilles, Saint-Rémy is surrounded by historic gems including the ancient Roman site of Glanum and the monastery of Saint-Paul de Mausole (where Van Gogh was hospitalised for the final year of his life). Regarded as 'the heart of Provence', a warren of restaurants, cafés and quirky little shops lends Saint-Rémy a wonderful vibrancy, but the real draw has to be the Cathédrale d'Images – where famous paintings are projected onto a quarry's granite walls.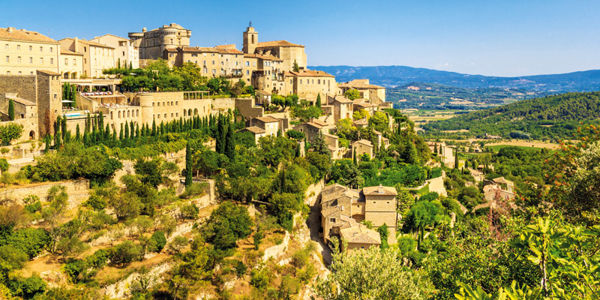 Gordes
Teetering on a cliff above the valley of Calavon, stunning yet tiny Gordes has been drawing wide-eyed visitors since Roman times. Enjoying a slower pace than the region's larger towns, this is a place to amble, wander and drift – all the while soaking up the atmosphere of what is commonly referred to as the most beautiful place in Provence. Head for picture-perfect Sénanque Abbey and the village of dry-stone huts known as Les Bories.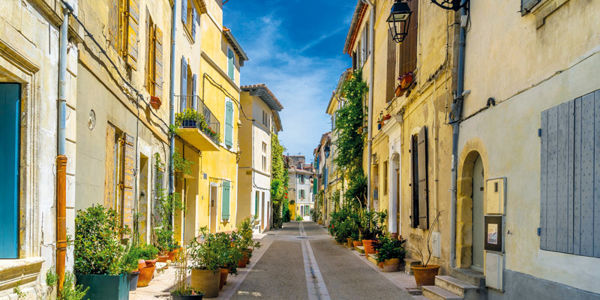 Arles
Standing gatekeeper to the Camargue, Arles boasts one of Provence's very best Saturday markets. Many of the town's colourful houses may seem familiar, as they appeared in the paintings of Vincent Van Gogh. The artist was based here for a while during his partnership with Gauguin, but the town enjoyed renown long before being immortalised in oils – as testified by the Roman amphitheatre, forum and theatre.
Vaison-la-Romaine
Sitting obediently at the foot of Mont Verdoux, this unassuming but oh-so-pretty medieval town has a very grand story to tell. As the name lets slip, Vaison-la-Romaine was once under Roman occupation, and vast ancient ruins – forming the largest archeological site in France – can be explored here. A beautiful Provençal Romanesque cathedral adds an extra layer of history, all of which might call for a cooling glass of rosé at one of the bars in the traditional square, Place Montfort.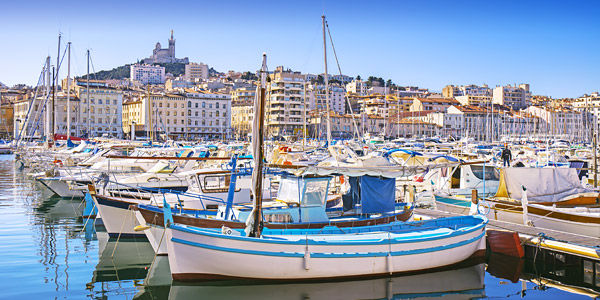 Marseilles
France's second city has long been the country's gateway to the Mediterranean, soaking up all the cultural influences its exciting position has to offer. A vibrant old port, impressively regenerated Panier district and the stately, historic Canebière – the city's central thoroughfare – melt together to offer a fascinating morning's exploration. Arrive early to see fishermen unloading buckets of wriggling fish onto harbourside market stalls. Visit later for a city alive with cosmopolitan panache.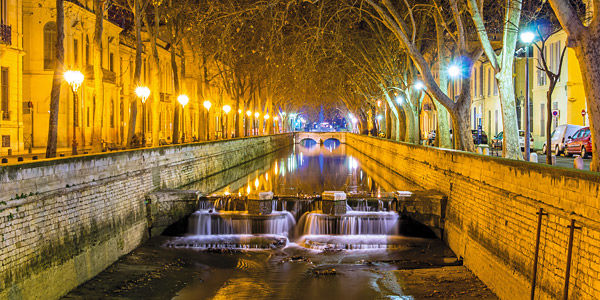 Nîmes
A hop across the regional border into neighbouring Occitanie presents the truly endearing city of Nîmes and its famous Roman amphitheatre that simply begs to be explored. The Maison Carré is the second big draw in this perfectly preserved city, and the only still-complete Roman temple left anywhere in the world. Art and culture are the backbone of Nîmes and just an afternoon's wanderings will plant her firmly on your list of places to revisit as soon as you can.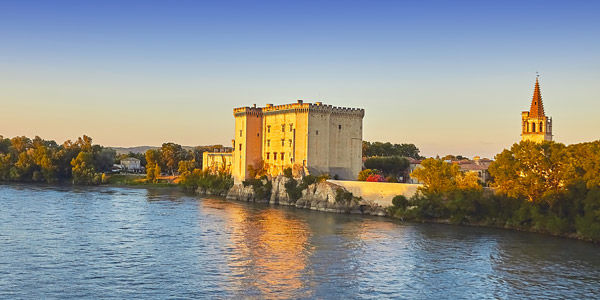 Tarascon
Between Avignon and Arles lies an ancient fortified town, renowned throughout Provence – and the world – for its unmistakable fabrics. The Charles Demery factory is the thriving industrial heartbeat of Tarascon and its floral textiles can found in countless shops hiding beneath pretty arcaded walkways. Rustic Place du Marché provides the central thoroughfare – and a fitting approach to the steps of a Tarascon institution, L'Hôtel du Ville. For a post-lunch stroll, take the Roman bridge to Beaucaire – the town with which Tarascon holds hands across the Rhône.