Delightful beachfront Simpson Hotel
Prime north east Corfu location overlooking stunning Avlaki Bay
31 stylishly appointed rooms and suites
Short walk to tavernas
Simpson Watersports
Simpson family extras available
Children's activity clubs (14 July – 31 Aug)
Kassiopi 5-minute drive
Cocooned in lush gardens that open out onto lovely Avlaki beach, Bella Mare has claimed one of the most desirable spots in this exclusive corner of north east Corfu. The sublime location, spectacular views and exceptional service – all the hallmarks of a Simpson Hotel – create the perfect atmosphere for relaxation, with numerous delightful places to sit and soak up the sun amongst the wonderfully tranquil grounds. There is a generous pool and if you are feeling a little more energetic, Simpson Watersports, our exciting new partnership with the Corfu Sailing Centre, is a short stroll along the beach offering lessons and equipment hire.
Whether you've been out on the water or taking it easy on a sunbed, the poolside bar is the perfect place for a lazy lunch, with a tempting choice of drinks, light meals and snacks offered throughout the day. And in the evening, enjoy a cocktail and gaze out across the bay as the distant mountains of Albania set to a glorious salmon pink.
All rooms at Bella Mare have spacious, elegant interiors, sea views and their own kitchenette and fridge should you wish to dine in. And for a little extra luxury, our ten Bella Mare Exclusive Suites, new for 2019, share an additional private pool and daytime bar.
For evening dining, there are two excellent tavernas moments from the hotel – or the vibrant village of Kassiopi, with its pretty shops, waterfront restaurants and low-key nightlife is a pleasant 20-minute walk or a five-minute drive.
Bella Mare makes an excellent choice for families too, with the introduction of our Dolphins club for 7 to 10 year olds and Tribe for older children and those hard-to-please teens. Based at the hotel, the clubs run from 14 July to 31 August and offer a flexible and inspiring programme for our younger guests ensuring a restful, restorative and truly memorable holiday for everyone.
Please note
Car hire is included on the following departure dates:
5, 12, 19 May
29 September
6 October 
New for 2019
Layout
31 room/suite hotel
Classic Double (sleeps 2)
Superior Room (sleeps 2)
Junior Suite (sleeps 2-3)
Family Suite (sleeps 2-4)
Bella Mare Suite (sleeps 2-4)
Luxury Suite (sleeps 2-3) 
Exclusive Classic Room (sleeps 2) 
Exclusive Superior Room (sleeps 2)
Exclusive Junior Suite (sleeps 2-3) 
Exclusive Family Suite (sleeps 2-4) 
All suites include
Daily breakfast
Private balcony or terrace
Air-conditioning
Complimentary WiFi
Flat screen TV with some English-speaking news channels
Double bed 
Complimentary bathroom products
Hairdryer
Safe
Telephone
Simpson Travel pool towels
Non-smoking rooms
Daily maid service
Room Service (up to 11pm)
In Greece, a nominal visitor tax applies, known as the Overnight Stay Tax, which varies depending on the accommodation. During your stay at the Bella Mare Hotel, €1.50 per night per room must be paid locally in cash and will be collected either by the property owner or our local representative on their behalf.
Facilities
Poolside snack bar
Shared swimming pool 20m x 9m (depth 0.8m – 1.90m)
Children's pool 4.5m x 4m (depth 0.8m)
Table tennis
Simpson family extras
Simpson Nanny Service, Dolphins (ages 7-10), Tribe (ages 11-16)
Complimentary cot and highchair available
Car seats and booster seats can be provided at a supplement, subject to availability
To pre-book any of our family extras please call 020 8392 5747
National tourist licence (EOT): 0829Κ034Α00Τ6900
Beach tavernas 2min walk
Avlaki beach (pebbles) 2min walk   
Simpson Watersports available at Corfu sailing centre, Avlaki beach (sailing dinghies, windsurfing, kayak hire) 5min walk
Kassiopi tavernas/bars/shops/bakery 5min drive or 25min walk
Agios Stephanos (tavernas/shops) 8min drive
Agni (tavernas/beach) 20min drive
Corfu Town and airport 1hr drive
Car hire is included on the following departure dates:
5, 12, 19 May
29 September
6 October
If you would like car hire outside of these dates, please call for prices.
Car options
Based on the number of people travelling, the following hire car(s) are included in the package price of your holiday:
2 guests – 1 Group B, Hyundai i10 or similar*
3 guests – 1 Group C, Ford Fiesta or similar*
4 guests – 1 Group D, Opel Astra or similar*
* All our cars include comprehensive insurance with zero excess. For this particular destination, the undercarriage tyres and windscreen are not included in the cover.
Car specification
Group B – 1.1 litre engine, 2 medium suitcase*
Group C – 1.25 litre engine, 1 large and 1 medium suitcase*
Group D – 1.4 litre engine, 2 large and 1 medium suitcase*
The following cars are available as alternatives on request (supplements apply). Please call our travel specialists for details.
Group E1 – Automatic Citroën C3 or similar, 1.4 litre engine, 1 large and 1 medium suitcase*
Group E2 – Automatic Hyundai Matrix or similar, 1.6 litre engine, 2 large and 2 medium suitcases*
Group F1 – Minibus Fiat Doblo 7 seater or similar, 1.6 litre engine, 2 medium suitcases*
Group F2 – Minibus Fiat Scudo 9 seater or similar, 1.5-2.0 litre engine, 2 small suitcases*
Group L – Ford Focus or similar, 1.6 litre engine, 2 large and 2 medium suitcases*
Group M – Fiat Tipo Station Wagon or similar, 1.2 litre engine, 3 large and 2 medium suitcases*
* Suitcase sizes are based on a large suitcase being approximately 75cm x 41cm x 31cm, a medium suitcase of approximately 65cm x 46cm x 29cm and a small suitcase of 55cm x 40cm x 20cm.
Customer feedback
An excellent hotel in a quiet and beautiful location. The staff are friendly and the accommodation is comfortable. Our Junior Suite was spacious and the balcony overlooking the grounds and the sea was a real bonus. Watching the sunrise was glorious.
Keith & Liz Henderson – Junior Suite– September 2018
We had a wonderful holiday experience from beginning to end. Bella Mare is a lovely small hotel, fantastically located with great customer service...and nearby to some fabulous small bays and tavernas...really couldn't fault it. Thank you.
Kate Gibbins – Junior Suite – September – 2018
This was the second time we have used Simpson Travel and will certainly use the company again if possible. All the staff we had contact with were superb.
Vivian Downing – Junior Suite– August 2018
I love Simpson Travel – you consistently get excellent service. The quality of the décor and rooms is always good and stylish, and the staff, both in the UK and abroad are always welcoming and helpful. I rarely look at any other travel companies for a holiday in Europe as I know Simpson Travel will be just to my liking. It's a company you can trust.
Mrs Arkle – Junior Suite – July 2018
Our choice of Greek properties is as diverse as the islands themselves, ranging from simple seaside charm to genuine luxury and style. Much of our portfolio is privately owned, and price alone is therefore not a universal guide. We contract all our accommodation in person, and each property has its individual appeal.
To help you make the right choice based on your own priorities, we have devised a simple grading guide to be considered in conjunction with each individual property description, awarding up to a maximum of five stars for the below categories.
* For further clarification on Facilities and Amenities, please view the 'Details' tab for each property or speak to one of our experienced sales consultants.
A hundred stories unfold on lovely Corfu… Tales of gods and goddesses, Phoenicians and Venetians, vibrant towns and sleepy villages. There's also a rich natural history of mountains, olive groves, fertile valleys and a coastline dotted with picturesque coves, sandy beaches and rocky inlets. Follow in the footsteps of Lawrence and Gerald Durrell with a luxurious retreat to Corfu's North East, near Agios Stephanos, or venture North West, to enjoy more sandy beaches and scenic coastal drives.
To help you make the most of your luxury holiday in Corfu, our collection includes luxury villas and a charming waterfront hotel on Avlaki beach. For 2019 we're delighted to introduce Dolphins and Tribe clubs and activities for 8 to 18 year-olds during summer school holidays. We're also launching the brand-new Simpson Watersports, with equipment hire and lessons with expert instructors.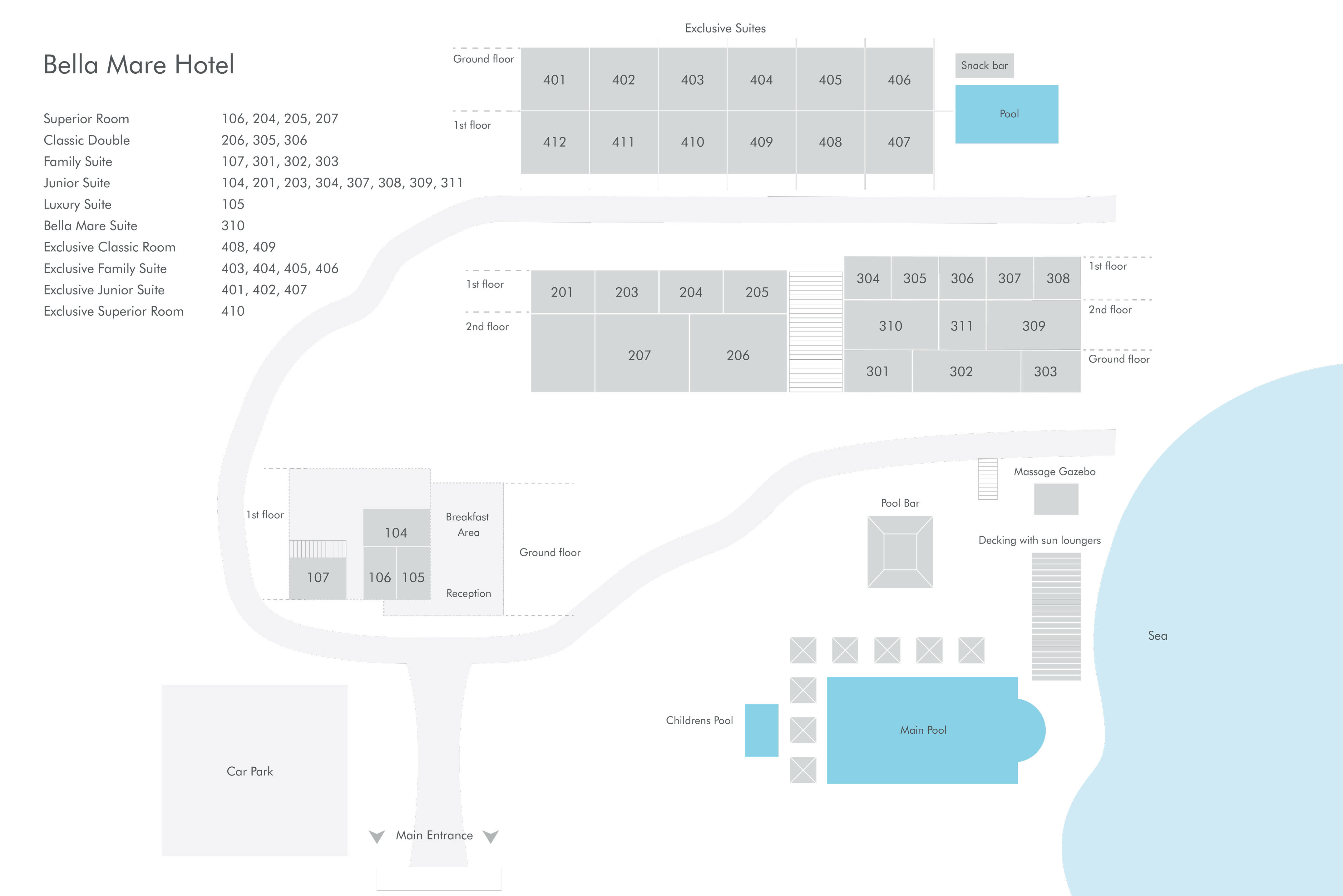 Enlarge Map
Classic Double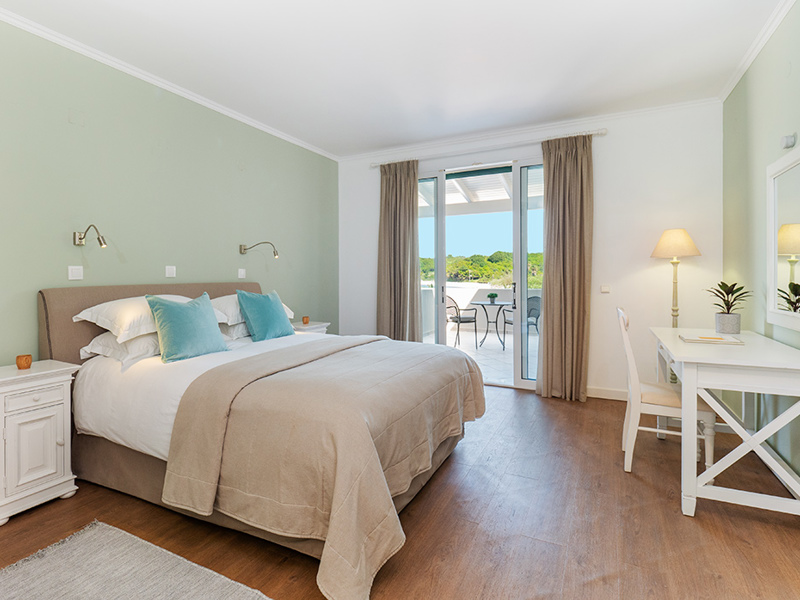 Full details
Classic Double
Room 206 (2nd floor)
Rooms 305 and 306 (1st floor) with kitchenette and fridge, can interconnect on request
Double bed (160cm x 200cm)
Bathroom with shower
Bathrobes
Private balcony
---
Exclusive Classic Room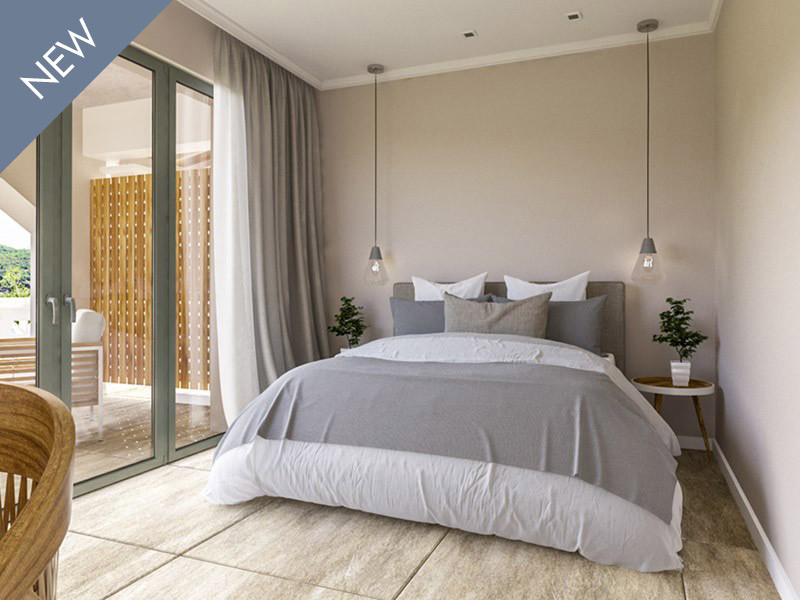 Full details
Adult Only except 26 May – 2 June and 7 July – 1 September, when children are permitted
Exclusive Classic Room
Rooms 408 and 409 (1st floor) with balcony, can interconnect on request
Double bed (160cm x 200cm)
Mini-fridge
Bathroom with shower
Bathrobes
Private balcony
Shared swimming pool exclusive to Bella Mare Exclusive Suites in addition to main hotel pool
Bar exclusive to Bella Mare Exclusive Suites
---
Exclusive Superior Room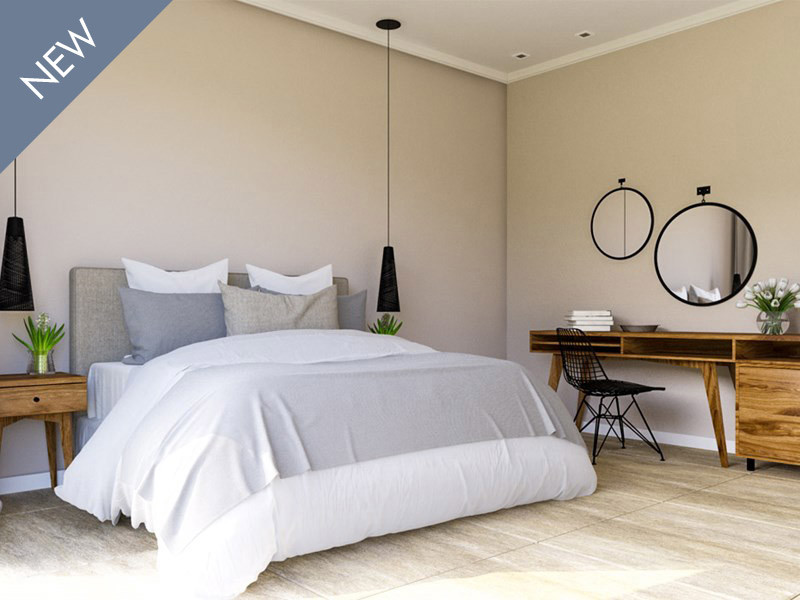 Full details
Adult Only except 26 May – 2 June and 7 July – 1 September, when children are permitted
Exclusive Superior Room
Room 410 (1st floor) 
Double bed (160cm x 200cm)
Mini-fridge
Bathroom with shower
Bathrobes
Private balcony
Shared swimming pool exclusive to Bella Mare Exclusive Suites in addition to main hotel pool
Bar exclusive to Bella Mare Exclusive Suites
---
Superior Room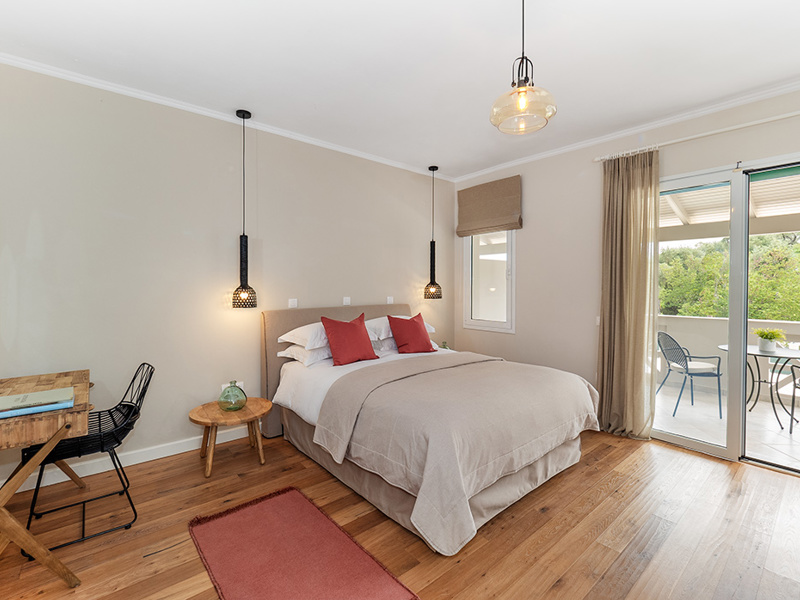 Full details
Superior Room
Room 106 (1st floor)
Rooms 204 and 205 (1st floor) can interconnect on request
Room 207 (2nd floor)
Sitting area
Kitchenette with fridge
Double bed (160cm x 200cm)
Bathroom with shower
Bathrobes
---
Exclusive Junior Suite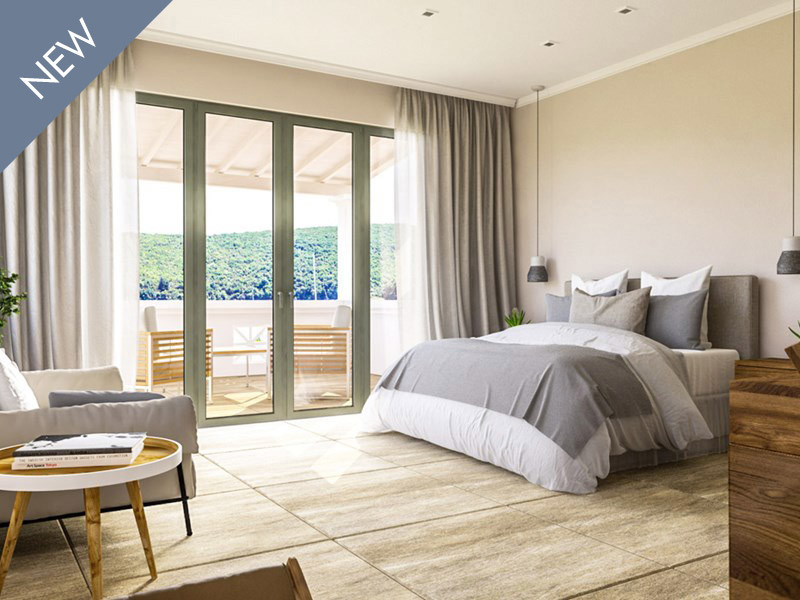 Full details
Adult Only except 26 May – 2 June and 7 July – 1 September, when children are permitted
Exclusive Junior Suite
Suites 401 and 402 (ground floor) with terrace
Suite 407 (1st floor) with balcony
Double bed (180cm x 200cm)
Sofa bed
Mini-fridge
Bathroom with shower
Bathrobes
Shared swimming pool exclusive to Bella Mare Exclusive Suites in addition to main hotel pool
Bar exclusive to Bella Mare Exclusive Suites
---
Junior Suite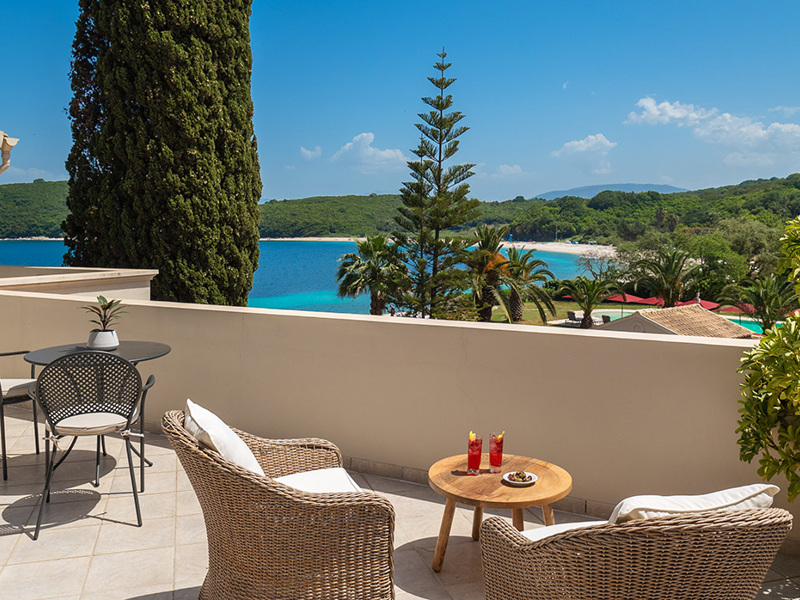 Full details
Junior Suite
Suites 104, 201, 203, 304, 307 and 308 (1st floor)
Suites 309 and 311 (2nd floor)
Sitting area
Kitchenette with fridge
Double bed (160cm x 200cm)
Sofa bed
Bathroom with shower
Bathrobes
Private balcony
---
Luxury Suite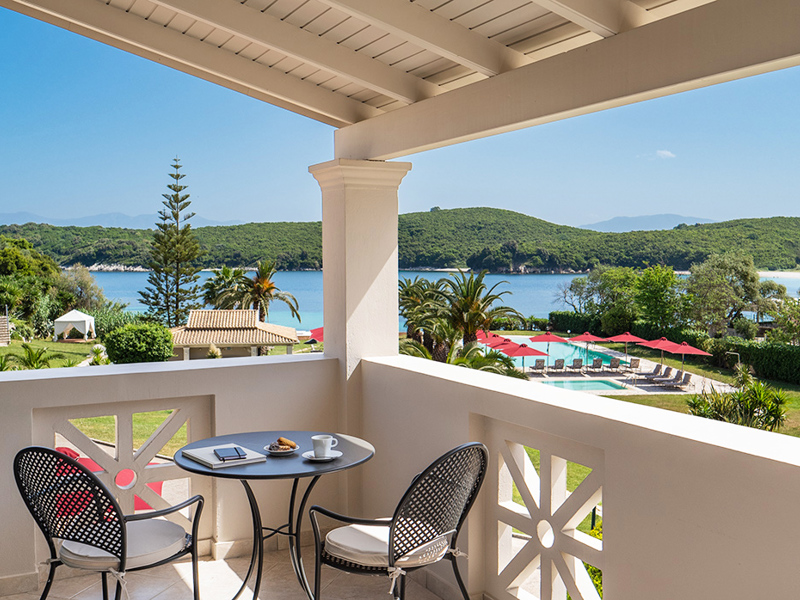 Full details
Luxury Suite
Suite 105 (1st floor)
Kitchenette with fridge
Double bed (180cmx 200cm)
Sofa bed
Bathroom with bath
Bathrobes
Private balcony
---
Bella Mare Suite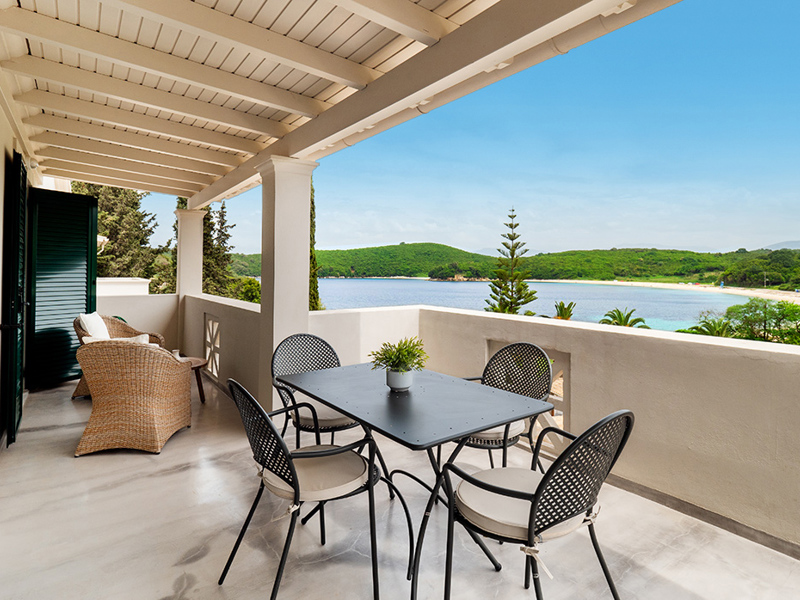 Full details
Bella Mare Suite
Suite 310 (2nd floor)
Kitchenette with fridge
Double bed (160cm x 200cm)
Sofa bed
Bathroom with shower
Bathrobes
Private balcony
---
Exclusive Family Suite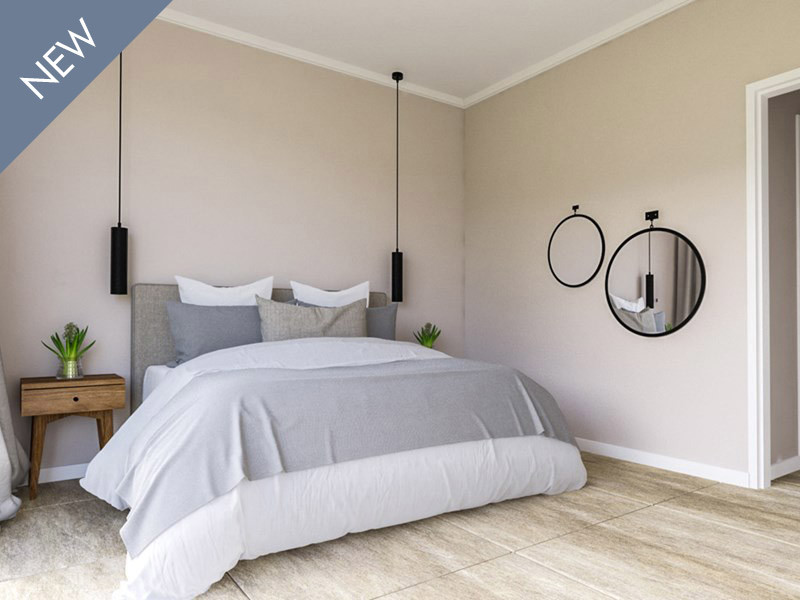 Full details
Adult Only except 26 May – 2 June and 7 July – 1 September, when children are permitted
Exclusive Family Suite
Suites 403, 404, 405 and 406 (ground floor) with terrace
Kitchenette with fridge
Double bed (180cm x 200cm)
2 divans (90cm x 190cm)
Bathroom with shower
Bathrobes
Shared swimming pool exclusive to Bella Mare Exclusive Suites in addition to main hotel pool
Bar exclusive to Bella Mare Exclusive Suites
---
Family Suite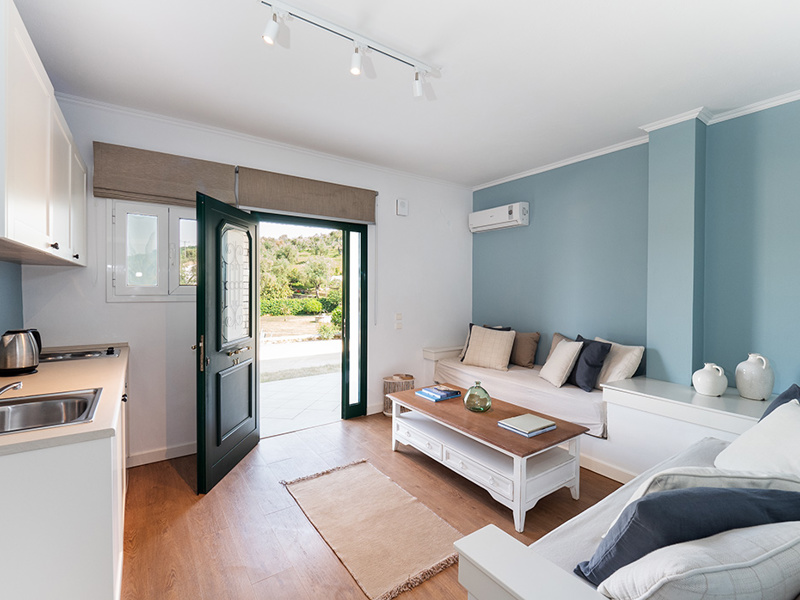 Full details
Family Suite
Suites 301, 302 and 303 (ground floor) with terrace
Suite 107 (1st floor) with balcony
Sitting area
Kitchenette with fridge
Double bed (160cm x 200cm)
Sofa bed
Bathroom with shower
Bathrobes
Private balcony or terrace
---
View holiday Booking Conditions
Simpson Travel in the press