Delightful beachfront Simpson Hotel
Prime north east Corfu location overlooking stunning Avlaki Bay
31 stylishly appointed rooms and suites
Short walk to tavernas
Complimentary supervised children's activities on selected school holiday dates
Simpson family extras available
Kassiopi or Agios Stephanos 8min drive
2024 Holidays... 2023 Prices
Our 2024 holidays are now priced online and with our early bird promise, you can enjoy December 2022 prices when you book by 31 December 2023. View Price Freeze Terms & Conditions here.
Cocooned in lush gardens that open out onto lovely Avlaki beach, Bella Mare has claimed one of the most desirable spots in this exclusive corner of north east Corfu. The sublime location, spectacular views and exceptional service – all the hallmarks of a Simpson Hotel – create the perfect atmosphere for relaxation, with numerous delightful places to sit and soak up the sun amongst the wonderfully tranquil grounds or by the generous pool. When you're feeling a little more energetic, kayaks and SUPs are available for hire on the beach adjacent to the hotel gardens and we can arrange boat rental if you're looking to explore further afield.
Whether you've been out on the water or taking it easy on a sunbed, the poolside bar is the perfect place for a lazy lunch, with a tempting choice of light meals and snacks served until 6pm. In the evening, the bar remains open for drinks until 7pm, so you can enjoy the company of friends old and new as the sun goes down.
All rooms at Bella Mare have spacious, elegant interiors and sea views, with some offering their own kitchenette and fridge should you wish to dine in. And for a little extra luxury, our ten Bella Mare Exclusive Suites share an additional private pool and daytime bar.
For evening dining, there are two excellent tavernas moments from the hotel – or the vibrant town of Kassiopi, with its shops, waterfront restaurants and low-key nightlife is a 35-minute walk or a five-minute drive. Upmarket Agios Stephanos is also easily accessible, just a short drive south along the coast, with its popular tavernas, pretty boutiques and atmospheric bars.
In peak weeks of the summer holidays, younger guests aged 5 to 11 can enjoy a complimentary range of children's activities courtesy of our Beach Life programme. To find out more visit Simpson Beach Life.
Flexible stays at Bella Mare… W
e are delighted to be offering flexible stays in selected rooms at Bella Mare Hotel. Published prices are for 7 and 14-night durations on fixed departure dates only. However, information regarding alternative departure dates and durations is available by contacting our Destination Specialists on
020 8392 5858
.
Please note, flexible stays may be available when standard travel dates appear fully booked. 
---

Explore our pre-bookable experiences in Corfu
---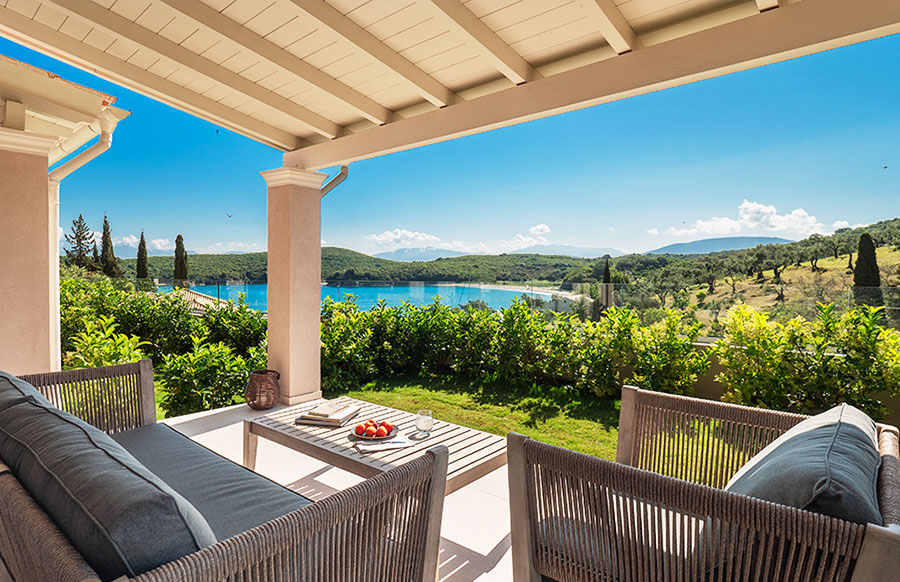 Bella Mare Exclusive Suites
Ten state-of-the-art luxury suites; adult-only except during half-term and summer holidays.
Layout
31-room/suite hotel
Classic Double (sleeps 2)
Classic Superior Room (sleeps 2)
Classic Junior Suite (sleeps 2-3)
Classic Family Suite (sleeps 2-4)
Superior Room (sleeps 2)
Junior Suite (sleeps 2-3)
Family Suite (sleeps 2-5)
Bella Mare Suite (sleeps 2-4)
Luxury Suite (sleeps 2-3) 
Exclusive Classic Room (sleeps 2) 
Exclusive Superior Room (sleeps 2)
Exclusive Junior Suite (sleeps 2-3) 
Exclusive Family Suite (sleeps 2-4) 
All suites include
Daily buffet breakfast in main hotel reception area
Private balcony or terrace
Complimentary WiFi
Air-conditioning
Flat screen TV with some English-speaking news channels
Double bed 
Complimentary bathroom products
Hairdryer
Safe
Telephone
Simpson Travel pool towels
Non-smoking rooms
Maid Service (6 days/week)
All areas of the hotel accommodation and Exclusive Suites are accessed by steps (please note the Exclusive Suites are accessed by a further 50 steps from the main hotel suites)
In Greece, a nominal visitor tax applies, known as the Overnight Stay Tax. During your stay at the Bella Mare Hotel, €3 per night per room must be paid locally in cash to Reception
Bella Mare Hotel guests benefit from a discount on kayaks and SUPs hired from the beach adjacent to the Bella Mare Hotel grounds
Hotel facilities
Shared swimming pool 9m x 20m (depth 1.1m – 1.8m)
Children's pool 4m x 4.5m (depth 0.8m)
Poolside snack bar (snacks served 11am to 6pm, drinks served 11am to 7pm)
Table tennis
Exclusive Suite facilities
Shared swimming pool 7.7m x 14.7m (depth 1.5m throughout)
Honesty bar for Exclusive Suite guests only
Snacks can be ordered at the main hotel pool bar and delivered to the Exclusive bar
Simpson family extras
Beach Life programme of complimentary children's activities available in July and August. 
Complimentary cot and highchair available
Car seats and booster seats can be provided at a supplement, subject to availability
To pre-book any of our family extras please call 020 8392 5747
Private nanny service offering babysitting and full or half-day childcare packages. Please ask one of our Destination Specialists for details or visit Ionian Nannies.
WiFi
All properties with WiFi are able to support basic functionality such as web browsing and checking emails. We aim to offer an uninterrupted service but sometimes, due to factors beyond our control, reliability can be affected
National tourist licence (EOT): 0829Κ034Α00Τ6900
Beach tavernas 2min walk
Avlaki beach (pebbles) 2min walk with paddleboard, kayak and motor boat hire from the beach (payable locally)
Kassiopi tavernas/bars/shops/bakery 5min drive or 35min walk
Agios Stephanos (tavernas/shops) 8min drive
Agni (tavernas/beach) 20min drive
Corfu Town and airport 1hr drive
Car hire is included on the following departure dates in 2024 :
1, 5, 8, 12, 15, 19, 22 May 

22, 25, 29 September 

2, 6, 9 October 
If you would like car hire outside of these dates, please call for prices.
Car options
Based on the number of people travelling, the following hire car(s) are included in the package price of your holiday:
2 guests – 1 Group B, Hyundai I10 or similar*
3 guests – 1 Group C, Peugeot 208 or similar*
4 guests – 1 Group D, Peugeot 301 or similar*
* All our cars include comprehensive insurance with zero excess. For this particular destination, the undercarriage tyres and windscreen are not included in the cover.
Car specification
Group B – 1.1 litre engine, 2 medium suitcase*
Group C – 1.25 litre engine, 1 large and 1 medium suitcase*
Group D – 1.4 litre engine, 2 large and 1 medium suitcase*
The following cars are available as alternatives on request (supplements apply). Please call our travel specialists for details.
Group L – Fiat Tipo or similar, 1.6 litre engine, 2 large and 2 medium suitcases*
Group M – Fiat Tipo Station Wagon or similar, 1.2 litre engine, 3 large and 2 medium suitcases*
Group E1 – Automatic Citroën C3 or similar, 1.4 litre engine, 1 large and 1 medium suitcase*
Group E2 – Automatic Fiat Tipo or similar, 1.6 litre engine, 2 large and 2 medium suitcases*
Group J2 – Nissan Qashqai SUV or similar, 1.3 litre engine, 3 medium suitcases*
Group J3A – Automatic Ford Kuga SUV or similar, 1.5 litre engine, 3 medium suitcases*
Group F1 – Fiat Doblo 7 seater or similar, 1.6 litre engine, 2 large and 2 medium suitcases*
Group F2 – Fiat Talento 9 seater or similar, 1.5-2.0 litre engine, 3 large and 2 medium suitcases*
Group N – Mercedes Benz A160 or similar, 1.4 litre engine, 3 large suitcases*
* Suitcase sizes are based on a large suitcase being approximately 75cm x 41cm x 31cm, a medium suitcase of approximately 65cm x 46cm x 29cm and a small suitcase of 55cm x 40cm x 20cm.
We thoroughly enjoyed another holiday with Simpson Travel , as usual from the moment of airport arrival we have always been whisked to our hire car with negligible fuss, or straight into a taxi, ready and waiting. Our chosen resorts have always been exactly as described, this time Bella Mare, Corfu. The accommodation was excellent, superb breakfasts and good beach bar lunches. All the staff, without exception, would have gone above and beyond if asked. What more could you ask for?
Bella Mare is an intimate and magical hotel in a special location. Fourth time at the place and we will probably return to it again and again in the future.
Once again, Simpson delivers! Bella Mare has a fabulous location and the views are simply stunning. Already planning next year!
My husband and I recently enjoyed a truly wonderful short 3-night stay in a Junior Suite at La Bella Mare in Corfu. This small, delightful hotel is nestled between the hills with its own beautiful private pebble beach. From the large pool to the onsite bar and restaurant with its helpful attentive staff; the crystal clear sea; the other friendly guests; two delightful tavernas just a short stroll from the hotel, and the spotless, very comfortable accommodation, we honestly couldn't have asked for more: one of the most peaceful, relaxing and tranquil locations we have ever had the pleasure of visiting!
Ours was a really last-minute booking, taking the opportunity of a good weather window in Corfu. We have never booked with Simpson before and found the experience easy. The hotel itself exceeded our expectations in many respects. The choice and quality of the breakfasts were excellent, and the staff could not have been more helpful, suggesting walking routes and places to visit.
Excellent hotel. Superb breakfasts. The concierge Jo and Gayle deserve a 11/10 score for being so helpful when we had to return early. They couldn't have been more helpful and return flights booked with the minimum fuss. All other arrangements were handled in a most professional way. It gives one great confidence in travelling with Simpson that nothing is too much trouble and one's needs will be met to the full.
We found all the staff at Bella Mare hotel to be friendly, welcoming and extremely helpful and hard working throughout our stay, whether in reception, the breakfast room, the poolside bar/cafe or the cleaning and maintenance staff. We loved our time at the hotel and surrounding grounds - we looked for a relaxing, chilled and restorative holiday and that's exactly what we achieved. Thank you Simpson.
The staff at Bella Mare are lovely. Incredibly helpful and welcoming. The hotel is well situated on the bay, has an excellent local taverna within walking distance and many more within a short taxi ride. The reception team organised all our trips out to the tavernas we used and couldn't do enough to help. It's pure relaxation in the hotel if that's what you're looking for but well located if you want more. We'd certainly return.
A magical week: beautiful setting, excellent facilities but most of all the kindness and consideration of the staff, especially Mandy who cleaned our room.
Simpson Travel made our holiday so easy and so well organised, we did not have to worry about anything in their safe hands.
My daughter and I had a wonderful stay at Bella Mare Hotel - such a beautiful setting with breathtaking views, very clean and comfortable accommodation, friendly and efficient staff and very pleasant guests, good food, beautifully planted gardens, lovely beach and the best pool ever!! We visited so many pretty coves along the coast, enjoyed some great meals and loved our visit to Elaio Olive Farm, kindly arranged by Jo, our concierge.
The location of this hotel on the beach in a stunning quiet bay, lush gardens and a good pool made this a wonderful relaxing and peaceful holiday. A great hotel just to chill, unwind and recharge our batteries... The swimming pool was immaculate and the sunbeds were well maintained. The staff were so helpful and when we asked for adapters, irons etc, all our requests were met very easily and happily. The hotel also booked and organised a fabulous walking food tour in Corfu Town. Breakfast was delicious and made to order eggs a perfect addition which we enjoyed every day. Hope to be back soon.
We had a fabulous stay at Bella Mare. The hotel was comfortable and the views spectacular, but one of the real highlights for us was the staff who were incredibly friendly and welcoming. We loved the laidback feel of the place, and enjoyed chatting with other guests.
I would like to visit again! Was made to feel extremely welcome. The staff (Jo in particular) was delightful and so helpful! Here's to my next visit! Xxx
We loved the high-touch proposition from Simpson Travel. Good old fashioned service with a smile and nothing was too much trouble.
Absolutely stunning hotel and we loved our suite, highly recommended, especially if you book a speedboat which is dropped off at the jetty next to the hotel. ;)
Beautiful Bella Mare! We've just enjoyed the most relaxing family holiday here that we have ever had!
Absolutely brilliant holiday, completely exceeded expectations, many many thanks. The kids club leader & assistant were fantastic & Jo was super - really helpful and really approachable. Many thanks for a brilliant holiday.
The Bella Mare hotel was the perfect family destination for us. We wish we had found it earlier! Being next to the sea, hiring boats to jet off round the bays and having the swimming pool all right next to each other meant that there was something for everyone. The kids club staff were amazing and got all ages excited about the activities every day- they didn't want to miss a thing! We can't wait to go back.
We had an amazing family holiday to Belle Mare hotel in Corfu. Everything about it was perfect. The hotel is lovely, all of the staff were helpful and friendly and the location was beautiful. We spent everyday in the pool, and swimming in the sea which can be accessed directly from the hotel. The snack bar at the hotel was great for lunch. There are 2 nice tavernas to eat next to the hotel and also a couple of beautiful villages / towns 5 minutes away in a taxi for evening meals. Jo and all the staff were helpful at recommending restaurants. One of the best things about the hotel for us was the Beach Life kids club. Marta & Anna who ran it were really fun. Our kids loved joining in with the activities, which meant we could relax for an hour or 2! We preferred the set up to any other hotels with childcare facilities we have been to before. We also hired a boat and driver for a day through the boat hire right next to the hotel (Avlaki boat hire) which was easy to organise. We had a fantastic day with a guide taking us to great places to swim in the sea, telling us all about the history of Corfu and arranged for us to have a lovely lunch before getting back on the boat for more exploring. So in summary, we had a great family holiday making lots of happy memories!
An amazing holiday - hotel is in the perfect location. The staff are a credit to the hotel - so polite, always a smile and nothing is too much trouble - have already booked for next year and can't wait to return.
Wonderful holiday… from the first call to make travel bookings and arrangements to arriving at Bella Mare! Thank you.
First time with Simpson but they were excellent from start to finish … resort in Corfu belle mare was amazing as was the beach and surrounds .. little gem which we will return to .. not many unspoilt parts of the world now but this is one of those.
Simpson Travel provide a seamlessly efficient and helpful service from the initial holiday enquiry through to landing back at Gatwick. Bella Mare is a gem of a hotel in the most beautiful and quiet bay. Everything is geared to providing a relaxing and happy holiday experience.
Our second visit to this beautiful location was even better than the first. Everyone is so helpful and friendly, we were amazed to be greeted and recognised by the staff even though we had only visited once before!
I couldn't recommend Simpson Travel highly enough. From start to finish everything was superb. Car hire, which is normally a nightmare was in this case a dream. To summarise a great holiday in a great location.
Had a lovely holiday, stunning location. Sea so beautiful, pool really lovely. Staff really friendly and wanting to help. I really enjoyed the breakfast eggs scrambled or made into omelettes. The new breakfast waiter was so friendly.
Absolutely beautiful setting, perfect relaxation through the day and then if you want something more lively there is Kassiopi and San Stefano 10mins away. Very friendly staff, we will probably go back again.
The hotel has a Lovely position with very pretty gardens leading to the sea, overall it is extremely relaxing and restful.
This was an outstanding family holiday with ages ranging from 6 months to 78 years of age! The friendliness of the staff, outstanding hotel and location was hard to beat. Will be back.
Fantastic holiday at Bella Mare, perfect location for a relaxing break. Jo was always on hand to help, probably the best representative we've ever had on our holidays. Would certainly recommend the hotel, it's location is perfect.
Once again Simpson have delivered an outstanding holiday for us. The Bella Marre and it's location surpassed our expectations in every way. The staff were extremely helpful and friendly and the facilities were great!. A truly beautiful place to stay.
From initial contact with the sales team to our departure from the Bella Mare we absolutely loved all aspects of our stay. The location of the property, friendliness and knowledge of Simpson staff, service provided by the restaurant and pool bar staff was fantastic. NOTHING was too much trouble. We will definitely book our next holiday with Simpson and hopefully return to the Bella Mare.
We really enjoyed our holiday, despite not having good weather. The location and accommodation of the Belle Mare Hotel was very good. We were particularly impressed by the friendliness and attentiveness of all the staff at the hotel who made us feel very welcome, giving us an overall holiday experience that felt a little bit extra special.
We had a wonderful relaxing week at the Bella Mare. The staff are an absolute credit to the hotel. We stayed in the an executive suite and would throughly recommend these spacious, modern rooms which all have the most beautiful views of Avlaki Bay.
Wonderful hotel and room and the staff in the restaurant and at the pool bar were just lovely . Cocktails made by Vasilis are highly recommended. This is the loveliest part of the island and being able to rent a boat from the beach to explore all the villages and coves from the sea was magical. We had a lovely holiday and thank you.
Very beautiful part of Corfu. We visited in May when coast paths and wild flowers were delightful. Kassiopi was an easy walk with excellent and reasonable restaurants, wide choice on menu for meat eaters, fish lovers and vegetarians. Excellent taverna next to hotel as well. Beautiful beach, lovely clean sea, excellent choice if you're looking for a peaceful and authentic holiday.
Another fab holiday with Simpson Travel made even better with the ability to fly from our local airport.Caroline Round, September, 2022 We had a wonderful stay at Bella Mare! The junior suite (304) had an amazing view over the grounds, pool and out to sea. Altogether a wonderful, relaxing break in a lovely hotel. Highly recommended!
Fabulous holiday. Hotel position was wonderful - nice calm hotel - ample Sun loungers and beautiful location. Really nice respectful guests. Would 100% book Simpson holidays again.
The Bella Mare hotel was a perfect, relaxing holiday location. Amazing pool right next to a gorgeous calm, crystal clear beach. Great food served at the pool bar and the local taverna, a few mins walk away was my favourite place to spend the evenings.
Beautiful area. Delightful accommodation … space for all. Many options for activities and tavernas.Susan Treverton, September, 2022 This was our second stay at Bella Mare. It is a lovely small hotel, great location, good facilities and friendly helpful staff. We stayed in an executive room, plenty of space and lovely spacious bathroom. It's great to have two lovely restaurants literally just outside the hotel, we are fans of the Avlaki Seafood restaurant, a change from the normal bustle of the local tavernas, and delicious seafood. However it is so easy to arrange taxis for the short trip to Agios Stefanos and Kassiopi (although this is walkable…but perhaps not at night!). We recommend Kochiki Taverna, Wave Bar (teenage daughters favourite), Janis and Kima. There is a lovely homely, family feeling at Bella Mare. I have no doubt we will book again.
Stunning location, beach (a stones throw away) with crystal clear water and the most beautiful sunsets. Cocktails not to be missed. Ultimately this was the most magical holiday…We are very grateful for the love and celebration shown following our engagement one evening (at a table booked by Jo) by the staff from the breakfast team to the evening bar staff. It really did feel like a celebration away from home. Bella Mare will now forever hold a place in our hearts.
Avlaki is a wonderfully tranquil bay with a pebbly beach and crystal clear water. An excellent taverna right by the beach with great food, wonderful staff and fabulous views and sunsets over the Albanian coast opposite. Snorkelling, paddle boarding and boats to hire from the beach. Hotel Bella Mare is a lovely family friendly hotel with a superb pool right by the beach. Lovely gardens with plenty of well shaded sunbeds either by the pool or fronting the beach. Highly recommend if you don't want loads of shops and nightlife!
The Bella Mare offered us just what we wanted from our holiday - peace and relaxation in a beautiful location, with great, free flowing childrens activities which our children loved and enabled them to make great friends. A simply perfect family holiday!
Second time at Belle Mare and our fifth time using Simpsons. Our first trip back to normal overseas holidays since covid. The hotel and staff were all as fantastic as the last time. Beautiful hotel and surroundings with beach, boat hire and wonderful tavernas on the doorstep means you don't have to go very far if you just want to relax and leave the driving alone for a week. As we'd been before we explored more around and about and managed two snorkelling trips away from the hotel, a trip to Corfu town and visits to restaurants in nearby Kalami, Agni, San Stefanos and Kassiopi. We will definitely return again as it's a hard place and location to beat.
What a lovely surprise the Bella Mare is….. A beautiful location, a very relaxing atmosphere, superb friendly service and lovely clean surroundings….. what more could you want! We planted ourselves on the comfy loungers and rarely moved all week!
I have been staying at Bella Mare since 2005 and adore this piece of paradise. It is very special to me and has so many happy memories. The staff are outstanding in every way some of whom I have got to know over the years. Avlaki Bay remains unspoilt with clear blue sea and a gorgeous view. A slice of heaven.
The Bella Mare is a laid back hotel with lovely friendly staff on the most beautiful, unspoilt bay. Swimming in the clear sea is an absolute joy and the tavernas (within a few minutes walk) serve tasty, authentic Greek food. We would return in a heartbeat.
Jo our Simpson rep was excellent. The hotel exceeded our expectations and we will definitely be returning. The location is stunning and the pictures do not do it justice.
Having spent a week in Corfu staying at the Belle Mare Hotel we have only praise for every aspect of our holiday. The superb location of the Hotel, the accommodation and above all the service of all the staff, everyone of which was friendly, helpful and most efficient. we would like to give particular praise to Jo, the Simpson Hotel Rep who was there each morning to help us in any way we needed. Thank you also to the whole Simpson Team for a fantastic holiday.
Delightful hotel, Bella Mare Corfu. 2 world class restaurants within a 5 min walk, especially Avlaki Restaurant. Good hotel staff and wonderful breakfast choices.Pleasant countryside walk to a nearby town, approx 50 min.
We really enjoyed our stay and appreciated the friendliness and efficiency of staff, the proximity of the clear blue sea and the very relaxing garden and pool area.
Bella Mare and its environs is a little bit of paradise. We would happily return there. A wonderful holiday in a place with great atmosphere.
Excellent holiday hotel, with professional, friendly staff... Jo was extremely helpful and practical in her advice and help. She knows Corfu very well and was always happy to assist.
We had a wonderful stay at Bella Mare. The suite was very comfortable, clean and attractively presented. Jo, Concierge, was friendly and knowledgeable of places to visit locally. Breakfast was of a high standard and well presented.The staff throughout the Hotel were courteous and helpful. All in All, we enjoyed our week at Bella Mare very much and considered that Simpson Travel provided a Five Star Service.
The reception staff were very welcoming, nothing was too much trouble. Jo our concierge was friendly and extremely knowledgable. She made every effort to ensure we had a wonderful holiday with Simpson Travel. We were also warmly welcomed back by Gaynor from the Simpson Travel Team. The public areas of the hotel (inside and out) were well maintained. Our bedroom and bathroom were stylishly furnished and comfortable, also the bed was comfortable with crisp linen. The balcony had the most beautiful sea views. A further mention has to go to the housekeeping and catering / waiting staff. Our holiday was everything we hoped it would be, and more. Thank you, Simpson Travel.
The staff at Bella Mare were some of the best we've ever met. Efficient, exceedingly friendly and so helpful. They made such an impression that we can remember almost all of them - Katerina, Steff, Sotiris, Alex, Anthi, Vassilis, Effi, Spiros and Dmitri. The hotel is very lucky to have them.
Excellent holiday, welcoming and friendly, caring staff. Stunning sea views and beautiful pool. Amazing wildlife, so many swallows, wonderful wild flowers and butterflies to watch. A week was not enough! Thank you to Simpson's for a relaxing, superb holiday.
Everything you would expect from a Simpsons holiday - the attention to detail that allows you to relax and soak up the sun and surroundings.
The location of the Bella Mare is excellent and access to the pool and beach area is so easy. There is a friendly taverna close by and we enjoyed a short walk to Kassiopi for a choice of restaurants and bars. Jo the rep and all the staff at Bella Mare were friendly and helpful making for a very enjoyable and relaxing stay in Corfu.
We thought the overall experience excellent. We loved the App with everything we needed and the maps of the area very useful. Debbie was a real star at The Saints and helped with advice re walks, visits to Corfu and any query we had.
A fabulous week in a beautiful and peaceful location. Exceeded hopes and this was almost totally down to the incredible view, service and help from Jo and the staff at the Belle Mare.
Just got back from a Holiday at the Bella Mare Hotel in Corfu and wanted to thank all the staff at the hotel for making our stay so wonderful. We stayed in room 305 which had great views over the sea. We wanted to thank Jo, the Simpson rep, for being so helpful in booking trips, restaurants and information. We will certainly be back sometime.
We recently spent several unexpected days at the Bella Mare Hotel. Well, we absolutely loved it, and have already booked to go back for a full week next year! The staff were very welcoming and helpful. Breakfast was plentiful and consisted of hot and cold dishes. There was also fresh pastries and cakes, fresh fruit, yoghurt and excellent coffee. The Bella Mare is a medium-sized quiet hotel (just over 30 rooms) in the unspoilt Avlaki Bay. Our room (205) was stylish, modern, clean and comfortable. There was a lovely balcony with table and chairs overlooking the pool, gardens and bay. We particularly liked the soft white towels and also robes/slippers. It was also good to have a fridge in the room, and the complimentary wine and water was thoughtful, as was the Nespresso machine. Most importantly the bed was very comfortable. We cannot thank Simpson Travel and the staff enough for looking after us so well. Thank you.
Second time we have stayed here and we still really enjoy it. There are a lot of positives and just a few things to be aware of. Small hotel with good facilities means you never feel like it is a crowded environment, very easy to relax. A superb location with sunbeds right on the beach – perfect for swimming and snorkelling in the sea. Nice quiet pool alongside – well attended by a friendly lifeguard. Attentive service poolside/beachfront with good food (until 6pm only). Nice room in the 'Exclusive area' including use of a secondary pool – which was almost always empty. Avlaki boats nearby (not connected to the hotel) provide powerboat hire on the doorstep (highly recommend this for a day trip). Nice, simple breakfast with polite staff happy to help. Jo, the Simpson rep, was polite and helpful and always on hand if required, either in person in the morning or via WhatsApp. Overall a great place for a very chilled week in the sun.
We finally got to have our holiday here, as our original booking was postponed because of Covid. What a great place it turned out to be, set on Avlaki Beach in beautiful gardens. Super rooms with large balconies overlooking the gardens and bay. Only negative that there could have been more drawer space. Arrangements for travel made through Simpson were spot on, likewise in the hotel where their team and hotel management dealt with our needs. Thanks to Jo and Gaynor for their help especially. Housekeeping faultless. Plenty to do being a short walk from Kassiopi as well as two good restaurants within 200 yards, Cavo Barbaro our favourite. Excellent bar offering beverages and high quality food during the day, with great service provided by Spiros, Eli, and Steph. To be honest we feared the worst travelling during these Covid times, but got the best. A wonderful holiday and hope to go back someday.
We recently returned from a 2-week stay at The Bella Mare Hotel. We have booked with Simpson many times and as always their staff were helpful, informative and they go out of their way to help with and answer any queries. The hotel staff were also very friendly and helpful. It's not been an easy year for the travel industry and there were problems due to the situation in July. However, Gaynor was superb. She was always available, very knowledgeable, gave us advice about trips, places to eat, etc. and sorted out any problems we had, some of which were not easy. Such a lovely person. We must mention Jo, who was training to look after the Simpson guests at The Bella Mare and she went out of her way to be very helpful. The staff in the booking office are prepared to spend time answering questions and listening to requirements, excellent service. Great to have a chat with Dan about our experience on our return. We are already looking forward to booking our next Simpson Travel adventure for next year.
My friend and I have just come back from 10 days in Corfu with Simpson Travel, a week at The Saints and three days at The Bella Mare Hotel. Both were absolutely fabulous, we had an amazing time and it was all very straightforward Covid-wise. I cannot praise Simpson Travel highly enough, they have been amazing throughout the last 16 months. We changed our date for this trip once and then our location from Kalkan to Corfu and it was all so easy. Special shout out to Briana in London who is outstanding, and to the lovely Jackie and Jo who looked after us so well in Corfu.
We had a very pleasant few days away from the UK, relaxing by the pool. High standard of accommodation, typically welcoming and friendly Greek staff. Thanks to Gaynor and Simpson for organising a great getaway.
A fantastic week and our first visit to wonderful Corfu. Gaynor and all the hotel staff were wonderfully helpful and welcoming. The hotel itself is in a beautiful location with easy access to beautiful beaches, glorious walks and great tavernas. If all you want to do is to relax and stay put, the pool bar is heaven on earth. We will absolutely come back!
The location of Bella Mare is just heaven and there is a resident angel in Gaynor, the Simpson rep. She deserves a gold medal. She went above and beyond to make our holiday special. From suggesting many great restaurants (although to our mind the best is on the doorstep, Cavo Barbaro) to advising on a magical drive up into the mountains to visit Old Perithia, one of the oldest villages in Greece (possibly THE oldest), every suggestion was a gem. Without Gaynor we would not have known about The White House restaurant, once home to Laurence Durrell. Amazing setting and delicious food. A must. A car didn't come with our package but it couldn't have been easier to book one as the hotel arranged for the hire company to deliver it to our door and collect it once we'd finished gallivanting around the island. The staff at the hotel were wonderful throughout....nothing was too much trouble. A very well run hotel.
My comments about our holiday are best encapsulated in my e-mail to Gaynor, Simpson Travel's 'always available' representative at the Bella Mare Hotel: "Dear Gaynor, Just a quick note to thank you so much for all your help, suggestions and your friendly face in the mornings! We had an absolutely wonderful time at the Bella Mare Hotel and will most certainly consider coming back again, if not next year then maybe the following. I am not generally a returnee to where I have been before as I love new experiences and travelling to new places, however, the relaxation offered by the hotel is absolutely amongst the best. The position and setting is also pretty difficult to beat! It was also wonderful for our son, Nicky, to be able to make friends with Leonidas. They had great fun together and it made up for the unfortunate, though understandable, cancellation of the Kid's Club due to Covid-19. We all loved the food, both at the Bella Mare and at the myriad great tavernas and restaurants we managed to pack into the trip. Diet time now! So much to do and not enough time to pack everything in! Once again, thanks so much for being a great friend on a cracking holiday! Best wishes from us all and hoping to meet again.
We fell in love with the location. Unbeatable! Great service from people who care. Gaynor's endless energy and efforts to address all our needs were outstanding. We will be back next year!
We feel very grateful to have had a second stay at the Bella Mare and during this strange Covid-19 time. Simpson has been brilliant throughout. We were so happy with our room – 406. Shame the upstairs bar wasn't open, however, we also understand staff issues during Covid. The staff at the Bella Mare were all excellent, so friendly, felt like home. Gaynor was brilliant at the hotel – again so friendly, helpful and always made time to say hi. We are so glad we went – thank you.
We have travelled with Simpson for a number of years now and every year is a delight. This year was a real treat – not only was it a restorative escape from the lockdown restrictions at home, but Bella Mare was a beautiful and calm place to stay. The accommodation was first rate and our rep, Gaynor, could not have been more helpful and lovely. Simpson and Gaynor delivered massively for us as a family this year. Thank you.
A short note to thank all of the Simpson Team for their patience, flexibility and understanding during this remarkably difficult period for the travel industry. We returned yesterday from our week in Corfu having enjoyed exactly what one seeks from a holiday. A change of pace, scenery, diet and weather. Yes, we had to change destination from our original booking intention, but all of that was handled well, and so were the local arrangements at the hotel. Our impression was that Simpson took the approach of "can we make this work?" rather than the more brutal attitude used by others of "Covid-19 is not our fault so we don't care". This summer, I have no doubt that the team will have worked harder than normal and with greater risk to security of employment. Obviously, the business sums must add up, but the price of a good reputation is invaluable. For what it's worth, based on this, another part of the family has taken our feedback and booked a Simpson holiday for later in the month. In summary, thank you, a great job done by all.
What a fantastic place! Great staff, fab room, lovely pools, right on the beach, great service, food fantastic, couldn't ask for more. Five stars! Will be back.
We arrived late afternoon and were seduced by the place immediately. Luggage left in the room and straight into the sea. Beautiful setting, perfect.
Liked the apart-hotel concept and the freedom it gave. Enjoyed the breakfasts and the snack bar facility. The setting was idyllic and most relaxing – the smaller hotel worked for us.
This was our first trip to Corfu and the first time we'd used Simpson Travel on the recommendation of some friends. We were not disappointed. From start to finish we were well looked after and the setting of The Hotel Bella Mare was exquisite. All the staff were extremely helpful and the rooms and grounds were immaculately kept. We enjoyed the excursions on offer as we chose not to hire a car. We did an amazing coastal walk from Kaminaki to Avlaki, having caught the local bus to Garnelatika. Also the breakfasts were excellent, and the bar snacks we had at lunchtime were tasty. The 82 steps up to our room kept us fit! Thank you for a wonderful week.
I'd go back to Bella Mare tomorrow.
Superb hotel in lovely location. Excellent service from concierge Rania and all hotel staff. A haven of civilised tranquillity, far removed from the mass tourism found elsewhere on Corfu.
We had a very enjoyable week at the Hotel Bella Mare and found the staff friendly and efficient. Our room was well positioned (not too far from the main building and without too many steps) and had good views from the balcony. It was spacious with plenty of room for storage. The trips organised by the hotel were good and useful having the minibus to ferry us around as the location is quite remote. Also enjoyed the pool bar especially in the absence of a proper restaurant. Other pluses include the lovely large swimming pool. Overall a very pleasant hotel and would return again.
We wanted a relaxing week after our eldest son's wedding and after some excellent advice from Dylan in the Simpson sales team we chose The Bella Mare as the flights were really convenient from our home in West London enabling us to arrive there in time for lunch on the Sunday and home in time for dinner the following week! The hotel was exceptional, we had a beautiful and extremely comfortable room overlooking Avlaki Bay – so beautiful, and peaceful and we really felt completely looked after from the moment we arrived. Rania and Gaynor greeted us like family and went out of their way to book restaurants, boat trips. Rania even came to Kassiopi to pick me up one day when I had walked there and couldn't get a taxi back on a very hot day. We loved it all. Thank you Simpson for another wonderful holiday.
Just to express our thanks for the help and assistance given by Rania and Natasha following my wife's fall (outside of the hotel), their help was way beyond their job description, great caring employees and we both hope to see them again in the future.
We had an idyllic two weeks at the Bella Mare Hotel. The swimming pool was the largest we have ever enjoyed on holiday and the gardens of the hotel swept down to the (stony) beach on the edge of the bay. Rania organised a taxi and boat to take us to the Agni Taverna for a delightful dinner on the edge of the bay, and also to San Stephanos so that we could eat there. Rania and all the staff were so friendly and helpful – nothing seemed too much trouble for them – so a big thank you to everyone for making this one our best holidays ever.
My overall experience with Simpson with regard to booking, communication and the quality of the hotel and location was first class and I would use you again.
We really enjoyed our stay in Bella Mare – it was easy to book restaurants and cabs via reception. We tried sailing, snorkelling and paddle boarding. All in all a very relaxed and lovely week.
An outstanding holiday from start to finish! The amazing staff and beautiful hotel made the trip one for the memory – keep thinking about it a month on.
Have had an absolutely wonderful time – thank you so much. The staff are all so friendly and the food is delicious! Overall a truly memorable experience.
A wonderful week in a comfy hotel with delightful staff.
One of our best ever Simpson holidays – and we've done a few. Everything about the Bella Mare was perfect. Relaxed vibe, lovely staff, beautiful views and a stunning setting. A very happy week for us – absolute bliss. Please don't change/upgrade this lovely property too much – it manages to be stylish and completely unpretentious at the same time.
Bella Mare is a wonderful addition to the Simpson Travel offering. The children loved the pool and beach being so near to the main building and everything not too big or too small! The added bonus of having boat hire and sailing dinghies to rent on the beach – great stuff!
Our visit to Bella Mare was excellent. The staff were all fabulous and the reps, Rania and Gaynor, made our break particularly special in every way... just could not have been more helpful and nothing was too much trouble. Great location for a truly relaxing break and would highly recommend. We have only been with Simpson once before this and the service standards cannot be beaten. Will definitely be travelling with them again in the near future.
We had a truly wonderful holiday at the Bella Mare hotel in Corfu. The location is perfect, the staff are really incredible (so knowledgeable and friendly) and in particular we felt the Tribe offering was fantastic. Becky, the Tribe leader, was a truly inspirational person for our 12-year-old daughter and we wouldn't hesitate to recommend this type of break to any of our friends. We would love to return.
What a wonderful week we have had. Everything has been fabulous! Your staff are an absolute credit to you – nothing was too much trouble! Si & Alex I would just like to say that every single member of staff was fabulous. They were all friendly, helpful and nothing was ever too much trouble. The setting of the hotel was amazing and we had a fantastic week relaxing together as a family but with plenty of opportunities for our daughter to get out and about with the Tribe – an excellent balance I think!
My children and I have had a fantastic week staying at The Bella Mare. The pool was lovely and never over-crowded. Having access to the beach was great too. The room was light and spacious and very well equipped. The staff where especially friendly and helpful.
We had a fabulous week at Bella Mare. The whole experience from arrival at the airport to departure the following week was excellent. All the staff we encountered from the rep at the airport, through to the car hire to the hotel staff were friendly, courteous and helpful. The hotel is located on a quiet bay, just a beach and two tavernas. Pristine presentation, excellent facilities, a beautiful pool suitable for everyone and then a jetty into the sea. Thoroughly recommended for families with children of all ages. In our week I didn't hear one complaint or moan from any other guests. The type of holiday that makes the trials and tribulations of the rest of the year seem well worth it. Well done, see you again soon.
We all had a wonderful stay here. As well as enjoying the pool/beach. Highlights included Mount Pantokrator, Paleokastritsa and a day trip to Albania. A great week.
The hotel is in a beautiful bay setting with easy access to two fantastic restaurants only minutes' away and numerous other fantastic places to eat by boat, taxi or car. The hotel has real heart and that is down to the amazing group of staff who simply couldn't do enough for you. Being friendly and attentive without being intrusive is a real skill and the whole team have this down to a fine art.
Fabulous hotel situated in a lovely bay. Staff couldn't be more helpful, especially Gaynor and Rania the Simpson representatives. An absolute bonus having both the sea and pool to swim in. We had a truly amazing holiday. Thank you.
Simpson Travel is simply perfect. They took care of the details and ensured that travel was slick and effortless. It's a premium priced holiday but we had a premium existence. The Simpson staff were simply superb, genuine interested in making our holiday a relaxing and fun experience. Our girls loved being in the Dolphins club.
Our first holiday with Simpson Travel and it was everything we hoped for. The Bella Mare was perfect – beautiful location, great suite and balcony, lovely pools and the pool bar was perfect for both lunch and evening drinks. But the best thing about this hotel is the staff. Every single one of them are amazing – they went above and beyond every day!
This is the second time we have used Simpson Travel and we were not disappointed, if anything Bella Mare was better than described on the website. We had a wonderful time hiring boats and exploring the beautiful surrounding bays nearby. The highlight of our visit was going for a 3-hour ride including swimming with the horses on a beautiful sandy beach courtesy of Arena Horse Riding and arranged by Rania – it was a dream come true!
I only wished we had travelled with Simpson before. Natasha and Kathryn were fantastic with my 8-year-old son. Nothing was too much trouble and I would rebook for the Dolphin club experience alone.
What a wonderful week we have had at Bella Mare. Everything has been fabulous. Your staff are an absolute credit to you – nothing was too much trouble.
This was exactly the sort of hotel we were looking for and feared did not exist. We wanted somewhere small but with the level of service and comfort of a really good hotel. Belle Mare is charming in a really lovely peaceful location. What really makes the Bella Mare special is the attention of all the staff and the level of attention to detail shown, the way all the umbrellas are closed every evening and all the sun beds tidied and re positioned. When I paid our final bill the evening before we left and was asked if we had enjoyed our stay, I said this was just one of the things I noted and appreciated. We have not used Simpson before but on the basis of their organisation and accurate description of the holiday on offer we will certainly use them again.
Great hotel and Executive suite amazing. All round great experience.
Would definitely recommend Simpson Travel – very impressed. Well organised, staff efficient and friendly, hotel beautiful and more than lived up to expectations. Mr A.
A fabulous week for our first time in Corfu. Very impressed with hotel, vista and lovely, very kind and helpful staff. Great taverna 100m from the hotel. We hope to return for another very relaxing and peaceful week.
Bella Mare is an oasis of calm – very relaxing, lots of sunbeds, super helpful staff, nice fellow guests.
A lovely location with excellent staff, good swimming and comfortable sunbathing facilities. Delicious breakfasts and light meals at the beachside bar.
When it was discovered in conversation, whilst waiting for our room to be ready, that we were celebrating our 40th Wedding Anniversary we were upgraded to an even nicer room which we very much appreciated and it was very kind of Gaynor and the Manager of the hotel to organise. We had a really special holiday and all the staff involved made a great effort to look after the guests.
Thanks you for a brilliant stay in the lovely Bella Mare Exclusive Suites. It's a beautiful setting and we have felt privileged to be the first occupants. All in all a lovely restful break.
We liked the Bella Mare Hotel very much and enjoyed the grounds, the garden areas and the general location. All the Simpson staff we met and dealt with could not have been more helpful. We had a most pleasant week's holiday.
I was hugely impressed with Simpson Travel and hope their involvement with Bella Mare thrives.
Lovely stay – hotel in an ideal spot. All the staff were helpful and friendly – especially Rania and Gaynor. Had many meals out – all very pleasant – mainly suggested by Rania or other guests.
We loved every minute of our stay – thank you! We were incredibly lazy and did very little. The staff are all lovely too.
A fabulous week for our first time in Corfu. Very impressed with hotel, vista and lovely, very kind and helpful staff. Great taverna 100m from the hotel. We hope to return for another very relaxing and peaceful week.
The travel arrangements were faultless and all Simpson representatives excelled at their jobs. We thoroughly enjoyed our twin-centre holiday in Corfu and Paxos returned home feeling rested and rejuvenated.
We loved the Bella Mare Hotel. The position right by the sea made for wonderful swimming in the gin-clear sea. We also hired a boat on several occasions and loved visiting other beaches and restaurants. The staff at the hotel were so friendly and so helpful. The swimming pool was so lovely and the new sunbeds overlooking the sea were a delight. We had a fabulous holiday and will hopefully be going back to the Bella Mare.
The Bella Mare Hotel grounds are lovely and beautifully maintained. Plenty of space round the pool and the staff keep the area clean and tidy throughout the day. Staff are friendly and nothing seems too much trouble. Gaynor and Rania took time to get to know us and understood the sorts of places we would enjoy visiting. Location is fantastic. Came back feeling very rested and relaxed.
A lovely location with excellent staff, good swimming and comfortable sunbathing facilities. Delicious breakfasts and light meals at the beachside bar.
Excellent from start to finish.
A perfect 'kick back and relax' hotel with supremely friendly staff in a beautiful setting. We never tired of the view of the bay from our balcony. Absolute bliss!
Spent a glorious week at Bella Mare Hotel. Very relaxing.
An excellent hotel in a quiet and beautiful location. The staff are friendly and the accommodation is comfortable. Our Junior Suite was spacious and the balcony overlooking the grounds and the sea was a real bonus. Watching the sunrise was glorious.
We had a wonderful holiday experience from beginning to end. Bella Mare is a lovely small hotel, fantastically located with great customer service...and nearby to some fabulous small bays and tavernas...really couldn't fault it. Thank you. Kate Gibbins – Junior Suite – September – 2018 This was the second time we have used Simpson Travel and will certainly use the company again if possible. All the staff we had contact with were superb.
I love Simpson Travel – you consistently get excellent service. The quality of the décor and rooms is always good and stylish, and the staff, both in the UK and abroad are always welcoming and helpful. I rarely look at any other travel companies for a holiday in Europe as I know Simpson Travel will be just to my liking. It's a company you can trust.
Our choice of Greek properties is as diverse as the islands themselves, ranging from simple seaside charm to genuine luxury and style. Much of our portfolio is privately owned, and price alone is therefore not a universal guide. We contract all our accommodation in person, and each property has its individual appeal.
To help you make the right choice based on your own priorities, we have devised a simple grading guide to be considered in conjunction with each individual property description, awarding up to a maximum of five stars for the below categories.
* For further clarification on Facilities and Amenities, please view the 'Details' tab for each property or speak to one of our experienced sales consultants.
A hundred stories unfold on lovely Corfu… Tales of gods and goddesses, Phoenicians and Venetians, vibrant towns and sleepy villages. There's also a rich natural history of mountains, olive groves, fertile valleys and a coastline dotted with picturesque coves, sandy beaches and rocky inlets. Follow in the footsteps of Lawrence and Gerald Durrell with a luxurious retreat near Agios Stephanos, or venture North West, to enjoy more sandy beaches and scenic coastal drives.
To help you make the most of your holiday in Corfu, our collection includes a magical range of luxury villas and a charming beachfront hotel overlooking Avlaki Bay. Choose a romantic cottage by the water's edge for an idyllic couples' retreat or a contemporary family villa complemented by our private nanny service, for a relaxing holiday in the elegant North East of the island. 
---


Explore our pre-bookable experiences in Corfu
---
View holiday Booking Conditions
Simpson Travel in the media