Twin-centre holidays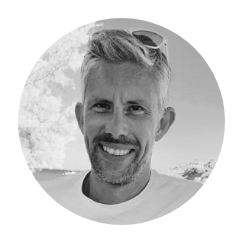 Graham Horner writes in praise of the twin-centre holiday and explains why two is the magic number.
So, here's my problem. I want to go everywhere. I mean it. I have an insatiable curiosity that makes me want to discover the next place, even when I love the place I am in. Yes, I might be happy now. But could I be happier somewhere else?
When it comes to holidays, to choose is to lose. I relish the freedom and space of a villa, but miss the sociability and service of a hotel. A break without the beach is, frankly, not a break; but it's not long before I'm craving an urban fix or a mountainous adventure.
Then there's travelling companions. Put their requirements into the mix (in my case, a wife and three kids) and settling on one accommodation, in one location, inevitably means someone's moaning.
I don't consider it melodramatic, therefore, to claim that the twin-centre holiday is my salvation. Two holidays in one; no trade-offs required. Since discovering its merits, I've never looked back.
For me, finding destinations that 'go' together is half the fun. This involves pouring over road maps, train timetables, ferry routes and flight schedules, and avoiding the 3am wait at a port or a station. My advice is to make the most of the journey between the two destinations; a beautiful drive, bobbing boat ride or a swim at a secret beach can itself become a highlight of the holiday.
The good news is that, here at Simpson, we know what works when it comes to twin-centres, and our specialists can tailor a trip to make the most of your time away. If your appetite is whetted, or if, like me, you're already a convert, then here are my top five recommendations for doing the double this summer.
---
Ile de Ré and Hossegor
It's a long drive down to the ever-so-desirable village of Hossegor in the Aquitaine region of France – ten hours from Calais foot-to-pedal – so why not break your journey and squeeze in another gem of France's west coast: Ile de Ré? A mere six-and-a-half hours from Calais is La Rochelle, from where it's a short hop across the causeway to the Ile. Awaiting you there are stunning strands of golden sand, three of France's most beautiful villages and a foodie scene to rival the very best in Europe. Best of all, you can dump the car for a few days and take to your bike, leaving you revived for the four-hour hop down the coast.
Where to stay…
Ile de Ré: Les Vignes de la Chapelle. Sitting on the edge of a vineyard, this boutique hotel is the perfect stop-off, just a short stroll from the pretty village of Sainte-Marie-de-Ré. The sauna, steam room, hot tub and treatment area will ensure you leave revived for the next stage of your journey.
Hossegor: Villa Ami is a 3-bedroom contemporary villa just a 10-minute drive from Hossegor village. With a bakery, bar, restaurant and supermarket all within walking distance, you can happily park up the car and take to two feet.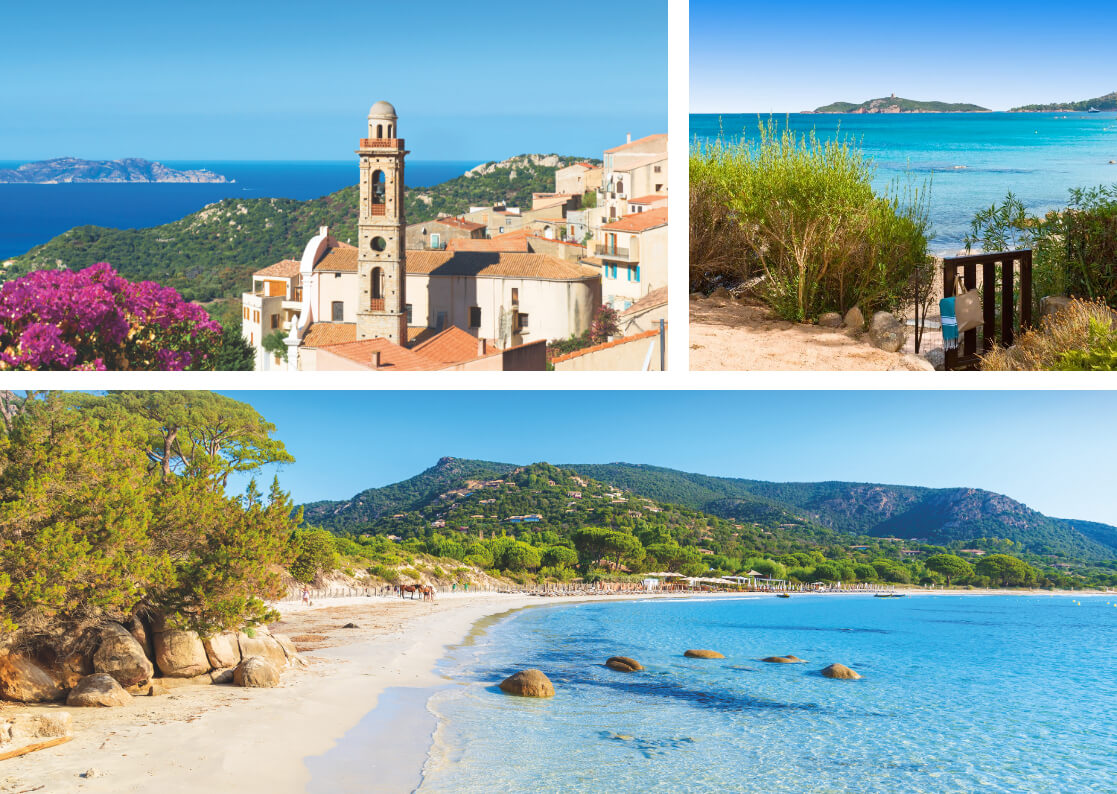 North and South Corsica
One island; two very different experiences. To do Corsica justice, you need to experience both ends. Fly into Figari in the south for a week languishing on the Caribbean-esque beaches. If you can prize yourself away from your lounger, it's worth taking a day to explore fortified Bonifacio (take to the sea to appreciate its unique cliff-top location). The drive north takes about three hours through Corsica's mountainous heart; stop for lunch at the Auberge de la Restonica, just outside Corte, and take advantage of the swimming pool for a cooling dip. In the north, you'll not want for things to do – this is more the place for days out discovering mountain villages, sweeping bays and imposing citadels. Unmissable is the U Trinichellu train that trundles between Calvi and Ile Rousse.
Where to stay…
North Corsica: Villa Mare. An excellent location a short stroll from a delightful sandy cove and just five minutes' drive from the sophisticated town of Ile Rousse. The famous narrow-gauge train stops nearby and runs along the stunning Balagne coastline to Calvi.
South Corsica: Pinarello Beach House. With a wooden gate leading from the garden onto the white sands of Pinarello Beach, this airy, light-filled house is surrounded by the sort of tree-filled garden you'd usually only find in a rural inland location.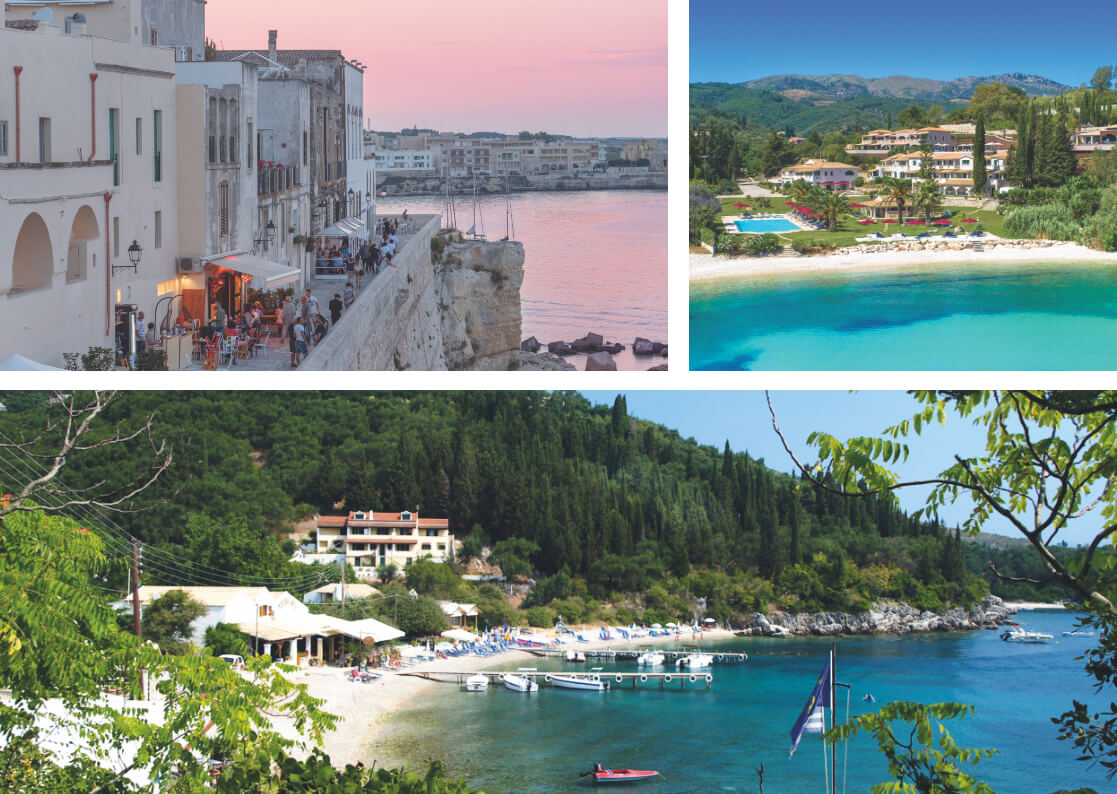 Corfu and Puglia
Here's an unusual one you probably haven't thought of, made possible by the reintroduction this summer of the hydrofoil service between Otranto and Corfu Town. Why not combine a week indulging in superlative Puglian food and wine before exploring the pebbly coves and crystalline waters of north east Corfu? The hydrofoil takes less than three hours and departs at 8.30am in the morning, getting you to Corfu Town by midday. Don't miss out on this Venetian gem – take time for lunch and a walk around the shady streets before heading north along the coast.
Where to stay…
Puglia: Simpson Secret – Puglia. This wonderfully quirky villa, not far from the Baroque town of Nardò, has its own natural rock swimming pool and a bedroom with a stargazing skylight positioned right above the bed.
Corfu: Bella Mare Hotel. From the hotel's jetty, you can hire a motorboat and take yourself off for the day to neighbouring beaches. Pretty Agni, with its choice of waterfront tavernas, should be your destination.
Meganissi and Lefkada
No-one could describe the Ionian island of Lefkada as busy but, after a week on neighbouring Meganissi, that's what it will seem. This is the perfect combo for those looking for an escape-the-world crash-out, followed by a bit of an explore. The charm of Meganissi is in the imperative to do absolutely nothing but swim in the gin-clear waters and linger over long lunches at the waterside tavernas. There's a more sophisticated scene waiting for you across the channel in Lefkada Town (do have dinner at Thymari), together with some mountain drives that will take your breath away. The short ferry trip between the two, skirting the exclusive island of Skorpios, is a delight.
Where to stay…
Meganissi: Villa Mentes. Just a 10-minute stroll from the waterfront in charming Vathy with its tavernas and bars, this elegant contemporary villa enjoys spectacular views and is built for relaxation.
Lefkada: Katouna Suites. The view from this 10-suite adult-only hotel will stop you in your tracks; but if you can tear yourself away, the light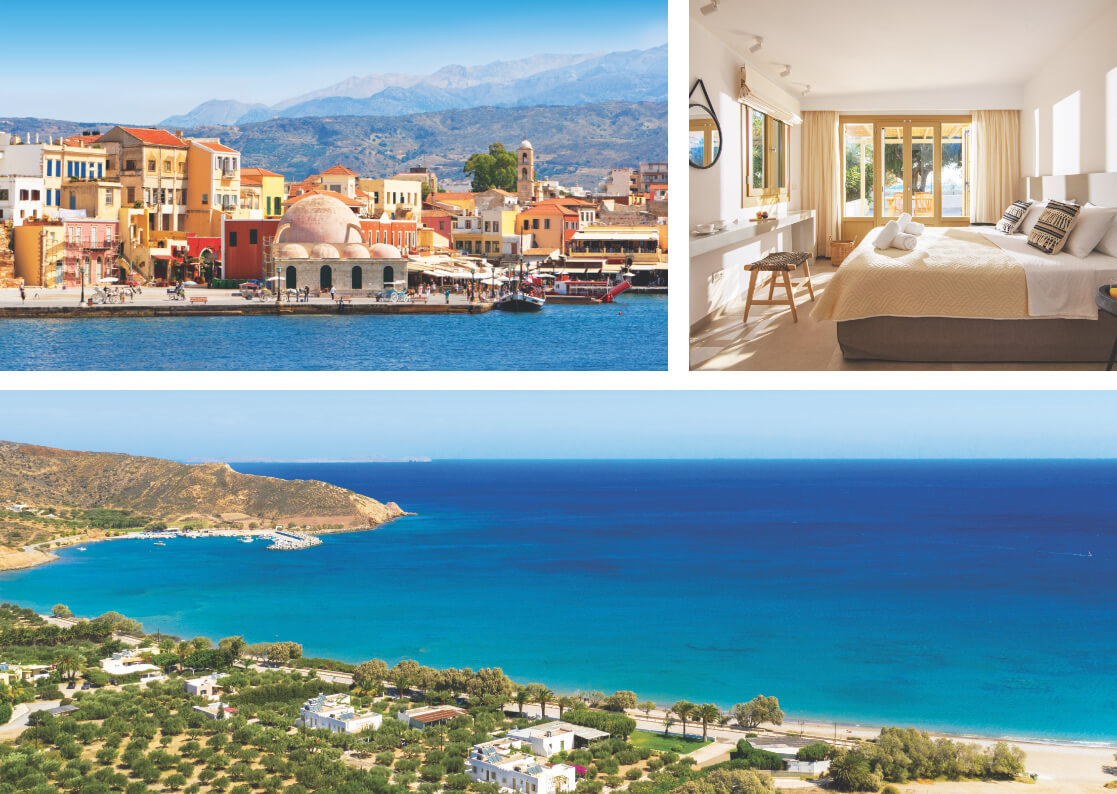 East and west crete
Crete is large and diverse; you could happily spend months exploring all its corners. Combining a week in the unspoilt, far east with a stay in the buzzier west makes for a perfect introduction to the island. Fly into Heraklion, from where it's a two-and-a-half-hour drive to the east coast (you can stop at Istron bay for a dip en route). Allow four hours to transfer back to the west but break the drive at Knossos, once the heart of the Minoan civilisation. You can fly back from Chania to save another long drive.
Where to stay…
East Crete: Glaros Beach Suites. Directly fronting Kouremenos Beach, there's nothing here to distract you but the sea and a few tavernas. Should you need a bit more hubbub, charming Palekastro village is a 10-minute drive away. A little further afield you have Vai, with its palm grove and Europe's only banana plantation.
West Crete: Arosmari Village Hotel. You're in the heart of the village of Vamos, famous for its crafts and culture. Susan, Arosmari's concierge, organises weekly not-to-be-missed classical music concerts in the hotel's own amphitheatre. Chania, just a 30-minute drive away, has Ottoman buildings and trendy restaurants, whilst the White Mountains beckon for glorious hikes.