First Simpson Hotel on Lefkada
10 stylish and contemporary suites
Adult Only
Mesmerising sea views
Short walk to village and tavernas
Lefkada Town 15-minute drive
Three things really set Lefkada apart. The unbelievable blue of its waters, the majestic beauty of its forested mountains and the authenticity and charm of its towns and villages. And we couldn't be more delighted to have found a spot that celebrates all three. Our first Simpson Hotel on Lefkada is an ultra-stylish, adult-only retreat, standing proudly in the hills above the east coast, with spectacular views across the sea to the Greek mainland and situated just a 10-minute stroll from one of the prettiest little villages on the island.
The ten contemporary Katouna Suites have been designed with real flair and imagination. Cut cleverly into this dramatic landscape, all our generous and sophisticated suites have a terrace or balcony overlooking the dazzling waters, and are beautifully appointed, with sumptuous beds and luxury fittings. And if you are looking for something above and beyond, the two magnificent penthouse suites offer unbeatable panoramic views and are extremely spacious, both inside and out.
The pleasant reception leads to a cool seating area and library; for browsing or selecting that perfect holiday read, and our Simpson Concierge is on hand to help you book boat trips, make dinner reservations or point you towards one of the islands many idyllic beaches. And if you are in need of a little pampering, the hotel also has a treatment room with massage available on request.
Outside, clever landscaping creates different levels in the gardens and there are steps down to the simply glorious 23-metre infinity pool and surrounding terrace. Lying here and admiring the view from one of the elegant cabanas is simply heavenly. The poolside bar and dining area has an easy, laid-back vibe, serving drinks and snacks throughout the day and into the evening, striking the perfect note for relaxation.
Katouna itself is a very special village. Just a 10-minute stroll from the hotel, it has a delightful church, small central square and two family-run tavernas serving local specialities. It is easy to fall in love with this tranquil spot, immersing yourself in the slow pace of life that the locals enjoy year-round but if you are looking for something more, Katouna Suites are superbly situated. Lefkada town is just a 15-minute drive away and is a vibrant and enticing place for shopping and dining, with an excellent choice of restaurants; some by the water, others tucked away amongst the lovely cobbled streets in the centre of town.
The nearby beach in Lygia, just a 10-minute drive away, is quiet and low-key whilst a little further south in Nikiana, the coastline is more developed and offers a more luxurious choice of beachside bars and restaurants. Pretty Agios Nikitas and the famous beaches of the west coast are also very accessible and a drive up through the mountains to enjoy a Lefkada sunset is an unmissable experience.
---

Explore our pre-bookable experiences in Lefkada
---
Layout
10 rooms and suites
Top floor

–

Katouna and Athani Penthouse suites 47m², each with front balcony at least 12m²
Third floor

–

Lygia suite 42sqm and Rahi suite 48m², each with 12m² front balcony 
Second floor

–

Poros suite 42sqm and Karya suite 48m², each with 12m² front balcony
First Floor

–

Nikiana suite 42sqm and Lazarata suite 45m², each with 38m² front balcony
Ground floor

–

Alatro and Desimi junior suites 38m², each with 18m² front terrace
General
Adult Only (18 years or older)
Concierge service
Reception 
Welcome drink on arrival
Daily breakfast included
Light lunches available (payable locally)
Snack bar
Book exchange library
Laundry service (payable locally)
Spa with massage treatments (payable locally)
Swimming pool 23m x 10m(depth 1m – 1.85m)
Some suites and communal areas are accessed by several flights of stairs, may not be suitable for those with limited mobility
In Greece, a nominal visitor tax applies, known as the Overnight Stay Tax, which varies depending on the accommodation. During your stay at Katouna Suites, €0.50 per night per suite must be paid locally in cash and will be collected either by the hotel owner or our local representative on their behalf.
All suites (see separate Suites tab for individual details and photographs)
Complimentary WiFi
Air-conditioned throughout
Iron, ironing board, hairdryer
Simpson Travel pool towels
Furnished terrace or balcony
1.60m – 1.80m double beds
Walk-in shower
Bluetooth speaker
Complimentary bathroom products
Bathrobe and slippers
Safe
2-ring hob, fridge, kettle and Nespresso machine (some pods included for your arrival)
WiFi
All properties with WiFi are able to support basic functionality such as web browsing and checking emails*
* We aim to offer an uninterrupted service but sometimes due to factors beyond our control reliability can be affected.
National tourist licence (EOT): 1101359
Tavernas (Katouna village) 10min walk
Nearest beach and boat hire (Lygia) 7min drive
Lefkada town 15min drive
Nydri town 20min drive
Preveza airport 40min drive
Car options
Based on the number of people travelling, the following hire car(s) are included in the package price of your holiday:
2 guests – 1 Group C, Citroen C3 or similar*
* All our cars include comprehensive insurance with zero excess. For this particular destination, the undercarriage tyres and windscreen are not included in the cover.
Car specification
Group C – 1.1 litre engine, 1 large and 1 small suitcase*
The following cars are available as alternatives on request (supplements apply). Please call our travel specialists for details.
Group D – Nissan Note or similar, 1.4 litre engine, 2 large suitcases*
Group E – Fiat Tipo or similar, 2.0 litre engine, 2 large suitcases & 1 small suitcase*
Group F – Automatic Peugeot 301 or similar, 1.6 litre engine, 3 suitcases and 1 small suitcase*
Group J – Nissan Juke SUV or similar, 1.6 litre engine, 1 large suitcases & 1 small suitcase*
Group K – Nissan Evalia/Fiat Doblo or similar, 1.5 litre engine, 2 large suitcases*
Group L – Nissan Primastar or similar, 1.8 litre engine, 6 medium suitcases*
Group M2 – Automatic Nissan Qashqai SUV 2WD or similar, 1.6 - 2.0 litre engine, 2 large and 1 small suitcase*
* Suitcase sizes are based on a large suitcase being approximately 75cm x 41cm x 31cm, a medium suitcase of approximately 65cm x 46cm x 29cm and a small suitcase of 55cm x 40cm x 20cm.
Our choice of Greek properties is as diverse as the islands themselves, ranging from simple seaside charm to genuine luxury and style. Much of our portfolio is privately owned, and price alone is therefore not a universal guide. We contract all our accommodation in person, and each property has its individual appeal.
To help you make the right choice based on your own priorities, we have devised a simple grading guide to be considered in conjunction with each individual property description, awarding up to a maximum of five stars for the below categories.
* For further clarification on Facilities and Amenities, please view the 'Details' tab for each property or speak to one of our experienced sales consultants.
Charmingly traditional, Lefkada is an authentically Greek holiday delight fringed by award-winning beaches. The stunning colours of the landscape are a vibrant force of nature; uplifting, brilliant shades of shocking pink, green and translucent turquoise. Central to all this is Lefkada Town, with its pretty car-free streets, excellent choice of restaurants and waterfront bars and lovely bohemian vibe. It is well-suited to both couples and families and Lefkada is an excellent choice for one of our popular Simpson Crèches.
To make the most of your luxury holiday in Lefkada, we offer a selection of handpicked luxury villas and a stylish adult-only Simpson Hotel so you can enjoy this beautifully relaxing Greek Island to the full.
---

Explore our pre-bookable experiences in Lefkada
---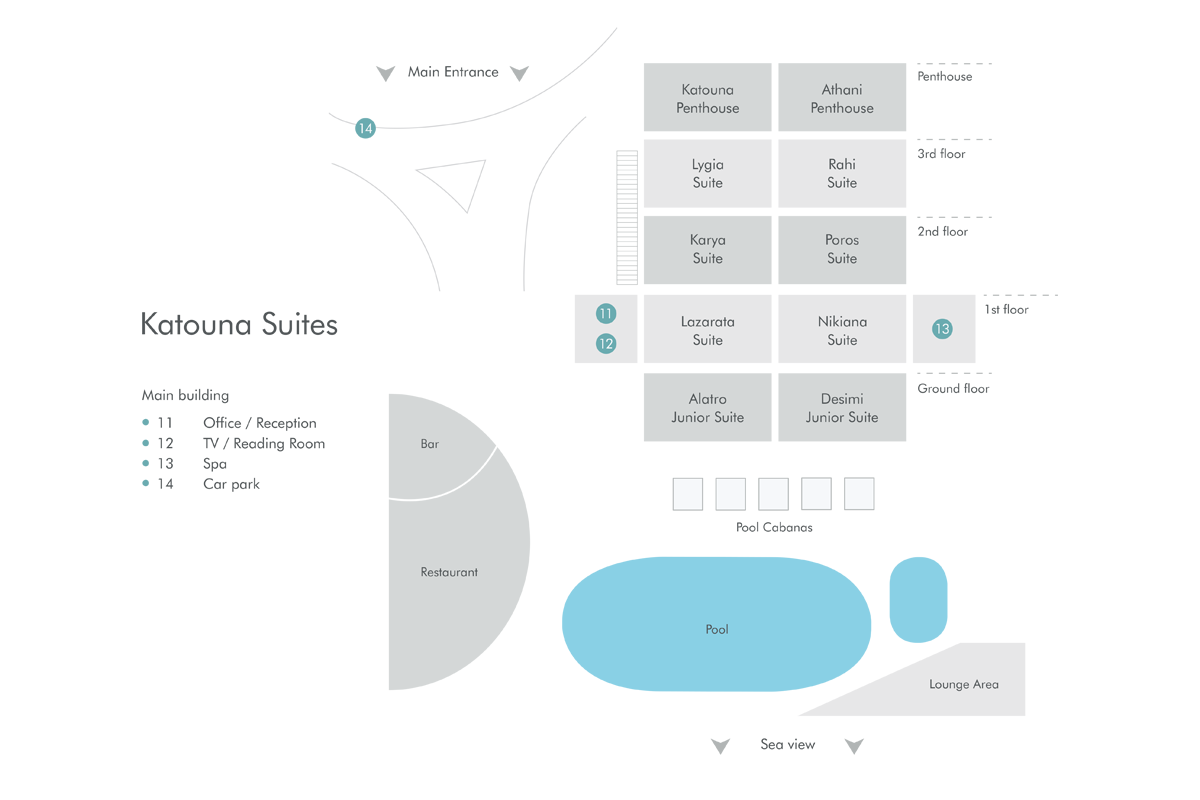 Enlarge Map
Alatro Junior Suite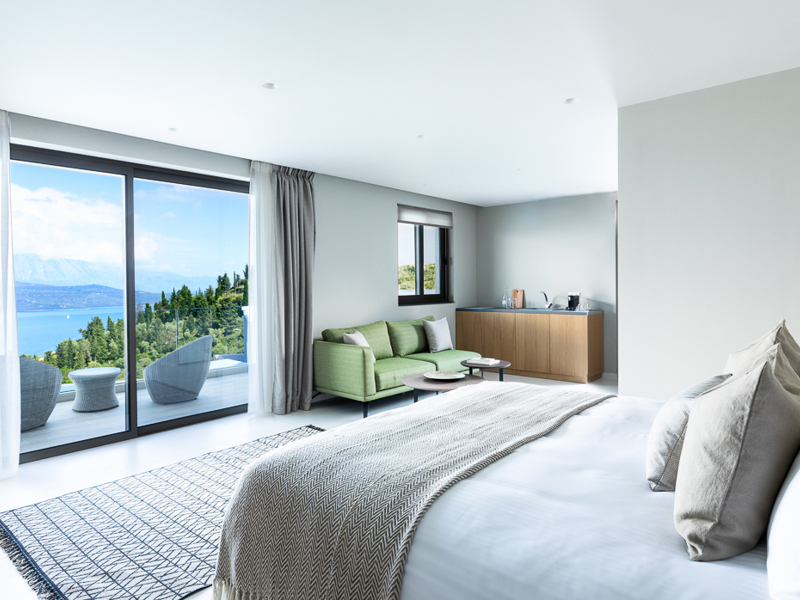 Full details
Accommodation
Alatro Junior Suite (sleeps 2)
Ground floor (38m²)
Furnished front terrace (18m²)
Direct sea views across the pool
180cm double bed (can be converted into twin beds on request)
Walk-in shower
Bluetooth speaker
Complimentary bathroom products
Bathrobe and slippers
Safe
2-ring hob, fridge, kettle and Nespresso machine (some pods included on arrival)
---
Athani Penthouse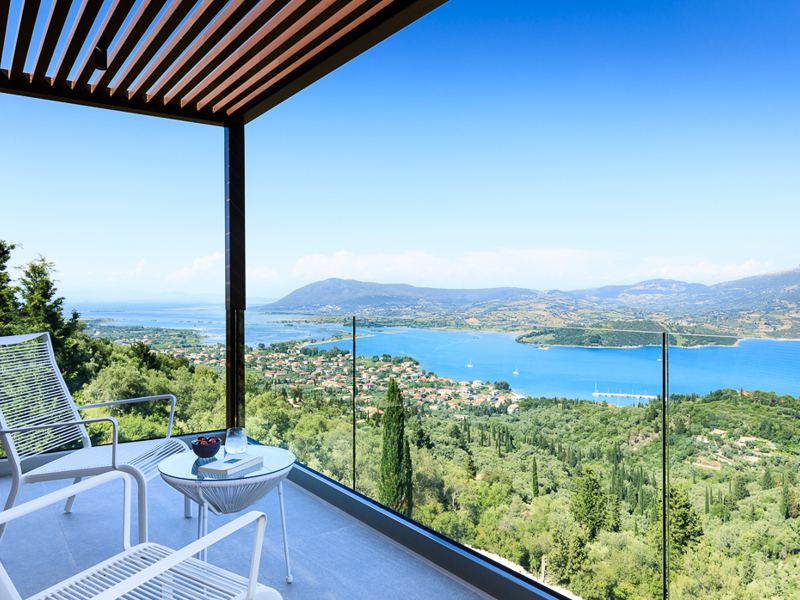 Full details
Accommodation 
Athani Penthouse (sleeps 2)
Top floor (47m²)
Furnished front balcony (12m²)
Direct sea views
180cm double bed
Walk-in shower
Bluetooth speaker
Complimentary bathroom products
Bathrobe and slippers
Safe
2-ring hob, fridge, kettle and Nespresso machine (some pods included on arrival)
---
Desimi Junior Suite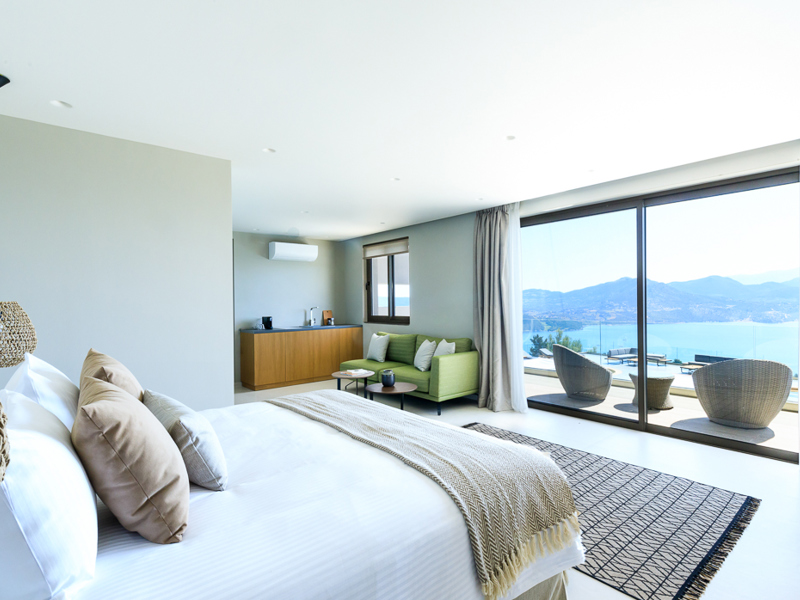 Full details
Accommodation 
Desimi Junior Suite (sleeps 2)
Ground floor (38m²)
Furnished front terrace (18m²)
Direct sea views across the pool
180cm double bed
Walk-in shower
Bluetooth speaker
Complimentary bathroom products
Bathrobe and slippers
Safe
2-ring hob, fridge, kettle and Nespresso machine (some pods included on arrival)
---
Karya Suite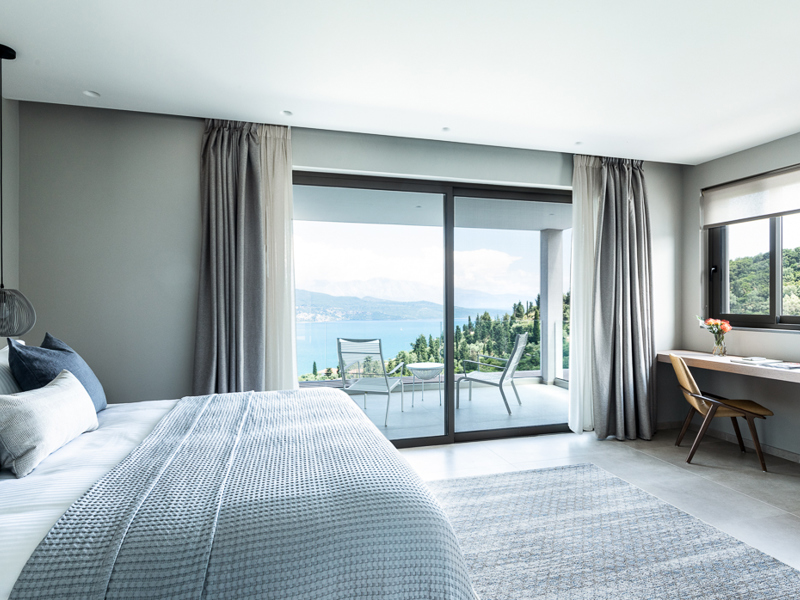 Full details
Accommodation 
Karya Suite (sleeps 2)
Second floor (48m²)
Furnished front balcony (12m²)
Direct sea views
180cm double bed (can be converted into twin beds on request)
Walk-in shower
Bluetooth speaker
Complimentary bathroom products
Bathrobe and slippers
Safe
2-ring hob, fridge, kettle and Nespresso machine (some pods included on arrival)
---
Katouna Penthouse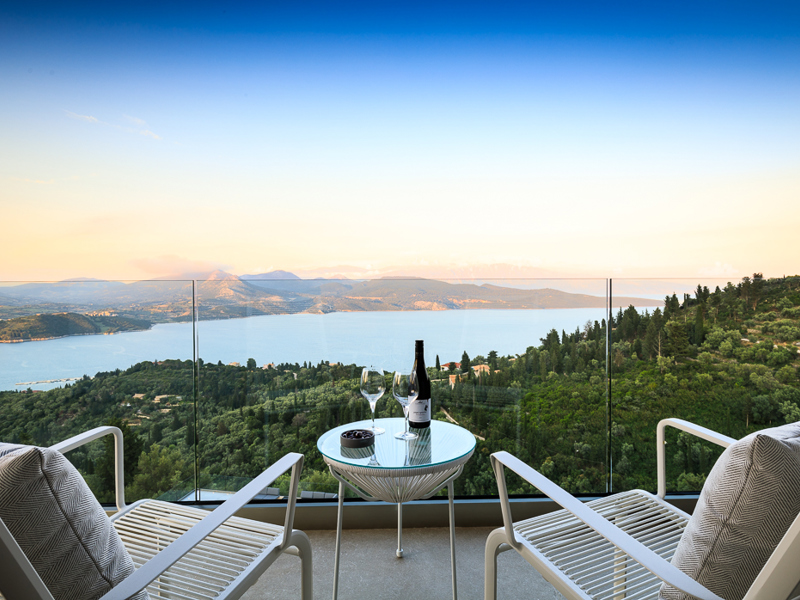 Full details
Accommodation
Katouna Penthouse (sleeps 2)
Top floor (47m²)
Furnished front balcony (12m²)
Direct sea views
180cm double bed
Walk-in shower
Bluetooth speaker
Complimentary bathroom products
Bathrobe and slippers
Safe
2-ring hob, fridge, kettle and Nespresso machine (some pods included on arrival)
---
Lazarata Suite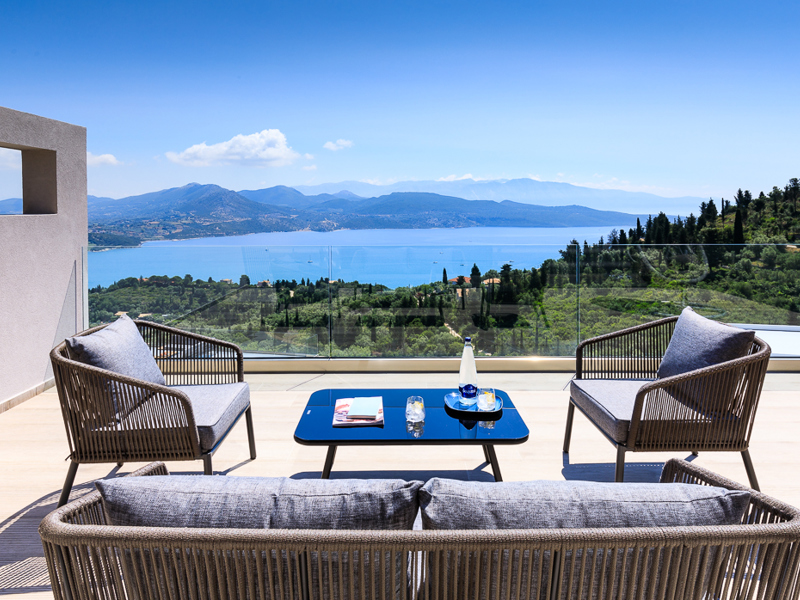 Full details
Accommodation
Lazarata Suite
First floor (45m²)
Furnished front balcony (38m²)
Direct sea views across the pool
160cm double bed
Walk-in shower
Bluetooth speaker
Complimentary bathroom products
Bathrobe and slippers
Safe
2-ring hob, fridge, kettle and Nespresso machine (some pods included on arrival)
---
Lygia Suite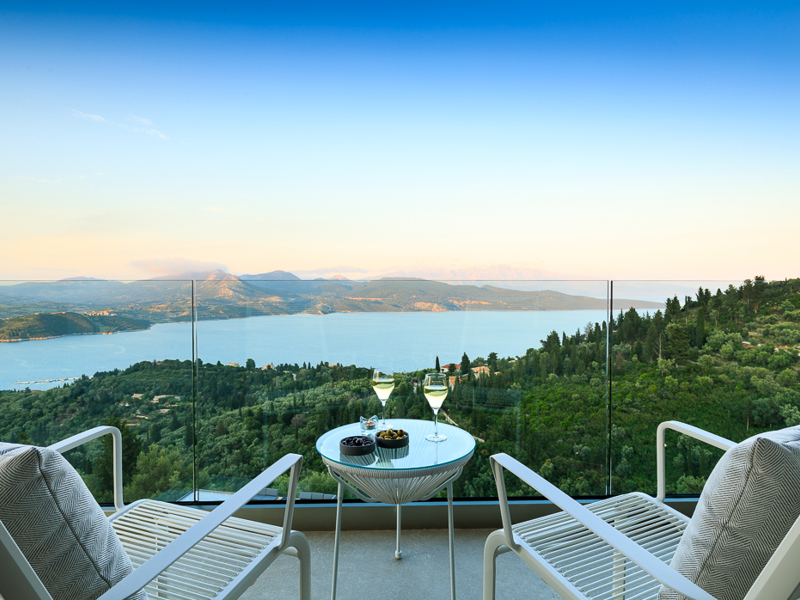 Full details
Accommodation 
Lygia Suite (sleeps 2)
Third floor (42m²)
Furnished front balcony (12m²)
Direct sea views
180cm double bed
Walk-in shower
Bluetooth speaker
Complimentary bathroom products
Bathrobe and slippers
Safe
2-ring hob, fridge, kettle and Nespresso machine (some pods included on arrival)
---
Nikiana Suite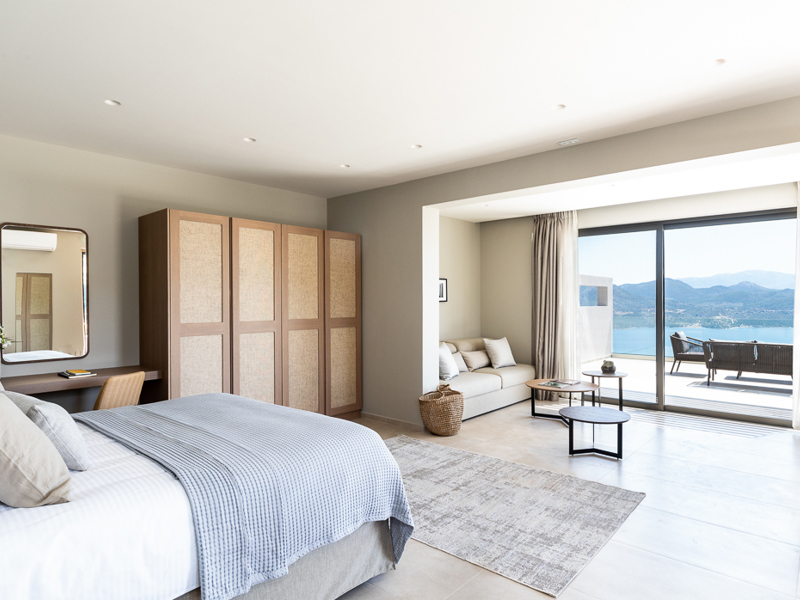 Full details
Accommodation 
Nikiana Suite (sleeps 2)
First floor (42m²)
Furnished front balcony (38m²)
Direct sea views across the pool
160cm double bed (can be converted into twin beds on request)
Walk-in shower
Bluetooth speaker
Complimentary bathroom products
Bathrobe and slippers
Safe
2-ring hob, fridge, kettle and Nespresso machine (some pods included on arrival)
---
Poros Suite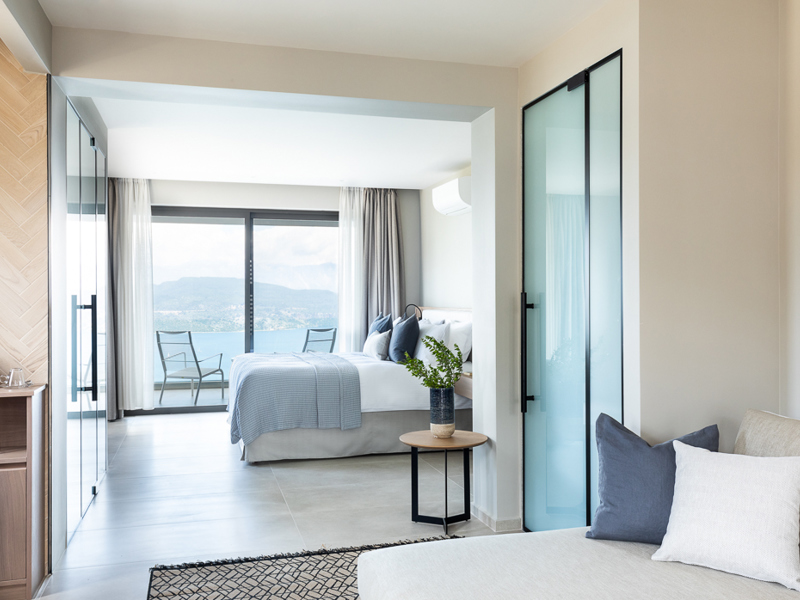 Full details
Accommodation
Poros Suite (sleeps 2)
Second floor (42m²)
Furnished front balcony (12m²)
Direct sea views
180cm double bed
Walk-in shower
Bluetooth speaker
Complimentary bathroom products
Bathrobe and slippers
Safe
2-ring hob, fridge, kettle and Nespresso machine (some pods included on arrival)
---
Rahi Suite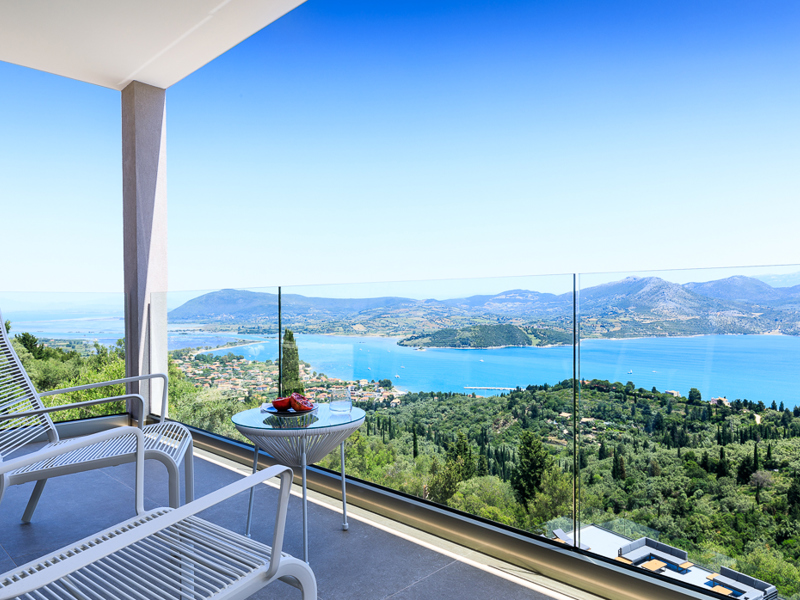 Full details
Accommodation
Rahi Suite (sleeps 2)
Third floor (48m²)
Furnished front balcony (12m²)
Direct sea views
180cm double bed
Walk-in shower
Bluetooth speaker
Complimentary bathroom products
Bathrobe and slippers
Safe
2-ring hob, fridge, kettle and Nespresso machine (some pods included on arrival)
---
View holiday Booking Conditions
Simpson Travel in the press