The Drama of Crete, Act I: The Wonders of the West
The Drama of Crete, Act I: The Wonders of the West
Like a play penned by the 16th century Cretan playwright Georgios Chortatsis, this giant, bold island unfolds over two acts, the West and the East, encompassing drama, comedy, tragedy and a cast of characters full of passion and fire, yet kind and always ready to extend the warmest welcome to those that land on its distinctive shores. In fact, I challenge you to leave a Cretan home without a full belly, a glass or two of raki and a bag overflowing with treats for your onward journey!
Act I – The Wonders of the West

Discovering the far west of Crete takes you on a switchback ride over gigantic mountains and into sheer-sided, cavernous gorges, punctuated by flashes of brilliant blue sea at almost every turn. Silvery olive groves, sticky mulberry trees and colourful oleander add detail to the canvas. High in the hills there are tiny churches, majestic monasteries and herds of shaggy goats whose tinkling bells carry like an ancient chorus on the mountain breeze. Along the coast, simple family restaurants face out to sea, serving up mountain tea brewed from foraged herbs, and the catch of the day grilled simply over an open wood fire.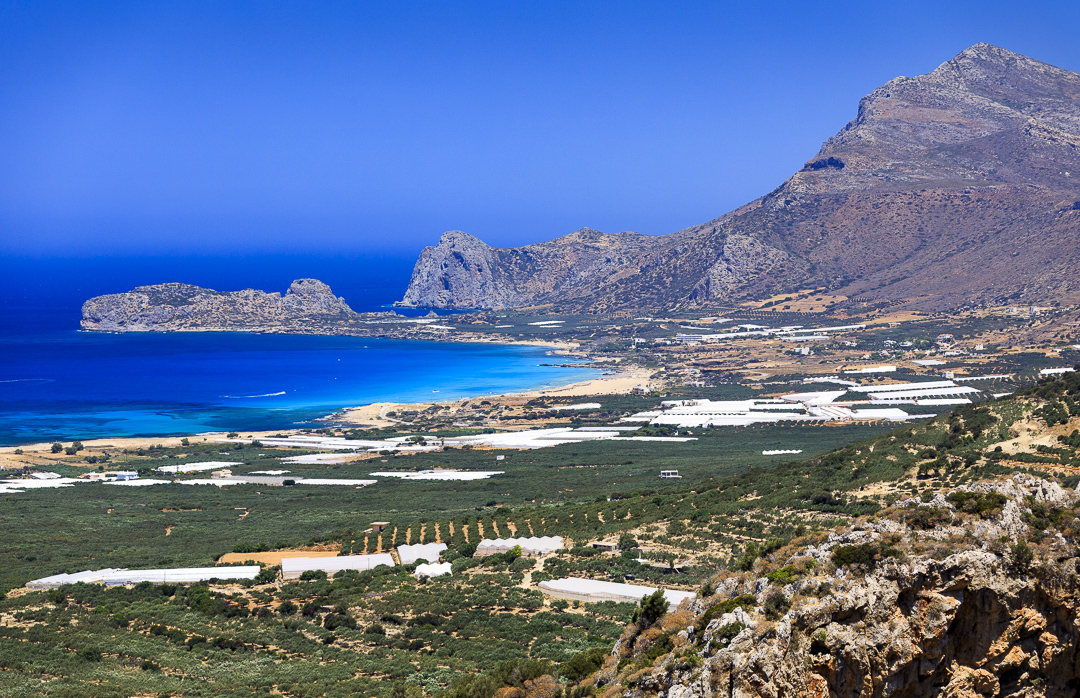 The best beaches in Western Crete

It's in this far west corner that we discover Crete's 'poster girl' beaches: Balos, Falasarna and Elafonissi, the latter graced by a perfect rainbow as we arrive. It's frustratingly hard to capture the beauty of these places with a phone camera, but we spend a while trying, before checking out the luxurious Kissamos Estate. The eight villas on this stunning site are a cut above most holiday accommodation you'll find on Crete, but what makes this place even more special is the excellent restaurants close by, including very special Gramvousa in Kaliviani, just a five-minute drive from the estate. Many of the menu items come from Gramvousa's own magnificent vegetable garden, and Kissamos guests can order organic veggie boxes for delivery: super fresh and super healthy!
After Kissamos it's on to Paleochora. This pretty peninsula town charms from the outset, its tree-shaded streets lined with tavernas spilling out on to the road and on to the seafront promenade. We settle in at Methexis, and tuck into plates of meltingly soft, slow cooked lamb kleftiko and bowls of brightly coloured salad, salty with feta and olives. Accompanied by the background bouzouki player, we indulge in a shot of raki to finish - something that becomes a familiar theme as our travels continue! Home for the night is the refined elegance of the Amphitheatre Suites, where morning greets us with incredible sea views and a beautiful sandy beach. Sadly there's no time to linger on the sand, but we take a while to enjoy fresh juices, fruit, honey and the fluffiest omelettes ever on the promenade before beginning our journey north.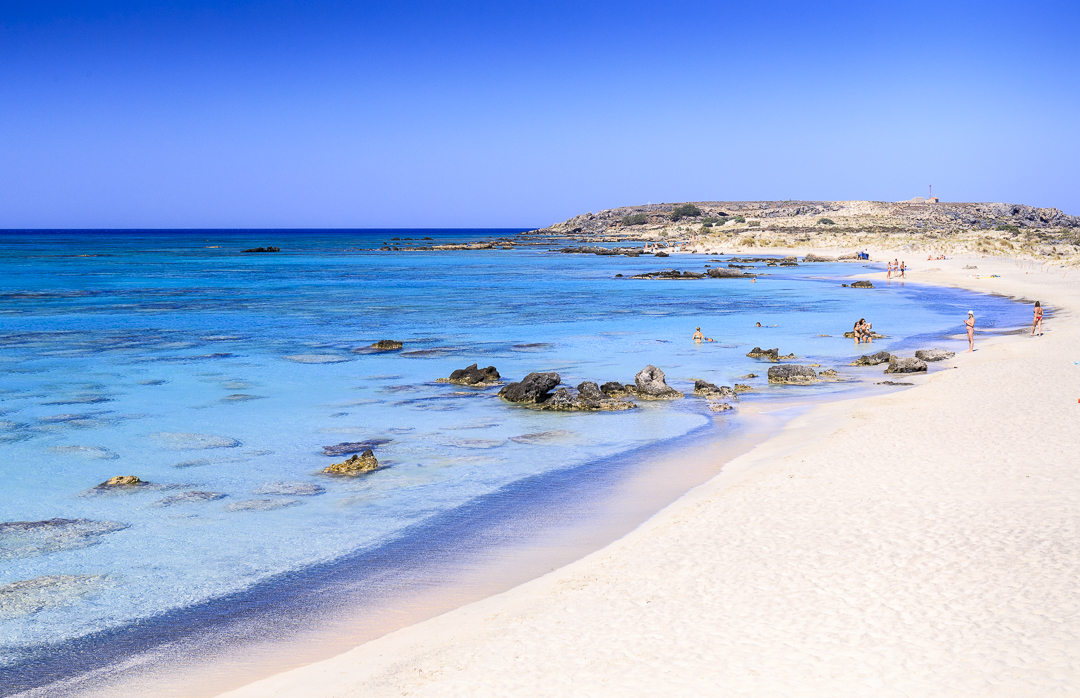 GK Beach Hotel

Today's destination is the GK Beach, a Simpson Travel classic with an incredibly loyal following and an amazing beachside location. Some guests just flit between the pool and the beach, whilst others like to use it as a base to explore. A worthwhile local trip is to the Aptera ruins, a short drive from the hotel. This impressive excavation is resplendent in its size, boldness and accessibility, and the near-complete amphitheatre provides a worthy setting for a play. I wonder at how many people have been entertained here over thousands of years, the natural acoustics still enhancing productions to this day. From Aptera we continue to Chania, with a little detour to visit Villa Asteriskos and Villa Vereniki. Both of these lovely houses have a hillside location and amazing views. There's everything you could want just down the hill in Almyrida, including tavernas, shops and watersports, and Chania town is just a 30 minute drive.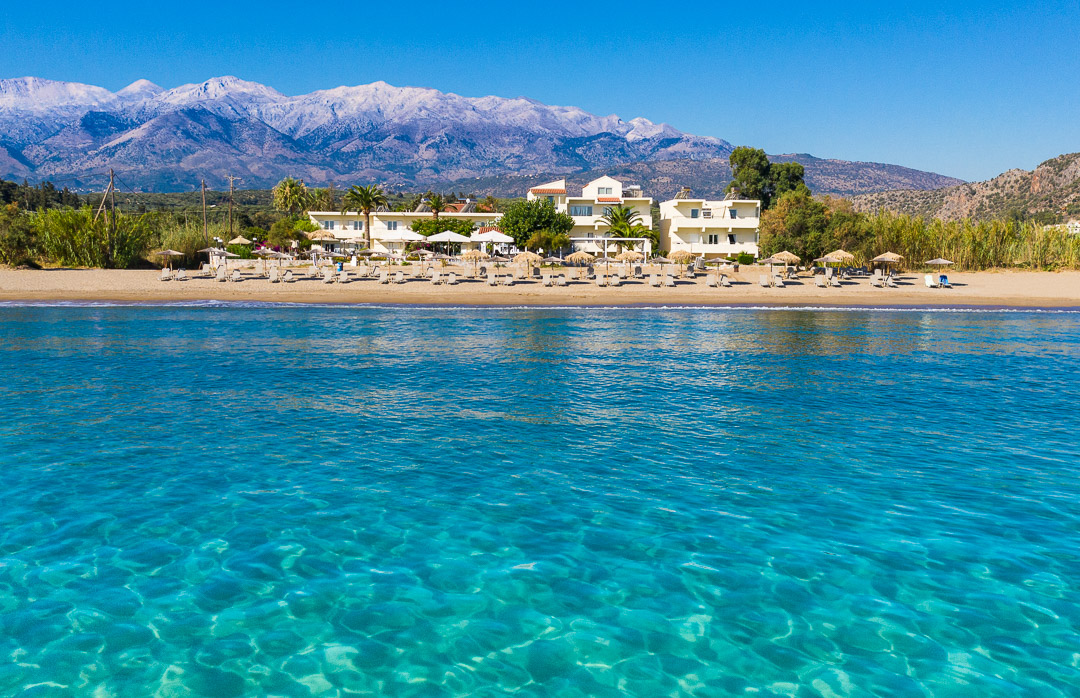 Chania Town

Having first visited Chania eight years ago my love affair with this charming town is instantly re-kindled and I find even more to fall in love with, discovering the Turkish quarter for the first time, particularly pretty with a kaleidoscope of early evening lights and its bohemian-styled bars and restaurants vibrant with a young local crowd. History surrounds us, a fascinating jumble of form and function from Venetian churches to old leather and pottery factories and an entire street of knife shops demonstrating the Chanian's pride as a city of warriors. It's also the perfect place to stop for a relaxed meze meal, sharing plates of crumbly, tangy feta, big bowls of salad drizzled with silky olive oil, rich smoked meats, juicy red tomatoes, shiny olives and fruits and vegetables that are bursting with flavour from the sunshine that ripened them. Oh and of course the obligatory glass of raki!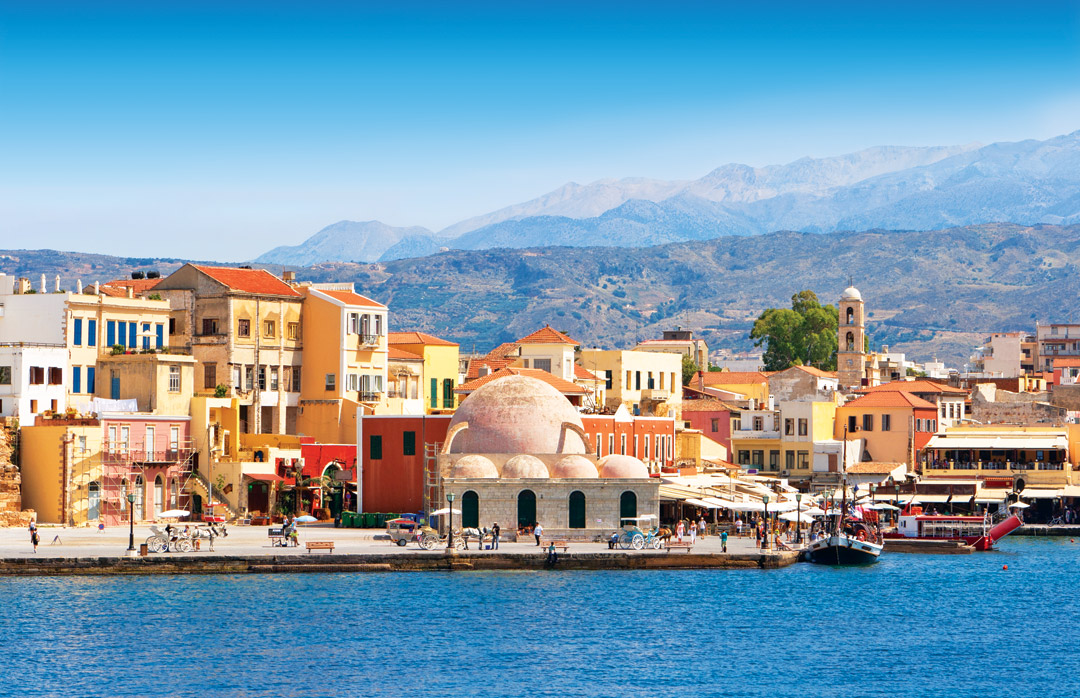 Lovely Loutro

After a restful night by the sea at GK Beach, we set off once more over the mountains. Accessible only from the sea, the tiny waterfront village of Loutro is an absolute gem. As our water taxi pulls up to the jetty, the white and blue buildings have us all fumbling for our phones to capture the moment, then we step onto the shore leaving our shoes and cares behind. Mama Mia comparisons are unavoidable, but it's not Meryl Streep who reigns in this too-Greek-to-be-true domain but the formidable Alison, who landed here in the 70s and is now the de facto village matriarch. Alison runs Porto Loutro - On the Beach, while her daughter is in charge On the Hill. With the warm yet steely intransigence of a true Cretan mother, she insists we try everything on the menu for lunch. Our bellies groan but there's something incredibly special about a place where hospitality trumps every other item on the agenda, and we give in with grace.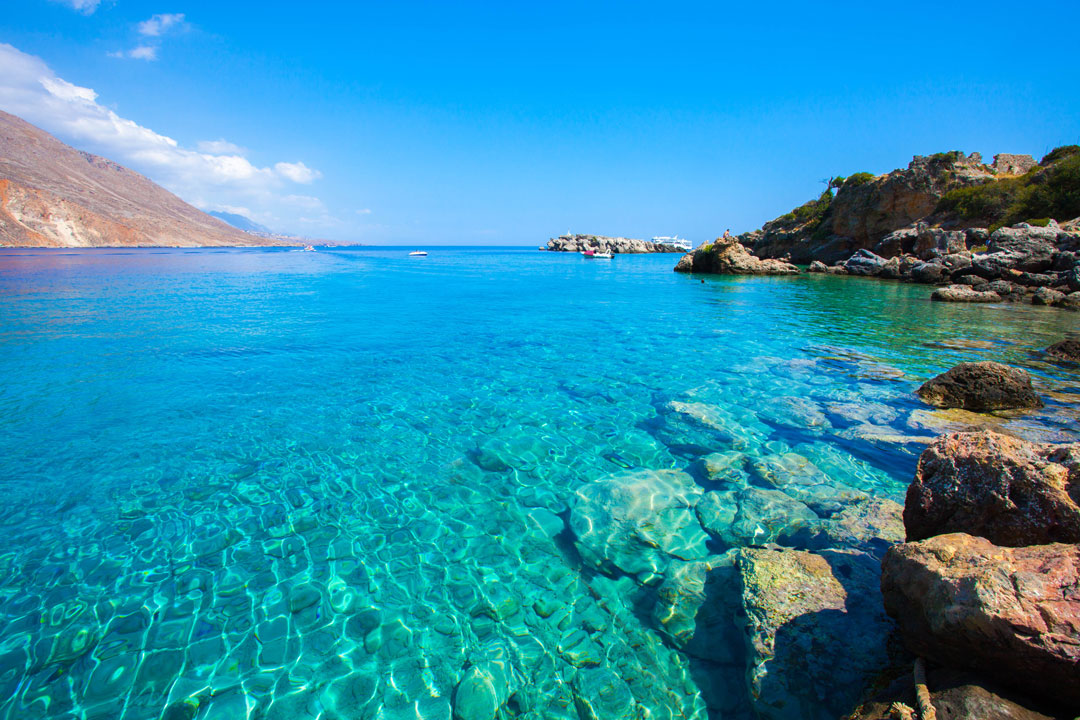 Arosmari Village

The following day it's the inland village of Vamos that captures my heart, and, in particular the traditional houses that collectively make up the Arosmari Village Hotel. It's a hidden haven, with pops of colour from the pink bougainvillea and blue pool, borders of scented herbs mixing with the light perfume of jasmine and lavender, oranges and pears ripening on the trees. A pathway meanders through this oasis, and as if visiting a museum, we pass a perfectly formed miniature amphitheatre, an original threshing circle, a traditional stone shepherd's hut and a tiny chapel still used for a service and the excuse for a party just one day a year. It's an idyllic and much-loved Simpson Travel retreat, yet you feel like you've stumbled upon a secret that no one else is party to. For those keen to dive deeper into the local culture, there's a series of experience weeks where walking, yoga, mindfulness, painting, Cretan cuisine or playing bridge are all elevated by this magical environment.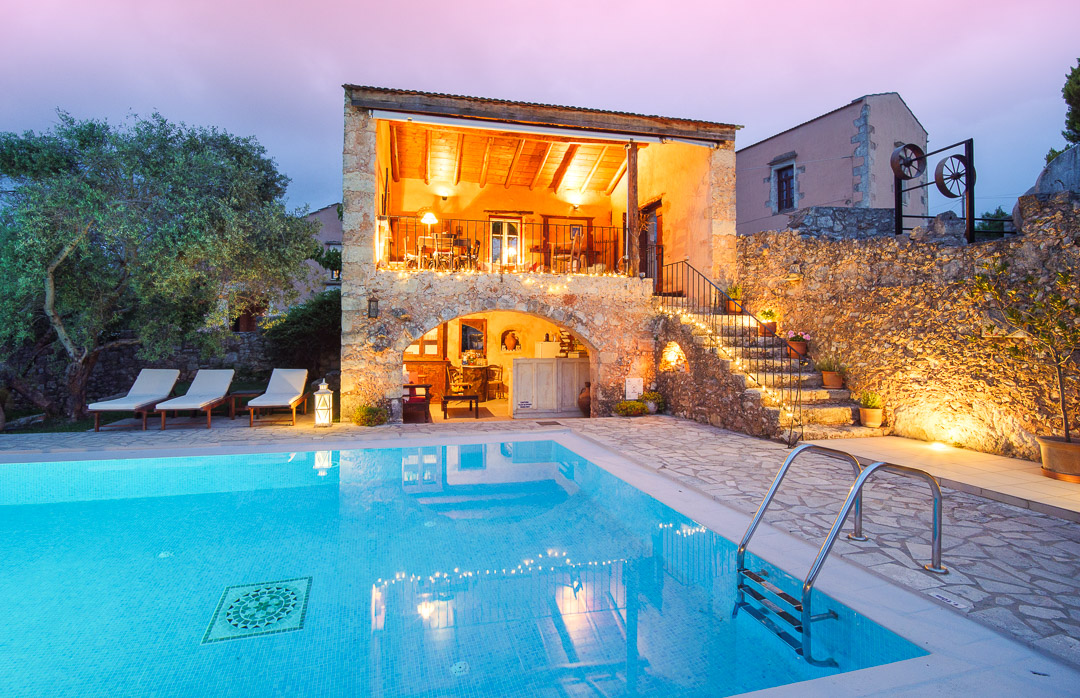 Rethymno

We only have time left for one more western wonder and the city of Rethymno claims this title. A smaller version of Chania, the Turkish influence is quickly apparent in the ornate wooden Ottoman balconies that keep watch over the coming and goings below. The university students have inspired an eclectic mix of bars and coffee shops and the seafront promenade is busy with music and dancing throughout the summer months. A small harbour provides a relaxed and intimate setting for lunch or dinner by the waters-edge. But it is in the streets of the old town that for me this jewel really shines, the honey stone of the buildings as sweetly inviting as the family-owned baklava workshop in the old town that has been producing this sticky treat for hundreds of years. A mere 20 minutes from the city in a pretty olive grove setting is the delightful one-bedroom Villa Sonatina, the ideal retreat if you want to dip in and out of town but still have space and privacy. I also loved Villa Velanidia, again with a wonderful tucked-away feeling and again just an easy drive from Rethymno.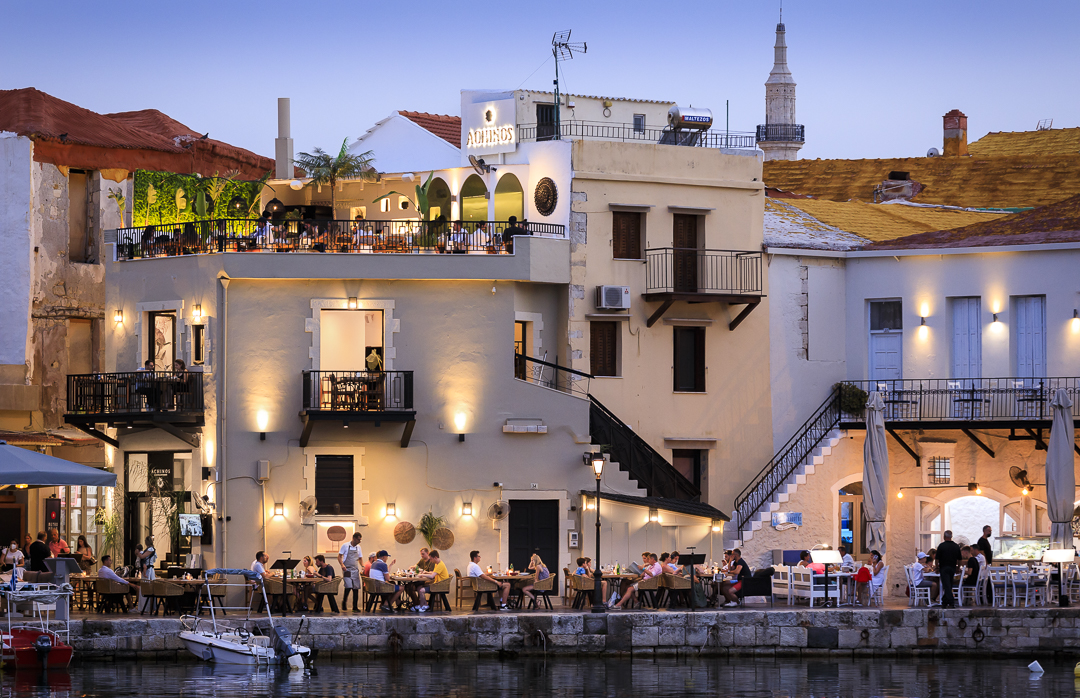 Avli Boutique Hotel

Just when we think we have unearthed all the treasures of the city, we find the Avli, a rather splendid boutique hotel housed across several original buildings in the heart of the old town. A relaxed opulence abounds in the rooms themselves with four poster beds, jacuzzi baths, and names like Cookie, Brownie and Champagne. Next door an old Turkish bath house that once played host to royalty is now a vast wine cellar, coolly lit in blue. The final building provides an elegant dining experience in the hotel's flagship Avli restaurant, with tasting menus showcasing the best of Cretan cuisine across the years and personalised cooking classes available with a resident chef. We are lucky to sit down to an exquisite meal here and raise our raki glasses with a hearty 'yammas' to five fantastic days exploring Western Crete.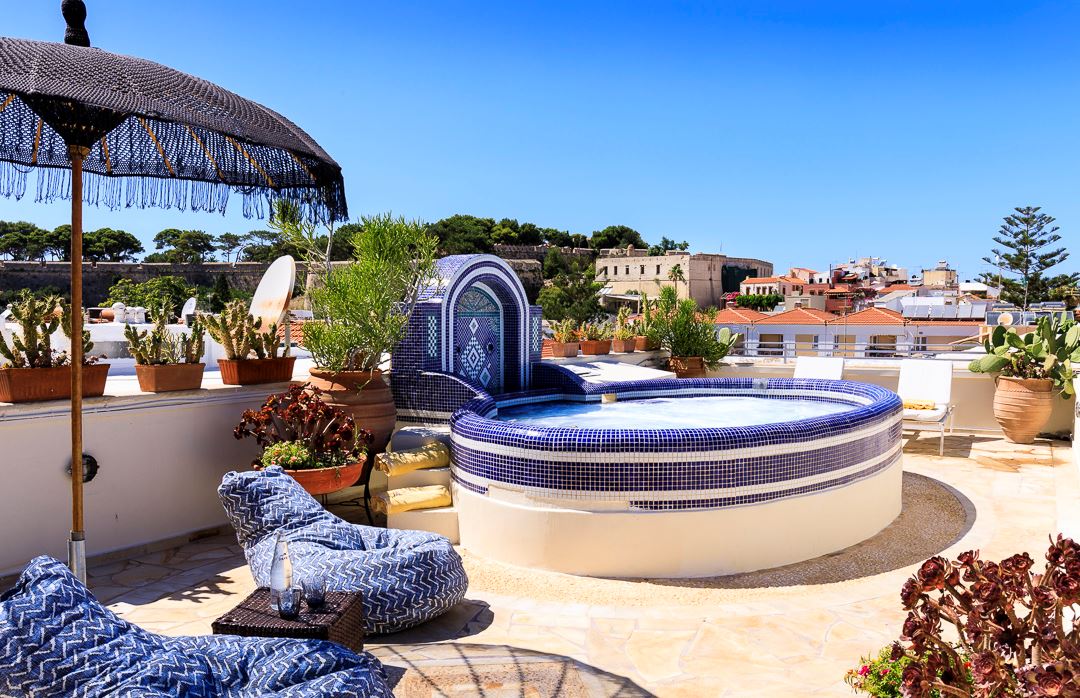 Want to see Act 2? Read all about our Eastern Crete adventures here.