The Drama of Crete, Act 2: a Journey full of Eastern Promise
The Drama of Crete, Act 2: a Journey full of Eastern Promise
In part two of her Cretan Odyssey blog, our destination specialist Sarah Barnes shares her impressions of Eastern Crete, exploring majestic landscapes from Heraklion to Makrigialos:
Music, Myths and Minotaurs

Our journey begins in Heraklion, a city now embraced by Venetian walls but with a history that goes back a lot, lot further. Visitors are warmly welcomed, yet this is very much a locals town with a contemporary vibe, a multitude of restaurants and a thriving live music scene. The medieval centre has lots to admire, including the Church of Agios Titos with its exotic palm trees standing guard outside - once the rather beautiful backdrop to a Simpson family wedding! For many visitors though, the city itself is easily overshadowed by the mighty Knossos Palace that rests on a hillside just southeast of its walls. A tour of this colossal site takes you through thousands of years of history incorporating tales of kings, brave warriors dazzled by love and mythical minotaurs lurking in labyrinths. It's easy to imagine them here in the shadows as you pass the intricately decorated throne room, buildings adorned with frescoes and huge stone staircases worn shiny by the feet of ages. The first inhabitants settled here as far back as neolithic times and the palace in its latest guise was re-built by the Minoans around 1500BC. Knossos is considered the earliest city in Europe and was the ceremonial and political centre of the Minoan civilization and culture. To fully appreciate the haul of Minoan artefacts unearthed here, a visit to the Heraklion Archaeological Museum is a must. I find it almost impossible to take in that the wealth of treasures displayed here are from quite so long ago, so many so perfectly preserved they would not look out of place in a shop window today, particularly the jewellery. You can see the highlights in an hour, but you could easily spend all day here marvelling at the magnitude of it all.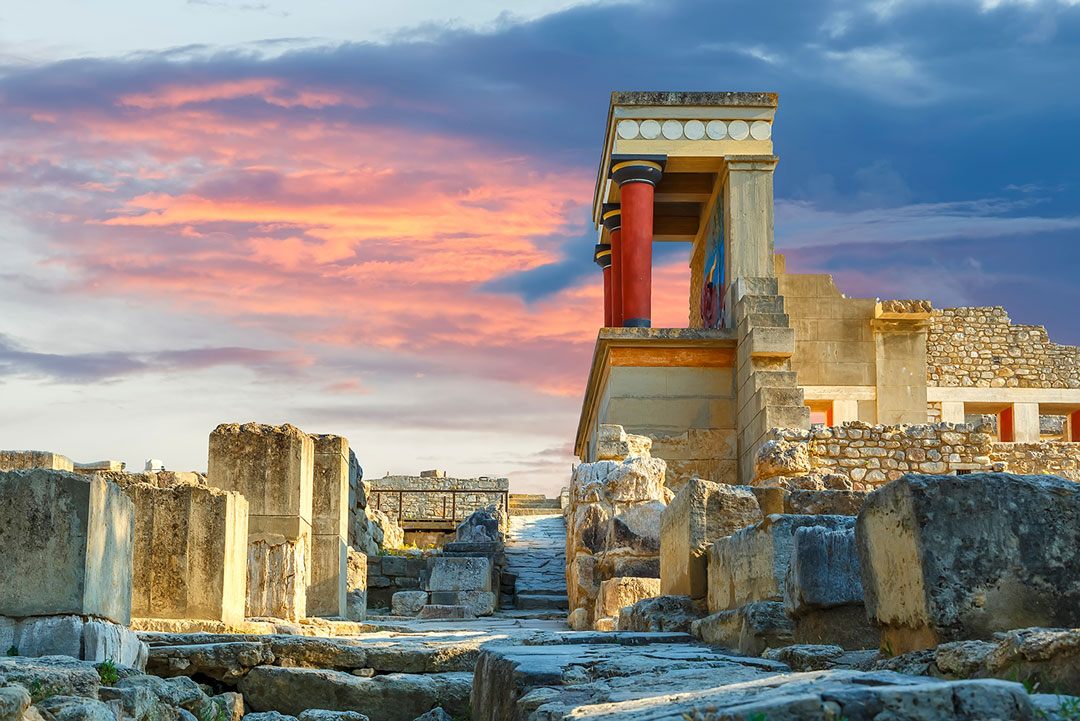 Mellow Mochlos
The small seaside town of Mochlos is the next place we meet as we travel further east, and we are greeted by a scene reminiscent of a Greece that existed many years ago. But don't read this as outdated; far from it! This picture postcard setting is complimented by a top-quality culinary experience in the handful of tavernas that wrap around the waterfront and a collection of surprisingly contemporary accommodation. Want to wake up to the sound of the waves mere metres from your bed? Then the appropriately named Mochlos Waterside is a bijou, boho delight. Need a villa with a little more space? Mochlos Harbour View villa sleeps up to six, with a blissful outlook across its private infinity pool, or there's the swanky Simpson Exclusive Villa Melitina for the full luxury experience. I'm a sucker for traditional-look-contemporary-comfort places, so I was totally seduced by stone-built Villa Ilios, on the hillside above town with stupendous views. And for those who prefer a hotel, there's Mochlos Blue , a six-bedroom, family-run seaside retreat just a 10-minute stroll from the harbour. We were all utterly enchanted by Mochlos, and sadly we were only passing briefly through, but for those with time to linger, there are other pretty villages to explore locally, including Karvaossi with a lovely beach in the next bay along, and Monasteraki, a hidden gem at the mouth of the Ha Gorge. For anyone in search of a quieter Crete, Mochlos is the perfect gateway to the east and its spectacular landscapes; all you need is a little sense of adventure (and a healthy appetite!)
In the Footsteps of History

The landscape continues to change the further east we venture, the mountains here are almost desert-like. Gone are the forested slopes of the west to be replaced by bushy gorse land and squat olive trees. The dizzying views remain constant though as do the hairpin bends interspersed with flashes of the familiar vivid blue of the sea at every turn. Climbing away from the coast we arrive at Isidora, a big, bold and industrial-style villa. It's chunky, unapologetic appearance is a striking presence, yet still very much the support act for the fabulous view. I'm rendered speechless by this magnificent panorama and take a seat on the terrace to sit back and fully take it in. I fear I would never move if I holidayed here, with the colours of the horizon morphing continuously and conclude I've found the perfect spot to pen my novel one day!
The next few days we are hosted by Jonathan, Myriam (and Miele the dog): the very capable, caring and charismatic team behind our speciality walking tours showcasing some of Crete's most scenic hiking trails. We are struck immediately by our guides' empathy, warmth and wealth of knowledge. Jonathan takes us on a journey both physically and mentally, bringing to life the history of each environment with carefully chosen readings and poems that add context and elevate the whole experience. Extracts from Dylis Powell's tale of Villa Ariadne and the daring kidnap of a German general by Patrick Leigh-Fermour, Lawrence Durell's The Greek Islands and works by Henry Miller, are truly thought-provoking. From the serenity of a sunrise walk along the coastal path ending in an energising swim at Vai beach before breakfast, to the Jurassic style of the fern-filled Zakros gorge leading you down to the sea, Jonathan adds a magical element to every walk. Such effort requires nourishment, and here again the offer far exceeds expectations, with Myriam creating epic meze spreads and picnic lunches to welcome weary walkers at the end of the tours. Sweetly tired from the physical exertion, mental stimulation and hours of fresh air, we awake with the dawn at Breezes, and feel blessed to witness the most beautiful sunrise, the palmed landscape lit by a deep orange that fades to gentle pink as daylight unfolds.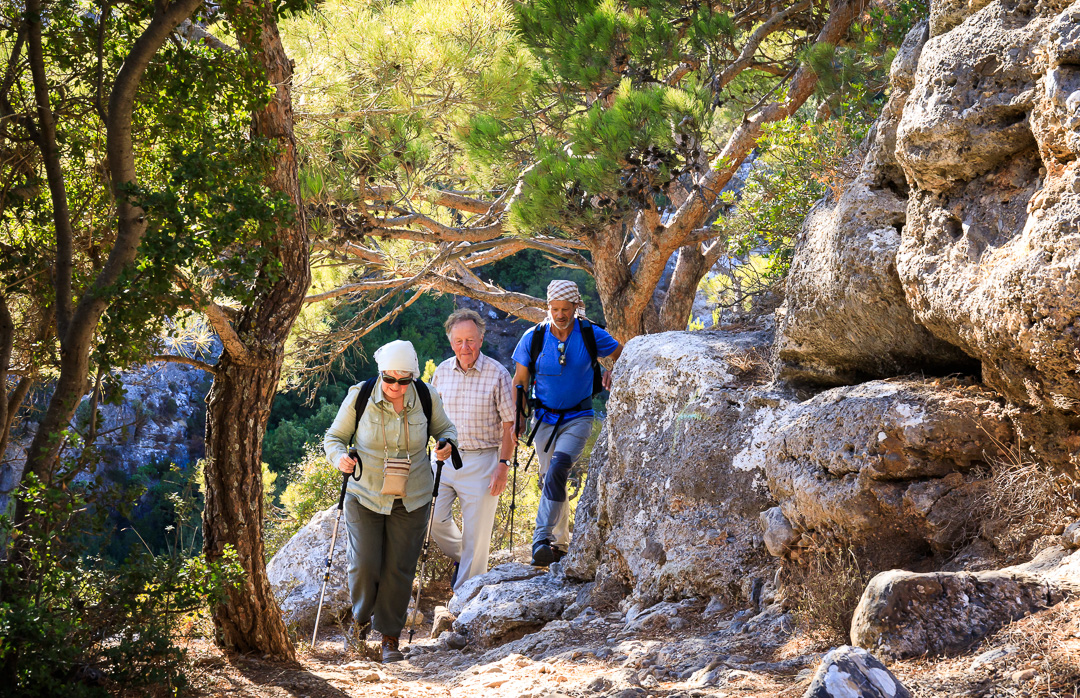 Sand, Surf and Starry Nights

The area around Palekastro is a little different to anything we've seen so far, attracting a laid-back surfing crowd taking advantage of the keen breeze and untouched beaches of Kouremenos, Erimoupolis and Itanos amongst others. It's a place of carefree days on delightfully quiet sandy beaches and wonderful star-lit nights for those curious enough to venture this far. One place that perfectly epitomises the Palekastro vibe is Muses Beach Villas, superbly located on the edge of sandy Kouremenos beach. We begin the long winding climb upwards from the coast traversing the mountains once more. Like tiny remote controlled Scalextric cars clinging to the sharp corners of the track we make our way higher and higher until the boats become tiny specks on an ocean of blue. Overall, this part of Crete feels much more exotic, the mystery palm tree forest at Vai adding a tropical layer to the story. I can't decide if it's the rich colour of the earth, the beauty of golden hour as we draw close or a combination of the two, but I find the Kappas monastery captivating and ethereal, fully encompassing the notion of 'eastern promise'.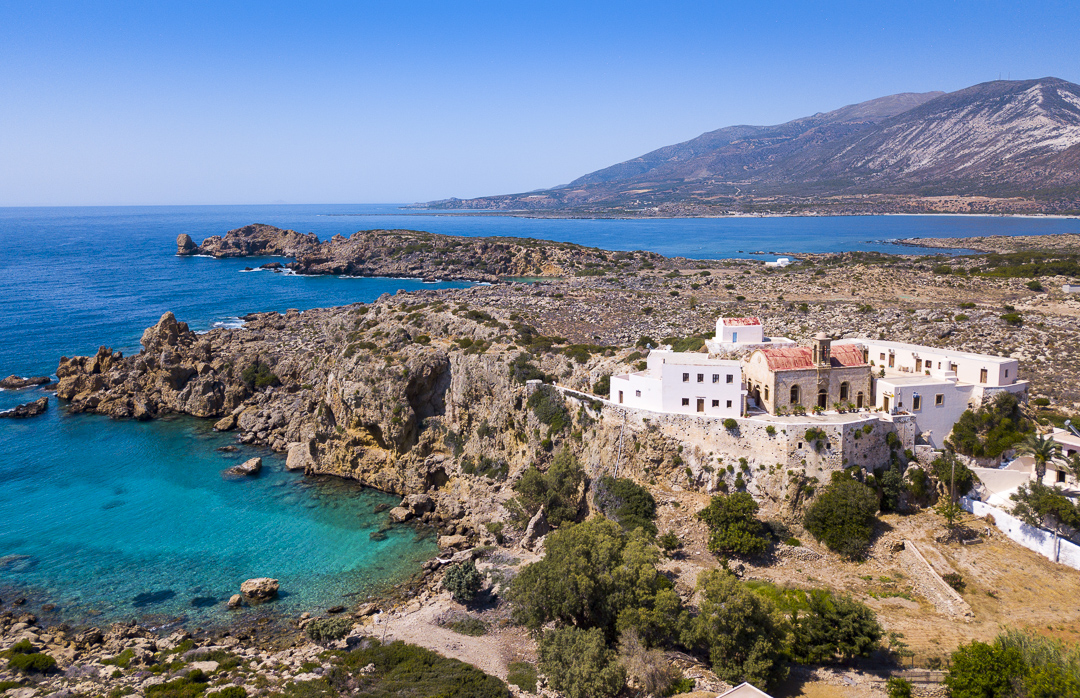 Magical Makrigialos

Makrigialos is our final destination, and we arrive just in time for dinner and another majestic sunset. Time is running out on our cross-island odyssey, but we still manage to fit in an exhilarating speed boat trip to the island of Koufonisi; it may take only 30 minutes, but on arrival it feels as though we've travelled to some distant shore and washed up on a deserted island in the Caribbean. The water is crystal clear and the absolute brightest aquamarine you can imagine, and a swim here leaves your body fizzing and your mind joyful. The discovery of some Minoan ruins on this site is no surprise, it would be hard to imagine a more divine spot to settle. East Crete leaves us with one final secret, the very appealing and sleepy village of Pefki that rests in the hills above Makrigialos. With mountain goats rivalling the number of human inhabitants, this is a village that only acquired electricity in 1970, and where not so long ago the local ladies still did their washing in the spring water flowing down the mountainside. Nevertheless, Pefki is embracing modern advancements at its own pace, and we hope that within a couple of years this very special, peaceful and picturesque setting will include some simple yet comfortable accommodation for Simpson Travellers… watch this space!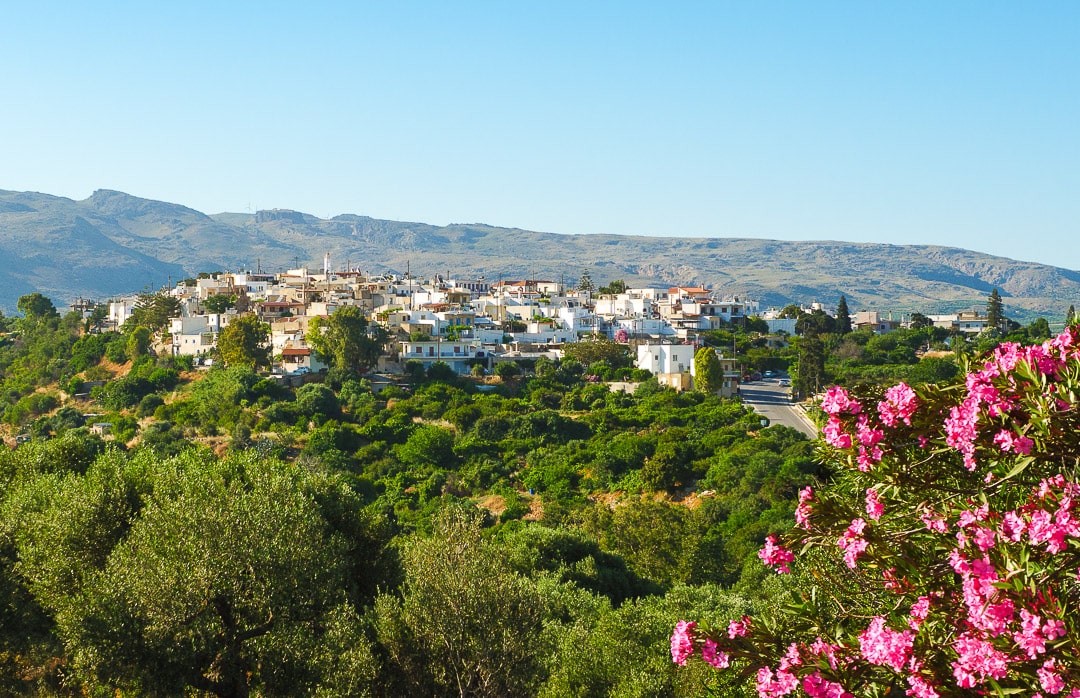 Promise Fulfilled

Aware that this will be my last Cretan sunset for a little while, I take a seat on the beach with a Mythos beer in hand and reflect on this amazing adventure and its palette of aquamarine, ochre, dusky brown, vivid blue, warm orange and emerald green. I remember friendly welcomes in picture postcard Greek villages, fantastic tales of kings and queens, mythical creatures and a treasure chest overflowing with magnificent artefacts. My mouth waters at the thought of picnic baskets full of ruby red pomegranates, plump salty olives, juicy pink prawns and rich cuttle fish risotto turned black as night with squid ink and accompanied by the constant soundtrack of the sea. The East that has truly caught me off guard and completely charmed me with its natural beauty, authentic simplicity and its insistence to slow the fast pace of life that the rest of the world has succumbed to. And do you know, I can't think of anywhere I would rather be.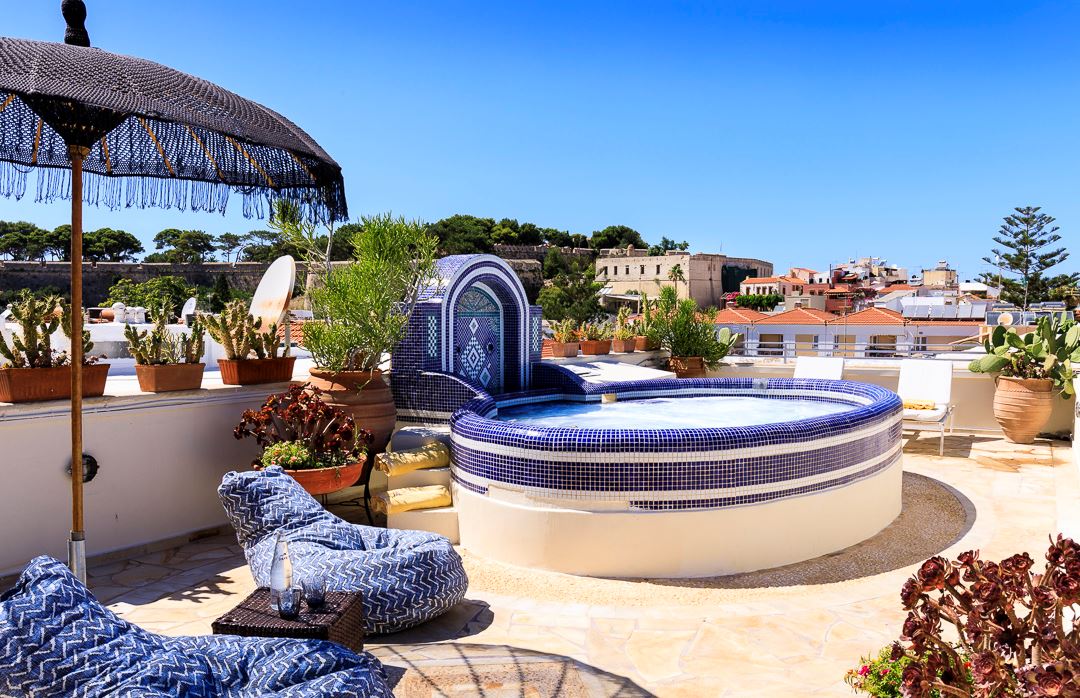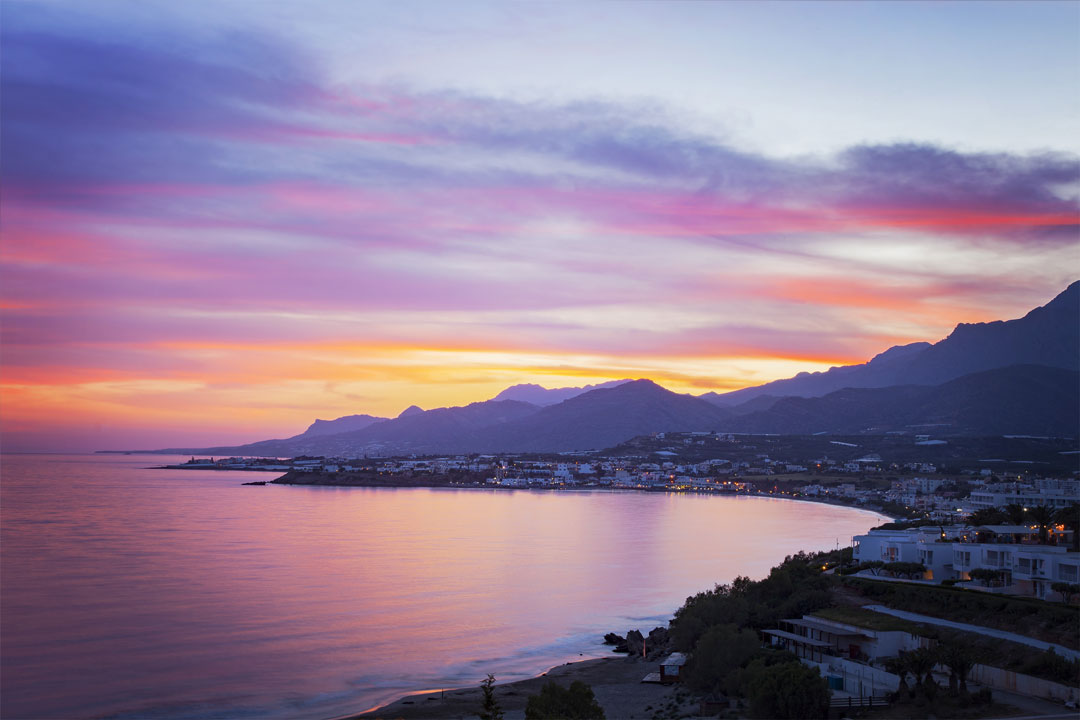 Want to see Act 1? Read all about our Western Crete adventures here.