Our best hotels in Greece: your insider guide
Our best hotels in Greece: your insider guide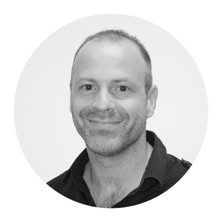 With a Greek mother and idyllic childhood memories of family holidays in Greece, Product Director Mathew Simpson feels very much at home in the Ionian islands, and his affinity with this magical region has helped our hotels collection grow and flourish. Now a parent of young children himself, Mat also understands couples tend to have different holiday priorities to families, so the collection reflects this with eight of our nine stunning hotels now designated adult only for part or all of the summer. Read on for his personal take on what makes each charming hotel so unique...

---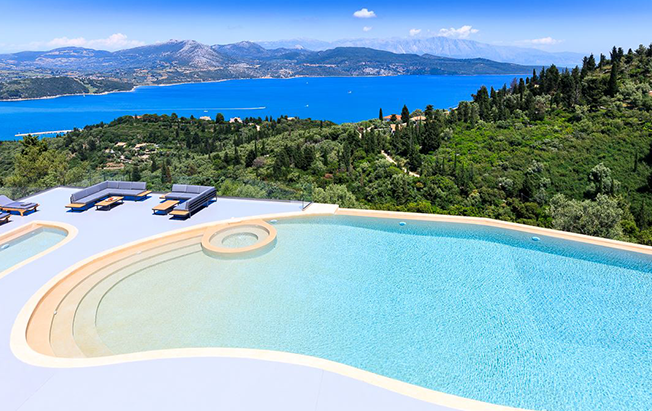 Katouna Suites
In a nutshell: ultra-stylish; for adults only
Take me there >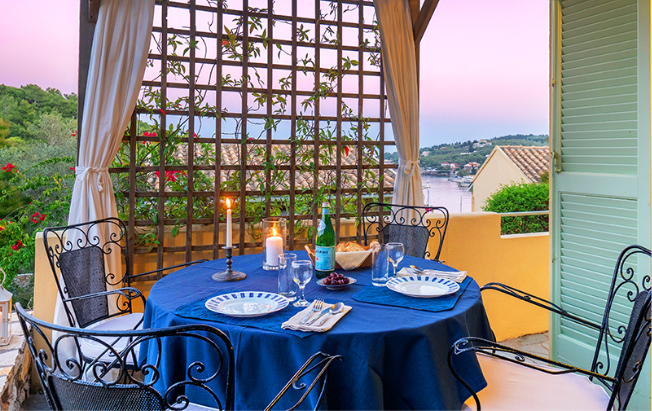 Bay View
In a nutshell: suite simplicity; for adults only
Take me there >
New for 2019
I am delighted to be introducing two new hotels to our Ionian collection this year, the magnificent Katouna Suites in Lefkada and Bay View in Paxos. As with all our Simpson Hotels, you can look forward to a sublime location, exceptional service and comfortable accommodation with a unique and personal touch.
Watch this space!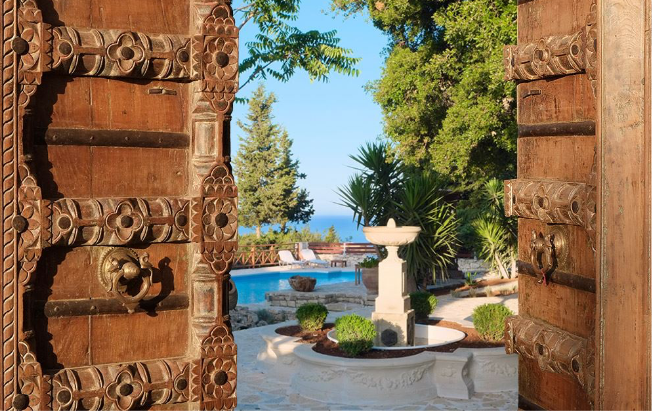 Purple Apricot Hotel, Paxos
Purple Apricot is an inspired collaboration between my dad Graham and a local Paxiot couple. They were definitely ahead of the curve with this little gem: quirky, characterful and very comfortable, there's still really nothing else like it on Paxos, and it has the most loyal following of all our Greek hotels. Guests love the intimate scale and laid-back atmosphere, which is exactly what Paxos is all about.

In a nutshell: refreshingly unconventional; for adults only
Take me there >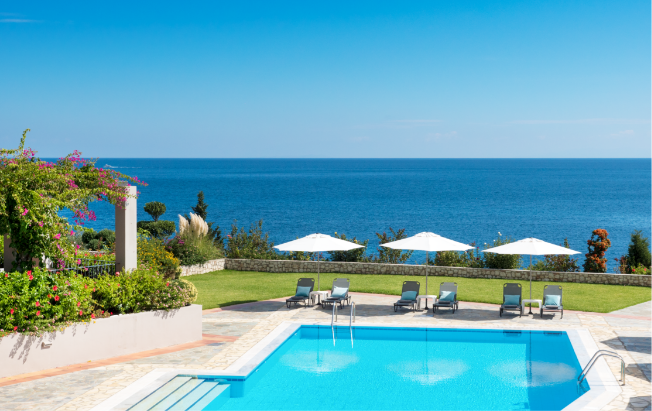 Blue Jasmine Hotel, Kefalonia
This peaceful, intimate hotel in Southern Kefalonia has stunning sea views at every turn and is just a 5-minute drive to the spectacular sandy beaches of vibrant Skala. It works wonderfully well as an adult only retreat and I am delighted to hear how much our family travellers relish the chance to enjoy the tranquil vibe here in the peak weeks of the summer holidays, when we welcome children of all ages.

In a nutshell: location, location, location; for adults only (outside main school holidays)
Take me there >
White Orchid Hotel, Sivota
White Orchid really has the wow factor in terms of its location and design. This lovely unspoilt stretch of the Greek mainland has a hypnotic beauty and the whole place has a pared-down, contemporary elegance that just lets the incredible views speak for themselves. The suites are definite honeymoon material, especially if you book early and manage to secure the penthouse with its romantic terrace bathtub.

In a nutshell: hypnotic views; for adults only
Take me there >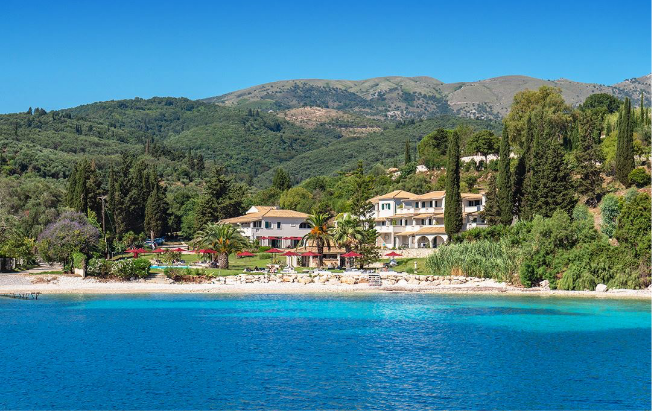 Bella Mare Hotel, Corfu
Beachfront Bella Mare is a little larger than our typical hotels, so we can offer a wider range of facilities, including Simpson Watersports and high season activities for children. For a touch of extra luxury, we've created ten new Exclusive Suites, offering a tranquil adult-only environment outside of the main school holidays. With tavernas within walking distance, you don't even need to drive, making this the ultimate relaxing beach break.

In a nutshell: NE Corfu's premium beach location; for couples, groups and families
Take me there >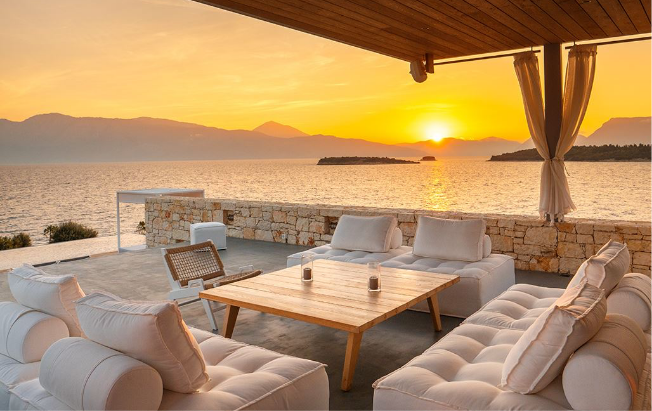 Keromoussi, Meganissi
Keromoussi is one of a kind. Simply styled yet quietly sophisticated, it's a back-to-nature beach retreat that's chock-full of contemporary comforts. Tucked away on a private peninsula, the hotel is adult only, although if you want to reserve all four suites at the same time, we can usually accept family bookings by arrangement. The only bright lights here come from the stars, but if you're looking for natural beauty and privacy, this would be my first choice.

In a nutshell: barefoot chic; for adults only (unless whole hotel is booked)
Take me there >
Avithos Beach Estate, Kefalonia
Kefalonia has some truly stunning beaches and they were on the Simpson family radar long before they were made famous by the film adaptation of Captain Corelli's Mandolin, so we were thrilled to add this tranquil haven to our portfolio; just a short walk from the soft sands and wonderful tavernas.

In a nutshell: beachside perfection
Take me there >


The Rou Estate, Corfu
Strictly speaking, Rou is not part of our hotels portfolio, but it's such a unique place that I had to include it. These meticulously restored village houses offer the best of both worlds: elegant individual cottages and villas in a spectacular setting, combined with hotel-style services including a restaurant, gym and spa. What I love most however are the incredible views and the glorious gardens; many of our guests have been inspired to paint here, and some have even written poems! Each property has its own pool, so you get that extra level of privacy, and if the days ever get just too relaxing, we can arrange painting lessons, yoga, Pilates, cooking classes and personal training on request.

In a nutshell: elegantly inspiring
Take me there >


---
Explore our full Simpson Hotel collection