Beautifully restored hamlet
14 stylish and elegant houses
Breathtaking views
Magnificent landscaped gardens
2-5 bedrooms
Private plunge pools or swimming pools
Restaurant
Spa
Shared infinity pool
Simpson family extras available
2024 Holidays... 2023 Prices
Our 2024 holidays are now priced online and with our early bird promise, you can enjoy December 2022 prices when you book by 31 December 2023. View Price Freeze Terms & Conditions here.

The transformation of a ruined hamlet in the foothills of Mount Pantokrator into 14 stunning and imaginatively equipped houses which now comprise The Rou Estate was the vision of a British architect, Dominic Skinner, and his Dutch wife, Claire.
The position is unparalleled: a setting in the most dramatic and exclusive part of Corfu with one of the finest views on the island: looking out across the sea towards the mountainous coast of Albania. Dominic, who worked with Sir Norman Foster for several years, has been as sensitive to the natural environment as to the houses themselves. The gardens are one of the most attractive and remarkable features of the estate with winding paths, tiny courtyards and short flights of stone steps connecting the different levels of the village with mature oaks, olives, cypresses and fragrant beds.
But if Rou is a surprise, the interiors are even more so. The thought that has gone into their restoration has created houses of great charm with every modern amenity and comfort in an elegant style that has retained original architectural features wherever possible.
A beautifully-designed shared swimming pool follows the contours of the natural rock and has uninterrupted sea views, whilst each house has its own private swimming or plunge pool. The Garden Terrace restaurant serves a menu of the freshest ingredients and a spa provides further possibilities for relaxation, with massage and beauty treatments. Breakfast and meal delivery services are available at all villas and we are happy to arrange a private chef, subject to availability. Groceries may also be pre-ordered for delivery on arrival and throughout your stay.
The Rou Estate is exclusive to Simpson Travel. We are delighted to be managing the village and have added a few Simpson touches of our own. For further information and details of the lifestyle options available, please read our guide to The Rou Estate.
Flexible stays…
At certain times of the year we
 offer flexible stays in selected houses at The Rou Estate. Published prices are for 7 and 14-night durations on fixed departure dates only. However, information regarding alternative departure dates and durations is available by contacting our Destination Specialists on
020 3432 9984
.
Please note, flexible stays may be available when standard travel dates appear fully booked. 
Restored hamlet of fourteen 2-5 bedroom houses (for details and images of individual properties please open Houses tab):
Acanthus – 2-bedroom house (sleeps 2-4)
Hestia – 2-bedroom house (sleeps 2-4)
Laurus – 2-bedroom house (sleeps 2-4)
Lilium – 2-bedroom house (sleeps 2-4)
Trifylli – 2-bedroom house (sleeps 2-4)
Campanula – 3-bedroom house (sleeps 2-6)
Muscari – 3-bedroom house (sleeps 2-6)
Lavandula – 3-bedroom house (sleeps 2-6)
Centaurea – 3-bedroom house (sleeps 2-6)
Thyme – 3-bedroom house (sleeps 2-6)
Strelitzia – 4-bedroom house (sleeps 2-8)
Papaver – 4-bedroom house (sleeps 2-8)
Cyclamen – 4-bedroom house (sleeps 2-8)
Plumbago – 5-bedroom house (sleeps 2-10)
General
Complimentary WiFi
Air-conditioned bedrooms
Iron, ironing board, hairdryer
Simpson Travel pool towels 
Washing machine
Safe
Outside dining
Barbecue
Split level terraces
Shared infinity swimming pool 9m x 14m (depth 1.7m – 1.9m)
The Rou Estate is reached via 1.5km of

unmade country lane, which is winding and narrow in places.

Due to the number of steps, The Rou Estate is unsuitable for guests with reduced mobility
Simpson family extras
Complimentary cot and highchair available
Car seats and booster seats can be provided at a supplement, subject to availability
To pre-book any of our family extras please call 020 8392 5747
Private nanny service offering babysitting and full or half-day childcare packages. Please ask one of our Destination Specialists for details or visit Ionian Nannies.
WiFi
All properties with WiFi are able to support basic functionality such as web browsing and checking emails. We aim to offer an uninterrupted service but sometimes, due to factors beyond our control, reliability can be affected.
Our guide to The Rou Estate
With a restaurant, spa, gym and a range of pre-bookable lifestyle activities to choose from, there's plenty to discover at The Rou Estate.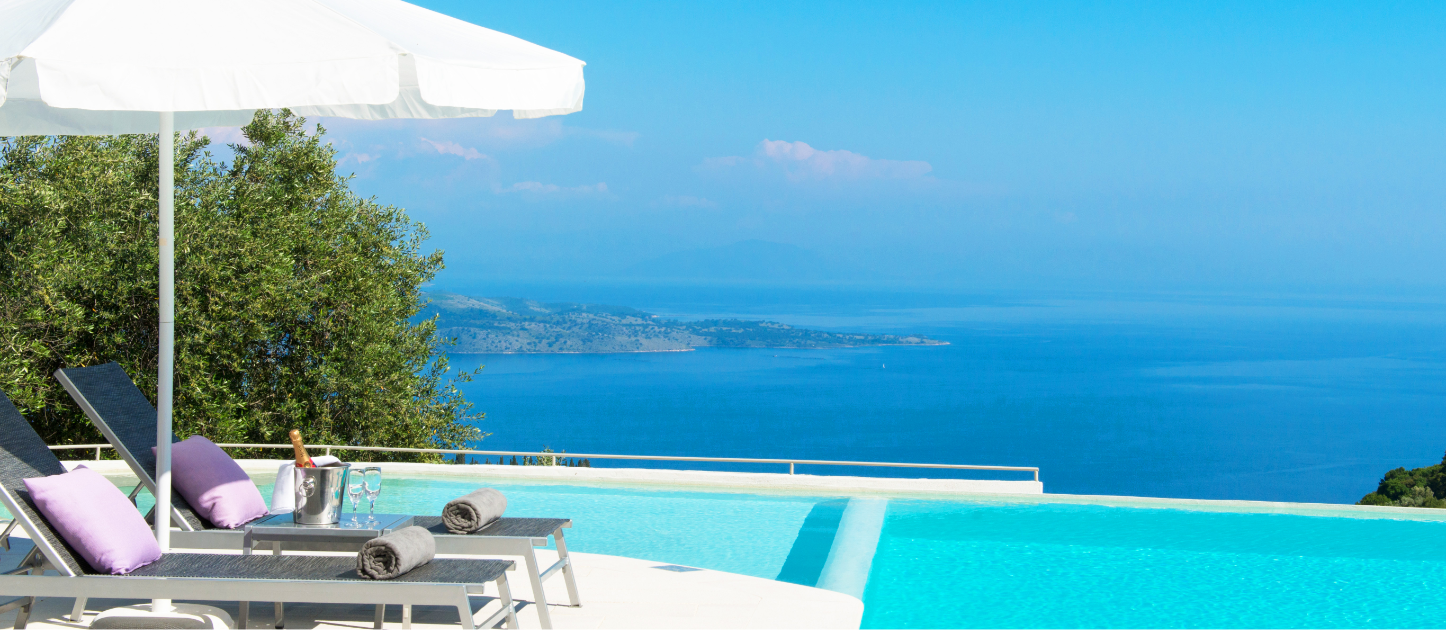 National tourist licence (EOT): 0829K91000446401
Porta (taverna) 5min drive
Sinies (supermarket) 10min drive
Agni/Avlaki (beaches and tavernas) 15min drive
Agios Stephanos 20min drive
Kassiopi 20min drive
Corfu Town and airport 1hr drive
Car options
Based on the number of people travelling, the following hire car(s) are included in the package price of your holiday:
2-3 guests – 1 Group C, Peugeot 208 or similar*
4 guests – 1 Group D, Peugeot 301 or similar*
5 guests – 1 Group L, Fiat Tipo or similar*
6 guests – 2 Group C, Peugeot 208 or similar*
7 guests – 1 Group C, Peugeot 208, and 1 Group D, Peugeot 301, or similar*
8 guests – 2 Group D, Peugeot 301 or similar*
9 guests – 1 Group D, Peugeot 301, and 1 Group L, Fiat Tipo, or similar*
10 guests – 2 Group L, Fiat Tipo or similar*
* All our cars include comprehensive insurance with no excess charge. For this particular destination, the undercarriage, tyres, wing mirrors and windscreen are not included in the cover.
Car specification
Group C – 1.25 litre engine, 1 large and 1 medium suitcase*
Group D – 1.4 litre engine, 2 large and 1 medium suitcase*
Group L – 1.6 litre engine, 2 large and 2 medium suitcases*
The following cars are available as alternatives on request (supplements apply). Please call our travel specialists for details.
Group M – Fiat Tipo Station Wagon or similar, 1.2 litre engine, 3 large and 2 medium suitcases*
Group E1 – Automatic Citroën C3 or similar, 1.4 litre engine, 1 large and 1 medium suitcase*
Group E2 – Automatic Fiat Tipo or similar, 1.6 litre engine, 2 large and 2 medium suitcases*
Group J2 – Nissan Qashqai SUV or similar, 1.3 litre engine, 3 medium suitcases*
Group J3A – Automatic Ford Kuga SUV or similar, 1.5 litre engine, 3 medium suitcases*
Group F1 – Fiat Doblo 7 seater or similar, 1.6 litre engine, 2 large and 2 medium suitcases*
Group F2 – Fiat Talento 9 seater or similar, 1.5-2.0 litre engine, 3 large and 2 medium suitcases*
Group N – Mercedes Benz A160 or similar, 1.4 litre engine, 3 large suitcases*
* Suitcase sizes are based on a large suitcase being approximately 75cm x 41cm x 31cm, a medium suitcase of approximately 65cm x 46cm x 29cm and a small suitcase of 55cm x 40cm x 20cm.
The Rou Estate is a unique and beautiful location, authentically restored from a derelict hamlet. The setting and facilities provide all that you need to have a blissfully relaxing holiday. To name but a few delights: we loved our villa, comfortable and tastefully furnished, the infinity pool, set into the hillside was out of this world! Yoga on the terrace looking out to sea is an unforgettable experience, as well as the restorative massages at the Spa. We enjoyed the ease of eating at the lovely Garden Terrace restaurant - simple and delicious Greek food. Last but by no means least, the delightful and helpful Jules and Gaynor. We were reluctant to leave Rou during our stay but we did explore some lovely bays and tavernas and found this part of Corfu very unspoilt. Our only regret was that we didn't book a longer stay!
I have travelled with Simpson Travel now for the past twelve years, they never fail to deliver, always stepping up if disasters happen. They never fail. My only sadness is that they don't go to more countries, as frankly we wouldn't work with anyone else if they did. Personal, organised efficient and above all, always available.
Another great week at Campanula at Rou. This is our second time here. The Spa is fabulous – hugely recommend. In short, come here, it's fabulous – we are already booked in for 2024.
We thoroughly enjoyed our holiday and Gaynor could not have been more helpful.
A lovely location with extremely helpful support from the delightful concierge team of Jules and Gaynor.
We had the most wonderful stay at Rou. Thank you to Jules and Gaynor who went above and beyond to make it a most enjoyable holiday.
Our holiday at The Rou Estate was everything we had dreamed of and more. We had a magical week and the help, support and advice we received from Gaynor and Jules at Rou was outstanding. We will 100% be using Simpson Travel again based on the experience we had this summer at The Rou Estate, Corfu.
We had a very enjoyable stay at The Rou Estate. We valued all the staff their input, advice and recommendations to make a memorable time.
We had a wonderful week and enjoyed all that the villa had to offer – the pool, terrace, sauna, yoga and massage. Had wonderful day to trips to Paxos, Anti Paxos, Nissaki beach, and Cape Drastis.
We had such a wonderful week in Thyme. Rou is gorgeous and waking up to the beautiful view each morning is such a tonic. We feel so relaxed and are reluctant to leave. Thank you so much to the wonderful staff – Gaynor and Jules and to the cleaners who have maintained the house so well during our stay – even hanging out our washing!
We have had the most amazing week here in Campanula. Our favourite things to do have been watching the sunrise with the most incredible view, sitting out late at night to stargaze and looking out for shooting stars. We have loved the wildlife, bats and birds, geckos especially. Staying at Rou has been nothing short of incredible. The beautiful gardens and winding stone steps have left us never wanting to leave! Dinner at The Garden Terrace is delicious – we enjoyed the barbecue night especially. Every member of staff at Rou has made it the perfect week, everyone was so welcoming, friendly and helpful and gave the best recommendations of things to do and see on Corfu. Thank you to Christina, Gaynor and everyone else – we hope to come again soon.
An amazing holiday in a stunning location. We have been very well looked after by everyone. We enjoyed lots of swimming, eating at The Garden Terrace. A wonderful week with lots of happy memories to take home. Hope to come back one day in the future. Thank you.
What a tremendous week we've had in Campanula – following a wonderful week in Muscari. Corfu has delivered in droves. The Garden Terrace at Rou was superb for evening food – with Eleni and team providing a seamless service. We even ventured to Aqualand for our teenagers – which they loved. And all ably supported by Gaynor – the wonderful Gaynor – who made our stay a dream. And Christina, who kept our house ship-shape. So sad to go , but we will be back.
What a wonderful holiday we have just had at our favourite villa – Campanula – in our favourite location on our favourite island. It couldn't be better – don't tell anyone else. Christina has looked after us like a hero and has kept the house spick and span the whole time. As someone else has said, you can tell she does it from her heart. And the rest of the Simpson Travel team have been great too. Wonderful weather, wonderful food – may we move in forever. As Arnie S says: "We will be back"!
Magical, restful, delightful, picturesque, peaceful and many, many more adjectives. Hestia is a wonderful place which has already created amazing memories – and it's only our first visit. Thanks to Gaynor and her team for all they do to maintain such a unique environment.
Thank you for looking after us all so well in this scorching hot July. We have loved the speedboat at San Stefanos and the pools here. We slept well in our very clean and cool bedrooms. Special thanks to Katerina for amazing help with cleaning, laundry and more.
We have fallen in love with this beautiful corner of Corfu. Sunkissed days spent boating, swimming, snorkelling, eating, reading and pottering. Thank you to Gaynor and Jules for their warm welcome and help when needed.
The Rou Estate was fantastic, the villa was immaculate and had everything we needed for our holiday. Gaynor and Jules were both excellent in their local knowledge and recommendations. We cant wait to return next year.
We have had a lovely two weeks at Hestia, everything we needed to relax and unwind. Stunning full moons across the sea. Excellent food and service at the restaurant and really enjoyable barbecue. Great walks from the villa, worth getting the map from Gaynor. We are already looking at dates when we can return next year.
Such a beautiful place - the holiday was pretty near perfection!
Thank you Papaver and the Rou team for a wonderful week. We'll miss the sunshine, the view and the Greek salad.
It was our second visit to Campanula on the Rou estate and it was even more enjoyable than the first.
The Rou was a remarkable stay. Impeccable views over the bay with an amazing swimming pool to cool off in. Thanks to the knowledgeable staff we enjoyed several local restaurants and swimming coves. Really enjoyed our week with them.
We just loved every minute of our stay at the Rue Estate. Everything about it was perfect and Gaynor and Jules were so friendly, kind and helpful. We'll look forward to returning. Thank you!
Gaynor and Jules were incredibly warm and welcoming. So helpful with recommendations for meals, beaches etc and then making all the reservations. They checked in on us regularly but weren't remotely intrusive. Koula - who serviced our villa - was a lovely smiling and helpful lady. So accommodating to us.
A fabulous week in a stunning location. The villa was extremely comfortable. A great first experience in Corfu.
The Rou Estate was a delicious, an ice cream Sunday with a cherry on top. I came with a desire to unwind and be. The surroundings and beauty of the gardens connected with where I wanted to be. A delightful collaboration and combination of manicured design and natures own intervention and claim to the hills. Very fortunate to spend a week at the Rou Estate.
We had a wonderful stay at the Rou estate. The quality of the accommodation was excellent in a beautiful setting with wonderfully fragrant well maintained gardens and outside space.
The Rou Estate is as wonderful as we hoped it would be. It provides the perfect balance between the ease of services provided by a hotel but with the privacy, comfort and space for a family holiday of staying in a private villa. We found the Rou staff exceptional and the estate itself is a beautiful, relaxing environment - luxurious but still with a sense that you are experiencing the rural Corfu countryside.
We spent a fabulous summer half term at the Rou Estate as two families sharing the lovely strelizia villa which pretty much opens onto the stunning shared pool-perfect for kids to feel independent while completely within safe boundaries. Stunning views from the yoga platform and wonderful team - from Eleni in the restaurant to the friendly teams who make sure everything is as you'd like it inside and outside your villa. We'll be back for sure.
Fantastic trip, service excellent, stunning location and beautiful accommodation. We will be back for sure. First time booking through Simpson Travel who were brilliant from start to finish - highly recommend!
This is a gorgeous, amazing place full of beautiful wildlife. I adore this house because every room is different and unique. I have loved my relaxing swims in the pool and will cherish all my memories of my time here. Best holiday ever!
We have had the most idyllic week in Thyme celebrating our Ruby wedding anniversary. Gaynor and Jules have both been so friendly and helpful and given us some super recommendations – one was to take George's Boat into Corfu Town, which was not only a most pleasant and interesting experience, but also avoided the long drive with potential parking problems. We have done some wonderful walks from Rou with beautiful views and abundant flowers. Watching fireflies dance in the air around the pool late evening was magical. We wish our stay was longer and hope to return one day.
We have had a lovely week at Centaurea. We have travelled many times with Simpson and this did not disappoint. It is the most peaceful and beautiful place to stay. You know there are people around, however it feels as though you are truly private. The barbecue evening was very enjoyable and a nice way to meet other guests. The communal pool and area is absolutely wonderful and again so special most of the time, even when the families arrived later in the day it was not intrusive and lovely to hear children having fun. The drive is a little precarious at times and not for the faint-hearted but you do get used to it and it gets to be quite fun. The wild flowers and wildlife are also pretty spectacular as are the Rou gardens. The whole place is so well cared for, the staff are there but not there, things happen as if by magic! The pastries and croissants from the bakery are delicious. Our favourite beach has been Kerasia then Avlaki, but we didn't have time to explore more. Thank you to the Rou team.
Wonderful stay at the Rou Estate with a warm welcome from Jules & Gaynor on arrival. Lillium House was beautiful, the layout, furniture and set up was pure perfection with a lot of thought on the small details especially in the kitchen. Breakfast danish pasties were delicious and the local restaurants superb. Definitely would recommend this location! Thank you!
Papaver Villa was wonderful, peace and quite with idilc view of the hills down to the sea with Albanias blue hills in the didtance. Jules and Gaynor could not hav doen more for us, even out of hours the services was friendly and excellent. Katatrina our Maid was excellent and very friendly and made us feel important and very welcome. Staff in the Restaurant we also ten out of ten. Overall we all had a fabulous holiday and aim to return at some stage. Thank you Rou Team.
Great time to see the beautiful wild flowers. Tryfilli is a lovely villa, fantastic gardens.
Unusual, beautiful, peaceful.
Quite excellent, especially all the staff, who could not have done more to help with various problems - probably our best holiday so far (aged 82!).
Beautiful resort which delivers a truly relaxing experience. The Rou Estate is a bit special.
The Rou estate is a wonderful choice for a relaxing, quiet and peaceful holiday. The accommodation is wonderful and the views stunning. All the staff who work there are very helpful, informative and friendly. We have to mention both Gaynor and Gayle who were so helpful and friendly and keen to make our stay as enjoyable as possible.We highly recommend Simpson Travel - particularly because they add lots of extra touches which make a holiday with them stress and hassle free.
We had a truly wonderful stay at the Rou Estate. Everything from the villa, the pool, the gardens, the spa, and the garden terrace restaurant were first class. A special mention to Gayle and Gaynor who provided excellent support and advice at all times, and to Lefteri and Dimitri who were always so friendly whilst they kept the estate in tip top condition. We had lots of delicious meals at the garden terrace restaurant, we would have eaten there every night if it was open all week, and the service from Eleni was brilliant. The on site restaurant was perfect for a family like ours with young children. We would have loved to have stayed longer, but we will look forward to a return visit next year.
The Rou Estate was exactly what we needed! An oasis with all the mod cons - perfect. Gaynor and Gayle were the perfect hosts, always available for any queries but quietly working in the background. Spa treatments, restaurant and pool all made up for a super relaxing holiday. A big thank you!
We had a glorious week in Acanthus. Morning yoga sessions and dips in the beautiful pool were just the ticket to get us relaxed and refreshed. The Rou estate was so wonderful that we spent the majority of our holiday in the stunning villa and by the pool. Thank you Gaynor, Gayle and the Rou team!
We had a truly wonderful time at the Rou. It is hard to capture and fully articulate the beauty and charm of not only a most stunning location but of the local team dedicated, hardworking and going above and beyond. All the elements fully in sync to bring utter joy and relaxation. We felt blessed and reinvigorated after a magical stay.
Our visit to the Rou Estate was outstanding. It is a stunning location. Our Villa was excellent and the staff were helpful and very accommodating. We had a great holiday.
It was such a wonderful holiday we have already reserved our villa for next year.
Fabulous holiday, staff efficient & helpful. improvements to the Rou estate since our last visit 12years ago great, pleased to see the access road improved, and the addition of the restaurant, spa & Yoga is great.
The Rou Estate is a unique holiday experience. Authentically Greek, but comfortably modern - it has the feel of a secret sanctuary on Corfu. The views, gardens and architecture of the estate provide a real sense of serenity. The whole place has been considered to such exacting standards it is very hard to find fault. It isn't just in the physical building and amenity though, Gaynor is a truly first class manager and her care and attention to detail elevated our holiday. That goes for every member of the on-site staff to be honest. Perfection! Overall, our experience with Simpson was a bit of a game changer. Candidly, we only booked with you because you manage Rou. We tend not to use agents. That has changed forever! The way you dealt with the EasyJet issues/ advised on compensation / booked taxis when we were exhausted arriving / took away the issue of storm damage to the rental car etc etc. just took away a whole lot of stress. Really fantastic.
This is the first time I have used Simpson Travel and I was not disappointed - from beginning to end, they were responsive, very helpful and friendly. The Team at Rou Estate were really excellent and could not have been more helpful. Thank you - I look forward to using Simpson Travel again.
Once again the Simpson holiday experience is unsurpassed; everything from booking, provision of information, car hire, concierges and quality of properties more than met our expectations and lived up to previous experiences.
The Rou Estate is a wonderful, stunning location run by a super friendly and helpful team. We had a fantastic time and would certainly go back.Gaynor and Gayle were both amazing. Vanda the masseuse worked miracles. And Eleni in the restaurant was absolutely lovely.
ALL the staff we came into contact with from Gaynor who clearly leads an outstanding team backed up by Gayle. Our housekeeper was excellent, and the grounds and garden just perfect too. The restaurant staff were fabulous as well, we ate 4 meals all of which were delicious. We wish you all a very successful season, I'm sure it will be - the attention to detail, and I mean every tiny detail, was mind blowing. We felt so welcome and well looked after. I'm so looking forward to another visit soon.
We had a wonderful break at the Rou Estate, which is a little slice of heaven hidden in the Corfu hills. The estate itself is immaculate, and the accommodation (we stayed in Muscari) was top notch - comfortable, clean, well equipped and with unbeatable views over the sea to Albania. Our two boys (3 and 5) loved the huge infinity pool and searching for geckos, tortoises and other animals, and were very happy with the food at the on site restaurant (as were we). Gaynor and Gayle were founts of knowledge about all things local, and arranged a really fun rental boat and recommended some super tavernas and ice creams! Even the 12 minute drive down to the coast road feels like an escape into your own private, more laid back, world. Can't recommend highly enough, a fabulous holiday. We hope to be back soon!
We absolutely loved our stay at Rou - the estate was stunning and such good value for money at this time of year. The staff were super; extremely friendly and efficient. We would 100% recommend and fully intend to return next year!
We had a wonderful family holiday to celebrate our joint 155th joint birthday. The Rou Estate, and our Villa in particular, is just perfect for all ages and so beautiful and relaxing. My twin 8 year grandsons thoroughly enjoyed the beautiful pool. We would certainly consider going back again. Gaynor and Gayle went above and beyond in their effort to make our holiday the best, even conjuring up a vase of flowers for our birthday dinner which was immaculately cooked by a local chefette.
First Simpson travel experience, earmarking the Simpson brochure on return. Probably shouldn't be saying this…but the extra touches that are included in the price, made the holiday a reasonable cost, and more importantly, a care free holiday. Well executed from start to finish.
Superb accommodation. The Rou estate deserves its 36/100 status in the Sunday Times best places to stay in 2022.
We had a close to perfect stay at the Rou in May 2022 - a much needed dose of relaxation, ably facilitated by the excellent Simpson staff.
First Simpson travel experience, earmarking the Simpson brochure on return. Probably shouldn't be saying this…but the extra touches that are included in the price, made the holiday a reasonable cost, and more importantly, a care free holiday. Well executed from start to finish.
We have been so lucky with the weather, a perfect time of year to enjoy Corfu without any crowds and beaches to ourselves most days. There are some beautiful seaside tavernas around – Eucalyptus. A really lovely week, we loved Corfu and hope to be back soon. Thanks to Gaynor and team.
We had a fantastic week in Papaver. We were stunned every morning by the glorious view and the main pool. We got lucky with the weather even though it was the last week in October. Highlights of the week include boat hire from Sotiris Boat Hire. Avlaki beach is stunning with some great snorkelling (beautiful fish but watch out for sea urchins near the rocks). Finally Ice Dream – the ice cream shop. Definitely worth a visit. Thank you to the mazing and friendly staff.
The Rou Estate is truly enchanting. It is located in what is undoubtedly one of the most beautiful parts of the Island of Corfu. The drive up to the village can be a little challenging for some, but it becomes easier over a day or two and it is so worth it! All of the houses are unique, however what is quite apparent is how tastefully and comfortably furnished they each are. We stayed at Hestia and it was beautiful, it certainly looked as good (if not better) than described. What we loved was that everything was impeccably clean, from the accommodation to the crockery and cutlery. Also the bedding and towels were lovely and soft. Gaynor, the Operations Manager at Rou, was very welcoming and friendly and gave us so much help and advice about places to visit and things to do. We really cannot speak more highly of her. When we asked her advice over beaches to visit, she established whether we wanted a sandy/shingle beach, if we wanted somewhere busy/quiet. She found the perfect beach for us! The housekeeping staff and caretaking staff were amazing. Also at Rou we loved being able to order freshly baked goods in time for breakfast. It was great to find fresh bread and croissants outside our door in the morning. We highly recommend The Rou Estate and we will certainly be back. Thanks to Gaynor and the team, also to Simpson Travel.
Finally we made it to Corfu and had a lovely week in Hestia – everything perfect and a beautiful house. Morning yoga with Vanda was fabulous and so calm with amazing views. Her massages are also highly recommended. Had some great meals out at Eucalyptus in San Stephanos, Kouloura Taverna – fantastic lunch in a beautiful setting (we walked from Kerasia beach, 15 minutes). We walked the coastal path from San Stephanos to Avlaki, approx 1.5 hours but well worth it and a taxi back after lunch in Cavo Barbero. It's a pretty hard walk (need trainers) but worth it. Gaynor booked us a boat for the day and it was excellent. Lunch at Agni Taverna was our favourite all week but need to boom. Kassiopi is lovely for a coffee or drink and walk round the headland to some nice beaches and a couple of restaurants. The first supermarket in San Stephanos is wonderful – local honey, yoghurt and great meats and cheese and barbecue kebabs. Thank you for a lovely stay and to Gaynor for all her help.
Magical stay at Rou, will definitely re visit. Simpson made the travel part as seamless as possible. Gaynor was the most wonderful help, fantastic at her job and all the little extra touches are so thoughtful. She presented us with the most delicious cake as an anniversary present. Everyone should stay here, there is nowhere else like it!
Our time at Rou was lovely in every way, accommodation, stunning pool, beautiful setting. Now you need to cast your mind back to when we needed 'lateral flow' tests to return to England and GPs were reluctant to see patients face to face. Incredibly Robert and I had managed to mess up both our tests so we needed to find a local clinic to re-do them. We also planned to ask the 'ever helpful' Gaynor to arrange food delivery from the local restaurant for supper that night. Confessing to her our lack of skill re the tests and our need of a clinic she immediately said that she would get the GP to pop up that afternoon and do them for us! Wow a GP visiting us! We then asked re the 'supper delivery' but alas we should have put in our order the previous day. But no worries, Gaynor was back on the phone and, yep that was sorted, the GP would pick up the food from the restaurant on the way up to us. And that is exactly what happened! I just want to have a 'Gaynor' to oversee my everyday life. Actually I just want to live in that beautiful house in Rou and watch the sun rise each morning from the French windows.
Wow! What a week! If you're looking for sun, sea and culture – there's no place like Corfu. Rou is so quiet, peaceful and relaxing. Perfect holiday. From the first coffee at Nostos and their baklava, Old Town Corfu and to the beaches of Kerasia – we had the best time. If you fancy something more adventurous, the hiking in the hills above Rou is spectacular – we trekked over to Old Sinies, an abandoned medieval villa about 5km away – evocative ruins hidden among the trees. We also recommend giving scuba diving a go – Dive Easy in Acheravi is excellent.
What can we say? Wow! What a stunning place, the inside and outside spaces are just sensational. We could look out at the view for hours on end. This villa has been the perfect location to relax and unwind as well as inspire us ready to return home. We loved Eucalyptus taverna at Agios Stephanos although all the tavernas there were a pleasure to eat in. Avlaki bay was quiet, calming and easy to reach with a charming taverna for a lazy lunch. The Rou Estate is a super special paradise – we will be back.
Two wonderful weeks in this beautiful place. We particularly enjoyed getting the boat to Agni for dinner, drinks at The White House and lunch at Kouloura. Hired a boat in San Stephanos too which was fun.
Thyme is full of character and charm. We have had a wonderful honeymoon for a week looking at the beautiful views, morning and evening. Boat day s and long lunches at Taverna Agni and Glyfa. Gaynor and Di are superb at making you feel welcome and relaxed. We shall be back to Corfu again.
A beautiful villa and stunning views. Thank you to Gaynor and her team for making my birthday so incredibly special and your excellent choice of restaurants and bars! We will certainly be back to Corfu next year.
Back for the second time. Thank you for another wonderful stay.
Thoughtful and fantastic attention from The Rou Estate's Corfu team. A wonderfully peaceful and beautiful place. Thank you.
Had a lovely week in an amazing house. Loved exploring Corfu and trying all the different food and going to all the restaurants and beaches. Best place would definitely be Toulas at Agni. There were beautiful little coves and the walks were perfectly placed to be able to dip in the sea whenever you felt like it. The best part of my trip was going to La Grotta, which is perfect for snorkelling and rock jumping.
Just back from a fantastic holiday at The Rou Estate in Corfu. Recommend visiting this special place for unrivalled views, gorgeous and comfortable interiors plus you're looked after by the wonderful Gaynor and her team. Nothing is too much trouble including organising a repair of the flat tyre on our hire car. We will definitely be back.
Our fourth visit to Rou and it is still as captivating as the first time we came. We've had a lovely relaxing week with a boating day and a water taxi to Agni Taverna. The house is as lovely as the others we have stayed in.
Not only is this estate in a superb position, isolated high above the coast overlooking mainland Albania and Greece, but it was also developed most sympathetically and in a timeless manner, from an abandoned Greek village with excellent detail and planting. Our family had chosen Cyclamen and found it to be large and comfortably decorated – not in a corporate manner like so many 5-star hotels, but more like a good quality home. Excellent well-appointed kitchen and a separate utility room. The whole estate is a warren of beautiful walkways down to a well-designed swimming pool and a restaurant – both looking straight down over the woods to the sea. A thoroughly enjoyable break at a well-chosen destination! The Rou Estate's friendly Manager, Gaynor, has great local knowledge (having lived locally for 25 years) – excellent communication pre-visit, much help with food, bookings, and a generally good guide through the complications of pandemic.
What a place and what a view. It has been wonderful. Thank you.
We booked a last minute week at The Rou Estate having visited there six years ago. Every bit as wonderful as we remembered; first post Covid trip and once we got there, we could finally relax at last and forget about it. Gaynor, the Estate Manager, was a source of lots of help, booking restaurants and ordering food deliveries, always available. Weather was fantastic and the Greek people so welcoming. Pre-travel support from Simpson was even better than previous experiences as we had lots of extra questions regarding the testing/forms/general CV stress! A great company both here and abroad – will use again and definitely recommend.
The best holiday ever at The Rou Estate in Corfu! Simpson Travel were fantastic from the original booking, when a very knowledgeable travel advisor told me all about the estate and helped me choose and book a villa and then to amend it due to Covid restrictions, to the wonderful stay and personalised help from Gaynor, the Rou Estate manager. It is such a beautiful place. Truly stunning. Everywhere in Corfu that we visited we felt very safe in a Covid environment and people were really friendly. I think I will book all my holidays with Simpson from now on – I have never had service as good as this!
The first post-Covid visitors. What a privilege to have the place to ourselves. Thanks to all at Simpson and the lovely Vanessa.
The ultimate escape! Loved every moment and what's more appreciated them that much more than normal. To wake up every morning with that view, all the surrounding serenity and natural beauty is to feel very much alive again and feel incredible lucky to be here. Thank you Gaynor for all your friendly advice –nothing is ever too much trouble and thank you Anastasia and the garden crew – lovely people, always smiling.
Well worth putting up with the Covid tests! We had a wonderful week with family. Thank you to Gaynor and the staff for making the stay very comfortable.
We spent last week in Corfu at The Rou Estate. We had a delightful time. The house was wonderful (Centaurea), Gaynor and the staff looked after us very well, and we had considerable freedom to enjoy ourselves – tavernas all open, oppressive mask rules gone etc.
What an amazing villa and place! We had the dreamiest holiday. Thank you for everything.
An amazing week at Rou. Gorgeous location and accommodation. Simpson made it all extremely easy. Special thanks to Gayle for all the extra touches on my birthday – made it all the more special.
On waking after 11 hours of uninterrupted sleep on the first night, my partner and I knew The Rou Estate was going to provide the relaxation we needed! Absolute perfection – the design of the Estate, the villas themselves and the fabulous restaurant. It's true the road up is a little bumpy, but the view makes up for it when you get there.
If you're looking for peace and tranquillity, beautiful views, stunning villas and a fantastic Simpson Team then Rou Estate is for you. Our favourite part of the day was having a coffee watching the sunrise glistening on the sea and the tree tops, birds singing their dawn chorus and freshly baked croissants arriving from the local bakery. We enjoyed local Greek food in the many nearby tavernas in pretty, bustling bays watching the world go by. A fantastic week made effortless by Simpson Travel.
We found the team as Simpson Travel to be very efficient and very helpful and that helped turn a very good holiday experience into and excellent one. We thought the villa and surroundings were first class and would highly recommend it to anyone seeking a villa based holiday.
Another excellent holiday with Simpson Travel, we loved Corfu and the Rou Estate and will definitely return.
Campanula was the best villa we have stayed in over the 30 years we have visited Corfu. The views are spectacular and the whole environment extremely relaxing.
We had a wonderful holiday split between the Rou Estate and Villa Georgia which suited our family of five. The Rou Estate is an exceptional place, which relaxes the mind and soul – so tranquil. Villa Georgia offers a large open-plan indoor/outdoor space and easy access to other places on the island. We had a wonderful day out on San Stefano boats and a trip to Corfu Town by boat which was lovely. We will be going back.
Simpson is one of the few travel companies whose service, standards and properties never disappoint. The accommodation they offer is always excellent, well-maintained and always has a well-stocked kitchen with good equipment, great maid service and excellent representatives. The reps are always super knowledgeable about the area, activities and are always happy to make arrangements for boats, taxis, any bookings that the guests require. We have travelled with Simpson for the past eight years and no other company matches their top notch service.
By every measure, Simpson Travel is a 5-star organization and a class act. We have travelled to over 60 countries and were incredibly impressed by the accuracy, responsiveness, efficiency and helpfulness of every person in the organisation both in the UK and Greece. Rarely do you find this consistency of superb service with beauty of location. They did the big things as well as the little things with extraordinary ability and passion. Whether it was renting cars, renting a boat, having a meal cooked at the villa, pick-ups from the airport, restaurant reservations, different activities around the island, celebrating birthdays and an anniversary, etc. – they did it flawlessly. We recommend them without reservation. We were truly impressed at every level.
This was the first time we've booked with Simpson Travel but it won't be the last! From the chartered flight right through to the beautifully presented villa, nothing was too much trouble for the reps. They booked meals out for us and recommended places to visit and organised fresh bread and croissants to be delivered every morning! Having stayed in villas many times over the years without any intervention or help this was a refreshing change but not intrusive at all.
The whole experience at The Rou Estate was idyllic. The accommodation was superb and the sense of peace and tranquillity was just what we wanted from our holiday. I never tired of gazing at the view...simply breathtaking.
The Rou Estate is a wonderfully peaceful location so holidaying at peak times can still be a remarkably calming and crowd free experience. Breakfast/food/water delivery means more time is available to enjoy the beautiful surroundings and region. The on-site restaurant takes the hassle out of arrival day and the barbecue evening provides a lovely opportunity to socialise. We initially thought it would be great if the on-site restaurant opened more frequently but soon realised we would have missed some excellent evenings/lunches in lovely local tavernas. The availability of early morning yoga, in such a wonderful location, was the unique feature that attracted us in the first place. If only more was available!
Our first trip with Simpson Travel was exceptional; our accommodation was stylish and delightful with the most fabulous location on the island. Our reps, Steph and Dave, went above and beyond for us and the extra touches mean such a lot these days. Highly recommended! Thank you all very much.
Excellent stay at Rou Estate. Accommodation, staff and views amazing.
The Rou Estate is a tranquil haven and we would highly recommend it – all of our guests loved their stay.
Rou is an idyllic location and very peaceful indeed with great natural beauty. The staff are just inconspicuous enough not to be intrusive but there when you need them. Very lovely location for grown-ups and children alike.
We had an amazing stay at Rou. This is our second stay (although third trip with Simpson) and stayed in the beautiful Plumbago. Gaynor, Gayle and the team were brilliant and nothing was too much trouble. We also used Chef Lynn, along with Tina. Lynn has cooked for us for all our trips and along with Tina make a great team. The food is just delicious and Corfu would not be the same without them.
The Rou Estate was amazing and our villa simply incredible, the view was breathtaking, the villa had everything we could wish for and the staff were professional, proficient and friendly – nothing was too much trouble. One of the best villas we have ever stayed in and a holiday we will never forget.
From the website, the Rou Estate looked too good to be true. In reality, it was even better. A truly amazing place in an idyllic setting. We felt at home from the second we stepped out of the car. We will definitely be returning to Rou.
Kalithea in Paxos was as described by Simpson Travel – being very quiet and private, yet within walking distance to a good taverna, giving good local food. A bakery and supermarket are nearby. The flight and boat transfer were timed to perfection with little waiting times, the hire car in Paxos was waiting for our arrival, all planned with the usual Simpson expertise. The Rou Estate for our second week was again all planned well, the road to it was meandering and in parts rough but the destination was superb, being high up and looking across to Albania, watching cruise ships glide across the sea. The accommodation wanted for nothing and we enjoyed our peaceful stay. Thanks very much.
An amazing stay at the Rou Estate – a real get away from it all experience to sharpen the senses and enjoy the best of what Greece has to offer. A beautiful part of Corfu with some lovely restaurants, spectacular scenery and interesting driving...we will be back.
We had reservations about using a 'package' but the flight, service, representatives…in fact everything made the holiday perfect. Gaynor was fantastic and all of the staff at Rou were so welcoming. This is one place we would definitely return to and we will certainly use Simpson Travel again. Thank you.
We re-visited Rou after many years and stayed at Cyclamen this time. The Estate itself is an oasis of calm and tranquillity, perfect for a relaxing holiday! The windy road through olive groves can be a little daunting to begin with but you do get used to it. The amazing views are worth the drive up and the estate itself is beautifully landscaped. Ideal for painting! Of course, Gaynor the manager and her assistant Gayle make you feel really welcome.
The Rou Estate is special, with amazing views down to the sea, and the most gorgeous infinity pool. The peace and quiet drew us back every time we ventured out and the customer service from all of the team was quite exceptional.
We've travelled nine times with Simpson Travel over the last 30 years. Throughout this time, the whole holiday experience has evolved and only become better. The Rou Estate is a uniquely stimulating experience with mesmerising views, a soporific pool area and an excellent in-house taverna. Lavandula has all the facilities of a contemporary home and is well equipped for those who may wish to dine at home. The welcome pack was superb. The option to order freshly baked breakfast goodies made each morning even more delightful, after having woken up to the sunrise over the Albanian mountains across the straits. But why eat in when there is such a wide selection of village tavernas dotted along the nearby coastal villages. Some simple grill rooms, others more cosmopolitan with a superb degree of cooking and service. All in all, a thoroughly enjoyable week. Thank you.
We had an amazing stay at The Rou Estate. It has a fantastic location with breath-taking views. Laurus is a charming house with everything you need and they give excellent service. Car hire is necessary, and several great beaches and very good restaurants are only 20 minutes away. The boat hire was a highlight of the trip that we all enjoyed. Thanks to Gayle, the Simpson Travel representative, for her great tips and all the support. Definitely recommended.
We had been talking about the Rou Estate for years and finally this year, we managed to match the availability of Papaver with our holiday plans. It ended up as one of our most relaxing weeks ever. As a family we truly enjoyed every single day. Some of our highlights included the beautiful beach of Agios Stephanos on the North West of the island, the wonderful view from the house that spans all the way to Albania and also the small village that is just 15 minutes north of Rou – Kassiopi. The small harbour there is a great place to have dinner. Last but not least, we enjoyed the process to be living in and around the house and being supported by the lovely people working at Rou. It was one of our best holiday weeks ever.
What a place! First of all, the views are like nothing else I have ever seen. The pool was great and we all had a fantastic time.
Thank you so much for letting us stay here. It has been great and the view is something else. The pool is wonderful and I love the name Plumbago!
We had the most amazing two weeks at the Rou Estate. The house, the staff, the pool, the restaurant and Gayle. Everyone and everything was simply wonderful. We can't wait to visit again.
The Rou Estate is as beautiful as the images suggest. The Estate is simply stunning, you feel as though you are on a film set and the light and views make the drive up the hill worthwhile.
We really enjoyed our one week in Villa Plumbago. Stupendous views, relaxing by the pool, supper on the terrace and the girls feeding the cats! Lovely estate and everyone was very helpful.
Thank you for allowing us to stay in your amazing villa. I have thoroughly enjoyed my stay here. I was amazed at the beauty of the villa and the gorgeous blue pool. Many thanks.
The Rou Estate is a beautiful place to escape everything! The view across to Albania is breathtaking and everything had been thought of in our accommodation. When we arrived it was all exactly as it looked on the website. Beautiful unspoilt beaches are within a short driving distance, and we were surprised how quiet some of them were. We were pleasantly surprised by the road up to Rou as we'd read some reviews which mentioned it as an issue, but we didn't see it was a problem. Gayle and Gaynor, the Simpson Travel representatives, as well as Eleni at the restaurant were amazing and always around to help and have a chat to. We found our stay completely relaxing and removed from UK life. We would definitely return for another holiday! Thank you Simpson for another lovely holiday.
A perfect relaxing holiday at the Rou Estate which is in the most idyllic setting.
This was our first visit to the Rou Estate and we loved it! Some of the many great things included the shared pool, the Garden Terrace that offers Greek food cooked and served with love, Vanda and her fantastic massages and the Tuesday barbecue which was great for making new friends. Last but not least, Gaynor and her team – nothing is too much trouble.
We had the perfect holiday. The Rou Estate is very special and all the staff are wonderful, with Gayle going above and beyond to make our stay perfect. We will be back!
The Rou Estate is a place of perfect rest, relaxation and beauty. The staff are beyond compare. Definitely 5 star+.
Thank you Muscari! We had an amazing holiday on an amazing island. Thank you so much to the staff at the Rou Estate for making our week such a memorable one. Our highlights included hiring a boat from St. Stefanos, snorkelling at Kalamaki and Agni and Aqualand Water Park. We hope to see you again!
The Rou Estate was amazing, we loved it there. Everywhere you look there is a fantastic view.
We had another lovely relaxing two weeks at the Rou Estate. We loved Muscari Villa, the views, the beds and facilities. Thank you to all the staff and Gayle for all your help. The Garden Terrace has great food and service and Vanda gives fantastic facials and massages. The children loved the massage too! We took a boat to Corfu Town for the morning and swam in lovely bays in the afternoon – a great day out. Last but not least, Kerasia beach and taverna – a perfect day.
We've just returned from our first holiday with Simpson Travel. The Rou Estate was beautiful and surpassed all our expectations, as did the level of service we received. We had an amazing week enjoying lazy lunches and we spent many hours just relaxing. Magical, stunning, breathtaking – all words that fit Rou. Thank you to Gayle, our Simpson Travel representative, Sophia and all the team for looking after us so well and making this one of our best holidays ever!
A simply wonderful villa! A place to make lovely family memories.
We had a wonderful family get together at The Rou Estate. That view will bring us back again and again! A beautiful villa with exceptional service from all the Simpson Travel staff – and the Corfiot people are among the most welcoming we have found anywhere in the world.
This cluster of villas perched on the hillside was beautifully presented and maintained. The estate was peaceful and each villa positioned so as not to be overlooked. Our villa was stylish, spacious and very well equipped. Our daughters loved the pool and met several friends their age. The spa was a treat for me. The restaurant served authentic Greek favourites such as souvlaki, moussaka and tzatziki. Gaynor, Rou's manager was extremely helpful during our stay.
The Rou Estate has breathtaking views and is a peaceful, calm and tranquil escape. We would definitely recommend it if you are after all of these.
We had a wonderful week – this smaller house was perfect for a post GCSE treat. We had a lovely day exploring Corfu Old Town – definitely worth doing and we kissed St Spyridon's feet! A Thai massage is a must and very invigorating, and, if you like yoga, Dina is very good. Rou is so pretty and we hope that one day we will be back.
Simpson Travel has set a new standard for excellence on a package holiday. The manager and staff on Corfu and at The Rou Estate can feel very proud. Thank you.
This was our first time booking through Simpson Travel, having previously used other agents for holidaying in Corfu. We have to say that in future Simpson Travel will be our preferred choice as everything from the booking, arranging flights, car hire to the staff on hand at all points of the transfer was hassle free and an excellent service. We stayed at The Rou Estate which we absolutely loved and would highly recommend. A beautiful location, very clean, excellent facilities and very helpful staff. We loved our time here and will be back again in the future.
We absolutely loved our holiday at The Rou Estate. The sense of peace was so good for the soul and we felt no need to venture further. The views from our villa were stunning and the villa itself was beautifully restored and decorated. We all felt we had rested and were ready for busy lives again, but were all very sorry to leave.
We had a calm and peaceful week. The Rou Estate is a great destination to crash out!
The Rou Estate is perfect for peace and tranquillity whilst enjoying spectacular views, beautiful surroundings, homely and comfortable villas and wonderful facilities like the Spa, the large communal pool and the café. The staff all work very hard to make sure one's stay is memorable – they are discreet but on hand whenever you need them. We keep coming back as nothing in Europe compares to this corner of Corfu.
It's never too late and you are never too old to be pleasantly surprised by a new holiday experience. The Rou Estate in Corfu certainly gives you that. It's high in the hills, with wonderful views across the sea to the east towards Albania and mainland Greece. We can recommend it. The properties are extensive – there are not many places you could easily wine and dine 20 people with space to spare (sorry to disappoint, but we didn't – just giving you a sense of the scale and openness of the stay we had this spring). And around in the ports and villages there are some top class restaurants to sample, as well as a lovely relaxed one at Rou to experience as well. Go – you won't be disappointed.
A wonderful holiday in a delightful villa in an exceptional setting. Staff extremely helpful and friendly and villa well equipped with some thoughtful touches. Simpson Travel do set a good standard. Enjoyed beaches especially Kerasia and Avlaki, boat trip to Corfu town with its splendid forts and Venetian architecture. Thank you for a lovely time.
Fantastic location and facilities with helpful friendly staff. Gaynor, the manager, was excellent and helped us get more out of our time there with her help and advice. Highly recommend Rou.
A stunning and beautiful, restored village up in the hills with views across to Albania. The individual properties are wonderful and all the team are great including the advice from Gaynor about the local area. Superb food in the restaurant and glorious treatments. A cocktail of perfection.
The Rou Estate was a wonderful location for a family holiday for all involved. The views were stunning and accommodation was excellent. Cannot recommend Simpson Travel more highly! Thank you.
A hugely relaxing stay in these beautiful surroundings. Weather started iffy and improved from day to day. Feel like we have only scratched the surface and need much more time to explore. The Rou Estate is very lovely as are all the staff, who always find time to stop and chat and give helpful advice. Lots more to see and do another time.
A wonderful experience at The Rou Estate especially due to Gaynor who was exceptional! We will recommend Simpson Travel to friends without hesitation, we really did feel we were looked after every step of the way.
We've had such a lovely week at Rou and in Acanthus, just wish we could stay a little longer! The house is beautiful and everyone has been so welcoming. This corner of Corfu is especially lovely, plenty to see and do without having to stray too far. We would love to come back!
We are leaving Rou with heavy hearts – what a truly special place and Centaurea will always have special memories for us both. Gaynor – thank you for looking after our needs and all the 'team' at Rou. A trip up to Old Perithia is worth the drive. First time in Corfu – we shall return.
We have enjoyed a lovely time at Rou and don't want to leave. Rou is cut off in a beautiful mountain landscape but there is no need to visit anywhere else in Corfu because anyone could spend a year relaxing at the pool or taking walks in the mountains then maybe later having a perfectly cooked meal at the Garden Terrace restaurant. Thank you for our stay at Rou.
We've had a wonderful two weeks here in Campanula. Such a peaceful beautiful place that I'm so glad we've found. This was for some of us our first visit and I'm sure it won't be our last. Too many good things to list off. All in all one of our best holidays, but Gaynor certainly helped that happen. Thank you to all of the team at The Rou Estate.
What a lovely stay! Fave beach – Kerasia (great pedalos and restaurants, good pier to fish off). Fave day out –Aqualand (definitely worth the trip – takes an hour). Great massages from Vanda. Thanks to Gaynor and the team.
A wonderful week in Lavandula. Gaynor, Gayle, Eleni and the team have all been excellent and Vanda does great massages! Very good food everywhere we went including tavernas at Agni, Kerasia, Avlaki and Agios Stephanos. Kerasia is a particularly good (pebble) beach – sunbeds to hire, pedalos, etc. The Garden Terrace restaurant is great and the barbecue good fun as well as great food. And horseriding (we're beginners) was also an adventure. Have fun!
Rou is truly paradise on a mountain, this was our second visit and it was just as wonderful as the first. Lavandula is beautiful with its continual views. Eleni and the Garden Terrace team fed us like kings and Gaynor is literally 'super woman' (and Gayle on Gaynor's day off) who goes above and beyond in every way to help. Our top tips: take out a speed boat and explore the coast and coves; Kalamaki Beach for long sands and shallow water. Many thanks all.
Beautiful Corfu showcased by the relaxed surroundings of The Rou Estate. Very organised but not intrusive support for anything needed; Gaynor is a real star. The villas give privacy but communal areas provide a backdrop for social discourse. The food remains wonderful with a wide selection of local restaurants easily accessible. Chilling made easy!
We had an amazing stay at Thyme. We loved the pool so much and the views of Albania were always so impressive. Everyone we met was always so friendly and kind – we couldn't recommend it more. Rou is a lovely place for a family stay – all the staff were really helpful and full of good tips for food and nice places to go and we all had a very relaxing week at Thyme.
What a beautiful place to spend a week in the sun! We enjoyed blue skies and 35 degrees all week, so spent most of the time exploring the coast by boat or lazing by the pool. Agios Stephanos was a particularly good place to start with boat hire, food and bars. Thank you to Gaynor for making us so welcome.
Thank you for a wonderful stay. We love the house and the beautiful views. Our first visit to Corfu but hope to return. Great library of books! We also loved exploring the many coves and beaches nearby by boat – a perfect week!
Wonderful two weeks. Loved Papaver and enjoyed the comings and goings at the pool. Gaynor was a star. Gorgeous views and we'll miss it all.
What a fantastic place Rou is and Thyme has been a brilliant villa. We loved the pool and the amazing views from all the various vantage points. A real highlight was seeing all the wild tortoises in the areas around the villa – a real memory. We really enjoyed hiring a boat for a few days – a great way to see the beautiful coastline. And brilliant food at The Garden Terrace, the boys loved the meatballs! Corfu has been brilliant.
Again Simpson Travel 'Hit the Mark'. Had a really enjoyable week here in The Rou Estate. Weather, food and service 1st Class. Thank you Gaynor for making our stay most enjoyable.
Beautiful location and splendid villa. Gaynor and her team have been superb. Lots to do and places to visit. Excellent tavernas at Agni, Kerasia and Kouloura plus the restaurant on site.
We have enjoyed a great relaxing week at Rou with plenty of fun time by the lovely pool with great views, set in great stone stepped gardens. We have enjoyed great service at The Garden Terrace restaurant ending our week with a gastronomic celebratory dinner and Anniversary/Birthday chocolate cake! The staff on the Rou have been great – Vanda with the treatments, Gaynor with a real friendly helpful personal touch, the ladies who tidied up after us daily and the restaurant staff not forgetting Stavros and the yoga expert, Heather. Our accommodation has been great, with everything necessary in the kitchen, except for food and a chef! Had a barbecue, plenty of wine and premier grade beer, what a life. Plenty of relaxation for all. Shame to be going home from 35c to 18c!
We've had a magical time here at Rou. What a special place. Thank you Gaynor for all your hard work and making us feel so welcome. Acanthus is a beautiful house, and this corner of Corfu is spectacular. We will be back!
As always the Simpson Travel experience has been a good one for our holiday at The Rou Estate in Corfu. Attention to detail and willingness to provide the client with that little bit extra to ensure that the travel arrangements and accommodation live up to what the website says. First class.
We are Rou regulars, but this villa and pool took our enjoyment to a new level. We particularly enjoyed the privacy of the pool area and its stunning views. The various little terraces around the villa were great for relaxing with a glass of wine in the evening. Meals out in Agni and Stephanos plus a trip to the ancient village and the beach of Kalamaki were the highlights. We will be back next year and hope that the beautiful villa of Thyme is available.
We wanted somewhere special to celebrate our 40th Wedding Anniversary as a family. Plumbago certainly provided us with a perfect setting. As we renewed our vows in the barbecue area with our sons, daughter-in-laws and grand-daughters it was a very special time – a memory to be treasured. Thank you to all the staff for helping us feel special. Many thanks.
Such an enjoyable week – thank you so much for all your help Gaynor in making this week so special and memorable. Some highlights include: lazy afternoons by the pool; enjoying ice creams from the wonderful Rou restaurant when it's open; we loved dining at Rou – delicious food and glorious views and the barbecue was great fun; a boat for the day to explore tiny beaches – some fab snorkelling and really helpful taverna staff to help 'land' the boat; we loved Kerasia beach, Avlaki beach and Kouloura bay; an evening trip to Corfu Town – lots of activity and buzzing with life. Thank you Rou for your beautiful gardens, architecture, style and comfort.
Beautiful, peaceful with amazing views. Highlights were hiring a boat, Kalamaki beach, etc. We missed so much but had a great time.
We have loved our stay at the Rou Estate in Hestia. We could not have been looked after better. Gaynor and Gayle were wonderfully helpful in giving us tips about places to visit and the best beaches on the coast. We particularly loved Kerasia beach and Agni was extremely picturesque. At the Estate we loved the pool and the plunge pool to keep cool in! We highly recommend a massage with Vanda, yoga early morning on the terrace above the restaurant and last but not least the restaurant and the wonderful meals, the barbecue and the ambience. We will return!
Thank you. We have had a great week in a great place. Very good.
Our second stay in Campanula and we would love to return again. A truly beautiful house and garden and a much loved corner of Corfu!
Lovely stay at Lilium – such a nice villa and thank you to Gaynor and team for being so accommodating with our two month old. Beaches – Agni, Kaminaki and Nissaki are all very good choices.
Wonderful place to celebrate a family birthday. Thank you for sharing your lovely house with us.
Two years ago my daughter and I saw pictures of Campanula and The Rou Estate and vowed we must come here one day. The house and the estate are every bit as beautiful as we'd imagined and our stay, apart from being too short, as wonderful as we'd hoped. The friendliness and helpfulness of all the staff and the local residents are a match for the place itself. Bliss! Thank you.
So wonderful to arrive in Corfu and breathe some fresh air after experiencing a heatwave in London. Thyme has been a truly relaxing break for us both. Most days have been spent just sitting by the pool reading and admiring the spectacular views. We are returning home feeling fully recharged – a perfect week!
So beautiful here and such a gorgeous holiday home – a credit to the owner who has made it very magical and also very home-from-home (I wish!). Thank you to Gaynor and the team for whom nothing is too much trouble and Eleni in the restaurant who is so welcoming, backed up by an excellent chef.
We were so excited to book to stay at The Rou Estate and expectations were fulfilled. Thyme is a beautiful home and we and our daughters felt very happy and comfortable here. I confess to holiday-home envy, and have already ordered new towels. Favourite things? Relaxing by the pools, getting slightly tipsy on carafes of local wine, pootling along the coastline on a boat, relaxing in a taverna in Agios Stephanos or Kerasia or Nissaki.... thanks for making such a special place available, and we hope all future guests have at least as good a time!
What a beautiful and tranquil place to stay for a week to unwind from the fast pace of London. A week was not quite long enough in our book! All in all a wonderful week was had. Many thanks to Gaynor who was so helpful in all respects.
Our second holiday here. Surely nobody comes only once! Gaynor and her wonderful staff make sure of our two weeks of delight. It's paradise. What more can we say? This isn't goodbye, it's au revoir.
Another fantastic week in paradise for our grateful clan of 11. All three generations had a magical time, the sun shone constantly, Gaynor and her team did a superb job, the tavernas were as tempting as ever and we really, really cannot wait to do it all over again! Huge thanks.
Our choice of Greek properties is as diverse as the islands themselves, ranging from simple seaside charm to genuine luxury and style. Much of our portfolio is privately owned, and price alone is therefore not a universal guide. We contract all our accommodation in person, and each property has its individual appeal. To help you make the right choice based on your own priorities, we have devised a simple grading guide to be considered in conjunction with each individual property description, awarding up to a maximum of five stars for the below categories.
* For further clarification on Facilities and Amenities, please view the 'Details' tab for each property or speak to one of our experienced sales consultants.
A hundred stories unfold on lovely Corfu… Tales of gods and goddesses, Phoenicians and Venetians, vibrant towns and sleepy villages. There's also a rich natural history of mountains, olive groves, fertile valleys and a coastline dotted with picturesque coves, sandy beaches and rocky inlets. Follow in the footsteps of Lawrence and Gerald Durrell with a luxurious retreat near Agios Stephanos, or venture North West, to enjoy more sandy beaches and scenic coastal drives.
To help you make the most of your holiday in Corfu, our collection includes a magical range of luxury villas and a charming beachfront hotel overlooking Avlaki Bay. Choose a romantic cottage by the water's edge for an idyllic couples' retreat or a contemporary family villa complemented by our private nanny service, for a relaxing holiday in the elegant North East of the island. 
---


Explore our pre-bookable experiences in Corfu
---
View holiday Booking Conditions
Simpson Travel in the media