Things to do in the Dordogne: memorable days out
Things to do in the Dordogne: memorable days out
For gastronomes and garden lovers, history buffs and adventure seekers, we present our insider's guide to discovering the Dordogne.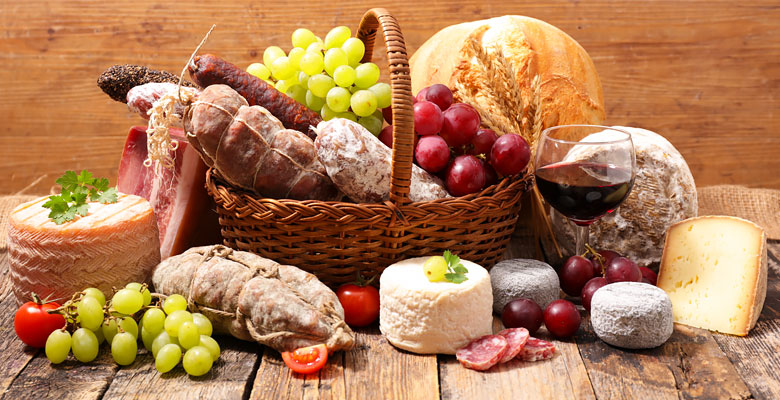 1) Take a lead from the locals
Visit a Vide-Grenier: literally translated as 'empty attic' this is the French equivalent of a car boot sale. Vide-Grenier events take place all through the summer, with tables piled high with antiques and local curios. Browsing is welcome, but if you want to buy, be prepared to haggle.
Shop at the market: every town and village has a weekly or sometimes daily market, and this is where you'll find the freshest food and the fewest food miles. Stall holders are often passionate about their produce, so feel free to ask about what's on sale and you'll generally get a full background as well as some tasty samples.
Stay for dinner: during summer, the marchés nocturnes – night markets – are a fun alternative to a traditional sit-down meal. You can wander from stall to stall buying small portions of local drinks and dishes, and there's often a bit of live music too.
Picnic at Pombonne: just north of Bergerac you'll find Pombonne park, a large area of woodland and nature trails with a lake and a small sandy beach. Stock up on bread, wine and cheese in Bergerac and settle in for a lazy afternoon.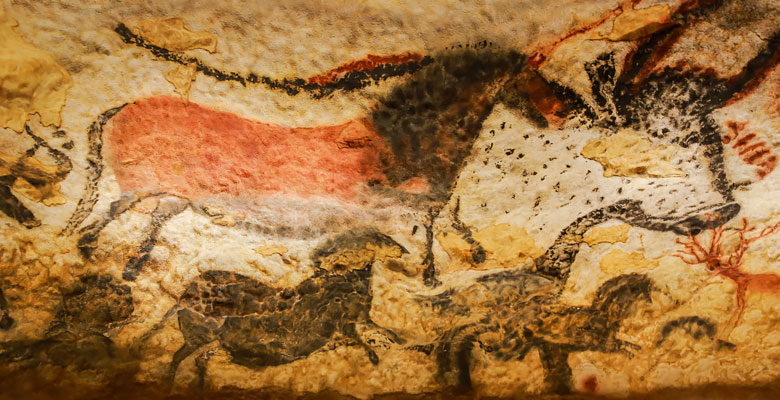 2) Trace 17,000 years of history
Step back into pre-history: Southeast of Montignac, France's most famous pre-historic cave paintings, up to 17,000 years old, are simply breath-taking. The original Lascaux cave is closed to the public to preserve it from the breath of 1,000's of eager visitors, but the excellent next-door visitor centre shows exact replicas and offers good guided tours in English. Lascaux is child-friendly, but if you are travelling with young ones they might be more impressed by the cave at Rouffignac which takes visitors deep into a vast cavern via a little electric train. The tours are in French only, but the paintings need little in the way of explanation.
Monastic and majestic: Moissac Abbey is almost 1,000 years old, making it one of the oldest surviving cloisters of its kind in the entire world. The columns around the cloister are intricately carved depicting stories from the Old and New Testaments, a little like a cartoon-version of the bible! The Abbey is on the Santiago de Compostella pilgrimage route, and has been a UNESCO-listed site since 1988.
Choose a château: local guides claim there are 1,001 châteaux scattered across the region, so it's hard to know where to begin. Medieval Castelnaud is one of the most popular, though you'll need to be reasonably fit to make the steep climb from the valley. If you don't fancy the walk, book a book boat trip and you'll be able to see quite a few castles along the river.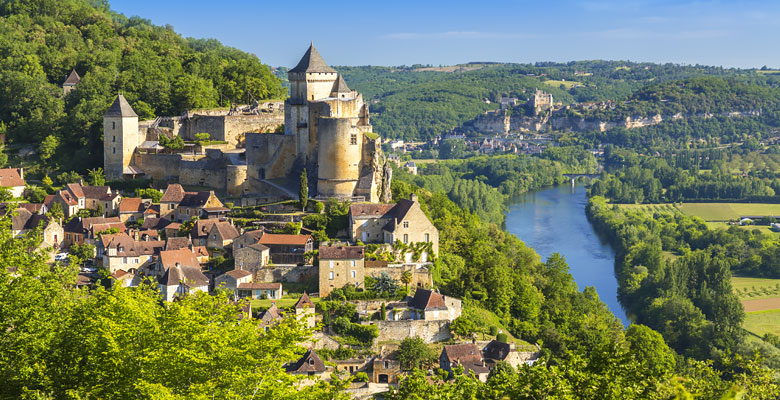 3) Take it Easy
Cruise the castles: if it's hot or some of your party aren't up for much walking, you can still enjoy the Dordogne's castles with a leisurely river boat trip. Traditional gabares, stable, flat-bottomed boats that used to transport wine and other goods up and down to river now carry visitors along its most scenic stretches, and you'll get a guided audio tour to explain the sights as you cruise.
Luscious landscapes: Formal gardens are not always the most obvious choice for young visitors, but little ones are free to roam round the gardens of Marqueyssac at Vezac, and there is a small play area in the middle to keep them entertained. If you had a more romantic trip in mind, visit at sunset when the grounds are magically lit up with hundreds of candles. Buying a combination ticket with nearby Chateau Castelnaud saves a few euros too.
Educate your palate: a trip into any supermarket will reveal a huge array of local wines, so if you'd like to brush up on your tasting notes, we'd recommend the impressive wine centre in Bergerac or the smaller but also very informative version at Duras. Both can point you in the direction of vineyards to visit and at Bergerac, you'll find exhibitions, tasting opportunities and live talks from local wine makers in the main summer months.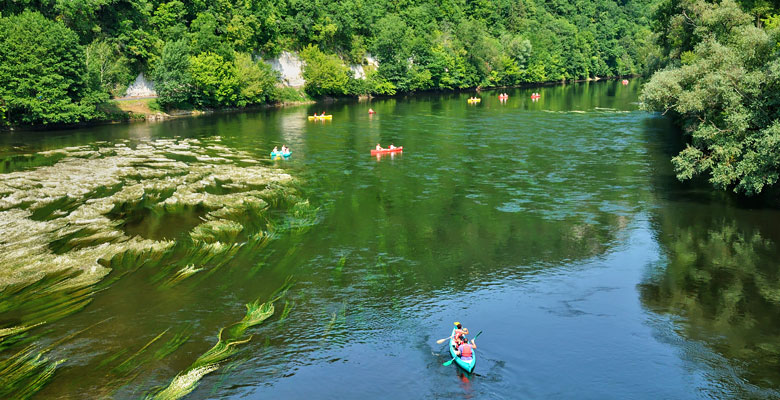 4) Take it up a notch
Scale new heights: the northern Dordogne is more rugged than the southern part of the region, and here there are plenty of adventure companies that will help you get the hang of climbing the local granite cliffs and gorges, or let you hurl yourself off one via a tandem paragliding trip
Wet and mild: The mighty Dordogne river is the perfect spot for learning to kayak or canoe, with plenty of flat water and a few gentle rapids to offer more of a challenge once you're feeling confident.
Let the kids cool off: On the outskirts of Bergerac is a family-friendly water park with various pools, slides and a go kart track. Combine with a morning visit to Bergerac's Saturday market (one of the best in the region) for a day out that will keep all ages happy.