Charming bed and breakfast
Ideal base for exploring
9 delightful rooms
In historic Bagno Vignoni
Walking distance to restaurants and bars
Book this pretty bed and breakfast as part of our Tuscan Wandering programme and we'll include a complimentary day pass to the thermal baths at the nearby Posta Marcucci Hotel. Find out more about
Tuscan Wandering
.

To stay here is to be embraced in a history of hospitality that has crossed centuries, from when pilgrims on the way to Rome stepped off their dusty trail to bathe in the healing waters just metres from this charming bed and breakfast.
At the turn of the new millennium, two sisters, Barbara and Sabrina, took on the 15th-century building because it was in a location they loved; their aim to turn it into a home not a hotel. Growing up as they did in a house where the door was always open and extra chairs happily added around the dining table, they have created a place to stay that's all about warm welcomes. They scoured local antique markets for furniture and never lost their passion and sense of fun for what they were bringing together, be it the colour schemes (which reflect the colours of the landscape) or the mismatched china on which breakfast is served in a room as captivating as the prettiest vintage tea room.
The atmospheric en-suite bedrooms lead off the living room. They're a taste of classic Tuscany with terracotta tiled floors and delicate lace draped around the original windows. Exposed stonework frames the alcoves now houses shelves of books and ornaments and dark wooden furniture is a reminder that is the most historic of areas.
The living room, which boasts the grand piano once owned by the sisters' grandmother, is a fascinating collection of oddments, from a dressmaker's dummy decked out in befeathered finery to an antique typewriter nestled up to a vase of dried flowers. The breakfast room is in a separate building, once owned by the church, and now turned into a celebration of good food. As breakfast is the only meal served, it's delivered with a top-quality flourish that includes homemade cakes, local cheeses from Pienza and cereals, eggs, salami and fresh fruit, all sourced locally.
Outside La Locanda is the main square of Bagno Vignoni: one large thermal pool of water filled by natural springs, around which you'll find intriguing artisan shops, wine bars and a choice of places to eat. There are few better places for a leisurely morning coffee in the sunshine. Just a few minutes' walk from the Locanda, the spring waters flow down a gulley out into the open and you can dip your feet into the warm stream before it cascades down the hillside in a little waterfall. This is the place to stop and admire the view across the Val d'Orcia, which will take your breath away.
From here, your Tuscan Wandering will continue to amaze you with the natural beauty of the area's golden fields and gently rolling hills. A visit to the hot springs of Bagni San Filippo in the woods is a must, where you can cover yourself in skin-smoothing mud, soak in the waters and picnic under the trees.
Montalcino is less than half an hour away by road and you can supplement its excellent wine with the pecorino cheese that hilltop Pienza is famous for, just 20 minutes away. San Quirico d'Orcia sits between the two, an important stop-off for pilgrims following the Via Francigena, so it has its share of peaceful churches, including the much-photographed Vitaleta Chapel on a hill nearby. It's also home to the lovely Renaissance Horti Leonini gardens, accessible from the Piazza della Libertà.
Layout
All rooms
Complimentary WiFi
Air-conditioning
Hairdryer
General
Adult Only (18 years or older)
Indoor breakfast room/outside breakfast area
Communal sitting area with fireplace and grand piano
A daily tourist tax applies for the first week of your stay only, which means that an average of €1.50 per person (12+ years) may be charged. This should be paid in cash during your stay.
Classes and tours available on request (payable locally)
Cooking classes
Yoga lessons
Bike tours
Horse riding
Trekking tours
Wine tasting
Photographs tours
WiFi
All properties with WiFi are able to support basic functionality such as web browsing and checking emails*
* We aim to offer an uninterrupted service but sometimes due to factors beyond our control reliability can be affected.
Access times
Check in time – 4-8pm
Check out time – 10am
Bagno Vignoni (shops/restaurants/bars) 1min walk
Pienza 20min drive
Montalcino 25min drive
Montepulciano 35min drive
Cittá della Pieve 55min drive
Siena 1hr drive
Lake Trasimeno 1hr 5min drive
Cortona 1hr 10min drive
Perugia airport 1hr 35min drive
Pisa airport 2hr 30min drive
Customer feedback
Tuscan Wandering was a new Simpson adventure for us. A wonderful experience in lovely hotels (La Locanda del Loggiato and La Canonica di Cortine). Helpful hosts to guide us through stunning countryside and hilltop villages. Superb organisation; we did not want to come home.
Chris & Anne Woodhead – September 2018
Our choice of Italian properties is diverse, ranging from simple charm to genuine luxury and style. Much of our portfolio is privately owned, and price alone is therefore not a universal guide. We contract all our accommodation in person, and each property has its individual appeal.
To help you make the right choice based on your own priorities, we have devised a simple grading guide to be considered in conjunction with each individual property description, awarding up to a maximum of five stars for the below categories.
Tuscany gives you permission to indulge in life's simple pleasures – world-famous wine, indulgent food and hours consumed by epic histories. Each of Tuscany's ten provinces has its own unique personality, but wherever you stay, you'll find yourself surrounded by a verdant patchwork of olive groves, cypress trees and vineyards. From the birthplace of the Renaissance, Florence, to the narrow streets of hilltop San Gimignano, Tuscany makes for a stunning escape. 
To complete the picture, explore our collection of handpicked villas, boutique Simpson Hotels and charming apartments.
Suite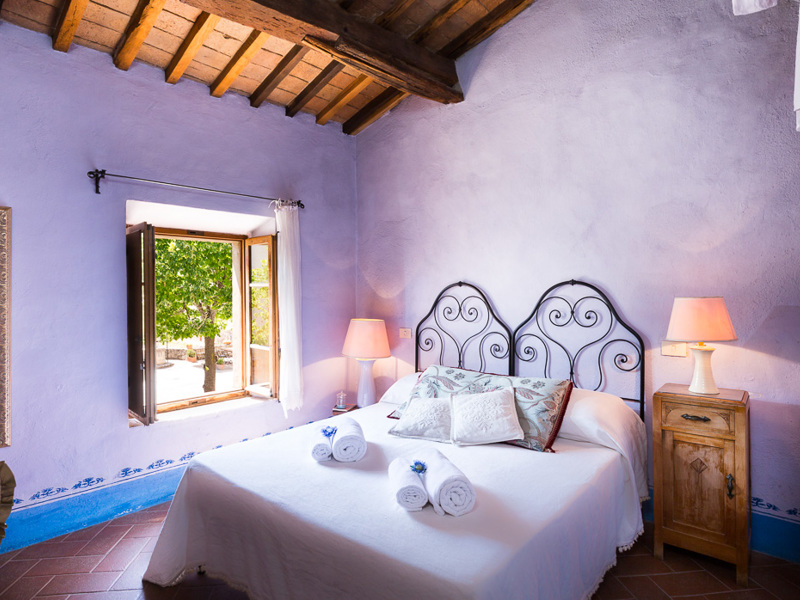 View holiday Booking Conditions