Our guide to The Rou Estate
Retreat to The Rou Estate and enjoy the privacy of your own villa in an oasis of natural beauty. And tucked away in the tranquil gardens there is so much more to discover; yours if you want it, not if you don't.
Restaurant   Spa    Gym   Gardens   Lifestyle    Service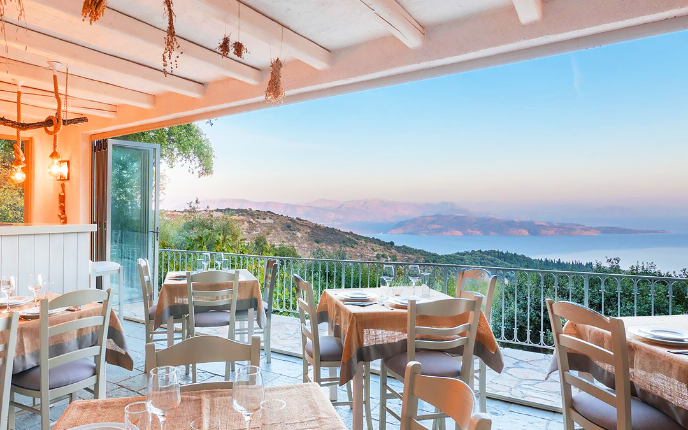 Restaurant
The Garden Terrace restaurant opens 4 nights per week, with 1 of those nights being a BBQ evening.
Normal opening times are:
Sunday: 1pm – 11pm (arrival day)
Tuesday: 5pm – 11pm, Barbecue Evening (no menu)
Thursday: 5pm – 11pm
Saturday: 5pm – 11pm
There is a well-stocked honesty bar and a private chef can be booked to come to your villa (prior booking is advisable in the summer months). There is also the option to have pre-cooked or pre-prepared food delivered to your villa for you to reheat or cook. 
Spa
De-stressing? Relaxing? Nurturing? Vigorous? Your spa experience is whatever you want it to be. A range of treatments includes massages, facials and a host of luxurious pampering options – described by guests as 'out of this world'. 
The magic happens in The Granary Spa. Tea lights twinkle from the nooks and crannies of the solid stone walls and the air is fragranced with the oils used in the experienced massage therapist's personal blends, all chemical-free. How much time you spend there is entirely up to you.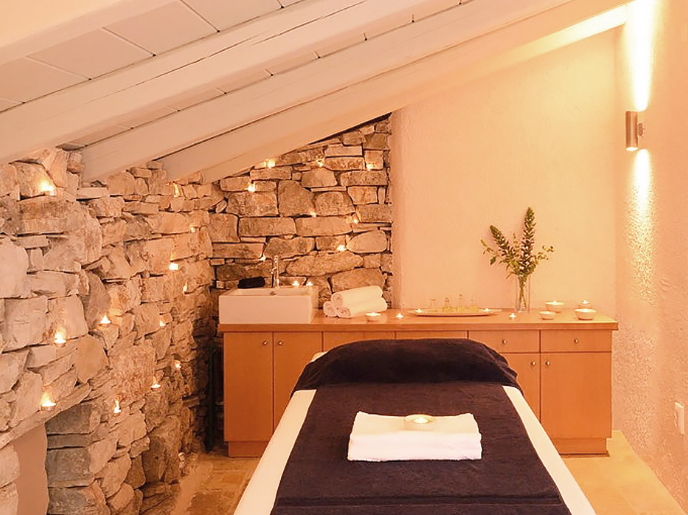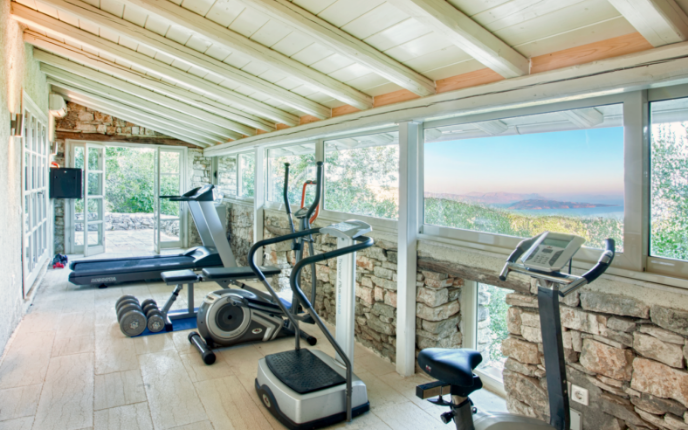 Gym
Life asks us to spend a lot of time in our heads – planning, organising, analysing, thinking, thinking, thinking – and yet exercise, even the gentle kind, is a shortcut to feeling calmer, stronger, healthier and much less stressed. The Rou Estate makes getting physical rather effortless and you can set the pace. The gym has a sea view and personal training can be arranged (payable locally).
Facilities and amenities include:
Treadmill, cross trainer, exercise bike, spin bike, weights bench with weights, air conditioning and Bluetooth speaker.
Gardens
The Rou landscape captures the beauty and romance of the abandoned 'undiscovered' hamlet nestling in the hills above the Ionian Sea, carpeted in wild flowers.
Dominic Skinner, the architect of The Rou Estate, envisioned the landscape unfolding as a series of outdoor rooms, each unique yet linked to the others. As a result, external and internal spaces are harmonised visually, connecting inside and outside living spaces with the stunning sea and mountain views beyond.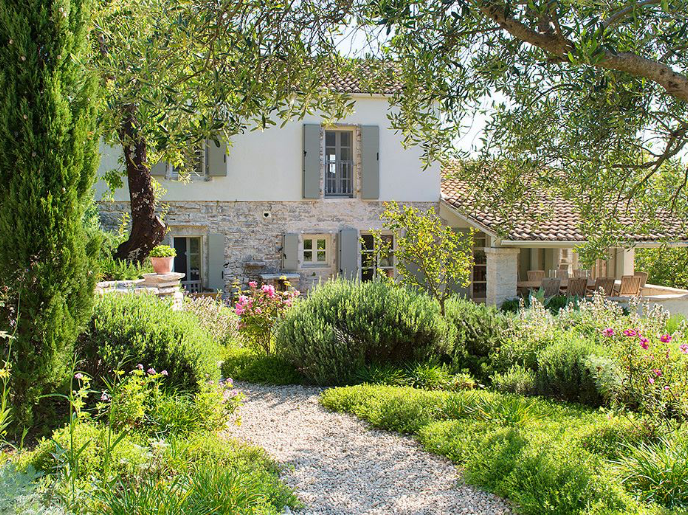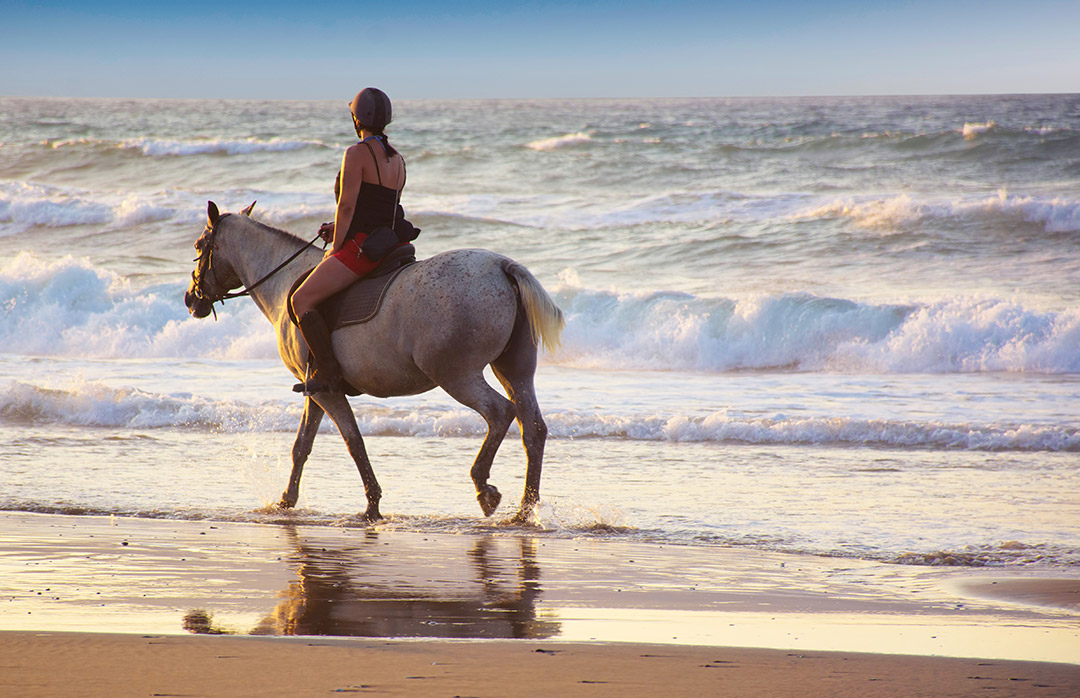 Lifestyle activities
Tuition and coaching is available by the hour, half day or full day and can be booked privately or for small groups of like-minded guests for the following activities:
Cooking
Personal training
Pilates
Walking
Yoga
There are also facilities nearby for:
Cycling
Horse riding
Water sports
Some activities are very popular; please check availability in advance.
Local Boat Hire - in partnership with San Stefano Boats
There is no better way to explore the coastline's clear waters and discover some deserted bays than in a boat. Small boats, speedboats and cruisers can be pre-booked with our UK office prior to departure and we recommend early reservations, especially for July and August, as availability can be limited.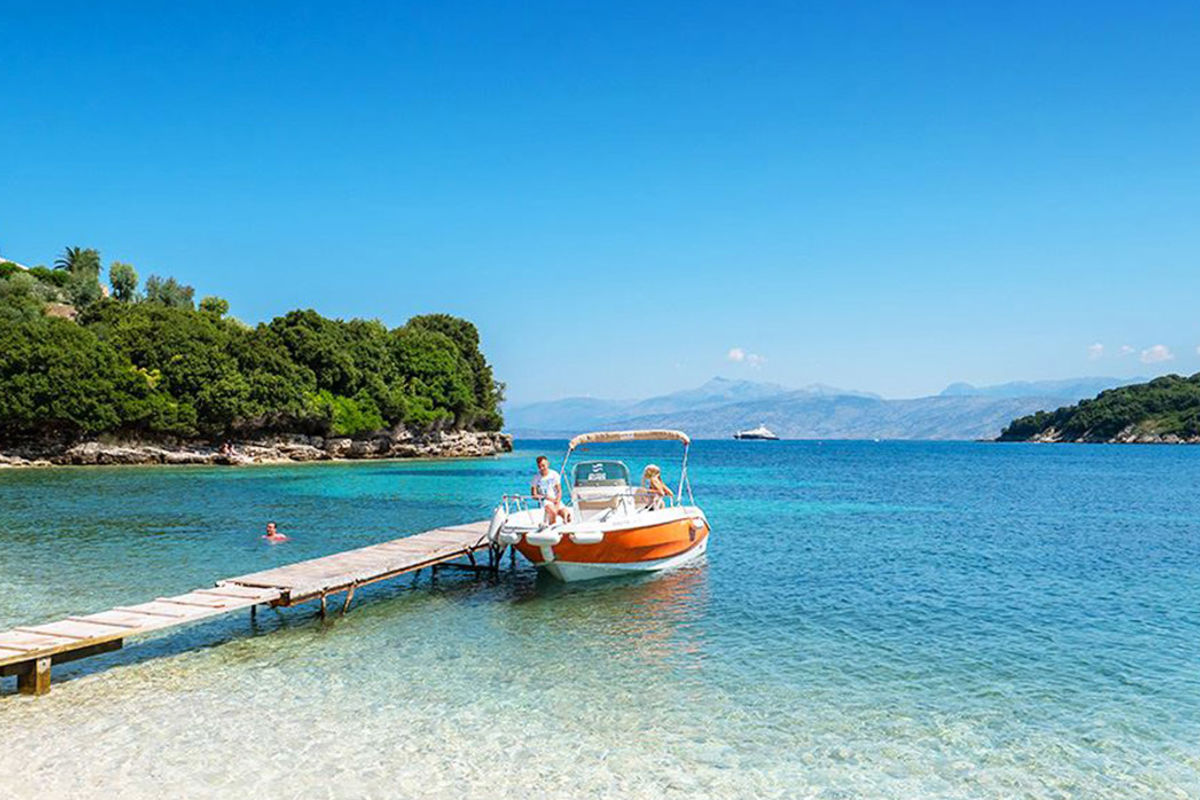 Service
Professional, unobtrusive service has always been the hallmark of Simpson Travel and The Rou Estate is no exception. Our friendly team have a wealth of local knowledge, ensuring that your holiday is comfortable, relaxing and inspiring in equal measures.
The Rou Estate Manager also offers a Concierge service and can book you anything from restaurants to speed-boats – if you haven't already pre-booked with our UK office before you leave, that is. (To hire a small boat, speedboat or cruiser, we do recommend early reservations, especially for July and August when availability can be limited.)
For breakfasts, we can arrange for freshly-baked bread and pastries to be delivered every morning, as well as groceries if you want to take advantage of your fully-equipped kitchen. You'll also find a welcome pack on your arrival with a small selection of staple items and local produce.
All our houses on the Estate are given a light clean six days a week and maintained to the highest standards by the Estate Manager and the Estate Technical Support who are responsible for the safety and smooth running of all aspects of the village.
And remember – if anything isn't quite as you expected or you need help or advice about any aspect of your holiday, just talk to our Estate Manager. We always aim to tailor holidays to suit you, so there's no need to put up with something that isn't just as you'd like it.