Explore holidays in Lefkada
Charmingly traditional, Lefkada is an authentically Greek holiday delight fringed by award-winning beaches. The stunning colours of the landscape are a vibrant force of nature; uplifting, brilliant shades of shocking pink, green and translucent turquoise. Central to all this is Lefkada Town, with its pretty car-free streets, excellent choice of restaurants and waterfront bars and lovely bohemian vibe. It is well-suited to both couples and families and Lefkada is an excellent choice for one of our popular kids' clubs.
To make the most of your luxury holiday in Lefkada, we offer a selection of handpicked villas and a stylish adult-only Simpson Hotel so you can enjoy this beautifully relaxing Greek Island to the full.
---

Explore our pre-bookable experiences in Lefkada
---
A selection of our holidays in Lefkada
* Prices include seven nights' accommodation, flights and transfers/car hire, based on the lowest rate for maximum occupancy.
Our guide to Lefkada
Introduction to Lefkada
Naturally sleepy and unspoilt
Just a small bridge away from the Greek mainland, Lefkada (or Lefkas) is both green and mountainous – and less than a two-hour drive from north to south. It's known for its turquoise waters, excellent watersport facilities and award-winning white beaches, but the island offers much more besides. Explore the phalanx of pretty offshore isles in a rented boat, enjoy the bars and restaurants of Nydri and Vasiliki or wander around the chic and historical capital, Lefkada Town. And when you tear yourself away from the coast, you'll be rewarded by villages steeped in traditional charm and relaxed authenticity.
Families welcome
There are some very good reasons why we chose Lefkada as the location for our second Simpson Crèche and Children's Club – not least that it's been voted one of The Times' 20 best European holidays with toddlers. An ideal destination for families, everything's close by here: from sheltered coves to exhilarating wind-fuelled watersport lessons; from freshly-caught fish on the barbecue to a crisp white wine to accompany it. And, to offer parents an extra dimension to the holiday experience, we have a team of highly qualified nannies at Mousses – so everyone in the family can enjoy a restful break.
Old town meets new
Built by the Venetians, Lefkada Town is a compact, colourful maze of narrow alleyways. Use these sokakia to follow the original layout as you explore the delights of the pedestrian-only Old Town. The central square is the focal point, where parents eat as their children play, perhaps with exciting finds from the array of tempting toy shops nearby. Later, you can let a little more stress ebb away in a café by the marina, admiring the yachts on display. Or, when the town stirs into life after siesta, take your pick of traditional tavernas, smart cocktail bars and heavenly ice cream parlours.
Inland, and back in time
Away from the coast, the past is easily accessible in the traditional farming communities and small villages, enveloped in the rolling green landscape of olive groves and fragrant pines. Soak up the atmosphere in Karya, famous for its embroidery, where coffee drinking and competitive games of backgammon are an all-day fixture in the central square. Other temptations include a selection of tavernas and shops selling handmade treats. Or head to Englouvi, the island's highest village, famous for its lentils and honey – and the perfect opportunity to squirrel away some delicious souvenirs.
At a glance
Currency

Euro

Flight Time

3 hours 15 minutes to Lefkada

Time difference

+ 2 hours

Language

Greek

Visa required

Not for UK citizens
Food & drink
A taste of Lefkada
The local cuisine offers a typically Greek combination of simple flavours, home-grown produce and fruits of the sea to create one of the world's healthiest diets – food that's easily enjoyed from the terrace of your villa with a view to die for and skin still warm from the sun. A variety of small mezedes starts the proceedings. These divine dips include soft-roasted aubergine mashed with garlic, tangy feta cheese whipped with chilli, stuffed vine leaves and courgette flowers. The freshest meat and fish follow, cooked simply on the grill or baked to perfection. It is unthinkable to eat without a bowl of fresh salad drenched in olive oil; always seasonal and with few ingredients to ensure the taste of each shines.
Lefkadan tipples
Although ouzo is Greece's best-known tipple, you'll probably come across Tsipouro (or raki) too: a clear, potent spirit made from grapes and typically served in small glasses. If you're eating fish, it's traditional to drink the pine-flavoured retsina. Local wines such as Vertzamo and Vardea are also worth trying.
Eating locally
Lefkada is an island of olive and fruit trees; its other specialities include lentils from Eglouvi, as well as the more ubiquitous nougat and air-dried salami that's flavoured with garlic and whole peppercorns. Don't miss the chance to pick up a jar of delicious thyme-infused honey (meli) too – available from the roadside vendors across the island. Once a male-only bastion, the traditional coffee houses, known as kafeneions, welcome women these days – go in and ask for ellinikos kafes (Greek coffee).
Lefkada Town comes alive at night, with traditional tavernas nestled next to smart cocktail bars and ice cream parlours. The atmosphere is relaxed and family friendly, especially around the central square where parents dine while children play nearby. Karya's main square, shaded by enormous plane trees and with a modest selection of traditional tavernas, is another good option. For a table with a sea view, try the beach tavernas at Lygia, Geni and the bustling Agios Nikitas. For a different perspective, head up into the mountains and dine in Rachi.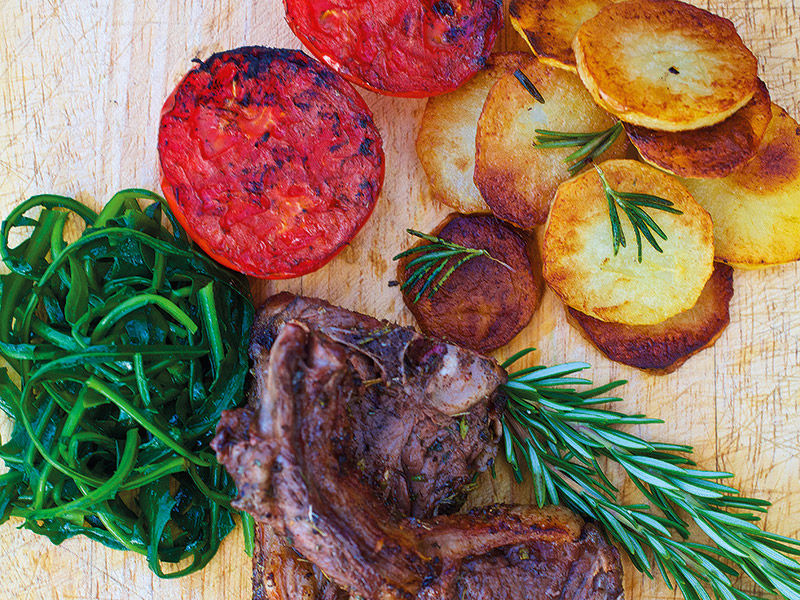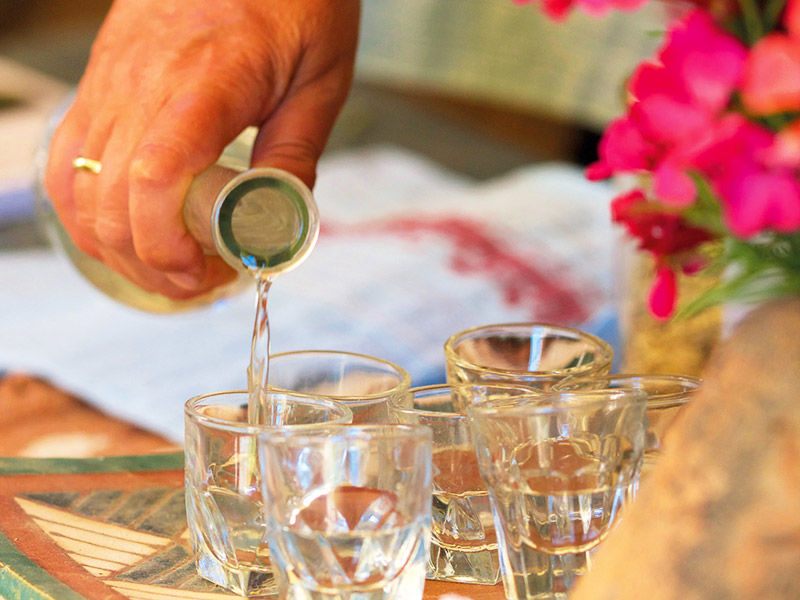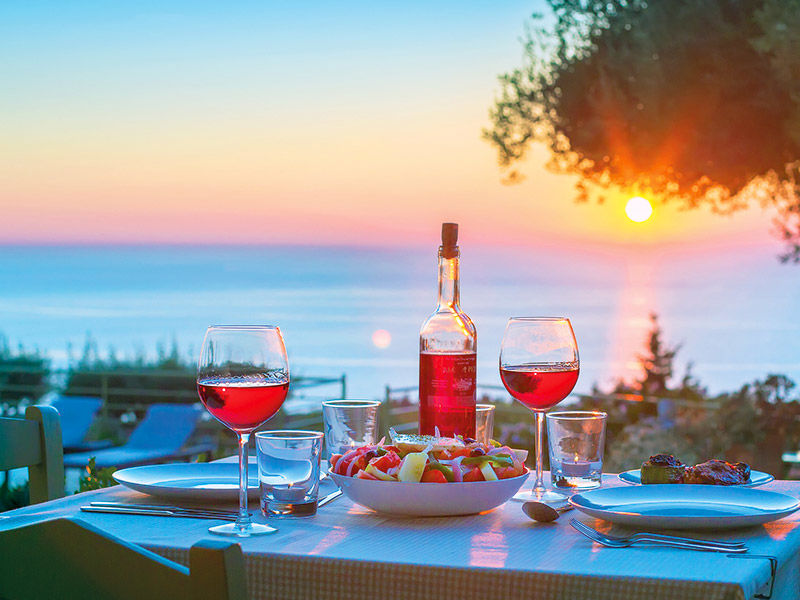 Beaches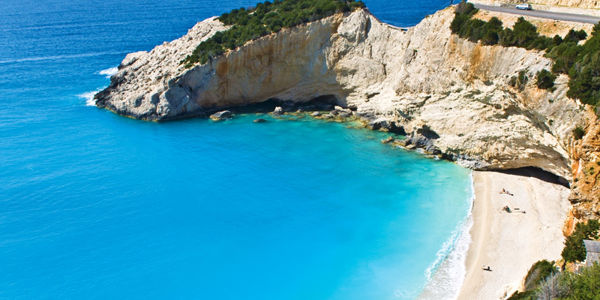 Porto Katsiki
With its dramatic backdrop of white chalk cliffs and stunning jewel-coloured water, this family-friendly shingle beach is the island's most famous, so it gets busy in high season.
Getting there…
2 hours from Lefkada Town by car – or take a boat from Nydri or Vasiliki.
Footnotes…
Great for a day trip: awarded a prize for being the loveliest beach in Greece. There are cafés next to the car park and 100 steps down to the beach.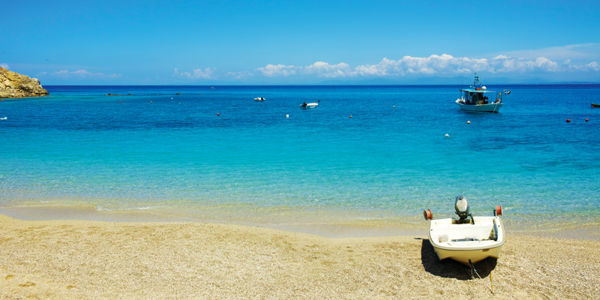 Agios Nikitas
Popular with families and busy in high season, this small sand and shingle beach is a ten-minute walk down from a pretty village which has a few shops and restaurants.
Getting there…
It's a 20-minute drive from Lefkada Town and about an hour from Nydri. If it's too busy here, Kathisma is nearby.
Footnotes…
A shuttle boat service runs from here to the nearby beach of Milos. Agios Nikitas is a great place to watch the sunset.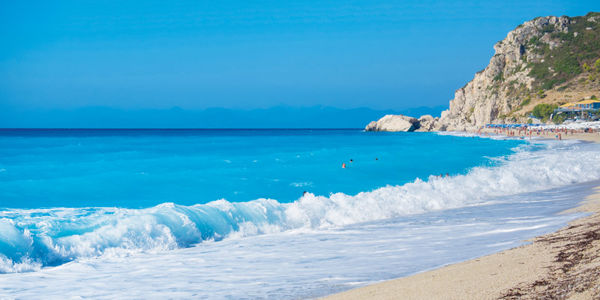 Kathisma
Kathisma is a long, sand and shingle beach, popular with a younger crowd - especially in the busy high season. Parasols, sunbeds, cafés, restaurants and swimming pools are all available.
Getting there…
On the west coast, it's a 30-minute drive from Lefkada Town and just over an hour from Nydri. Park by the beach.
Footnotes…
South of the busiest section, beyond the rocks, you'll find more space in high season.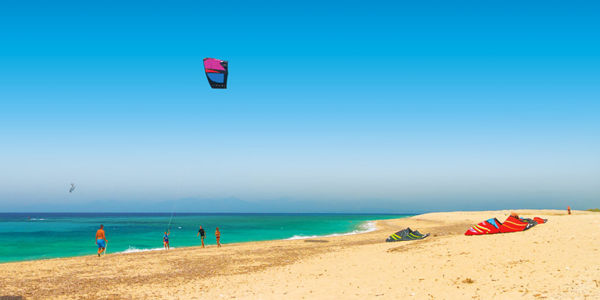 Agios Ioannis
Near Mousses, this soft sand and shingle promontory catches the northerly wind and the attention of windsurfers and kitesurfers. Good entertainment, whether you're feeling active or inactive!
Getting there…
It's just a few kilometres (about ten minutes) from Lefkada Town.
Footnotes…
With its handful of tavernas and beach bars, this is a great spot for enjoying a sundowner.
Nikiana
Underwater adventurers come for the clear seas and the diving club; landlubbers can enjoy the sand and shingle beach and the bars and restaurants of the charming fishing village nearby.
Getting there…
It's a 20-minute drive from Lefkada Town and ten minutes from Nydri.
Footnotes…
Take a boat trip around Skorpios Island where Aristotle Onassis married Jackie Kennedy. From the sea, you can ogle the impressive villas along the coast.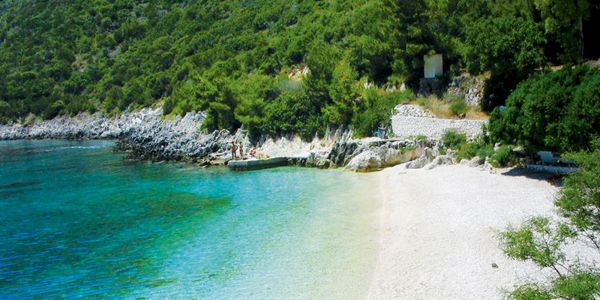 Afteli
Down a winding road, you'll find this small cove with its own small café. The contrast between the surrounding trees, pale sands and turquoise waters makes Afteli particularly picturesque.
Getting there…
It's about 40 minutes' drive from Lefkada Town and 30 minutes from Nydri.
Footnotes…
There are facilities in the café. Bring your own parasol and a picnic to create a romantic moment for two.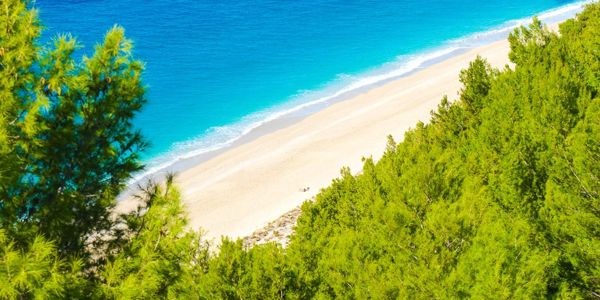 Mylos
Steep cliffs and sand dunes give Mylos beach a natural, unspoiled feel, lapped by bright turquoise water.
Getting there…
Located close to Agios Nikitas, you can hike to Mylos from the village centre, or take a water taxi from Agios Nikitas beach.
Footnotes…
There are usually sunbeds for hire and a small beach cafe in high season. Quite steeply shelving, so not idea for younger kids.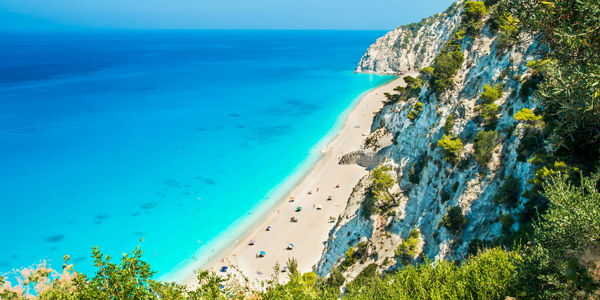 Egremni
North of Porto Katsiki, this expanse of beautiful beach has clear waters, pale sand, dramatic cliffs and (in high season) beach bars and sunbeds. A great spot to watch the sunset.
Getting there…
The beach is currently only accessible by sea, from Nydri or Vasiliki.
Footnotes…
Join a skippered tour of the island or hire your own boat from Vasiliki and idle along under your own steam.
Agiofili
Agiofili feels like a throwback to what Greek beaches were like 20 or 30 years ago: no café or facilities (apart from parking), and a rough track to get there, but there's a timeless beauty in its clear blue water and bright white shingle.
Getting there…
An hour from Lefkada Town, your car journey includes rough tracks. It's easier to go by water taxi from Vasiliki. 
Footnotes…
Don't forget your snorkel – there are plenty of colourful fish not far from the shore.
Things to do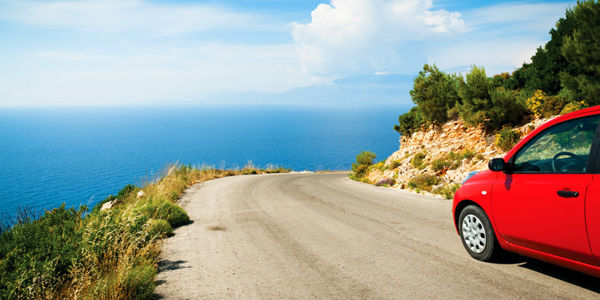 Drive down to the south
Lefkada is so small, you can see most of it in a day's self-drive tour. Head for the south along the dramatic eest coast and stop at Kathisma beach and Porto Katsiki on the way. Then see Vasiliki and Sivota on the east coast as you return to Lefkada Town. If you are based south or on the east coast, then do this loop in reverse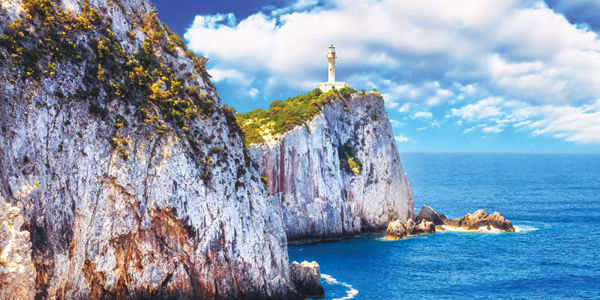 Go wild at Cape Lefkada
This peninsula, with its dramatic white cliffs, is where you'll find the island's only lighthouse, plus a small monastery and impressive views of Kefalonia and Ithaca. Legend has it that the lovelorn poet Sappho threw herself to her death from here.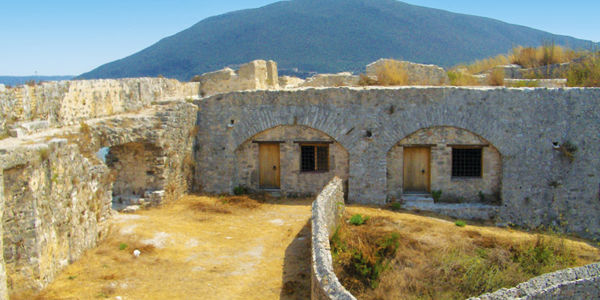 Remember the past, from the Agia Mavra fort
Also known as Santa Maura, Lefkada Town's 14th-century fort helped to protect the island from pirates and served as the base for the town's Venetian administrators. Imagine the scenes as you wander around the remains of its once imposing presence.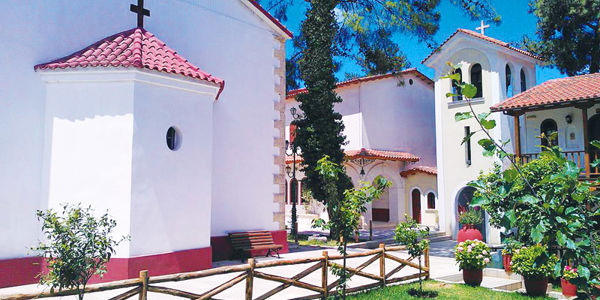 See frescoes and a farm at Faneromeni monastery
With breathtaking views out to sea, this is the only working monastery on Lefkada. Its church is adorned with beautiful frescoes and in the peaceful gardens you'll find a small farm with an eclectic gathering of furred and feathered creatures.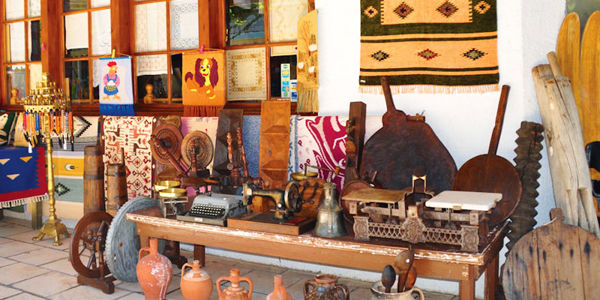 Get crafty in Karya
The former capital, Karya has an attractive shaded square, a few cafés and some shops selling embroidery and lace. Its museum aims to revive traditional crafts, with displays of needlework, farm tools, furniture, weaving looms and local dress.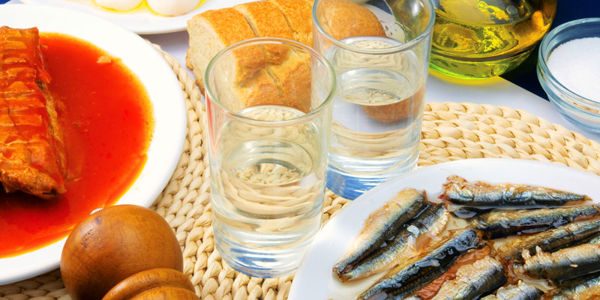 Choose from a dozen tavernas in Agios Nikitas
After parking on the main road, walk down the cobbled pedestrian street to the village. You'll find tightly packed traditional buildings with tavernas that serve sardines, saganaki and salads lining the route downhill and onto the beach too.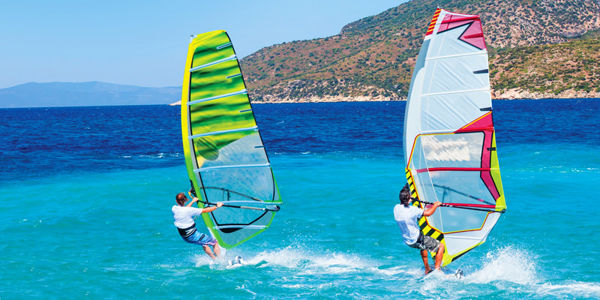 Visit Vasiliki
This harbour village is set alongside a spectacular sweeping bay and is a hotspot for windsurfers, as well as offering a fine collection of craft shops, boutiques and waterfront tavernas.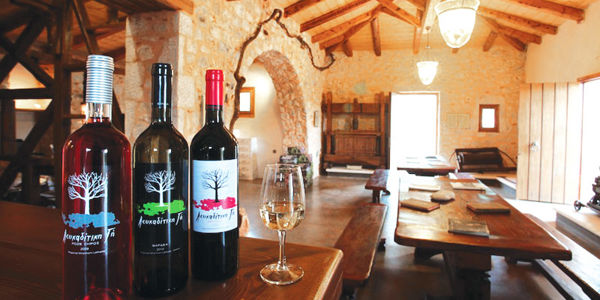 Try the local wine, at Lefkas Earth Winery
Between Nydri and Vasiliki, this attractive winery is a good pit stop on a drive around the island. It runs daily tours including the obligatory wine tasting. There's also a display of old winemaking equipment and an olive oil mill.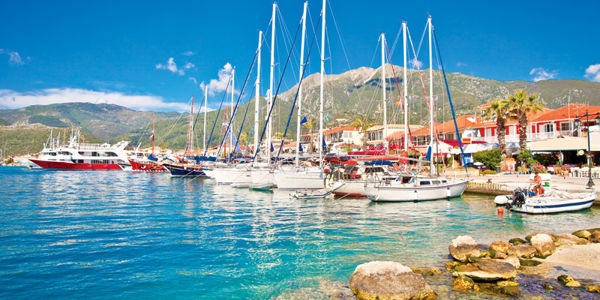 Nydri beach/harbour
A gently shelving, sand and pebble beach in a bustling resort, Nydri offers watersports and boat trips as well as sunbeds and parasols for hire, plus plenty of bars and restaurants. There are great views across to the islands of Skorpios, Sparti, Heloni and Madouri, and in September, you can watch the boats competing in the Ionian Regatta. Nydri is a 30-minute drive from Lefkada Town and offers ferry services to Meganissi, Kefalonia and Ithaca.
Events
In the heart of Lefkada Town, Platia Agios Spyridon is often a hive of activity, as it plays host to religious processions during Greek Orthodox feast days and dramatic performances during the island's annual summer arts festival.
Easter is the biggest event on the Greek calendar, marked by traditional processions, masses and feasting. The date changes each year and is often later than in the UK. Fifty days after Easter, there's a lively market and festival at Faneromeni Monastery (Faneromeni is the patron saint of Lefkada).
What's on in May
Labour Day is a public holiday, celebrated with picnics and the gathering of spring flowers. Many shops close but restaurants remain open.
The Ionian Islands commemorate their official unification with Greece which took place in 1864.
What's on in July
The feast of Agia Kyriaki in the villages of Nydri and Vliho.
Lively All Saints' Day celebrations held in the main square of Englouvi village.
The cultural Valaoritia Festival is held in Nydri, dedicated to the memory of the Lefkadan poet Aristotelis Valaoritis.
What's on in August
Over the first weekend of the month, residents of Karya re-enact a traditional rustic wedding, complete with bride, groom and procession.
The church of Agios Donatos, on the Vouni plateau of Englouvi, has its feast day.
The Feast of the Virgin Mary (Apo Kimisis tis Panagia), celebrated at Faneromeni Monastery in Frini, above Lefkada Town.
The International Folklore Festival of Lefkada features parades, dance and musical performances from around the world. The festivities last all week and the founding principles seem to be 'eat, dance and be merry' – there are plenty of opportunities to do all three at this lively festival.
What's on in September
The Virgin Mary's birthday (Genisis tis Panangias) is celebrated throughout Greece with religious services and much feasting.
What's on in October
'Oxi' Day ('No' Day) celebrates the Greek refusal of Italian occupation during WWII with marches, parades and much flag flying.
The Road Less Travelled
We asked our local representatives in Lefkada to share a few of their favourite 'off the beaten track' experiences. Here are some of their suggestions…
Learn more about Lefkada Town
To brush up on Lefkada's history, visit the Archaeological Museum and Agia Mavra Fortress. You'll also see signs of the building work done since the 1948 earthquake: brightly-painted corrugated metal adorns houses and the churches have ironwork bell towers. Enjoy 21st century delights in the buzzy main square or at one of the canal-side cafés where you can watch the sunset over the lagoon.
Take to the waves, from Nydri
There's so much choice on the waterfront at Nydri that it's easy to get confused! We suggest trying the child-friendly, full-day excursion with its ancient Greek theme; hiring your own boat to investigate the island's bays, as well as Skorpios Island (which is private) and Meganissi (which isn't); or taking a private sunset cruise to enjoy a cold glass of wine on deck: absolute bliss.
Get the adrenaline going... And relax!
If hiring a motor boat isn't high octane enough for you, Agios Ioannis (see the Beaches section) is one of Europe's premier kitesurfing and windsurfing destinations. Alternatively, take a guided bike tour with your family or as an intermediate or advanced rider. After your exercise, sit and watch the multi-coloured kites and sails flirt with the wind as the sky turns pink at sundown.
Enjoy bird's eye views in Exhanthia
On a trip to the mountains, stop for a coffee in the traditional village square of Karya before visiting the Folklore Museum. Then head up to the 600m-high mountain-side restaurant at Exhanthia to eat and watch the sunset. Or, if you still want to get the adrenaline pumping, paraglide for around 25 minutes back down to sea level – taking in the whole of the island below you.
Lap up liquid luxuries
Drive down to the lovely small beach at Afteli (between Sivota and Vasiliki) for a morning of swimming and snorkelling before stopping to enjoy a frappé (Greek iced coffee) in the village's only café. Head back up the island to the village and port of Sivota, where you can have lunch in one of the waterside tavernas and admire the boats, before your return north.