Explore holidays in Chania & West Crete
The soaring White Mountains, known in Greek as the Lefka Ori, are at the heart of West Crete's dramatically beautiful landscape and the villages in their foothills offer traditional Cretan fare in glorious abundance – that's if Chania's twinkling harbour lights and waterfront dining don't entice you first. Spring brings an abundance of flowers, turning hiking trails and gorges into welcome destinations for walkers, and in summer, the many beaches offer sun worshippers a choice of scenic locations to spread their towels.
Visit our collection of handpicked villas, Simpson Hotels and boutique hotels in Chania and West Crete to complete your luxury holiday in West Crete. 
---

Explore our pre-bookable experiences in Crete
---
Good to know...
Why not extend your stay and enjoy a few nights in Athens as part of your Greek odyssey? One of the world's most ancient cities, with a vibrant culture and fascinating history, it's the perfect addition to any holiday in Crete. To find out more, please visit our
Short Stays in Athens
page.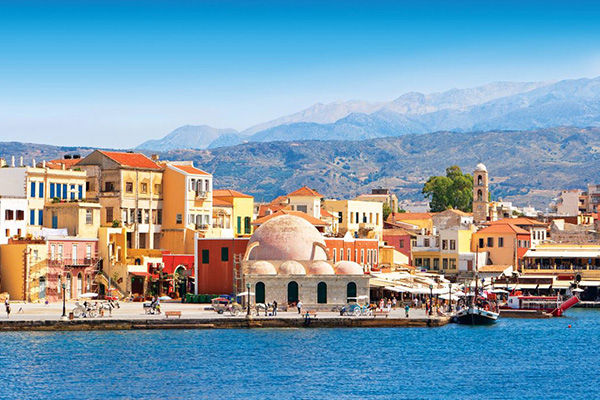 A selection of our holidays in Chania & West Crete
* Prices include seven nights' accommodation, flights and transfers/car hire, based on the lowest rate for maximum occupancy.
Our guide to Chania & West Crete
Introduction to Chania & West Crete
Ancient cities and villages
A walk through Chania, the former island capital, is to experience a city much as it was in the 14th century, when the Venetians created it – and the locals remain fiercely proud of their home. It possesses what is quite possibly Europe's most scenic harbour and a crumbling fortress best admired at night, when it provides the perfect scenic accompaniment to dinner on the waterfront. 
Plenty more architectural treasures await your discovery outside the city too. In this, the greenest part of the island, Minoan and Ottoman Turkish treasures are secreted away in sleepy little villages, where shepherds herd their sheep along crooked lanes and goats amble between olive groves.

Exotic or traditional – pick your perfect beach
For those seeking their own slice of turquoise paradise – from the wild and rugged to the pretty and peaceful – look no further than the west coast's beaches. The most popular bays are often the longest, widest stretches of sand so, even in the height of blazing August, there's more than enough room to luxuriate on your beach towel in a setting that lives up to all the postcards. One of the most exotic is the offshore bay of Elafonissi, whose blend of pure white sand and pink coral shingle makes it something of a pilgrimage for seaside lovers.
Gorge on spectacular scenery

Western Crete is home to some of the Mediterranean's most magnificent gorges – towering granite cliff faces, limestone peaks and dizzyingly deep crevices that provide an exhilarating experience (and some remarkable photo opportunities) for the ambitious hiker. The Samaria Gorge is the longest and best known; but others include Lissos, Topolia, Asfendou, Kambos, Sirikari and Sassalos.
However, if flip-flops are your holiday footwear of choice, a coastal drive is a wonderful way to take in the region's kaleidoscopic beauty, with its ever-changing valleys, coastline and the majestic White Mountains, snow-capped in spring, and tinged pink at dawn – a magnificent reward for the early riser.
Nature's grand paradise

From the heart of West Crete soar the dramatically beautiful White Mountains, so called for their snowcaps in spring and appearance of snow in summer when the sun reflects off their limestone summits. Surrounded by oak and cypress woods and steeped in myth and legend, they provided retreat for Cretan resistance fighters during the German occupation of WW2. 
Just as impressive on a smaller scale are the olive trees in Kavoussi and Ano Vouves, near Chania. The world's oldest, these 3,000-year-old wonders were used to make the crowns worn by 2004's Olympic champions in Athens. 
Turning spring into a celebration

As Cretan springtime explodes into an abundance of wild flowers and migrating flocks of birds make their annual appearance along the south coast, preparations are already underway for highlight of the island's festival calendar – Greek Easter, a moving spectacle celebrated with just as much gusto here as anywhere in Greece.
However, the village of Vamos, nestled at the foot of the White Mountains, offers front row seats to the welcoming – and often highly competitive – festivities. You might see children building bonfires and mothers and grandmothers dying eggs a distinctive blood red. Though church services are packed out, holidaymakers are always welcome.
At a glance
Currency

Euros

Flight Time

4 hours

Time difference

+2 hours

Language

Greek

Visa required

Not for UK citizens
Food & drink
A taste of West Crete
The typically Greek combination of simple flavours, homegrown produce and fruits of the sea is very much on the menu in Crete's westerly regions. Hearty local specialities include bougatsa, a cottage cream pie infused with honey or cinnamon; kakavia, a seafood stew drawing inspiration from a French bouillabaisse, and chocliol – snails, harvested in abundance all over the islands, typically served with raki, fried with rosemary and vinegar, or stewed with tomatoes. Look out stamnankáthi, a herb, usually only grown in Crete and served in the West boiled and with olive oil and lemon, leaving a pleasantly bitter taste. Not to be missed is dakos, a delicious twice-baked bread heaped with the ripest tomatoes, ricotta-like myzithra cheese and a good glug of olive oil. 
Late season visitors shouldn't miss the Chestnut Festival celebrated in Elos near Kissamos on the third Sunday in October, where chestnuts are washed down with local Tsikoudia. The shiny brown nut also makes an appearance in a popular autumnal casserole, served with mushrooms and every bit as hearty as a good Sunday roast.
West Cretan tipples
A good red, with aromas of berries, chocolate and coffee, perfectly complements richer Cretan specialties. Vintners in the dry area south of Chania use Rhône wines as their template, producing full-bodied, high-tannin, oaky cocktails by blending the Syrah grape ('Shiraz') with the indigenous Kotsifali. The digestif of choice is Raki, a highly potent clear grape spirit.
Eating locally
The waterfront restaurants in Chania are naturally more expensive than a back street taverna, but the views of the Venetian harbour, reflecting the twinkle of promenade lights under a starry night sky, are worth the premium. The city is also home to a beautiful, covered market where you'll find all the ingredients needed for an authentic, villa-cooked supper. 
The 'responsible tourism' approach of Vamos village makes for a wonderful, locally sourced dining experience. Meanwhile, the foothill villages of the White Mountains serve authentic Cretan food at non-tourist prices — try Vafes, Nippos, Stylos, Samonas and Armeni. 

Kalyves and Almyrida offer more home-cooked fare by the sea, while Kolymbari is particularly good for octopus and squid. Laid-back Paleochora is car free after dusk and nicely atmospheric for pre-dinner drinks.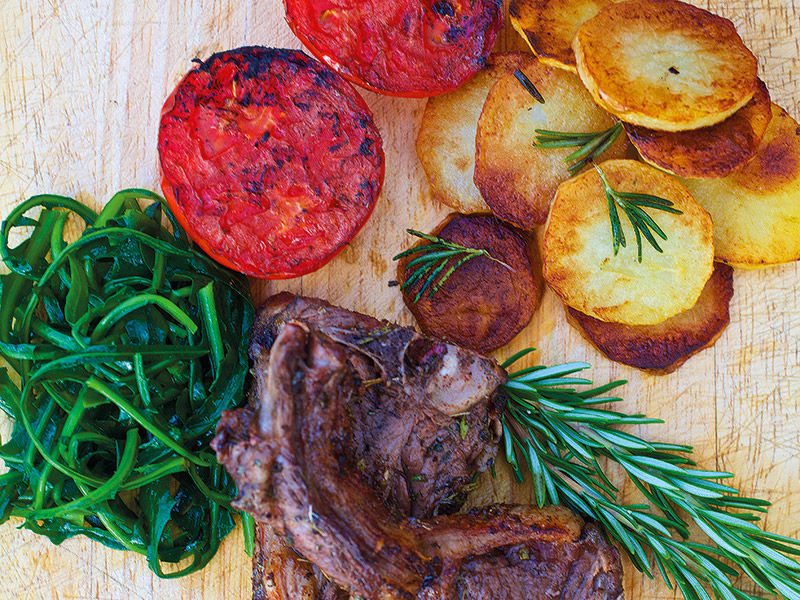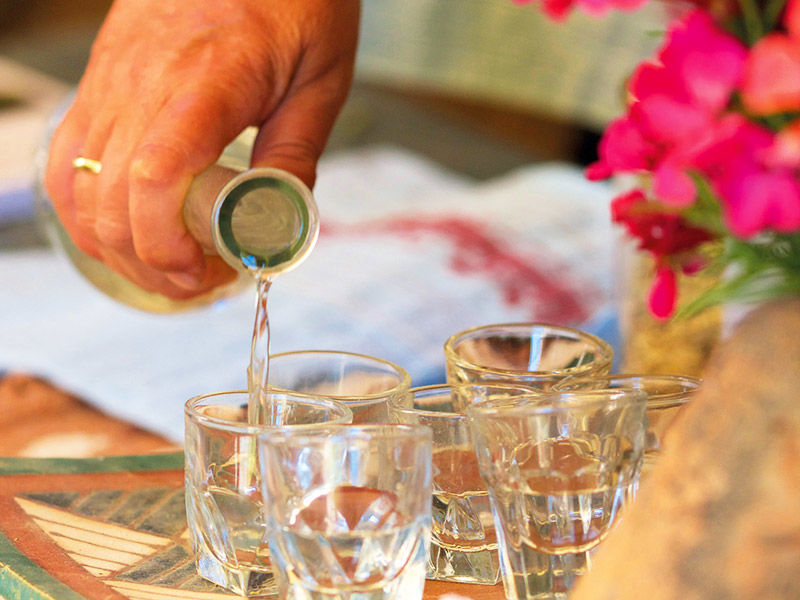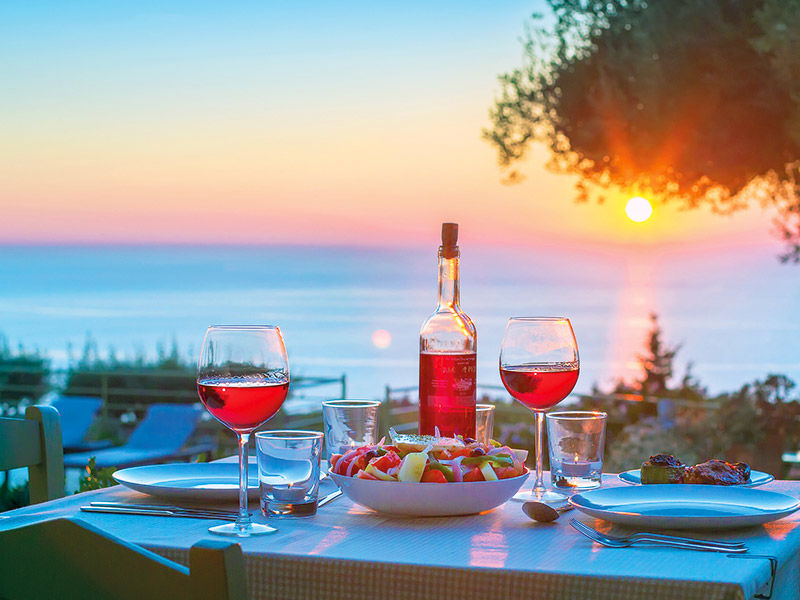 Beaches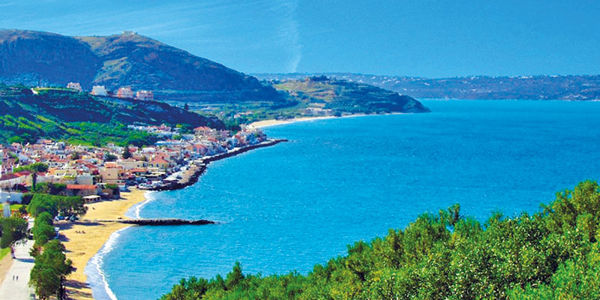 Kalyves Main Beach
Close to the harbour, with free parking and an array of good beach tavernas for a seaside lunch, this gently shelving sandy Blue Flag beach is ideal for young families. 
Getting there…
The village and beach of the same name are accessible just off the highway from Chania, 18km to the west.
Footnotes…
The large trees behind the beach offer plenty of shade. A smaller beach, found on the other side of the River Xydas, has fewer facilities and is more secluded.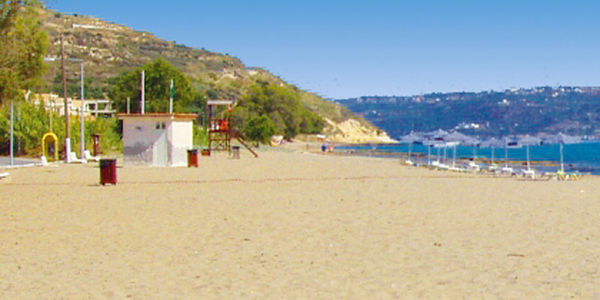 Kiani Akti
Bisected by the river Kiliaris, which brings snow water from the top of the White Mountains, this efficiently organised, Blue Flag sandy beach is a family favourite. 
Getting there…
Parking space is available, 14km and a 30-minute drive from Chania, or just 1km west of the town of Kalyves.
Footnotes…
Kiani Akti is home to a Simpson Travel favourite, the GK Beach Hotel.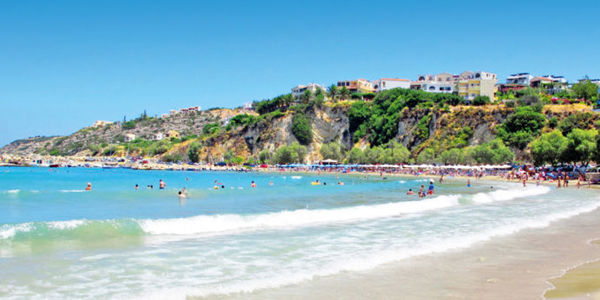 Almyrida
Gentle sloping sands make this a perfect hangout for families with little ones, while older children will adore the abundance of watersports. Lovely beachfront tavernas are perfect for a seaside lunch.
Getting there…
Located just east of Kalyves and 25km from Chania, follow signs to Almyrida, where you'll see the road winding down to the seafront. 
Footnotes…
These sands stretch for around 2km, so even when busy, families should have more than enough room to spread out and enjoy the day.
Elafonissi
Frequenting world's best beach lists, exotic Elafonissi gains its pinkish hue from thousands of broken seashells mixed among the white sands, framed by rippling turquoise waters.  
Getting there…
A one-hour drive from Chania, reach Elafonissi Island by wading from the main beach through the metre-deep lagoon.
Footnotes…
Take your snorkelling gear – the rocky inlets are a sea life haven. Facilities here are minimal, so you might want to take a picnic, though there are sunbeds and showers.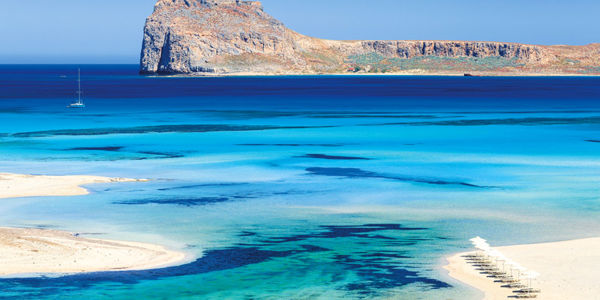 Balos
You can boat to this simply stunning lagoon and beach, but arriving by land affords you the spectacle of its Caribbean-like waters and wide, empty sands from up on high.
Getting there…
17km from Kissamos, park at the end of the dirt road to begin the panoramic descent – unsuitable for little or unsteady feet.
Footnotes…
Just as stunning as much better known Elafonissi, this is a spectacular seaside option for those who prefer their beach a little more deserted.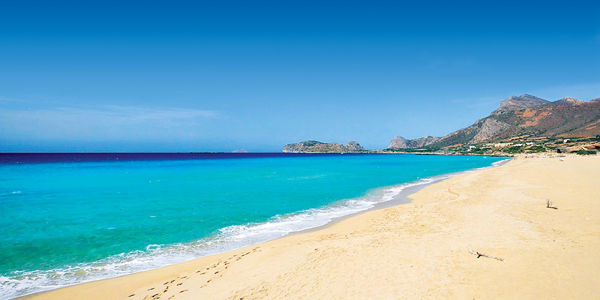 Falasarna
One of the finest west coast beaches, prize-winning Falasarna is an area of outstanding natural beauty, renowned for its variety of flora and fauna, and large enough to never feel crowded.
Getting there…
A 20-minute drive from Kissamos, a winding track leads off the coastal road and down to a spacious car park.
Footnotes…
You can hire sunbeds and parasols here and there are tavernas for lunch. The remains of a fortified Hellenistic harbour and adjacent acropolis, dating from around 333 BC, lie 1km inland.
Things to do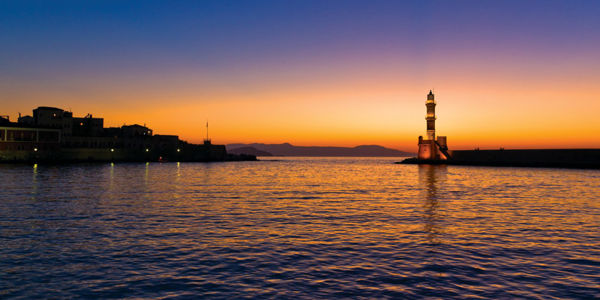 Watch sunset over Chania Harbour
Nicknamed The Venice of the East, Chania harbour is one of the prettiest in the Mediterranean and evenings are a great time to explore it. Find a waterside taverna and enjoy a drink as you watch the world go by and the sunset casts its magical glow.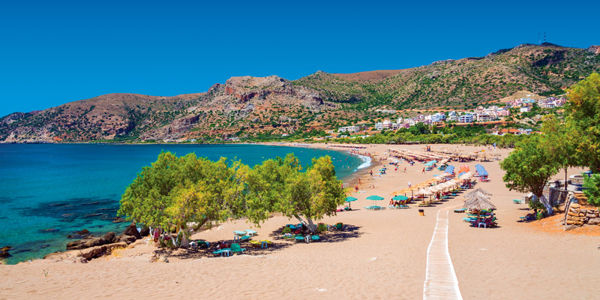 Spend a day chilling out in Paleochora
Feel the hippy vibes of this chilled peninsula as you pass dramatic mountain scenery and explore the backstreets of hillside villages and the ruins of the Venetian Kastel Selinou, destroyed by Turks in 1539. Cool off afterwards in one of the bays.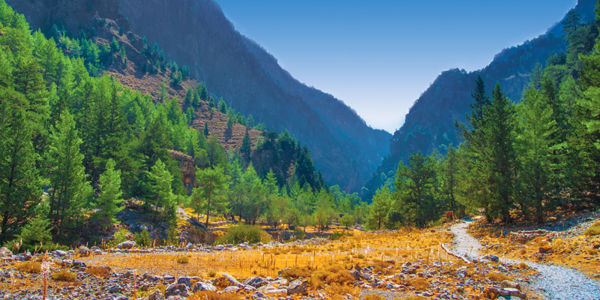 Walk the challenging Samaria Gorge
A five to seven-hour hike over rough terrain requires a certain level of fitness and walking experience, but this majestic gorge, situated in the national park of Samaria in West Crete's magnificent White Mountains, is truly worth the effort.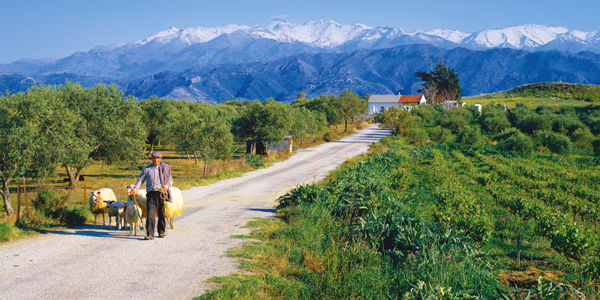 Get to know the White Mountains
Offering the ultimate in ruggedly scenic road trips and presiding over a number of E4 hiking trails, the White Mountains offered sanctuary for rebels during uprisings against the Venetian and Ottoman rulers and during WWII's German occupation – a breathtaking landscape to retreat to.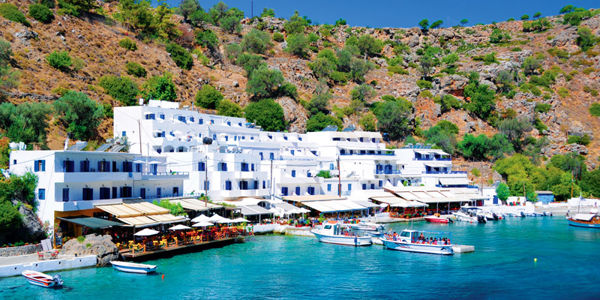 Visit pretty Loutro and Sweetwater Bay
The drive to Chora Sfakion alone makes this trip worthwhile. From there, take a boat to the traditional village of Loutro, where whitewashed buildings hug the picturesque bay. Take a dip in crystal clear Sweetwater, followed by a delicious lunch in one of the lovely waterside tavernas.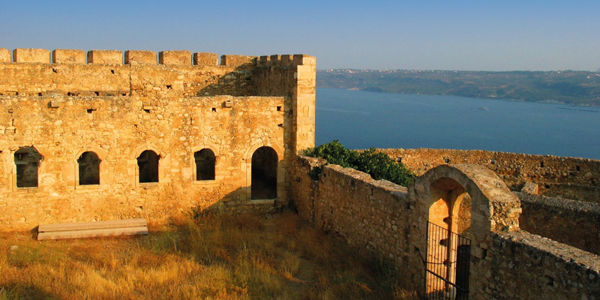 Explore Aptera Castle and ruins
An atmospheric spot above the village of Megala Chorafia, this abandoned Turkish castle is predated by the ancient ruins of a fallen Minoan civilisation and both share spectacular views across Souda Bay below. You'll find them just a ten-minute drive from Kalyves.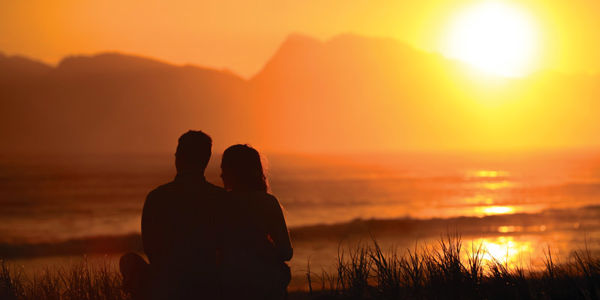 Have a sunset picnic at Falasarna
A popular beach by day, this glorious stretch of sand on the far west coast clears by late afternoon and is a wonderfully romantic setting to watch the sunset with a picnic, a glass of something bubbly and your favourite person.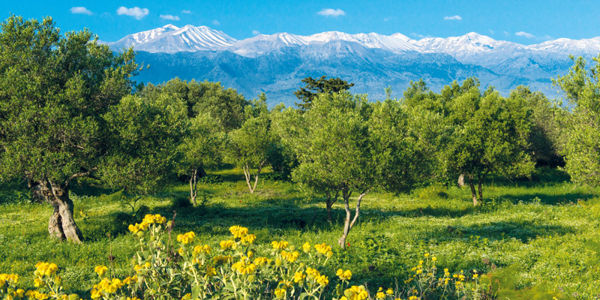 Discover mountain villages
The verdant hills of Apokronas are home to the sleepy villages Plaka, Armeni and Gavalochori – but don't miss Vamos, a delightful Venetian village in the foothills of the White Mountains, where you can stroll the old streets and complete your day with a delicious taverna dinner.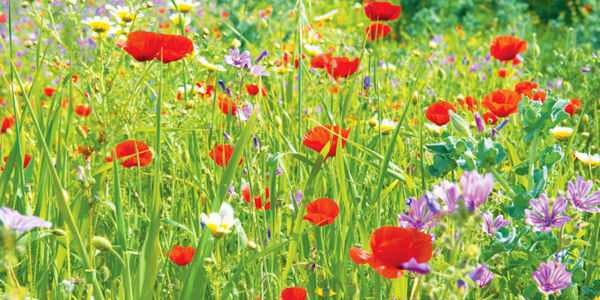 Stroll among the flowers
Crete is home to 2,000+ species of plant, many unique to the island. In springtime, the westerly hills are carpeted with daisies, poppies and budding purple thyme. If you miss this glorious spectacle, visit Fournes Botanical Park or Chania's Flora & Fauna Park, open from May to October.
Events
Easter is the biggest event on the Greek calendar, marked by traditional processions, masses and feasting. The date changes each year and is often later than in the UK.
What's on in April
23 Apr
Feast of St George, the patron saint of shepherds and the military, is celebrated with sheep-shearing contests and feasting.
What's on in May
1 May
Labour Day is a public holiday, celebrated with picnics and the gathering of spring flowers. Many shops close, but restaurants remain open.
21 May
Anniversary of WWII's Battle of Crete, celebrated in Chania with lively folk dancing and ceremonial events.
What's on in June
24 Jun
The feast of John the Baptist remembers his birth date with bonfires and widespread celebrations. It also marks the summer solstice.
Last week in Jun (in even-numbered years):
Marine Week is a national celebration with waterfront activities across Greece, including boat races and windsurfing.
What's on in July
Jul-Sep
The Chania Summer Festival is a vibrant, diverse programme of dance, art, theatre and music celebrating all aspects of Cretan life.
What's on in August
Early Aug
The Agricultural August exhibition brings together local food producers who set up their stalls in the centre of Chania. Wandering between them, there's food enough to create a late evening supper on the go.
Aug
Paleochora Music Festival kicks off the month with a ten-day musical extravaganza, featuring nightly singing contests and live concerts.
15 Aug
Assumption of the Virgin Mary (Apo Kimisis tis Panagia). The biggest religious holiday after Easter is celebrated with gusto in almost every town in Greece.
What's on in September
Sep
The Paleochora Art Festival showcases many forms of artwork and sculpture and even includes an underwater exhibition accompanied by music! 
8 Sep
The Virgin Mary's birthday (Genisis tis Panangias) is celebrated throughout Greece with religious services and much feasting.
What's on in October
Oct
The third Sunday is the Chestnut Festival in Elos near Kissamos, where chestnuts are eaten and washed down with Tsikoudia.
Oct
Raki brewing is an annual and important event in the Cretan calendar. Stills are lit and raki is brewed in households and among communities – culminating in a festival of drinking.
28 Oct
'Oxi' Day ('No' Day) celebrates the Greek refusal of Italian occupation during WWII with marches, parades and much flag flying. 
The Road Less Travelled
Get festive at full moon
In springtime, local restaurateurs lay on a Cretan feast for all to try in Kalyves harbour, accompanied by traditional Greek music. Our local representatives can give you the exact dates. If you're lucky enough to catch the summer full moon, head to hilltop Rokka, 35km west of Chania – this archaeological site puts on live outdoor music on this magical evening, in a festival that gets bigger every year.
Unlock Minoan history

Stop off on the road towards Megala Chorafia (or take a walk from Stylos) and visit the vaulted grave of an ancient Minoan ruler lying alongside a Roman pottery kiln – the only one of its kind on the island. The doorway to both these ancient monuments is padlocked, but you'll find the key hanging just next to the gate!
Sip a very special brew 

Promising to prevent and cure many an ailment, from colds to anxiety, Cretan Mountain Tea, Malotira, is especially popular in Chania. This ancient aromatic medicine is derived from the sideritis plant and translates as 'he who has the iron', hence the plant's English name 'ironwort'. You won't find it on menus, but ask and your waiter will think you very much in the know.
Take an invigorating gorge walk

Less trodden than the longer Samaria Gorge, the Imbros Gorge, a 40-minute drive from Vamos, is as jaw-droppingly beautiful as its grander cousin, but can be completed in just two and a half hours. Another option is Agia Irini Gorge, just west of Samaria. This 10km walk ends in Sougia, where you can cool off in the Libyan Sea.
Step inside a secret history

The shrine to Agios Ioannis Theologos (St John the Hermit) at Stylos is a relatively unknown Byzantine church, a little off the map but well worth a visit. Somewhat unkempt, the church has delicate wall frescoes and the feeling of experiencing museum artefacts in their place of discovery is enhanced by the presence of the fossil of a Cretan pygmy elephant just at the entrance!