Explore holidays in Central Corsica
This beautiful region is the perfect choice for those who like to get off the beaten track and explore the wilder side of the island. Home to the largest chestnut forest in Europe, the steep landscape is dotted with tiny hamlets and the occasional vineyard. Take a gentle walk along the cobbled streets in the mountain citadel of Corte or enjoy the fresh air and pastoral charm of the vast protected Corsican Parc Naturel with its wild boar, deer and wildcats. 
To help you make the most of your holiday in Central Corsica, we're delighted to have found Villa A Murza, a contemporary country house that's perfect for families.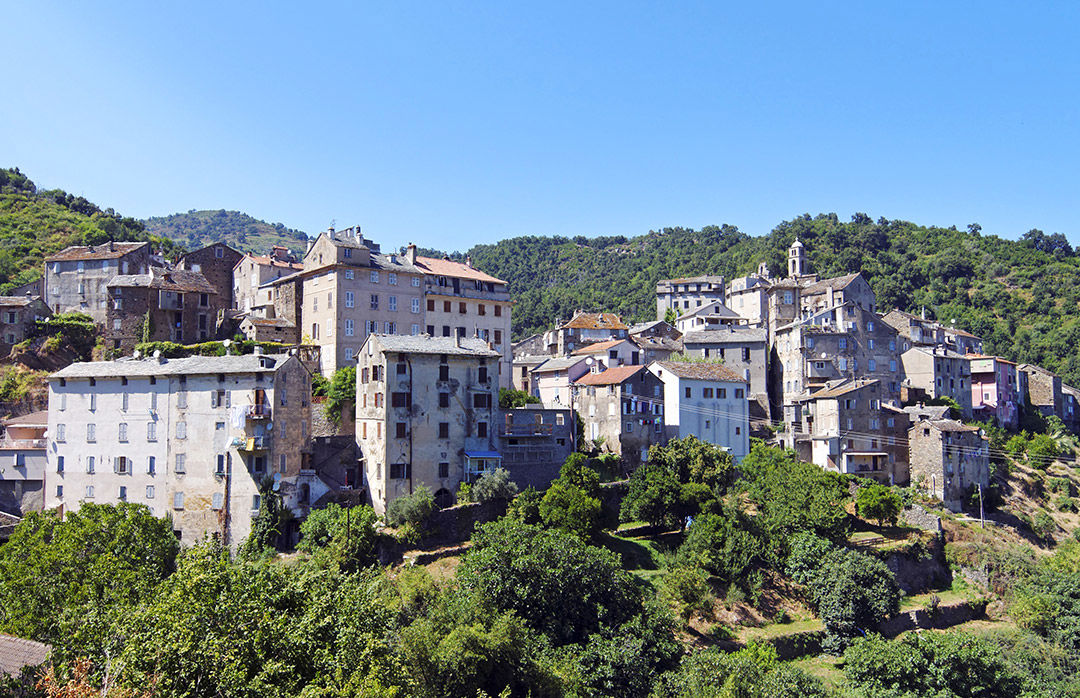 A selection of our holidays in Central Corsica
* Prices include seven nights' accommodation, flights and transfers/car hire, based on the lowest rate for maximum occupancy.
Our guide to Central Corsica
Introduction to Central Corsica
Corsican contrasts
Central Corsica is ideal for exploring the island's wild interior, whilst remaining just a day-trip away from the busier city of Bastia on the coast. Inland, Castagniccia's twisting lanes slowly take you back to simpler times: discover hillside hamlets, olive groves and Europe's largest chestnut forest. The Parc Naturel boasts an abundance of wild boar and birds and, amidst its craggy peaks, fortified towns with stunning views – the citadel of Corte is particularly impressive. Aléria has a well-preserved ancient fort and, a further five minutes away, a choice of virtually-untouched beaches.

Walks and waterfalls
Throughout the region, there are walks and hiking trails to suit all tastes and ability levels. Many regard the cross-island (north to south) GR20 route as one of Europe's toughest long-distance trails, although lesser mortals can try just a part of the trek. For example, the trail from the small town of Vizzavona and through the nearby forest leads to the Cascade des Anglais (Waterfall of the English), where a series of rock pools offer the opportunity for a refreshing dip. There's a plethora of shorter way-marked paths too, as well as the routes highlighted in our "Walks" section.

A taste of port life
At the base Cap Corse, sits Bastia, Corsica's second largest town, a bustling port with a thriving local community. Farmers gather each morning in the Place du Marché offering their pick of local produce and the expansive, café-lined Place St Nicholas is the perfect spot for a leisurely drink before you strike out into the characterful Old Town with its inviting restaurants or explore the shops along the nearby Boulevard Paoli or Rue César Campinchi. And being close to the sea has its advantages, with the possibility of sailing, wind and kite surfing, canoe and sea kayaking should the mood take you.
Oysters, wine and history
Oysters (huitres) have been cultivated at the natural inlet of L'Étang de Diane since Roman times. Nearby, Aléria features the ruins of a town dating back to that time plus a fort built in the 16th century that now includes an excellent museum. Since the area is both a foodie hot-spot and historical high-point, when tired of the culture you can enjoy your shellfish (and other culinary delights) with an excellent, locally-produced wine. The eastern side of the island has over 20 vineyards approved for their quality, and our Simpson Travel villa is surrounded by wineries.

Culture captured in Corte
The mountain stronghold of Corte, just a 30-minute drive away, embodies Corsica's cultural heritage – and its future. Seemingly carved from the surrounding granite, the town is a maze of narrow, cobble-stoned streets that stretch up towards the citadel where you'll get fantastic views over the valleys below. Once the capital of Pascal Paoli's Republic, Corte remains fiercely Corsican, despite the influx of national and international students attending the island's only university. Corte also thrives as a destination for tourists, of course – especially those keen on hiking, canyoning and mountaineering. And everybody enjoys the cafés, restaurants and bars that create the pleasantly bustling, cosmopolitan atmosphere.
At a glance
Currency

Euro (€)

Flight Time

2 hours 30 minutes

Time difference

+1 hour

Language

French and Corsican

Visa required

Not for UK citizens
Food & drink
A taste of central Corsica
Oysters are the must-try seafood here – the fruits of L'Étang d'Urbinu and L'Étang de Diane, but don't miss the traditional falculelle, small cakes baked on a chestnut leaf, which originated in nearby Corte. Otherwise, local cuisine follows the typical Corsican menu, with ingredients defined by the maquis, the dense shrubland covering the island's rugged interior. It provides plenty of wild pickings to fill the larder. Chestnut features strongly in recipes, the fruit of the trees is simmered in stews and made into unctuous sweet spreads and preserves and the smoky, nutty flavour of chestnut flour enhances everything from bread to beer. Most towns have a weekly food market – look for the symbol of indigenous cuisine, a Moor's head wearing a blindfold as a bandana. You can also find fresh and artisan produce at the roadside shops specialising in 'Produits Corse'.
Corsican tipples
The island's growing reputation for fine wine embraces those from Patrimonio, Ajaccio, Sartène, Clos Canarelli, Fior di Lecci and Torraccia. An alternative ape?ritif to pastis is myrte: eau de vie macerated with sugar and myrtle berries from the maquis. The local beer, Pietra, is as refreshing as the locally-sourced carbonated water (Orezza).
Eating locally
You'll find several eateries dotted along the main street of nearby Aléria, although our guests often recommend some of the town's other offerings, which range from a restaurant and snack bar in the historic centre ("Old Aléria") – a short distance away south, on the hill – that's used by locals, through to the two beach-side restaurants on Aleria's own patch of sand.
A five minutes' drive south of Aléria, there's a turning that leads to a restaurant renowned for its shellfish – perhaps not surprisingly, given its position in the centre of the lagoon of L'Etang d'Urbinu. A little further south, Ghisonaccia is a good spot for authentic dining: this small town's abundance of small bars and restaurants cater to local (rather than tourist) tastes. The "Route de Sens" branches off the main highway south and leads you into the mountains. Along the way, there are vineyards and orange groves as well as a number of small "bergerie" restaurants usually only frequented by the islanders. Or make the half-hour drive to Corte for Michelin-star cuisine, charming auberges, bistros and wine bars.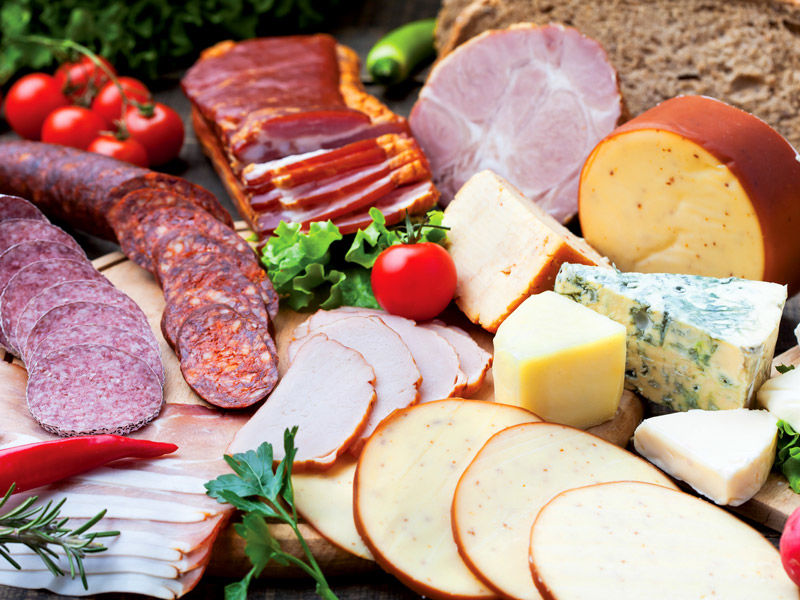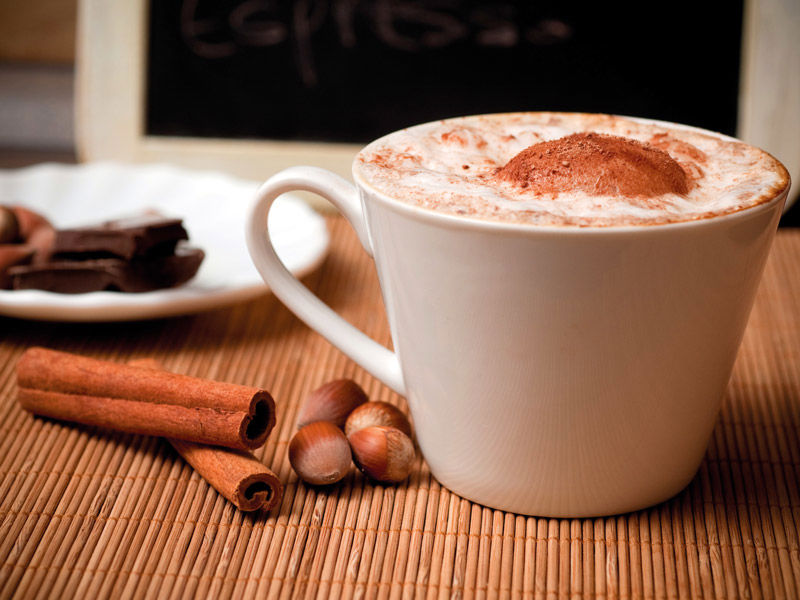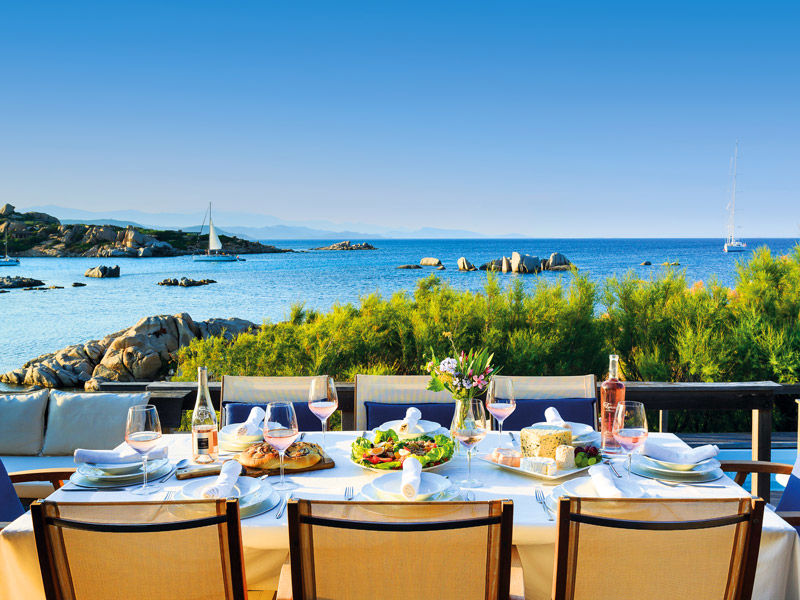 Beaches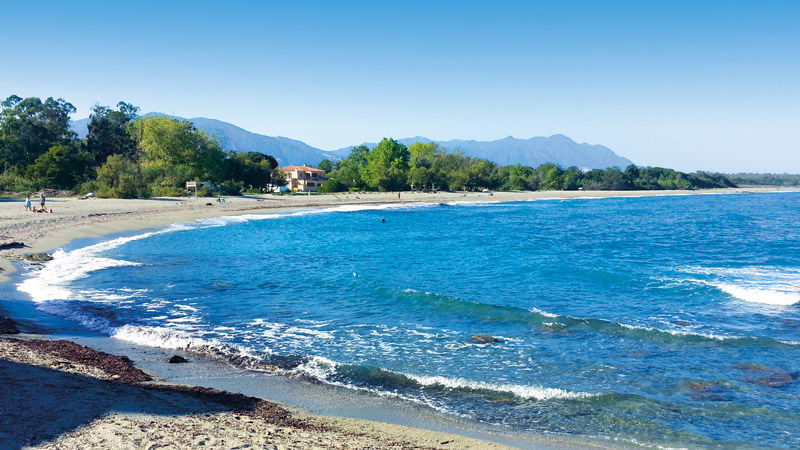 Bravone-Linguizzetta
This 2km stretch of fine sand has a rocky cove to the south and a small naturist area at the far northern end.
Getting there...
Take the T10/N198 north from Aléria for about 13km then head east towards Marine de Bravone. You'll find this little holiday village with steps straight down to the beach.
Footnotes...
There are no facilities here, so bring your own shade and a picnic.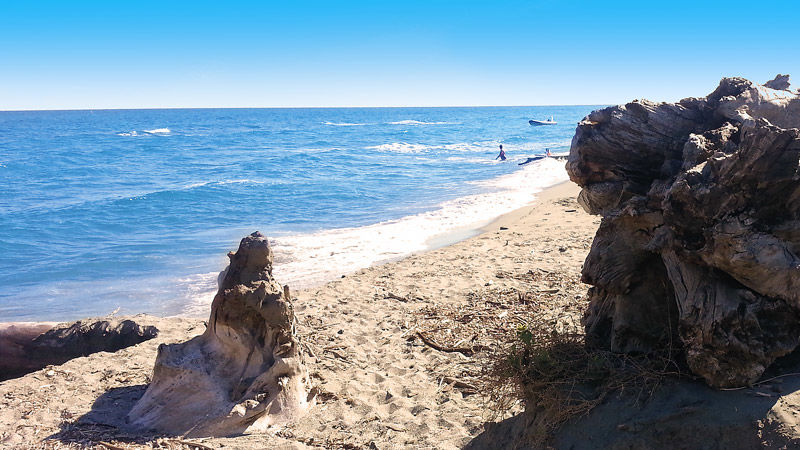 Aléria
The beach huts at the heart of this long sandy beach divide its busier, southern end and quieter, untamed north that borders a forest and extends to Mare e Stagnu.
Getting there...
Turn right onto N200/T50 and go straight across at the Aléria crossroads. After a further 3km, there's free parking.
Footnotes...
There's a choice of restaurants in high season. The southern part is busier, due to a large campsite nearby. This is the best beach for young families.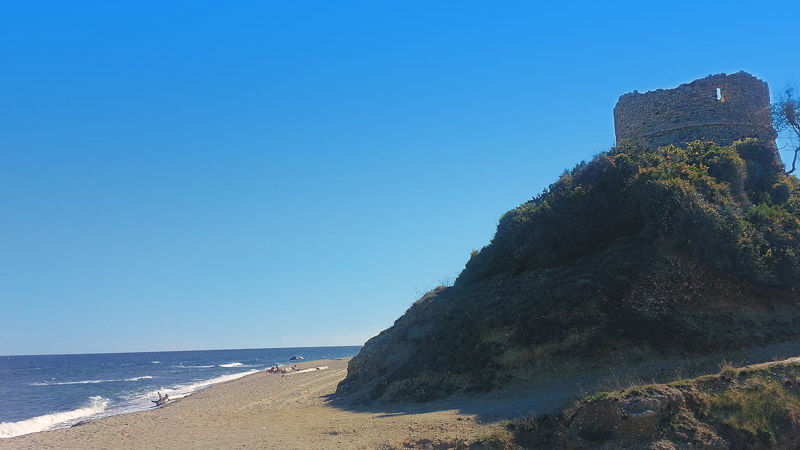 Mare e Stagnu
An impressive stretch of sand directly in front of the Étang de Diane. A small tower marks the parking area – a spot that offers great views over the lake, sea and beach.
Getting there...
Drive towards Aléria, going straight across at the crossroads heading toward the beach. Turn left off the N200/T50 (among the vineyards) and left again before the domain/factory towards the beach bar (La Paill Hot). Further on, you'll find more parking and the tower.
Footnotes...
This untamed beach gives you plenty of room to relax.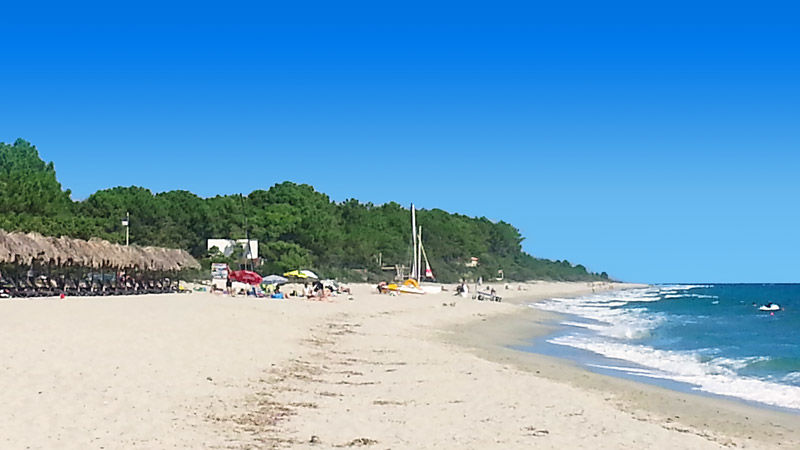 Vignale
Just 4km away from the small town of Ghisonaccia, this attractive, more commercialised sandy beach offers a beach café, some watersports and a lifeguard in high season.
Getting there...
Take the D144 from Ghisonaccia until you see the sea and a large, free car park 100m from the beach.
Footnotes... 
Can be quite busy in summer, but not over-crowded as the sand stretches to the horizon.
Quercioni
Bordered by low dunes, this long, unspoilt sandy beach has little shade so take a parasol and drinks.
Getting there...
South of Ghisonaccia, across the Pont de l'Abbatescu, turn left at Mignataja and, 500m further on, turn right at the intersection.
Footnotes...
Don't be surprised if you see a cow or two. The beach is affectionately known as the Plage aux  Vaches by the locals.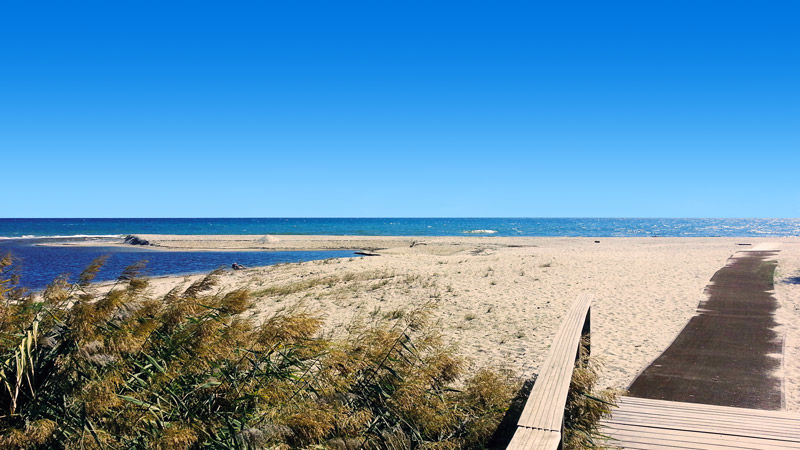 Calzarellu
This sandy beach extends from the right bank of the Étang de Gradudine to the mouth of the Fium'orbo. In high season, you'll find a café, snack bar and lifeguard.
Getting there...
Take N198/T10 south from Ghisonaccia. At roundabout after the Casino supermarket, turn left onto D244 and continue for 3 km.
Footnotes... 
There's a large area of shaded parking (free) a few metres from the beach and, during high season, a path offering wheelchair access down to the sea.
Things to do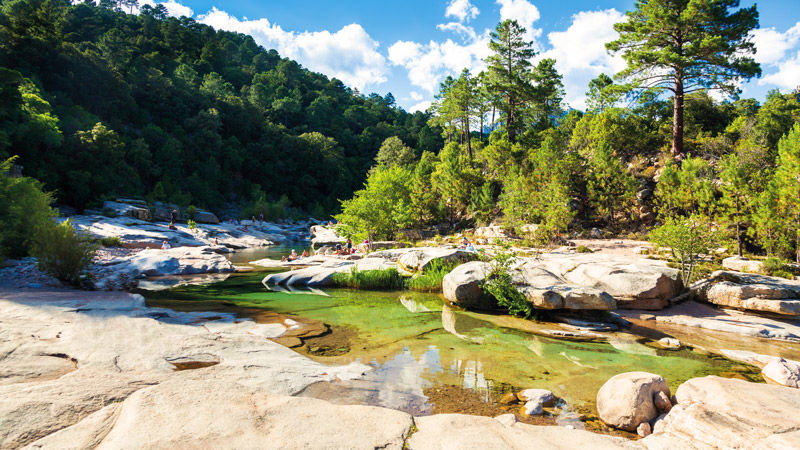 Picnic dips at San Giovanni Genoese Bridge
Set back slightly from the N200/T50, this attractive bridge has plenty of parking places and picnic tables. A short walk up-river brings you to a choice of flat rocks that are ideal for sunbathing and dipping your toes into the water.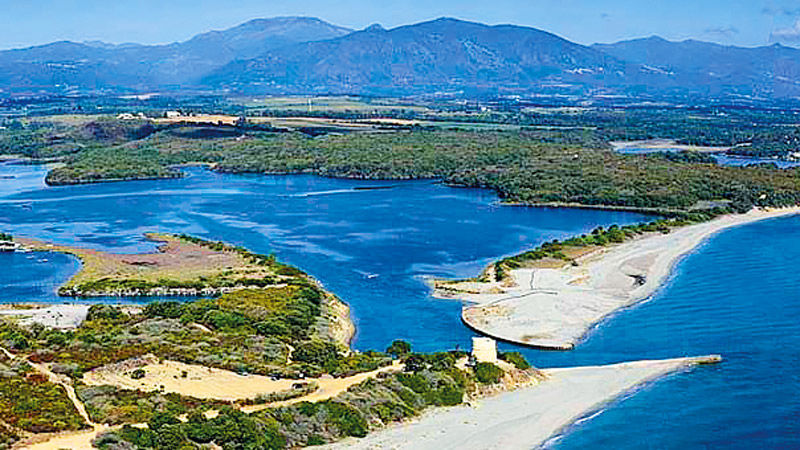 Fish – and fishing – at L'Étang d'Urbino
The lagoon's restaurant serves good seafood lunches and loans nets to children for fishing from the quay if feeding the larger fish breadcrumbs isn't enough. Adults can browse the boutique selling chic clothing and locally made gifts.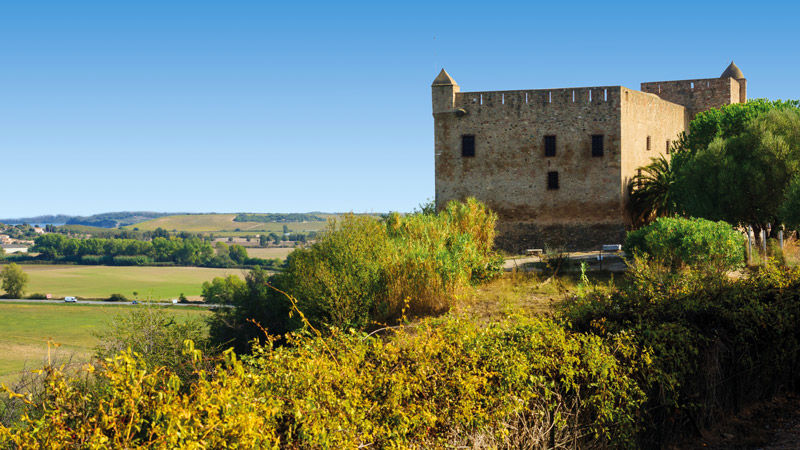 Archaeology in Aléria
The site of Roman and Greek settlements, Aléria has an archaeological museum, a 16th-century Genoese fort and Roman ruins. The lovely countryside views are an added bonus.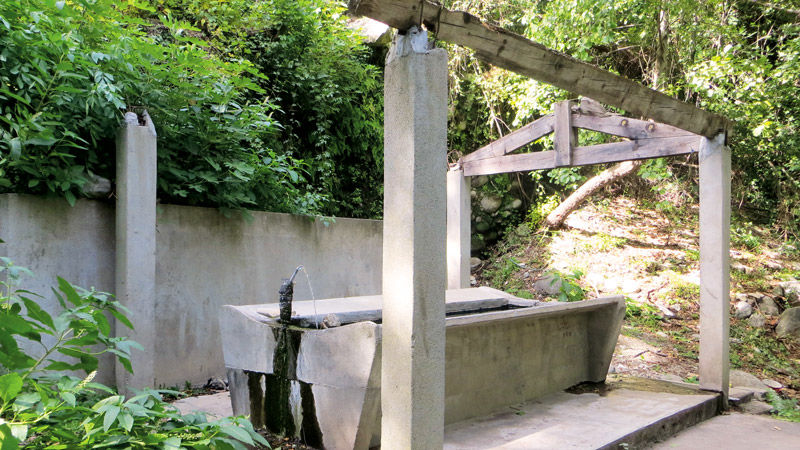 Hot springs at Pietrapola les Bains (near Prunelli di Fiumorbu)
Walked, climbed or cycled too far? Ease your aching limbs – and rheumatic pains too, it's claimed – in the toasty 55°C waters of these naturally heated thermal baths.
Adventures at Forest Parc
Near Solenzara, rock climbing and a high-rope course (the Via Ferrata) above the river add up to adventure for all ages, including a junior park for children aged three to eight.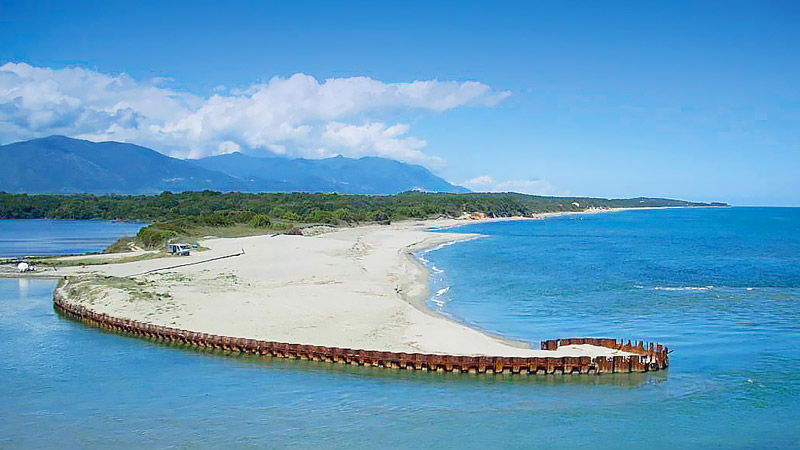 The natural world of l'Étang de Diane
This beautiful and peaceful lagoon is ideal for quiet reflection, a relaxing dip or a spot of bird watching. And it's also the place to go if you enjoy eating oysters.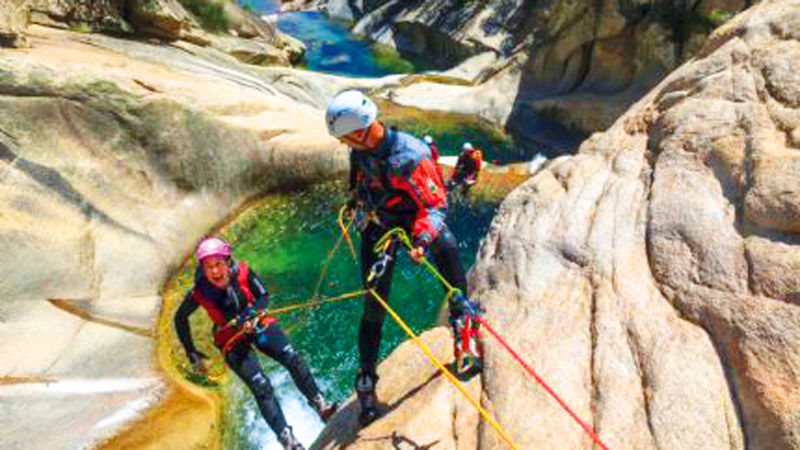 Canyoning from Corte...
This region's natural habitat is ideal for canyoning: jumping into rock pools and rivers. Experienced guides lead groups along routes like the Tavignano – an 80-minute hike from Corte followed by an aquatic descent of big jumps and long swims.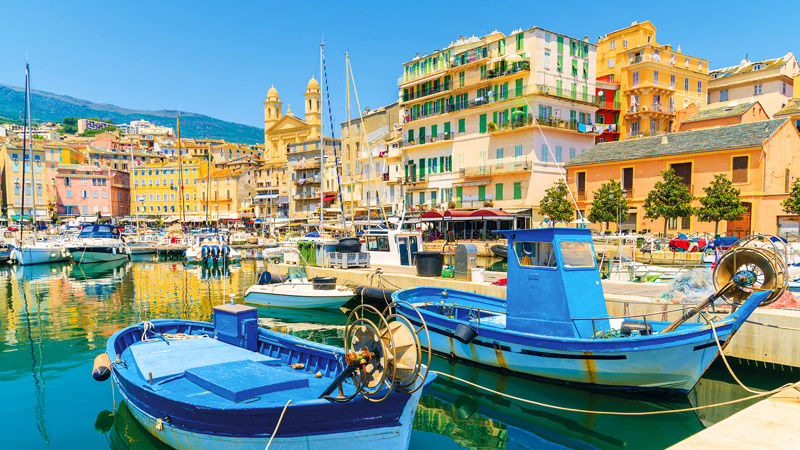 Boats and bars, in Bastia
The old town of narrow streets and historic architecture is worth the visit alone, but there's more. A vibrant harbour hosts restaurants and bars as well as boats and there's a lively atmosphere (and lovely food) on Place du Marché too.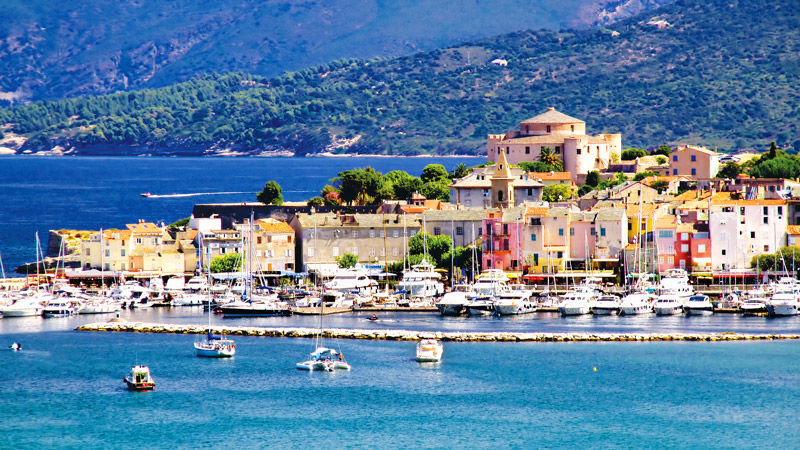 See the sights of St Florent
Although small, this seaside town has much to offer: a busy harbour, from where you can take a boat to the silver sands of Saleccia Beach; shops, cafés and restaurants; a citadel and cathedral. Oletta, a nearby village, features artisan workshops.
Helpful phrases
| | |
| --- | --- |
| Hello | Bonjour? |
| Good-bye | Au revoir |
| Please | S'il vous plaît? |
| Thank-you | Merci |
| Yes | Oui |
| No | Non |
| How are you? | Comment allez-vous? |
| I'm fine, thank you | Je vais bien merci |
| I don't understand | Je ne comprends pas |
| Do you speak English? | Parlez-vous anglais? |
| My name is... | Je'm'appelle... |
| The bill, please | L'addition, s'il vous plaît |
| How much is it? | C'est combien? |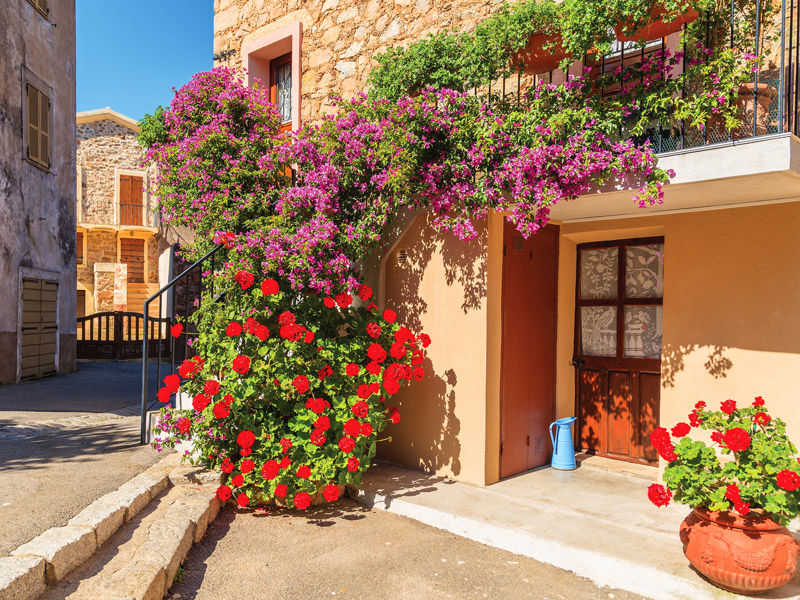 Events
What's on in May
1 May
Labour Day – Banks, post offices and other government buildings close, as well as most shops.
8 May
Fête de la Victoire/Victory in Europe Day – a public holiday.
29 May
Ascension Day – a public holiday.
30 May-27 Jun
Bio en Fete – a series of open days at various organic food producers around Ghisonaccia.
What's on in June
4 Jun
Corsican Culture Festival at Prunelli di Fiumorbu – a special evening market featuring local food, wine and crafts.
8 and 9 Jun
Pentecôte/Whit Weekend – a public holiday.
20 and 21 Jun
Fête de la Musique – amateur and professional musical events throughout Corsica.
What's on in July
14 Jul
Bastille Day – a public holiday, with late night fireworks at major towns.
17-24 Jul (2016)
Les Nuits de la Guitare, Patrimonio – popular annual guitar festival in the village amphitheatre, which has featured international stars such as George Benson and Jeff Beck.   
What's on in August
8 and 9 Aug
Prunelli di Fiumorbu Jazz Festival – live jazz and flamenco concerts.
First fortnight of Aug
Musicales de Bastia, featuring live music and performances at the Théatre Municipal and in the Place St Nicholas.
Third week in Aug
Festival Pascal Paoli, a traditional Corsican music festival.
The Road Less Travelled
Take the road less travelled
We asked our representatives to share a few of their favourite 'off-the-beaten track' Central Corsica experiences. Here are some of their suggestions...
Slow road to tortoise village
This two-hour round trip takes you into the remote mountain village of Asco, famed for its Genoese bridge and the tranquil bathing and picnic spots nearby. The road up is popular with cyclists who like a challenge, as well as those interested in Le Village des Tortues – a sanctuary for the native Hermann's Tortoise, working hard to re-introduce the species into the wild.
No anti-climax at Antisanti
There's a small turning off the N200/T50 heading toward Aléria, signposted for Antisanti – the region's highest point. The town has a few cafés suitable for a midday snack before you drive to the TV mast, park near the base and walk up the road to the peak. Once there, you can enjoy breathtaking views towards Corte on one side and the ocean on the other.  
Hike and swim, in Restonica Gorge
The Restonica River gives this stunning gorge its name and character: rugged rocks, waterfalls and natural pools. Drive down the narrow road off the D623 from Corte to the parking area and snack bar. Take the 8km trail to Lake Capitello: the first half rises quite gently, the remainder's more challenging so walking shoes are essential. A dip in the lake is your reward.
Go wild around Inzecca
This rustic region is full of wild beauty and things to do. Follow the winding D69 and admire the grey, green and pink rocks flanking your side and head towards the D344 to enjoy the charm of unspoilt mountain villages (between Pinzalone and Vezzani). Explore the natural pools at Inzecca Lake and along the Fium'Orbu River and see the attractive Genoese bridge near Ghisoni.
Come to the cathedral at Cervione
While more sober in design than some Baroque-style churches, Cervione's Saint Erasmus Cathedral is still an impressive structure that features some fine frescoes. The town itself is perched on the slopes of Monte Castellu and a magnificent sight too: viewed from sea-level, it looks as though the mountain and the village are connected to the ocean, with the vast plain in between non-existent.