A guide to the Aquitaine Coast
A guide to the Aquitaine Coast
World-renowned surf and glorious sandy beaches, up-market seaside towns and superb cuisine; this rich and varied landscape appeals to families and foodies, dare-devils and dawdlers. From the glamour of Biarritz to the laid-back panache of Hossegor and Cap Ferret, the atmosphere along this magnificent stretch of Atlantic coast has got everybody talking.
Hossegor and The Landes Coast
If you're California dreaming but can't face the flight times, Hossegor ticks all the boxes. Home to the longest stretch of sandy beach in Europe, it's a natural playground for families with children young and old.
A world-renowned mecca for surfing enthusiasts, the easy-going vibe extends way beyond the beaches. Just a short stroll inland, meandering forest pathways and tranquil salt water lagoons are the backdrop to a whole host of gentler pursuits and with 160km of marked cycling trails, the area has a healthy lifestyle at heart. From paddle boarding and kayaking, to horse-riding, karting, quad-biking and tennis; there are limitless ways to delight in the great outdoors. Foodies will relish Hossegor's eclectic mix of bars and restaurants, where feel-good modern fare meets indulgent gourmet cuisine and oyster shacks are the perfect setting for the local speciality at any time of day. Style-conscious teens will love exploring the trendy shops and boutiques whilst the celebrated fish market and waterfront bistros in nearby Capbreton will delight those in search of a more genuinely French experience.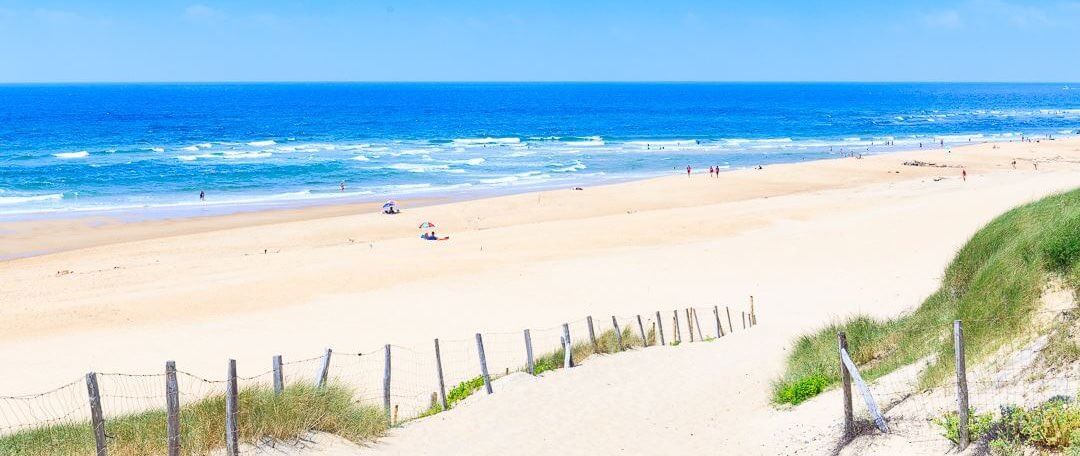 Enjoy... Sunset drinks at a beach shack
The Sud Landes beaches do a nice line in beach shack bars, offering a variety of tempting dishes on the side. Choose your shack for tapas, pizza, oysters or local seafood and wash it down with a glass of Sauvignon Blanc as the sun sets over the yardarm.

Two to view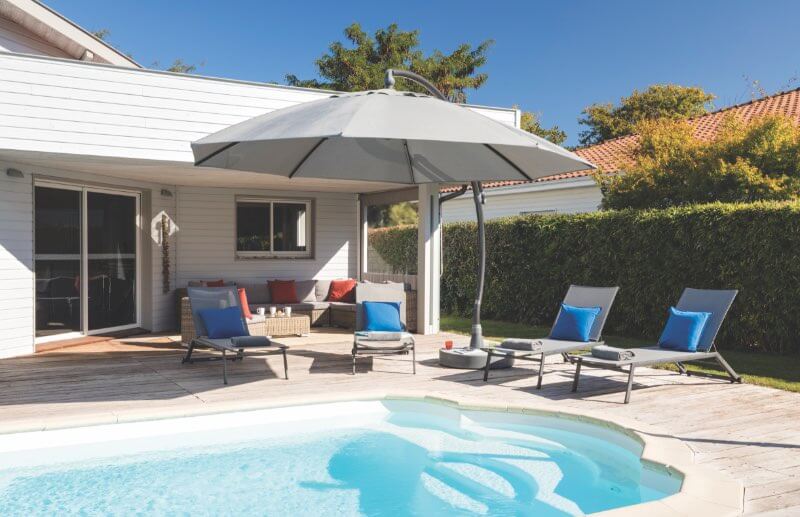 This light and airy family-friendly villa with private pool is ideally situated in a lovely residential area within easy walking or cycling distance of Hossegor's excellent restaurants, bars and world-class beaches.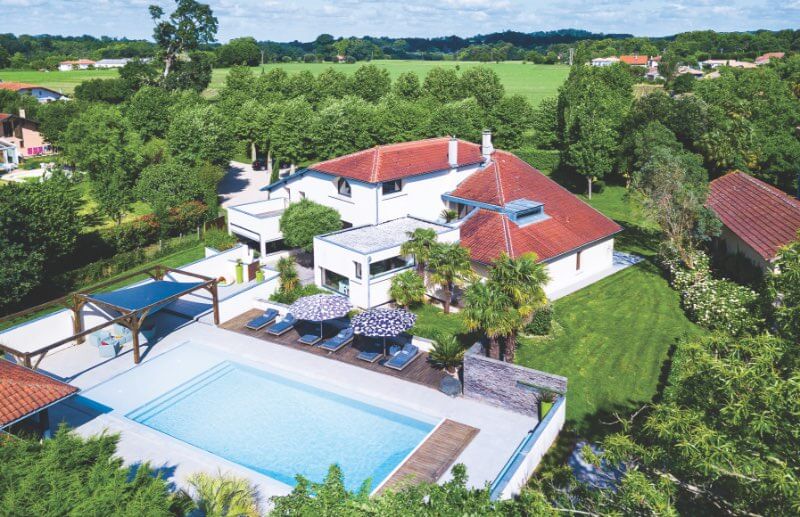 An elegant Landaise farmhouse, superbly renovated with sophisticated family living in mind. Striking contemporary interiors, extensive enclosed gardens, games room and home cinema combine to give this house an extra special je ne sais quoi.


---
Cap Ferret and The Arcachon Bay
From the unspoilt beaches and pine forests of the Cap Ferret peninsula, to the serene waters of the Bassin d'Arcachon, where the gentle pace of life ebbs and flows with the tides, this astonishing coastline blends natural beauty and laid-back chic to perfection.
These two upmarket seafront towns face each other across a dazzling bay, with a regular timetable of boats to glide you back and forth between the two. There are numerous options for elegant waterfront dining and the 10,000 tonnes of oysters that are farmed in the bay each year mean the local speciality is never off the menu. The charming villages ostréicoles are a riot of colour; their tiny wooden cottages draped in bougainvillea, with glimpses of the oyster beds beyond. Though the big swell off the west coast of the Cap Ferret peninsula attracts thrill-seekers, the beaches around Arcachon bay are ideal for families, with calm seas, shallow waters and the enchanting 'petit train' to take you to and fro. And with a zoo, an aquapark and an adventure park nearby this delightful region has everything you need to please tots, teens and somewhere in-betweens.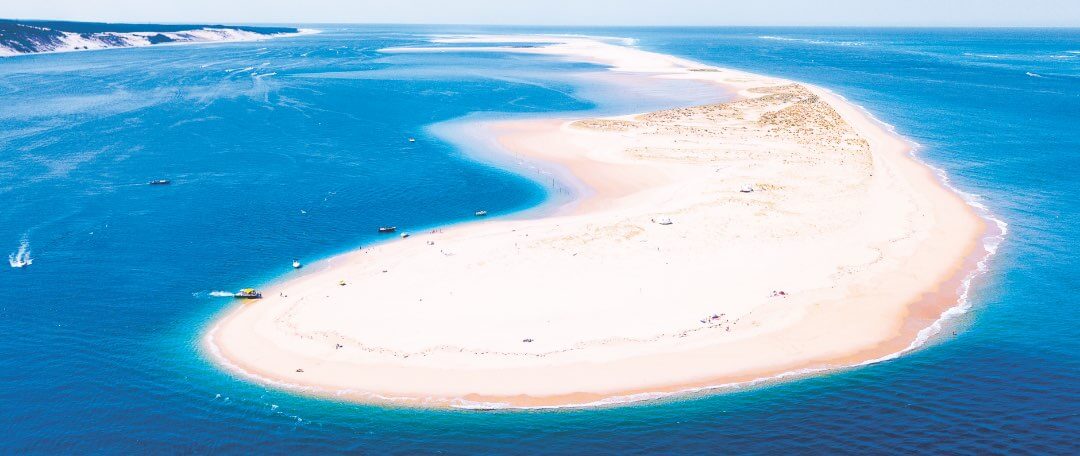 Enjoy… A table with a view
Chez Hortense is a Cap Ferret institution and the views across the bay to the Dune du Pilat are to die for. The place for ultra-fresh, perfectly-prepared seafood; accompanied by copious quantities of frites and a little drop of vin rosé.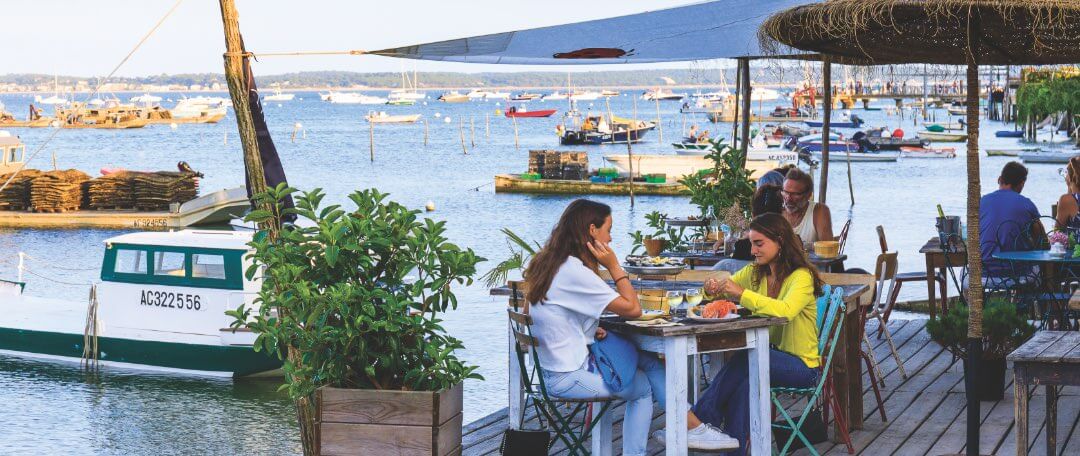 Two to view
An outstandingly located villa right by the waters of Cap Ferret's pine-covered peninsula. Characterful and charming with direct access to the glorious sandy beach from your own front garden. It doesn't get any better than this!
Just a few minutes' walk from the beaches of Arcachon's desirable 'Moulleau quartier', with a ferry on hand to whisk you across to Cap Ferret; this stylish ground floor apartment enjoys a lovely enclosed garden and private jacuzzi.


---
Biarritz and The Basque Country
Biarritz is synonymous with the glitz and glamour of the Belle Époque but the wider region offers an intoxicating blend of ancient towns and rustic villages, wild Atlantic beaches and idyllic child-friendly coves.
A combination of French elegance and sophistication, with a touch of Spanish flamboyance, this fabulously diverse region has a rich cultural heritage and an awe-inspiring landscape. While Biarritz appeals to surfers, bon viveurs and fashionistas, the majestic beauty of its surrounds attract a more considered crowd. The painted chalet-style houses of the Basque villages are a fascinating reflection of the region's history and the museum in Bayonne is well-worth a visit - if you can tear yourself away from the town's celebrated chocolatiers! There are opportunities for canyoning, white water rafting and pony trekking in the foothills of the Pyrenees whilst the impressive geology of the coastal path is a joy for cyclists. Children will love the well-organised beach clubs near Biarritz along with the aerial walkways and tree-top hideouts at WOW park, set in 18 acres of botanical gardens near the gentle waters of St Jean de Luz Bay.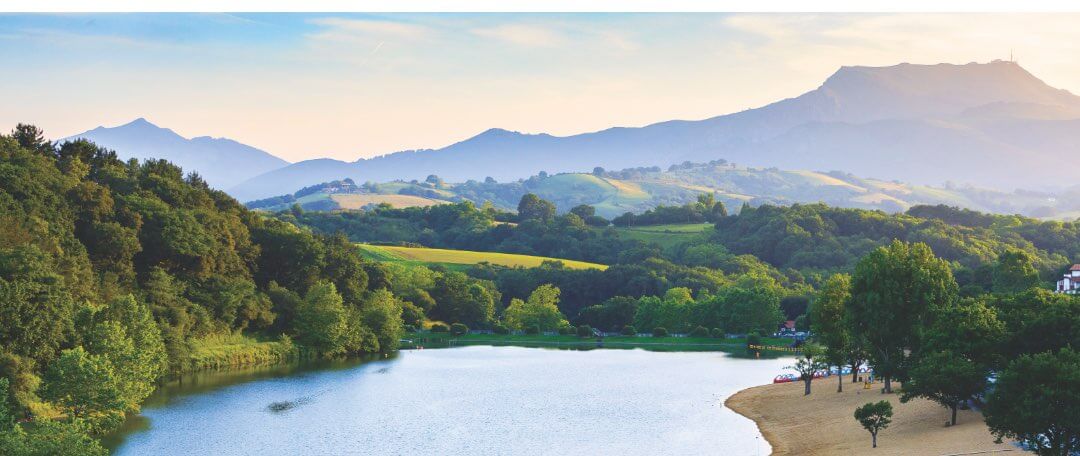 Enjoy... An aperitif at the Hotel du Palais
This grand palace dating back to 1855 was once the home of Napoleon III. Now Biarritz's most famous hotel opens its doors to guests, and what better way to sample the refined atmosphere than with a little livener on the terrace?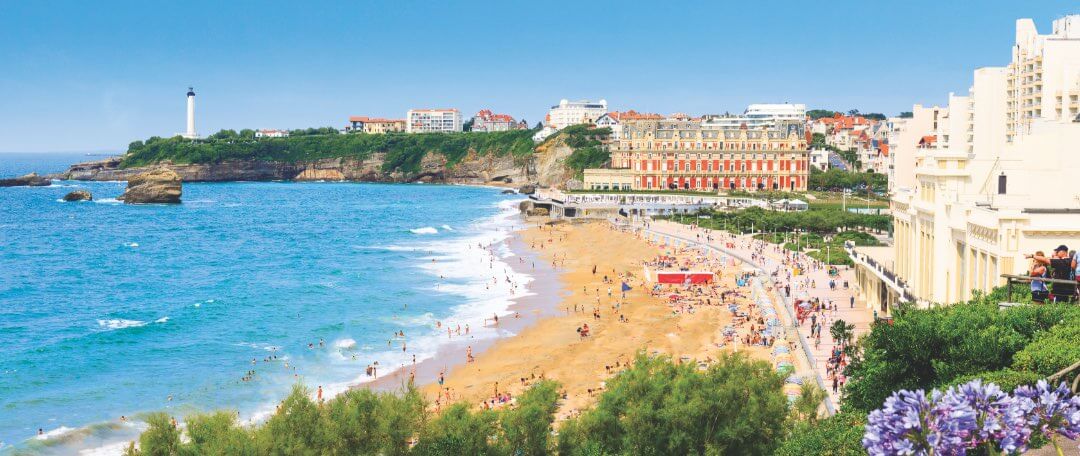 Two to view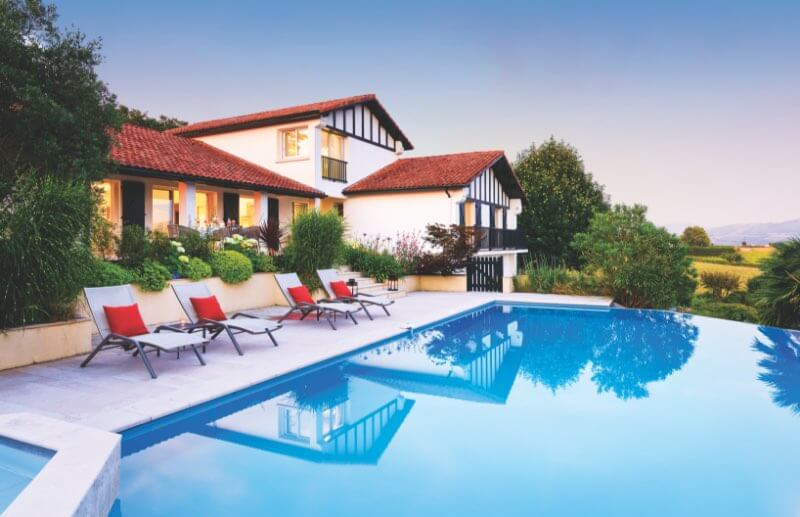 In the heart of the Pays Basque with views towards the Pyrenees, the traditional exterior of this luxury villa hides a wealth of high-end contemporary features including hammam, games room, bar and home cinema. Simply stunning!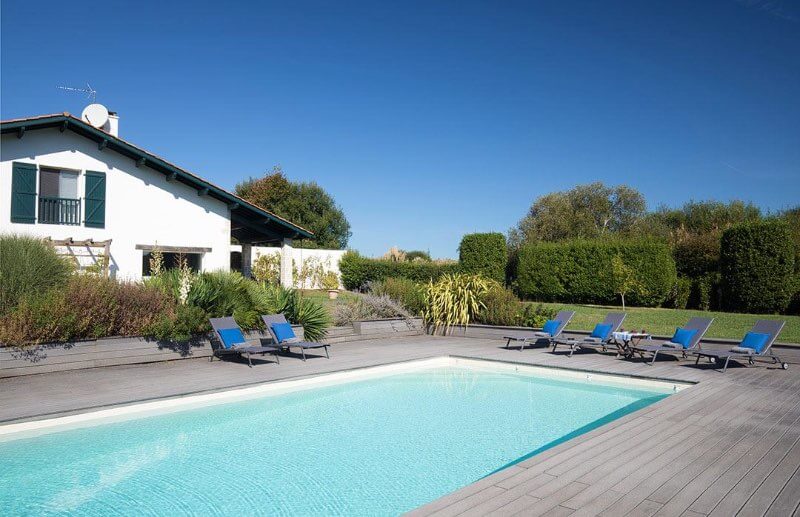 Within walking distance of the local restaurants and beaches this airy contemporary villa, with heated pool and lawned-gardens, makes an excellent base for a larger group, just a five-minute drive from the up-market attractions of Biarritz.