Small intimate Simpson Hotel
Stunning waterside location
4 Adult Only suites
Older children welcome when all 4 suites booked together
Set on private 4-acre peninsula
Complimentary yoga once a week
Good to know... 
Shorter breaks are sometimes available but don't always show up in our search. For more information on flexible stays of three nights or more, please call
020 8392 5858
.

When Aristotle Onassis bought Skorpios in 1963 he had the means to purchase almost any uninhabited island across the globe. But he chose this magical, undiscovered spot in the Ionian for its astonishing beauty and, one can only assume, because its larger neighbour, Meganissi was not for sale. Because if it is astonishing beauty you are looking for, you will be hard pushed to beat Keromoussi. A stone's throw from Skorpios and magnificently situated on its own four-acre peninsular with truly breath-taking sea views at every turn, it is just the kind of barefoot-chic, intimate retreat you might expect to find on a private island; with the benefit of all the authentic Greek charm that life on Meganissi has to offer.
In-keeping with the serenity of this very special island, just four luxurious suites built to a striking single-storey design, somehow melt into their spectacular waterside location. Stylishly appointed, with over-sized beds and supremely comfy mattresses, these stunning contemporary suites offer uninterrupted sea views, comfortably furnished terraces and absolute privacy. And while one suite benefits from a pool all of its own, the elegant day-beds by the shared infinity pool and the sunbeds on the two delightful little beaches beneath, ensure there is always a tranquil spot for everyone.The exquisite breakfasts offer a variety of tempting options; served on the terrace or elsewhere if you prefer, and our Simpson Concierge is available throughout the day to serve light lunches, drinks or snacks and help you in any way they can. In the evening, the owner is on hand to arrange drinks, canapes, or local dinner reservations at your request.
Keromoussi is the vision of Jean-Paul and Nathalie, a charismatic French couple with impeccable taste and an astonishing eye for detail. The effortless sense of flow between sleek interiors, expansive terraces and the numerous little pathways that meander down to the sea creates a wonderful sense of harmony. The gardens at Keromoussi are a real passion for Jean-Paul, where he has re-cycled stone and rock excavated during the build to create steps, hidden sculptures, and a secret terrace for a blissful massage down by the sea.
Though it is primarily an adult-only Simpson hotel, designed to offer couples an exceptional level of privacy and relaxation, we may on occasion offer it as a whole, for a small group of friends or an intimate family gathering and under these circumstances older children and teenagers may be welcome.
The property's enviable position affords a unique connection to the mythical Ionian waters, with 400 metres of coastline to observe dolphins, turtles and the abundant array of colourful fish which make the snorkelling here such a delight. Kayaks and paddleboards are available for pottering about nearby and there are two jetties for mooring up a boat if you have a mind to venture further afield.
A ten-minute drive from the hotel will take you to the lovely harbour in Vathi, with its pretty waterfront tavernas and bars and though it's a sleepy place at heart, the ebb and flow of glamorous yachts and cruisers has ensured the dining options here are excellent. Away from Vathi, Meganissi is as untouched a place as you could hope to find and life goes on as it has done for centuries. A stay at Keromoussi promises an unforgettable holiday to this most magical of destinations.
Layout
Kalamos, Ithaki and Thilia Suites
Skorpios Pool Suite
Shared roof terrace with 360-degree views
Each suite sleeps 2 
General
Adult Only (18 years or older)
Keromoussi can be booked for a family gathering or a small group of friends (older children and teenagers would be welcome)
Concierge service
Reception open 6 hours/day (6 days per week)
Welcome aperitif drinks and

canapés on arrival

Breakfast included (one day each week breakfast hamper delivered to rooms)
Honesty bar with complimentary soft drinks
Light lunch on request (payable locally)
Weekly barbecue (payable locally)
Complimentary WiFi
Dry cleaning, laundry and ironing services available (payable locally)
Simpson Travel pool towels
Massage/treatment area by the sea (payable locally)
Complimentary evening yoga session (1hr)
Boules court
Kayaks, paddleboards, sea shoes and snorkelling equipment available
Boat rental (payable locally)
Bicycles (2 electric) included
Private paths accessing main coastal path around property and to beaches
The hotel has its own kitchen garden based on the principle of permaculture
Shared swimming pool 12m x 4.5m (depth 1.3m – 1.65m)
WiFi
All properties with WiFi are able to support basic functionality such as web browsing and checking emails*
* We aim to offer an uninterrupted service but sometimes due to factors beyond our control reliability can be affected.
National tourist licence (EOT): 1072953
Waterside location with a small beach
Tavernas (Vathy) 25min walk or 5min drive
Transfer Preveza airport to Meganissi by taxi or minibus and sea taxi or ferry (depending on the mode of transport and the departure port, the journey will take about 1hr 30min)
Car options
Based on the number of people travelling, the following hire car(s) are included in the package price of your holiday:
2 guests – 1 Group C, VW Polo or similar*
* All our cars include comprehensive insurance with zero excess. For this particular destination, the undercarriage tyres and windscreen are not included in the cover.
Car specifications
Group C – 1.4 litre engine, 1 large and 1 small suitcase*
The following cars are available as alternatives on request (supplements apply). Please call our travel specialists for details.
Group D – 1.6 litre engine, 1 large and 2 medium suitcases*
Group F – Automatic Opel Astra or similar, 1.6 litre engine, 1 large and 2 medium suitcases*
Group K – Opel Zafira or similar, 1.8 litre engine, no suitcases with full occupancy*
Group L – Opel Vivaro or similar, 2.0 litre engine, 6 medium suitcases*
Group M – Nissan Qashqai SUV 2WD or similar, 2.0 litre engine, 2 large and 2 medium suitcases*
* Suitcase sizes are based on a large suitcase being approximately 75cm x 41cm x 31cm, a medium suitcase of approximately 65cm x 46cm x 29cm and a small suitcase of 55cm x 40cm x 20cm.
Customer feedback
Keromoussi was an absolutely beautiful place, peace and tranquillity couldn't ask for more. Stunning views and very intimate.
Linda & Stephen – September 2019
All aspects of the holiday ran smoothly, even the delay caused by ATC did not affect the holiday. The hotel and managers, Pep and Tina, were excellent, polite, friendly and very professional we really enjoyed our stay, breakfasts were fantastic. The barbecue night was a great success again with great food. The hotel is beautiful, finished to a very high standard, the huge gardens look lovely but once they mature it will be incredible. The massage is very good and takes place listening to the waves lapping against the shore. A special mention to the water taxi crew. My wife left her jacket onboard when we arrived, we didn't realise it was missing until packing. The crew had kept it safely onboard and handed it back once we asked if they had seen it.
Mr I Smith – September 2019
Staying at Keromoussi was like staying in your own luxury private villa with only two other couples. Everything was finished to an extremely high standard and the views from the property were amazing. The Simpson's managers, Pep and Tina, were delightful and could not have done more to make their guests' holidays perfect. Pep's breakfasts had to be seen/eaten to be believed, better than most five star hotels! They are both an incredible asset to Simpson Travel.
Jane & Peter Osborne – August 2019
To provide a 'goose bump' level of service from the beginning to the end of the holiday takes some doing! Pep and Tina represented Simpson to a very high standard with nothing being too much trouble. You have once again surpassed my expectation as a customer and that is the key to a successful holiday experience. Bravo to all the team!
Craig & Fiona Partington – July 2019
Pep and Tina were superb hosts and could not do enough for us. The setting is out of this world for couples who want to unwind and relax. Meganissi is a lovely island and as yet still quite unspoilt. Once again Simpson Travel did not disappoint.
Debbie & Martin Symons – July 2019
The hotel was absolutely fantastic, with Simpson on hand to make this a truly wonderful experience.
Simpson Traveller – June 2019
Wow! Beautiful and spectacular location. Charming hosts – made us feel so comfortable and welcome. Amazing spot – what a vision Jean-Paul and Natalie have.Until we meet again.
David & Frances – May 2019
Lived like kings! Such fabulous hosts who cannot do enough for you. It was like staying with family. The most wonderful stay. Will definitely be back!
Helen & Justin – May 2019
Magnificent! The best views on the island, the warmest welcome from Jean-Paul and Nathalie. Delicious food and the best wines on the island! Great beach and so nice to moor your boat nearby. Boules court with a view. We had a blast!
Paul & Mel – May 2019
Very lucky to have experienced this beautiful hotel. Pep and Tina have provided a faultless service including the best breakfasts! Definitely recommend using the kayaks early in the day when the water is like a pond. Nathalie and Jean-Paul have created an amazing vibe here and are very welcoming. We had a fab time!
Ann-Marie & Chris – May 2019
Everything about our stay at this breathtakingly, beautiful hotel, was fantastic. The quality of the accommodation, the stunning grounds and location and the very personal hospitality of Nathalie and Jean Paul, provided a wonderfully luxurious, relaxed atmosphere and a thoroughly enjoyable experience. We had great fun exploring the coastline and island of Meganissi, using the kayaks and electric bikes provided. We always came back to a warm welcome from our hosts. Our stay at the Keromoussi holds many fond and happy memories, enjoying the hospitality and the luxury and beauty of the surroundings. We would love to return!
Mrs D – Kalamos – September 2018
An amazingly beautiful location for a special occasion with fantastic hosts.
Mr & Mrs Sharp – Ithaca – September 2018
We felt very privileged to have been the very first guests in Kalamos. It was a fantastic week in an extraordinarily beautiful location. Thank you so much to Natalie and Jean Paul for making us so welcome and for all the delicious meals they cooked for us. We enjoyed dinners in Errikos and Tilevoes in Vathy. We did some lovely walks, the most spectacular being the five-hour hike along to the end of Cape Kefali, but also shorter walks round the headlands and into Vathy were a joy. But every time we went back to Keromoussi we were reminded that it is the best spot on the island.
Nick & Michael – Kalamos – September 2018
Fantastique! We feel so privileged to be among the luck first few to enjoy Keromoussi the fabulous hospitality. The location is stunning from the olive tree silhouetted against the Ionian blue of the bay and the distant mountains as you pass through the gates to the magnificent vista as you head down the driveway to the hotel. This is truly a wonderful hotel made by the location and the stunning architecture and Jean-Paul and Natalie's vision; you can see their passion for Keromoussi as they guide you around the grounds. We found the atmosphere created to be very special, we felt like a small select house party as opposed to guests. The communal breakfasts in the open air enjoying the vistas were wonderful. The availability of food all day and generous packed lunches as part of the package is great and certainly welcome as one ventures out to explore the island. The simple fare of the three evening means hit just the right spot. The contemporary yet simple rooms, with clean lines fully exploit the stunning views and fit perfectly into the style of the hotel. We would love to return.
Alan & Aurona – Kalamos – September 2018
Keromoussi has a truly wonderful location, excellent hosts, fabulous facilities and the weather played its part. We had a truly wonderful holiday. We could not fault it. The location is stunning, with beautiful views and the accommodation is absolutely wonderful. As pretty well the first people there, we were looked after beautifully with an excess of food and some great Greek wine. Jean-Paul and Natalie are really attentive hosts. Nothing is too much trouble. A great find and we would recommend it without hesitation.
Mark & Annie Linley-Adams – Thilia – September 2018
I love Simpson Travel. Simple as that. I have booked three years in a row and the properties, locations, service and information availability is universally excellent. The in-country representatives, from meeting to leaving are knowledgeable, friendly and efficient. I travel with a nervous flier and everyone is very helpful and accommodating. These holidays are not cheap, but they are great value for money – I'll be back next year no doubt!
Lesley Bunting – Skorpios – September 2018
Staying at Keromoussi is an amazing experience, like being a guest at one of the island's most exclusive villas and Natalie and Jean Paul are great hosts.
Mr Moore – Kalamos – September 2018
Keromoussi is an amazing hotel with the most welcoming hosts. The position is outstanding. We had perfect weather for two weeks and spent our time sitting on the beaches around the island and exploring the roads and paths on foot. The orange map 1:20,000 is very helpful. Fanari Beach was probably our favourite, but we do like Reggae music! Best walks were the peninsular between Abelaki and Atherinós Bays and the circuit of Megas Birnos. Apart from the excellent meals at the hotel, we ate at Errikos, Stavros, Rose Garden and Tilevoes in Vathy. It was a privilege to stay at this hotel so early in its life and see the care and attention that have gone into every detail of its buildings and grounds. Thank you, Jean Paul, Nathalie and Sophia.
Pat & Kelvin Hardiman – Ithaki – September 2018
Keromoussi is simply wonderful in every way, we had an unforgettable stay with Jean Paul and Natalie. We thoroughly enjoyed their company and hospitality, they were consummate hosts and we could not have asked for anything more. The hotel is so incredibly well positioned with the most stunning views and is very well appointed. Jean Paul has done a wonderful job in designing and building probably the best property on the island. We were made to feel very special. We will return to Meganissi and Keromoussi to enjoy again a wonderful place.
Justin & Helen Goatcher – Kalamos – September 2018
We arrived at Keromoussi. Magnificent! The best views on the island, the warmest welcome from Jean Paul and Nathalie, delicious food and the best wines on the island! Great beach and so nice to moor your boat nearby. Petanque court with a view! We had a blast.
Paul & Mel – Kalamos – August 2018
Keromoussi has captured a little bit of heaven on the shore of Meganissi. Every last detail for guests has been considered, from yoga/fitness classes, complimentary water-sport equipment and the best selection of wine we've found on the Greek Islands. The rooms are decorated to the highest level, the infinity pool is to die-for and the food was exquisite. We'll definitely be returning, I just hope Jean-Paul has brushed up on his chess game in time!
Mr A Cooper – Ithaki – August 2018
Our choice of Greek properties is as diverse as the islands themselves, ranging from simple seaside charm to genuine luxury and style. Much of our portfolio is privately owned, and price alone is therefore not a universal guide. We contract all our accommodation in person, and each property has its individual appeal.
To help you make the right choice based on your own priorities, we have devised a simple grading guide to be considered in conjunction with each individual property description, awarding up to a maximum of five stars for the below categories.
* For further clarification on Facilities and Amenities, please view the 'Details' tab for each property or speak to one of our experienced sales consultants.
Local life potters along as it's done for centuries and there are no bustling resorts on Meganissi, just three flower-filled villages – and yet you'll still see luxury yachts moored in the harbours. Warmly welcoming, this island is also beautifully unspoilt; its coastline dotted with gleaming white beaches, some accessible only by boat or kayak. Inland, the rolling hills make for wonderful walking country, with shady pine forests and spectacular blue seas beyond.
To complete the picture, we offer a selection of handpicked luxury villas on Meganissi and an exclusive four-suite boutique hotel, set on its own private peninsula.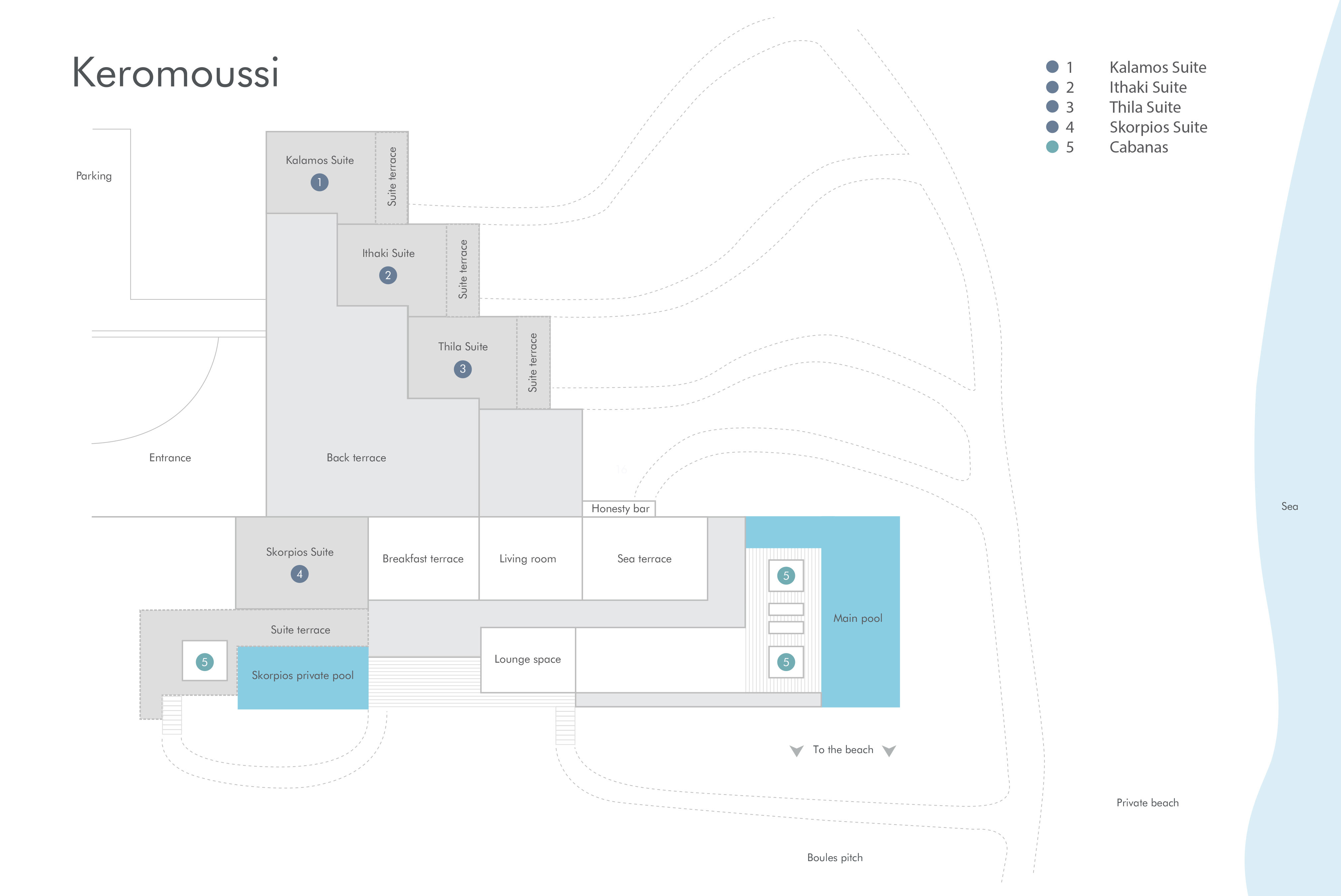 Enlarge Map
Kalamos, Ithaki and Thilia Suites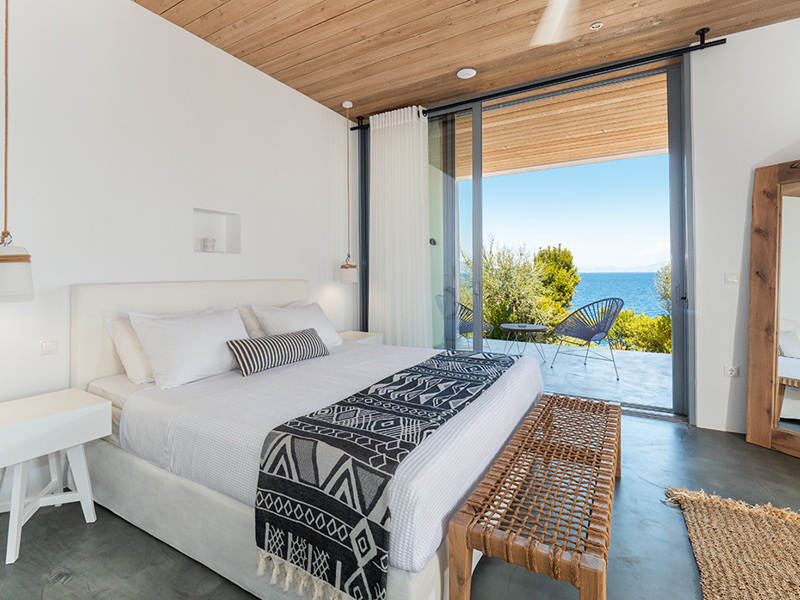 Shorter breaks are sometimes available but don't always show up in our search. For more information on flexible stays of three nights or more, please call 020 3733 3902.
Full details
Layout
3 air-conditioned double bedroom suites (all identical)
Sea-facing balcony
Satellite TV
Tea/coffee making facilities
Mini-bar
Fridge
Bluetooth speaker
Safe
Shower room
Bathrobes and slippers
Complimentary bathroom products
Hairdryer and pool towels provided
Shared swimming pool 12m x 4.5m (depth 1.3m – 1.65m)
Shared roof terrace with 360-degree views 
Path leads down to the sea/beach
---
Skorpios Pool Suite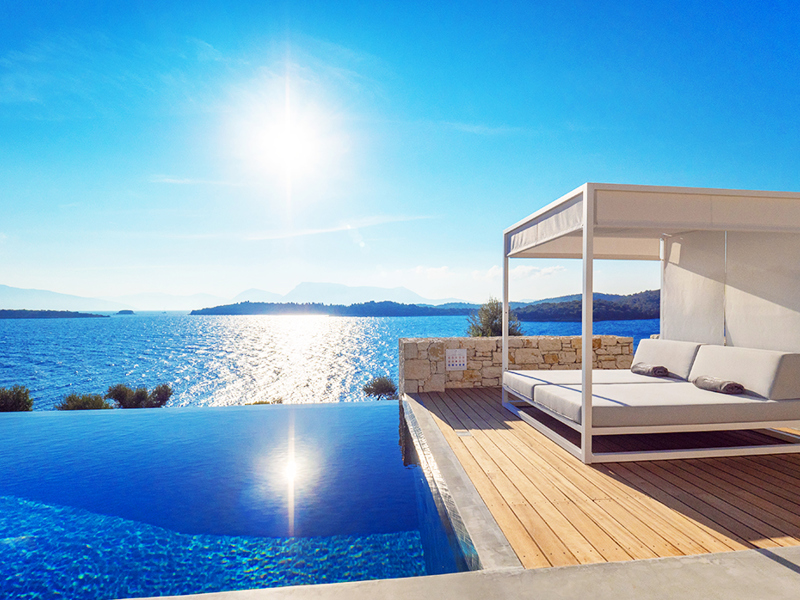 Shorter breaks are sometimes available but don't always show up in our search. For more information on flexible stays of three nights or more, please call 020 3733 3902.
Full details
Layout
Air-conditioned double bedroom suite (sleeps 2)
Shower room
Satellite TV
Tea/coffee making facilities
Mini-bar
Fridge
Bluetooth speaker
Safe
Bathrobes and slippers
Complimentary bathroom products
Hairdryer and pool towels provided
Fully furnished decked terrace
Outdoor shower
Private swimming pool 6.3m x 3.8m (depth 1.3m – 1.65m)
Shared roof terrace with 360-degree views 
Path leads down to the sea/beach
---
View holiday Booking Conditions
Simpson Travel in the press