Introductory offer
Small intimate Simpson Hotel
Stunning waterside location
4 Adult Only suites
Set on private 4-acre peninsula
Breakfast and lunch included
Welcome drinks and canapés
Gastronomic dinner
Introductory offer: The hotel interiors are being completed over winter 2017-18, with photographs available in late spring. We are pleased to offer a 15% reduction on our published prices on all bookings made until photographs are available. For further information on this unique hotel, please call our travel specialists.

With its magnificent waterfront location on a private four-acre peninsula close to Vathy, Keromoussi combines all the charm, serenity and natural beauty of Meganissi with a contemporary design and a host of thoughtful, guest-focused luxuries. This unique, intimate hotel with just four suites represents the personal vision of its owners Jean Paul Barthe and his wife, Nathalie, for whom luxury means private space in a stunning location and the time to enjoy it in your own way, be that exploring hidden bays in a hired boat or discovering the island on foot or by car or just drowsing away the day in a hammock in the shade.
One of the aspects we love most about Keromoussi is its intimate scale: accommodating only eight guests, with up to five staff on hand to look after you, the hotel strikes just the right balance between privacy and pampering. The deluxe detached suite has its own swimming pool, whilst the remaining three suites share a larger, equally beautiful version which faces out to sea, just a couple miles from the private island of Skorpios, erstwhile retreat of Jacqueline Kennedy Onassis. Each suite has its own terrace and mesmerising views, just 30 metres from the intense blue of the Ionian Sea.
Having spent several years on the Ile de la Réunion in the Indian Ocean, Jean Paul has mastered the art of relaxed hospitality. Keromoussi offers an innovative 'complimentary menu' daily till 6pm, with staff on hand to serve you treats such as salads, simple pastas, snacks, mezes, afternoon tea with cake, soft drinks and beer. A week's stay at Keromoussi also includes welcome drinks and canapés on arrival giving you a chance to mingle with other guests, a barbecue and a gastronomic dinner during the week in addition to daily fresh breakfasts served on one of several shaded terraces. On other nights, enjoy a game of boules or just take in the loveliness of a Mediterranean sky at dusk and dine in one of Vathy's waterfront tavernas just 2km from Keromoussi.
Jean Paul's vision and great attention to detail extends to the outdoor space as well, to the extent that he has handpicked the massive boulders for the landscaped grounds, managed to find space for two small beaches and created a network of meandering paths along Keromoussi's 400-metre coastline revealing quiet spots where you can pause to contemplate the serene views.
Meganissi is the perfect island for hiring a boat to explore its hidden coves and beaches, and Jean Paul has built two small jetties for mooring, one each side of the peninsula depending on the wind direction, and if you take a boat out for the day, the hotel staff will arrange a picnic lunch to take with you. Kayaks and paddle boards are provided for guests down at the shoreline, and if you're in need of a little help to unwind completely in this blissful location, you can even indulge in a massage in the specially-built waterfront cabin.
Keromoussi has been designed to provide everything you need immediately to hand, but it's very easy to get out and explore Meganissi's three pretty villages, gentle green hills and secluded pebble beaches. Just a short boat transfer away from Lefkada, a stay here combines all the laid-back appeal of a sleepy Greek island with the simple luxuries that transform a holiday into an unforgettable experience.
Layout
Kalamos, Ithaki and Thilia suites
Skorpios Pool suite
Shared roof terrace with 360-degree views
Each suite sleeps 2 
Hospitality included
Breakfast served daily
Complimentary poolside honesty bar until 6pm (includes beer and soft drinks, alcoholic drinks payable locally)
Snacks, lunches (

salads, simple pastas, mezes), afternoon tea with cake and soft drinks available 11am-6pm

Picnic lunches available for boat trips
Welcome canapés on arrival
Mid-week barbecue
General
Reduction of 15% on published prices will apply to all bookings made until photographs are available
Adult Only (18 years or older)
Complimentary WiFi
Dry cleaning, laundry and ironing services available (payable locally)
Massage/treatment area by the sea (payable locally)
Private paths accessing main coastal path around property and to beaches
Boules court
Kayaks, paddleboards, sea shoes and snorkelling equipment available
Boat rental (payable locally)
Daily Pilates and aqua gym class included
Bicycles (2 electric) included
The hotel will have its own kitchen garden based on the principle of permaculture
WiFi
All properties with WiFi are able to support basic functionality such as web browsing and checking emails*
* We aim to offer an uninterrupted service but sometimes due to factors beyond our control reliability can be affected.
Waterside location with a small beach
Tavernas (Vathy) 25min walk or 5min drive
Transfer Preveza airport to Meganissi by taxi or minibus and sea taxi or ferry (depending on the mode of transport and the departure port, the journey will take about 1hr 30min)
Car options
Based on the number of people travelling, the following hire car(s) are included in the package price of your holiday:
2 guests – 1 Group C, VW Polo or similar*
* All our cars include comprehensive insurance with zero excess. For this particular destination, the undercarriage tyres and windscreen are not included in the cover.
Car specifications
Group C – 1.4 litre engine, 1 large and 1 small suitcase*
The following cars are available as alternatives on request (supplements apply). Please call our travel specialists for details.
Group D – 1.6 litre engine, 1 large and 2 medium suitcases*
Group F – Automatic Opel Astra or similar, 1.6 litre engine, 1 large and 2 medium suitcases*
Group K – Opel Zafira or similar, 1.8 litre engine, no suitcases with full occupancy*
Group L – Opel Vivaro or similar, 2.0 litre engine, 6 medium suitcases*
Group M – Nissan Qashqai SUV 2WD or similar, 2.0 litre engine, 2 large and 2 medium suitcases*
* Suitcase sizes are based on a large suitcase being approximately 75cm x 41cm x 31cm, a medium suitcase of approximately 65cm x 46cm x 29cm and a small suitcase of 55cm x 40cm x 20cm.
Our choice of Greek properties is as diverse as the islands themselves, ranging from simple seaside charm to genuine luxury and style. Much of our portfolio is privately owned, and price alone is therefore not a universal guide. We contract all our accommodation in person, and each property has its individual appeal.
To help you make the right choice based on your own priorities, we have devised a simple grading guide to be considered in conjunction with each individual property description, awarding up to a maximum of five stars for the below categories.
* For further clarification on Facilities and Amenities, please view the 'Details' tab for each property or speak to one of our experienced sales consultants.
Local life potters along as it's done for centuries and there are no bustling resorts on Meganissi, just three flower-filled villages – and yet you'll still see luxury yachts moored in the harbours. Warmly welcoming, this island is also beautifully unspoilt; its coastline dotted with gleaming white beaches, some accessible only by boat or kayak. Inland, the rolling hills make for wonderful walking country, with shady pine forests and spectacular blue seas beyond.
To complete the picture, we offer a selection of handpicked luxury villas in Meganissi to help you make the most of this exclusive island. 
Full details
Layout
3 air-conditioned double bedroom suites (all identical)
Shower room
Sea-facing balcony
Satellite TV
Fridge
Bluetooth speaker
Safe
Complimentary bathroom products
Hairdryer and pool towels provided
Shared swimming pool 12m x 4.5m (depth 1.3m – 1.65m)
Shared roof terrace with 360-degree views 
Path leads down to the sea/beach
---
Skorpios Pool Suite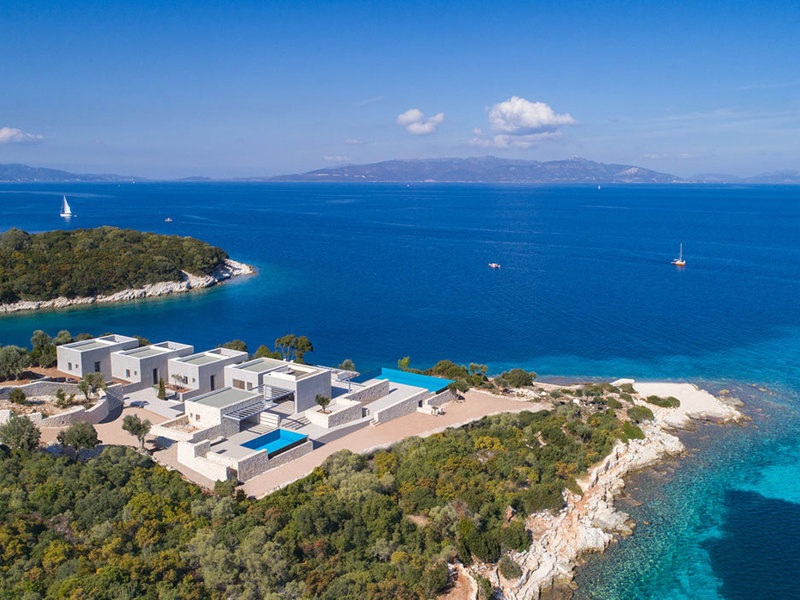 Full details
Layout
Air-conditioned double bedroom suite (sleeps 2)
Shower room
Satellite TV
Fridge
Bluetooth speaker
Safe
Complimentary bathroom products
Hairdryer and pool towels provided
Fully furnished decked terrace
Outdoor shower
Private swimming pool 6.3m x 3.8m (depth 1.3m – 1.65m)
Shared roof terrace with 360-degree views 
Path leads down to the sea/beach
---
View holiday Booking Conditions