Turtles Club
Welcoming four to six year olds, our Turtles Club creates a safe and friendly space to help your child feel perfectly at home, with a close-knit team of carefully chosen, experienced nannies to keep an eye on them.
We never take shortcuts when it comes to the happiness and wellbeing of your child. At Mousses in Lefkada you'll find the highest standards of professional childcare in beautiful surroundings, with comfortable accommodation and a lovely beach nearby. And even before your child arrives, we know their likes and dislikes so the care we offer is always personalised, ensuring we treat them as the individual they are.
Turtles Club caters for children of 4 to 6 years.
First-class childcare from experienced, qualified nannies who love their work.
A choice of morning, afternoon and evening sessions to fit around your plans for the day.
Available at Mousses in Lefkada.
Good to know...

If your little Turtle has any siblings, Mousses is also home to our
Hatchlings Crèche
, for 6 month to 3 year olds and
Dolphins
, for 7 to 11 year olds.
Our childcare team undergoes a rigorous selection process with all the official UK checks. We only recruit English-speaking nannies who are CACHE L3 qualified or have the equivalent UK qualification. They must also demonstrate that they are dedicated to the welfare and happiness of your child.
Watch our video to find out more about our Simpson Crèche and Kids' Clubs and what makes them so unique.
Facilities
Our Turtles Club is based in the Clubhouse, which it shares with the Hatchlings Crèche, although each has its own room – and children can enjoy a variety of age-appropriate toys, games and resources.
If it's not too hot or humid, there is also a shaded outdoor space to play in, although time outside is closely monitored, particularly during the hotter months.
Activities take place in the Clubhouse or the Clubhouse garden and particular favourites include face painting, arts and crafts, music and movement, theme days with fancy dress, mask making, outdoor relays and team games. For older children, we also have a selection of board and card games.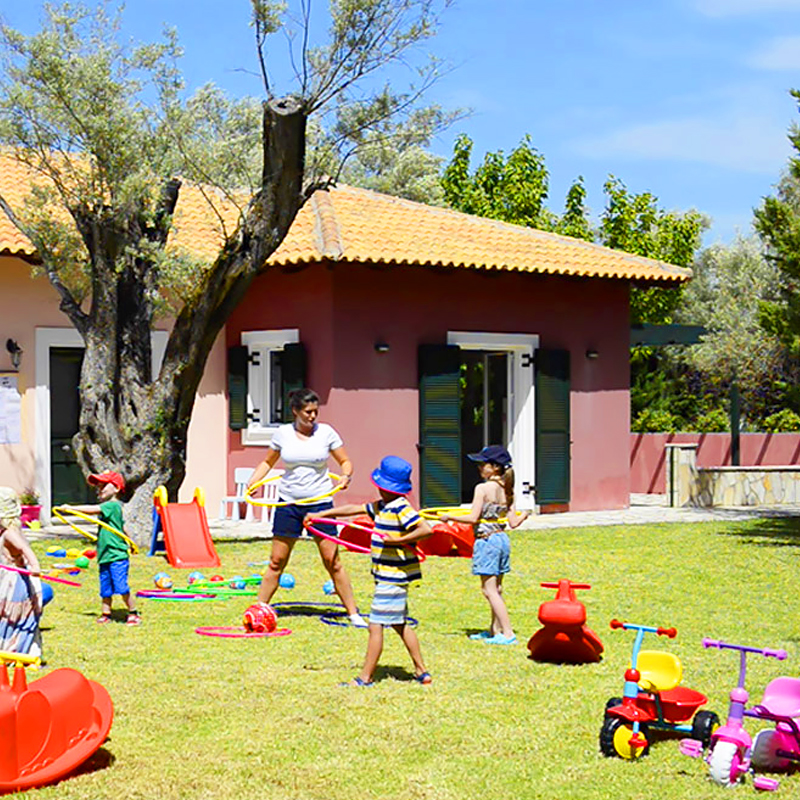 Session Times
 
Morning session
Afternoon session
Evening session
Monday
9.30am – 1pm
2.00pm – 5.30pm
No session
Tuesday
No session
2.00pm – 5.30pm
7pm – 10.00pm
Wednesday
9.30am – 1pm
2.00pm – 5.30pm
No session
Thursday
9.30am – 1pm
No session
7pm – 10.00pm
Friday
9.30am – 1pm
2.00pm – 5.30pm
No session
Saturday
Closed
Sunday
Arrival day
Limited places available, please book as early as possible to avoid disappointment.
Turtles Club
Membership includes either four morning sessions or four afternoon sessions, plus one evening session per week. For a two week stay, you may book sessions for both weeks.
Turtles Club membership is complimentary, except between the following dates:
2023: 2 July to 27 August
2024: 26 May to 2 June; 7 July to 31 August 
At these times the following charges will apply:
£195 per child, per week.
Individual sessions
Ad-hoc individual sessions for all ages, no supplements.
Half day: £50 per child
Evening: £40 per child
Although last-minute places are sometimes available and bookable on arrival, we strongly recommended booking in advance to avoid disappointment. We'll send you a registration pack with various forms that you'll need to complete and return before your departure. These form part of your holiday booking conditions.
The information you send us about your child will need to include essentials such as medical conditions, allergies and dietary requirements, as well as sleep patterns and anything else we need to know. This will be sent to our team overseas before you arrive, so we can assess your child's needs.
To pre-book, please call us on
020 8392 5858
 and speak to one of our travel specialists.
Subject to availability, early booking advised.

Alongside lush gardens, a large shared swimming pool and a separate children's pool, Mousses looks after parents as well as their offspring, with spa treatments, an excellent taverna (including a villa delivery service) and a bar with an indulgent poolside service.