Hatchlings Crèche
Welcoming children aged six months to three years, our Hatchlings Crèche helps create a holiday that works for everyone, with personalised, professional childcare from a team of qualified nannies.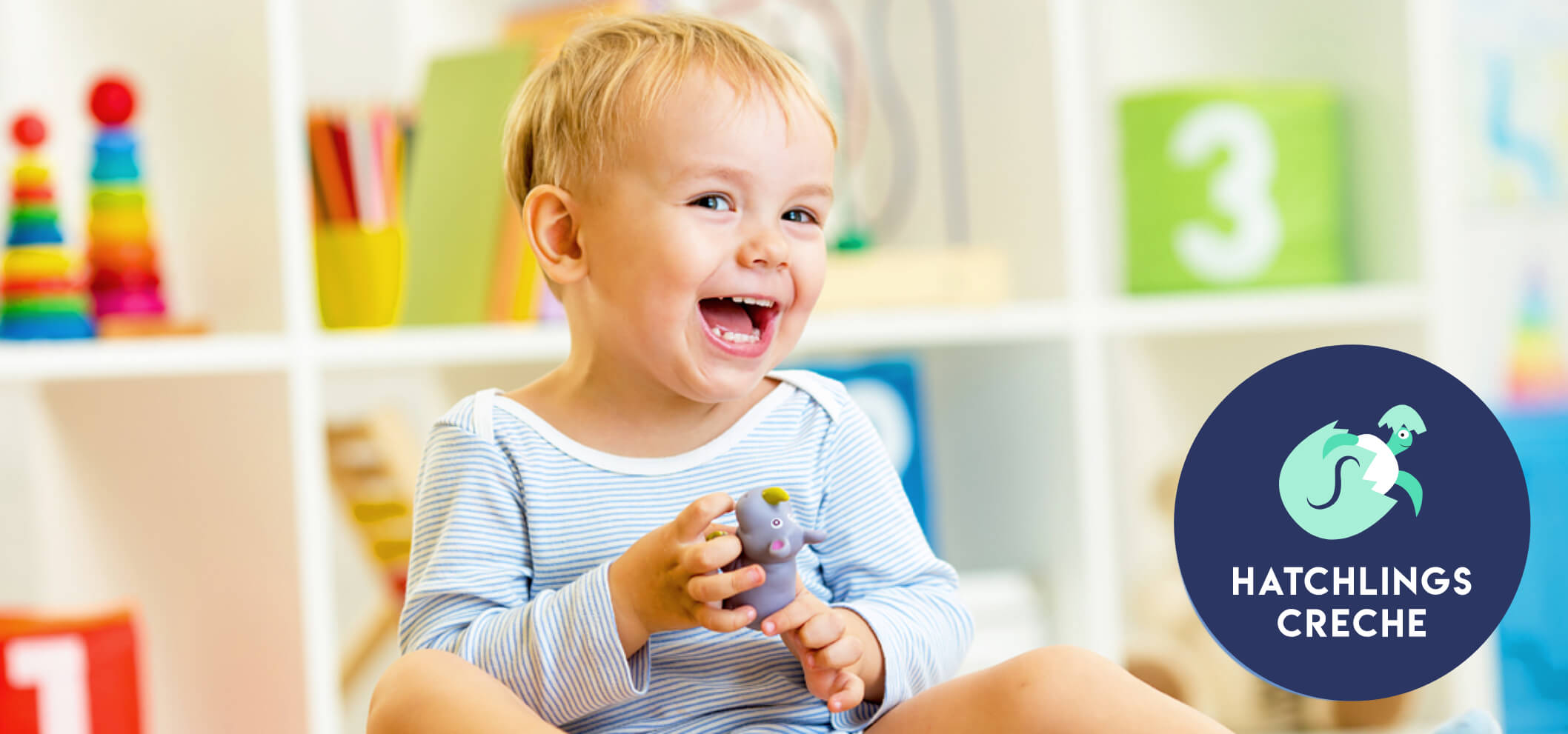 Stay at Mousses in Lefkada and you'll find our Hatchlings Crèche at the heart of the holiday experience, within a gathering of private villas and surrounded by lovely gardens. Run by a small, close-knit, friendly team and working to UK standards and ratios, we deliver a truly personalised childcare service. In fact, before your holiday, we'll ask you to complete a child registration form, so we know exactly how to make your little one feel at home.
Hatchlings Crèche caters for children of 6 months to 3 years.
First-class childcare from experienced, qualified nannies who love their work.
A choice of morning, afternoon and evening sessions to fit around your plans for the day.
Available at Mousses in Lefkada.
Good to know...

If your little Hatchling has an older sibling, Mousses is also home to our
Turtles Club
, for 4 to 6 year olds and
Dolphins
, for 7 to 11 year olds.
Our childcare team undergoes a rigorous selection process with all the official UK checks. We only recruit English-speaking nannies who are CACHE L3 qualified or have the equivalent qualification. They must also demonstrate that they are dedicated to the welfare and happiness of your child.
Watch our video to find out more about our Simpson Crèche and Kids' Clubs and what makes them so unique.
Facilities
Our Hatchlings Crèche shares a Clubhouse with our Turtles Club, although they have their own room designed for soft play, with blankets, cushions and lots of sensory toys that are safe and age-appropriate. There is also a separate nursery room where little ones can sleep safely, with regular checks by the nannies.
We also have an outdoor space with shade to give the children some fresh air, but time outside is sometimes limited due to the humidity and heat.
During their first few years, children develop at different rates and any activities we arrange are always age-appropriate. These include 'tummy time' for babies to encourage mobility, as well as creative play and music and movement. For older children, finger painting, sticking and drawing are always popular.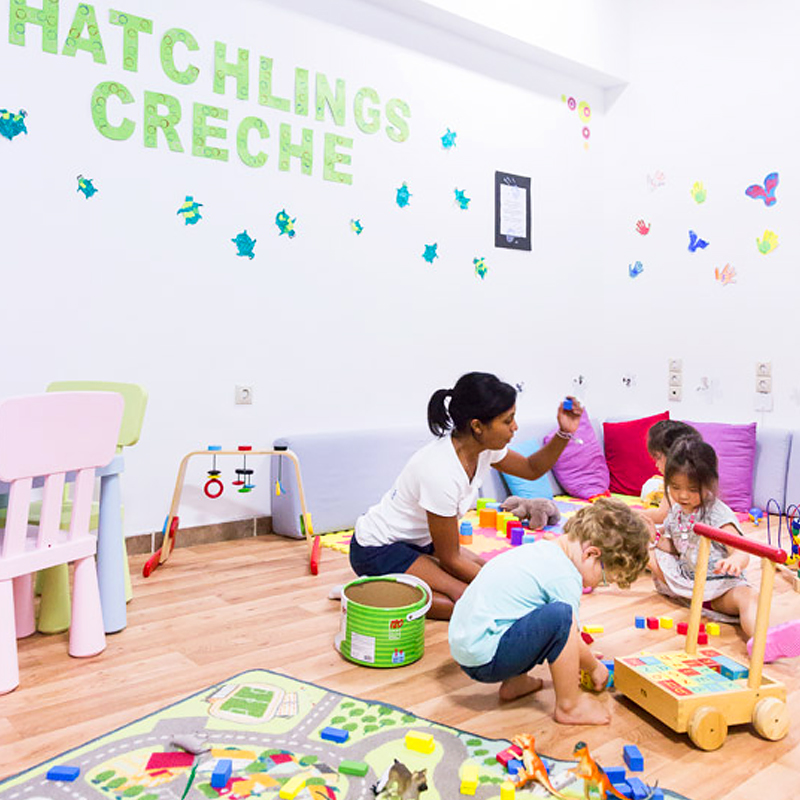 Session times
 
Morning session
Afternoon session
Evening session
Monday
9.30am – 1pm
2.00pm – 5.30pm
No session
Tuesday
No session
2.00pm – 5.30pm
7pm – 10.00pm
Wednesday
9.30am – 1pm
2.00pm – 5.30pm
No session
Thursday
9.30am – 1pm
No session
7pm – 10.00pm
Friday
9.30am – 1pm
2.00pm – 5.30pm
No session
Saturday
Closed
Sunday
Arrival day
Limited places available, please book as early as possible to avoid disappointment.
Hatchlings Crèche
Hatchlings childcare packages include either four morning sessions or four afternoon sessions, plus one evening session per week. For a two week stay, you may book sessions for both weeks.
Childcare packages are complimentary except between the following dates:
2023: 2 July to 27 August
2024: 26 May to 2 June; 7 July to 31 August 
At these times the following charges will apply:
6 months to 2 years
£250 per child, per week
2 to 3 years
£195 per child, per week
Individual sessions
Ad-hoc individual sessions for all ages, no supplements.
Half day: £50 per child
Evening: £40 per child
Although last-minute places are sometimes available and bookable on arrival, we strongly recommended booking in advance to avoid disappointment. We'll send you a registration pack with various forms that you'll need to complete and return before your departure. These form part of your holiday booking conditions.
The information you send us about your child will need to include essentials such as medical conditions, allergies and dietary requirements, as well as sleep patterns and anything else we need to know. This will be sent to our team overseas before you arrive, so we can assess your child's needs.
To pre-book, please call us on 020 8392 5858 and speak to one of our travel specialists.
Subject to availability, early booking advised.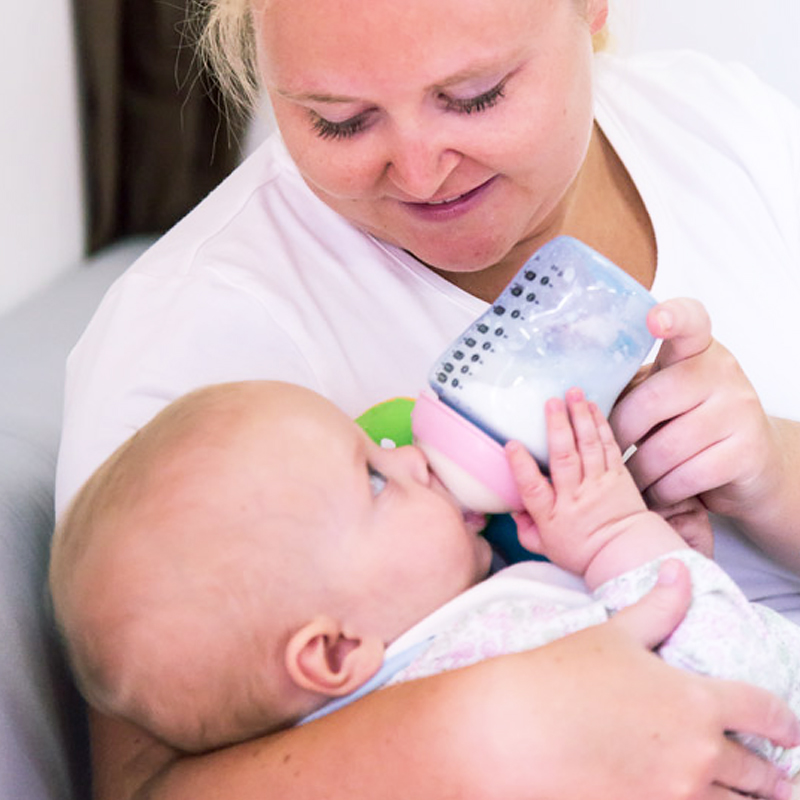 For babies, we ask that you provide your own pre-mixed baby formula in a bottle or give us the pre-measured dry formula with a pre-filled bottle of water to be mixed later, ensuring the correct ration of formula to water for your child. We can store them in the Clubhouse fridge. We are happy to feed your child for you, but you also have the option of picking them up early if you prefer.
Older children are offered low-sugar snacks during the day, including fresh fruit and plain biscuits. Water is always available.
Please let us know if your child has any food allergies when you register.

Alongside lush gardens, a large shared swimming pool and a separate children's pool, Mousses looks after parents as well as their offspring, with spa treatments, an excellent taverna (including a villa delivery service) and a bar with an indulgent poolside service.