Luxurious and stylish Simpson Hotel
Walking distance to Kalkan
Four 2-bedroom and four 3-bedroom suites
Stunning sea views
Private terrace Jacuzzis
Set high above the coast for the most mesmerizing views, yet still within walking distance of Kalkan's sophisticated little centre, the Korsan Suites are unique within our collection, combining all the generous space and facilities of a stylish apartment with the service of a luxury hotel. The apart-hotel concept is first class in both design and execution; each suite is laid out over two floors to maximise the sea views, best enjoyed from your private Jacuzzi with a glass of something chilled from your fridge. The two-floor layout lends an extra dimension of privacy, ideal if you're travelling with older children or teenagers who love the freedom of having Kalkan and its beach clubs less than 15 minutes away on foot. And if you've got little ones with unpredictable appetites, or big ones that never stop snacking, having your own kitchen makes life easy for everyone.
Self catering is entirely optional of course; daily breakfast by the main pool is included for all our guests, and the marvelous Memduh and his team run an excellent restaurant on the premises. Once you've settled in and got your bearings, Kalkan beckons with a tempting choice of waterfront cafés and rooftop restaurants, many offering highly creative menus that fuse local ingredients with international inspiration to great effect. For a taste of traditional Turkey, you might also like to try your hand at bartering for a souvenir or two in the local markets.
Design and location are what bring many visitors to the Korsan Suites, but what makes them come back year after year is the truly exceptional service from manager Memduh and the whole team. With an impressive 5-star TripAdvisor rating and a very loyal following of guests, Korsan Suites are the perfect embodiment of Turkish hospitality that extends to couples, groups and families of all ages.
As a thank you for booking…
Choose a 2018 holiday in Kalkan and we'll be delighted to include a complimentary Turkish bath (hamam) at the Kalkan Regency Hotel spa, along with an all-day excursion on the hotel's traditional gület boat, Poseidon, with a delicious lunch included.
All guests staying in Kalkan in 2018 will be treated to a complimentary Turkish bath (hamam) treatment at the Kalkan Regency spa and a day on the hotel's traditional gület boat, Poseidon, with a three-course lunch and a welcome glass of bubbles included. During the excursion, soft drinks will also be provided free of charge, but additional alcoholic drinks will need to be paid for on board. Tea, coffee and cakes will be served in the afternoon. Please speak to your local representative on arrival to confirm your bookings.
Layout
8 suites (four 3-bedroom suites, four 2-bedroom suites)
3-bedroom 2-storey suites (occupying 1st and 2nd floors)
1st floor
Private terrace with Jacuzzi overlooking swimming pool
Open plan living/kitchen area with TV (limited English channels), DVD player, Bluetooth docking station
Fully equipped kitchen includes full hob, oven, microwave, fridge-freezer, dishwasher
Iron, ironing board, hairdryer, safety deposit box, pool and bath towels provided
Twin bedroom
Shower room
Stairs to 2nd floor
Double bedroom with en-suite shower room
Double/twin bedroom with en-suite shower room
Shared balcony
2-bedroom 2-storey suites (occupying 3rd and 4th floors)
3rd floor
Private terrace overlooking swimming pool
Open plan living/kitchen area with TV (limited English channels), DVD player, Bluetooth docking station
Fully equipped kitchen 

includes full hob, oven, microwave, fridge-freezer, dishwasher

Iron, ironing board, hairdryer, safety deposit box, pool and bath towels provided
Twin bedroom
Shower room
Stairs to 4th floor
Double bedroom with en-suite shower room
Private terrace with Jacuzzi
Ground floor
Shared swimming pool 5m x 11m (depth 1.8m at deep end)
Restaurant and bar
General
Buffet breakfast included
Welcome dinner included (excludes drinks)
Laundry service available (payable locally)
WiFi
All properties with WiFi are able to support basic functionality such as web browsing and checking emails*
* We aim to offer an uninterrupted service but sometimes due to factors beyond our control reliability can be affected.
Visas
British passport holders travelling to Turkey require a tourist visa in advance of travel. The visa is issued via the Turkish Electronic Visa Application System at the following website www.evisa.gov.tr and is charged at USD20. Please refer to www.evisa.gov.tr or the Turkish Consulate if you do not hold a British passport. Please note that passports need to be valid for six months or more from your return date to the UK.
Beach Club 15min walk
Kalkan 12min walk
Patara Beach 20min drive
Dalaman airport 1hr 45min drive
Your options
The price of your holiday includes private transfers to and from the airport/hotel. For a supplement, you can exchange the transfers for a hire car. The following options are available:
Group B, Renault Fluence or similar*
Group D, Dacia Duster or similar*
Group E, VW Carvelle/Mercedes Vito or similar*
Group F, Renault Fluence automatic or similar*
* All our cars include full comprehensive insurance with zero excess. For this particular destination, the undercarriage, tyres and windscreen are included in the cover.
Car specification
Group B – 1.6 litre petrol engine, 2 large and 2 medium suitcases*
Group D – 1.5 litre diesel engine, 3 large and 2 medium suitcases*
Group E – 2 litre diesel engine, 3 large and 3 medium suitcases*
Group F – 1.6 litre petrol engine, 2 large and 2 medium suitcases*
* Suitcase sizes are based on a large suitcase being approximately 75cm x 45cm x 23cm and a medium suitcase of approximately 60cm x 40cm x 23cm.
Customer feedback
Just an amazing place and experience.
Rachel – May 2018
We have not used Simpson Travel before but the quality of the service and the attention to detail is exceptional. It is clear that a good deal of thought has gone into what is required to make a relaxing holiday, we were very impressed and will certainly book again.
Mr Brewer – October 2017
This has been our second visit to the Korsan Suites this year. Again we have had a wonderful holiday. The service provided by your Kalkan representative Kirsti, Manager Memduh, Chef Ahmed, Housekeepers Zafer and Huriye has again been absolutely excellent.
Mrs Younger – October 2017
Spent a wonderfully relaxing two weeks at the Korsan Suites and couldn't fault it in any way. The team led by Memduh were friendly and helpful –nothing too much trouble. Would definitely recommend it.
Mrs Lovett – September 2017
We cannot speak too highly of the team at the Korsan Suites. Memduh is quite extraordinary. The accommodation is fabulous. We had a great holiday. Thank you.
Mrs Buckland – September 2017
We cannot recommend enough the first class service of the Simpson Travel team and the quality of our holiday at the Korsan Suites in Kalkan. A perfect retreat in a beautiful setting made extra special by the wonderful staff there. We cannot wait to return again very soon.
Mrs Prince – September 2017
The Korsan Suites were idyllic – beautiful location and fabulous accommodation which made a very relaxing holiday. Kalkan town, a 15-minute walk away, with its many lovely restaurants was perfect.
Mrs Lorkin – September 2017
We had a fantastic family holiday at Korsan Suites in Kalkan with kids aged 16, 14 and 11. The accommodation was so comfortable and well appointed and the service from Memduh and his team was first class. The food was excellent and the place was spotless. Kalkan itself is lovely with endless restaurants and bars. The whole trip was effortless and so relaxing. There are plenty of boat trips and culture/sightseeing if you want to be busy but we spent more time than expected in the accommodation, around the pool as it was just so nice. Hopefully we'll be back at some point to explore further and enjoy a relaxing break.
Mrs Evans – September 2017
We cannot recommend Korsan Suites highly enough – convenient location, excellent facilities, magnificent view and the most amazing team, led by Memduh, there to anticipate our every need. Holiday heaven!
Mr Ellis – August 2017
My family of 5 (aged children 18,15,12) stayed at the Korsan Suites for two weeks in Kalkan and had the most fantastic holiday. The suites were immaculate and cleaned every day. The breakfasts were delicious especially the pancakes! The host, Memduh, made our holiday as nothing was too much trouble and he seemed to anticipate our every need. We loved Kalkan with its beach clubs, mesmerising sea, fantastic boat trips and pretty town with its roof top restaurants. We would definitely return. 
Mrs Ake – August 2017
Second time to Kalkan. Would go again. Staff simply amazing, and worked 18-hour days, every day without a break. Quite extraordinary dedication. A most warm and friendly atmosphere and Kalkan itself quite delightful. All the restaurants are excellent and, by British standards, almost 'cheap'!
Mr Iles – August 2017
The Korsan Suites are a delight. Roomy, well designed, very comfortable and with outstanding views. Great kitchen facilities for self-catering. The shared pool and lounging area are great and the bar and food service were very good indeed. Of particular note are the staff. Memduh runs the place with great expertise and is friendly, patient and extremely knowledgeable. The chef is excellent, producing lovely breakfasts, barbecues and a good à la carte menu. We were also very impressed by the discreet housekeepers who always waited until we had left the hotel before cleaning our suite. With plenty to do in the area and a relaxing base to return to we have had a great holiday. Many thanks.
Mr Jeffrey – July 2017
Thank you, thank you, thank you! We have had the most wonderful holiday and leave Korsan Suites heavy-hearted but feeling relaxed and rejuvenated thanks to the excellent care everyone has taken of us. Zafer and Huriye have ensured that both our apartment and the rest of the property have been beautifully maintained, Ahmet's kitchen has kept us fabulously fed at any moment, Volkan and Emirhan have waited on us beautifully and Memduh has been truly magnificent! Nothing has been too much trouble for anyone and we are truly grateful. Here's to planning our next visit.....
Vanessa, Mike, Thea and Polly July 2017
A fantastic holiday and a first class level of service from the moment I booked! Nothing was too much trouble. Will definitely be using Simpson Travel for future holidays.
Mrs Thompson – June 2017
Korsan Suites are lovely, in a wonderful location, staff amazing, Memduh in particular but all of the staff lovely – can't do enough for you – the rep always available and very knowledgeable about the area. A wonderful holiday and we will be back yet again.
Mrs Harper – June 2017
This was our first stay at Korsan Suites – and what a pleasure it was! Memduh and the rest of the team were angels, nothing was too much trouble – even dealing with couple of unwelcome spiders on our balcony! The pancakes at breakfast are to die for. Fantastic location and facilities. We will certainly be back.
Miss Frackiewicz – June 2017
First time in Turkey at Korsan Suites, Kalkan – beautiful place, immaculate, fabulous views, credit to the manager (Memduh) and his staff, Kalkan so many restaurants, fantastic food, friendly people, so much to do.The market, boat trips and everyone made us feel welcome. 
Mr Curnin-Waterson – June 2017
Our stay at the Korsan Suites was enhanced by Memduh and the team, nothing is too much trouble and they work hard to make your stay extremely relaxing. The Suites are superb – spacious and comfortable. They are situated in a stunning peaceful location with views that are very pleasing to the eye. We also want to thank Kirsti for her friendly professionalism. Thank you all so much for a super holiday and we look forward to returning.
Steve & Tina – May 2017
This has been our fifth visit to the Korsan Suites over the past few years. We have had another wonderful holiday. The level of service from your representative Kirsti, the manager Memduh, chef Ahmed, housekeepers Zafer and Huriye has again been absolutely excellent.
Mrs Younger – May 2017
My two teenage children and I have had a wonderful week in Kalkan at Korsan Suites. It was the most relaxing and stunning holiday we could have wished for. Impeccably clean rooms, incredible views, wonderful staff, great food, plenty to do and see and everything went smoothly from beginning to end. Our apartment at Korsan Suites was spacious, very well equipped, and had two big balconies with incredible views – we really enjoyed having our own Jacuzzi/plunge pool. It was the last week of the holiday season in this area and we were blessed with perfect weather. Thank you so much Simpson Travel, we will be back for more...
Mrs Goddard – October 2016
Overall one of the best holidays we have ever had on a one-week sun break. Accommodation was an excellent standard, well chosen and run. This was our first use of Simpson Travel and we have been very impressed by all aspects of this holiday, we will almost certainly think to use you again as we had a very stress free experience this time, and that is what holidays are meant to be about. 
Mr Whittle – October 2016
The Korsan Suites are in an excellent location being a 15-minute walk (3-minute taxi ride!) from town. They offer a beautiful view over the bay which I never tire of. Memduh and his team work tirelessly to ensure that the only thing you need to worry about is whether to relax in the sun or dip in the pool. The suites are kept spotless by Zafar and Huriye. Kalkan itself is a jewel of a resort that also offers some of the best food in the Mediterranean. We have been coming on and off over the last 20 years and have spent the last six at the Korsan Suites. The Simpson Travel representative, Kirsti, is always available for any help or advice to ensure that your holiday runs like clockwork. If you want somewhere to wind down then look no further.
Mr Shipp – September 2016
Simpson Travel offers a first class service from start to end. The standard of service, accommodation cannot be beaten and nothing is too much trouble. Can't wait for next year. Thank you for making our 2016 holiday very special.
Mrs Radley – September 2016
This was our third stay at the Korsan Suites in Kalkan and it is a firm favourite with us. The rooms are excellent, with large comfortable accommodation and breathtaking views from your private balconies. We stayed in one of the two-bedroom suites on the upper floors and nothing quite beats sitting in your personal Jacuzzi in the heat of the day and watching the boats coming and going in the bay below. The staff are really friendly and helpful and go out of their way to make your holiday special from start to finish. We will definitely be back again!
Mr Dowty – June 2016
Another wonderful holiday with Simpson Travel, giving us memories that we will treasure forever. Our children had the most fabulous time, which makes it an even more relaxing time for us as parents – even with a one-year old toddler!
Mrs White – May 2016
The Korsan Suites are everything they cracked up to be on the Simpson Travel website – breathtaking situation and very well appointed. But it is the staff who work there – from the manager through to the cleaners – who really make the place special. They are alert to every need but without any stiff formality – simply excellent service delivered in a very friendly way.
Ms Stewart – September 2015
Korsan Suites is one of the best holiday places we have stayed in.The apartments are beautifully appointed, the views stunning, and the staff cannot do enough for you. Please don't let Memduh leave!
Mr Potter – September 2015
First time that we have used Simpson Travel and probably the best holiday we have ever had. Everything was flawless. No hiccups whatsoever.
Mr Williams – August 2015
Our Korsan Suites holiday in Turkey was amazing. The choice of accommodation and the booking itself were all faultless and easy thanks to the lovely staff at Simpson. Korsan Suites is breathtaking with stunning views over Kalkan bay. The staff at Korsan Suites couldn't be more courteous and helpful and the property is spotlessly clean. You don't want for anything. It is a luxury venue but without any pretension. Every need is catered for allowing one to instantly relax. I highly recommend it. The only sad part is when you have to leave. I will definitely return.
Mrs Drummond – July 2015
This was our first holiday in Turkey, and we had the most amazing time. Everyone at the Korsan Suites was so friendly and helpful, particularly Memduh and Mehmet. Our children are now older – aged 14, 16 and 18 – and we found that there was something for everyone to enjoy. We did boat trips, tours to historical sites, the gorge, and ate out most nights. We have been to Greece, France, Italy, Spain, the Caribbean, etc but this was our first time in Turkey and we all had a brilliant time. We were really impressed with the transfers to and from the airport, and will definitely book with Simpson Travel again as our experience was so good.
Mrs Saer – July 2015
We have just returned from a week at Korsan Suites, Kalkan, Turkey. Thank you to Simpson Travel and Korsan for a fantastic holiday. The accommodation was fantastic, the views superb and the service and friendliness of the local staff faultless. It was a truly memorable holiday and will be very hard to beat. We will certainly be using Simpson Travel again.
Mr Carpenter – July 2015
This was our first time travelling with Simpson Travel and have to say this was probably the best holiday ever. The Korsan Suites in Kalkan were superb, the views fantastic, and the staff Memduh, chef Ahmet and Mehmet were all brilliant. The cleaners were very unobtrusive and very efficient. Kirsti, the rep, was great and very helpful and knowledgeable, the whole holiday was a wonderful experience, we have already booked with Simpson Travel to Turkey next year.
Mrs Daly – June 2015
Simpson Travel add an extra touch to a holiday and only use the very best places to stay. All your staff are very helpful and pleasing.We have travelled with this company for several years and have always enjoyed our holidays, thank you.
Mrs Bray – May 2015
Just returned from Turkey where I had a fabulous, relaxing week. First time with Simpson Travel and very impressed with the professional staff – everything was arranged (boarding cards, etc) without having to chase, and both legs of the journey were seamless. The accommodation was spotless and spacious, very well appointed in a great location. The staff were faultless. I wouldn't hesitate to recommend Simpson Travel to anyone wanting a hassle-free holiday experience.
Ms Jamieson – May 2015
We booked Korsan Suites as a first taste of a Turkish Holiday. We were stunned by the incredible tranquility, magical location, and superb welcome by Memduh and his team. We really hadn't anticipated how amazing the atmosphere would be – instant relaxation – the only sound was the haunting call to pray from the minarets – just wonderful. Breakfast by the pool every morning was a joy, and the staff were like part of the family. Stunning immaculately clean suites – better than the photos. Kirsti, the rep, was fabulous, and always on hand for advice and tips. Highly recommended – can't wait to go back next year!!
Ms Crick – October 2014
Thoroughly enjoyed our stay at the Korsan Suites. Memduh and the staff were all amazing. Extremely luxurious accommodation – extremely clean and comfortable. The views are breathtaking. We have been travelling to Kalkan for over 14 years and this is the best place we have stayed at and we have been to the top hotels in Kalkan including The Regency and the Likya...
Miss Gorecki – September 2014
Stayed at the Korsan Suites in Kalkan, excellent holiday from booking to transfer back to the airport at the end of the holiday, all went really well, no problems, no worries. Just as a holiday should be. Very simple but some companies cannot achieve it!
Mr Pooley – September 2014
As many other customers have said, this was the first time we have traveled with Simpson Travel but I'm sure it won't be the last. We felt well-looked after throughout and the exclusive-to-Simpson accommodation was first class. Excellent service and well worth paying that little bit extra.
Ms Coombs – September 2014
A thoroughly enjoyable stay (again) at the Korsan Suites.
Mr Beauclerk – September 2014
Such a lovely place to go and relax in the sunshine. The resort was perfect for older families as there was something to do that suited everyone. The accommodation was beautiful, simple, luxurious and spotlessly clean. The staff were so kind and thoughtful. We were treated like individuals, not just one of the herd. A fantastic high quality service from booking to returning home. Thank you.
Mr McGill – July 2014
We've just come back from the most amazing two-week stay at the Korsan Suites in Kalkan. Memduh and the staff were more than helpful and couldn't have done anymore to accomodate us (Ramazan – I love the pancakes!). We had a three-bedroom suite which was absolutely gorgeous with a fully equipped kitchen. The views across the bay were to die for and having your own Jacuzzi was a bonus!. All in all we had the most fantastic holiday and are already planning on going back next year. Thanks Kirsti (our rep), Memduh and all the staff at Korsan Suites.
Mrs McGill – July 2014
I have to say that Korsan Suites staff are excellent. We have stayed at some lovely hotels and the subtle approach to quality service was wonderful. Kirsti was really helpful and always there if you needed her. This is the first time we have travelled with Simpson Travel but I am certain it will not be the last. Everything from the welcome by the taxi driver with a small gift, water and towels to being seen off by the hotel staff made us feel like five-star guests at all times. Thank you for sourcing and providing us with a fantastic holiday!
Mrs Eason – July 2014
A wonderful travel experience from the minute we booked, to arriving at the airport and the actual location. A relaxing experience.
Mr Mercieca – June 2014
Another enjoyable and memorable stay at Korsan Suites, Kalkan. Excellent facilities, friendly and knowledgeable staff, beautiful location.
Mrs Robinson – June 2014
With the Simpson Travel checking in desk at the airport, the fleet of new white cars on arrival in Turkey and helpful reps, our holiday got off to an easy start. It just got better as we met the staff at the Korsan Suites who made our holiday fantastic. They were so friendly and helpful. A lovely place to stay, and Kalkan itself is a vibrant and fun place to eat out with so many great restaurants to choose from. I would definitely recommend staying in Kalkan and the Korsan Suites, having hotel facilities but with the privacy of your own apartment, has the best of both worlds.
Mr Doherty – May 2014
Everything about the holiday was perfect. The suites were gorgeous with breathtaking views of the coast and the staff in the hotel did everything they could to make us welcome. Kalkan is a lovely town, full of rooftop restaurants, every one with a sea view. A special mention for Memduh, our hotel manager who kept the children entertained and even offered to find one of the local tortoises!
Mrs White – May 2014
Thank you so much to Emme and the staff at Korsan Suites – her insight into Turkey and the food, wine and area was really helpful. We had such a lovely time exploring the ancient Lycian sites, travelling up into the hills and relaxing on Patara beach in the afternoons. The Turkish cuisine was a revelation and we had excellent food and local wine. It was a perfect tonic to face the winter months in England. I hope Simpson Travel will still use the Korsan Suites as we would love to go again.
Mrs Garland – October 2013
Had the best holiday, Kalkan is just such a wonderful place to go, great food, accommodation, friendly people, just FAB. Didn't want to come home.
Mrs Harris – October 2013
Our first time in Turkey and the Korsan Suites, Kalkan did not disappoint. Positioned to the west of the bay we felt secluded but it was only a 15-minute walk to the Old Town. The evening we arrived, we were treated to the most amazing Turkish meal, a real plus. The two-bedroom suite was very spacious and our only regret was not being able to use the Jacuzzi as the weather had turned unseasonably cold. As a famous film once said "We will be back".
Mr Hyde – September 2013
This was the second time we have travelled with Simpson Travel and we remain entirely impressed. The level of care and consideration we received after news arrived of a serious family illness back in the UK was excellent.
Mr Norwell – September 2013
Fantastic holiday, great suites, just far enough from the main town, lovely staff.
Mr Christie – September 2013
We have just returned from a wonderful two-week stay at the glorious Korsan Suites in Kalkan. Emine and her staff couldn't have been more helpful, and even gave us some spices and potatoes when my husband wanted to cook us his own version of Moussaka! The suites were beautifully presented and very well kitted out. Having your own kitchen was ideal, since it was wonderful to choose between going out to one of the hundreds of fantastic restaurants in Kalkan, or to eat in. I loved the small touches like having a large collection of books that you could borrow, or choose a good DVD to watch during an evening in. All in all we had the most fantastic holiday and have many marvellous memories, as well as nearly 1,000 photos. Thanks Simpson Travel, Emine and her team and Kirsti.
Mrs Thornton-Smith – September 2013
Another fantastic holiday, already looking for next year. We really like locations that do not need a car, and are self-catering with local shops for groceries. l have so enjoyed the hotel/self-catering combination. Hope to see more smaller properties as the villas are often too big.
Ms Hamlet – August 2013
This was our first time to Turkey and we had our reservations. How wrong we were!! The Korsan Suites in Kalkan were outstanding, the service provided by Emine and Ramazan was faultless. They could not do enough for us. The position of the apartments was ideal, just enough distance from the hustle and bustle but an easy walk in and taxi ride home (very cheap taxi, may I add!). We went for my father's 70th birthday celebrations and it was certainly a week to remember, thank you Simpson Travel!
Mrs Upton – August 2013
I would not hesitate to travel with Simpson Travel again, the service they offered and the excellent quality of accommodation at the Korsan Suites in Kalkan, was exceptionally good. The manager, staff and Simpson Travel rep made us very welcome and were so helpful, all the arrangements went very smoothly. The apartment and pool area were so luxurious and we all loved the view so much, we really didn't want to come home. Getting a taxi into the town (10 TL one-way) was easy and we didn't need a car, we also got a taxi to Kaş (140 TL rtn), you can walk into the old town and we tended to walk down and taxi back. Restaurants did get busy once the summer holidays started but Emine at the Korsan Suites can book a table for you and this would be necessary during busy times. Definitely recommended and we will go back!
Mrs Green – July 2013
We had a fabulous holiday with Simpson Travel. If you want to be sure of top quality accommodation and service you won't be disappointed.
Ms Roskilly – June 2013
We have just come back from another holiday in Kalkan at the fabulous Korsan Suites. As before, a wonderful holiday in an amazing location in luxurious accommodation. As always, Simpson Travel looked after us so well and ensured that the whole holiday was hassle-free and relaxed. Our only difficulty is trying to switch ourselves back on after two stress-free weeks away – though we have already re-booked for next year which helps!
Mr Potter – June 2013
The holiday exceeded all our expectations. The quality of the accommodation was fantastic and we were all made to feel very special.
Mrs Drury – May 2013
Quality experience with Simpson Travel. Fabulous accommodation and location at the Korsan Suites – thank you to Emine and her team for looking after us so well!
Mrs Lappin – May 2013
A wonderful holiday at the Korsan Suites at Kalkan, great manager in Emine and her staff – nothing was too much trouble and the fittings within the suites were of the highest quality and everything well maintained. 
Mr Cameron – May 2013
I would have no hesitation in travelling with Simpson Travel again as I can be assured that their standards are what I have come to look for over the years with friendly helpful staff to help me on my way to the best holiday ever.
Mrs Harrison – May 2013
The staff were so welcoming on our arrival, the food was wonderful – cooked by Ahmed and his helper. Ramazan was a diamond, his attentiveness was one in a million. Emine, the manageress, makes the BEST mint lemonade I have ever tasted and no wish was too much for her. The suite was out of this world and the views stunning! If you are very lucky you will see one or two turtles lingering around at the back of the Korsan Suites. Overall, Kalkan is a lovely village, with breathtaking views over the harbour and we will only book with Simpson Travel!
Mr Gwilt – May 2013
From start to finish, we can only describe the service from Simpson Travel as five star. Malin was extremely helpful and every query was responded to quickly and effectively. The arrival and welcome at the airport in Dalaman was great, we felt very special when we were shown to our own private car for our transfer! The accommodation was out of this world! We cannot fault anything! Emine, the Manageress at the hotel gave us a personal welcome and showed us to our apartment. Our rep, Kirsti, was brilliant, very helpful and knowledgeable. We loved every minute of our holiday and will use Simpson Travel again! Thank you!
Mrs Dearing – May 2013
Very happy to recommend Simpson Travel – they care about providing a personal service for the whole of the holiday.
Mrs Davison – April 2013
Fabulous holiday in a beautiful relaxing location at the wonderful Korsan Suites.
Mrs Mason – April 2013
Our choice of Turkey properties is diverse, ranging from simple charm to genuine luxury and style. Much of our portfolio is privately owned, and price alone is therefore not a universal guide. We contract all our accommodation in person, and each property has its individual appeal.
To help you make the right choice based on your own priorities, we have devised a simple grading guide to be considered in conjunction with each individual property description, awarding up to a maximum of five stars for the below categories.
* For further clarification on Facilities and Amenities, please view the 'Details' tab for each property or speak to one of our experienced sales consultants.
Set against a breathtaking mountain backdrop, Kalkan sits on Turkey's stunning Turquoise Coast: a cosmopolitan, vibrant resort perfect for exploring the timeless beauty of ancient Lycia's pine-clad shores. The pretty town centre is a treasure trove of narrow streets, whitewashed Ottoman Greek houses and inviting boutiques. It's also famous for its harbourside lounge bars and rooftop restaurants serving a variety of delicious food with impeccable service.
Our guests return to Kalkan year after year. To find out why, visit our collection of luxury villas and hotels – and, if you book a holiday there in 2018, we'll include a complimentary hamam experience and a day trip along the Turquoise Coast in a traditional wooden gület.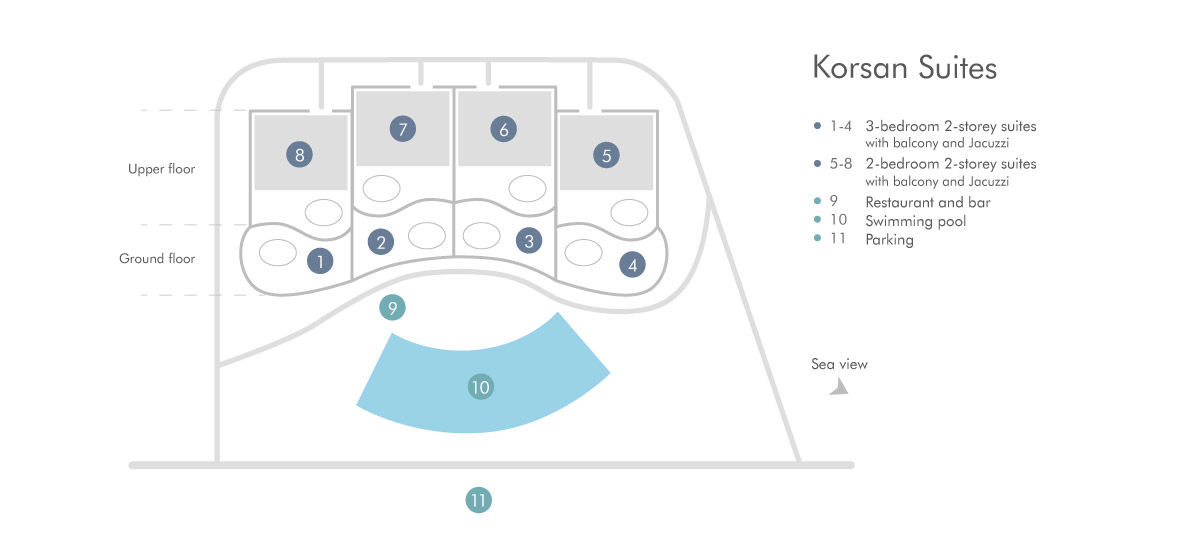 Enlarge Map
2-bedroom suite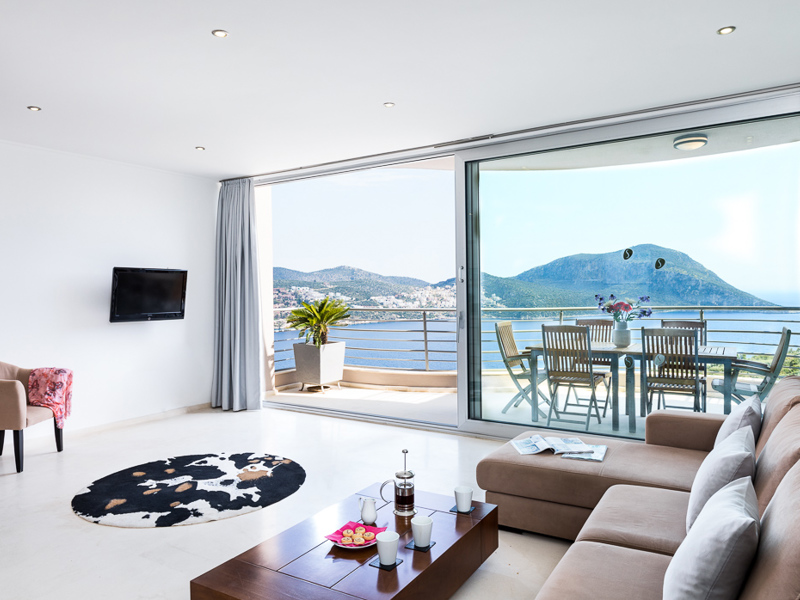 Full details
Layout
Sleeps 2-4
2-bedroom 2-storey suites (occupying 3rd and 4th floors)
3rd floor
Private terrace overlooking swimming pool
Open plan living/kitchen area
Fully equipped kitchen
Iron, ironing board, hairdryer, safety deposit box, pool and bath towels provided
Twin bedroom
Shower room
Stairs to 4th floor
Double bedroom with en-suite shower room
Sloping ceiling
Private terrace with Jacuzzi
Ground floor
Shared swimming pool 5m x 11m (depth 1.8m at deep end)
Restaurant
Turkish and English breakfasts available (payable locally)
WiFi by pool, restaurant and bar
Laundry service available (payable locally)
---
3-bedroom suite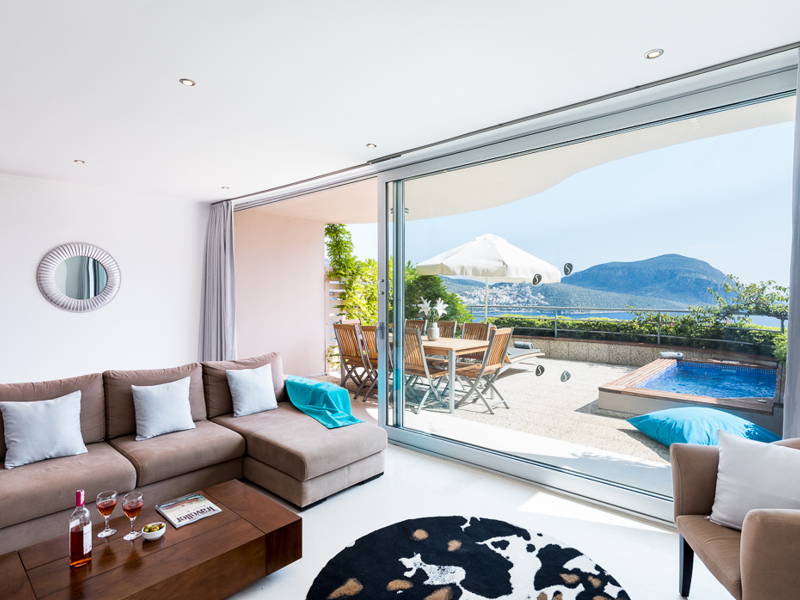 Full details
Layout
Sleeps 2-6
3-bedroom 2-storey suites (occupying 1st and 2nd floors)
1st floor
Private terrace with Jacuzzi overlooking swimming pool
Open plan living/kitchen area
Fully equipped kitchen
Iron, ironing board, hairdryer, safety deposit box, pool and bath towels provided
Twin bedroom
Shower room
Stairs to 2nd floor
Double bedroom with en-suite shower room
Double/twin bedroom with en-suite shower room
Shared balcony
---
View holiday Booking Conditions