The perfect holiday for teenagers
The perfect holiday for teenagers
Simpson Traveller Emily Harris (15) tells us why Kalkan is the perfect teenage destination; so good, she went there twice!
As a general rule, my family never go back to the same place twice, but we all loved Kalkan so much that we broke our own rule and returned for a second summer to spend two weeks at the Kalkan Regency on Turkey's glorious Turquoise Coast. Kalkan suits everyone: for my Dad there are enough views to paint for eternity, and for my Mum there are colourful shops selling ceramics, scarves, jewellery and countless 'designer' handbags. For my brother and me (18 and 15), it has everything a teenager could wish for.
There are a variety of beach clubs close to town, including Indigo (free entry for Simpson Travel guests) and several others just a short boat ride across the bay. Our favourite was the Mahal Beach Club with its series of oceanfront, olive-tree-lined terraces. You can read, sunbathe and snorkel or, if you're feeling energetic, paddle around in a canoe.
The Old Town is buzzing with rooftop restaurants and bars, plus a few open-air nightclubs. It's a really safe place to be, so I could go to the clubs with my brother, then walk or taxi back to the hotel and play pool with friends until the early hours of the morning.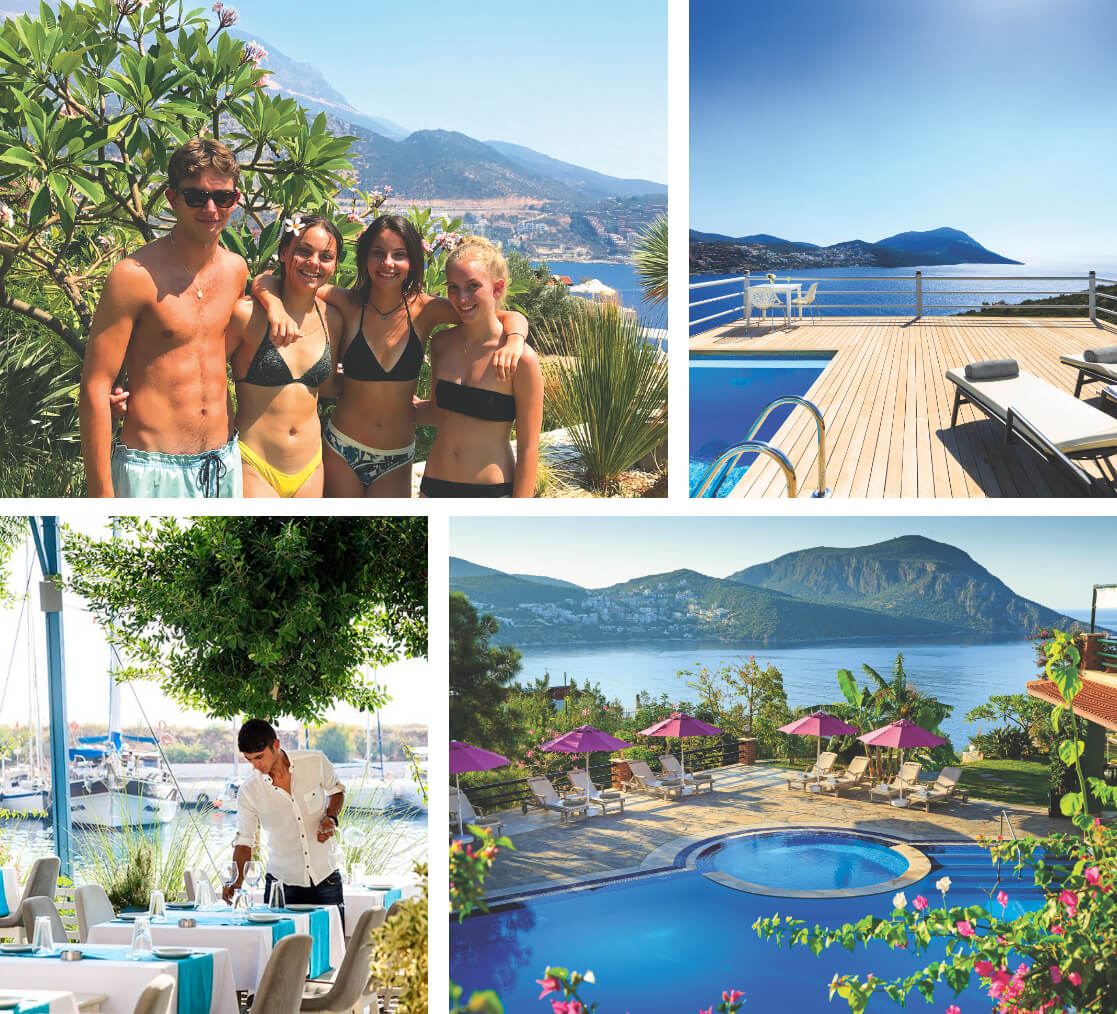 The holiday included a boat trip on Poseidon, the hotel's magnificent traditional gület, and we toured around the bays and stopped off for snorkelling. We saw turtles, sea snakes and countless multi-coloured fish, and at one point a small motorboat drew up alongside selling beautiful handmade sarongs and kaftans! I never would have imagined sea-shopping back in rainy London.
There are day trips to the Greek island of Kastellorizo or the neighbouring town of Kaş, plus the opportunity to paraglide over the bay. In the hotel itself there's a pool (with swim-up bar), spa, gym, table tennis table, Turkish bath – which everyone enjoyed – and even mezze cooking lessons with Mama. By the end of the first week, we were on first-name terms with all the staff and quickly made friends with the other teens around the pool.
Our second visit to Kalkan was just as amazing as the first. My vote is to make it a hat-trick!