A long-time favourite of artists and artisans, this bohemian coastal town is a picture of meandering streets, vibrant bazaars and end-of-day drinks on the palm-lined esplanade. Beyond the simple pleasures of lovely beaches and ancient ruins, the local area also accommodates a more active spirit with scuba diving, horseriding, climbing and canyoning among the spectacular Taurus Mountains.
Kaş is also a walker's dream, with the Lycian Way (listed by The Times as one of the World's Top Ten Walks) on your doorstep – a different way to delve into the history of this undeniably romantic destination.
---

Explore our pre-bookable experiences in Kaş.
---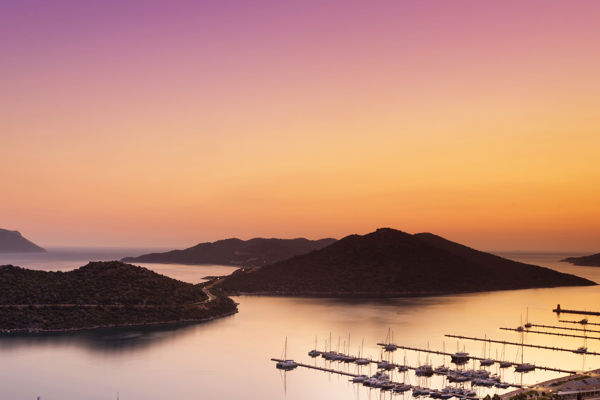 A selection of our holidays in Kaş
* Prices include seven nights' accommodation, flights and transfers/car hire, based on the lowest rate for maximum occupancy.
Our guide to Kaş
Introduction to Kaş
Full of coastal potential
Since the 1920s, Kaş, a formerly Greek fishing village, has proved an inspiration for poets and painters, but now it's far more than just a pretty face.
You'll find restaurants, cocktail bars, boutiques and tea gardens – along with a chance to relax by the harbour and watch luxury yachts and gülets gliding by – but what gives this coastal town its buzz are the host of activities on offer, many of them on or in the water. And these are some of the clearest waters in the Mediterranean. From wreck diving to boat trips, snorkelling to kayaking over ancient ruins, there are many ways to explore these magnificent blue seas.
The most beautiful beaches
When it comes to beach life, the Turquoise Coast exceeds expectations and one of the star turns near Kaş is Kaputaş. With waves perfect for jumping, soft sands and a backdrop of mountains, it's the perfect spot for staking your claim on one of the resident sunbeds.
Or if you want a little more space, the vast expanse of Patara with its undulating dunes, extensive flats and epic ruins offers everything you'd want from a beach in one fell swoop, as well as being a breeding ground for the endangered loggerhead turtle.
The irresistible allure of Kalkan
About half an hour from Kaş you'll find Kalkan with its laid-back harbourside dining, chillout bar soundtrack and rooftop restaurants serving up a feast of traditional Turkish dishes with a twist and fabulous views across town and out to sea.
200 years ago, traders from the Greek islands of Rhodes and Meis made this town a trading post and today the spirit of retail continues, now manifest in Kalkan's busy weekly markets and the upmarket boutiques that line the town's narrow winding streets – a treasure trove of 'genuine fakes', leather handbags, summer clothes and traditional ceramics.
By way of Islamlar
A 40-minute drive from Kaş, bidding a fond farewell to the coast, you'll find sleepy Islamlar. This mountain village has long provided respite from the intense heat of summer and it's a place where the tea gardens are somehow a touch more tranquil than elsewhere and where pools fed by natural spring water are brimming with trout of such quality, the village's restaurants are justly famed for miles around.
This peaceful agricultural village is also another place to pick up the famous Lycian Trail for unforgettable walking in spring and late summer and a chance to explore the surrounding landscape.
For more about the local beaches and our suggestions for things to do around the Turquoise Coast, visit our Kalkan page.
At a glance
Currency

Turkish Lira

Flight Time

4 hours 20 minutes

Time difference

+3 hours

Language

Turkish

Visa required

VISA REQUIRED for UK citizens
Food & drink
A taste of Turkey
Breakfast is big event in Turkey, with bread, eggs, cheese, tomatoes, olives, yoghurt and honey all featuring. Going out for breakfast is a lovely holiday treat, though be prepared for a banquet that will probably keep you going till dinner time.
The evening meal will often start with meze: small portions of mainly vegetarian dishes, served with dips and designed for sharing to maximise the sociable nature of the meal. Tomatoes, peppers, aubergines, yoghurt and olive oil form the basis of many dishes, and you'll also be able to pick out more distinctive flavours such as rosewater, tahini, fresh mint, parsley and dill. Desserts are sweet and sticky and even a tiny portion packs a hefty sugar hit.
Turkish tipples
Turkey produces some delicious wine. Look out for Likya wine if you are dining out (it's not available in shops), and if you're stocking up on something to sip on the terrace, try Kavaklidere and Doluca. If you want to be really authentic then reach for a bottle of powerful, aniseedy raki.
Eating locally
While it might be tempting not to stray far from your villa once evening falls, eating out in Kaş has plenty to recommend it, whether you feel like fine dining in a harbourside restaurant, romantic seclusion in a hidden courtyard, or a buzzy traditional lokanta. The land around is rich and fertile, with long hot summers and mild wet winters producing top quality citrus fruits, honey and almonds which will all make their way onto your plate, along with whatever the local fishing boats have been able to land that day. The hardest part of your day might simply be choosing where to eat, for in addition to typical Turkish cuisine you'll find more international fare including fresh pasta, steaks and even curry.
If you do decide to dine in occasionally, our tip is to shop at the manav (greengrocer) rather than the supermarket for your fresh fruit and vegetables, and check out the Friday market for quality olives and interesting local cheese. Take the opportunity to try something new, and don't be afraid to ask for a taste.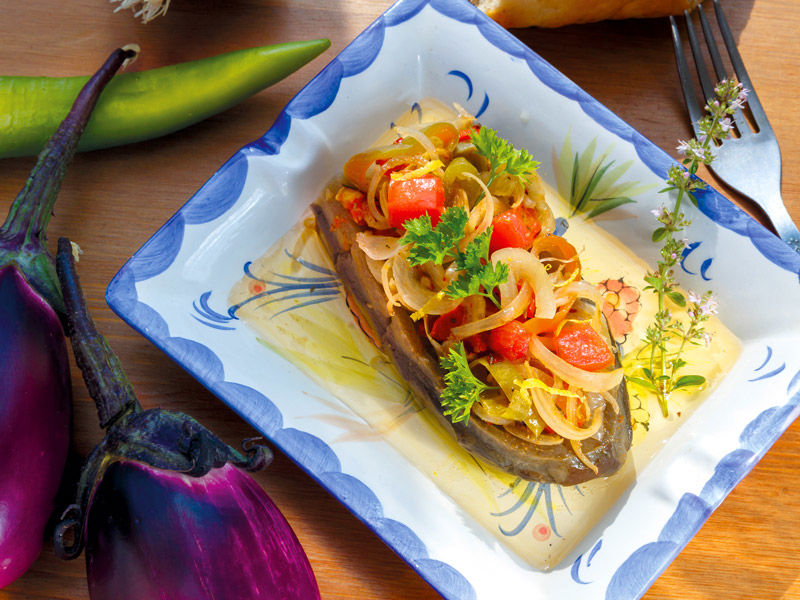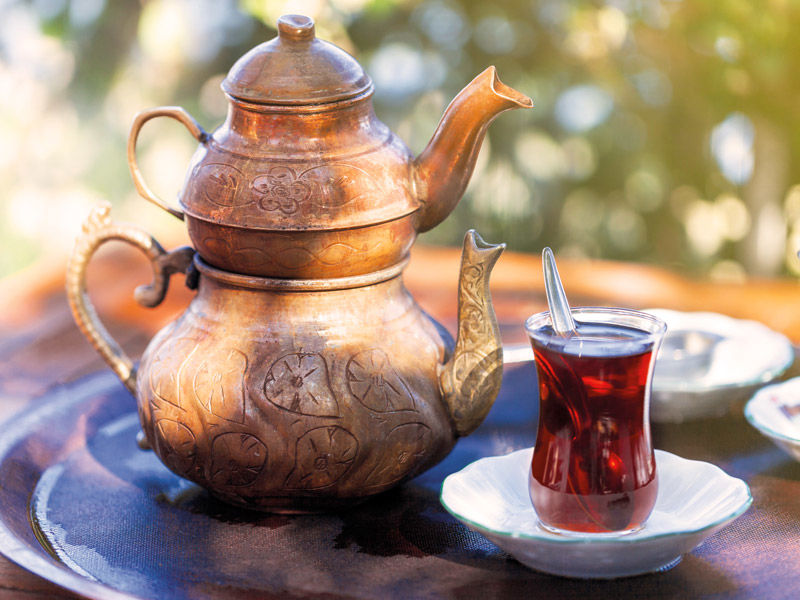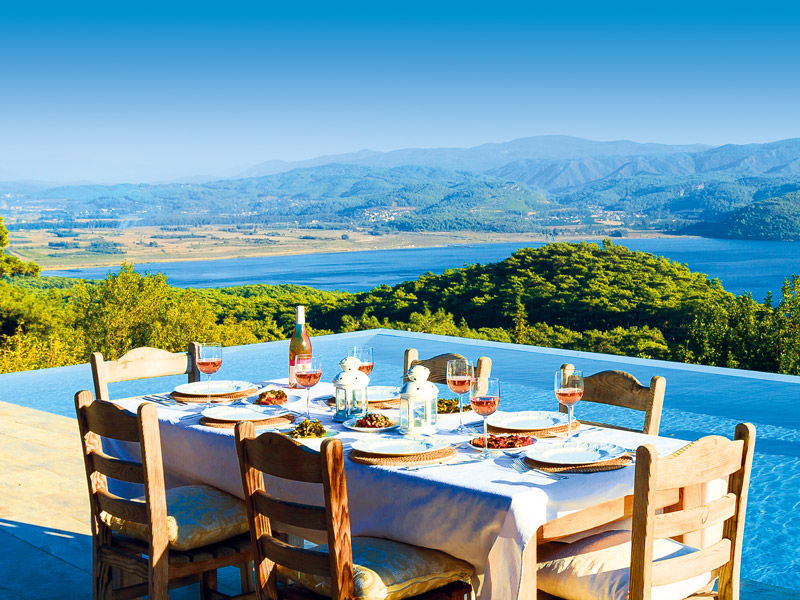 Beaches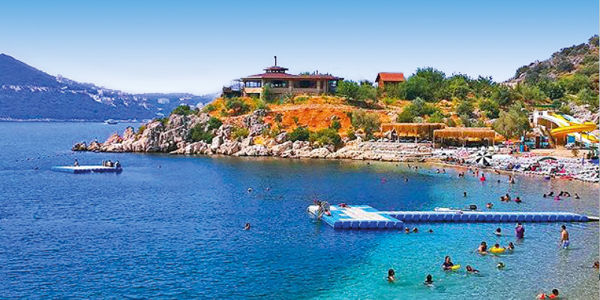 Akcagerme (Kaş)
A beautifully sheltered cove with generally calm sea and a shingle beach. The beach is run by the Kaş tourism college, with a snack bar and restaurant in the main season.
Getting there…
Akcagerme is off the road between Kaş and Kalkan, around 5 minutes' drive from Kaş.
Footnotes…
This beach is aimed at families, with waterslides for children over the age of eight, clear water for snorkelling and a small play area. Large car park.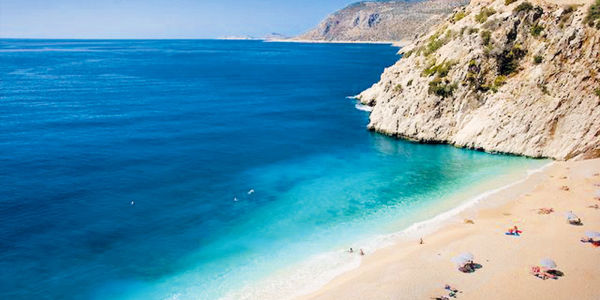 Kaputaş
You need to climb down (and up!) 180 steps to this beach, which is a mix of pale sand and shingle. The beach shelves quite steeply, so it's good for swimming.
Getting there…
Kaputaş lies to the west of Kaş on the road to Kalkan, about 25 minutes by car from Kaş.
Footnotes…
You'll find a small snack bar with parasol hire during peak season, but you'll need to bring your own water and provisions at other times. Extremely busy in July and August.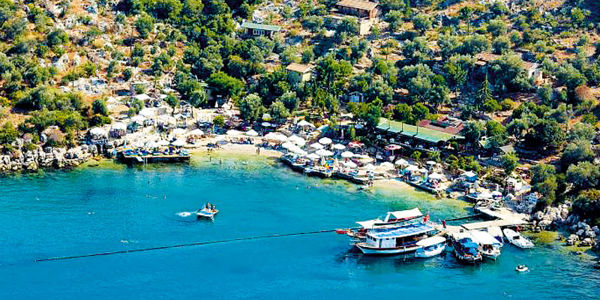 Limanağizi
If you don't feel like driving far then you can catch a boat from Kaş harbour instead. There are four beach clubs to choose from, and several good restaurants.
Getting there…
Free boats run from Kaş harbour, check with your local representative for seasonal variations
Footnotes…
There's a small charge for umbrella and sunbed use, and as an alternative to the boat, you can also walk from Kaş to Limanağizi along a stretch of the Lycian Way.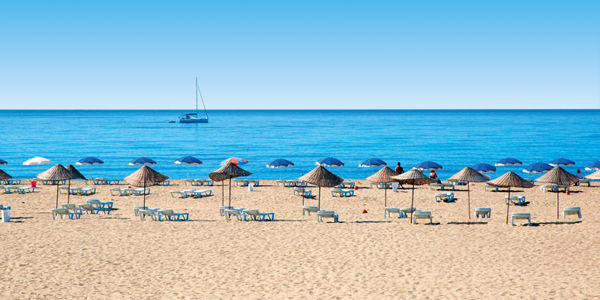 Patara
If you're looking for sand then Patara is the best choice in the area, a 12km stretch of beach backed by extensive ancient remains, so it's a wonderful day out.
Getting there…
Patara is a 40-minute drive west of Kaş, taking the coast road to Kalkan.
Footnotes…
The beach is a protected natural park and there is a small entry fee. To protect the nesting Caretta Caretta turtles, public access is prohibited between 7pm and 9am.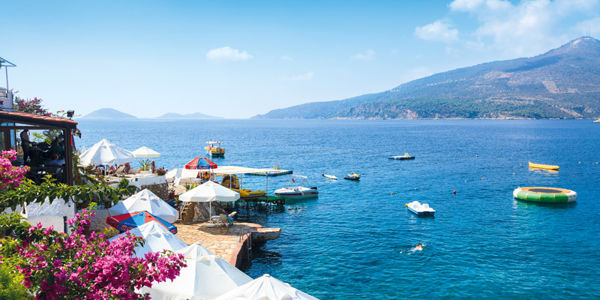 Kalkan Beach Clubs
Kalkan is well known for its beach clubs, which are built out on platforms over the sea, with ladders for easy swimming access. Sunbeds, parasols and bar/restaurant service are generally provided.
Getting there…
Kalkan is about 25 minutes by car from Kaş. Access to most clubs is via water taxi from the harbour.
Footnotes…
Indigo Beach Club offers free entry to Simpson Travel guests, and is walkable from the town; an entry fee generally applies at other clubs, which often covers sunbed use.
Events
WHAT'S ON IN APRIL
23 Apr: Celebrating the first assembly of the modern Turkish Parliament, combined with National Children's Day, celebrated in schools.
WHAT'S ON IN MAY
1 May: Labour Day, banned by the government for years due to fear of protests, have been back on the agenda since 2009.
19 May: The highly patriotic Commemoration of Atatürk Youth and Sports Day, with performances from local children.
27 May: Ramazan, the Islamic Holy Month, a time for prayer and reflection, during which Muslims fast between sunrise and sunset. Dates change every year.
WHAT'S ON IN JUNE
Mid Jun: Kaş Festival – Art, ballet, sometimes music in an ancient theatre, and a swimming race between Meis and Kaş.
25 Jun: A three-day national holiday called Ramazan (Şeker) Bayrami: the Sugar Feast. Lots of sweet treats are enjoyed, children receive small gifts and cards are exchanged. Dates change every year.
WHAT'S ON IN AUGUST
30 Aug: Victory Day is a very patriotic celebration of the end of the Turkish War of Independence.
WHAT'S ON IN SEPTEMBER
1 Sep: The eve of the Feast of Sacrifice (Kurban Bayrami), a four-day celebration of charity and compassion for the less fortunate. Dates change every year.
WHAT'S ON IN OCTOBER
29 Oct: Republic Day commemorates the creation of the Turkish Republic in 1923 and is marked by processions and fireworks.
The Road Less Travelled
We asked our representatives to share a few of their favourite 'off-the-beaten-track' Kaş experiences. Here are some of their suggestions...
Head for the hills
Around 40 minutes from Kaş, pretty Islamlar nestles in the foothills of the Taurus mountains, and the freshwater streams that run down from these peaks feed the vast tanks that supply the village's renowned fish restaurants. If you like your fish fresh, this is the place to come, with freshwater trout making the journey from tank to table in a matter of minutes.
A sunset swim
Patara beach is huge, and you can always find space to yourself if you're prepared to walk a little way, but if you're looking for the quietest time of the day, pop along around 6pm. The beach closes at 7pm to protect the turtle nesting grounds, but you can enjoy an hour or so of golden evening light, with the ancient ruins as a stunning backdrop.
Uncover the everyday life of the ancients
Andriake has always been one of the less visited sites in the area, but expect that to change with the opening of the Lycian Civilizations Museum, housed in the colossal, 2nd C Granarium. Opened in 2016, the museum contains over 1000 historical artefacts collected at Lycian sites including Myra, Andriake, Patara, Xanthos, Tlos, Arycanda and Olympos. A memorable day out for just five Turkish Lira.
Take tea in the garden
'Conversations without tea are like a night sky without the moon' goes the Turkish saying, and tea-drinking in this country is as much about ritual as refreshment. Traditionally served strong and dark in tulip-shaped, glasses, you can experience the real thing in a shady Kaş tea garden.
Guzzle on Gözleme
Gözleme are a typical kind of Turkish street food, a cross between a flat-bread and a pancake, stuffed with sweet or savoury fillings and often enjoyed on the go. Our resort manager Vicki particularly rates the mushroom-stuffed gözleme available at Kaş market, why not buy a few for an easy picnic lunch?