Explore holidays in Biarritz & The Basque Country
Steeped in Basque traditions as old as the hills, this destination reflects a very different take on 'Frenchness': one that's also imbued with the colours of Spain just a short drive away. And if swimming, sunbathing, surfing and sandy beaches don't appeal, you can try a thalassotherapy spa session, watch an adrenaline-fuelled game of Basque pelote or flex your cultural muscle along the narrow streets of ancient towns and pristine villages where museums, galleries and restaurants are in plentiful supply.
Visit our collection of handpicked villas or boutique hotels in Biarritz & The Basque Country to complete your luxury holiday on the Aquitaine Coast.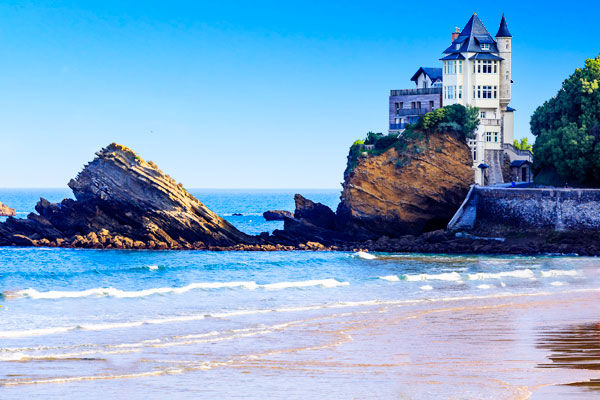 A selection of our holidays in Biarritz & The Basque Country
*Prices shown are for a seven-night stay at the lowest accommodation-only rate
Our guide to Biarritz & The Basque Country
Introduction to Biarritz & The Basque Country
Your invitation back to nature
Rubbings shoulders with Spain, its rolling hills and forests the mediators between lofty peaks and a dramatic coastline, the unspoilt Basque region brings all holiday experiences back to the great outdoors. Around its borders, small beaches and coves, calm seas and surf breaks share the spotlight with the national heritage site of La Rhune, a sacred site in Basque mythology and a doorway to the adventures that await you around the foothills of the Pyrénées. Try canyoning, white-water rafting and pony trekking and nature trails – or take the funicular near Sare up to the 905m-high summit and be swept away by the views.
Perfectly civilised
For more cultivated pleasures, you'll find nature tamed into the perfect greens of Biarritz's Le Phare golf course, the second oldest in France, as well as thalassotherapy spas and the healing springs of Cambo-les-Bains – or learn how to navigate the waves with a surfing lesson. There are also countless opportunities to dig a little deeper among the region's cultural roots in its museums, galleries and exhibitions, or to dine out on its culinary heritage, a combination of fine French cuisine and rustic Basque recipes, handed down from a people as old as the hills and with a hundred stories to tell.
Celebrating 'Basque-ness'
Said to have been the first Europeans, Basque people embrace tradition like a close friend. They have their own language, Euskera, and their picturesque towns and villages are the embodiment of fierce pride. Each pristine, half-timbered, chalet-style house has a name not a number and is painted dark blue, green or oxblood red, as regulated by the parish. You can learn about their culture in the Bayonne museum or, even better, live it through their food, music, festivals and, most dramatically, their sports: Force Basque, a local take on the Highland games, and the adrenaline rush that is Basque pelote: squash on steroids and the fastest ball game in the world!
The richness of Biarritz
Tradition wears a more glamorous mantle in stylish Biarritz, a darling of the Belle Époque, but also a town where the sea remains a vibrant part of the collective consciousness. Surfboards are as commonplace as designer shopping bags and the beautiful coastal walk between the lighthouse and the Côte des Basques remains the best, and most romantic way to get your bearings. But despite the opulence of the 19th-century Hotel du Palais and the striking art deco casino overlooking the golden Grand Plage, it has its feet on the ground thanks to a new generation of entrepreneurs opening shops, bars and restaurants made for the 21st century.
For tots, teens and inbetweens
From crab fishing at the Port des Pêcheurs to shark watching at the aquarium, Biarritz is a seaside playground complete with chocolate pastries for breakfast. And if a real surfing lesson feels a bit much, there's a virtual alternative on offer at the wave-shaped Cité de l'Océan. For organised fun in a parent-friendly setting, the children's beach clubs of St Jean de Luz stand out from the crowd – or, for a day without sea, try a tree-top adventure in Anglet's Chiberta pine forest or a bounce on the giant inflatable at Saint-Pée-sur-Nivelle lake and banish even the thought of a dull moment.
At a glance
Currency

Euro (€)

Flight Time

2 hours

Time difference

+1 hour

Language

French

Visa required

Not for UK citizens
Food & drink
A taste of Biarritz and the Pays Basque
Basque cuisine features Atlantic fish and seafood in abundance, but look out for axoa (a hearty veal stew), Bayonne ham, and Espelette's famous sun-dried red peppers (le piment). Sheep's milk cheeses from the mountains are a proud tradition with Petit Basque a particularly mild version, and authentic Basque tapas or pintxos are a must, particularly if you're visiting Spain's culinary capital of San Sebastián or nearby Hondarribia– they're cheaper over the border too!
The covered food markets of Biarritz and St-Jean-de-Luz (Les Halles) are full to overflowing with local produce, and it's normal to see the locals turning up around 11am for oysters, prawns and sea snails, accompanied by a good glass of wine. Tours and tastings are available – talk to our local representative – and there are plenty of restaurants in the streets nearby. In fact, you're spoilt for choice wherever you are, although for a sunset supper, try the west-facing restaurants of Bidart, Guéthary and Ilbarritz.
If you have a sweet tooth, the ubiquitous Gâteau Basque, a cake served with black cherry or vanilla cream, is so revered it has its own museum in Sare. Or there's chocolate. Bayonne is home to some of the most established chocolatiers in France and, along its historic streets, you'll find shops with an extremely generous free-tastings policy!
Biarritz & Pays Basque tipples
Cider is a popular Basque choice, served, most authentically, straight from the barrel with a cod omelette or steak on the side. Try it for yourself in one of the cider houses near San Sebastián. Wine lovers should look out for the lightly sparkling Txakoli wine or, from the north of the region, a red Irouléguy. And for something a little quirkier, try Egiategia ('the workshop of truth'), an innovative white aged in barrels under the sea near St-Jean-de-Luz!
And a quick tip if you're spending an evening in Biarritz… For a more luxurious take on your holiday sundowner, both the terrace of the five-star Hotel du Palais and the rooftop bar of the Radisson Blu Hotel welcome visitors for early evening drinks.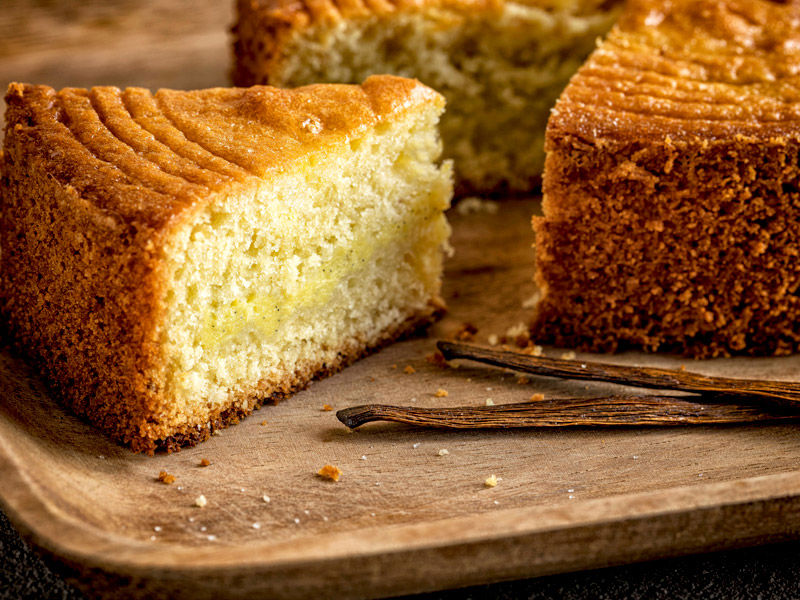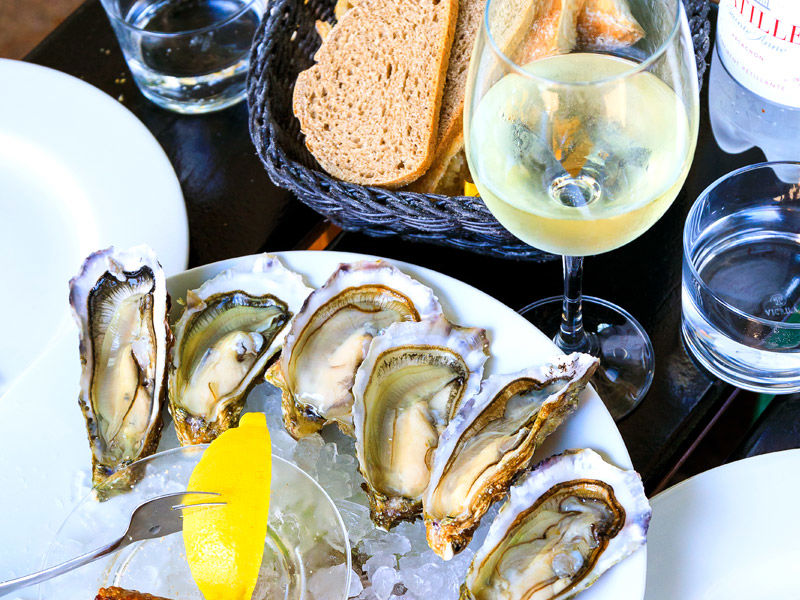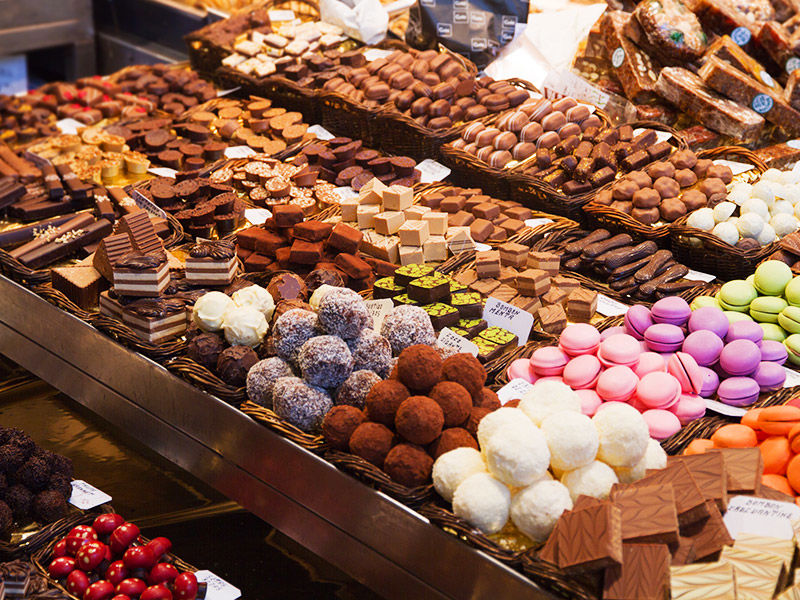 Beaches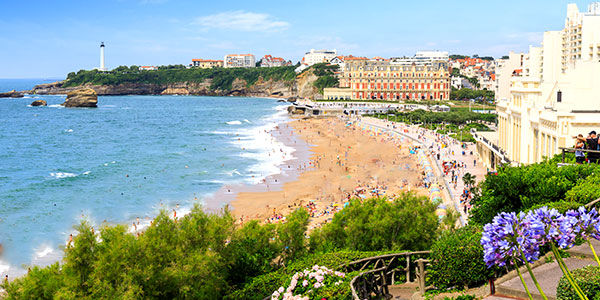 La Grande Plage, Biarritz
Presided over by the historic art deco casino, this is the beach to be seen on. It's also home to surf schools, children's clubs and a beachfront promenade with a choice of cafés and restaurants.
Getting there…
In the centre of town, easy access is via the Quai de la Grande Plage, down steps or a ramp.
Footnotes…
You can hire one of the iconic 1920s-style striped tents and two beach chairs for around €14 a day.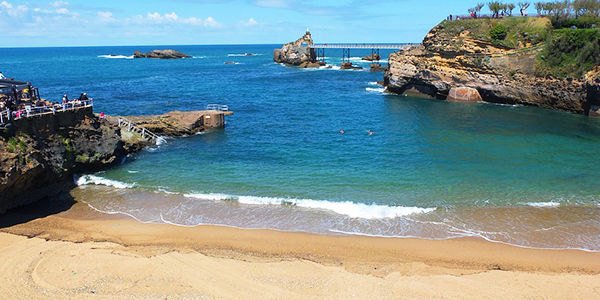 Plage Port Vieux, Biarritz
A designated 'no smoking' beach, the calm waters of this sheltered cove are ideal for little ones. It's lifeguarded at least during the afternoons from July to September and swimming lessons are available.
Getting there…
On the Esplanade de la Vierge, the bay is also served by a free shuttle from the city centre.
Footnotes…
The local whalers used to land here after their many weeks at sea. Now it's the hangout of the Polar Bear Club who swim 365 days a year, no wetsuits allowed!
Plage de la Côte des Basques, Biarritz
The beach disappears at high tide when swimming is not allowed, but it's a must-visit for the scenery, including the much-photographed medieval-style Villa Belza, and a number of good restaurants on the cliffs above.
Getting there…
Park at the top of the cliff and you can access the beach downs steps, paths or on the free shuttle.
Footnotes…
A popular surfing spot with plenty of surf schools nearby, this is where the sport began in France in the 1950s.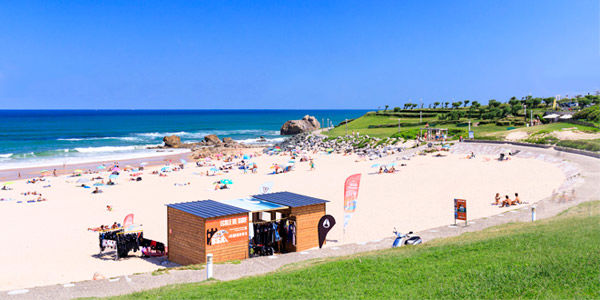 Plage d'IlBiarritz
One of Biarritz's quieter coves, popular with locals. There's surf schools, an ice cream shack, excellent restaurants and a super children's play area at next door Milady (8 minutes' walk).
Getting there…
The beach is on the southern outskirts of Biarritz in between the Cité de l'Ocean modern museum and the stunning Ilbarritz 9-hole golf course.
Footnotes…
Hang around for supper at one of the beach restaurants – the sunsets from here are simply breath-taking.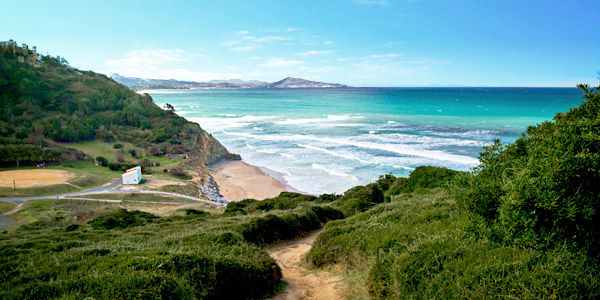 Bidart's beaches
With a backdrop of the Pyrénées, Bidart's six beaches cover the 5km between Biarritz and Guéthary. The one nearest the village is the Plage du Centre, a stretch of fine sand sheltered by beautiful green cliffs.
Getting there…
Bidart is about 15 minutes by road from Biarritz.
Footnotes…
Il'Barritz, the most northerly of the beaches, is also perhaps the best known and surrounded by the greens of a picturesque, nine-hole golf course.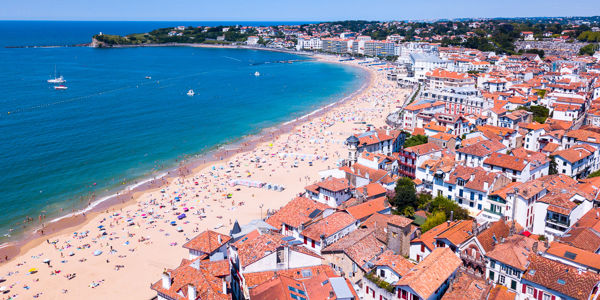 La Grande Plage, St Jean de Luz
The vibrant promenade Jacques Thibaud, with its shops, restaurants and grand historic buildings, runs half the length of this beautiful golden arc; a protective breakwater creating calm, child-friendly seas.
Getting there…
The beach is backed by the picturesque town and there's free parking in the residential area near the peninsula of Pointe Sainte Barbe.
Footnotes…
During the peak season, three excellent children's clubs pop up, with zip wires, trampolines, table tennis and beach games.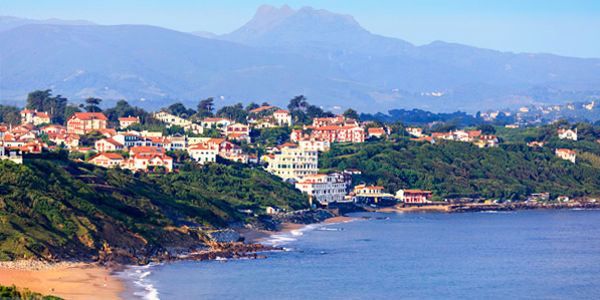 Guéthary
A rugged coastline embraces a chain of sandy beaches and, if you don't feel like joining the surfers, you can watch them from one of the west-facing bars and restaurants above.
Getting there…
Simply walk down through the village towards the sea and you'll find the beach.
Footnotes…
On a hot day or with children, you may prefer to walk back up over the tree-covered hillside. There's a narrow, shaded path on the left-hand side of the beach as you face the sea.
Anglet
More touristy but great for teens, there are seven surfer-friendly sandy beaches here; Chambre d'Amour is the main focus with its bars, restaurants and a boardwalk popular with joggers and rollerskaters.
Getting there…
The drive takes just over ten minutes from Biarritz along the Boulevard de la Mer.
Footnotes…
Anglet's Chiberta pine forest has a tree-top adventure park, horseriding and Segway tours or take advantage of the waterfront Pignada health trail: 4.5km of paths for walking and jogging.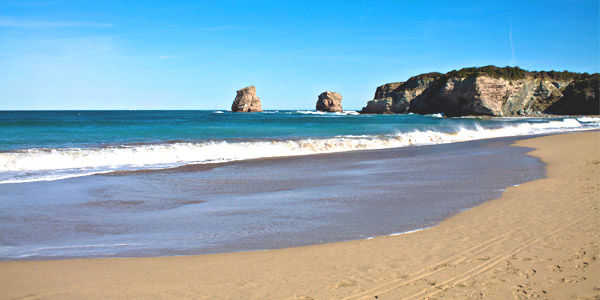 Hendaye beach
While away a happy day on the Basque Country's longest beach and then hop across to Hondarribia in Spain on the ferry for a tasty tapas dinner.
Getting there…
Hendaye is just over half an hour from Biarritz, the other side of St Jean de Luz.
Footnotes…
Take the opportunity to book a surfing or body-boarding lesson: the waves are gentler here so it's great for beginners (although it gets busy in high season).
Things to do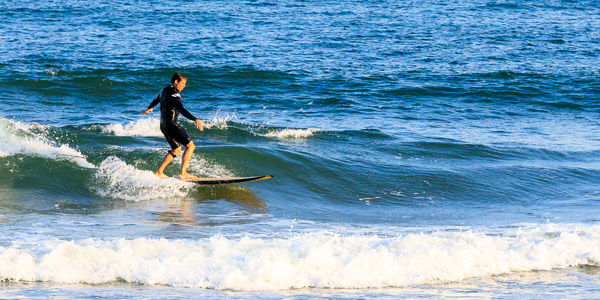 Take to the waves
Surfing novices can find their niche with one of the surf schools around Anglet or the Côte des Basques beach in Biarritz. If you just want to hire a board, our local representative can arrange to have one delivered to your villa.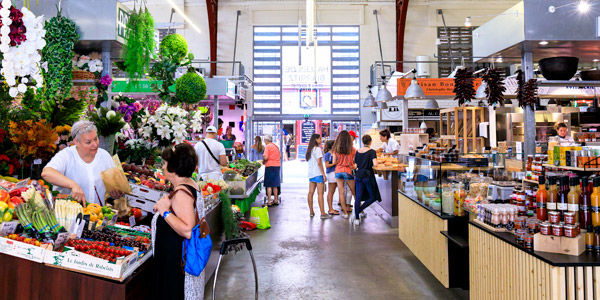 Enjoy a guided tasting tour
Book in advance through our representative and a wander around Biarritz's covered food market (Les Halles) will take on a whole new dimension. Chat with local producers, get a few culinary tips and try the best before you buy.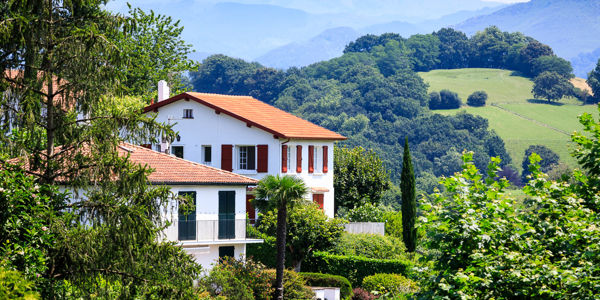 Make a day of the villages
A town hall, fronton for Basque Pelote and a pretty square with bars and restaurants: the pretty Basque villages follow a clear formula, but the surrounding attractions, markets and events give each its own unique story to tell.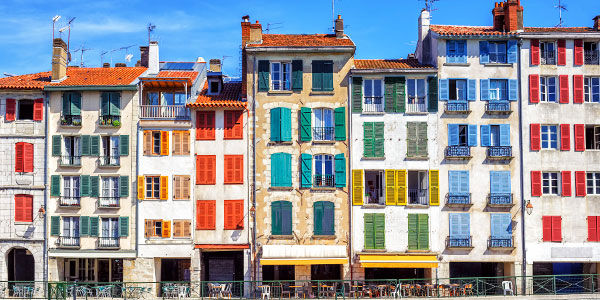 Gen up on the local culture
The Basque people are very proud of their heritage, rich in history and mysterious in its mythology. The Musée Basque in Bayonne offers a fascinating insight, with exhibitions, events and workshops
(www.musee-basque.com).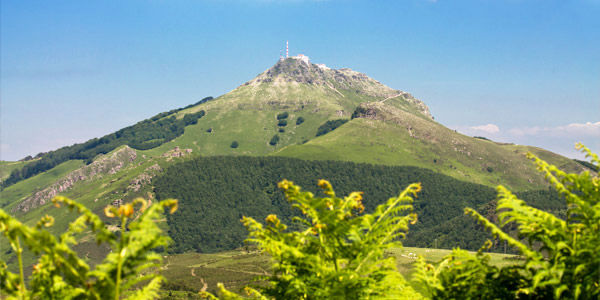 Climb La Rhune
The summit is a two-hour hike, but there's no shade on the way up so the funicular from Sare might be a cooler option. Some scheduled trips may also include extras such as a bird of prey show or sunset drinks and singing.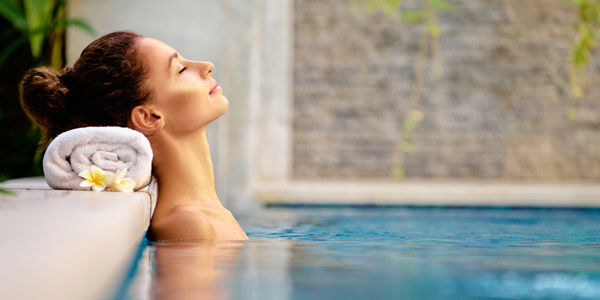 A gentler way to enjoy the water
Biarritz is famous for its thalassotherapy, spa treatments that use salt water and marine products to give your body a rejuvenating boost. You can try it for yourself at many of the town's hotels, either a one-off session or a course.
Watch a game of pelote Basque
This high-octane spectator sport is played in a fronton (court) against a uniquely shaped wall – and every village has one. If you don't catch a match in passing, Biarritz hosts various tournaments, listed on www.touradour.com.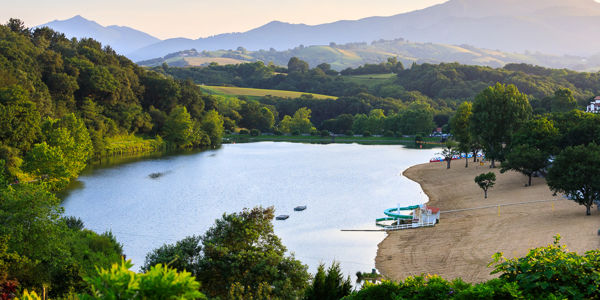 Get to grips with a giant inflatable
Pedalos, a sandy beach, ice-creams and a handful of restaurants make the picturesque Saint-Pée-sur-Nivelle lake an 'off the beaten track' family treat – but it's the Aquazone Wipeout inflatable on the lake that steals the show!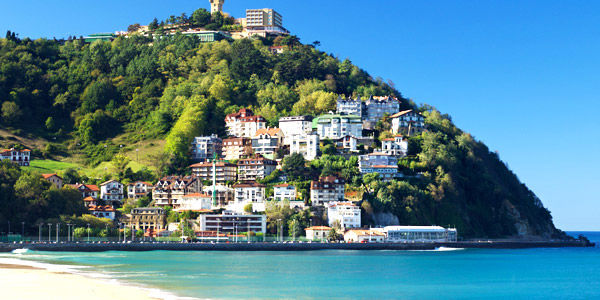 Take a boat to Spain
Catch the ferry from Hendaye, with its impressive castle, and in just ten minutes, you'll be in the colourful coastal town of Hondarribia, a smaller, less touristy version of San Sebastian that's bursting with bars and restaurants.  
Events
Throughout the summer
Force Basque events are held in every town and village, a kind of Highland games for the Basque Country with various feats of stamina and endurance, including tug of war and cart lifting.
What's on in May
End of April, beginning of May
The Fêtes de Bibi Beaurivage in Biarritz carries you from one event to the next: Basque dances to omelette competitions; farmers markets to a vintage car show.
What's on in June
Mid June
For fans of motorcycles, surfing and retro culture, Wheels and Waves has plenty of community spirit with races, concerts and exhibitions. Find out more at www.wheels-and-waves.com/en/
Mid June
The Fête de la Musique takes place in multiple venues across France, although, in this particular area, Bayonne takes the lead with a line-up of rock, pop, jazz, classical and hip-hop as well as traditional acts.
21 June
Amid a sea of black and red, the colours of the town's patron saint, the Fête de la Saint Jean de Luz is a lively celebration with concerts, street food, pelota basque and the toro de fuego (bull of fire).
What's on in July
Thursdays in July and August
The free, family-friendly Jeudis de l'Océan takes place in the gardens of Biarritz's Cité de l'Océan and features theatre, circus performers, dancers and open-air cinema and concerts. Take a picnic.
Early July
The Festival of the Tuna in St Jean de Luz sees the streets come alive with music and dancing in the traditional Basque way, with stalls selling freshly cooked tuna steaks.
Early July
If you can make your way to Bilbao, the BBK Live Music Festival makes it worth your while with international rock and pop acts performing in the mountains.
Early July
St Jean de Luz's Night of the Sardines begins with a communal meal of very cheap food and wine accompanied by traditional live music and becomes increasingly less sedate as the evening progresses!
14 July
Bastille Day commemorates the storming of the Bastille, a turning point in the French Revolution. In Biarritz fireworks are set off from the main beach and there's music and plenty of food and wine.
Mid July
The Biarritz Surf Festival brings the international surfing community together to compete in a variety of events and generally put on a show. It includes spectacles such as tandem surfing and paddle-board racing, against a background of live music.
End of July
The riotous five-day Fête de Bayonne is the largest city celebration in France and a lively celebration of local traditions with music and dancing. Wear red and white!
What's on in August
Week of 15 August
Eight days of dedicated partying, the Semana Grande San Sebastian includes activities for adults and children, concerts, horse races and bull fights – with a traditional cannon shot fired to kick start the festivities.
The Saturday nearest 15 August
The second Night of the Sardine in St Jean de Luz (see July).
What's on in September
End of September
During the Fête de la Corniche, for one day only, the 7km road between Socoa and Hendaye is closed to cars so you can walk or cycle it and enjoy a few activities en route.
End of September
Held on the roof of the Biarritz casino, the Festival d'Amérique Latine is a celebration of all things Latin America, with photography, concerts, cinema and traditional cuisine.
The Road Less Travelled
Visit 'Chocolate Street' in Bayonne
Bayonne has a rich heritage of chocolate trading and the shops here are home to some of the oldest chocolatiers in France. A visual delight, there's always a little something standing by to sample - but beware, it's a highly addictive occupation.
Enjoy an aperitif at the Hotel du Palais
This grand palace dating back to 1855 was once the home of Napoleon III. Now Biarritz's most famous hotel opens its doors to guests, and what better way to sample the refined atmosphere than with a little livener on the terrace?
Have a family adventure at WOW Park!
Set in 18 hectares of botanical gardens between St Jean de Luz and Hendaye, this magical world of forest adventures offers aerial walkways, tree-top hideouts, trampolines, archery and more. Perfect for children and the young at heart.
Take a hike
The Aquitaine Coast has a south west coast path to rival the UK's. Admire the geology of la Corniche, stroll through the botanical gardens of St Jean de Luz and finish at the old chapel of Bidart. We recommend enjoying the hike over two separate days.
Paddle board on St Jean de Luz bay.
Leave the bustle of the town and beach behind and glide across the gentle waters of the bay on a paddle board. And if you'd rather sit than stand, take the weight off your feet and hire a kayak instead.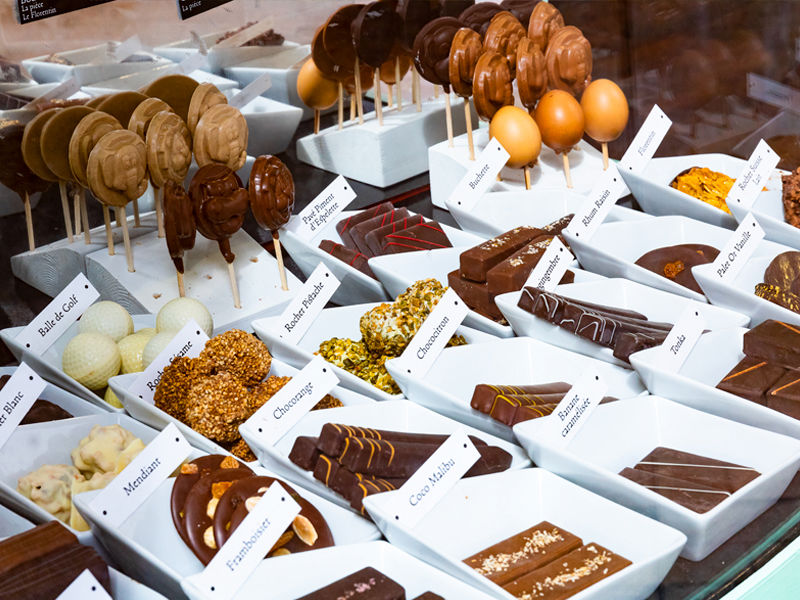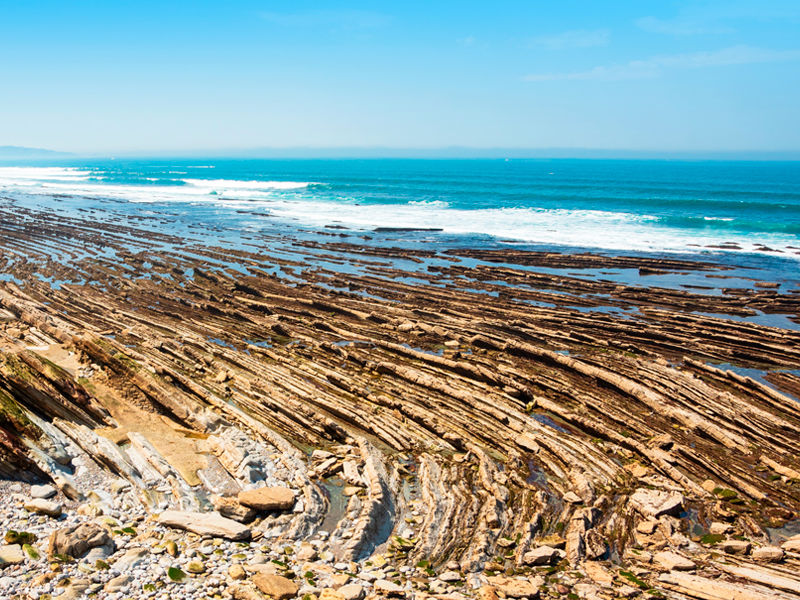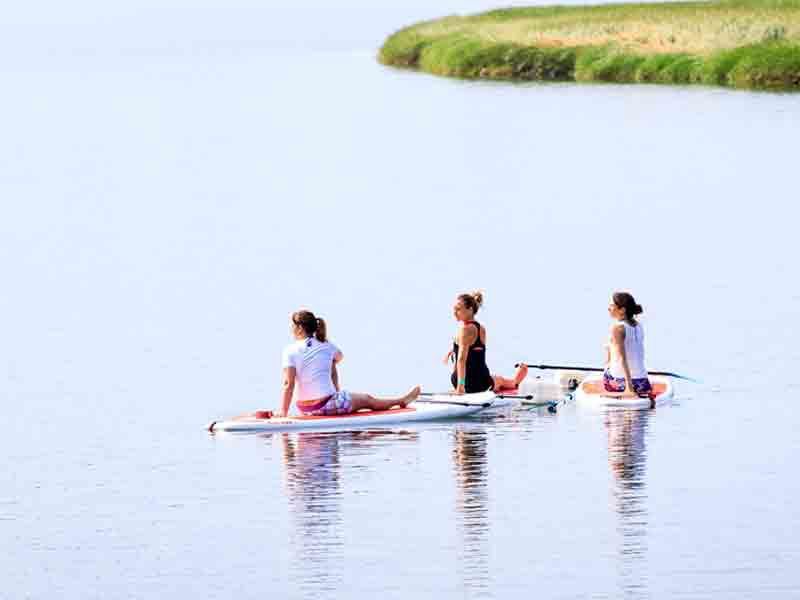 Towns & Villages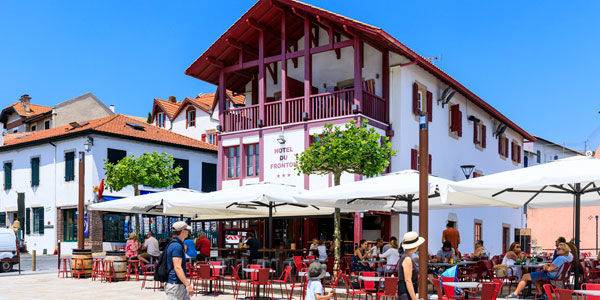 Bidart
15 minutes
There's a perfect, picture book simplicity about Bidart – the white parasols in the square, the oxblood-red, painted timbers of the houses and the vivid green of the plane trees and surrounding hills. Walk down towards the sea and there's also an intriguing war memorial overlooking the coast. For golfers, the nine-hole Golf d'Ilbarritz is a short drive away and, in July and August, Saturday morning and Thursday evening markets pop up to bring a little extra colour to this pristine Basque village.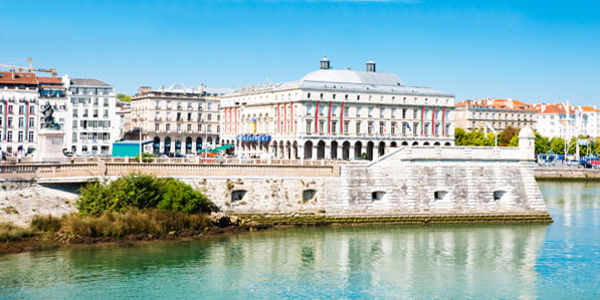 Bayonne
20 minutes
It may host France's largest festival, July's boisterous Fête de Bayonne, but the 'chocolate capital' slips curiously below the tourist radar – and that only makes it lovelier. Built around two rivers, it divides neatly into three: the Quartier Esprit, a former Jewish ghetto; Grand Bayonne, home to the old barracks and the Basque and Fine Art Museums, and Petit Bayonne, where pretty streets fan out around a distinctive twin-spired cathedral, its jewel-coloured interiors a spectacle in their own right.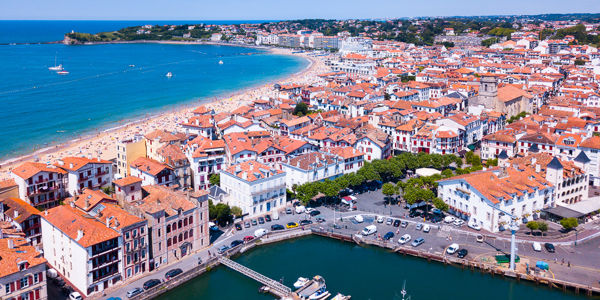 St Jean de Luz
40 minutes
Aside from the 15th-century fishing port, a reminder of its humble roots, this Basque seaside town is best known for its extravagant history. A playground for the 19th-century French and Spanish aristocracy, St Jean de Luz also hosted Louis XIV's wedding to his Spanish infanta in the magnificent St Jean Baptiste church, now surrounded by luxury boutiques and tempting bistros. And yet, for many, families in particular, it's the horseshoe-shaped Grand Plage that remains the real jewel in the crown.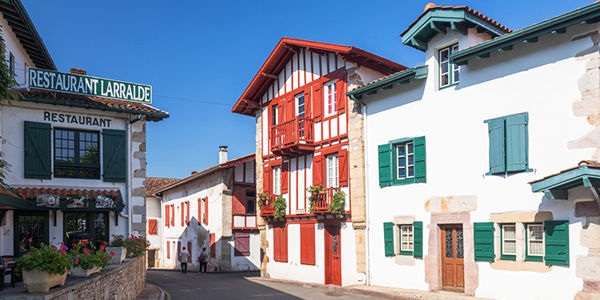 Ascain
35 minutes
Sitting snugly near the foot of La Rhune, charming Ascain dutifully follows all the requirements for the perfect Basque village, but adds a three-arch medieval bridge and a 16th-century wooden-galleried church into the mix to stand out from the crowd. The station for La Rhune's little train isn't far away and another plus for children is the close proximity of Saint-Pée-sur-Nivelle, about 15 minutes by road, its lake an amusement park of giant inflatables, pedalos and a pretty sandy beach.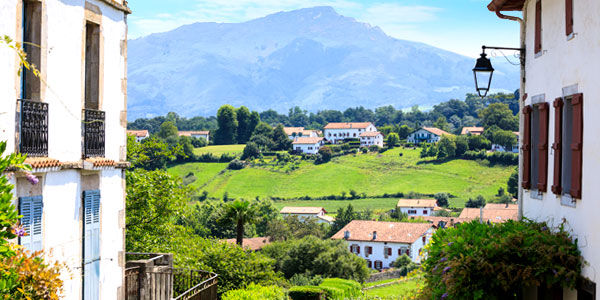 Sare and Ainhoa
40 minutes
Quintessentially Basque and, officially, two of France's 'most beautiful villages', Ainhoa and Sare are surrounded by the spectacular walking country near the Spanish border. Winston Churchill had a soft spot for Sare and its eponymous caves, with their unusual rock formations and ancient artifacts, provide a direct line of sight into the area's ancient history, while the little train, which runs from a station nearby, is an excellent way to enjoy the here and now, as well as La Rhune's stunning scenery.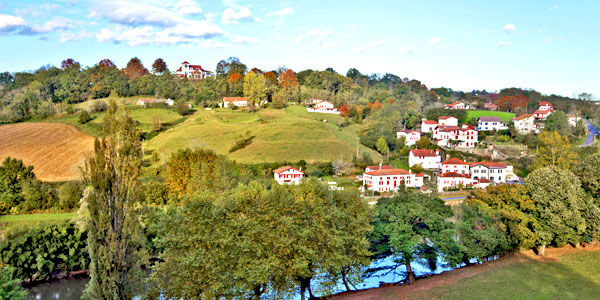 Cambo-les-Bains
30 minutes
The healing thermal waters have made this picturesque village a well-being destination since the Middle Ages and the impressive spa remains a sanctuary of therapeutic pampering. However, those seeking tranquility – and a little history – may prefer the theatrical beauty of the 17th-century Saint-Laurent Church. And while the chocolate museum (with tastings) is always fun, it's the Neo-Basque Villa Arnaga, former home of Cyrano de Bergerac, that shouldn't be missed, with its lovingly-tended formal gardens and calendar of exhibitions and events.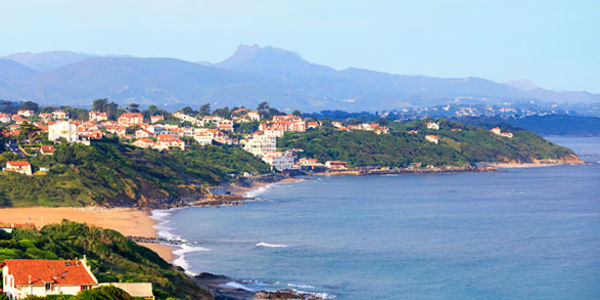 Guéthary
20 minutes
A favourite of the Paris set who arrive every August, this former fishing port is now a chic seaside destination – and loved by surfers who winter around the world-renowned Parlementia beach, shared with nearby Bidart. The rugged coastline below the village has been tamed into terraces: a showcase for statement Art Deco, and various sophisticated sipping and dining opportunities – but, come evening, there's something effortlessly lovely about enjoying a little something from the snack van as you soak up the sunset.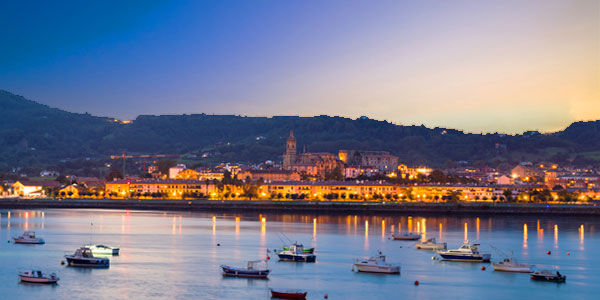 Hendaye and Hondarribia
35 minutes to Hendaye
Given its location, visitors spend a lot of time leaving Hendaye to skip across to picturesque Hondarribia, just five minutes away across the Bidassoa River. However, before crossing the border to tuck into excellent pintxos or take a stroll around the Casco Antiguo (old town) or the painted fisherman's houses of La Marina, there's Hendaye to enjoy. As well as its 3km sandy beach, there's the Neo-Gothic Château d'Abbadie, an atmospheric concert venue with guided tours in French, but transcribed in English.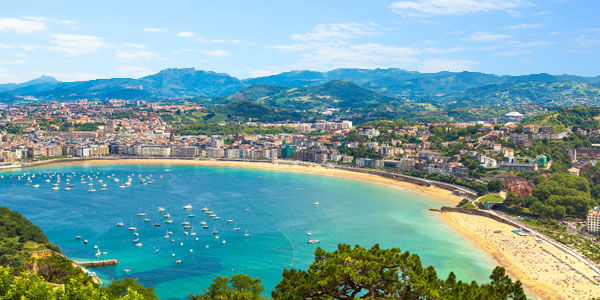 San Sebastián
50 minutes
A dazzling array of Michelin stars and award-winning pintxos bars provide mouthwatering memories to savour, but San Sebastián's Art Nouveau flair, beautiful parks and much-loved La Concha beach ensure all tastes are satisfied, before it sweeps you up in its vibrant social whirl. This includes September's glittering International Film Festival – but if that's a little overwhelming, take a wander through the Old Town and up to Monte Urgull instead, for views that put it all in glorious perspective.