Explore holidays in Porto Vecchio & Bonifacio
Just across the water from Sardinia, history takes a cosmopolitan turn in the winding streets, imposing citadels and elegant marinas of Bonifacio and Porto Vecchio. A luxury holiday here comes with no shortage of style, and plenty of restaurants, cafés, boutiques and museums. Not far away, you'll also find the family-friendly beaches of Pinarello and pine-shaded Palombaggia, as well as the white sands of Santa Giulia and chic St Cyprien.
To complement this elegant destination, we offer a selection of handpicked luxury villas, boutique hotels and apartments in Porto Vecchio and Bonifacio, near the beautiful south's best attractions.
A selection of our holidays in Porto Vecchio & Bonifacio
* Prices include seven nights' accommodation, flights and transfers/car hire, based on the lowest rate for maximum occupancy.
Our guide to Porto Vecchio & Bonifacio
Introduction to Porto Vecchio & Bonifacio
Your summer playground
The magnificent stretch of coastline between Bonifacio on Corsica's southern tip and Porto Vecchio, 30 minutes up the eastern coast road, has become a draw for Europe's more discreet high society – and it's easy to see why. Pristine white sandy beaches are the places to be seen sipping a cocktail, while Michelin-starred restaurants and chic bars beckon ashore the occupants of yachts lining Porto Vecchio's picturesque old harbour. 
The streets below Bonifacio's well-preserved fortifications, where you'll find the town's ancient citadel, are lined with stylish independent boutiques and sophisticated cocktail bars promising a well-deserved apéritif on your descent.
A gentle pace beneath the buzz
Away from the glamorous harbours and beaches, you don't need to go far to discover a quieter side to Corsica. If you know where to look, there are hidden beaches that remain virtually deserted even in the height of summer. Inland, the sheer scale of the dramatic Alta Rocca region means you can quickly lose yourself in a far more traditional Corsican experience, less than an hour's drive from the coast.
Porto Vecchio sits at the end of the GR20, Europe's toughest long-distance hiking route. But the town offers plenty of leisurely strolls, along with the gentler arts of shopping and wine tasting.
Flashes of history around every corner
Founded in 833 by Boniface, the Count of Tuscany, Bonifacio wears its historic connections proudly. The harbour is said to be the one described in Homer's Odyssey, its citadel built by the Genoese, and the road leading to it, home to number 7 Rue des Empereurs, the onetime abode of Corsica's most famous son, Napoléon Bonaparte.
From the harbour, a short boat trip provides a wonderful way of viewing the ancient garrison. From sea level, you suddenly realise that the town is literally clinging onto the cliffs; the giddying drop to water level explaining why Bonifacio has never been breached!
Beach life for all ages
Around the scenic Gulf of Porto Vecchio, at child-friendly beaches such as Palombaggia (voted among the best in Europe), the gently shelving, soft, pine-shaded sand makes holidays in this region a firm favourite with families.
Inject some adventure into your days at the seaside with a popular boat trip, either piloted or private hires, to the secluded islands off the main coast. Along the way, you'll discover wonderful places to swim and snorkel, as well as deserted beaches only accessible by sea.
Mother nature – however you like her
Corsica is the most mountainous island in the Mediterranean and, with over a third of the land dedicated to nature reserves, our visitors to Porto Vecchio and Bonifacio invariably appreciate how little development there has been – and how seamlessly buildings complement the environment.
Adventurous types can spend their days scrambling along canyons, navigating dizzying bridges and hiking long distances, while those who want to appreciate nature at a slower pace can stroll around waterfalls, cool off in mountain springs or take long, leisurely drives through scenic villages.
At a glance
Currency

Euro (€)

Flight Time

2 hours 30 minutes

Time difference

+1 hour

Language

French and Corsican

Visa required

Not for UK citizens
Food & drink
A taste of Corsica
Corsican cuisine is defined by the maquis, the dense shrubland covering the island's rugged interior, providing rich pastures for snuffling wild boar and wild pickings to fill the larder. The fruit of the chestnut trees are simmered in stews and made into unctuous sweet spreads and preserves. The smoky nutty flavour of chestnut flour enhances everything from bread to beer, as does the distinctively Corsican version of polenta still on the menu in traditional auberge restaurants, where meals are rustic and hearty, a unique blend of French and Italian influences.
There are weekly food markets in most towns and smaller local supermarkets often have aisles dedicated to homemade produce. Look for the symbol of indigenous cuisine, a Moor's head wearing a blindfold as a bandana.
Corsican tipples
Join Corsican café society and dunk sugar-coated canistrelli biscuits in a café noisette – espresso topped with an equal quantity of steamed milk. As you would expect, pastis is the universal apéritif; but be sure to try myrte: eau de vie macerated with sugar and myrtle berries foraged from the maquis.
Eating locally
Porto Vecchio's beautiful Old Town walls are where you'll find some of its finest restaurants, with views across the fashionable marina. There's also a great choice of cuisine lining the main square. In Bonifacio, fresh mussels are the most popular dish of the day in the harbour eateries, along with a wide selection of seafood and aubergines à la Bonifacienne, a local speciality. If you're in no hurry, explore the town's narrow streets and you'll find plenty more, less frequented dining options.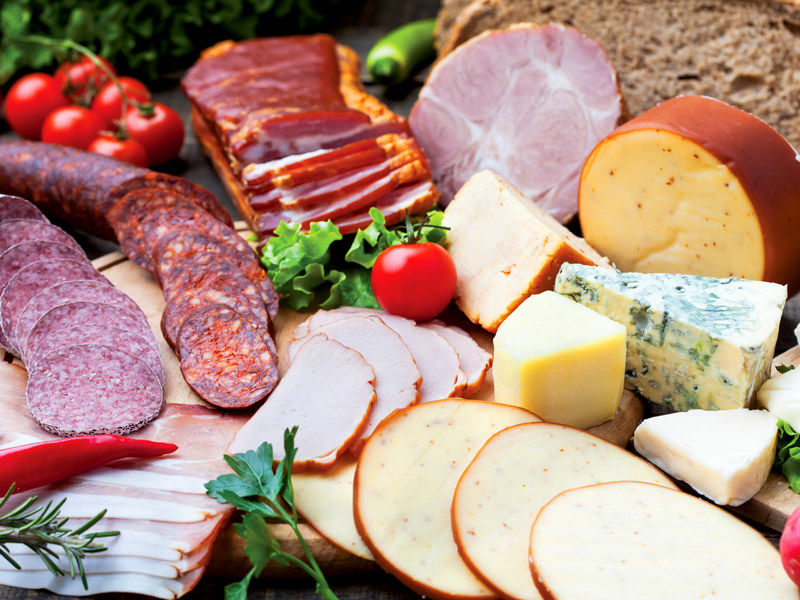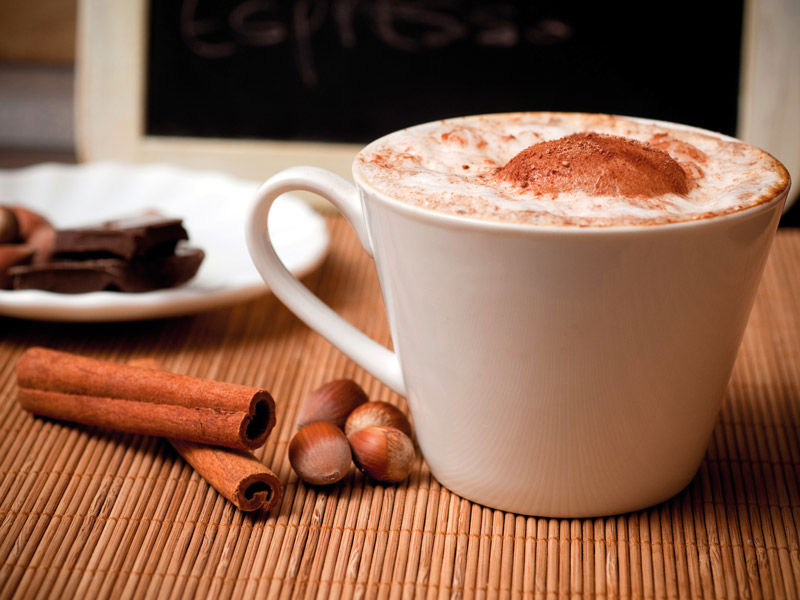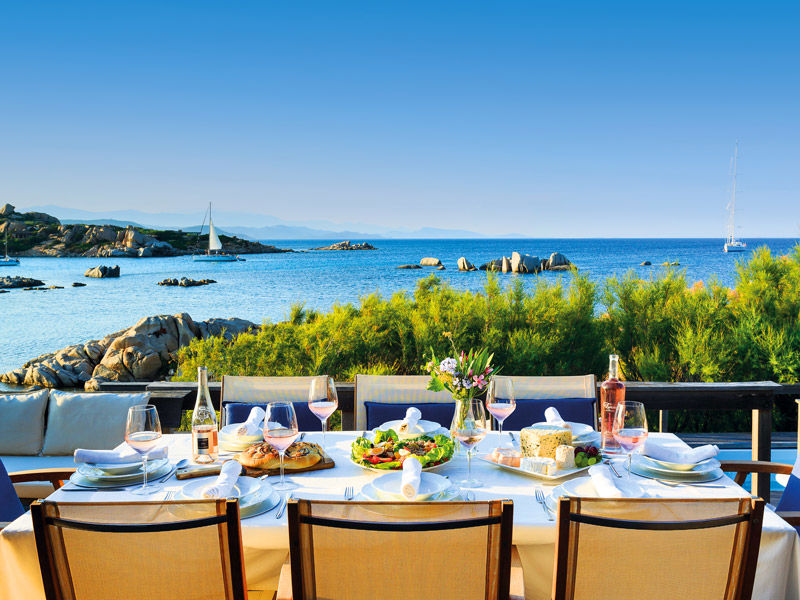 Beaches
Palombaggia
Kick back with the international jet set, who come to be seen and indulge in fine dining along this long stretch of sand, shaded by pines and with sunbeds to hire.
Getting there...
After a 20-minute drive from Porto Vecchio, follow the signs to Hôtel Palombaggia. There's parking at the end of this road.
Footnotes...
The beach and its many popular restaurants draw the crowds in summer, but there's usually plenty of room for everyone with the sands continuing onto Tamaricciu beach, just across the lagoon.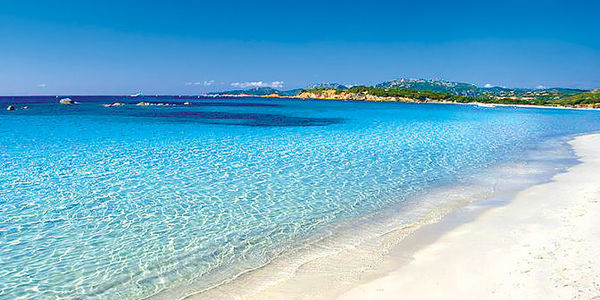 Tamaricciu
This beach oozes St Tropez glamour. Join the jet set on the wooden decks overlooking the surf and sample the grilled fish from the chic waterfront restaurants.
Getting there...
Just along from Palombaggia, these sands, with roadside parking, are an easy-to-reach 20-minute drive along the coastal road from Porto Vecchio.
Footnotes...
These sands, like those of neighbouring Palombaggia, can get crowded, so it's worth arriving early to reserve your spot. They're popular for watersports and snorkelling and equipment can be hired here.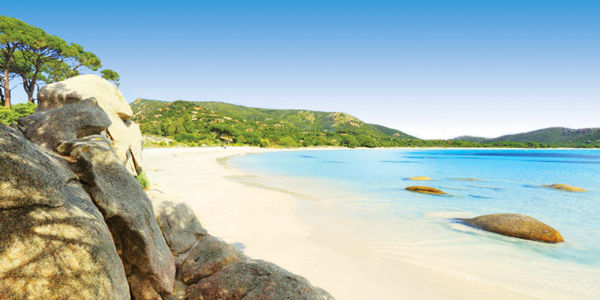 Acciaju
Either side of the picturesque Cap D'Acciaju lie two south-facing beaches, the most southerly of which is semi nudist. There are beach bars and also sunbeds and parasols for hire.
Getting there...
Acciaju's pay car parks are found a little further along the Palombaggia road from the beach of the same name.
Footnotes...
The Cap's many rocky outcrops and translucent waters are lovely for snorkelling. There are also some watersports available at various points along the powdery white sands.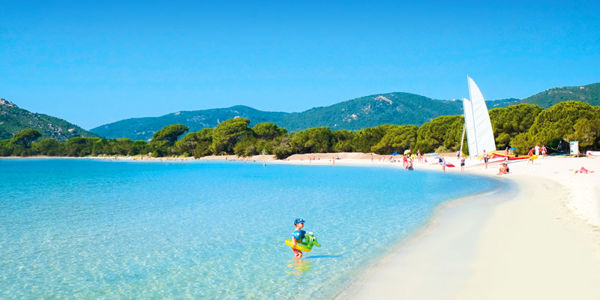 Santa Giulia
A popular beach with young families due to its shallow waters, beautiful white sand and plentiful facilities, including watersports, beach bars and restaurants.
Getting there...
After a 30-minute drive from Porto Vecchio you'll find plenty of signs to the beach along the peninsula road. Parking here is limited.
Footnotes...
There are restaurants on the narrow bay that rent out loungers and parasols in high season and are perfect for a long, lingering lunch.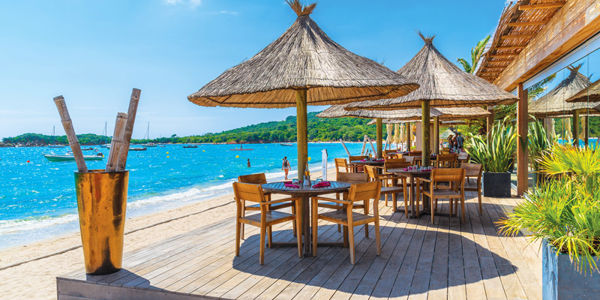 St Cyprien
Several chic beach bars and small boutiques lie on the white sands, with more restaurants, shops, a dive school and watersport facilities tucked behind the rocks of this crescent-shaped bay.
Getting there...
Take a 25-minute drive north of Porto Vecchio towards St Cyprien. A free car park lies 400m from the beach.
Footnotes...
Plenty of natural shade from the pine trees, fine sands and shallow waters make this ideal for young children. Sunbeds and parasols can be rented from the on-sand restaurants.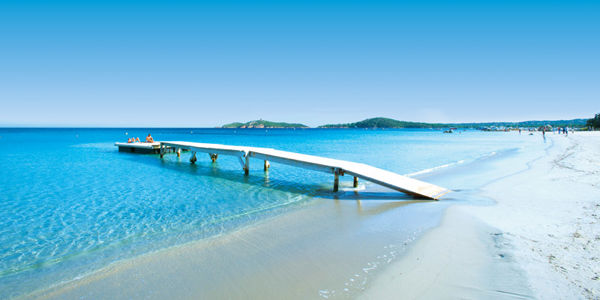 Pinarello
A secret gem of a bay, with plenty of watersports to entertain, a selection of good restaurants (some more formal) for dining and lovely shady spots for a post-lunch siesta.
Getting there...
35 minutes north of Porto Vecchio, park for free near the southern beachside restaurants or along the coast road under the pines.
Footnotes...
Located on the side of a shady pine forest and with lovely shallow water, this is great for families – and the waterfront restaurants here are perfect for a classy evening meal.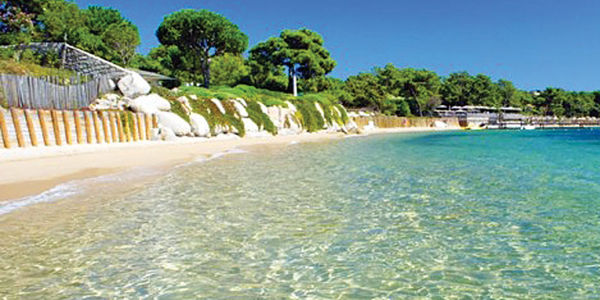 Cala Rossa/Benedettu
Due to limited parking, this isn't a hugely popular daytime destination, but it's a lovely place for an evening swim, followed by an apéritif in the hotel there.
Getting there...
Take the N198/T10 from Porto Vecchio towards Bastia, following signposts for Cala Rossa. Further along you'll find the tiny beach of Benedettu.
Footnotes...
At the hotel end, the water is relatively shallow; elsewhere the sea becomes deeper very quickly so isn't ideal for non-swimmers. Both beaches have watersports and sailing.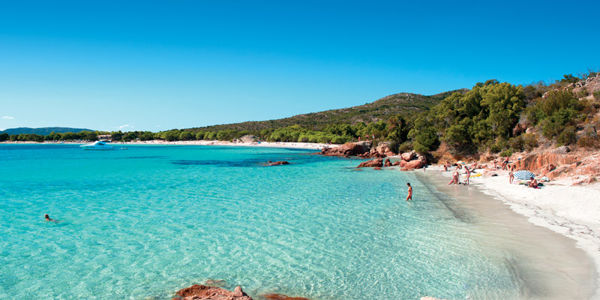 Rondinara
As the name suggests, this is a gorgeous circular bay with fine white sand. Don't be surprised to find a few cows lazing around the beach restaurant!
Getting there...
A pay car park lies at the end of a winding road off the turning to Suartone, 45 minutes south from Porto Vecchio.
Footnotes...
Sunbeds and parasols are available to hire from the restaurant. More active types will enjoy the walk all the way around the horseshoe's turquoise shore.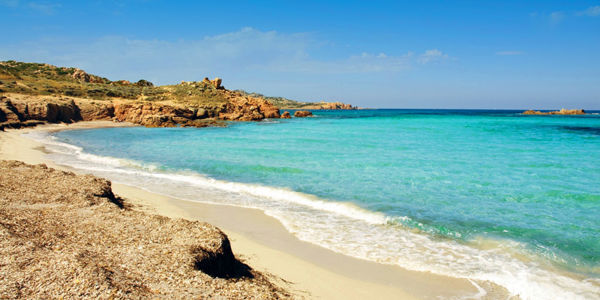 Tonnara
This sandy beach with rocky outlets can be quite wild and windy, making it ideal for jet skiing and kite surfing. You can also hire quad bikes during the summer.
Getting there...
On the N196/T40 north from Bonifacio. The beach is signposted to the left, adjacent to a large, free car park.
Footnotes...
Once the daytime crowds have departed, the two waterside restaurants, backed by maquis, are a lovely place to have a quiet evening drink and get away from it all.
Things to do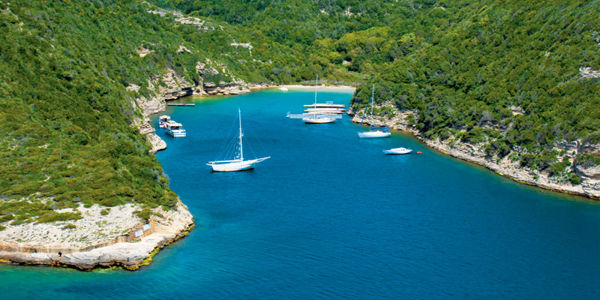 Captain your own sea adventure
Set sail for a day of snorkelling in the crystalline waters of remote sandy coves. Piloted boats are available at a premium and are available from Porto Vecchio Port, but small boats don't require a licence and can be hired at Benedettu beach.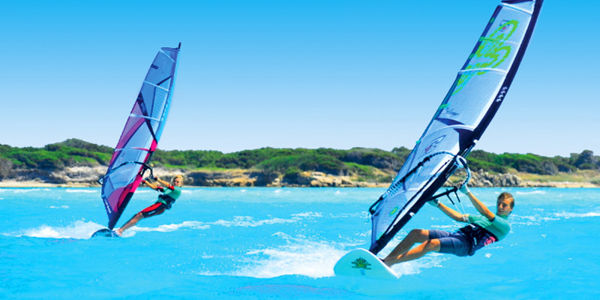 Catch the waves
The windy west coast is a mecca for kite and windsurfing. Ask your representative for details of schools and rental possibilities. For a great way to explore the dramatic Corsican coastline at a gentler pace, hire a sea kayak for one or two people.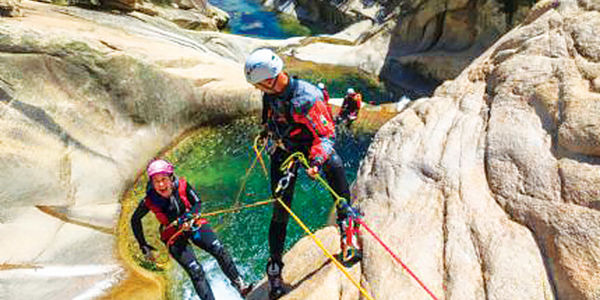 Go wild on the river
If your travel insurance covers you, spend a wet and thrilling day canyoning in the mountains, jumping in rock pools and sliding along smooth canyons. For more information, visit the tourist office. Please note this is only suitable for children aged over seven.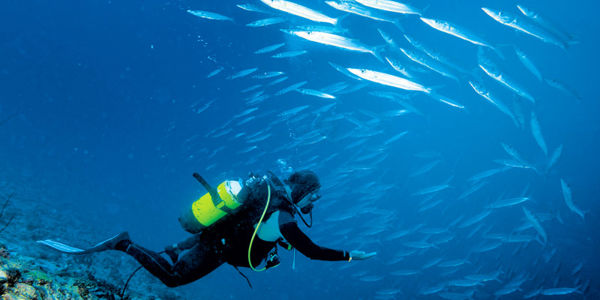 Swim with barracuda
The protected Lavezzi Islands are one of the Mediterranean's best dive spots, home to octopus, grouper fish and many more colourful marine species. You'll find diving schools offering excursions for various levels of experience in Porto Vecchio and at St Cyprien beach.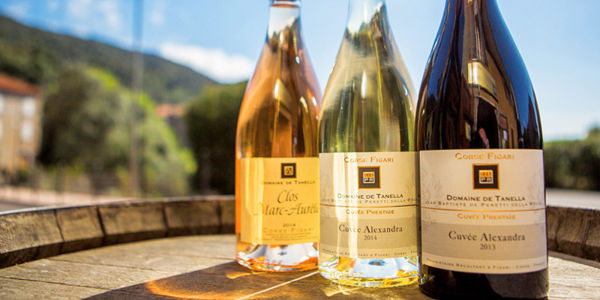 Explore the wine trail
Corsican wine is enjoying something of a moment. Discover and purchase fine vintages and modern blends at the Domaines of Torracia and Fiori near Lecci on the road north.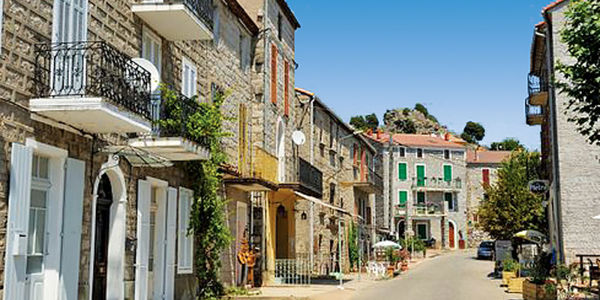 Ease off in Alta Rocca's time-stands-still villages
The soaring peaks and cavernous valleys of inland Corsica are replete with charming villages reminiscent of a bygone era. Quenza, Aullène, Serra-di-Scopamène, Levie, Zonza, San Gavino di Carbini and Ste Lucie de Tallano are all worth a stop.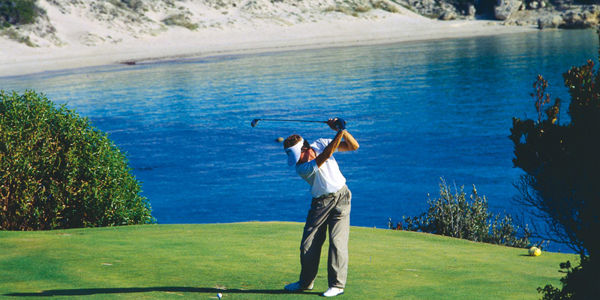 Practise your swing in style
A round of golf doesn't come much more scenic than one played at the Golf de Lezza in Porto Vecchio or the award-winning Golf de Sperone in Bonifacio, one of France's premier courses. Pre-booking is essential to avoid disappointment.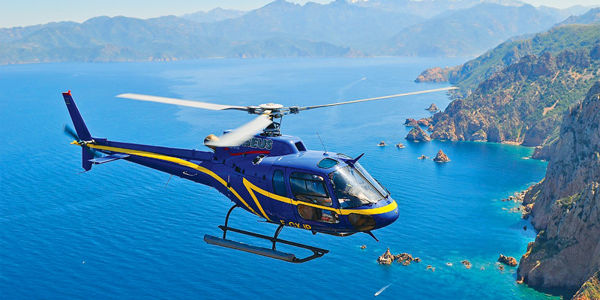 Take to the skies
Get a whole new perspective on the Île de Beauté with a scenic helicopter flight from Porto Vecchio. Choose from coastal or mountain circuits or combine the two. This is a wonderfully memorable way to celebrate a special occasion.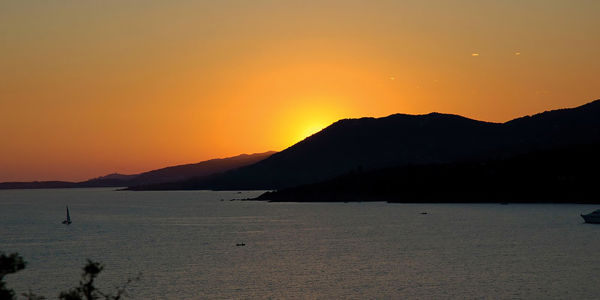 Go west for sunset
The island's west coast offers a magical, kaleidoscopic sunset. Make your way to Tonnara, a somewhat remote but easily accessible beach. Take your own picnic or dine at a chic waterside restaurant specialising in seafood.
Events
What's on in May
1 May
Labour Day. Banks, post offices and other government buildings close, as well as most shops.
8 May
Fête de la Victoire/Victory in Europe Day. Public holiday.
24-31 May
Tour de Corse. The 700km cycle race passes through Bonifacio, Solenzara, Corte, Bastia, St Florent and Calvi before returning to Ajaccio.
29 May
Ascension Day. Public holiday.
What's on in June
8-9 Jun
Pentecôte/Whit Weekend. Public holiday.
21 Jun
Fête de la Musique. Amateur and professional musical events throughout Corsica.
24 Jun
Festival of Jean Baptiste, Patron Saint of Porto Vecchio. Evening procession with locals leaping over a bonfire in the Old Town citadel.
What's on in July
13-14 Jul
Bastille Day. Public holiday. Fireworks in Bonifacio (13th) and Porto Vecchio (14th). Park out of town and walk in to watch from the port.
What's on in August
16 Aug
A Festa Di Ghe Di Scè, cultural evening in front of the Eglise Saint Dominique, Bonifacio.
End Aug
Pinarello Jazz Festival, last Sunday in August to first Sunday of September.
Last weekend Aug
Major open-air music festival in Porto Vecchio.
What's on in September
1-8 Sep
Bonifacio Argentinian Tango Festival. Dances, film screenings, exhibitions, concerts.
The Road Less Travelled
We asked our representatives to share a few of their favourite 'off the beaten track' Porto Vecchio and Bonifacio experiences. Here are some of their suggestions…
Saddle up at sunrise
Set your alarm for an early morning equestrian expedition along Palombaggia's sands, arguably one of the island's most famous attractions and winner of multiple 'best beach' polls. Enjoy the magnificent sight of the sun rising over the Tyrrhenian Sea while working up an appetite for breakfast at one of the many chic waterfront restaurants as the crowds arrive for a day of sunning and swimming.
Sail, snorkel, sip wine
Sail from Bonifacio to the Lavezzi Islands and the natural reserve of Les Bouches de Bonifacio to explore deserted beaches, fantastic for snorkelling. On your return to port, open a bottle of wine and enjoy the sight of the setting sun casting an orange glow over the citadel, arriving at the buzzing marina just in time to take an evening apéritif.
Journey through the mountains
You're unlikely to see many other cars on this little-known trail over the mountains from Sotta to Orone Tirolo and Foce di Mela. Along the way, you'll discover numerous places to stop off and enjoy breathtaking views of the unspoilt countryside. Follow the road until the end and you'll arrive at the Bains de Caldane, near Sartène, where you can relax in the soothing thermal baths.
Take a drive for idyllic island views
Drive to Piantarella along the white cliffs just outside Bonifacio, park and walk along the pristine beaches of Petit and Grand Sperone, where you'll be rewarded with fine white sand, some of the clearest turquoise waters on the island to cool off in and sumptuous views of Cavallo Island and Sardinia's La Maddalena.
Bathe in a rock pool
Take the road from Porto Vecchio to Ospedale and onto the reservoir, then carry on to Piscia di Gallo. Park up and take a leisurely stroll along the river, cooling off any time you like in one of the numerous deep rock pools situated under overhead springs. At the end of the walk, you'll be rewarded with the sight of the island's highest waterfall.