Our guide to Ile de Ré
Just off the west coast of France near La Rochelle, life on Ile de Ré is a civilised affair. The picturesque towns and villages blend culture with good-living, bistros and bars enjoy the elegant laissez faire that only the French can muster, and the locally harvested oysters are regarded as the best in the world. Throw in the ease of access from the mainland, the natural beauty of the landscape and the impeccable taste of the locals and it's easy to see why this irresistable little island attracts such a loyal following.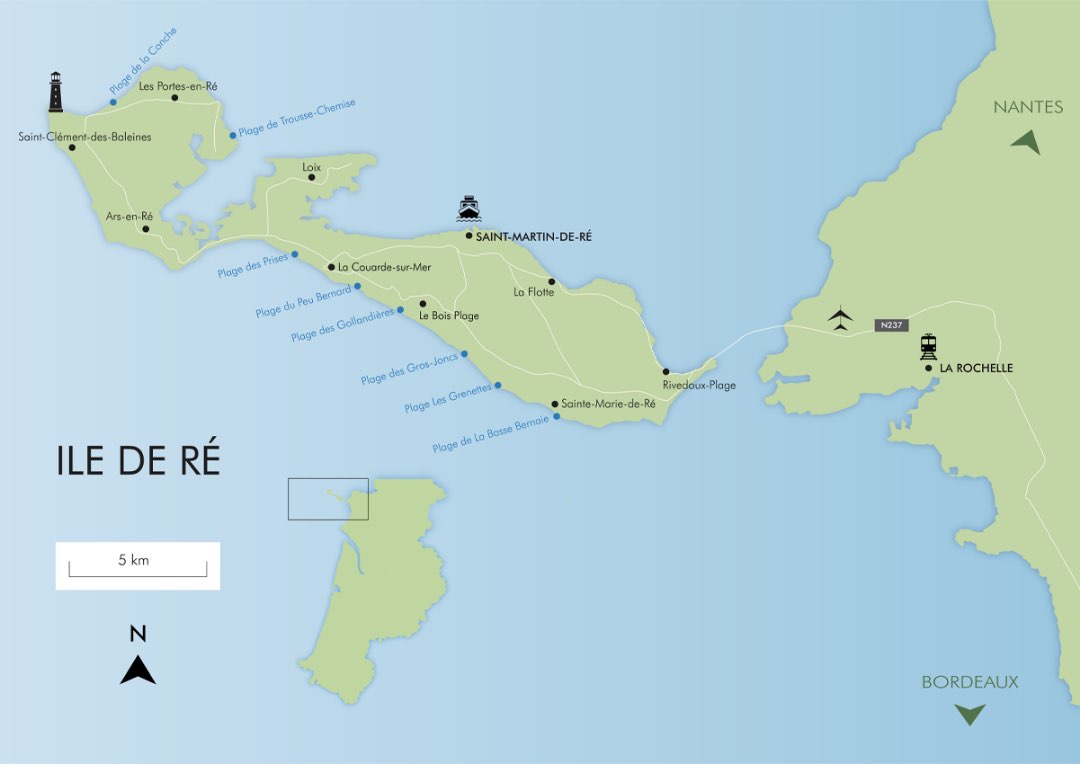 Island life 
Quick to get to and simple to navigate thanks to an extensive network of pathways and cycle trails, Ile de Ré is easy to reach whether you prefer planes, trains or automobiles. Less than 10km from La Rochelle airport, or accessible in under three hours from Paris by train, it's as realistic a possibility for a long weekend away as it is for a two-week summer holiday. This VIP island is linked to the mainland by an impressive bridge spanning almost two miles of Atlantic Ocean and it attracts a sophisticated crowd, where quiet good taste and understated style meet bohemian flair and bourgeois chic. The UNESCO listed capital Saint Martin is a cultural and gourmet haven and the island's smaller villages are a maze of immaculately painted houses brimming with honeysuckle, jasmine and wisteria. Wandering through the narrow streets, it's impossible not to wish that life could always be so beautiful.
One island, ten villages
The ten harbour towns and villages that make up the island are straight out of the pages of a lifestyle magazine. Wooden shutters painted in a picture postcard palette of misty blues and earthy greens adorn pretty pebble-white houses and even the artistic street signs and door knockers are a reflection of the island's highly creative air. The pedestrianised streets offer a unique feast of historical monuments, artisan boutiques, colourful markets and excellent restaurants. As you might expect, seafood is a particular speciality and the locally produced oysters are an obsession, but the island also takes ice-cream very seriously, with whole menus given over to design-your-own-flavour combinations and tempting sundaes. And this being France, you can rely on an excellent selection of wines by the glass wherever you go.
Beaches and bicycles
Cycling is the favoured mode of transport, offering the potential for a car-free holiday and an opportunity to reconnect with nature and enjoy a simpler way of life. With 100km of gloriously unspoilt coastline, accessed by an extensive network of cycle trails criss-crossing the island through fields and vineyards, woodland and salt marshes, cycling is as much a part of life on Ile de Ré as the ebb and flow of the tide. Wide stretches of immaculate golden sand, backed by dunes and pine forests, give parts of the island a wild and remote feel, while other beaches offering watersports, children's activities and play areas evoke a classic summer holiday atmosphere.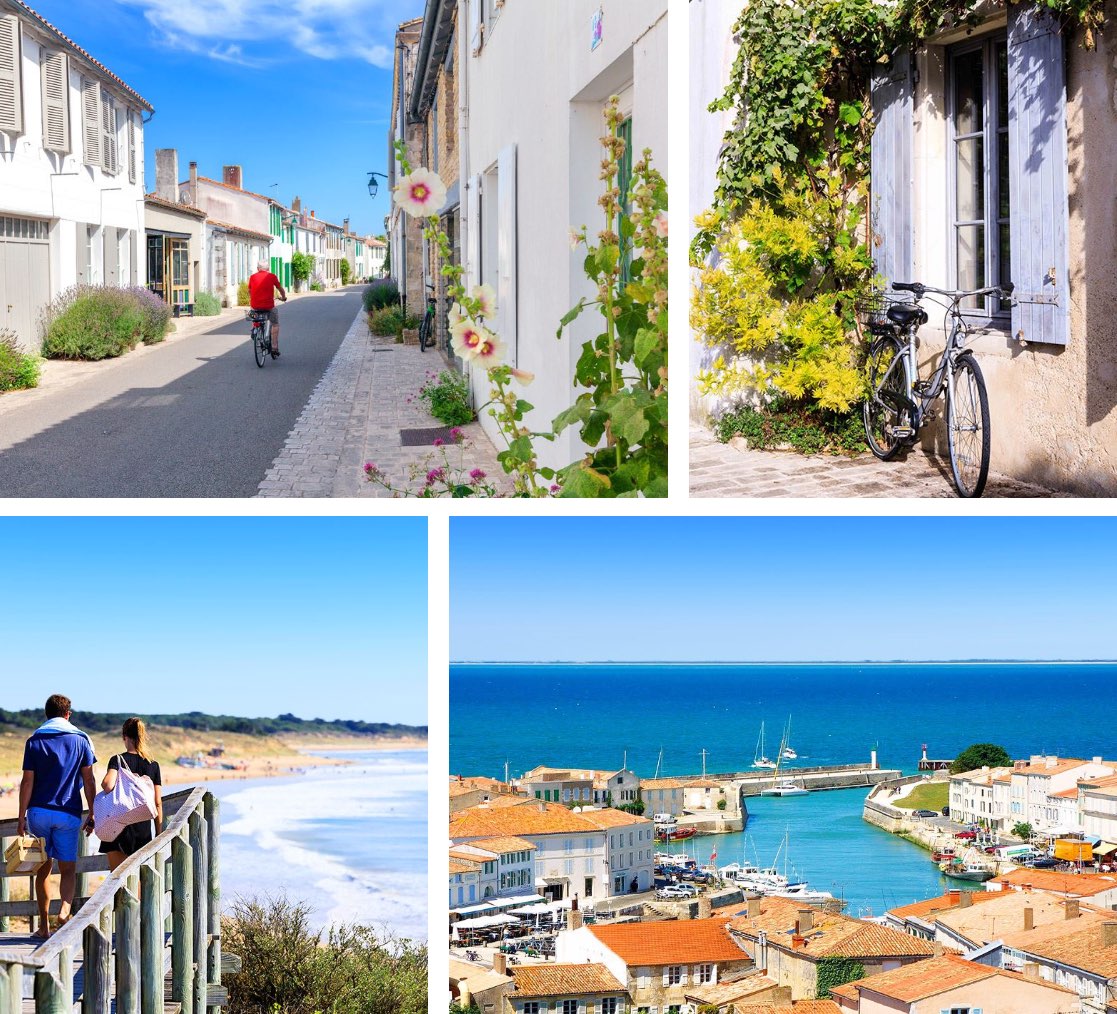 Markets and Monuments
From the impressive UNESCO-listed fortifications in the capital Saint Martin to Phare des Baleines, the famous lighthouse at its northern tip, Ile de Ré has its fair share of historic monuments. In 2012 it became France's first island to join the country's celebrated regions of art and history and the creativity of its inhabitants is evident as you wander the pedestrianised streets of the village centres; artisan shops exhibit distinctive homewares (Rétais), local artists showcase their latest works and stylish boutiques lure you in with an eclectic array of high-end, bohemian fashion. The colourful markets are also a big part of life on the island, each village hosting its own in the height of summer.
Stay in town
The island's ten harbour towns and villages are connected by the many cycling trails that cross the island and are all within walking distance of a local beach. For those who like to be amongst the action, Maison des Songeurs in Le Bois Plage is the perfect pied-à-terre for two whilst pretty Maison Merindot in Saint Martin is ideal for a small family. And if you're looking to host a sophisticated house party, look no further than Villa Saint Martin, our wonderfully elegant 6-bedroom retreat, tucked away behind one of the capital's historic streets.
Stay amongst the vines
Luxury hotels in the island capital Saint Martin come at a price and attract significant crowds. For a quieter alternative with an altogether more laid-back appeal our delightful hotel in Sainte-Marie-de-Ré, the island's oldest village, retains an abundance of quiet charm and classic island chic, within easy striking distance of the popular east coast harbour towns. Les Vignes de la Chapelle sits at the edge of a vineyard just a short stroll through the vines from the coastal path. Stay for a week, enjoy a short break or combine a few nights here with a week in a villa on the Aquitaine coast; the choice is yours.