Top ten things to do in western Crete
Top ten things to do in western Crete
A top ten is a tricky notion when it comes to Crete because there's so very much to see and do. But we hope our little guide to the west will help you scratch the surface of this most beguiling island and get you started on a love affair with enough appeal to last a lifetime.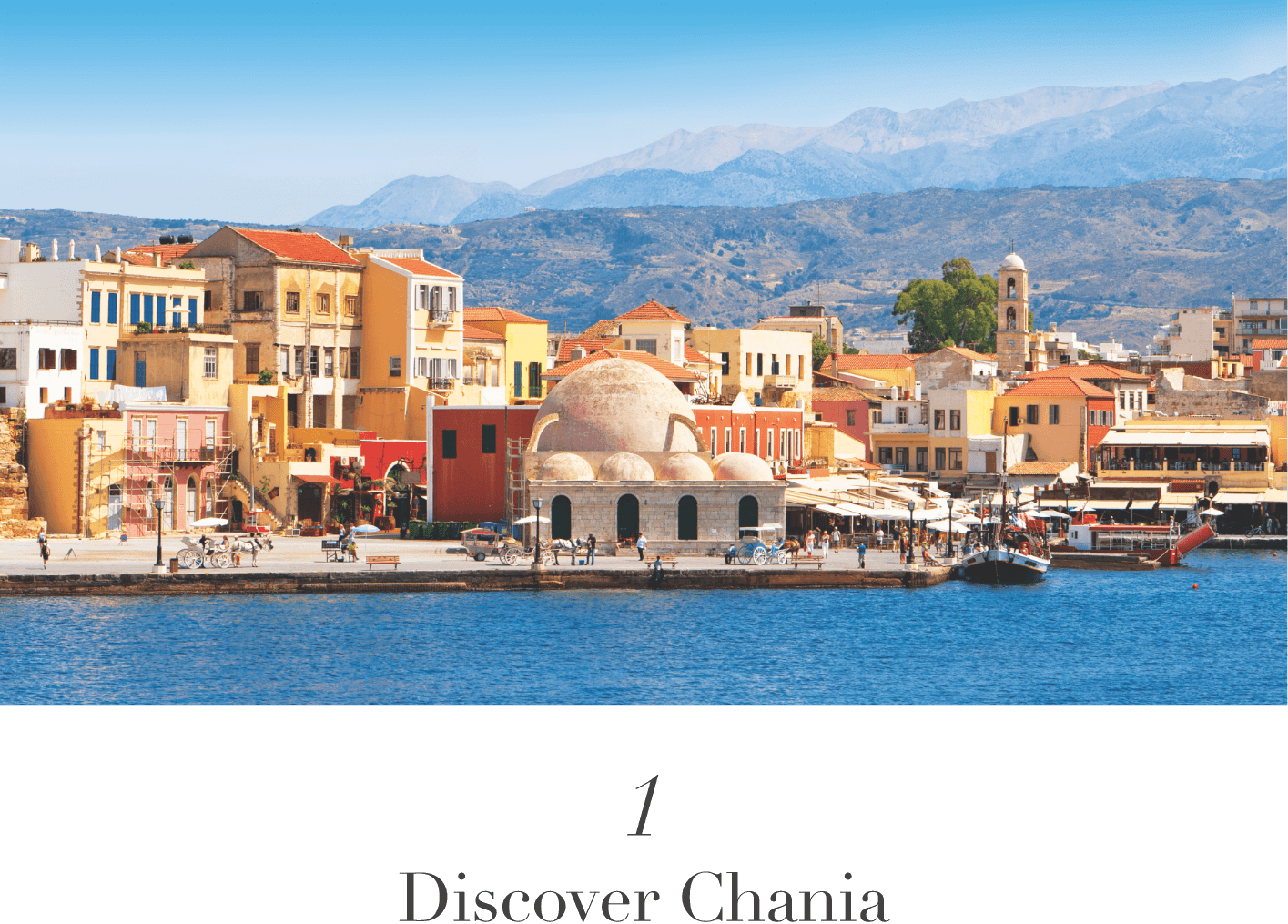 No trip to western Crete is complete without a visit to Chania. Approached through the pedestrianised streets of the Old Town, the harbour is one of the prettiest in the Mediterranean. Nicknamed The Venice of the East, evenings are a great time to explore the myriad of boutiques and tavernas lining the backstreets or enjoy a sunset drink at a waterside taverna as you watch the world go by.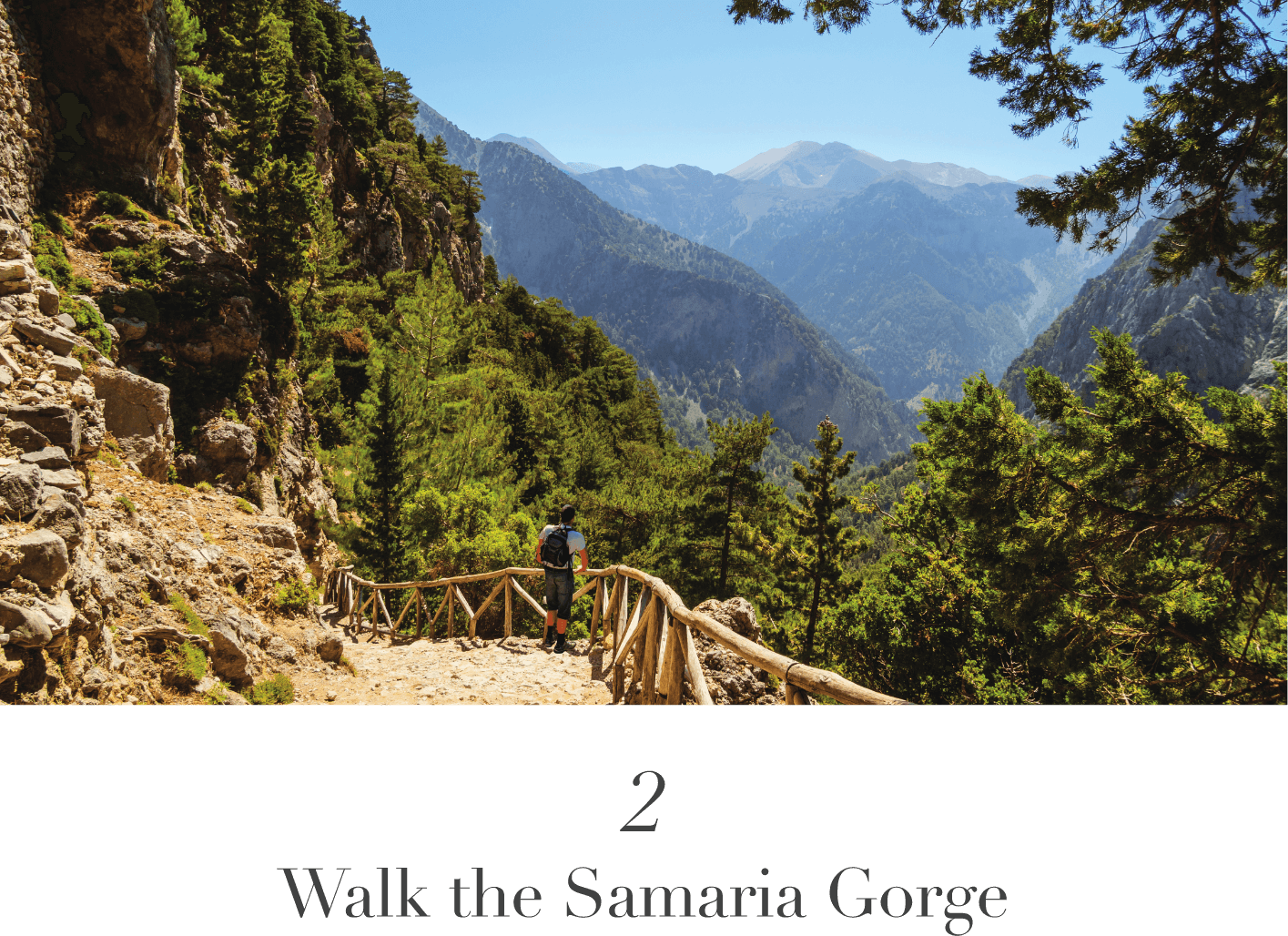 The Samaria Gorge is 16km long and stakes its claim as Europe's longest and arguably, most spectacular gorge. A five to seven-hour hike over rough terrain requires a certain level of fitness and walking experience, but this majestic gorge, situated in the national park of Samaria in west Crete's magnificent White Mountains, is truly worth the effort. Guided tours start dramatically with a steep descent from the Omalos plateau, and finish by the turquoise waters of Crete's striking southern coastline. Only accessible by boat or on foot, there's a chance for some light refreshment before the ferry appears to whisk you reluctantly back to civilisation.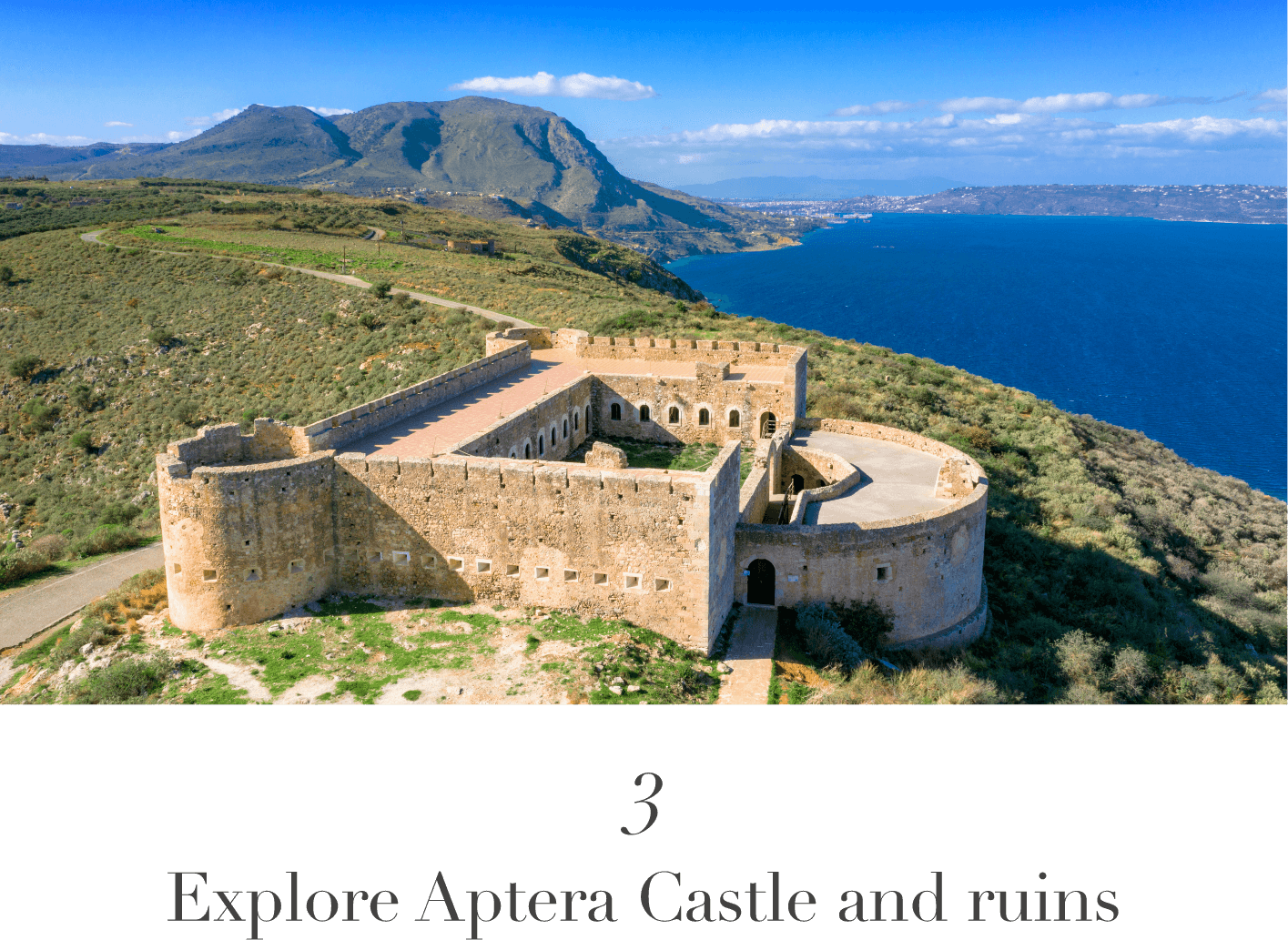 Just a ten-minute drive from GK Beach Hotel in Kalyves, the abandoned Turkish castle of Aptera is pre-dated by the ancient ruins of the fallen Minoan civilisation which surround it. Believed to have been continuously occupied from as early as the 14th century BC, right up until the monastery was abandoned in 1964, this atmospheric spot above the village of Megala Chorafia enjoys spectacular views across Souda Bay and offers a truly evocative encounter with Crete's extraordinary history.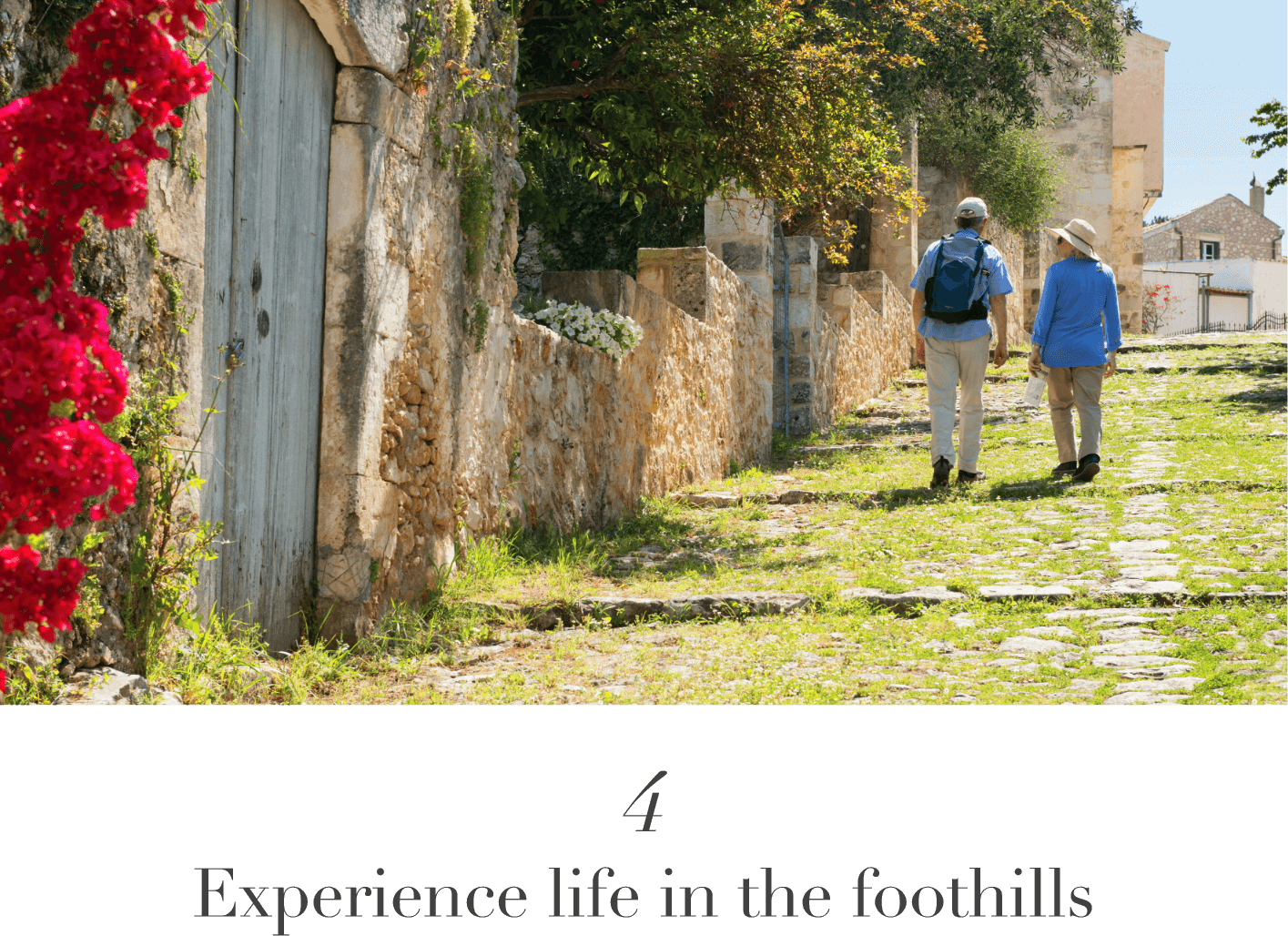 The verdant foothills of the White Mountains are home to the sleepy villages of Plaka, Armeni and Gavalochori. All are worth a visit if you have the time but don't miss Vamos, home to our Arosmari Village Hotel, a delightfully atmospheric place with a distinctly creative edge. Stroll the old streets, immerse yourself in the local culture and complete your day with a traditional Cretan supper in one of the excellent local tavernas. And if you've culinary ambitions of your own, we'll even arrange a cookery lesson so you can prepare a taste of Crete when you get back home.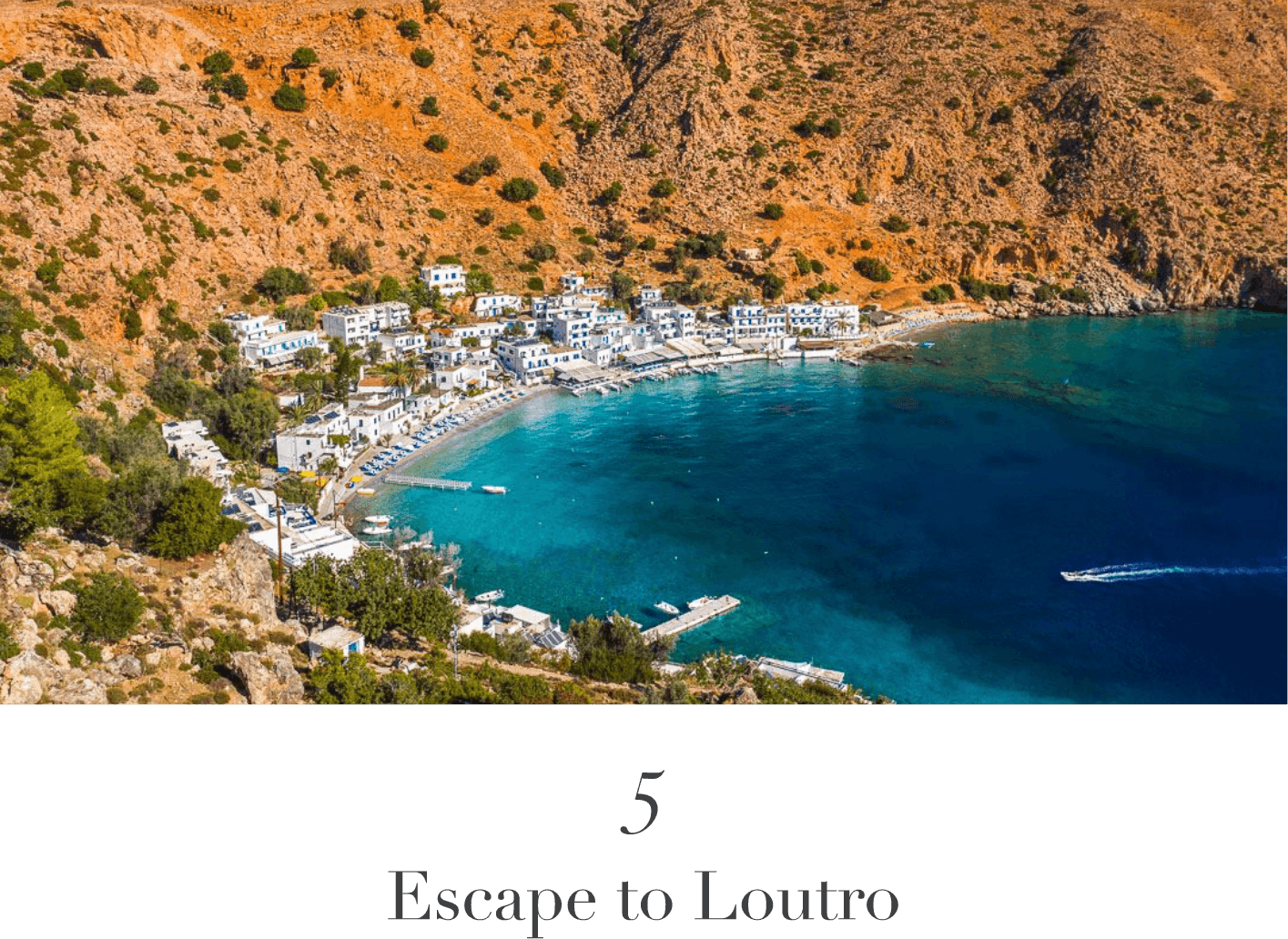 Arriving in Loutro for the first time is magical. On the one hand it's hard to believe that such understated simplicity can evoke such a powerful sense of joy and wonder, on the other, there's a niggling sense of regret that it's taken so long to discover its mere existence. And once discovered there's no going back. If you decide to take a day trip, the drive to catch the boat from Chora Sfakion alone makes the journey worthwhile. But if you decide to stay a night or two at our lovely Porto Loutro, you may well discover that a lifetime in this idyllic waterside village could never be enough.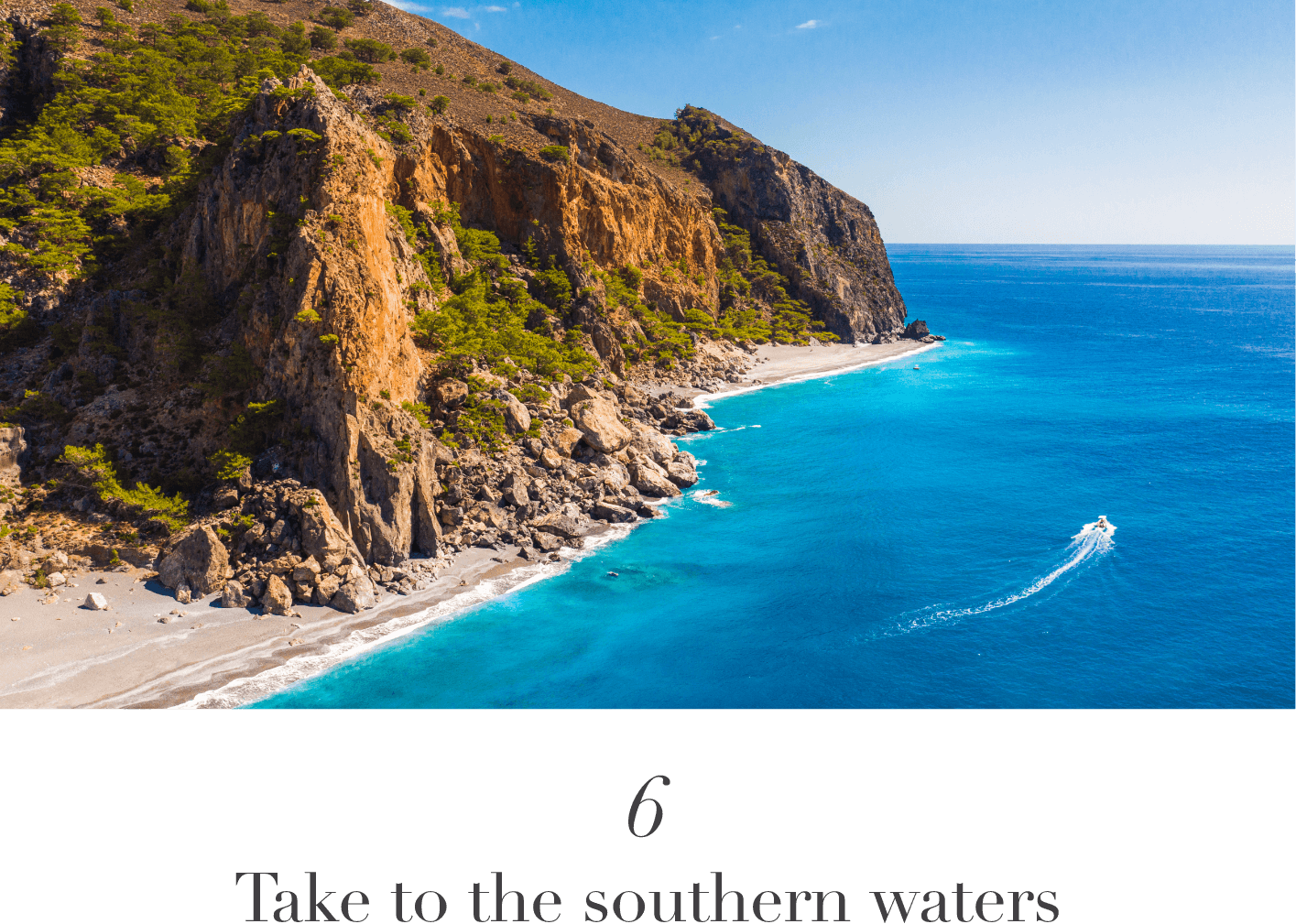 The shoreline of south west Crete defies superlatives. It simply isn't possible to do it justice in words or pictures (though we've done our best), so the only way to truly appreciate its unique appeal is to experience it for yourself. And there's no better way to do it than from the water. Depart from Sfakia or Loutro and sit back as your local skipper shows you the very best of this stunning landscape; deserted beaches, remote churches, hidden caves and dramatic gorges await as you glide across the crystal clear waters of the Libyan Sea.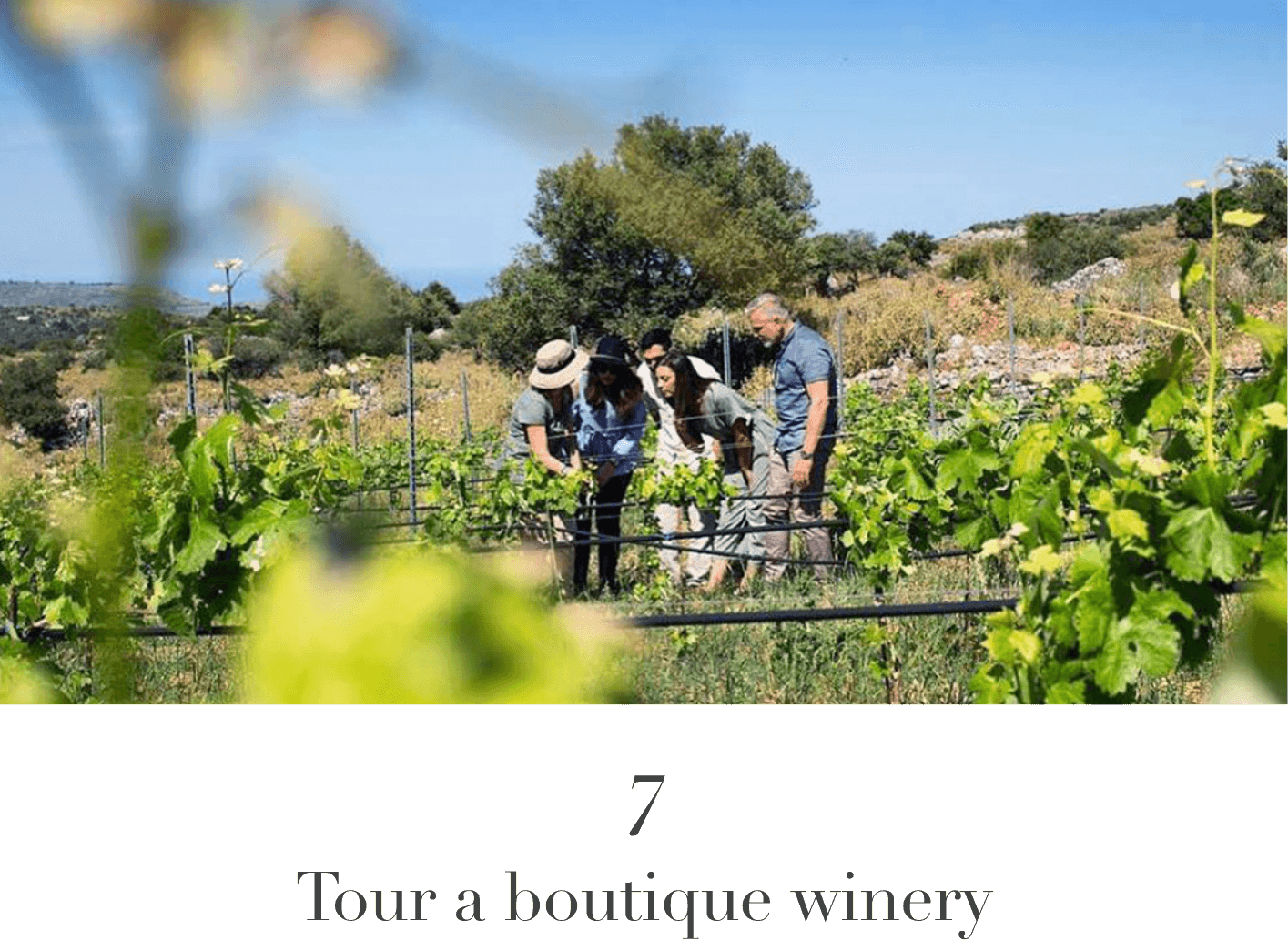 Crete is well known for the quality of its cuisine but it's also rapidly starting to make a name for itself as a wine producer, and is home to a number of quality boutique wineries. On the local stage, the Dourakis vineyard is a firm favourite and a tour of this excellent family-run winery servicing all aspects of the wine-making process, from vine to bottle, is a sure-fire winner. For a more sophisticated, international flavour, the Manousakis Winery is the place to visit. But whatever your leaning and budget, you'll enjoy the outstanding results of their labour, with a complimentary tasting and a bite to eat at the end of your tour.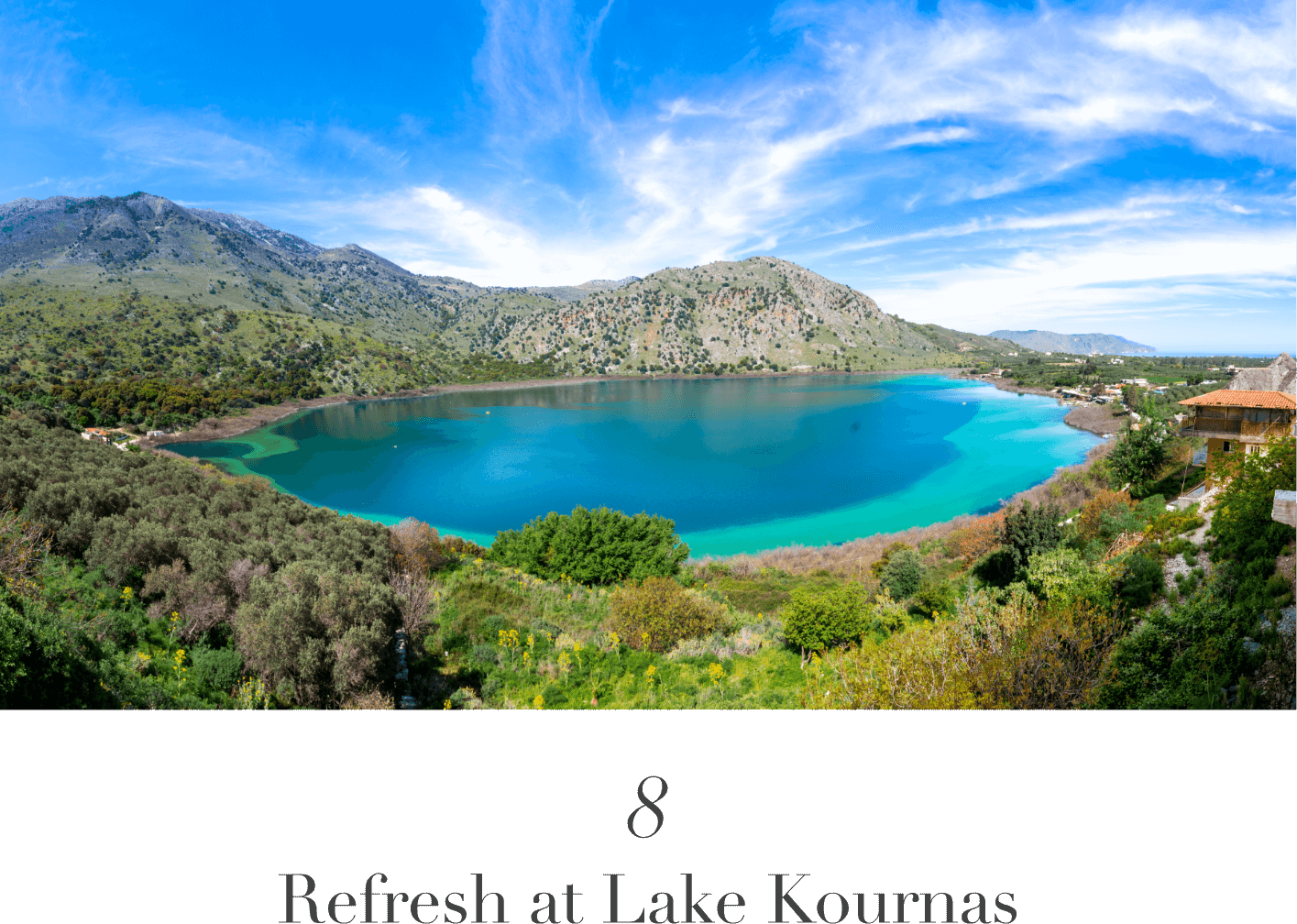 Inland from the spectacular golden beach that stretches east of Georgioupoli, Lake Kournas is Crete's only freshwater lake and a sanctuary to some unique wildlife; in particular the rare Diamondback Terrapin. Set in a picturesque valley, it's a beautiful spot to walk, picnic and take a ride across the water on a pedalo. There's also the option of a dip - but be warned, the water is fed by two springs descending straight from the White Mountains and is best described as refreshing in its truest sense!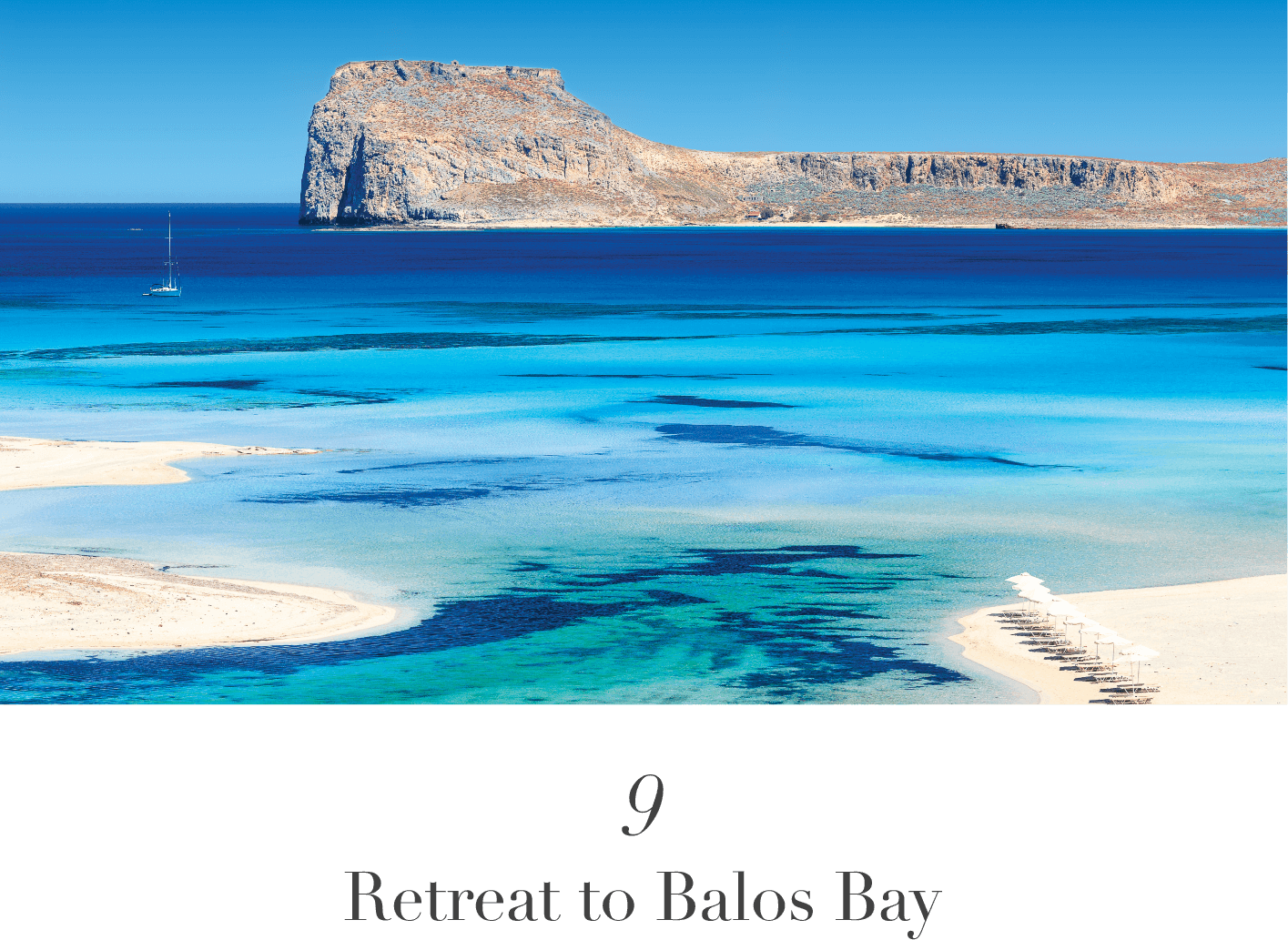 If you've ever found yourself reading the travel pages and been taken aback by an image of Crete more akin to an archipelago in the Indian Ocean, that's Balos Bay. At the north west tip of the island, a sweep of pure white sand creates a glittering lagoon and connects to uninhabited Gramvousa. You can catch a boat from Kissamos, or venture along the unmade track that winds up into the mountains high above the bay and walk down to the beach in 20 minutes. Arriving by car is not for the faint hearted, but the sense of adventure is worth the odd hair-raising moment as you negotiate the rough-hewn road that hugs the hillside.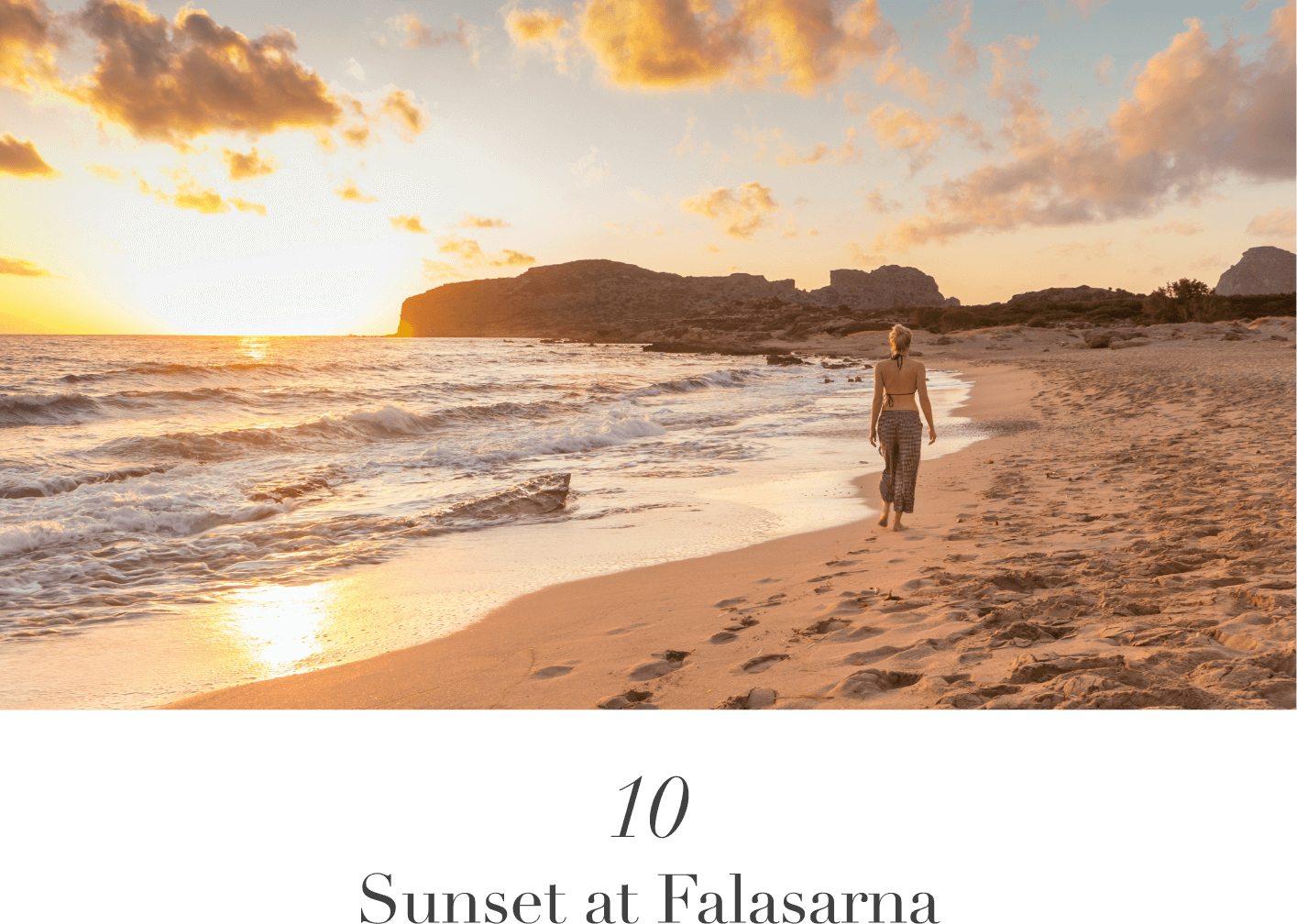 On Crete's west coast, Falasarna Beach lies in an area of outstanding natural beauty, renowned for its variety of flora and fauna, and large enough never to feel crowded. This glorious stretch of sand is perfect for a day by the sea and there are a variety of low-key beach bars and tavernas when you're in need of refreshment. By early evening, the beach empties making it a wonderfully romantic setting to watch the sunset with a picnic, a glass of something bubbly and your favourite person.