Things to do in Rethymnon
Things to do in Rethymnon
Crete's third largest city, with a population of around 30,000, Rethymno has been described as a mini Chania, however this attractive harbour town has a laid-back charm all of its own. Rethymno is a university city, which gives the place a lively but more authentic atmosphere than the resort towns. It also means there are plenty of places to get a reasonably priced meal or drink, even late into the evening. Most visitors arrive in the morning however, so if you're coming to town for just one day, here's a few suggestions.
A waterfront wake up
A coffee or two gets the day going, and the Venetian harbour has a good selection of places for a caffeine top up or a full breakfast. There's a handy public car park by the harbour too, so it makes sense to leave your hire car here and do your exploring on foot as the Old Town is pedestrian-only. The Venetian occupation began in 1204, turning Rethymno into a flourishing trading port. You'll see lots of Venetian buildings lining the harbour, though many have had Turkish or more contemporary additions over the years, creating a waterfront that's full of character as well as history.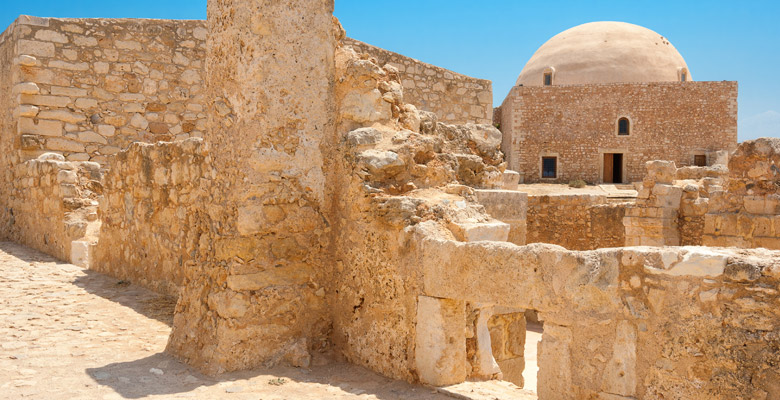 Cretan arts and crafts
Once you're ready to start exploring, the temptation is to head up to the Fortezza as this imposing Venetian fortress dominates the town and seems to call out to you wherever you are. However, our advice is to head first to the Historical and Folklore museum, which is only five minutes on foot from the harbour, and is only open until 2.30pm (closed on weekends). The collection is housed in a typical late-Venetian town house, and gives a great overview of traditional Cretan life, crafts and culture. As you walk up from the harbour, look out for the Rimondi fountain, another Venetian remnant which used to provide drinking water for the people (and animals!) of the city.
If you've been inspired by the Folklore museum, you could double back along Emmanouil Vernardou, cross over the main street Antistaseos and then take a right turn onto Soliou street, which is packed with shops selling traditional handicrafts.
Back streets and balconies
You might be ready for lunch at this point, and you certainly won't go hungry in this little city, whether you're in the mood for traditional Greek or something more international. The shady alleyways and back streets of the Old Town are worth an explore, and while you wander in search of a good table, keep your eyes peeled for the highly ornamental door frames, facades and wooden balconies that recall the city's diverse architectural influences. Arabatzoglou Street, off Kyria ton Aggelon (Lady of the Angels) church square, has a greater concentration of wooden balconies than anywhere else in town.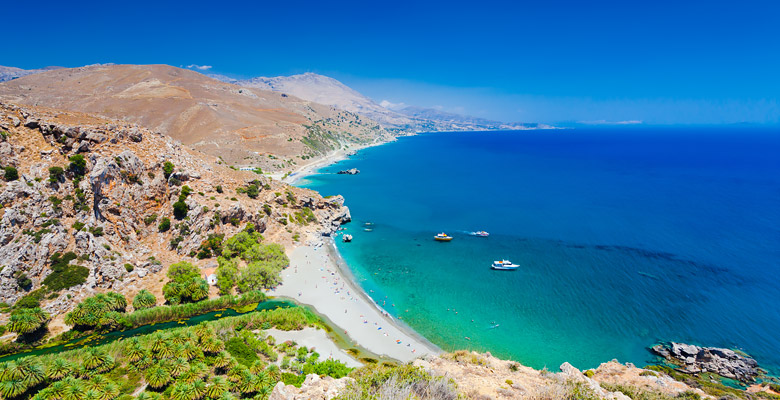 Lunch at the beach
Alternatively, if you are here in spring or autumn and the midday sun is not too fierce, you can easily walk to Rethymno's beach for a fish lunch and a swim or a snooze. The beach is quite commercial, with lots of sun beds and parasols for hire, but it's very long (so plenty of space if you are prepared to walk a bit) clean and well-managed, with life guards on duty in summer.
Venetian fortress views
The Fortezza is Rethymno's must-see highlight, built in the 1570s to defend against pirates and other invaders keen to take control of this strategic location. The fortress took some 20 years to construct, and represents the cutting-edge building techniques of its day, made to withstand the latest weapon of war: gunpowder. The main attraction nowadays is the view, though you can also visit the ramparts and various remains including barracks, weapon stores and water cisterns. The most impressive building is the Sultan Bin Imbrahim Mosque, which was originally built as a cathedral by the Venetians but was destroyed and rebuilt as a mosque under Turkish rule. It looks a little uninspiring from the outside, a stone cube topped with an unadorned hemisphere like the sort of thing a child might draw, but it's definitely worth going inside to appreciate the skill and scale of the tiling on the ceiling of the dome.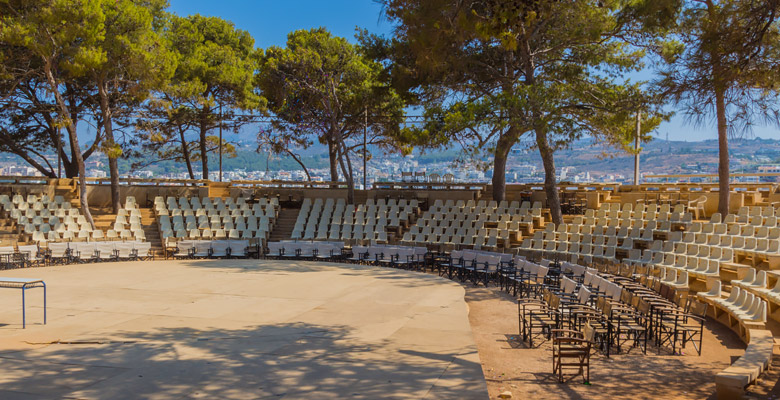 The mosque houses occasional exhibitions and concerts, as does nearby Erofili amphitheatre. In fact, Rethymno likes to refer to itself as the cultural capital of Crete, and if you're here at the right time, it's certainly worth checking out the Cretan Food and Wine Festival (early July) or the Renaissance Festival (early September). And if you still have an appetite for more culture after your day around Rethymno, the small Museum of Contemporary Art makes for a thought-provoking contrast to the ancient sites more usually associated with Crete.
Rethymno is a more low key experience than the equally lovely Chania town, but one which is definitely worth making time for if you can."
Insider tip: "Thursday is market day, fun if you like browsing but the traffic can be intimidating, so consider coming in by bus or choosing another day. And as Rethymno is primarily a working town rather than a tourist centre, many shops close around 2.30pm for a long afternoon break, re-opening again around 5 or 6pm."
Where to stay: Base yourself at our GK Beach hotel, approximately one hour from Rethymno, or any one of these villas