Cooking classes in Puglia: just like mama used to make it
Cooking classes in Puglia: just like mama used to make it
---
Silvana Bonelli, owner and manager of Masseria Le Torri describes a traditional cookery class;
a mouth-watering Puglian experience available to all the hotel's guests.
Once a week at our beautiful Masseria we invite guests to prepare dinner with the incomparable Lucrezia. I always say Lucrezia cannot be described; everything about her is revealed at the time of the first meeting but suffice to say she is our cook, our friend and an Apulian housewife whose local knowledge spans generations. She brings the sun into the kitchen of the Masseria, with her lively eyes, broad smile and contagious laugh and it is a great pleasure to spend an afternoon with her, discovering her secrets and enjoying her expertise. She will teach you how to prepare traditional dishes according to the recipes learned from her grandmother, using fresh local ingredients from our countryside, and though some may forget how to make the taralli, orecchiette and tiramisú, they will surely remember her irrepressible humour.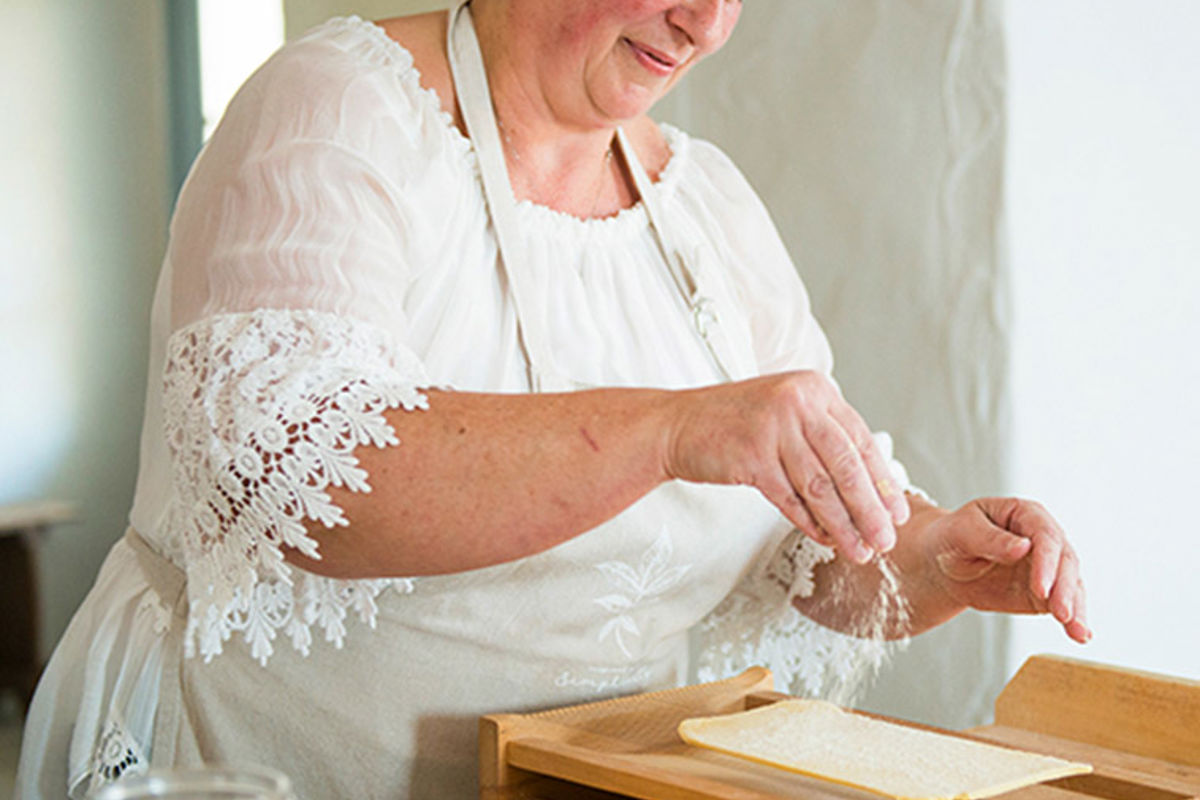 ---

---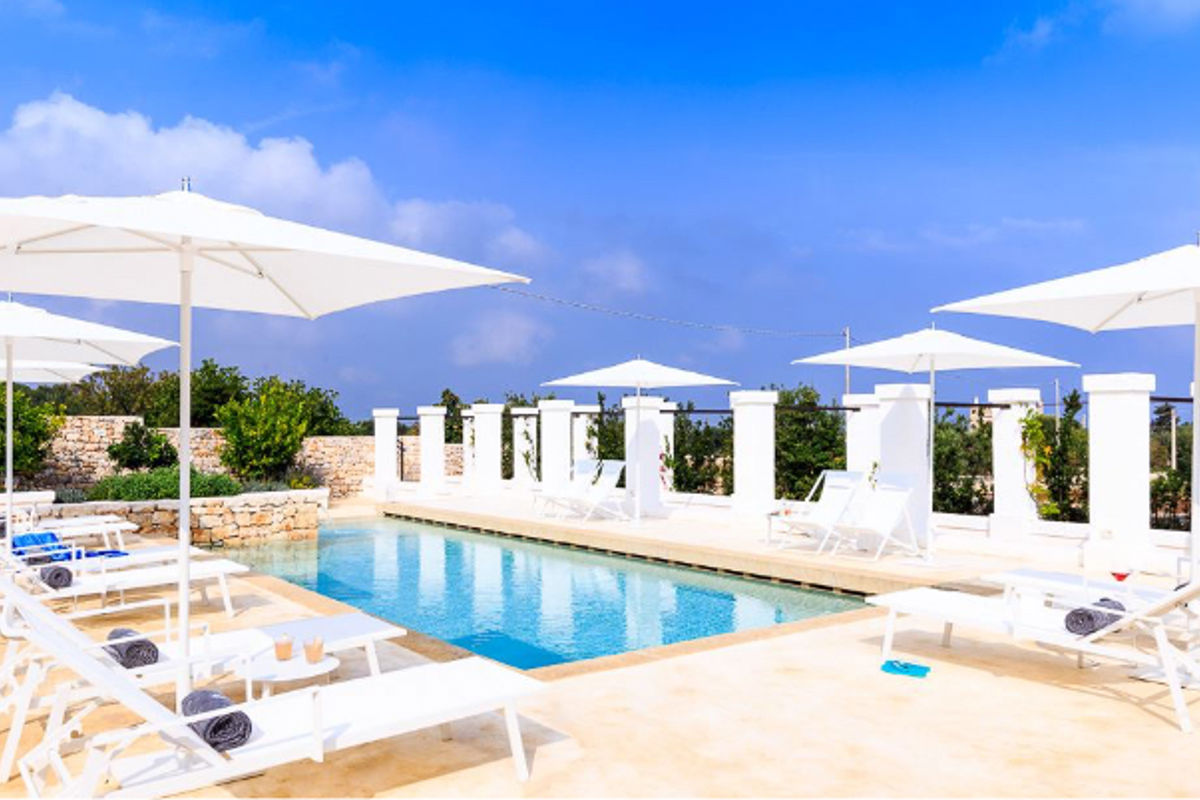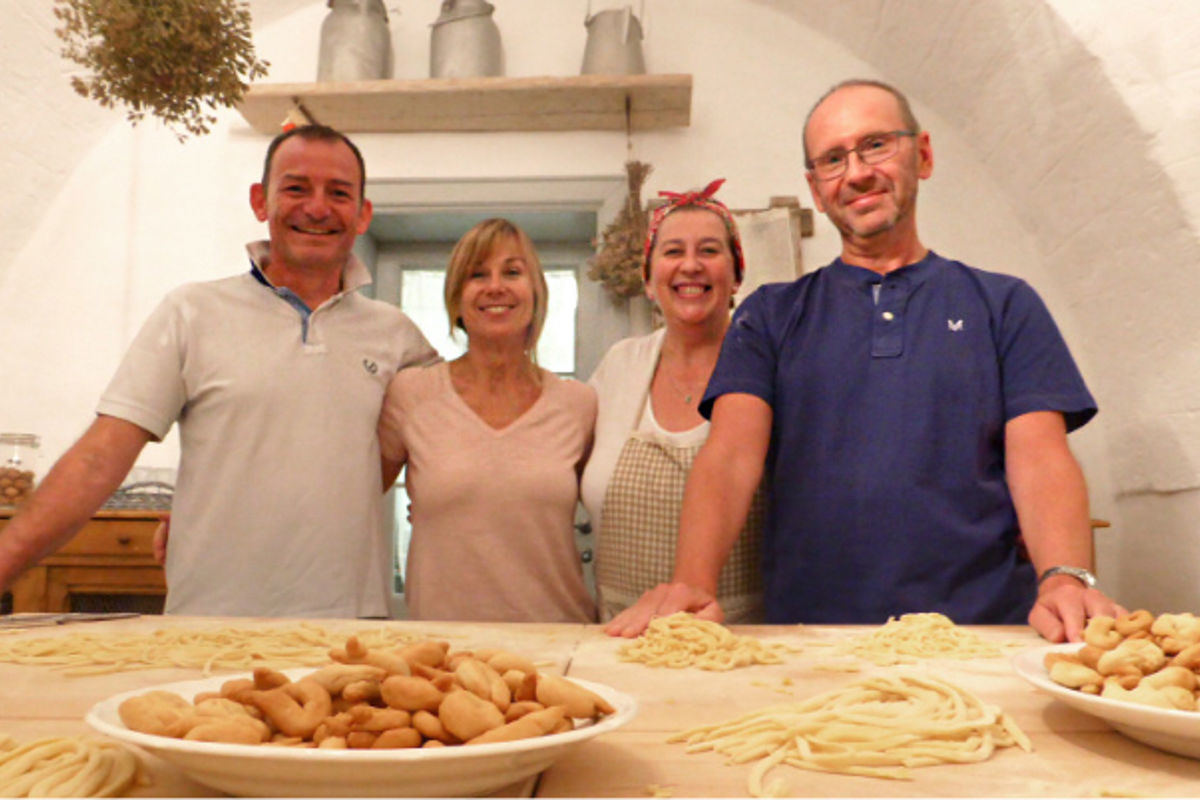 The afternoon starts at 4.00 pm, with some presentations enjoyed over a cup of tea or coffee, or a glass of our excellent local wine. We wear aprons, check the recipes, warm our hands and off we go. We begin by kneading the taralli - a traditional Puglian snack made using flour, white wine and olive oil. Then we make the panzerotti, like bite-size calzone, to be baked at supper and enjoyed almost immediately. But the main event is the preparation of fresh pasta and in particular, the local favourite 'orecchiette'. The english translation is 'little ears' and the shape is notoriously difficult to make - though Lucrezia makes it look so easy. Our guests find it quite a different matter but when you have begun to master the technique, we set a new challenge and invite you to play the guitar! What does that mean? We invite you to prepare spaghetti alla chitarra using a tool with strings that plays just like the instrument. With this accomplished we move onto the dessert. Nobody makes tiramisú like Lucrezia and once you have perfected her version you will never look back.
You are then free to relax before dinner while the taralli and panzerotti go into the oven. We complete the experience a little later when guests sit down to enjoy the fruits of their labours, immersed in the delicious atmosphere of an Italian kitchen. Bravo!