An elegant Adult Only Simpson Hotel
Beautifully restored
9 stylish suites
Restaurant 7-minute walk
Polignano and beach 15-minute drive
Monopoli 20-minute drive
Rising, dazzling white, above an olive grove, the Adult Only Masseria Le Torri has the presence, elegance and style that belongs in the pages of a magazine, with all the warm hospitality offered so effortlessly in this part of Italy. A recently completed renovation, it was a passion project that lasted ten painstaking years, during which the owner, Mimmo and his wife Silvana, realised his dreams of bringing life back into the old farmhouse he stayed in as a boy.
He follows in his mother's footsteps – she opened the original masseria's doors as a small hotel for the locals – but now he's taking that vision of hospitality into spectacular new territory. Bringing his own 30 years as a restaurant manager with Silvana's 20 years in the hotel industry, they share a commitment to quality and service that shines in everything they do; underpinned and inspired by Mimmo's love for this beautiful building. It's a combination we couldn't resist!
The most recent incarnation of the masseria has a serene, dream-like quality about it: chandeliers and birdcages hanging from trees and sheer fabrics giving the nine en-suite double bedrooms an ethereal quality. They share the colour scheme that runs throughout the hotel – a harmonious combination of natural wood and stone, with the gentlest whites and creams. It's complemented by the selection of carefully, creatively placed objects that help make every room unique: an open book with a red rose laid across it; antique wooden doors as headboards and, in one of the shared living spaces, an ancient piano, as pleasingly old-fashioned as the bed linen is sumptuously soft.
The shared swimming pool has more than a touch of Riviera glamour, brilliant white deckchairs and sunbeds lined up in rows beside the clear blue water, parasols on standby and a bar, serving drinks and light lunches. Delicious breakfasts are included in your stay and served in a room once used to dry the masseria's abundant crop of almonds, although in the warmest months, tables and chairs are spread outside so you can start the day in the sunshine. For one night of the week, a wonderful spread of traditional Apulian fare will also be served, cooked in the original stone oven that belonged to Mimmo's mother. It costs 35 euros per person and is payable locally.
When your thoughts turn to exploring, tap into the spirit of the original masseria and go horse riding, or, for something more cosmopolitan, historic Conversano is just a ten-minute drive away where dinner can come with a Michelin-star and all the best attractions are gathered around the lively main square. The coast and lovely town of Polignano a Mare are just a 15-minute drive away, where upmarket beach clubs, boat trips, diving and fishing can all be arranged on your behalf.
You'll find the spectacular Castellana Caves and Monopoli, with its lovely old town, excellent restaurants, castle and pretty harbour, both a 25-minute drive away. There's an archaeological museum and the upmarket San Domenico Golf in Fasano, half an hour away, and magical Alberobello, the charming city of the trulli, is unmissable and a 40-minute drive from the hotel. It's one of a number of historic towns and villages that make Puglia such a fascinating – and deeply relaxing – place to stay.
Shorter breaks (minimum of 3 nights) are sometimes available and a stay here may be combined with one of our other hotels in Puglia. Call our sales team to enquire.
Layout
General
Adult Only hotel (18 years or older)
Complimentary WiFi
Air-conditioning
All rooms can be configured into twin if required 
Bathrobes and slippers
Safe
Hairdryer
Daily breakfast included
Complimentary dinner on Sunday (drinks excluded)
Light lunches available by the pool
Room service (not 24hr) payable locally
Laundry service available (payable locally)
Simpson Travel towels
Pool bar
Private swimming pool 12m x 5m (depth 1.4m throughout)
Dinner served every Wednesday (day can change) with typical Apulian cuisine or barbecue (€35/person excluding drinks, payable locally)
All classes and activities are on request and payable locally (classes require a minimum of 6 people)
Cooking classes (half day €80/person)
Organic soap making classes (€30/person)
Beeswax candle making classes (€30/person)
Yoga lesson (€50/person)
Massages (€110/50 minutes)
Horse riding (€25/person/hour)
In Italy, a daily tourist tax applies for the first two weeks of your stay only, which means that an average of €2 per person (12+ years) may be charged. This should be paid in cash to your villa or hotel owner during your stay.
WiFi
All properties with WiFi are able to support basic functionality such as web browsing and checking emails*
* We aim to offer an uninterrupted service but sometimes due to factors beyond our control reliability can be affected.
Access times
Check in time – 4:00pm - 8:00pm
Check out time – 10:00am
Restaurant 7min walk or 2min drive
Conversano (shops/bars/restaurants) 10min drive
Polignano a Mare beach 15min drive
Monopoli 20min drive
Capitolo beach 20min drive
Alberobello 40min drive
Cisternino 40min drive
Bari town 40min drive
Ostuni 45min drive
Bari airport 45min drive
Brindisi airport 1hr drive
Below are the flight options available, including the most convenient airports in Italy to help you reach your destination as quickly and easily as possible. Please be aware that flight supplements may apply, subject to availability. 
Bari
| | | | |
| --- | --- | --- | --- |
| Departure airport | Airline | Flight days | Seasonality |
| London Gatwick | British Airways | Saturday | All season |
| London Gatwick | easyJet | Saturday | All season |
| London Stansted | Ryanair | Saturday | All season |
| Liverpool | Ryanair | Saturday | All season |
| Manchester | Easyjet | Saturday | 17/08 - 26/10 |
Brindisi
| | | | |
| --- | --- | --- | --- |
| Departure airport | Airline | Flight days | Seasonality |
| London Heathrow | British Airways | Saturday | All season |
| London Gatwick | easyJet | Saturday | All season |
| London Stansted | Ryanair | Saturday | All season |
Car options
Based on the number of people travelling, the following hire car(s) are included in the package price of your holiday:
2 guests – 1 group B, Fiat 500 or similar*
* All our cars include comprehensive insurance with zero excess. For this particular destination, the undercarriage is not included in the cover.
Car specifications
Group B – 1.2 litre engine, 2 medium suitcases*
The following cars are available as alternatives on request (supplements apply). Please call our travel specialists for details.
Group C – VW Polo or similar, 1.6 litre engine, 2 medium and 1 large suitcases*
Group D – Peugeot 308 or similar, 1.6 litre engine, 3 large suitcases*
Group H – Alfa Romeo Giulietta AUT or similar, 1.6 litre engine, 3 large suitcases*
Group F - Fiat Tipo SW or similar, 1.6 litre engine, 3 large and 2 small suitcases*
Group G – BMW Gran Tourer Station Wagon or similar, 1.6 litre engine, 3 large and 2 small suitcases*
* Suitcase sizes are based on a large suitcase being approximately 75cm x 41cm x 31cm, a medium suitcase of approximately 65cm x 46cm x 29cm and a small suitcase of 55cm x 40cm x 20cm.
Customer feedback
Our stay at Masseria Le Torri was a week not to be missed. The hospitality of the all the staff was second to none and all aspects of this beautiful property are superbly appointed. There are plenty of beautiful places to visit and some lovely restaurants.
John & Wendy – May 2019
The accommodation exceeded our expectations in its elegance, rustic charm and warmth of welcome from all the staff. Each day started with a stunning breakfast table which appealed as much to the eye as the taste buds. There were surprises every day! We wouldn't hesitate to recommend Masseria Le Torri and Simpson Travel to friends and family.
Shirley & Jenny – May 2019
Enjoyed our stay at Masseria Le Torri. Very helpful staff, breakfast a feast, bed so comfortable. Cookery class with other guests was great fun. The weather was a bit inclement; however, it meant we took the opportunity to visit the surrounding towns and villages – Polignano, Monopoli and Locorotondo. Particularly enjoyed Ostuni – 'The White City' – although not in Puglia, Matera is a must – worth the drive. Alberobello with its trulli houses is worth seeing but quite touristy and busy so wouldn't recommend staying for long, we combined it with an afternoon in Monopoli. We did have two lovely days just relaxing by the pool which was lovely. Plenty of good restaurants to eat at – gelato heaven! All in all a relaxing and enjoyable week in Puglia.
Liz and Matt – May 2019
Masseria Le Torri is a truly wonderful Simpson Travel treasure in a lovely part of Italy. Everything about the hotel and the surrounding countryside amazed us. A simple impromptu lunch under the gazebo in the garden was our most treasured memory and the very best culinary experience despite the simplicity of the menu. The staff are supremely helpful and attentive, everything you could hope for and more.
Michelle Spencer – Magnolia – October 2018
Another great holiday arranged for us by Simpson Travel. Looking forward to Easter and Summer holidays.
Grant Cunliffe – October 2018
Masseria Le Torri was like owning your own masseria in Puglia, a luxury property, with a pool, but with the benefit of staff, food and friends!
Mr Hodgson – September 2018
Masseria Le Torri is an exceptional property in a peaceful and idyllic setting. The owner, Silvana, is a lovely lady who goes out of her way to ensure all guests have exactly what they need and no request seems to be too much trouble or goes unresolved. A lovely base for touring around Puglia and as first timers this was a fabulous introduction to the delights of the region.
Mr H – September 2018
Masseria Le Torri is a magical oasis of calm. Luxurious and relaxing, we had a truly perfect holiday.
Teresa Callaghan – September 2018
Masseria Le Torri is a beautiful hotel in very peaceful surroundings. All the staff were very warm, helpful and hospitable. The room and bathroom were very attractively decorated, and we loved sitting on our terrace, looking out over the olive groves. The breakfasts were absolutely delicious – home-baked bread, cakes and pastries as well as an excellent choice of savoury items. The pool area was lovely, very relaxing and the gardens were very pretty.
Mrs Penney – September 2018
We had a lovely time in Masseria Le Torri – very hidden away and quiet.
Mrs Anderson – September 2018
A very special place to stay, beautifully renovated by the owners with great attention to detail. We loved the vintage décor and the old table linen was just beautiful. Superbly comfortable bed and pillows and the best breakfast we have had anywhere, lots to choose from – local produce, different cheeses and cakes every day and cherries from their own trees. We spent our mornings exploring the many delightful old hill towns and the afternoons relaxing by the pool and enjoying the beautiful grounds. The staff were extremely helpful and friendly, nothing was too much trouble. The restaurant they recommended in Locorotondo was really special and not somewhere we would have found ourselves. If you are planning a trip to Puglia, this would be a wonderful place to stay.
Paul and Paula Murfin – May 2018
A truly beautiful place where you relax the minute you arrive. The staff are incredibly helpful and the rooms a delight. Ideally located for exploring the local area. The food is exceptional and we can highly recommend the 'Taste of Puglia' evening at the hotel.
Mr and Mrs Daubrey – May 2018
My husband and I have just returned from a wonderful holiday in Puglia. Whatever we expected it was way and above our expectations, so many beautiful towns, cities and churches, each one very different, enchanting, and amazing. Matera is just one – an incredible city and a must to visit, it is quite awe-inspiring and breathtaking and yet unbelievably spiritual. The beaches are of soft pale sand and turquoise seas. Olive oil is in abundance with trees everywhere. Cafés, restaurants family-owned and Michelin star restaurants – the food is sublime, fresh fish, seafood, mostly eaten raw/cold. Farms growing olives, cherries, peaches, tomatoes and aubergines. The jewel in the crown is without doubt Masseria Le Torri. A large white manor house recently renovated by the owners with nine exquisite suites, each one slightly different. We slept on super king-size beds which the owner had had made (slept like a log).Excellent walk-in shower, lovely bedding, towels excellent, white and fluffy. The décor is pale grey with white and natural cream stone and wood. Our room had white muslin drapes and treasures from a bygone age, fantastic. Breakfast is and excellent choice of fresh fruit from the farm – cherries, apricots, melon and much more, also cakes, meats, cheeses and wonderful omelettes made fresh to order. Lunches were served on white tablecloths in the shade by the pool. Huge spaces to walk around, a lovely rose garden and a delightful swimming pool where we spent time when not sightseeing. The masseria is so peaceful, tranquil and has a magical feel. We didn't want to leave. The staff cannot do enough for you but are not intrusive. Ketty and Nicolas at reception are just outstanding, Francesco (the Simpson Travel rep) is amazing – his knowledge of Puglia is second to none and nothing is too much trouble. On my husband's birthday a cake had been made, champagne and fruit served in our suite, how fab was that. Two weeks and we could have stayed for more, so much to do and see. I left my heart in Puglia and cannot wait to go back. The incredible Masseria, the lovely people, the wonderful food especially the delicious tomatoes and Buratta cheese, which when cut oozes cream, and of course the olive oil and homemade bread, a meal to die for. Simpson Travel look after you so well as an individual, nothing is left to chance. Our holiday in Puglia was one of the most interesting yet relaxing holidays we have had. Magic, sheer magic. Thank you. 
Kay Buer – July 2018
A stunning hotel in a wonderful location – we had a very relaxing few days. Puglia is a beautiful region and we would highly recommend a visit.
Mrs Rowland – May 2018
If you want a taste of authentic Puglia, Masseria Le Torri could not be a better base from which to explore and relax.
Mr Cross – May 2018
A beautiful hotel in a beautiful part of Italy. Lovely peaceful location and within easy reach of the coast and other towns for visits and meals. Staff very accommodating. Another Simpson Travel triumph!
Mr O'Donnell – May 2018
On a scale of 1 to 10 Masseria le Torri is a 12, honestly. Stunningly renovated and peaceful. It's staffed by a team who truly understand customer service. Our suite of rooms (previously the Masseria's chapel) were huge with high ceilings, original frescos and a private terrace that seemed to have sun all afternoon. Breakfasts were a feast of locally sourced food – from fruit and bread to cheese, cold meats and cake – never thought we'd be able to eat so much so early but we did, every day. All in all, brilliant.
Sue Gorman – May 2018
If you are looking for a beautiful setting with people who really care that you have a wonderful holiday, then look no further. The food is out of this world, with cherries and olives picked from the owner's land. A beautiful rose garden, olive trees, with areas to sit and just relax. Nothing is too much trouble and the staff will ensure a relaxed and special holiday. The nearest town is short drive away and is typically Italian with great food, ice cream, the sea and people watching. Also lots to see if you drive slightly further afield. We absolutely loved it and can't wait to return.
Mrs Parker – May 2018
Beautiful Masseria Le Torri, stylishly appointed in a stunning location. Breakfast excellent and the Puglian evening is wonderful. Be brave and visit the kitchen to chat to the cook, it's well worthwhile!
Mrs Ronaldson – May 2018
We had a wonderful four days at Masseria Le Torri, set in rural Puglia but within easy reach of so many places of interest; Alberobello, Monopoli and Polignano – all well worth a visit. The Masseria has an interesting history and has been lovingly and beautifully restored. Delightful hosts only too ready to help enhance your holiday. A wonderful place to relax in peaceful countryside. The evening meal of local Puglian dishes was simply superb, not to be missed. An Italian treat.
Mr Woodhead – May 2018
Our choice of Italian properties is diverse, ranging from simple charm to genuine luxury and style. Much of our portfolio is privately owned, and price alone is therefore not a universal guide. We contract all our accommodation in person, and each property has its individual appeal.
To help you make the right choice based on your own priorities, we have devised a simple grading guide to be considered in conjunction with each individual property description, awarding up to a maximum of five stars for the below categories.
* For further clarification on Facilities and Amenities, please view the 'Details' tab for each property or speak to one of our experienced sales consultants.
There's a different side of Italy to discover on a holiday in Puglia – the land of the trulli, ancient olive groves and historic towns that take you on a journey from Byzantine to Baroque. And then there are the countless beaches and beach clubs that capture the diversity of this absorbing destination: unspoilt, unpretentious and full of creative flair, where the generosity of the locals is matched by the excellence of its cuisine.
To complete the picture, explore our collection of handpicked villas and Partner Hotels or discover our Puglian Wandering programme to fully immerse yourself in the local culture.
Altea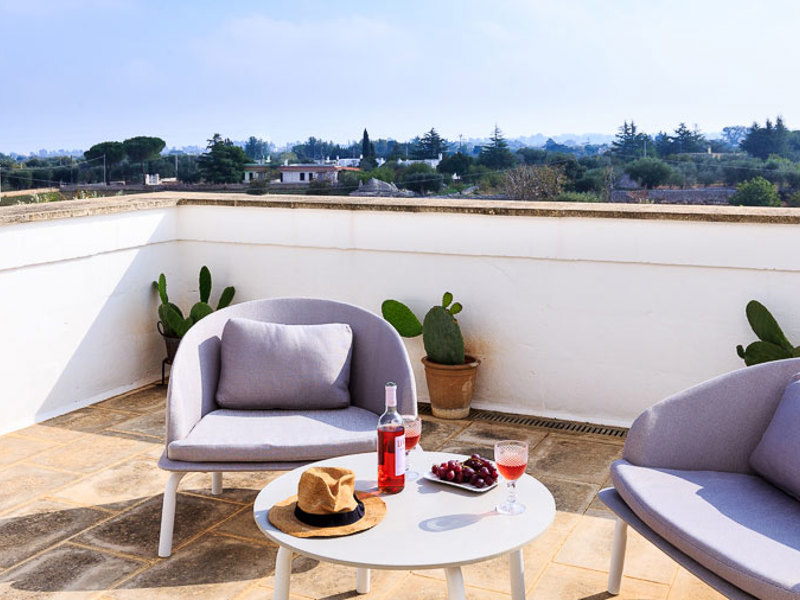 Full details
First floor double bedroom with en-suite shower room, opens to Juliet balcony with garden view
Separate sitting room opens to furnished terrace
Possibility to interconnect with Ginestra (if required)
---
Gardenia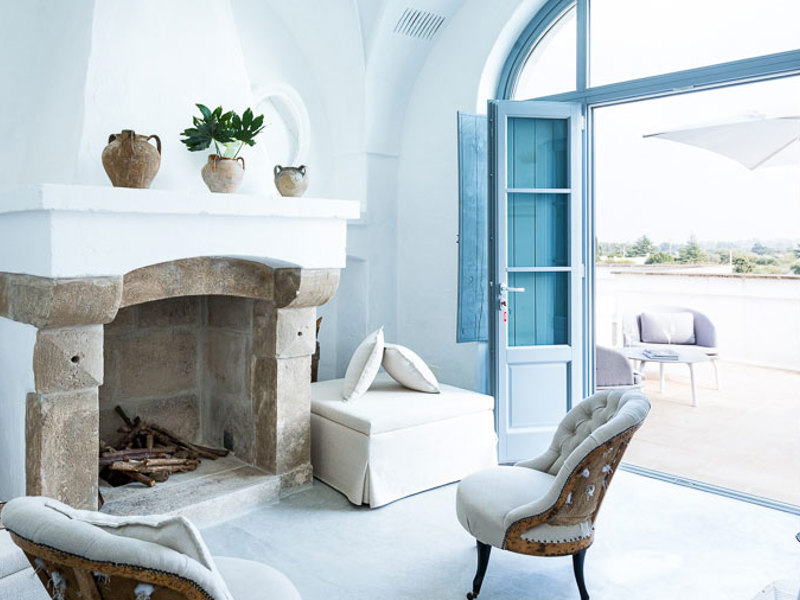 Full details
First floor double bedroom with en-suite shower room
Separate sitting room with working fireplace, opens to furnished terrace
---
Ginestra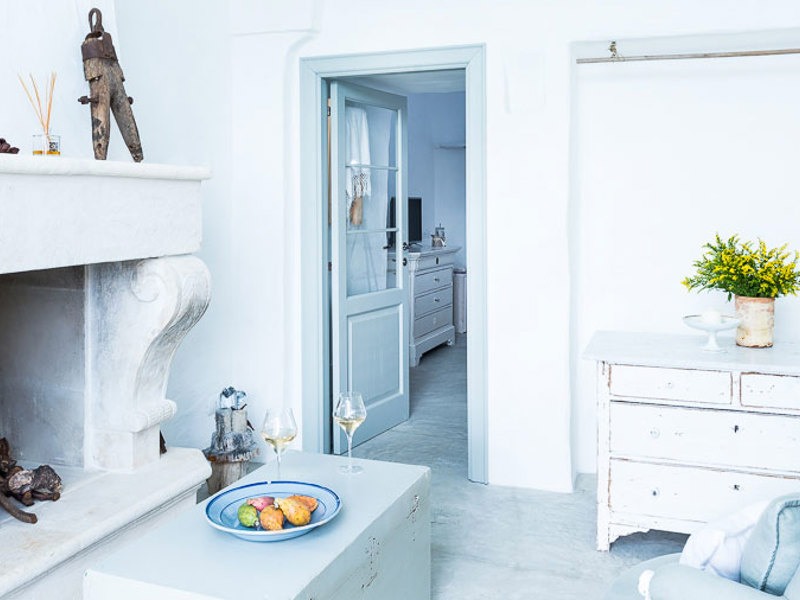 Full details
First floor double bedroom with en-suite shower room
Separate sitting room with working fireplace, opens to furnished terrace
Possibility to interconnect with Altea (if required)
---
Magnolia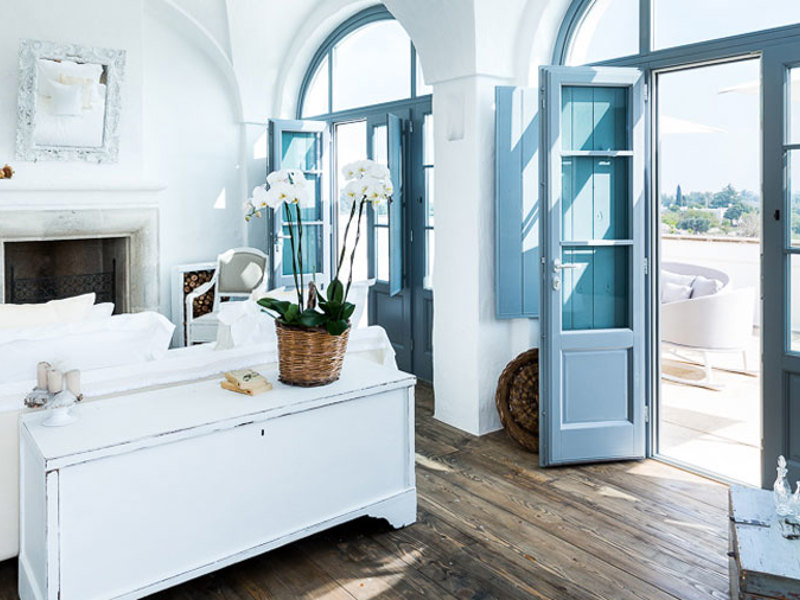 Full details
First floor double bedroom with en-suite bathroom and separate shower
Separate seating area with working fireplace
Furnished terrace
---
Margherita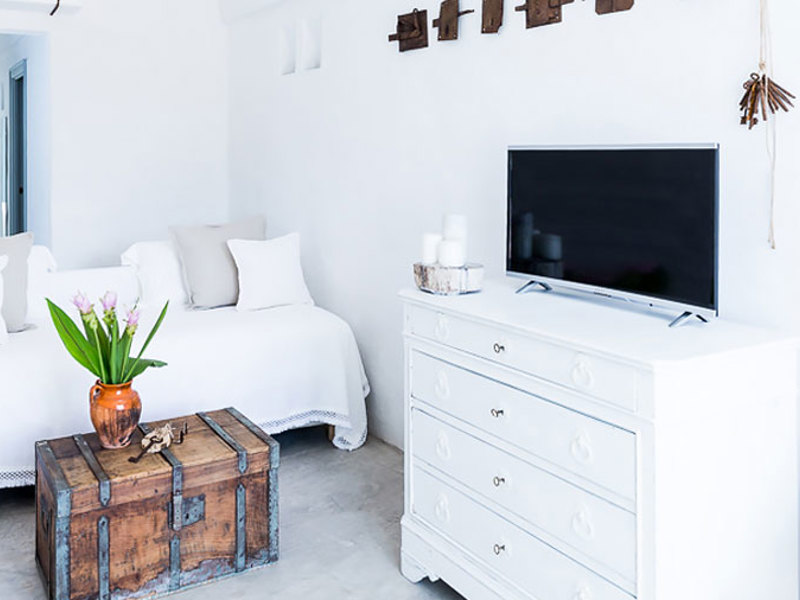 Full details
Ground floor double bedroom with en-suite shower room
Furnished outdoor seating area
---
Oleandro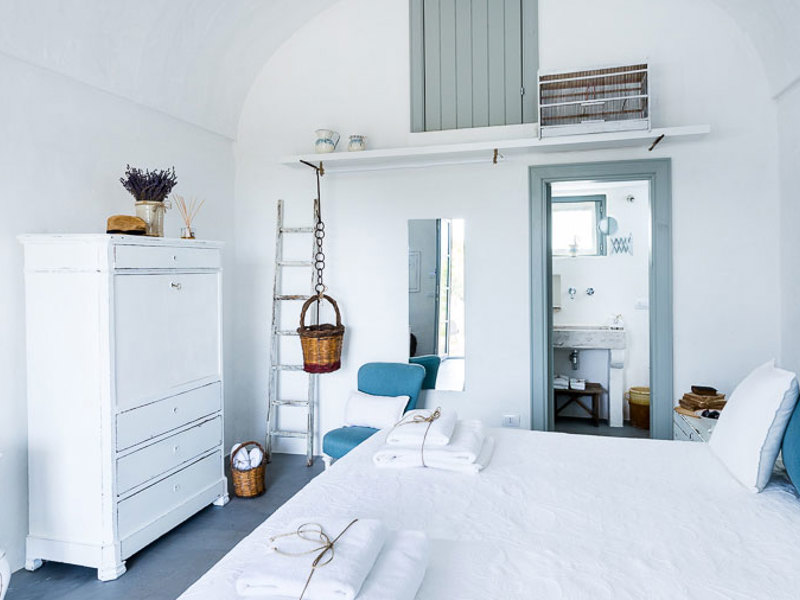 Full details
Ground floor double bedroom with en-suite shower room
Furnished outdoor seating area
---
Orchidea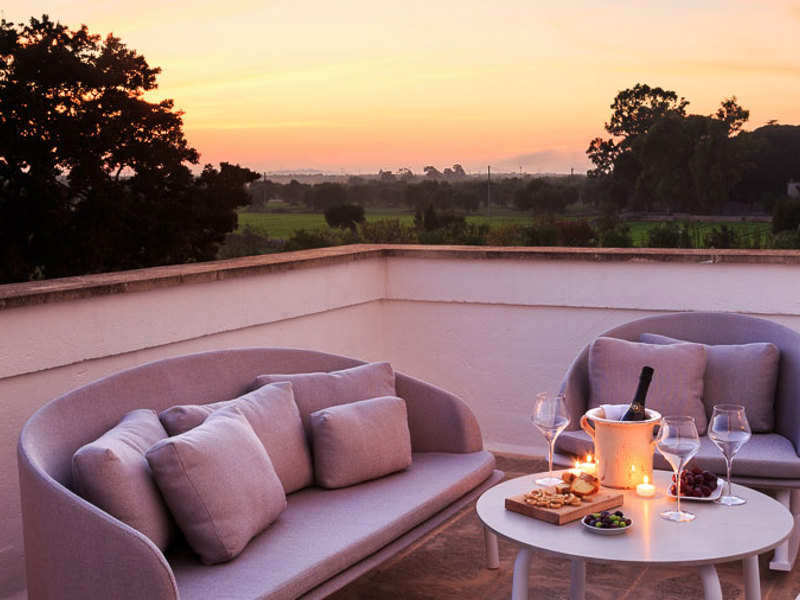 Full details
First floor double bedroom with en-suite stone bath and separate shower room
Sitting room with working fireplace
Original ceiling frescoes
Furnished terrace
---
Rosa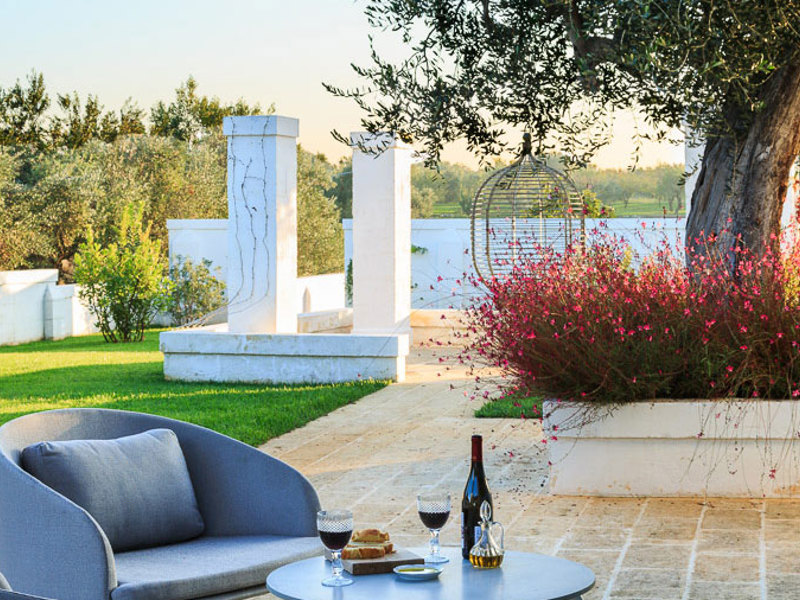 Full details
Ground floor double bedroom with en-suite stone bath and separate shower
Opens to furnished covered patio
---
Viola
Full details
Ground floor double bedroom with en-suite shower room
Opens to furnished covered patio
---
View holiday Booking Conditions
---
Don't just take it from us...


Simpson Travel in the press