A passion for Puglia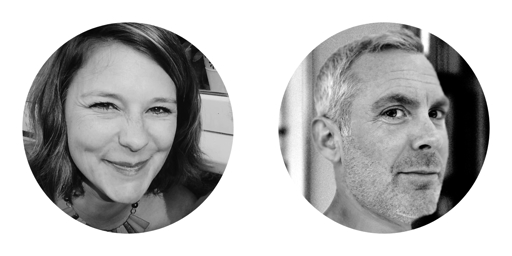 'Eating well gives a spectacular joy to life and contributes immensely to goodwill and happy companionship.' So wrote the iconic Italian designer Elsa Schiaparelli, and, having spent a joyous (gluttonous?!) week exploring the latest Simpson Travel collection in Puglia, Destination Specialists Éva and David agree that she was definitely onto something...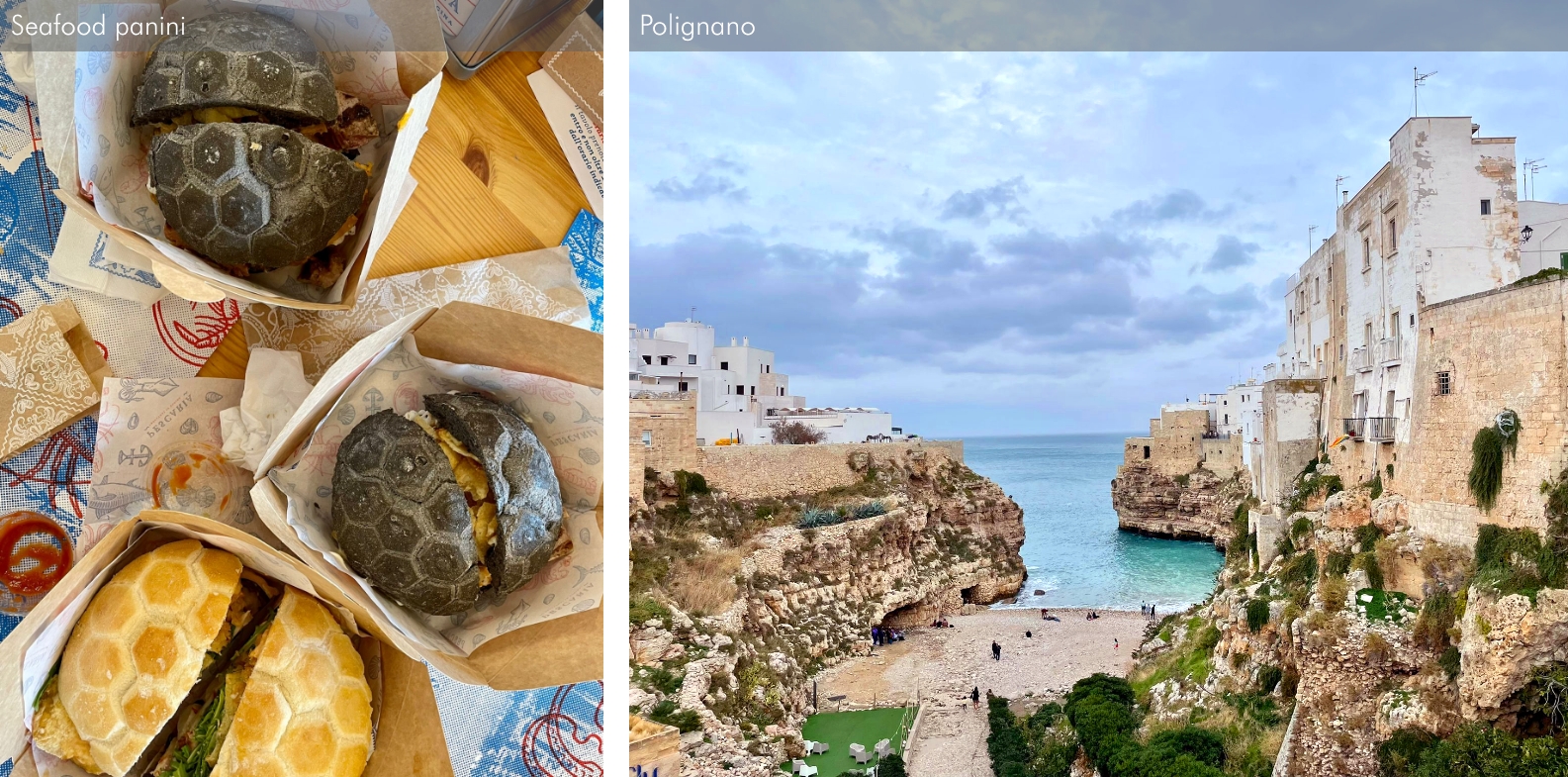 We began (of course) with dinner. After clearing diminutive Bari airport in just 10 minutes, our smiling host and operations manager Francesco whisked us off to his favourite local for a burrata (more on that later) pizza, plus three others just for comparison. So far, so full, and this was just our first night. Morning saw us heading for Polignano. The tiny old town is charming, combining white-washed streets with beautiful old churches and panoramic terraces with amazing sea views. It's also home to the San Giovanni beach club, renowned as the best in Europe. Another essential Polignano experience is fresh fish, and here we tucked into giant seafood sandwiches that looked oddly like a cooked football cut in half! They tasted a lot better than that description, and after one each we were full, but still managed to squeeze in a café speciale overlooking Piazza Vittorio: a shot of coffee with lime zest, whipped cream and Amaretto. Superb.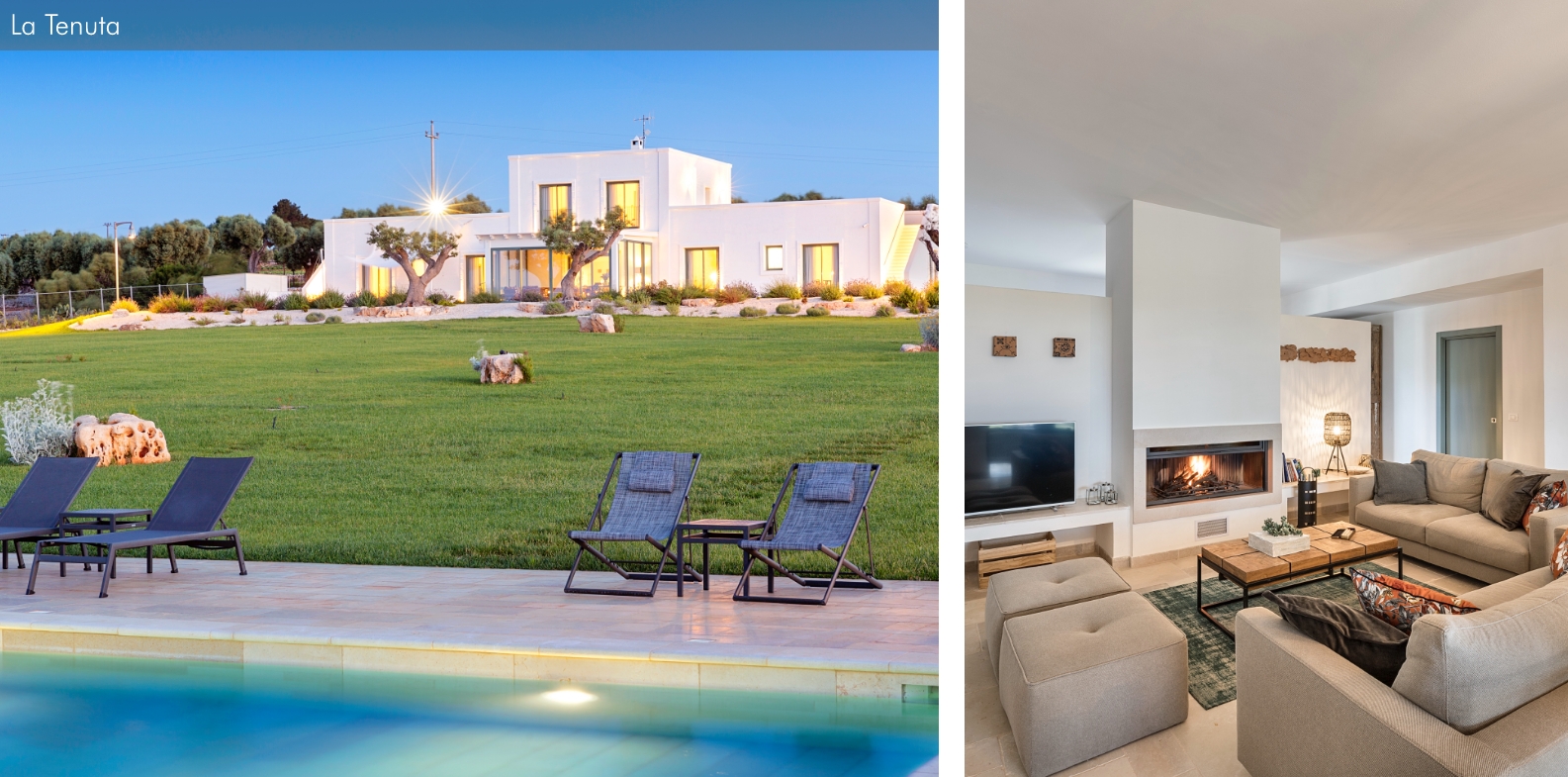 Just 4km from Polignano is the elegant La Tenuta. Sleeping 18-20, it's the largest villa in our Puglia collection, and we both loved its simple but sophisticated design. It would be an awesome venue for a multi-generation party or two or three active families, with lots of space to shoot a few hoops, play 5-a-side football or show the kids who's boss at table tennis. And if you feel the need to atone for extra calories, the 13 x 6m pool is big enough to tell yourself you've worked hard, honestly! Also close to Polignano we nipped into Villa Flavia and loved its Scandi-style simplicity and stunning sea views. Back on the foodie trail we stopped off at the Masseria Pezze d'Aglio where we witnessed the first press of the bright green, new season virgin olive oil and tried some different varieties. Apparently, it's the done thing to suck your teeth, Hannibal Lecter-style, when sampling olive oil, and if you get it right you'll taste the difference. The newer the olives, the more peppery and bitter the oil…never again will we be fooled by the supermarket mass-produced blends!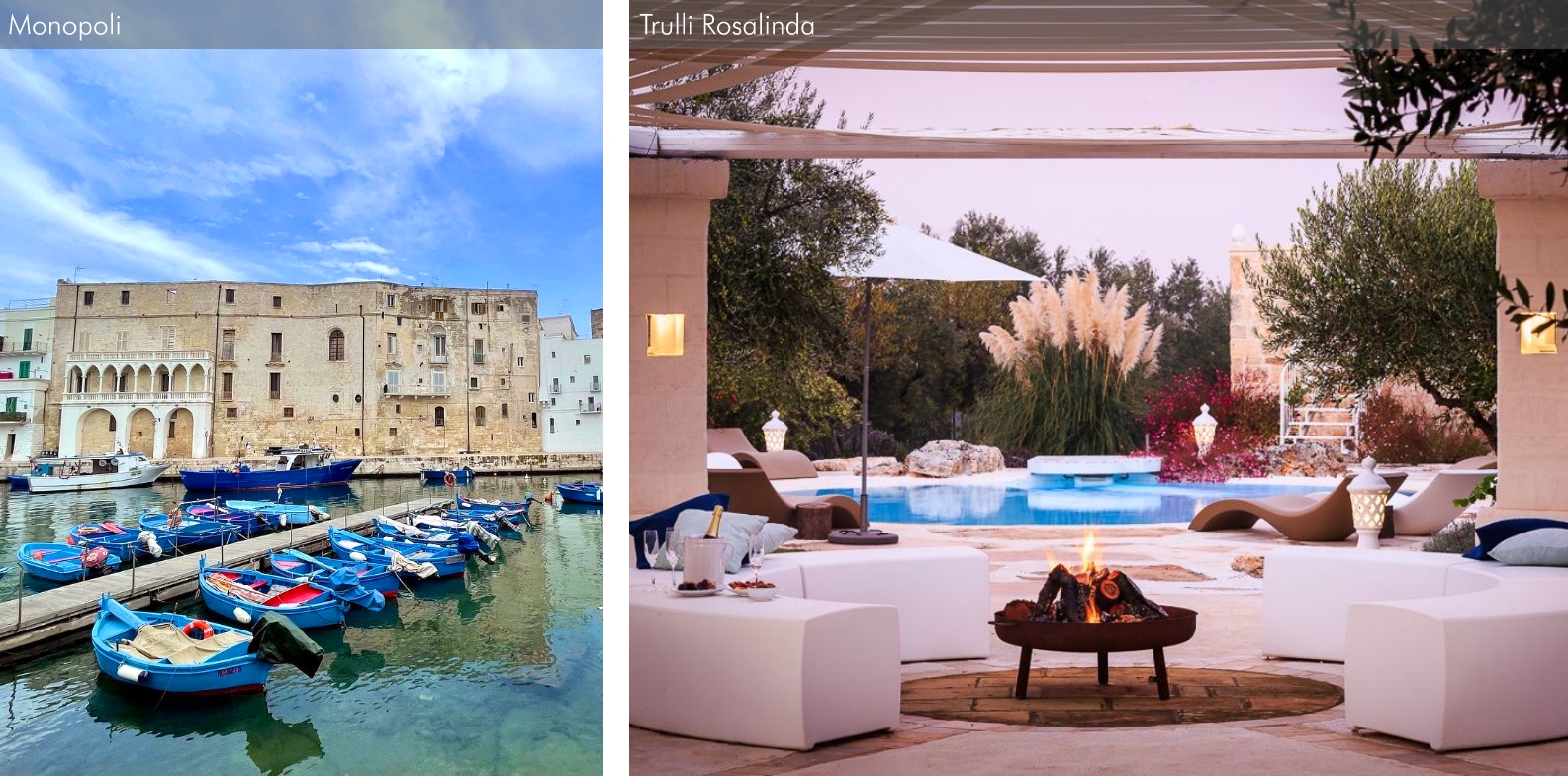 Positively bristling with anti-oxidants we pressed on to the divine Masseria le Torri. Owner Silvana treated us to a full guided tour and our pick of the suites was La Capella, molto romantico. With the light fading we set off for the next villa and the one that we were most excited to see: Trulli Rosalinda. Wow, wow, and wow. Huge garden, very secluded location and a Big Green Egg barbecue give you all the right ingredients for a very upmarket pool party, and the pool can even be heated if you come early or late in the year. Francesco recommended hiring a chef for an evening or two, but with Monopoli and Polignano nearby, you'd never have to venture too far for food and entertainment.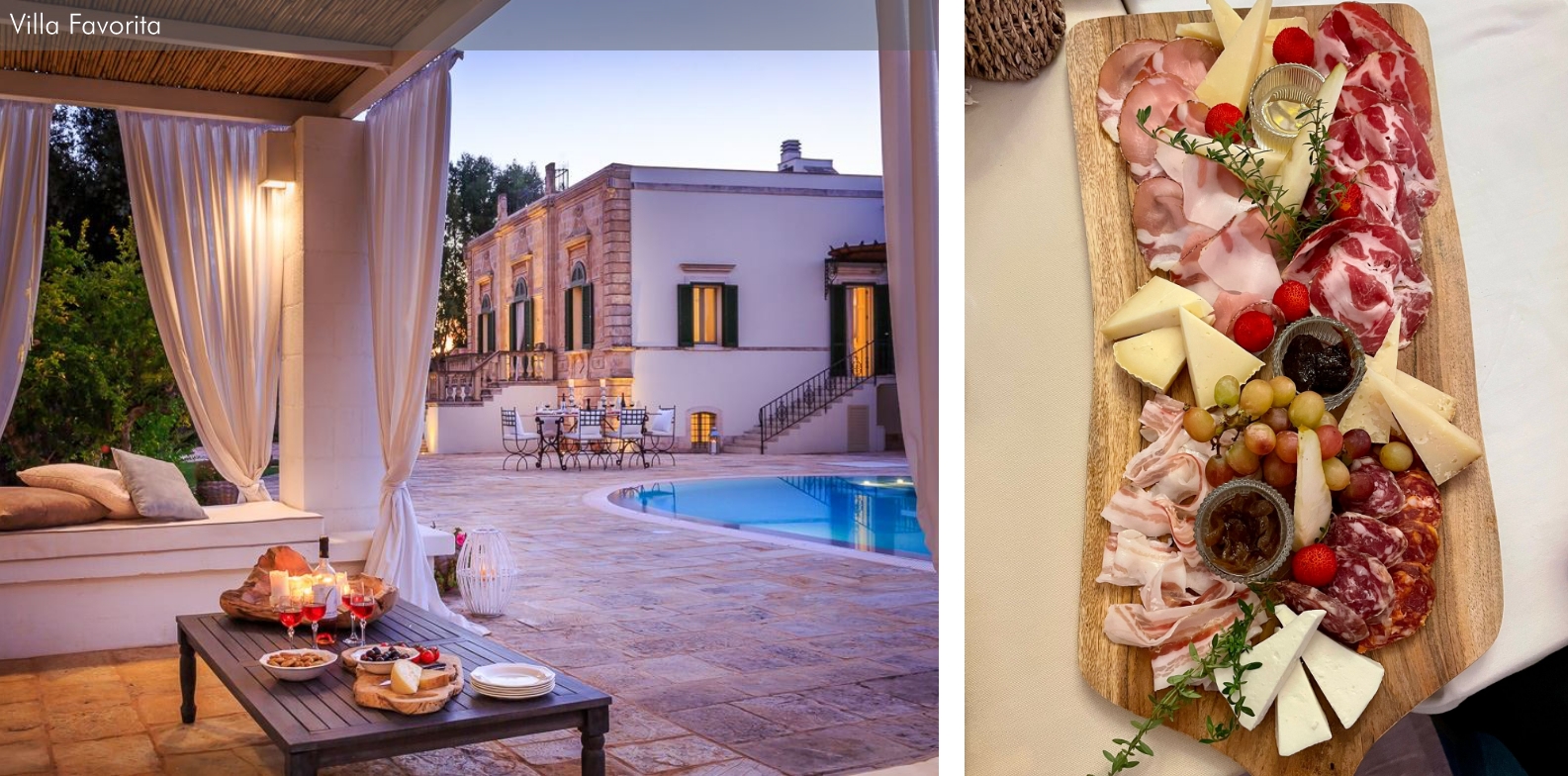 Day 3 started with a bike ride, but the calorie deficit was quickly annihilated by Francesco and his creamy pasticiotti, a.k.a 'boobies', a classic Italian breakfast treat that was just too good to refuse. Stamina was needed for another property-packed day, taking in a whole range from newly-built villas to the palatial Villa Favorita a 15th C masseria, complete with its own chapel. Highlight for us both was Trullo Raffaella, located in a small village between UNESCO World Heritage Site Alberobello and the fashionable town of Martina Franca. Rafaella is an authentic original trullo rather than the more common new-builds, with the benefit of a large pool in a mature garden. Also authentic was the belt-busting lunch spread ordered for us by Francesco in nearby Locorotondo: starters, antipasti, the main, then dessert and of course a mandatory shot of Padre Peppe, made from green walnuts and apparently good for the digestion.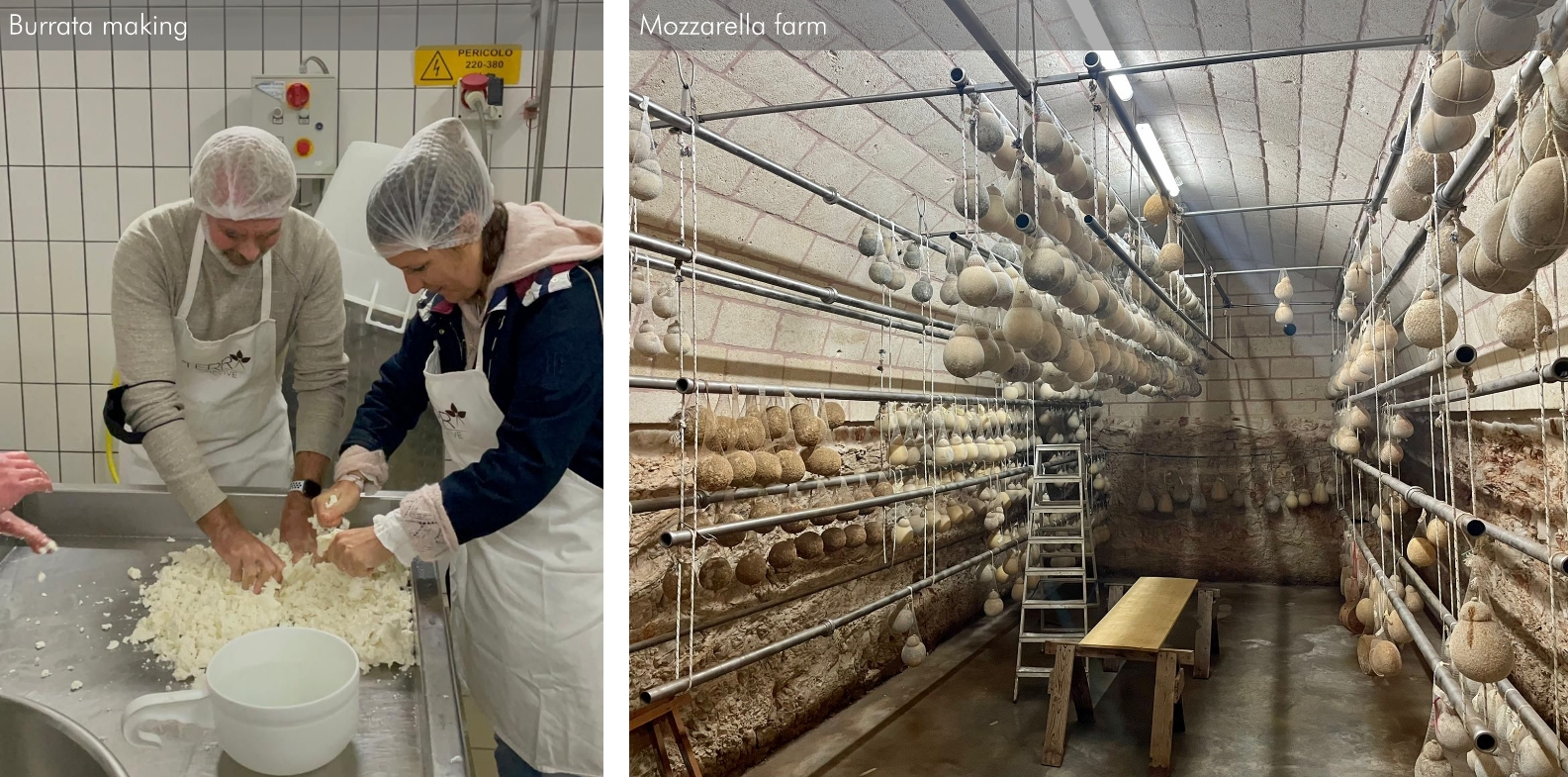 If you don't do dairy then look away now, because our next adventure was creating burrata, a Puglian speciality made from mozzarella and cream. After donning natty hair nets, adding some whey and heating the milk in a hot bath, we were set, or rather the mozzarella was. Stretching the mozzarella was the last stage and then we displayed our skills by making various shapes. More specifically Éva did, while the best I could make was a small (but tasty) blob. Mozzarella mastered, it was on to the burrata, which required more skill. Break into the outer layer and you'll find an oozing, soft interior made of small cheese curds and cream. The Italian word burro translates as butter, giving you an idea of just how rich and creamy it is. Off to the cellars next to see how the cheese matures. Whilst it doesn't look (or smell) pretty, we can confirm that it tastes amazing.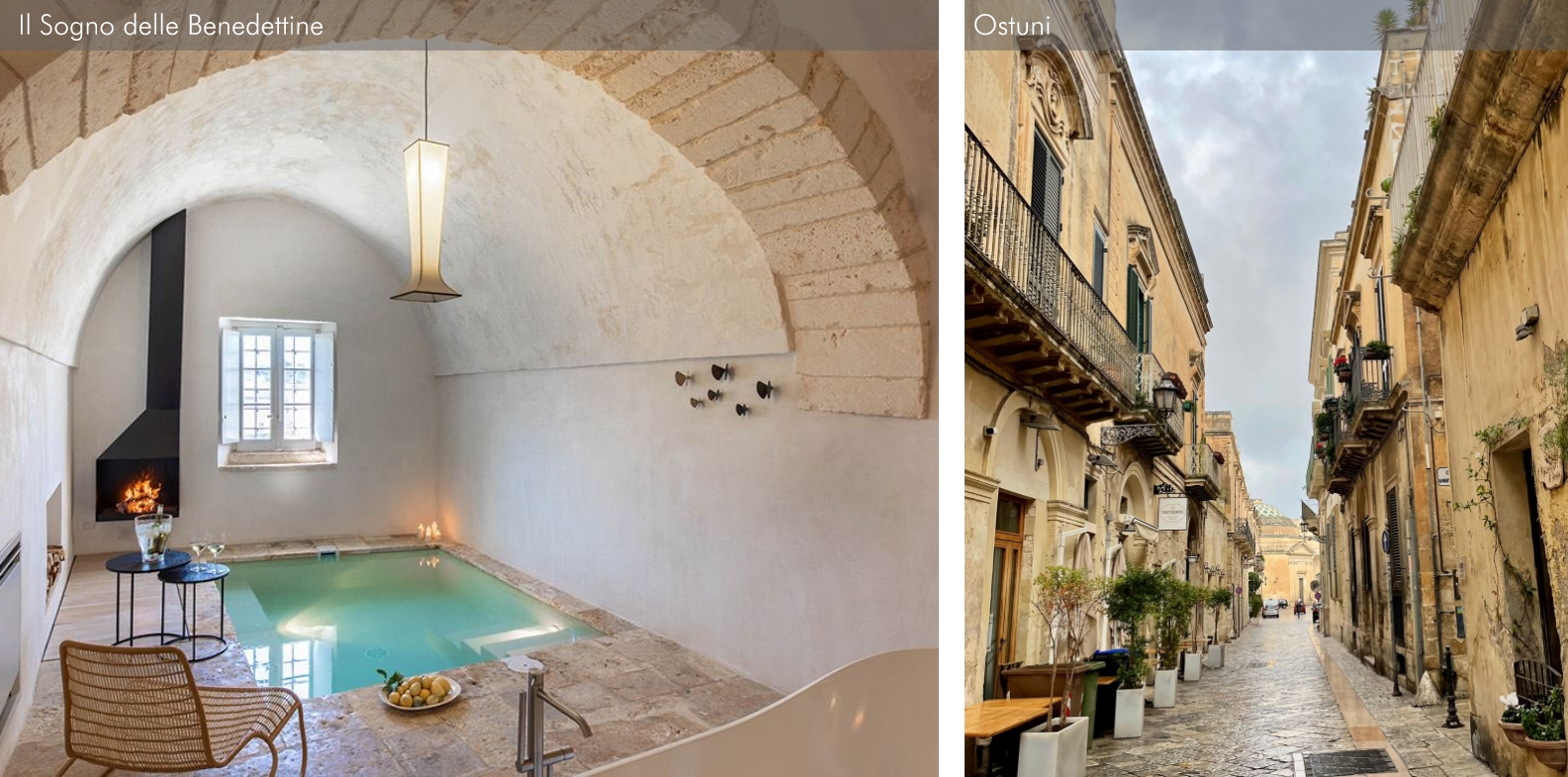 After the hands-on cheese experience, we were on for something rather more sophisticated at Il Sogno delle Benedettine in Ostuni. You would have no idea that such an amazing hotel was hidden right in the centre of the town. Neither Éva nor I had ever stayed in such a cool place, and were thrilled to be given room 3, which not only had a freestanding bath in the room but also its own Jacuzzi pool! Everything in the hotel is sourced locally (within 1km) including the artwork, breakfast and even the signature room fragrance (which Éva bought to take home). Definitely a place for those wanting a unique experience but also to be in the centre of an historic town, boasting an extraordinary four Michelin-starred restaurants. We settled for a simple dinner in Ostuni but clearly we had not yet mastered the art of ordering without Francesco; my pork shank was the size of a small child.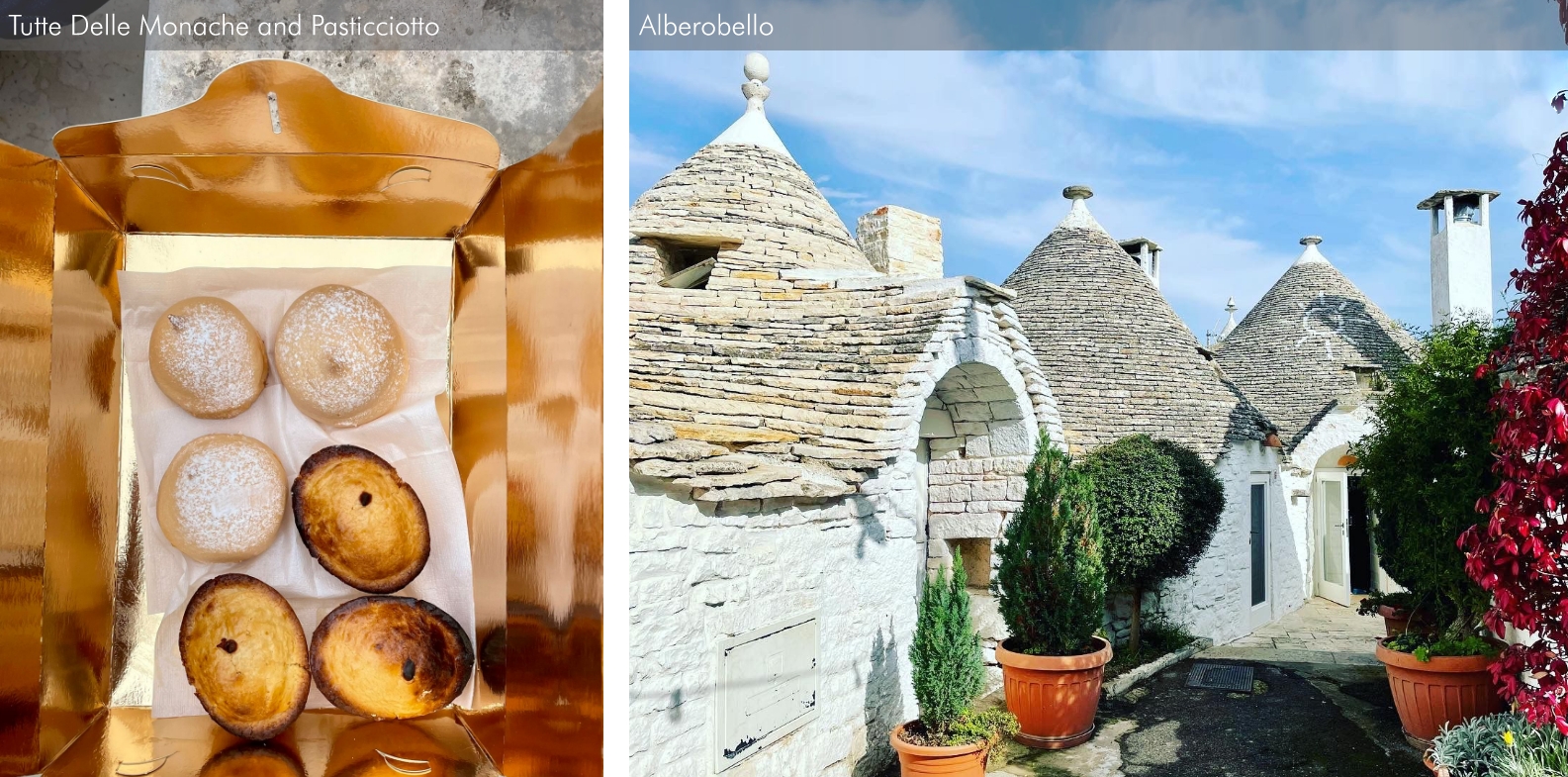 The next day saw us back in Francesco's capable hands/terrifying car as we sped Italian-style to fill an unexpected free couple of hours and get to Alberobello before the crowds. Part of a UNESCO site, it's among the most famous of the region's attractions and home to the largest collection of trulli. Admittedly it is very touristy but still worth a visit, though perhaps not in the height of the season unless you arrive early. For an alternative day out, we'd suggest Cisternino, a Slow Food town that holds a number of food festivals in August, or Lecce, with its Roman amphitheatre and Baroque architecture. After a week of fantastic properties and some of the most memorable meals we've ever had, it was sadly time to return home to more restrained portions and no more cake for breakfast, but what an experience.


Puglia - you were amazing. A presto!