A mindful look at travel; 2020 and beyond.
A mindful look at travel; 2020 and beyond.
Regular Simpson traveller Helen Watson explains her decision to visit Italy in 2020 and why she believes we shouldn't give up on foreign travel if personal circumstances allow.
Not everyone feels inclined to travel during a global pandemic and for some, sadly, the risks are simply too high. But for those restless souls like me, for whom travel is so much more than just a week or two away, the creation of travel corridors between low-risk countries came as a lifeline. Was I worried about flying? A little. Did I wonder if the rewards would justify the risks? For a moment. Did I feel irresponsible? Not at all.
Once it became clear to me the words 'We're following the science,' are merely a useful subterfuge for confirmation bias on a grand scale (remind me, which science are we following today?) I decided common sense should be my guide. Not the Dominic Cummings self-serving interpretation of 'common sense', just a quiet resolve to go about my business in a law-abiding way without being shamed by those who believe anyone travelling in 2020 is sticking two fingers up to the NHS, the many victims of Covid-19 and everyone over the age of 65. I absolutely am not. But as someone who loves to travel, I do feel a certain responsibility for the many thousands of Europeans whose livelihoods hang in the balance.
After all, in any other year, my family and I would travel to Europe in the summer – usually Italy or Greece (though other equally idyllic destinations are available) and we would eat out, hire bikes or perhaps a boat, shop and generally contribute to the local economy. If we all suddenly decide to change our habits and to 'staycation', not only do we make social-distancing impossible (apropos the scenes on Bournemouth Beach) but we also risk alienating the British communities who are trying to keep Covid-free in the wake of lockdown. Let's face it, they've been pretty clear; while the Brits are as keen to kickstart their local economies as anyone, they don't want us scrambling to reach the top of Snowdon in our never-before-seen droves, descending like locusts on the banks of Lake Windermere and creating gridlock as we all head for the campsites (not to mention loos and communal showers) of Devon and Cornwall.
Why not stay at home then, some might say? This is slightly more problematic but let me try and explain. In the interest of fairness, I have to confess my good fortune. We live in a beautiful part of West Sussex, in a house with a generous garden surrounded by plenty of open countryside for walks, cycling and outdoor pursuits. I have no cause for complaint and a year or two confined to barracks could hardly be considered a penance. But travel gives perspective and for me, time immersed in another culture, where the warmth of the sun is matched by the warmth of the people, is as eye-opening as it is life-affirming. It refreshes my thoughts, lifts my spirits, takes me out of myself and restores me firmly in the moment. I suppose I could download some mindfulness apps and achieve similar results. Perhaps I should. But with all restrictions on travel to Italy lifted, I downloaded a Passenger Locator Form instead and headed off to Tuscany.
Without question, the flying experience was one of the best I've ever had. Heathrow was the quietest I've seen it, the temperature checks were unobtrusive and swift, there was a plentiful supply of hand sanitiser and the intrepid minority who are travelling, seem, by and large, to have adopted a good-natured stoicism that made the whole journey a calm and civilised affair. The wearing of a facemask wouldn't be my first choice but actually, I stopped thinking about it after a while and there were no complaints from my children either (aged 9 and 15). We boarded our BA flight to Pisa, five rows at a time from back to front. This, combined with a ban on the use of overhead lockers when flying to Italy, has a lot to recommend it; no bunfight, no clambering, no armpits reaching overhead with coats, scarves and cabin bags weighing more than their owners. Just a pleasant welcome from the crew who were handing out discrete pouches of antiseptic wipes and hand sanitiser and an unencumbered walk to your seat. Disembarkation was equally composed and before we knew it, we had collected bags and keys for the hire car and were heading for the hills of Chianti.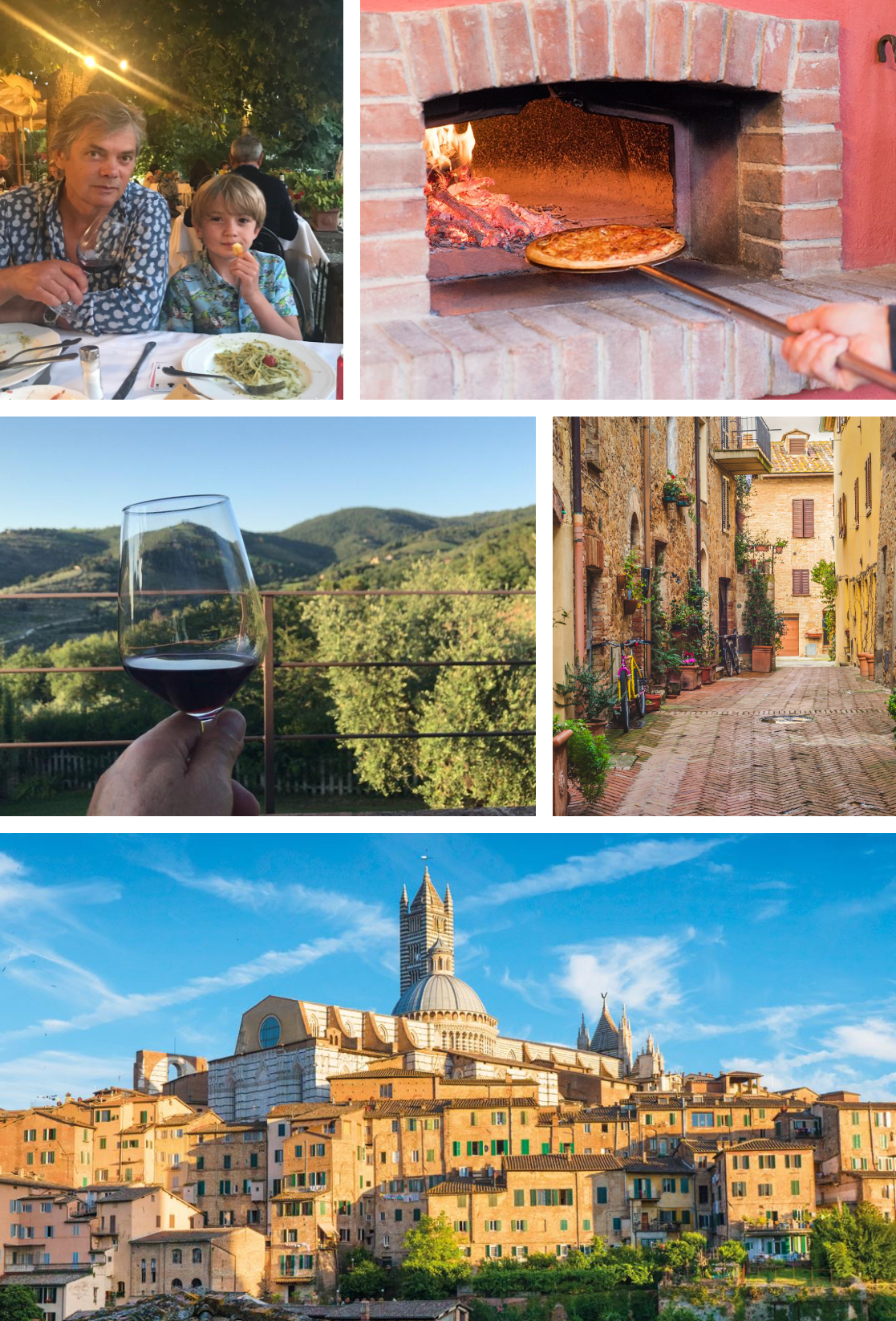 One of the better things about lockdown was that the children had already been re-programmed to accept that life has become a little more contained. Over four months without a trip to the cinema, a meal out, or friends to play meant the change of scene (and such a spectacular one too), the balmy temperatures and a swimming pool were more than enough excitement for one week. There was no sense of disappointment at the rather grown-up choice of an isolated villa in the very heart of Tuscany. A simple game of Uno was elevated from the mundane to the sublime against the backdrop of the devastatingly beautiful landscape, pizza night took on a magic of its own when freshly prepared and cooked in our own pizza oven and while our teenage daughter devoted herself to topping up her tan by the pool, our son spent hours hunting and capturing geckos (on a strictly catch and release basis). The result? My husband and I read books (strangely unachievable during lockdown), completed whole sentences without interruption during leisurely conversations on the terrace and as a family, we came to the conclusion that the pleasure of being together was a blessing we shouldn't forget. Couldn't we have achieved that at home I hear you say? Surely, it's that being in the moment thing again. I suppose it's true. It shouldn't take a change of scene, a pool, limitless sunshine and a pizza oven to make us appreciate our good fortune. But after months of working and schooling from home, it sure helped.
We didn't shut ourselves away entirely. We visited a couple of the local hilltop towns for a wander and a gelato, dined out, and ventured into Siena – perhaps a hot and stressful undertaking in any other year but almost devoid of tourists in 2020. Wherever we went, the strength and warmth of the welcome was palpable, despite the elegantly observed social distancing and facemasks. Having been forced, as we were, to deal with the shock and horror that unfolded on their shores, there is no question, the Italians were pleased to see us and are looking to the future. I hear the situation is the same in Greece… and Turkey… and France… and Spain. They're all hoping we won't give up on foreign travel and will trust them to look after guests as they always have – safely, with dignity and in their own inimitable style.