The five best beaches on the Aquitaine Coast
The five best beaches on the Aquitaine Coast
Simpson Travel's Justin Ashby shares his personal memories...
Whether on holiday or through 'work', I've been visiting the Aquitaine Coast since the mid-1990's. There's over 300 km of Atlantic coastline between La Rochelle and the Spanish border at Hendaye-Plage, and I reckon there are very few beaches in between that I haven't at least seen if not actually set foot on. OK, I confess to being a little hazy regarding the Île d'Oléron and its nearby mainland but that's just about the only gap in my knowledge. Suffice it to say I've had enough Basque-Landes-Gironde-Charente sand between my toes to happily (rather than smugly) call myself an Aquitaine beach expert.
Selecting my top five is no easy task and I fear there will be some local friends and colleagues who, on reading this, will be striking me from their liste carte de Noël. However, I have my excuses at the ready; there are of course dozens and dozens of simply stunning beaches all along the south west coast of France. It's just that the five I have selected are not only breath-taking but they also hold a cherished personal memory too…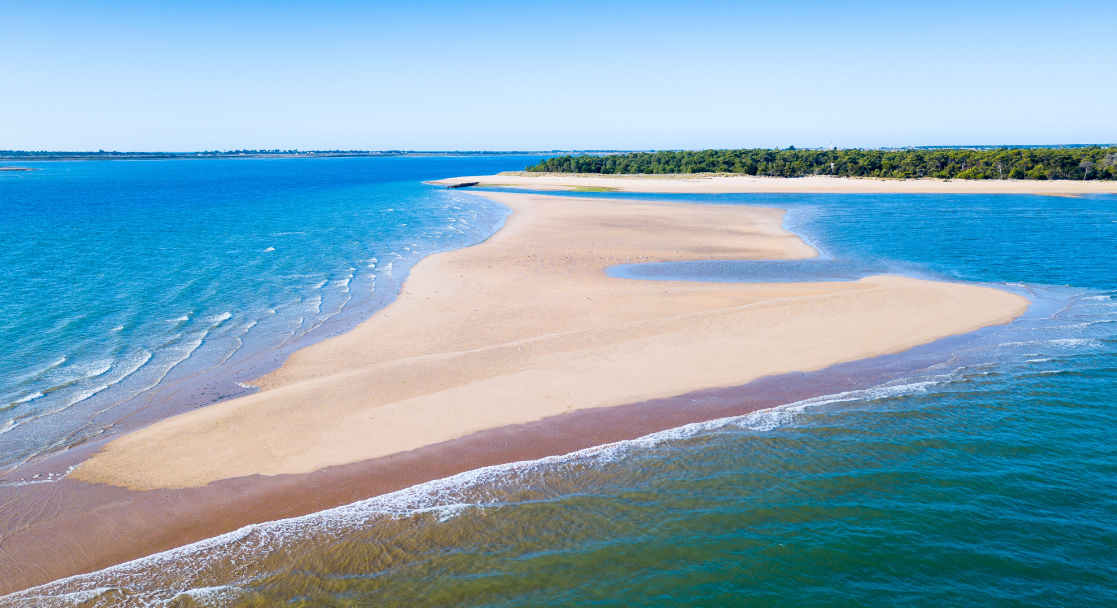 1. Plage de Trousse-Chemise, Les Portes-en-Ré, Île de Ré
Why I love this beach: it's off-the-beaten-track and simply stunning. I reckon 90% of Ré's visitors never make it this far and you certainly feel that you've reached the very end of the island. With that comes a certain tranquility and natural beauty. What's more, this particular beach has a slightly tropical feel about it with its perfect white sand, the tree-line that comes right up to the beach plus the general laid-back ambience of the place. Young kids will love playing in the shallow water and wading out to the sand bar at low tide.
My personal memory: Ré was our final holiday as a family of four, before the birth of our daughter. Our two boys were aged 5 and 3 at the time and liked nothing more than splashing about in the sea, rolling down sand dunes and consuming as much ice-cream as possible. Meanwhile, my wife and I were drawn to the opportunity for some gentle cycling to break-up the monotony of drinking wine and tasting fresh oysters. As such, it will come as no surprise that we ended up on Ré.
We were staying on the south side of the island in Le-Bois-Plage and after several days of cycling excursions with the kids, we averted a family meltdown and wisely decided to ditch the bikes in favour of four wheels and drove up to the north coast to visit the lighthouse (Phare des Baleines) in the morning then head to a nearby beach for the afternoon.
We were all set to visit the beach adjacent to the lighthouse - Conche des Baleines (itself a glorious beach) - but my natural curiosity to explore and discover the very 'end' of the island, led us instead to Les Portes-en-Ré and beyond. It was well worth the extra miles as we stumbled upon a quite gorgeous stretch of beach reached via a sandy trail through the forest. The stunning sand bar and views of Loix and the mainland are special in their own right. What really clinches it, though, is that feeling you've discovered a tropical island paradise away from it all. The boys played in the sea but my favourite memory is this is where we spent hours in the dunes and in the woods collecting the materials necessary to reconstruct Moonface's house (just to explain, this is the time we were reading The Magic Faraway Tree at bedtime - me and the boys that is, not me and my wife - with Moonface being the chief character). It was a very simple and happy afternoon at the seaside. I returned to Trousse-Chemise last year – some 12 years after the visit above – sharing some of my island highlights with my lovely new colleagues at Simpson Travel. We took a lovely walk but we didn't build Moonface's house.
Top tip: rather than drive all the way to the very tip of the island at La Patache, take the left turn on route du Feu du Fier and park at the end of the track under the trees. It's a short walk from here on a sandy trail to the beach. Take supplies for the day as there are no facilities here.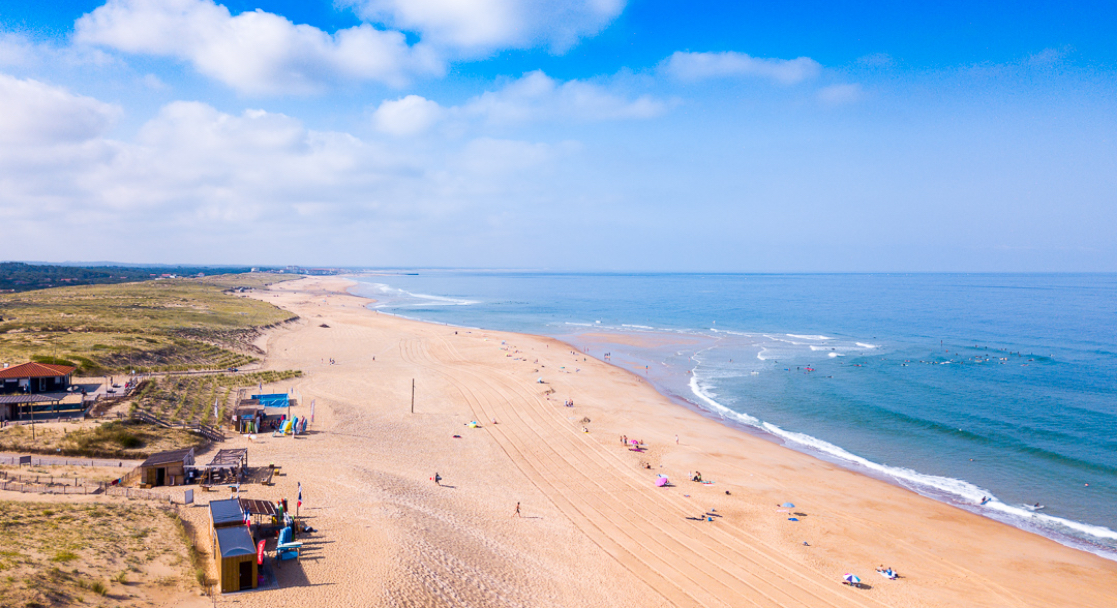 2. Plage Estagnots, Hossegor
Why I love this beach: it's pure Aquitaine. This coastline is a unique blend of endless beach, sand dunes, fragrant pines and stunning waves and there are many such examples along the Aquitaine Coast. But it's the collection of beaches on the borders of Hossegor and Seignosse Océan (La Gravière, La Nord, Estagnots and Bourdaines) that are legendary.
My personal memory: Oh dear. This was an embarrassing occasion. Back in the mid-1990's I was a keen golfer and after many a weekend hacking our way round various courses in south west London and Surrey, our regular group hatched a plan to take our crimes against golf to mainland Europe. We all did some research and my friends came up with the usual suspects: the Algarve and Costa del Sol. Meanwhile, yours truly had happened across a corner of France which was home to continental Europe's first golf courses and where there was not only a rich heritage of golf but a couple of clusters of highly-rated courses too. At the time, I was also a very keen body-boarder making regular trips from our south west London home to the sandy beaches of North Devon. As it transpired, the area of France I was looking at – the southern Aquitaine coast – was also home to Europe's best surfing beaches. Decision made. We booked flights to Bilbao and stayed in a villa near Saint-Jean-de-Luz. This was my first ever visit to Aquitaine and we repeated the surf & golf trip for the next two years and then we all got married and had children. But, it was the start of a very important journey for me, one which sowed the seeds to founding Alternative Aquitaine. Anyway, back to the beach memory…
…One day we played 18 holes at Golf de Seignosse (as I recall, both brutal and humiliating) and then headed straight to one of the local beaches. At that time, I didn't know much about the epic Hossegor-Seignosse Océan beach breaks. We just rocked up for some lunch and a post-golf swim and thought: "Wow! This place is unbelievable!" We had found Plage Estagnots and after a quick bite we changed into our beach gear and headed for the ocean. The waves were clean and beautiful and, from a distance, didn't look too devastating. I hired a body-board and with the invincible attitude of a young man in his mid-20's, I launched myself into the Atlantic and started paddling out in great excitement, ignoring my friend's observation that the waves now seemed so much bigger than they did from the safety of land. To be fair to myself, the first 15 minutes or so were relatively uneventful. Sure, I fell off a couple of times but nothing too dramatic and I'd caught a handful of fabulous waves, clean and powerful. Perhaps it was over-confidence and a failure to realise this was legendary Hossegor, not Croyde Bay, but I saw a set coming in which looked thrillingly tempting. I missed the first one, taking off a second too late but not too worry, there seemed to be more of the same not far behind. I paddled back into position and went for the next wave. I also mis-timed this one but on this occasion I took off too early. The washing machine experience that followed was similar yet strikingly different to those I'd previously experienced in Devon and Cornwall. To continue the washing machine analogy, the latter were more your 'quick spin' cycle, allowing me to resurface fairly swiftly without much ado. Alas, this Hossegor wave was more of a 'boil wash for stubborn stains' program. I distinctly remember thinking: "Hmmm, this is interesting…". To cut to the chase, I did indeed resurface – I estimate the best part of a minute later – but I had some fresh problems to deal with. My body-board was no longer attached to me. Nor was my watch. Or my swim shorts. Half-drowned, disorientated and naked – not everyone's idea of a good day at the seaside. By this time, my buddies on the beach had spotted something was afoot, alerted to my peril having seen my board fly several metres into the air without me. However, once they saw me bob back up to the surface they quickly resumed their game of frisbee. I shall forever be grateful for the fact that my shorts washed up on the shore and I spotted them before my friends did. If I hadn't, things could have turned real ugly.
Top tip: 1) Just before you reach the car park at Estagnots, at the mini-roundabout there is a fab new-ish healthy-eating café and juice bar, l'Açaï. 2) Consult with the lifeguards before you venture into the ocean or sign-up with a local surf school such as Surf Seignosse Paradise.

3. Plage du Moulleau, Le Moulleau, Arcachon
Why I love this beach: whilst the vast majority of Aquitaine coast is exposed to Atlantic surf, there are occasional breaks offering calmer waters. The Cap Ferret peninsula and stunning Banc d'Arguin sandbanks protect the Arcachon mainland from Atlantic breakers. Along the south side of Arcachon town there's a run of gorgeous beaches, shady pine forests and chic districts where the grand folk of Bordeaux have second homes and great wodges of spending money. As well as Le Moulleau beach, there's also the plages of Pereire, Abatilles, Arbousiers and Pilat.
My personal memory: on my first work trip to Aquitaine, in the early noughties, I spent 10 days travelling the length of the coast just to get an overall feel for the place and identify the resorts with most potential. I rocked up at Arcachon on a hot afternoon in May and quickly concluded that I loved this seaside town and its stunning setting. I found a cheap hotel (there weren't many then and in the last few years the area has gone even more upmarket) and walked to Le Moulleau for a sunset drink and bite to eat. I found a beach bar and ordered a cold beer. It was peaceful and relaxing as I made some notes in my trip diary and watched a few folk stroll along the shore or cycle past on the bike paths that hug the coast. This scene of tranquility was rudely interrupted by the menace of summer evenings in southern Europe – the unmistakable chainsaw buzz of a gang of youths on mopeds! I cursed as I watched them – a dozen or so surly-looking high school teenagers – come to a noisy halt and park up at 'my' bar. I have to be honest and say I was expecting trouble. I soon realised this shameful judgement came from 30+ years of living in England. What happened next was a moment of epiphany in my French journey (which continues to this day). After removing helmets and placing them carefully on their bikes, each teenager in turn walked past me with a "Bonsoir monsieur" cheerful greeting before giving the barman a kiss on both cheeks and ordering an espresso. There was much good-natured chatter and 10 minutes later they were on their way to their next stop. I was dumfounded and instantly fell in love – again – with French life.
Top tip: take the little ferry from Jetée du Moulleau and head over to Cap Ferret then hire bikes for the day to discover the peninsula. You can also do boat trips around the bay, to the Dune du Pilat and Banc d'Arguin.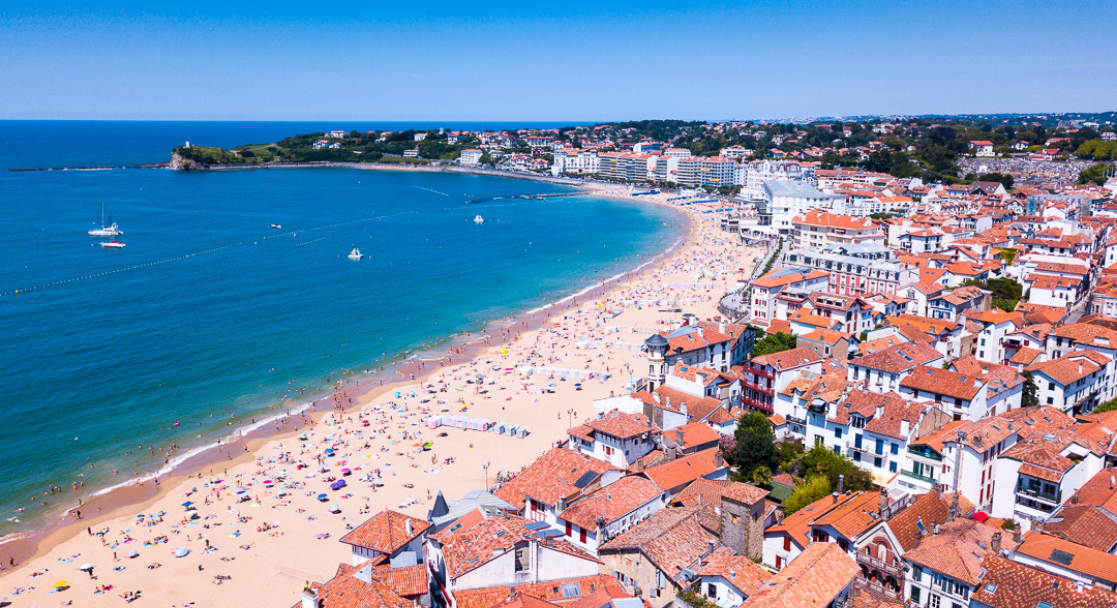 4. La Grande Plage, Saint-Jean-de-Luz
Why I love this beach: well, I love Saint-Jean-de-Luz and its 'basqueness'; that unique fusion of France and Spain. There are very few great town beaches anywhere I Europe but this is definitely one of them. Its beautiful arc of golden sand lies next to the town's cobbled streets which are home to terracotta-roofed boutiques, cafes and restaurants (St Jean is considered the culinary capital of French Basque Country). So, you have all these conveniences on your doorstep whilst the beach itself is a hive of activity – sea kayaks, SUP, sailing and diving too. There are cute little striped changing huts – just like those in Biarritz – although I can't imagine the French ever being so modest; beach nudity is more their thing. On a coastline of epic surf, this beach is one of a handful that work very well for younger kids, thanks to its breakwater a kilometre from shore. The calm blue sea is perfect for little ones and there's a kids' club here too in the summer months.
My personal memory: just a couple of Autumns ago I happened to be working in the area for a few days including over a weekend. Any regular visitors to Aquitaine will know that October is often, weather-wise, an exceptional month. Cool mornings where mists over the cornfields slowly burn off into gorgeous, hot afternoons – daily highs can touch 30 degrees even in mid-October. Autumn is a key month for work travel and many's the time I have seen the beaches packed late afternoons and evenings. This particular weekend was just one of those occasions. It was a Sunday afternoon and La Grande Plage was bustling. Families were picnic-ing on the beach. A whole battalion of SUP boards were out in force, traversing the bay. There was even a cluster of surfers catching a wave created each time the Atlantic swell caught the end of the breakwater. The sky was a brilliant blue and crystal clear. The Pyrnenean peaks of La Rhune, Les Trois Couronnes and Jaizkebel towered majestically in the distance. With a very large ice cream in hand I concluded this was one of those perfect Aquitaine Autumn days.
Top tip: 1) Arrive early if you're driving. The town has some parking issues so make a day of it and park up in one of the few municipal lots or take one of the park-and-ride buses into town. 2) Make the effort to walk up to the Pointe de Saint-Barbe for views of the entire bay with a stunning Pyrenees backdrop.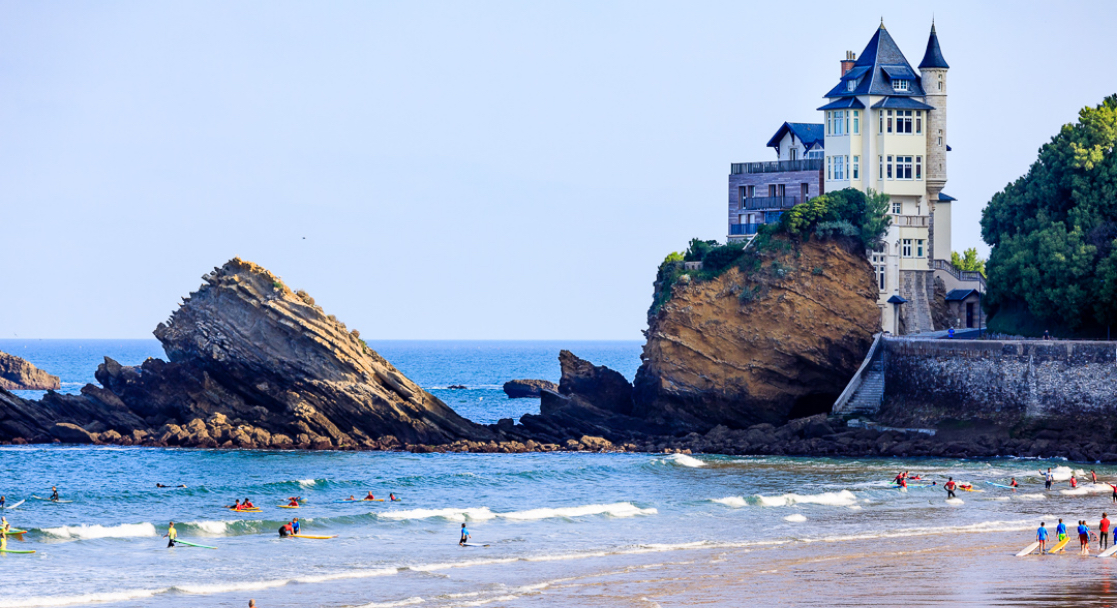 5. Plage de la Côte des Basques, Biarritz
Why I love this beach: boy, the French do like to go overboard with some of their place names. The French Atlantic's best-known resort, Biarritz offers a dozen or so beaches if you include Anglet immediately north. After days spent in the dreamy sand and pine forest landscapes of Les Landes, Biarritz can feel a little built-up and busy. I've always had a soft spot for Biarritz but recognize that much of its Grande Plage architecture could best be described as 'opportunistic' if one is being charitable. It would seem that in the 1980's, the city's town planning was overseen by someone with a brain injury. It's a shame as there are so many fine and historic, belle époque buildings in Biarritz. That said, rather like Bordeaux in the north of the region, the city has been overhauled in the last 10 years or so and right now Biarritz is a thriving and dynamic seaside city with its unique mix of surfers, affluent retirees and young entrepeneurs. I am a huge fan of today's Biarritz.
In an historic city, the Côte des Basques beach has its own place in history too. Its where surfing in Europe officially started. Frankly it's incredible to think that no-one was surfing in Aquitaine (or Cornwall for that matter) until the 1950's when it was the Americans who arrived. I suspect this has something to do with the American soldiers who were here in WWII. Biarritz has always courted royalty but in the 1950's it became a hotbed of celebrity visitors from the other side of the Atlantic. Hollywood superstars holidayed and partied here. Car-maker Cadillac even named one of its most flamboyant models after the town. Suddenly Biarritz became cool and these happy-looking tanned young men from California were riding its waves. And that is how it all started.
I have digressed considerably. I choose Côte des Basques as my favourite Biarritz beach – and one of Aquitaine's top five – because of its beauty, its place in surfing history, its location next to the Old Town and because of the iconic image of the Villa Belza at the beach's northern end – it's a classic Biarritz vista.
My personal memory: just as Île de Ré worked perfectly for us a family when the kids were young, as teenagers we've migrated south to Hossegor and Biarritz. We recently spent a day of our summer holiday visiting Biarritz with Côte des Basques the beach of choice for a couple of hours' body-boarding and general mooching around. We love to hit the beach late in the afternoon when the, er, tourists start flocking back to their holiday homes and hotels. From previous work trips I knew the perfect place to retire to for sunset drinks and nibbles – Etxola Bibi on Beaurivage high above the beach. Pop-up beach bars have been springing up in Aquitaine in recent years – a very pleasing trend – and Bibi is a fine example. Its elevated position affords stunning views as the sun drops down to the Atlantic horizon. Look south across the beaches of Bidart and Guéthary to the distant peaks of the Pyrenees and south west following the curve of Spain's coastline, a stretch of rugged coast that harbours seaside gems such as San Sebastian. Sipping my glass of cold cider as the sun set, with my wife and three children alongside me, it was another perfect Aquitaine moment.
Top tip: 1) Check the tide times – the beach is not surfable (or walkable) at high tide. 2) Brace yourself for a steep walk back to town but there are numerous watering holes around the market square to quench your thirst.