Paxos 2020 by Emily Wright
Paxos 2020 by Emily Wright
So, my first year of university did not go quite to plan and in June I firmly believed my much anticipated and longed for holiday to Paxos was also going to be cancelled because of Covid-19. However, restrictions began to ease and the committed staff at Simpson Travel were determined to get us on our holiday; we even had phone calls from the Simpson family themselves! They helped us to slightly change the dates of our departure to circumvent our flights which had been cancelled. They could not have been more helpful, and we have had the most wonderful time. What follows is my experience…
First of all, I believe it is important to highlight that while the travelling process in 2020 is different, in our experience it was not any more stressful than previous years. At every step of the way, from Heathrow right up to getting in the hire car on Paxos, the journey was safe and well organised by Simpson Travel including prompting us with the extra forms required for travel this year.
Travel restrictions between the UK and Greece were lifted on 15 July and we were to depart for Paxos on 19 July. We were among the very first customers to make the voyage. Before we travelled, we filled out a Passenger Location Form (PLF) supplied by the Greek government which needed our flight details and where we would be staying. A QR code was sent the evening before our flight and we were required to present this at the Greek border control.
Online check in for British Airways was unavailable as they wanted to see the PLF forms, which was completely understandable. Face coverings were mandatory from the moment you entered the airport, but personally I soon forgot I was wearing it! Social distancing was observed whenever queuing, there were one-way systems through the shops and regular hand sanitizing stations, so I felt completely safe and at ease. The toilets were also regularly cleaned, though I do suggest taking a bar of solid soap in your hand luggage just in case there is none available.
We flew with British Airways, so our experience may vary from other airlines, however basic hygiene rules were followed. There was no priority boarding, the plane was filled from the back to avoiding mixing as much as possible. A sealed sanitizing pack was given on boarding the plane, and another sealed bag containing water, crisps and biscuits was handed out during the flight. The plane was spotlessly clean. A limited stock of beverages (no alcoholic drinks) were available to buy on board. We were asked to stay in our seats as much as possible and to avoiding queuing in the aisle for the toilets, with directions of which toilets to use. Overall, the flight was completely as expected, and I felt pleasantly comfortable the whole time. People who took their masks off were challenged by the flight crew and asked to put them back on straight away.
At Corfu Airport, we again joined a socially distanced queue for passport control, disembarking the plane from the front in small groups. Several people were sent for random testing, but this seemed very quick and they had re-joined us before the luggage had even arrived at reclaim. No families appeared to be split up during this process and those that were chosen seemed at ease. Simpson staff were waiting for us outside, as lovely as ever. As there were not enough of us for a coach, we had a taxi to the port; of course, we were still wearing our masks. We were finally able to take our masks off outside at the port restaurant where we had lunch. Exactly like at the airports, the toilets were cleaned at least every 30 minutes. As it was too windy for the hydrofoil, we took the ferry to Paxos. Masks were required inside the boat, but not enforced when outside. However, we did take the hydrofoil on our return and masks were mandatory at all times. We took our masks off for the final time once getting our hire car. I felt completely safe the entire journey and was very much at ease when we arrived at the villa and was looking forward to two weeks of sunshine and Greek food!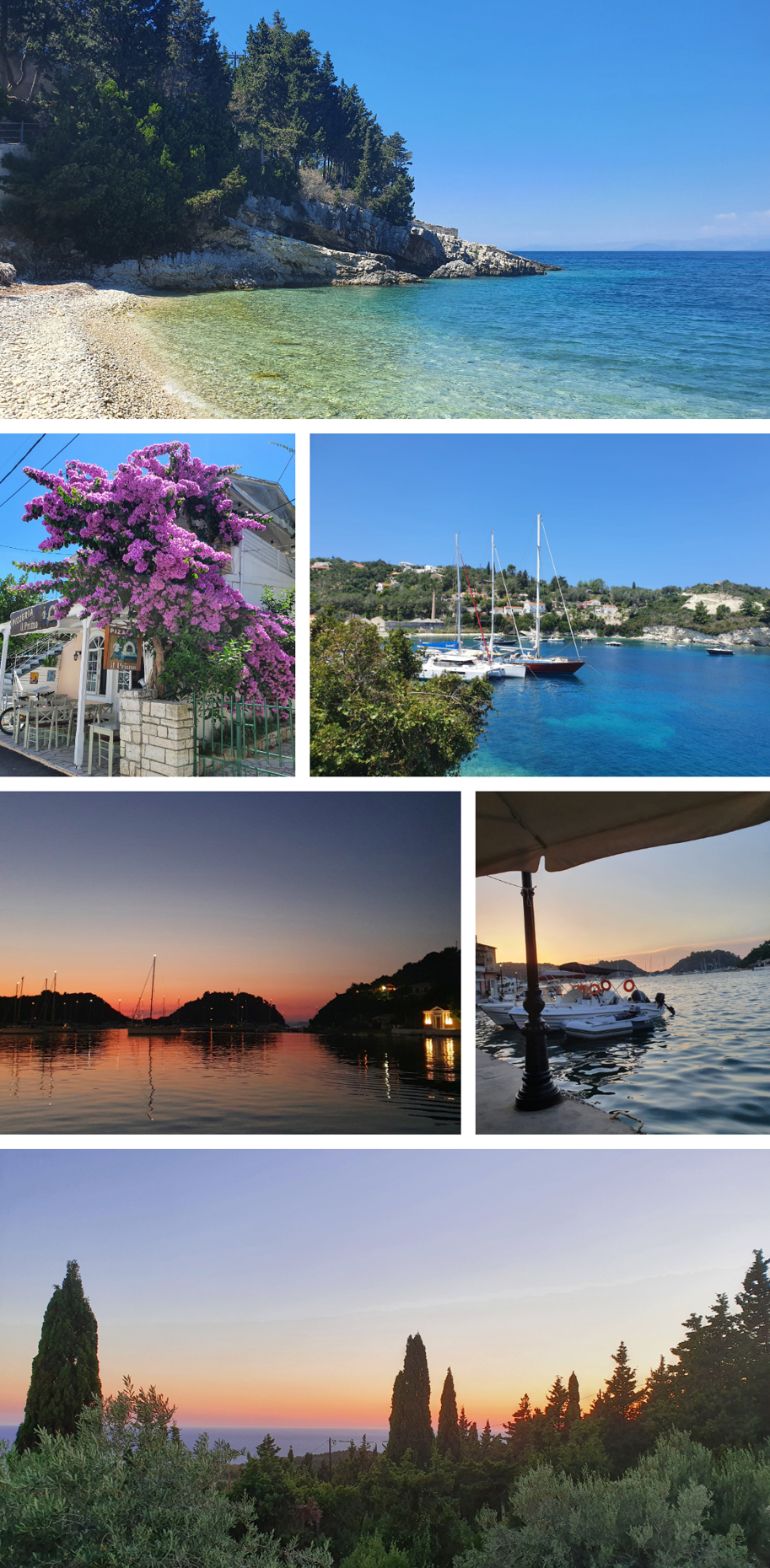 We came to Paxos last summer as well, to the same villa and honestly the whole experience felt very similar to last year but with a few changes. Face masks were required inside all the shops, supermarkets and restaurants we entered, however outside on the beaches and when seated at open-air restaurants they were not needed. All the tables were spaced out according to social distancing rules and everyone we met respected the same rules when choosing a spot on the beach. We hired a boat and a captain for a trip around the island and to Anti Paxos as the big experiences were not running from Loggos, but this was the only time we encountered something that was not available during our stay.
In terms of our villa, it was spotlessly clean, but extra attention had been paid to all objects such as appliances and door handles. We of course had a welcome pack on arrival, but the only difference was that everything was sealed: there was no bread from the bakery which we had last year but this was not a problem at all as we went ourselves the next morning. Linen and towels were provided for us to change the beds each Wednesday, as we chose to do it ourselves. However, we were required to be out all day on the mid-Sunday for a full clean by the maid, but we just spent the day on the beach and returned after 4pm to a beautifully clean villa. Other than these few points, our two weeks at The Round House were exactly the same as the previous year, and we were even visited by a cat and her kitten who we met last year, who we hope remembered us!
Our return journey, after two very relaxed and enjoyable weeks, was exactly the same as the way out, but instead we were required to fill out a form from the British government. As Greece is currently on the list of exempt countries, we are not required to self-isolate for any period of time. However, I am already missing the sea and the sunshine of Paxos!
Overall, I cannot recommend Simpson Travel enough. If you are concerned for your holiday, then don't be, you will have a wonderful time. Everyone we met was just as happy to see us as we were to see them! This was also the case for all the shopkeepers and restaurant staff, who were so happy to be in business again, so we ate out as much as possible to help them out. In these uncertain times, Simpson provided stability and kept us informed of any changes, and as a result we thoroughly enjoyed our time away, giving us a much-needed break from the British media storm. As there were no Covid-19 cases on Paxos and very few on Corfu at all, we felt secluded and safer than we do at home!
Thank you Simpson Travel – see you next year!!