Stylish and intimate Simpson Hotel
Adults only
Eight 1-bedroom suites
Stunning sea views
Beach 5min stroll, tavernas/shops 5min drive
'Blissful'… 'Wonderful'… 'Totally relaxing'… The intimate White Orchid is an Adult Only Hotel that invites superlatives. On the edge of Sivota, this little gem boasts one of the most stunning views in our entire Greece portfolio, each of its eight suites overlooking the sparkling Ionian Sea, where dolphins bob up above the blue and Paxos and Corfu float like shadows in the distance.
Expanses of glass panelling maximise the light and make the most of those spectacular views, whilst the drifting scent of jasmine, bay and bougainvillea enhances the sense of calm that begins each morning in your sumptuous bedroom with its state-of-the-art shower.
There is a large infinity pool some 12 metres in length where you can float away on the view and, just a few minutes' stroll away, is a beautiful secluded cove known only to the locals. It's ideal for an early morning swim before a delicious breakfast on the hotel terrace, sea views sweetened with local honey.
Just a five-minute drive takes you into the heart of spirited Sivota, where you can embark on a boating adventure or sample fresh fish in a taverna by the water's edge. There are more delightful beaches all a short drive away and, for explorers and walkers, the mountains of Zagoria beckon with the magnificent hanging monasteries of Meteora beyond.
Throughout your stay, you'll be looked after by our local hotel managers who provide our excellent concierge service. They're passionate about this beautiful corner of Greece, so if you need ideas for inspirational day trips or an excursion or restaurant booked, they can help.
Footnotes
A stay at the White Orchid on the Greek mainland can be combined with a week in Paxos, where you'll find The Purple Apricot. With its unique blend of bohemian chic and exceptional service, it's another Adult Only Hotel experience that gives you the time and space to exhale.
What the papers say
"White Orchid Hotel, Sivota, Greece: review" The Telegraph, January 2015
General
Adults only
Concierge service
Reception open 6 hours per day (6 days per week)
Breakfast included and served on terrace (one day each week breakfast hamper delivered to rooms)
Book exchange library
Laundry service available (payable locally)
Outdoor lounge area with honesty bar next to pool
Swimming pool 12m x 5.5m (depth 1.3m - 1.7m)
All suites and communal areas are accessed by several flights of steps so this hotel may not be suitable for some guests
Access up an unmade track
All suites
See separate Suites tab for individual details and photographs
Air-conditioned
Furnished terrace or balcony
1.80m double bed
Large walk-in shower
Satellite TV (English speaking news channels)
iPod dock
Complimentary Korres bathroom products
Bathrobe and slippers
Safe
2-ring hob, fridge, kettle
Iron, ironing board, hairdryer and pool towels provided
Wifi
All properties with wifi are able to support basic functionality such as web browsing and checking emails*
* We aim to offer an uninterrupted service but sometimes due to factors beyond our control reliability can be affected.
National tourist licence (EOT): 0621K124K0192201
Beach 5min stroll
Sivota 5min drive or 30min walk
Supermarket 5min drive
Private sea taxi Sivota to Paxos 30min
Preveza airport 1hr 20min drive
Car options
Based on the number of people travelling, the following hire car(s) are included in the package price of your holiday:
2 guests – 1 Group B, Fiat Panda or similar*
* All our cars include comprehensive insurance with no excess charge. For this particular destination, the undercarriage, tyres, wing mirrors and windscreen are not included in the cover.
Car specification
Group B – 1.2 litre engine, 1 large suitcase*
The following cars are available as alternatives on request (supplements apply). Please call our travel specialists for details.
Group C – Fiat Tipo or similar, 1.4 litre engine, 2 large suitcases*
Group B1 – Hyundai i20 or similar, 1.3 litre engine, 1 large and 1 medium suitcase*
Group I – Fiat Doblo 7 seater or similar, 1.6 litre engine, 2 medium suitcases*
* Suitcase sizes are based on a large suitcase being approximately 75cm x 41cm x 31cm, a medium suitcase of approximately 65cm x 46cm x 29cm and a small suitcase of 55cm x 40cm x 20cm.
Customer feedback
Our first holiday with Simpson and we will definitely return. We have had an amazing, relaxing, chilled week here. The view is to die for - why go anywhere else? We loved gazing at the stars; the beach, the view from the balcony - and thank you Klaudia for providing the snorkeling equipment.
Christie & Mark – October 2017
Fabulous location,superb accommodation, wonderful support from Klaudia and Rado and a view to die for. We rebooked the day after our return.
Mrs Lowe – October 2017
This hotel looked great on the Simpson website but exceeded all of our expectations when we arrived. The whole experience with the hotel, the views and surrounding areas.  The whole experience with the hotel the views and surrounding areas, the beaches and the sea were all absolutely fantastic. Klaudia, Rado and the team have looked after us brilliantly for the whole two weeks and their attention to detail has been faultless. Thank you all for a most enjoyable holiday.
Jan & Rob – October 2017
What a fabulous holiday! We have just been lucky enough to spend a week in the White Orchid and would love to be staying longer. It has been great getting out and exploring this area with its stunning blue sea and contrasting mountains. A very big thanks to Claudia, Rado & the team, they have been brilliant in ensuring we have had such an enjoyable holiday. Claudia is a fantastic resource and has lots of suggestions - take advantage as she has gained 4 years of experience in this area.
Steve & Loz – September 2017
We have also enjoyed a wonderful week of relaxation and drinking in the stunning views. The hospitality of Klaudia, Rado and Sotiris has been excellent, discreet, knowledgeable and fantastic special breakfasts every day. Hopefully, we will be back. It has been a wonderful place and it was a fantastic holiday. Thank you to all at the White Orchid.
The Taylor's – September 2017
This place is wonderful, really enjoyed our stay at the White Orchid. The views here are amazing. Breakfast was delicious and all local restaurants were great.
The Bebington's – September 2017
A stunning two weeks at the White Orchid. Thank you so much to Klaudia & Rado and Sotiris and Eva, for making our holiday so wonderful - Their attention to detail, knowledge and helpfulness is greatly appreciated and helped make our holiday. We enjoyed our days by the wonderful pool. Thank you all, and we hope return!
Carol & James – September 2017
This is our first visit to mainland Greece & Sivota. We made the decision to have a totally relaxing holiday. We chose 'White Orchid' purely by the beautiful property and stunning views, we loved the huge balcony of the Luisua suite. Thank you to the most amazing team : Klaudia & Rado  for the wonderful breakfast served each day & Ewa for servicing the room to a very high standard. We've had a fantastic week and hope to return very soon.
Claire & Paul – September 2017
We enjoyed a sublime week at the White Orchid. A beautiful hotel in a stunning location in a largely unspoilt area of Greece - hard to find these days!
Mr Puttock – September 2017
We enjoyed a first class experience with Simpson Travel in terms of both the quality of the accommodation provided and the way we were looked after by their local representatives.
Mrs Tucker – September 2017
We had a wonderful week - full of rest and relaxation. Thanks to Klaudia, Rado, Sotiris & Ewa - we are very much looking forward to coming back to this wonderful place.
John & Lucy – August 2017
We've had a wonderful week; can't stop looking at the view. We have enjoyed watching the boats below. The apartment was great; very well equipped. Thank you for a wonderful relaxing week.
Jane & Craig – August 2017
Thank you for an amazing time in a fantastic location - we both really loved it here on our super large balcony and an awesome beach on our doorstep. We would recommend the river walk, it is breathtaking. Thank you again!
Paul & Sarah – August 2017
Perfection - the White Orchid has just got it all right. From the moment you arrive and see the view you know that you are in for a treat. The room was absolutely stunning with a huge balcony and a mesmerizing view out to sea. We loved the architecture of the building and the quality of the finish. Klaudia, Rodo, Sotiris and Ewa need a special mention - all quietly going out of their way to ensure that every guest was looked after and had their needs met. Nothing was too much trouble and every encounter one with a smile. We have returned home after a fabulous week's holiday, feeling very relaxed and cared for. For us the whole experience from booking the holiday to booking car parking at the airport and the holiday itself has been hassle free and of a very high standard. Many thanks.
Mr Anderson – August 2017
First time holiday-ers with Simpsons and had a wonderful time at the White Orchid, Vanda suite. Stunningly beautiful, clean, modern with amazing views and super friendly hotel management and staff.
Mr Gordon – August 2017
It's the lovely extra touches provided  by Klaudia, Rado and Sotiris which help to make this place so special. Oh - and of course, the view! We have had a relaxing week and have thoroughly enjoyed our time at the White Orchid. Thank you!
Karen & Phil – August 2017
It's the lovely extra touches provided by Klaudia, Rado and Sotiris which help to make this place so special. Oh - and, of course, the view! We have had a relaxing week and have thorughly enjoyed our time at the The White Orchid. Thank you.
Karen & Phil – August 2017
We've had a superb fortnight - the accommodation, views and most especially the outstanding staff, the amazing breakfasts - all added up to a luxurious feeling of relaxation. Klaudia is terrific host and creates a great atmosphere for the guests. Our impromptu parties on the terrace were a highlight. She & Rado have created a very special ambience. Calanthe apartment was wonderful and restful. Sotiris' cooking is fantastic & Eva is extremely friendly, helpful & hard working.
Sarah & Peter – July 2017
Amazing, wonderful, brilliant! That sums up our week here! We mainly want to say a massive thank you to Klaudia, Rado, Sotiris & Eva who are the loveliest people. Their warmth, friendliness and helpfulness are beyond compare. They, together with a great crowd of other guests, made it a very enjoyable and thoroughly memorable stay. Also, THE VIEW!!
Russell & Martina – July 2017
We have had a wonderful two weeks at the White Orchid - what a fabulous spot - that view!! Claudia, Rado, Eva & Sotiris have been great hosts, nothing has been too much trouble. We hired a small motor boat for a day, it lovely to go around the islands and find small beaches that would otherwise be inaccessible by car. We have had a fantastic holiday - thanks everyone.
The Balderson – July 2017
Our first holiday without the children for 18 years and the time we had at the White Orchid, Sivota was a fantastic place to enjoy a little peace and quiet!.... as always, a great Simpson travel holiday.
Andrew & Angela – July 2017
Lovely place to stay - fantastic views! We enjoyed watching the boats, watersports etc from the seclusion of the pool and gardens. Many thanks to Klaudia; so very helpful!
Paula& Paul – July 2017
Our first time with Simpson and we were impressed with the attention to detail and care taken by everyone to ensure we had a wonderful holiday experience. Thank you so much and we will definitely be booking again and recommending you to friends and family.
Mrs Everdell – July 2017
Just what we wanted in so many ways. Sivota is a charming town. Lovely beaches and watching the locals do " a day at the beach" is an experience I will remember with great fondness. The White Orchid is beautiful, the view from the balcony is to die for but no matter how beautiful a building is it's heart that counts and Claudia and Radoo and Sotiris, Eva and the others are that heart that makes this hotel so special.
Jude & Chris – July 2017
Paradise!! What a fabulous two weeks we've had. A mixture of exploring and simply lazing. We spent most of our lazy time around the beautiful pool. A huge thanks to Claudia, Rado & the team for making this such a wonderful holiday. Their hospitality has been superb & knowledge of the area seemingly inexhaustible! 
The Hobson's – June 2017
Found heaven! Thank you Simpson. Normally we are independent travelers... your team with special thanks to Klaudia who made this holiday a truly wonderful experience. We have been blessed with making new friends with the fellow guests in the apartment which has added to the wonderful experience. Well done Simpsons... and to the reader, enjoy heaven!
The Gouldings – June 2017
Arrived tired and tense and leaving totally relaxed and rested. Klaudia and Rado make the White Orchid a very special place to stay; we've had some wonderful trips into the mountains and along the coast, thanks to Klaudia's advice. Loved the pool and the wonderful views!
Kim & Trevor – June 2017
Lovely, just lovely! You can do as much as or as little as you want and Klaudia, Rado, Sotitirs and Eva will ensure you are spoilt rotten here. If you emjoy your stay as much as we have you will have a great time.
Sally and Paul – June 2017
Our sixth holiday with Simpson but our first in a hotel. The White Orchid is blissful! It enjoys such a stunning location, the rooms are beautiful, the pool superb, the breakfasts delicious and the staff thoroughly delightful. Yes.... You could say we had a pretty decent time!
Mr Crowther – September 2016
Great hotel, great staff, nice place to relax for a week or two.
Mr Olley – September 2016
Wonderful stay at the most beautiful hotel, white orchid. Friendly and extremely helpful staff They are all a credit to Simpson Travel. Thank you to all of them. Our suite( Kinabalu) was amazing. In fact just like the pictures!! We will miss the beautiful view every morning!! . This was our 4th holiday with Simpson Travel and already looking where to book for next year!!
Mr Bingham – September 2016
Thanks to all at Simpson - a worry free and very relaxing holiday.
Mr Burchfield – September 2016
The accommodation at the White Orchid is of a high standard and its position overlooking the Ionian Sea with the islands off Sivota in the foreground and the long distance views out to Paxos and the southern tip of Corfu is second to none. .Klaudia and Rado are exemplary hosts whose attention to detail and overall helpfulness is commendable.
Mr McGruer – August 2016
Great Hotel, a totally relaxing experience, friendly and helpful but not overbearing staff, will book again!
Mr Bridgwater – August 2016
Having heard so much about the White Orchid, we did wonder if it could possibly live up to expectations. Well, we need not have worried as it was everything and more. The White Orchid turned out to be the most perfect place to unwind and also explore the hidden treasures of the region. We were truly taken a back by our room with quality of finish and its amazing view over the infinity pool and out to sea. The sunsets where an added bonus. Klaudia and Rado have mastered that all too tricky blend of always being there to assist but then also leaving you to your own devices when not needed. Quite simply brilliant! Advice from Klaudia helped us be more adventurous in our trips out and about. This resulted in us exploring the White Orchid beach which is no more than 100 yards from the front door, right the way through to a full on 200 mile road trip into the mountains to see the Vikos Gorge and its villages clinging to the slopes. The Mushroom restaurant in Vitsa being a total 'must do'. Starter, main course and dessert ALL mushroom, fabulous! Once again thank you Simpson Travel for getting it so right.
Mrs Wheeler – August 2016
White Orchid is fantastic and lovely to have so much room in the suites and never more than 4 people in the pool. Klaudia is a great host and gave us wonderful advice on things to do in the region. We took an overnight trip to Meteora and Zagori region which was breathtaking and made a nice change midway through the holiday. Klaudia gave us great ideas and maps of where to go. Also recommend the Acheron River walk through the gorge if you can cope with cold water.
Ms Sainsbury – August 2016
We had a fantastic holiday made even better by Klaudia and Rado and the rest of the staff.
Mr Smith – July 2016
Wonderful holiday great location and superb accommodation. Everything easy with no snags- smooth transfers and very friendly helpful staff. Thank you.
Mr Edwards – July 2016
Faultless friendly efficient company and unbelievable location - the website is very accurate.
Ms Crellin – July 2016
White Orchid exceeded our expectations in every way. Klaudia and her team were excellent hosts and set the tone for our stay right from the beginning. Highly recommended - we'll be back!
Mr Wells – July 2016
Having travelled with Simpson Travel a couple of years ago we had high expectations. These were far exceeded at the White Orchid hotel. The hotel itself is simply stunning. Klaudia and Rado are a real credit to you. Nothing was too much trouble and everything is done with a big smile. They genuinely care about making your holiday special - and ours was. We were looking for a relaxing break and it was perfect! We will definitely be returning. a wonderful relaxing holiday in the most stunning location.
Miss Matthewman – June 2016
We stayed for a week at the breath-taking White Orchid hotel in Sivota - what a beautiful place! The hotel staff, owners and Simpson reps couldn't do enough for us and really made our holiday a wonderful experience. This is our third time using Simpson and sure it won't be our last 10/10.
Mr Wrighton – June 2016
The White Orchid is a new property with 8 rooms in a spectacular setting close to Sivota and overlooking Paxos across the sea. The 10 metre infinity pool has wonderful views and was very well-used by all of us. Most of us spent some time each day sitting beside it, relaxing, reading or chatting to fellow guests. Some of us then explored local beaches of which there are several delightful ones, including the little local beach which is a very short walk away, or going on longer trips in the car. Breakfasts are simple but delicious and the managers, Klaudia and Rado, are lovely and a huge asset to the place. There are plenty of places locally to eat lunch or supper and the guest books in each room, as well as Klaudia and Rado, give helpful tips. Food is pretty good and reasonably-priced. It was a really relaxing week in beautiful surroundings. Thank you Simpson Travel and well done.
Mrs Hartley – June 2016
Simpson Travel are the only travel agents we regularly use. You can rely upon them to find a holiday destination which is that bit different, in addition the knowledge, efficiency and friendliness of all the staff is truly exceptional. You feel you are in good hands from the moment you make your booking to the moment you return. We have have just come back from a week in The White Orchid in Greece which turned out to be the best holiday we have ever had.
Mr Symondson – May 2016
Our fifth Simpson Holiday and this was the best. White Orchid is a fantastic secluded hotel with views which are just stunning. The quality of accommodation and the level of service provided by our hosts, Klaudia and Rado, were second to none. That is why Simpson Travel is our first place to look when holidaying. Normally, we do not return to the same place twice, but White Orchid and Sivota may be the first exception to this rule.
Mr Chalfont – May 2016
A seamless holiday from start to finish. The level of service and superb accommodation at The White Orchid hotel made it a week we will never forget.. Thank you Simpson for your care and attention to detail,we look forward to travelling with you in the future.
Miss Brockway – May 2016
The White Orchid is a wonderful hotel with stunning views. Rado and Klaudia are lovely hosts and are a credit to Simpson Travel.
Miss Hughes – September 2015
Our choice of Greek properties is as diverse as the islands themselves, ranging from simple seaside charm to genuine luxury and style. Much of our portfolio is privately owned, and price alone is therefore not a universal guide. We contract all our accommodation in person, and each property has its individual appeal.
To help you make the right choice based on your own priorities, we have devised a simple grading guide to be considered in conjunction with each individual property description, awarding up to a maximum of five stars for the below categories.
* For further clarification on Facilities and Amenities, please view the 'Details' tab for each property or speak to one of our experienced sales consultants.
Unspoilt Sivota sits prettily in its own natural harbour just across the water from Corfu. A short walk away you'll find two pristine sand-and-pebble beaches, with more to explore on the uninhabited islands offshore and along the glorious Epiros Coast. Further afield, and perfect for a short countryside break or day trip, is Zagoria, home to timeless slate-built villages, arched stone bridges and the fabled monasteries of Meteora.
To complete the picture, we also offer a selection of handpicked luxury villas and a stylish Adult Only Hotel to help you make the most of your luxury holiday in Sivota.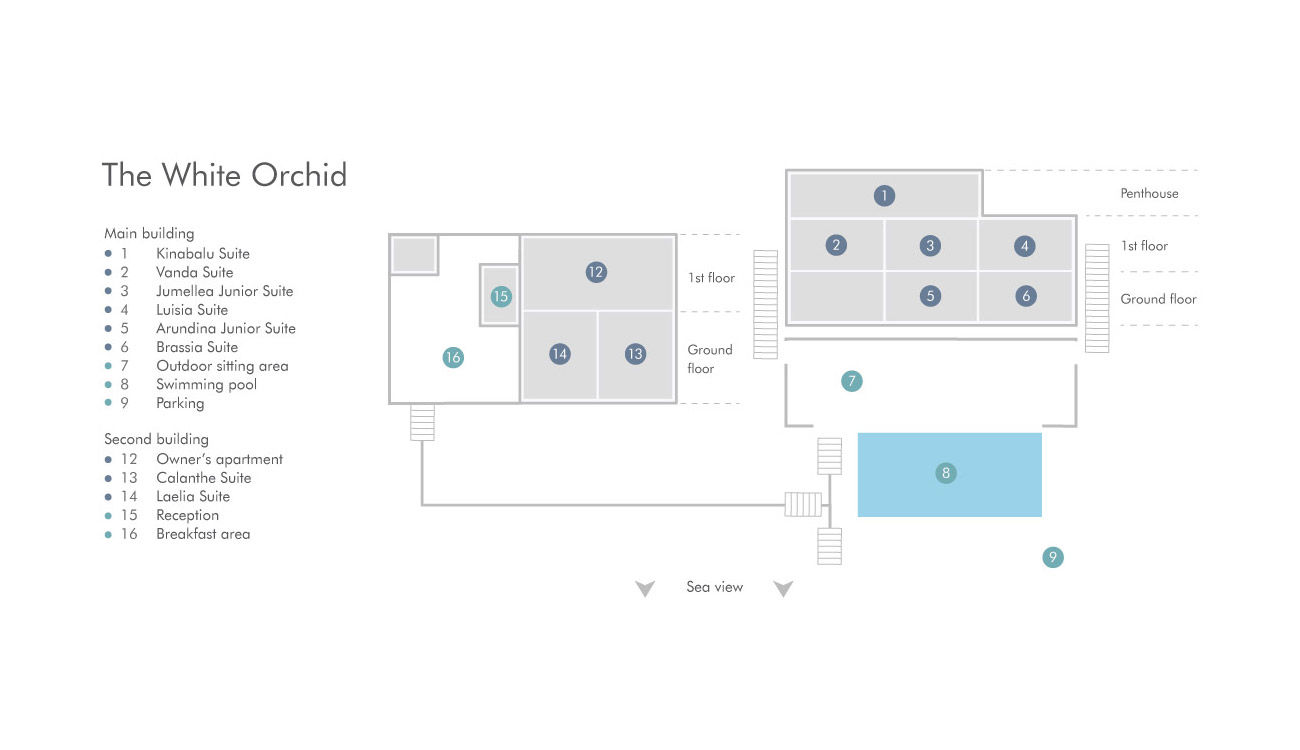 Enlarge Map
Laelia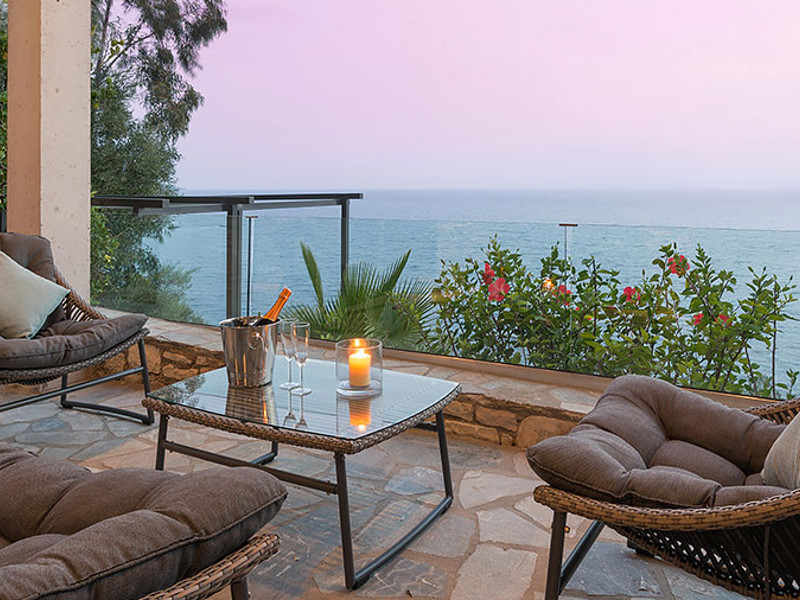 Full details
Accommodation
Laelia Junior Suite
Second building
Ground floor
28m²
Shaded furnished terrace 22m²
Direct sea views
1.80m double bed
Large walk-in shower
Satellite TV (English speaking news channels)
iPod dock
Complimentary Korres bathroom products
Bathrobe and slippers
Safe
2-ring hob, fridge, kettle
Iron, ironing board, hairdryer and pool towels provided
Next to breakfast area and reception but private
Gate between Laelia and Calanthe makes it ideal for two couples travelling together
---
Arundina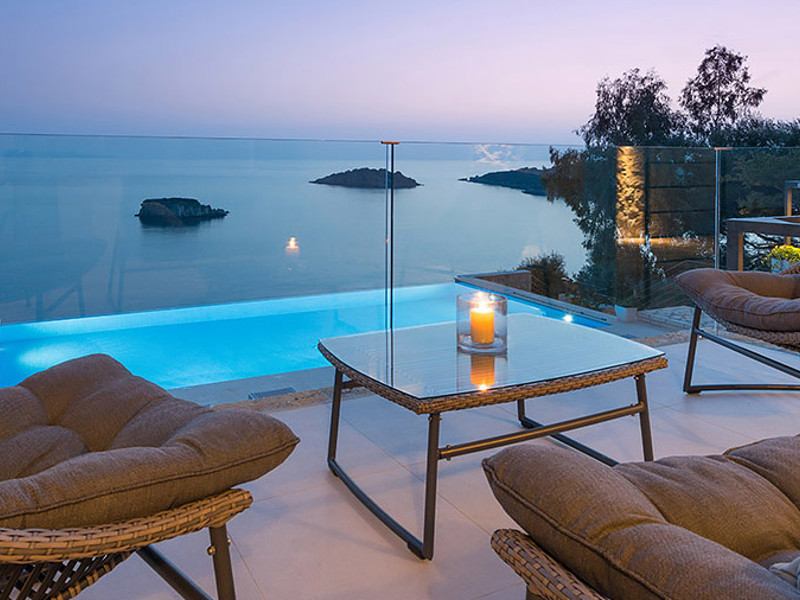 Full details
Accommodation
Arundina Junior Suite
Main building
Ground floor
31.5m²
Furnished balcony 18.5 m²
Direct sea views across the pool
1.80m double bed
Large walk-in shower
Satellite TV (English speaking news channels)
iPod dock
Complimentary Korres bathroom products
Bathrobe and slippers
Safe
2-ring hob, fridge, kettle
Iron, ironing board, hairdryer and pool towels provided
---
Calanthe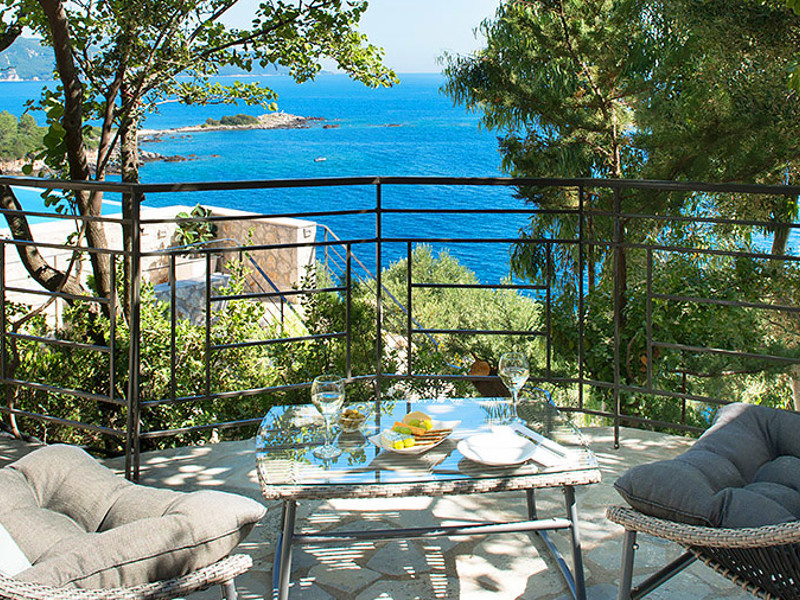 Full details
Accommodation
Calanthe Suite
Second building
Ground floor
38m²
Large furnished terrace 30m² partly shaded by trees
View through trees to the sea
1.80m double bed
Large walk-in shower
Satellite TV (English speaking news channels)
iPod dock
Complimentary Korres bathroom products
Bathrobe and slippers
Safe
2-ring hob, fridge, kettle
Iron, ironing board, hairdryer and pool towels provided
Gate between balconies of Calanthe and Laelia makes it ideal for two couples travelling together
---
Jumellea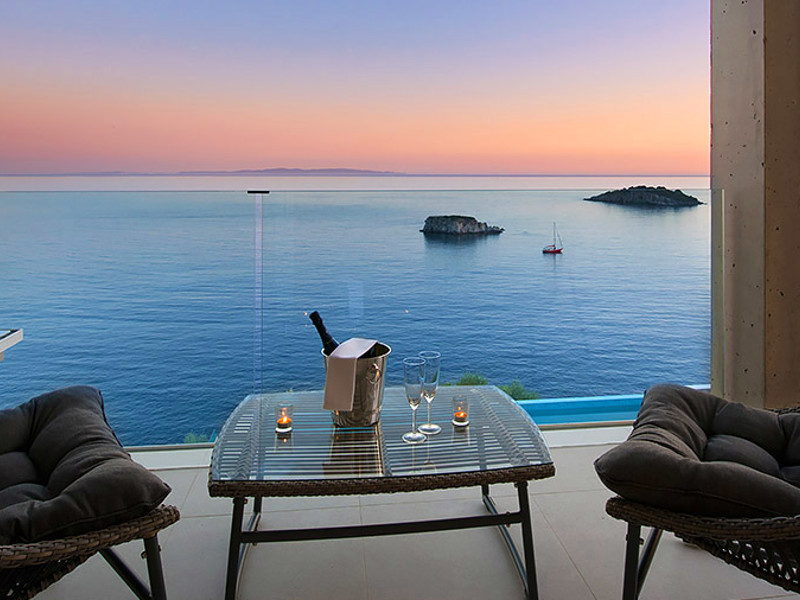 Full details
Accommodation
Jumellea Suite
Main building
1st floor
32m²
Small furnished balcony 8.5m²
View over the pool out to sea
80m double bed
Large walk-in shower
Satellite TV (English speaking news channels)
iPod docking station
Complimentary Korres bathroom products
Bathrobe and slippers
Safe
2-ring hob, fridge, kettle
Iron, ironing board, hairdryer and pool towels provided
---
Brassia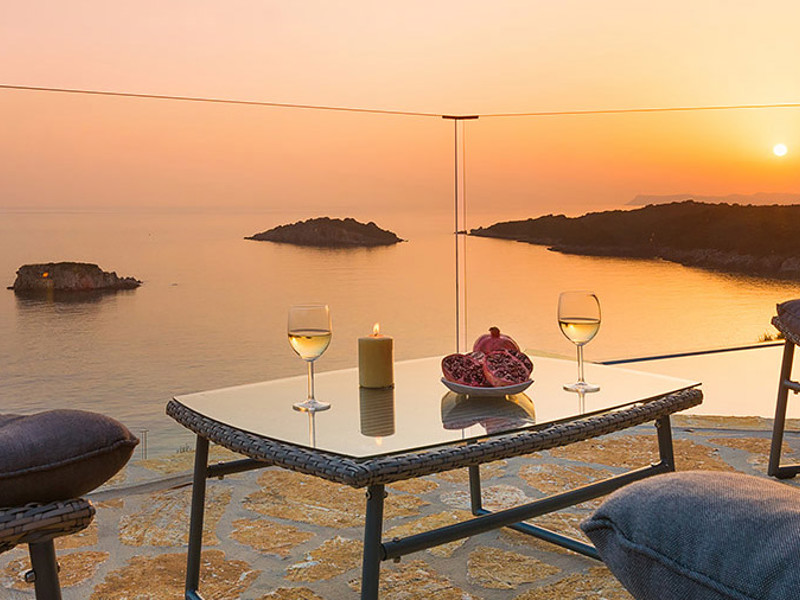 Full details
Accommodation
Brassia Suite
Main building
Upper ground floor
58.5m²
Sleeps 2-3
Furnished stone terrace to the side 38m²
Sea view
1.80m double bed
Extra room with sofabed for third person
Large walk-in shower
Satellite TV (English speaking news channels)
iPod dock
Complimentary Korres bathroom products
Bathrobe and slippers
Safe
2-ring hob, fridge, kettle
Iron, ironing board, hairdryer and pool towels provided
---
Vanda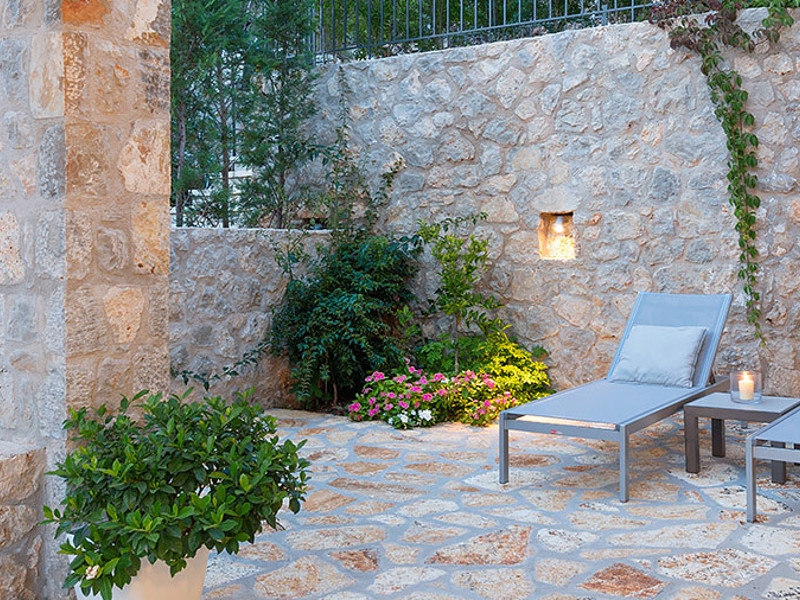 Full details
Accommodation
Vanda Suite
Main building
Large 1st floor suite
45m²
Large furnished stone terrace to the side 37m²
Pergola for shade
Sea views
1.80m double bed
Large walk-in shower
Satellite TV (English speaking news channels)
iPod dock
Complimentary Korres bathroom products
Bathrobe and slippers
Safe
2-ring hob, fridge, kettle
Iron, ironing board, hairdryer and pool towels provided
---
Kinabalu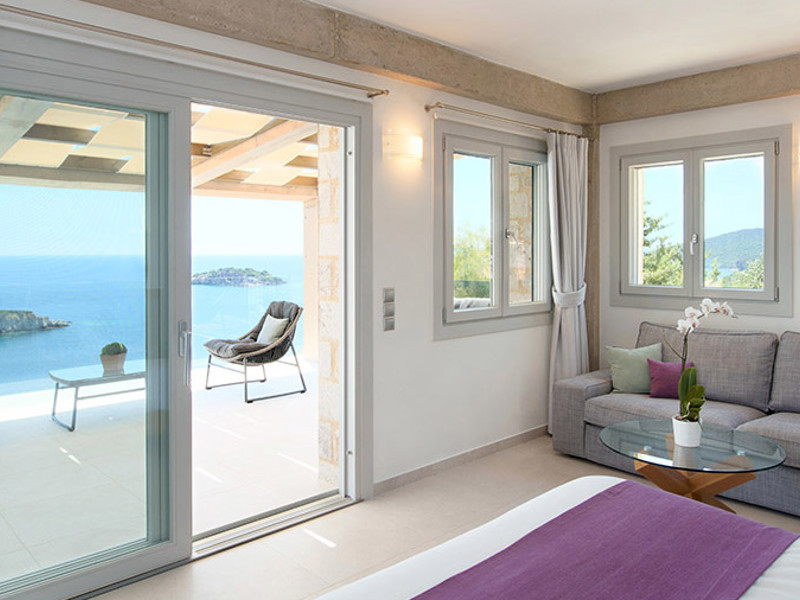 Full details
Accommodation
Kinabalu Suite
Main building
2nd floor penthouse suite
39m²
Large furnished roof terrace 56m²
Panoramic views
1.80m double bed
Large walk-in shower
Satellite TV (English speaking news channels)
iPod dock
Complimentary Korres bathroom products
Bathrobe and slippers
Safe
2-ring hob, fridge, kettle
Iron, ironing board, hairdryer and pool towels provided
---
Luisia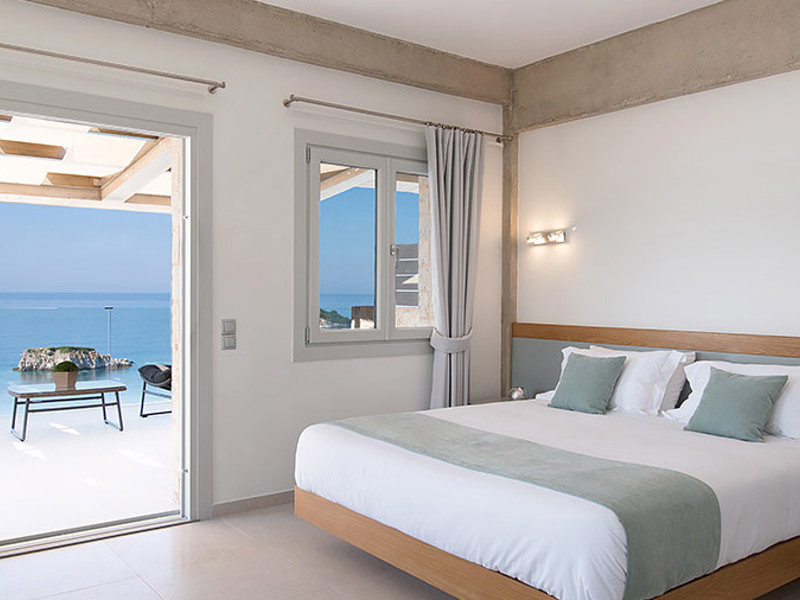 Full details
Accommodation
Luisia Suite
1st floor
38.5m²
Furnished terrace 25m²
Outstanding panoramic views across the pool
1.80m double bed
Large walk-in shower
Satellite TV (English speaking news channels)
iPod dock
Complimentary Korres bathroom products
Bathrobe and slippers
Safe
2-ring hob, fridge, kettle
Iron, ironing board, hairdryer and pool towels provided
---
View holiday Booking Conditions