Discover Eastern Crete
Escorted walks with Jonathan Peat
8 to 15 May & 23 to 30 September 2023
7 to 14 May & 22 to 29 September 2024

THE WEEK IN BRIEF
• 
Flights and transfers included
• 
Accommodation and daily breakfast at
Kouremenos Suites
• 
Welcome drinks and dinner
• Five walks escorted by Jonathan Peat, with transfers and lunch included
• All taxes and entrance fees
• Maximum 15 people
• Price from £1,734pp based on two sharing
• Please call for single occupancy prices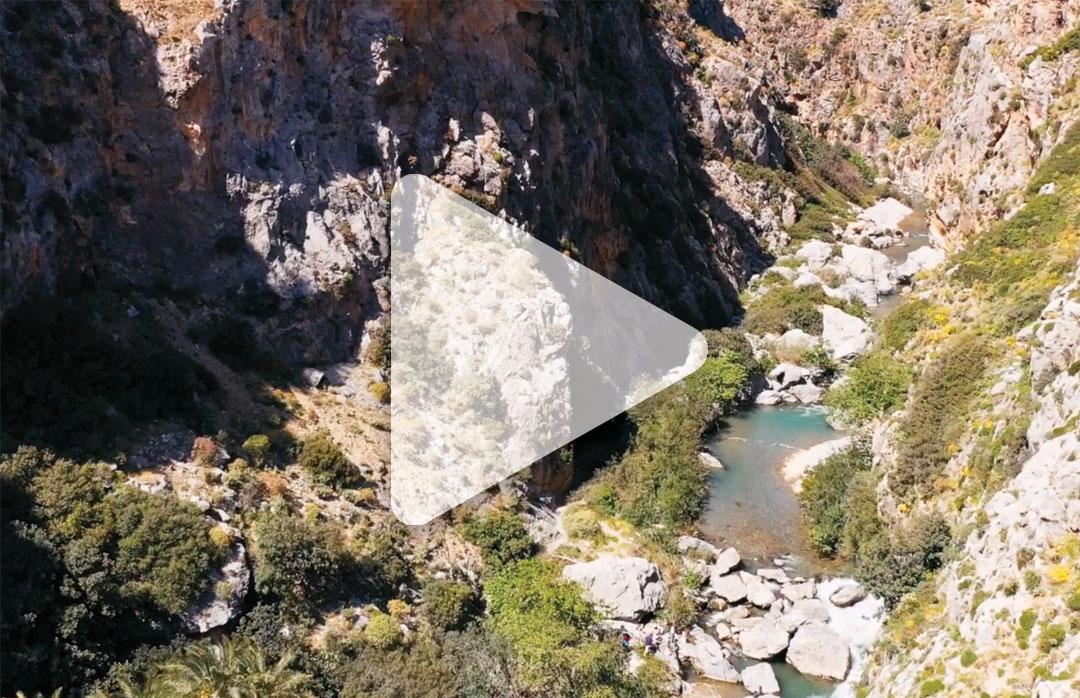 The countryside in eastern Crete remains the most rugged, wild and unexplored on the island. Stunning beaches washed by water of amazing clarity and colour are cooled by a fresh sea breeze, whilst inland, tiny villages dot the hillsides and the distant jingle of goat bells echoes in the valleys. The gorges in the east (of which there are many) have a unique geology and you'll find endemic plants, insects, and animals that have disappeared from many other parts of the island. Led by expert guide Jonathan Peat, our five autumn walks present an exciting opportunity to explore this uniquely beautiful area and meet some of the people who inhabit it, observing the time-honoured traditions. The unspoilt landscape evokes a sense of Crete as it was thousands of years ago and you will come to a greater understanding of the island's rich history in your journey along ancient pathways to discover archaeological sites, hidden churches and deserted villages. Based by the lovely sandy beach at Kouremenos, your holiday accommodation is well-placed for leisure, with a couple of excellent tavernas just a stroll away and a windsurfing school if you're feeling energetic. It's an unpretentious place, yet there's an epic quality about it that you can't escape and during the course of the week, Jonathan will bring it all to life with the stories buried deep beneath its surface and readings from great travellers who have documented its unique atmosphere since ancient times. Good walking shoes essential.
DAY 1 - Arrival 
Fly to Heraklion where you will be met by Jonathan and driven to Kouremenos Suites (3hrs). On arrival there will be time to relax, swim or explore before meeting to discuss the week's programme over drinks and dinner.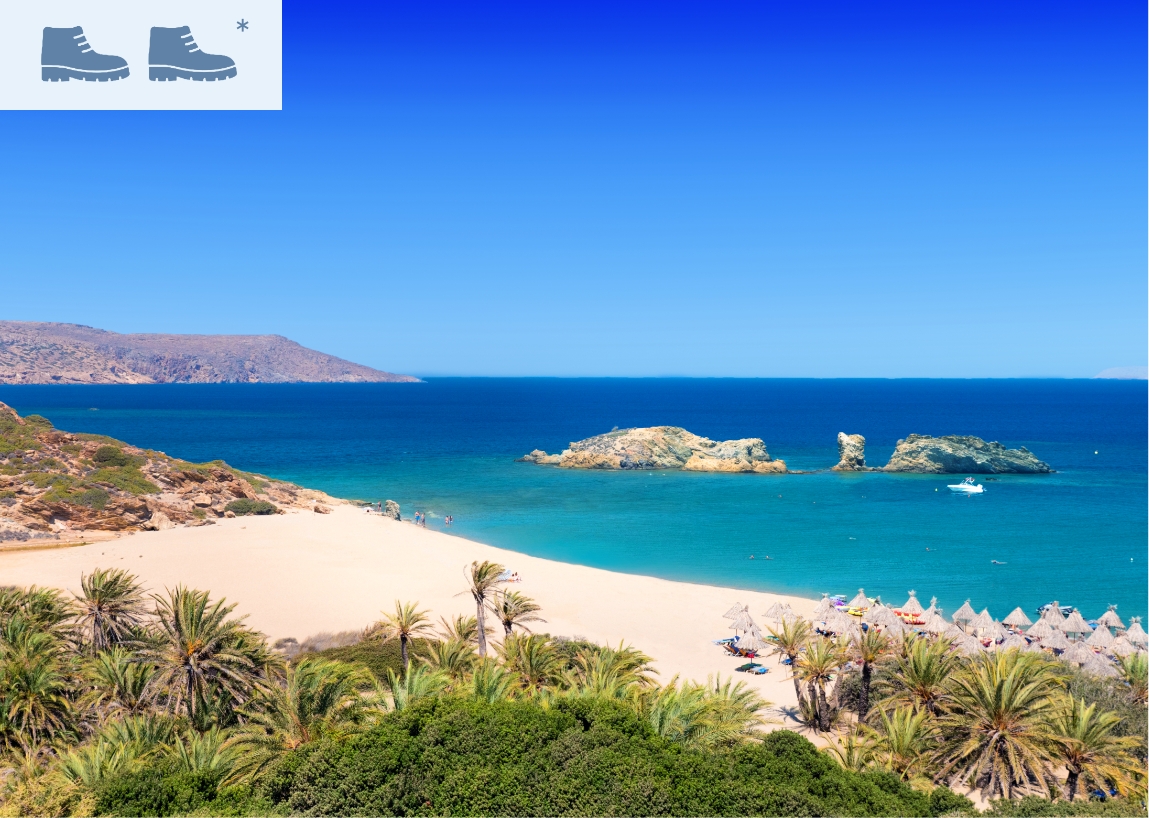 DAY 2 - Vai and the Gorge of Moni Toplou (4 hrs walking)
Drive to the Toplou Monastery (10mins) to begin a spectacular circular walk descending into the beautiful and mysterious Toplou Gorge with its fascinating rock formations and caves. Return to the monastery for lunch and drive on to Itanos for a walk along the coast to the palm fringed beach at Vai. Return to Kouremenos in the late afternoon.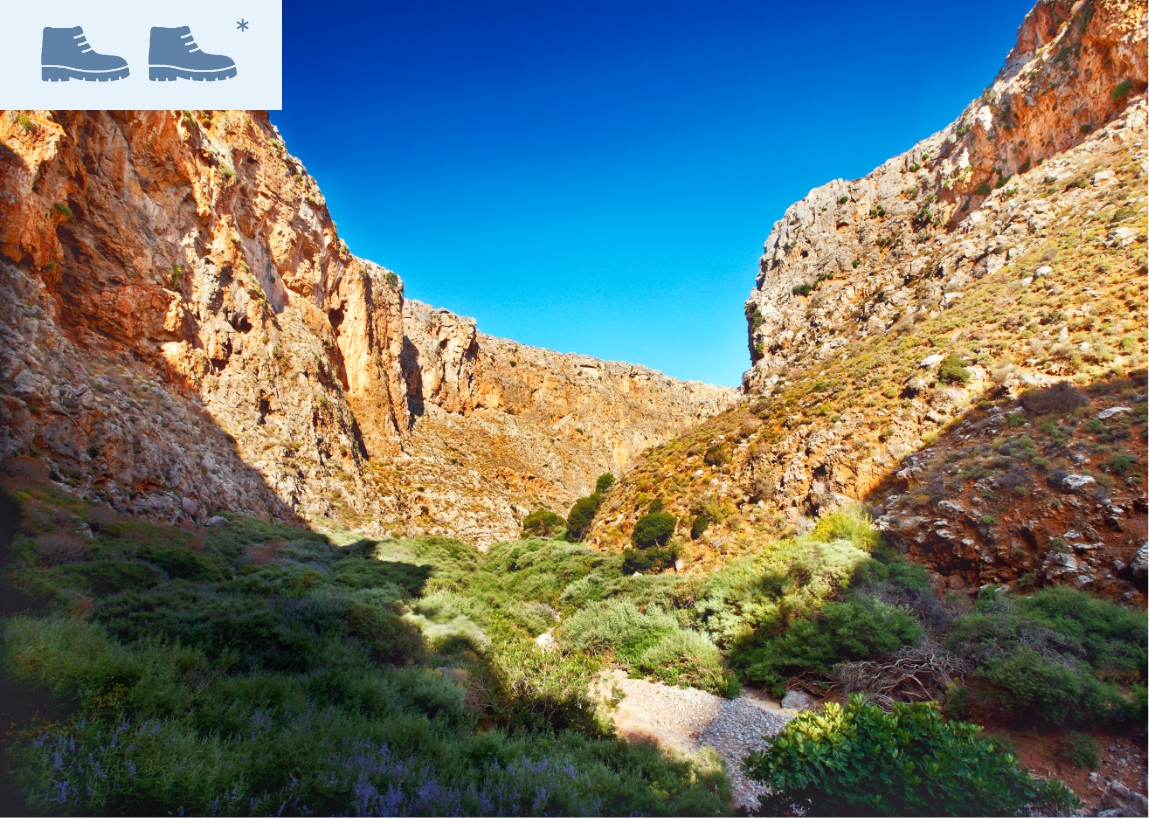 DAY 3 - Zakros Gorge (4 hrs walking)
Drive to the top of the Zakros valley (35mins) and stop for coffee in Pano Zakros before continuing to the entrance of the Zakros Gorge (5mins). Begin the walk down to the sea through the dramatic 'Valley of the Dead', with a chance to visit the archaeological site of the Palace of Zakros en route. Enjoy swimming and lunch at a waterfront taverna before walking up the mountain track to meet your driver for a return to Kouremenos in the late afternoon.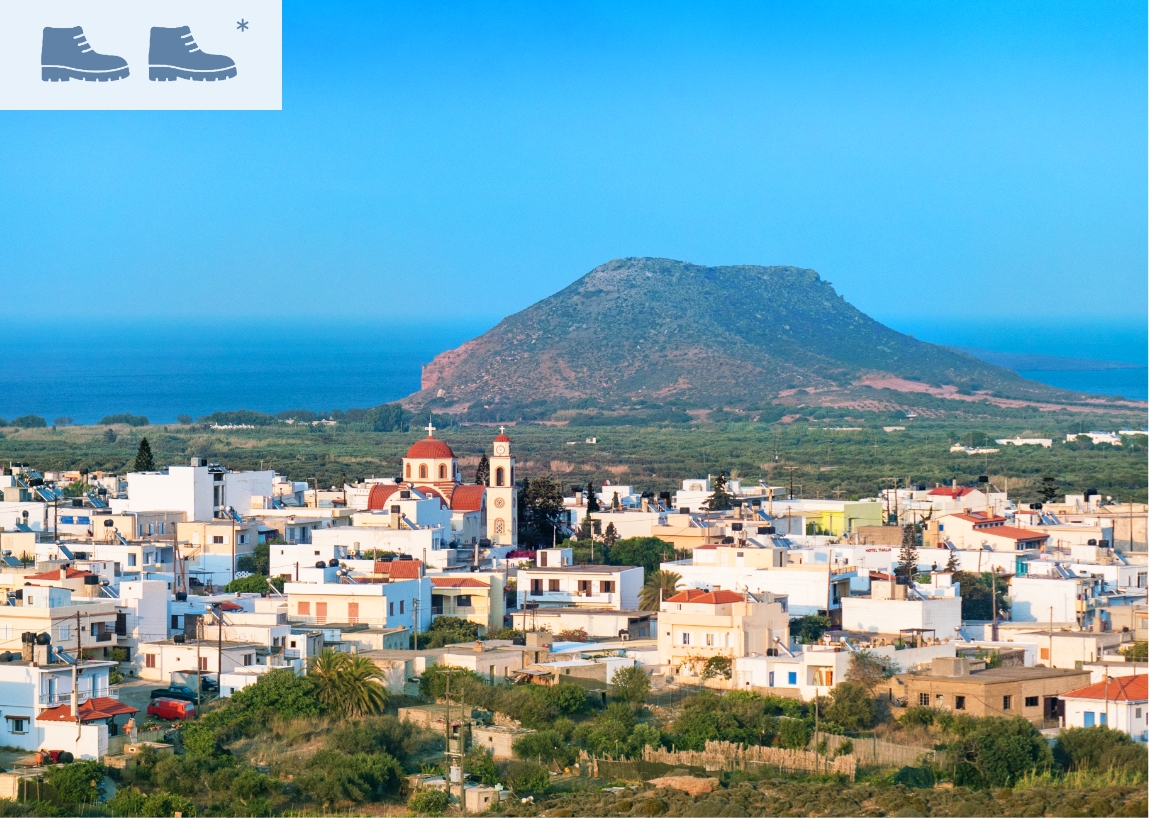 DAY 4 - Around Palekastro (3 to 4 hrs walking)
Drive to Palekastro (10mins) to begin a walk across to the beach of Maridati and down the Vigles outcrop to Kouremenos harbour. Enjoy lunch at a waterfront taverna before continuing on to the Chiona archaeological site and back to the hotel through the olive groves.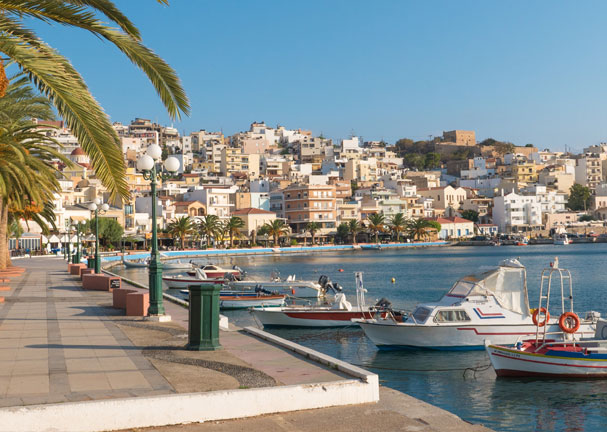 DAY 5 - At leisure
A day to relax and enjoy the beach and try one of the excellent tavernas along the front, or perhaps try your hand at a little windsurfing.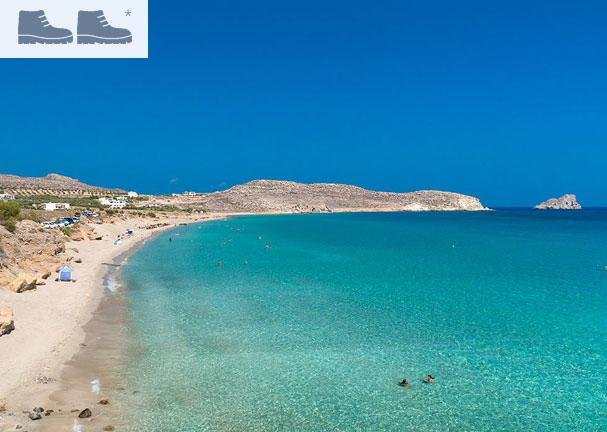 DAY 6 - Explore Xerokambos (3hrs walking)
Drive to Xerokambos and up to the village of Xametoulo (1hr) to commence a wild and atmospheric walk down the remote Ziros Gorge, emerging into the bay of Xerokambos. Enjoy a picnic lunch by the beach and swim in the crystal clear waters of the south east coast. Restore body and mind at a clay beach, enjoying a popular cleansing ceremony before returning to Kouremenos in the late afternoon.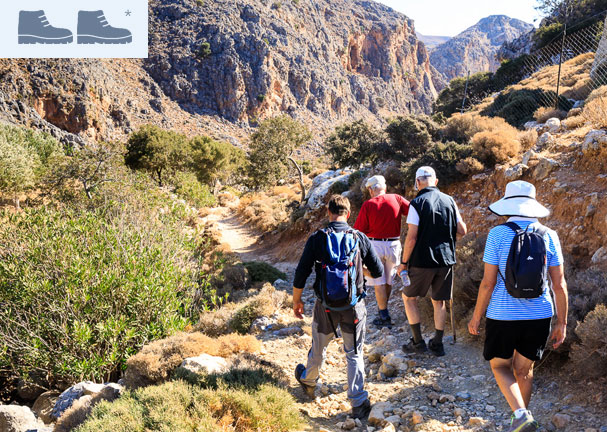 DAY 7 - Petsofas & Chiona (3 hrs walking)
Walk south from Glaros in the shadow of the majestic Petsofas peak, once an important sanctuary for the Minoans to pay homage to their Gods. Step out along little known pathways and intimate gorges to an ancient marble quarry before heading to Chiona to stop at a charming seaside taverna. After lunch, return to Kouremenos through the olive groves visiting the fascinating archaeological site in Chiona on route.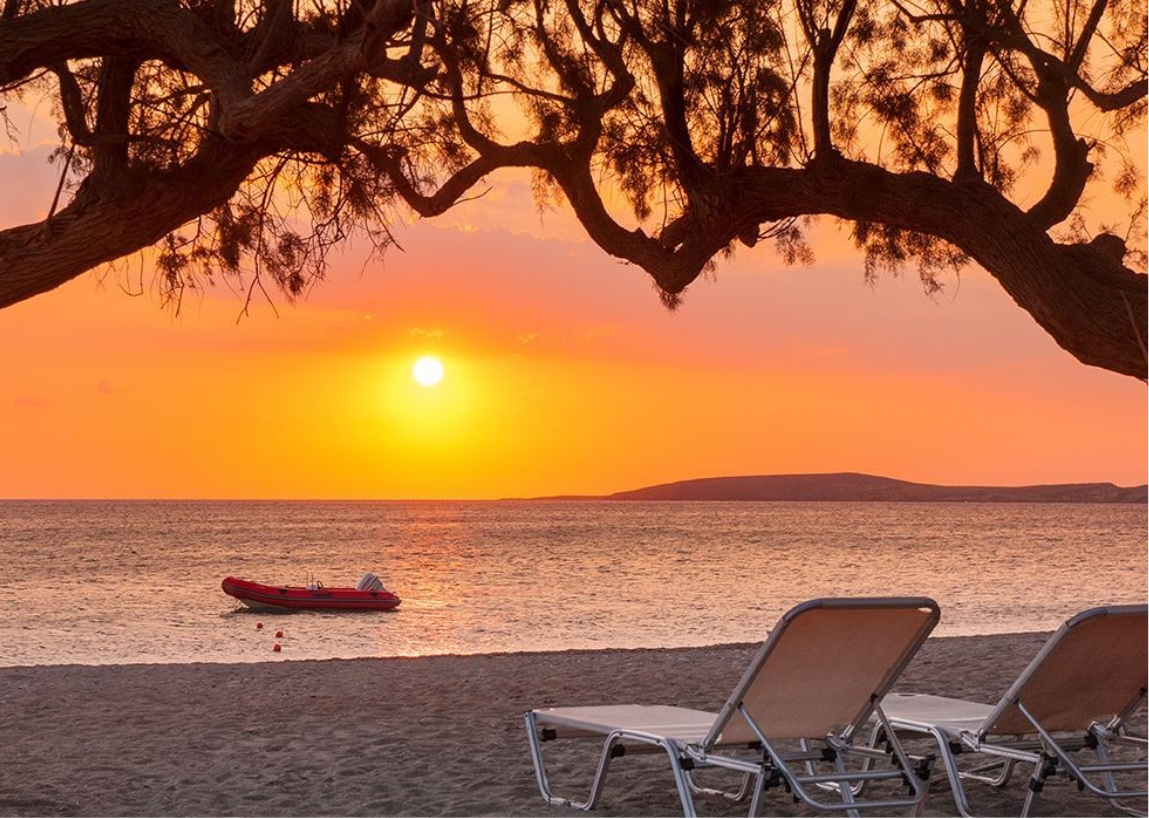 DAY 8 - Departure
Bid a fond farewell to Kouremenos and transfer to Heraklion for your return flights to the UK.


GRADE 1

Up to 2 hours walking, appropriate for those who take gentle regular exercise. Some inclines but nothing too taxing: mostly dirt roads or paved paths. Walking poles recommended for those who require extra stability.


GRADE 2

Up to 4 hours walking, appropriate for those who are used to a little more rigorous exercise. Some steep inclines: mostly ancient unpaved paths. Good balance required as ground can be rocky.


GRADE 3

Up to 5 hours walking, appropriate for those with good levels of basic fitness and plenty of stamina. More demanding terrain with steep unmade tracks which can be very rocky. Good balance and a head for heights required.


Our walking itineraries may be subject to last-minute changes if conditions are unfavourable. Jonathan Peat also reserves the right to limit access to walks to those with the necessary levels of fitness and walking ability. To find out more about the basic fitness requirements for our walking holidays, please use the link below.