Discover Spring in Western Crete
Escorted walks with Jonathan Peat
2 to 9 April and 16 to 23 April 2024 

THE WEEK IN BRIEF
• 
Flights and transfers
• 
Accommodation and daily breakfast at
Arosmari Village Hotel
• 
Five walks escorted by Jonathan Peat, with transfers and lunch included
• 
All taxes and entrance fees
• 
Maximum 15 people
•Prices from £1322pp based on 2 sharing
• P
lease call for single occupancy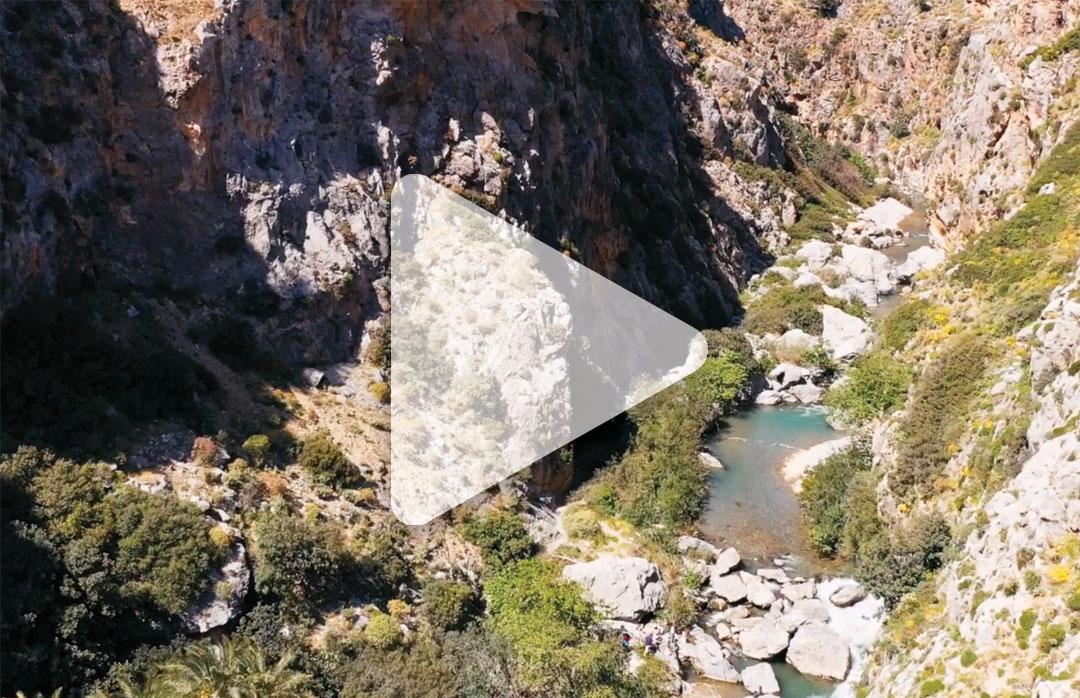 Crete has a fascinatingly rich and varied flora and the spectacular bloom of wild flowers in spring is a joy to behold. In the ever-changing landscape of the west, our carefully planned itinerary offers a chance to see the glorious show and take in some of the 2000 endemic Greek species, around 200 of which are native only to Crete. The island's isolation, favourable climate and wide variety of habitats (from coastal marsh to mountain range), combine to ensure an almost unparalleled richness of Mediterranean flora and the ruggedness of the mountain gorges has aided the survival of certain rare species, including more than 30 varieties of orchid. Thanks to the unrivalled local knowledge of our experienced guide Jonathan Peat, our spring walks offer a unique opportunity to visit places often missed by less adventurous visitors. Discover remote and timeless monasteries, the evocative ruins of ancient Minoan palaces and the breath-taking geological features of the White Mountains and Crete's wonderful gorges and plateaux. Informal stops at tiny whitewashed chapels or rustic kafenions give a taste of the slower pace of life in the rural community and the week's walks will also uncover other aspects of island life including Cretan myths, edible and medicinal plants, cultivated and farmed crops, and the history of plant lore. Guests will walk for up to 3 hours a day, pausing regularly to look at the flowers and stopping to enjoy a picnic or a meal in a local taverna, carefully selected to enhance your week of exploration. Good walking shoes are essential.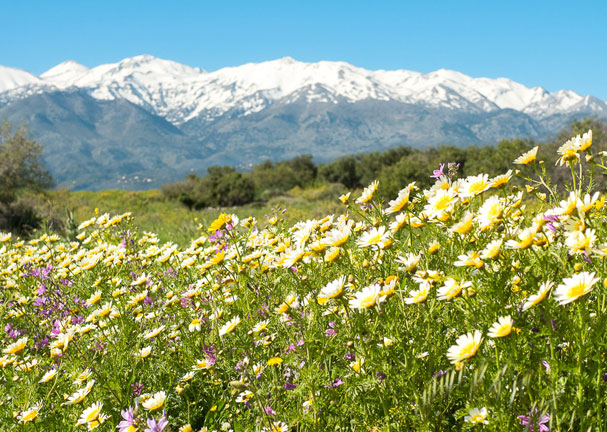 DAY 1 - Arrival
Fly to Chania and transfer to Arosmari Village Hotel in Vamos. Meet Jonathan Peat and discuss the week's programme over drinks and dinner.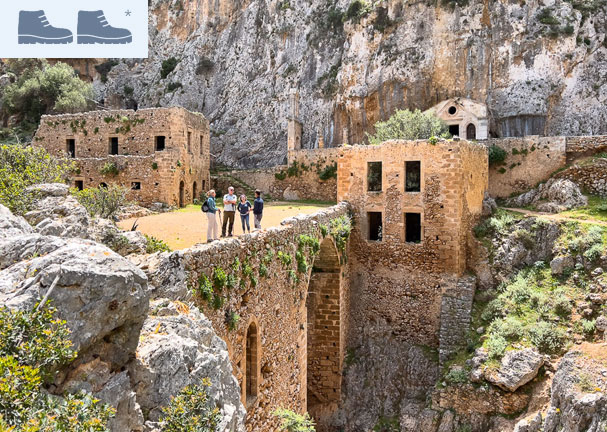 DAY 2 - Akrotiri Peninsula and Gouvernetto
Drive to Gouvernetto Monastery (1 hr) to begin a circular walk which explores the beautiful and wild area on the northern side of the Akrotiri peninsula where several monasteries, chapels and caves are set in a dramatic and mysterious landscape. Walk down to the tomb of St. John the Hermit and the deserted monastery of Katholikou before returning back up the Avlaki Gorge to Gouvernetto. Enjoy a picnic lunch in an enchanting olive grove before transferring back to Arosmari via the historic monastery of Agia Triada. Arrive back at Arosmari in the mid-afternoon.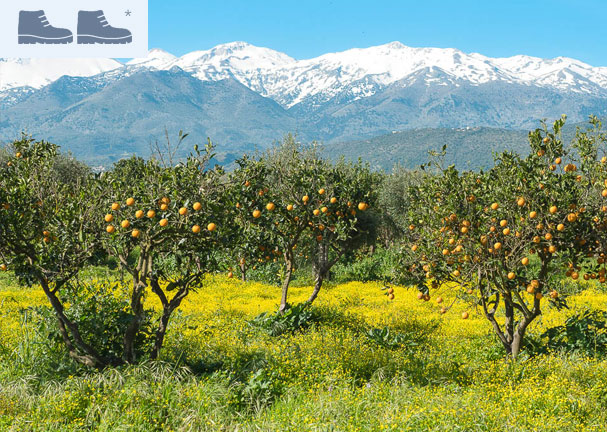 DAY 3 - Samonas, Stilos and the Killiaris Valley
Drive to Samonas (35mins) and walk to a nearby olive grove to visit one of the most ancient olive trees in Crete (over 3000 years old) before continuing down a wonderful cobbled pathway to the village of Stilos, stopping for lunch in a taverna by the water. From here, continue on through the citrus groves to the mouth of the Killiaris River before transferring back to Arosmari via Aptera, one of the island's most important cities during the Roman era. Arrive back in the mid-afternoon.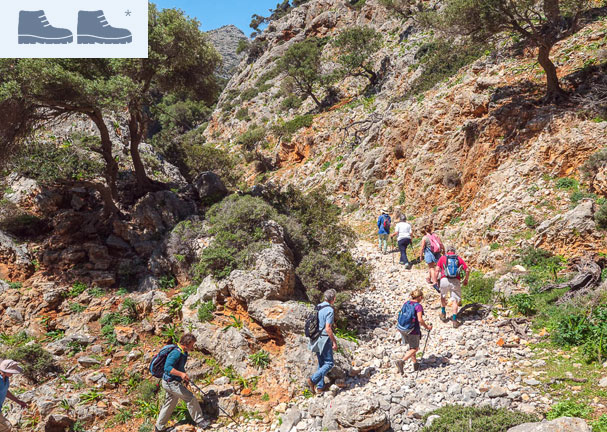 DAY 4 - Agia Irini & The Omalos Plateau
Take a beautiful drive southwards to the village of Agia Irini (1hr 15mins) to begin a walk along an ancient drovers road known as The Vasiliki Strata (The Queen's Path) that leads up to the edge of the Omalos plateau. Transfer from here to Omalos for lunch in a local taverna before driving on to Xiloskalo to see the Samaria National Park. Return to Arosmari in the mid-afternoon.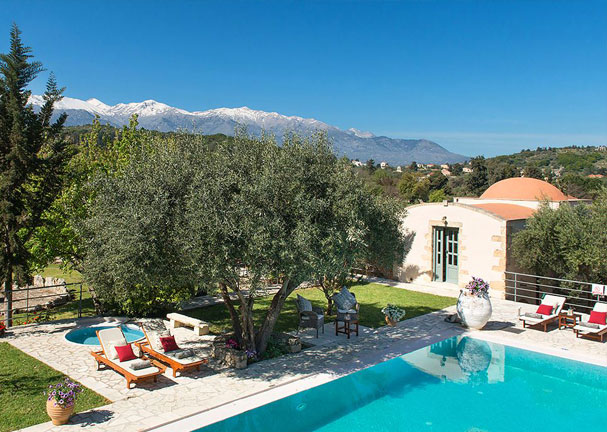 DAY 5 - At leisure
Put your feet up or plan your own itinerary and enjoy a day of gentle exploration.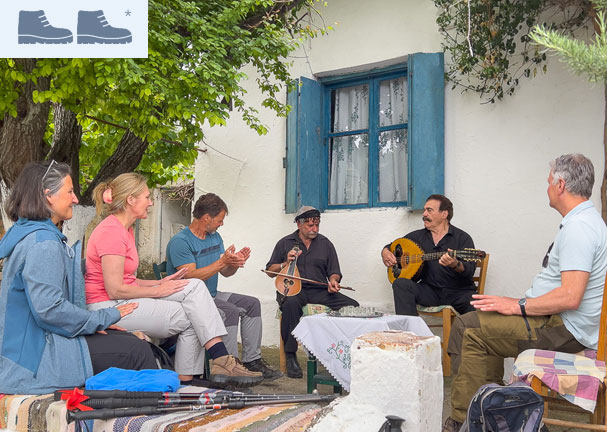 DAY 6 - The paths of the high Apokoronas*
Explore the olive groves of the high Apokoronas near Vamos and enjoy the wonderful views of the Lefka Ori (White Mountains). Take in some of the high plains and pastureland between Exopoli and Vrisses and visit the historical monastery of Karidi before enjoying a picnic lunch close by. Return to Arosmari in the late afternoon.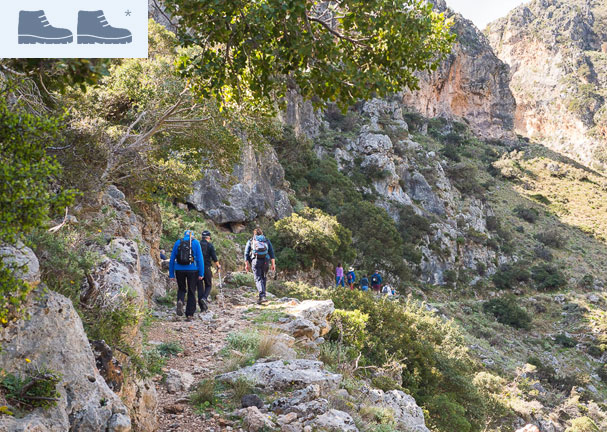 DAY 7 - Polyrinia & The Sirikari Gorge
Drive westwards to Polyrinia (1hr 20mins) to walk up the lush Tsixliano canyon to Sirikari and on to Koustogianades for lunch. Return to Arosmari in the late afternoon.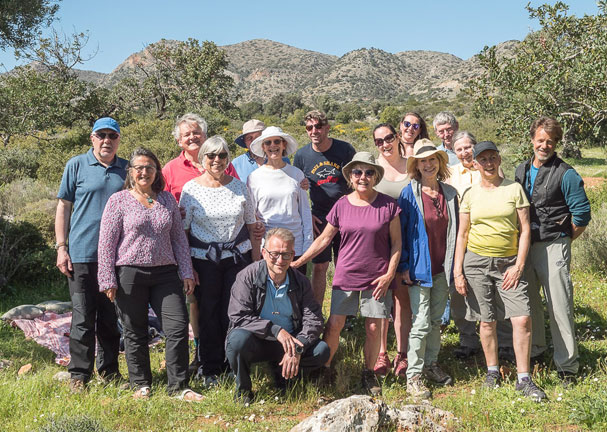 DAY 8 - Departure
Bid a fond farewell to Arosmari and transfer to Chania for your return flights to the UK.
GRADE 1

Up to 2 hours' walking, appropriate for those who take gentle regular exercise. Some inclines but nothing too taxing: mostly dirt roads or paved paths. Walking poles recommended for those who require extra stability.


GRADE 2

Up to 4 hours' walking, appropriate for those who are used to a little more rigorous exercise. Some steep inclines: mostly ancient unpaved paths. Good balance required as ground can be rocky.


GRADE 3

Up to 5 hours' walking, appropriate for those with good levels of basic fitness and plenty of stamina. More demanding terrain with steep unmade tracks which can be very rocky. Good balance and a head for heights required.


Our walking itineraries may be subject to last-minute changes if conditions are unfavourable. Jonathan Peat also reserves the right to limit access to walks to those with the necessary levels of fitness and walking ability. To find out more about the basic fitness requirements for our walking holidays, please use the link below.