Discover Hidden Crete
Escorted walks with Jonathan Peat
14 to 21 October 2023
12 to 19 September 2024

THE WEEK IN BRIEF
• 
Flights and transfers included
• 7 nights' accommodation with daily breakfast at Palm Tree Suites - Artemis Hotel 
• 
Welcome drinks and dinner
• Five walks escorted by Jonathan Peat, with transfers and lunch included
• All taxes and entrance fees
• Maximum 15 people
• Prices from £1,250pp, based on two sharing
• Please call for single occupancy
There is no substitute for local knowledge and if you're hoping to scratch beneath the surface our team have more than 45 years' experience under their belt to help guide you through the unmapped maze of ancient pathways and mule tracks to discover Crete's hidden secrets. Join Jonathan Peat for this very special week incorporating some of his favourite walks around Makrigialos and Pefki in Southeast Crete and witness a way of life that's remained largely unchanged for hundreds of years. For some of the time, he will be joined by local restauranteur and proud Cretan Fanis Eikosipendakis; born and bred in the beautiful hillside village of Pekfi, he is certain to add plenty of characterful insights along the way. His taverna, Piperia, is one the best restaurants for real Cretan food on the island and it's not just a business, it's his passion. Fanis spends hours, days, even weeks collecting herbs, picking wild fruits and mountain vegetables, cooking and preserving local delicacies, and producing his own Raki and olive oil. He is a mine of information, not only on the area, but also the traditions and history of this extraordinary corner of the island. And though Makrigialos itself is no stranger to tourism, the surrounding area makes it an ideal base for walking in a landscape that is both timeless and captivating in equal measure.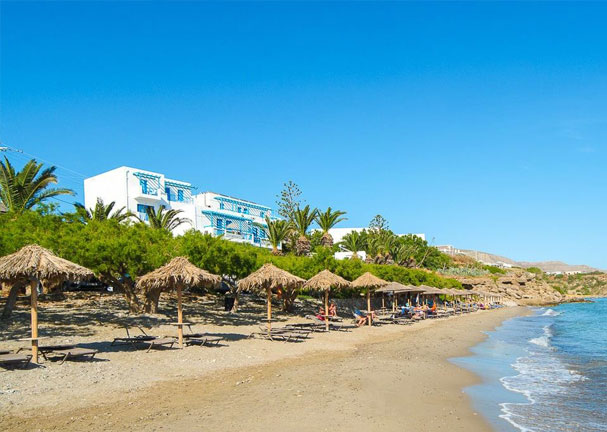 DAY 1 - Arrival
Fly to Heraklion and transfer to Palm Tree Suites - Artemis Hotel in Makrigialos. Discuss the week's programme with Jonathan Peat over informal drinks and dinner.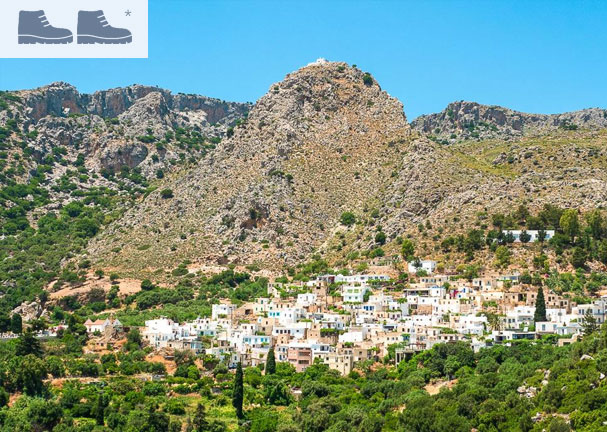 DAY 2 - Dafni and the Pefki Gorge
Morning transfer to Dafni, a local village high up in the mountains behind Makrigialos (30mins). Walk down to Pefki via the extraordinary chapel of Stavromenos taking in the magnificent views and enjoy lunch at Piperia Taverna before continuing down the Pefki Gorge to Makrigialos, arriving mid-afternoon.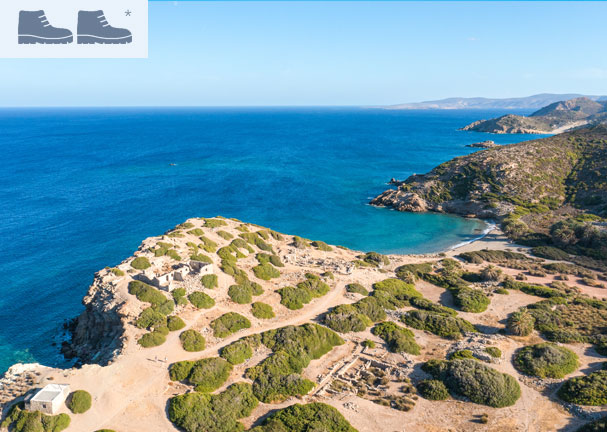 DAY 3 - Violà, Etia to Kato Perivolakia
Drive to Violà (30 mins) to visit the medieval village before walking through the fields of the Handras plateau to Handras for morning coffee. Walk on to the deserted Venetian hamlet of Etia for a picnic lunch before continuing on to Kato Perivolakia for return transfer to Makrigialos (25mins) in the mid-afternoon.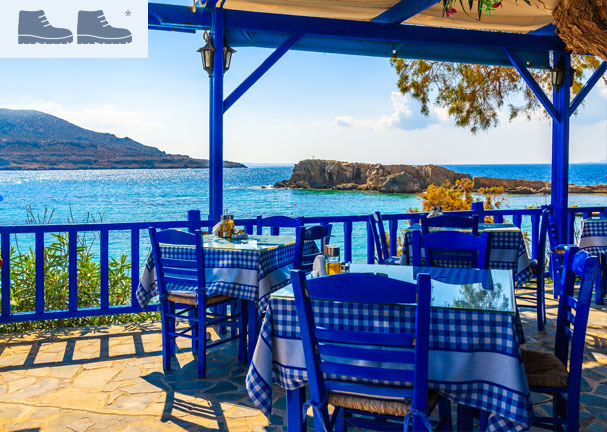 DAY 4 - Red Butterfly Gorge
Transfer to the village of Koutsouras (20mins) for a walk up the beautiful and mysterious Red Butterfly Gorge to Kalivites. Return to Koutsouras by coach for lunch in a waterside taverna and a swim in the warm waters of the Libyan Sea. Return to Makrigialos in the early afternoon.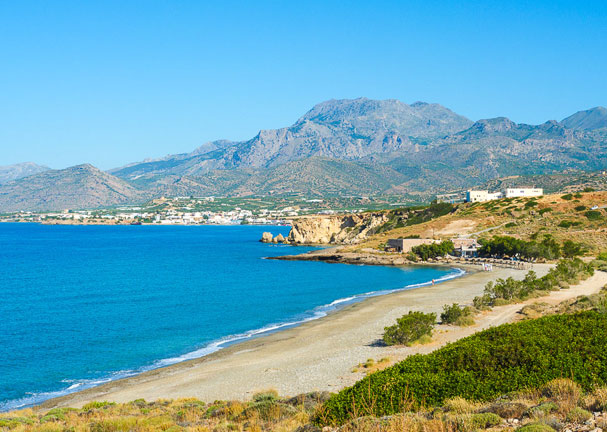 DAY 5 - At leisure
Put your feet up or plan your own itinerary and enjoy a day of gentle exploration.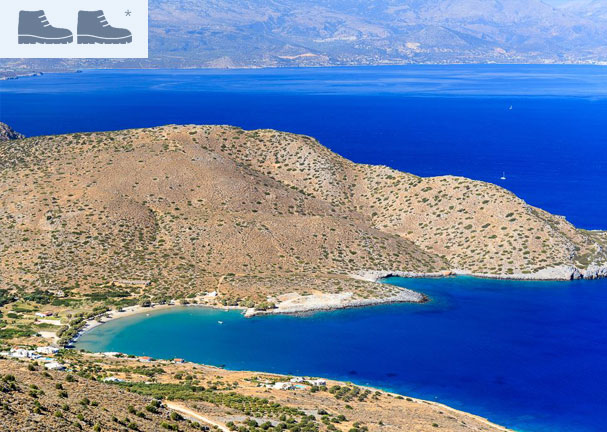 DAY 6 - Kavousi
Drive to Kavousi (1hr 20mins) to begin a beautiful circular walk along an ancient cobbled path, taking in the spectacular views across the bay of Mirabello and the remains of several Minoan settlements. Enjoy a picnic lunch in an ancient olive grove before returning to Makrigialos in the mid-afternoon.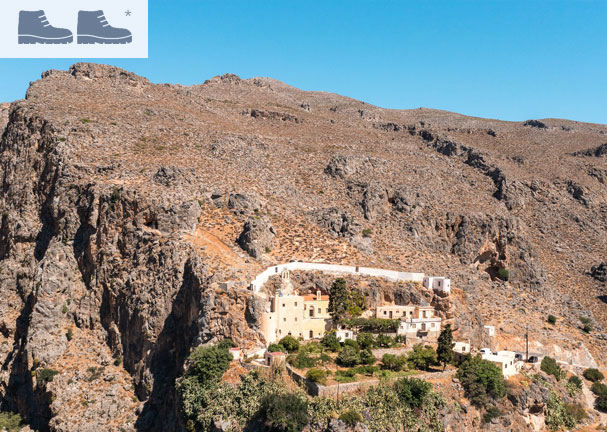 DAY 7 - Pezoules to Moni Kapsas 
Drive to Pezoules (25mins) to begin a walk on a dirt track high above the Kapsas Gorge and descending to the beautiful monastery of Kapsa. Transfer to Kalo Nero for lunch in a taverna by the sea (5 mins) before walking back along the beach to Makrigialos in the mid-afternoon.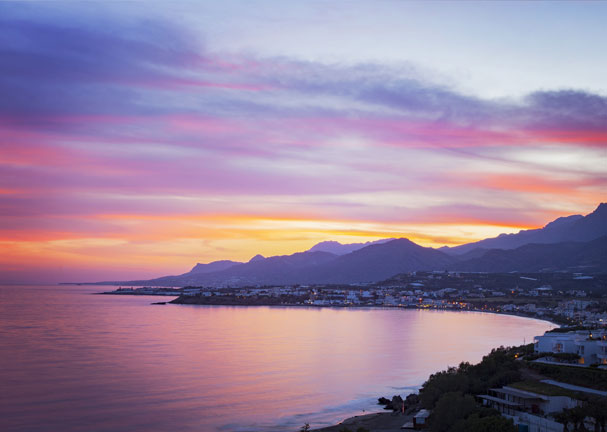 DAY 8 - Departure 
Bid a fond farewell to Makrigialos and transfer to Heraklion for your return flights to the UK.


GRADE 1

Up to 2 hours' walking, appropriate for those who take gentle regular exercise. Some inclines but nothing too taxing: mostly dirt roads or paved paths. Walking poles recommended for those who require extra stability.


GRADE 2

Up to 4 hours' walking, appropriate for those who are used to a little more rigorous exercise. Some steep inclines: mostly ancient unpaved paths. Good balance required as ground can be rocky.


GRADE 3

Up to 5 hours' walking, appropriate for those with good levels of basic fitness and plenty of stamina. More demanding terrain with steep unmade tracks which can be very rocky. Good balance and a head for heights required.


Jonathan Peat
Fanis Eikosipendakis

To reserve your place, please call our Destination Specialists on 0203 839 4529.
Our walking itineraries may be subject to last-minute changes if conditions are unfavourable. Jonathan Peat also reserves the right to limit access to walks to those with the necessary levels of fitness and walking ability. To find out more about the basic fitness requirements for our walking holidays, please use the link below.