Explore holidays in Hossegor & The Landes Coast
Once entirely marshland, this region is now a natural playground of sand dunes and beaches, pine forests and picturesque lakes, where walking and cycling are the most pleasurable ways of getting around. An idyllic meeting of France and California with truly spectacular waves and wide-ranging cuisine, upmarket Hossegor thrives on a surfing culture of stylish, laid-back living. However, in authentic Capbreton next door, and many of the towns and villages no more than an hour away, the historical roots go deeper and there's much to explore.   
Visit our collection of handpicked villas in Hossegor and the Landes Coast to complete your luxury holiday on the Aquitaine Coast. 
A selection of our holidays in Hossegor & The Landes Coast
*Prices shown are for a seven-night stay at the lowest accommodation-only rate
Our guide to Hossegor & The Landes Coast
Introduction to Hossegor & The Landes Coast
The lie of the land
The deep green of pine forests, the blue of the sea and the pale gold of endless beaches: these are the colours of the Aquitaine Coast – and Hossegor is a flag bearer. It's part of Les Landes, an area that, long ago, was marshland until Napoleon ordered the planting of maize and pines to soak up the water. As a result of his influence, the landscape evolved: lakes and sand dunes became permanent fixtures, and the vast expanse of wetland wilderness was distilled into peaceful wildlife reserves, such as the Étang Noir and the beautiful Marais d'Orx. It's idyllic cycling country, crossed by over 160km of marked trails ranging from sedate to sporty.
An ocean experience
For those who thrive outside, Hossegor feels like coming home, with miles of walking and biking trails and the hills and mountains of the Pays Basque less than an hour's drive away. The loudest siren's call of all comes from the ocean, which tumbles onto a gloriously unbroken 10km stretch of sand. Here the tide marks time for an international surfing community hanging on the moment of a perfect wave. But it's also a coastline for beginners to find their feet (if you choose the right spot) – and body boarders and even tiny tots who can paddle in the shallow lagoons that are left between silk-smooth sandbanks when the waters are low.
Linger lakeside
If the ocean's wildness makes you wary, Hossegor's salt-water lagoon soothes away anxieties with its child-friendly beaches and tranquil waters, which allow you to swim, kayak or paddleboard with impunity. This protected nature reserve is encircled by a 6km sandy track through pine forests and past sumptuous private residences. You can dine in one of the restaurants en route or taste oysters fresh from the water at the northern end. For little ones, lakeside Parc Rosny, nearest Hossegor town, is a clean, green space for a run around and the children's club nearby has trampolines – useful for parents tempted by a healthy brunch from the Mango Tree van just a short walk away. 
Soak up the atmosphere
Hossegor is where France and California meet and mingle. No one is ever in a hurry and the laid-back surfer vibe soaks into sun-filled days where all formality flutters away on the ocean breeze. And it's all underpinned by the easy elegance of French living: the restaurants, food halls, wine bars and chic boutiques, plus the more traditional notes of Capbreton in the south, Les Landes' only port. Take a wander past the men casting a line off the bridge, and around the marina with its bustling restaurants and morning fish market, and you'll find echoes of the simple village it once was.
The epitome of family friendly
This is a natural playground where children can frolic in the waves like exuberant fishes, chase winding trails into pine forests or paddle away the hours on the lake: in terms of entertaining your offspring, your work is done. And this is just the beginning. Discover, too, the joys of cycling, horseriding, tennis, karting, quad-biking or hunting down designer swimwear for style-conscious teens. You can take your tribe to meet the monkeys of Pinède des Singes, 8km south of Capbreton, or embark on a full-scale adventure game in Hossegor's Time Lapse – if, that is, the aqua parks of Seignosse and Labenne-Océan leave you the time.
At a glance
Currency

Euro (€)

Flight Time

1h40

Time difference

+1 hour

Language

French

Visa required

Not for UK citizens
Food & drink
A taste of Hossegor
California healthy, rustic Basque and abundantly, undeniably French, the Hossegor diet can take you on a journey from gluten-free granola to foie gras, depending on your preference.
A Napoleonic legacy, sweetcorn appears on many menus, often as corn bread served with traditional duck pâté, and there are plenty of opportunities to sample fresh-from-the-ocean seafood or oysters from the cabanas around the Seignosse end of the lagoon.
Bayonne is the lesser-known chocolate capital of France and the place to sample the handiwork of Europe's most established chocolatiers. However, this historical town is also famous for its ham and a picturesque spot to sample a few Basque staples, including sheep's milk cheeses, axoa veal and the sweetly ubiquitous gâteau Basque – which also takes pride of place in every Basque village café.
This being France, fine dining is always an option, but to appreciate the true spirit of Hossegor, buy a takeaway pizza and enjoy it with a sunset on the dunes. Or, for barbecues and picnics in the pine forests, the covered food market of Les Halles is a treasure trove of local delicacies. Lovers of seafood will also appreciate the Capbreton fish market, open until midday, where each stall is named after the boat that brought in the catch – although, if it's been a stormy night, save your visit for another day: the boats will have stayed safely in the port.
Hossegor tipples
Sundowners with a view of the waves are an essential Hossegor experience and most supervised beaches also have a pop-up beach bar for a laid-back, end-of-day wind-down. The town centre and lakeside bars encourage you to linger over an aperitif and perhaps a little plate of pintxos.
Bordeaux, just a two-hour drive away populates local wine lists with some exquisite reds, but for something closer to home (and quirkier) there's Egiategia ('the workshop of truth'), a white wine aged in barrels under St Jean de Luz bay, whilst Capbreton's 'vins de sable', also push a few boundaries, the grapes grown from vines planted in the dunes.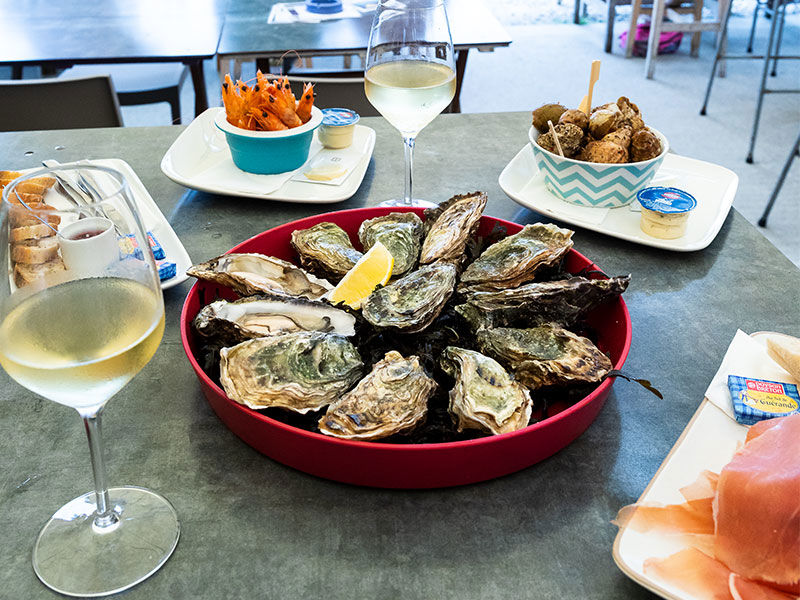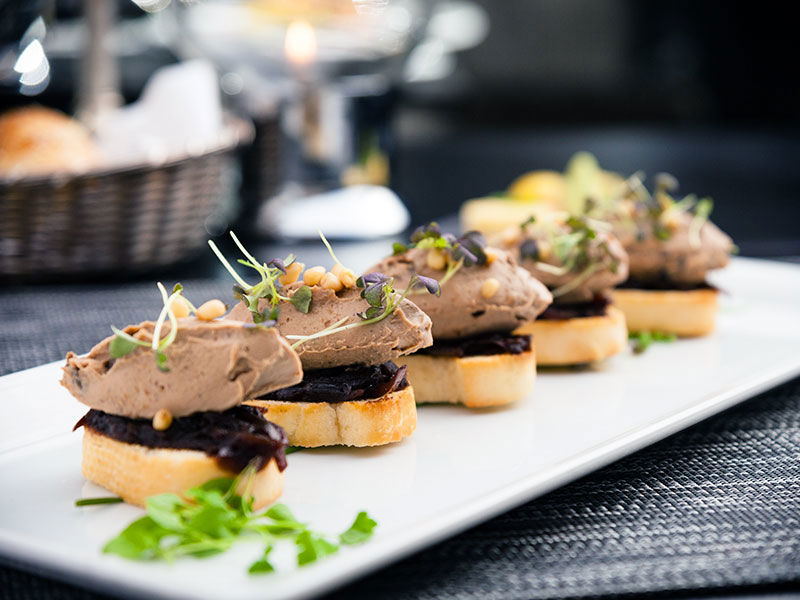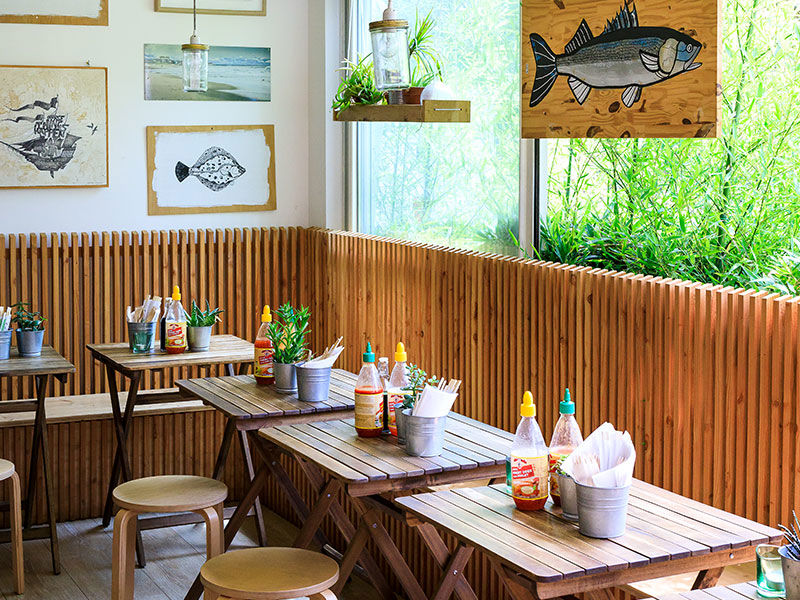 Beaches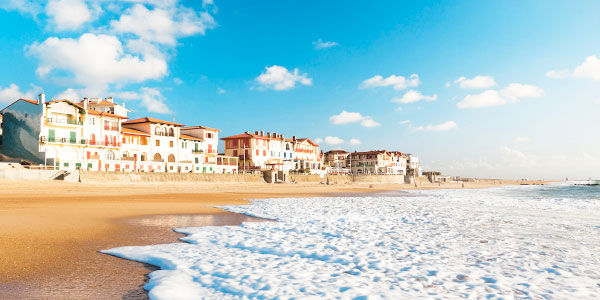 Plage Centrale and Plage Sud, Hossegor
With a sociable selection of bars and restaurants, this is the buzziest section of Hossegor's glorious 7km sandy coastline. The two beaches are adjacent, with Sud being very good for beginner surfers.
Getting there…
The beaches are a 15-minute walk from town, parallel to the Boulevard de la Dune.
Footnotes…
Take a stroll south of Plage Centrale for Club Sud, a hub for beach-related activities, games and courses for the whole family (www.club-plage-mickey.com).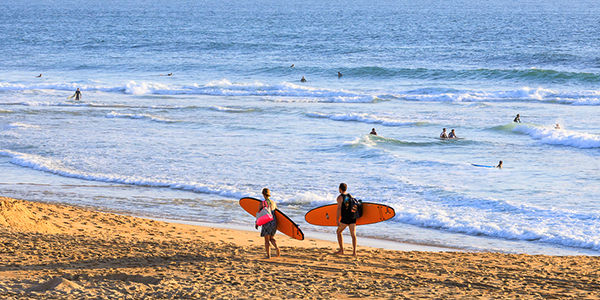 Plage de la Graviere, Hossegor
Situated to the north of the resort, this beach is another surfing hot spot. It's a little quieter than the main town beaches, backed by high dunes which give it a slightly wilder feel.
Getting there…
From Hossegor, head in the direction of Seignosse. After about 500m you'll come to a little car park opposite Avenue des Pervenches; the beach access is adjacent.
Footnotes…
There's a small seasonal restaurant at the top of the dunes where you can get drinks and a good selection of tapas.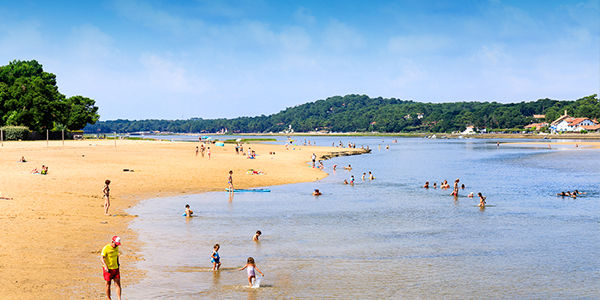 La Plage Blanche, Hossegor
Nestled on the western shore of Hossegor lagoon, this lake beach has a very good restaurant and high season amusements for children.
Getting there...
Just 15 minutes' walk from the heart of Hossegor, take the main bridge over the lake and turn right at the Hotel Mercedes; it's another ten minutes on foot. 
Footnotes...
Chez Loulou is a chic little café for drinks or lunch, just a five-minute stroll away at Chênes Lièges.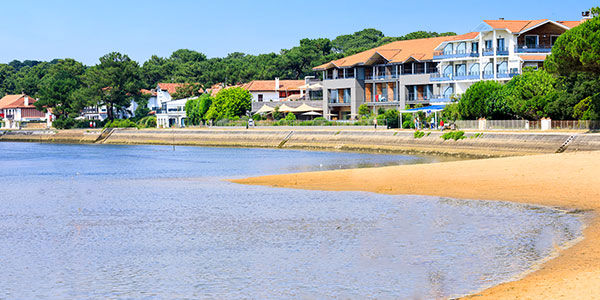 Plage du Parc, Hossegor
The lake beaches have all the soft sand with none of the big waves and this is the nearest to town, with a small tree-covered park nearby and trampolines that little ones will love.
Getting there…
You'll find Plage du Parc near the roundabout at the end of the Avenue de Bordeaux.
Footnotes…
A great spot for stand-up paddle boarding – including a daily SUP yoga class! – plus there's a market in the park on Wednesdays, Fridays and Sundays.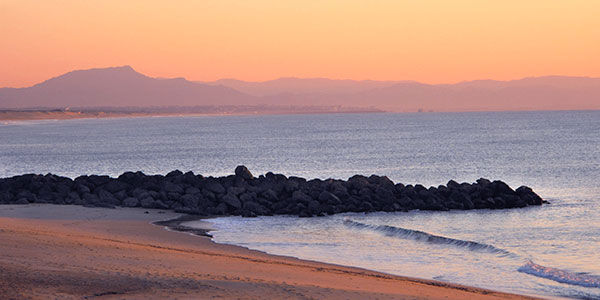 Capbreton beaches
A great stretch of sandy beach for a wander, hallmarked by a number of German bunkers on the slightly more rugged Santocha beach and more sheltered for less confident surfers.
Getting there…
Capbreton's beaches run south from the Hossegor Marina.
Footnotes…
Calmer waters make the protected Capbreton Plage Centrale a family favourite, although the locals like the much-photographed La Piste for its body-boarding and surfing.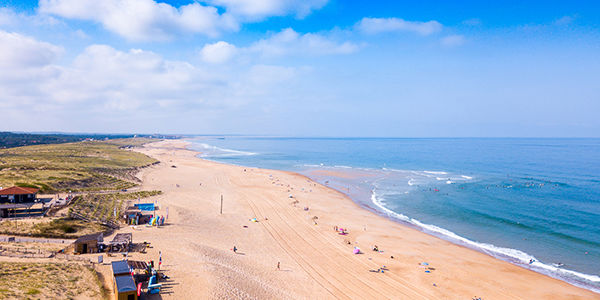 Les Estagnots, Seignosse
This is probably the best known of the Seignosse beaches, playing host to international surf competitions every year. The access and facilities are excellent, as are the stunning views of the Pyrénées.
Getting there...
From Hossegor town it's a 3.5 km cycle ride or short drive beyond the lake. The beach is accessed from Place des Estagnots where there's a free car park.
Footnotes...
Showers, toilets, restaurants and a surf school make this a good full-day beach option.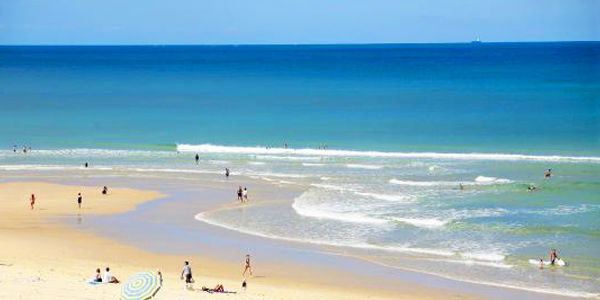 Plage du Penon, Seignosse
The main beach at Seignosse has huge family appeal, though for a quieter spot, you might prefer Les Bourdaines to the south or Les Casernes to the north.
Getting there...
Head north on two wheels or in the car from Hossegor town to Seignosse Ocean. If you're driving there's a large free car park next to the water park. 
Footnotes...
Le Penon is a favourite spot for locals to come and enjoy the evening spectacle of an Atlantic sunset.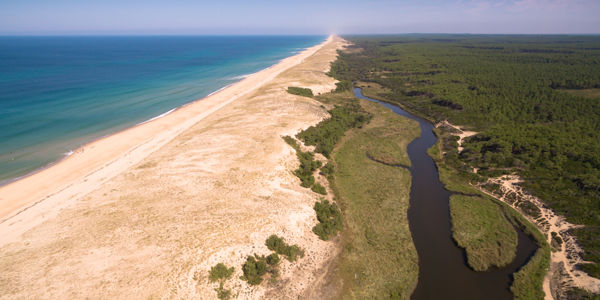 Moliets Plage
A wide boulevard of restaurants, bars, shops and surf schools usher you towards the dunes of this more touristy but well-equipped beach, with a distinctly youthful vibe.
Getting there…
Moliets-et-Maa is a half-hour drive from Hossegor, passing through Messanges.
Footnotes…
If you prefer your beaches less organised, try the plage sauvage of Chênes Lieges, near the Golf de Moliets, 18 holes taking you from pine forest to coast.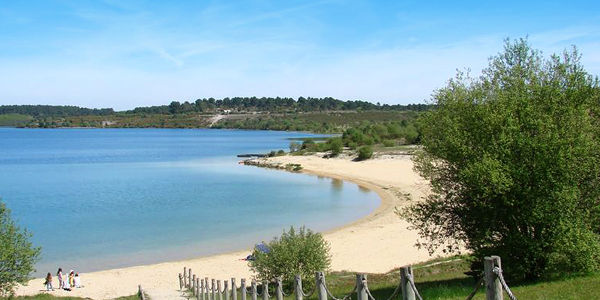 Plage du Lac de Léon
Part nature reserve, part watersports playground, lovely Lac de Léon is a delightful family destination, with sandy banks for lounging and calm waters for swimming.
Getting there…
From Moliets it's a 10 km cycle ride or short car journey. Head to Léon then follow the signs in the village to the lake, a short distance away. 
Footnotes…
The lake and surrounding forest is rich in bird life; join one of the regular guided walks to discover more about the protected natural environment here.
Things to do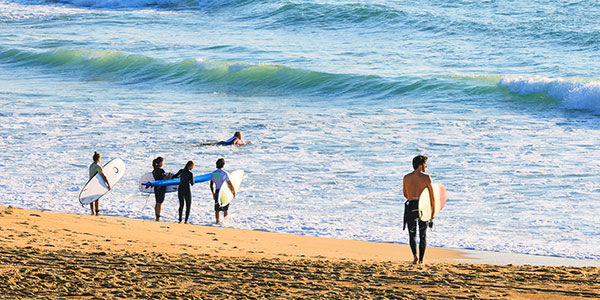 Catch a wave
Surf schools cater for all ages and teach technique and safety, as well as on-water etiquette and it's a great way to get under the cultural skin of Hossegor. Bodyboarding is the less challenging alternative or go wave-free with a SUP on the lake!
Explore on two wheels
Les Landes has 488km of cycle paths, so whether you're going shopping or picnicking in the pine forest, it's easy to get around. For extra pedal power, hire an electric bike or a fat bike, with extra thick tyres for traction on the dunes.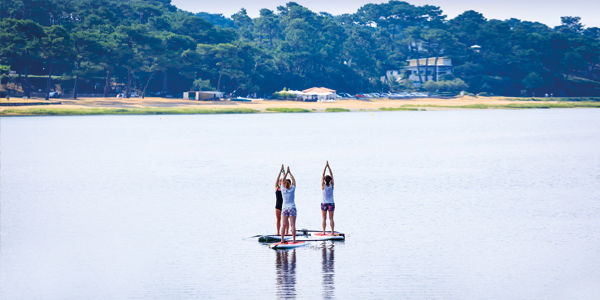 Paddle board on the Lake
The calm waters of the Lake Hossegor are perfect for paddle boarding. Whether you choose to explore the length of the lake or potter about closer to home, this is a very enjoyable way to spend some time on this uniquely lovely stretch of water.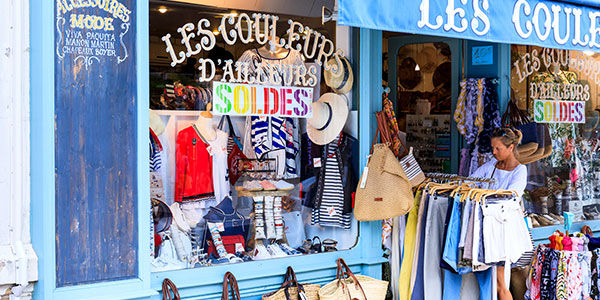 Wander a market
From Capbreton's traditional fish market to Tuesday morning lakeside bric-a-brac, Hossegor has plenty of excellent shopping opportunities. A retail village for discounted swim and surfwear from all the big brands, La Zone Pédebert near Hossegor has the prerequisite bars and restaurants, but also a number of artisan stores, breweries and a wine merchant so you can stock up for the week. And the covered food market of Les Halles is a must-visit with clothing, arts and crafts just outside.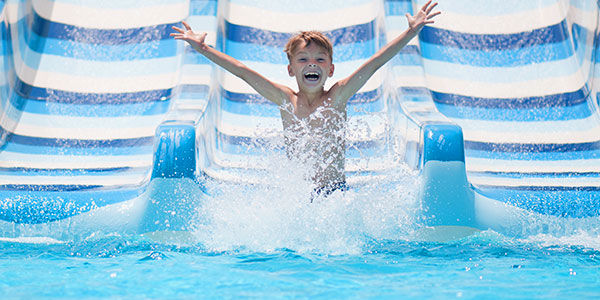 Find a fun park
Capbreton has its own little amusement park, L'Île aux Pirates, with slides, trampolines and fairground rides, or up the ante for older children too at Seignosse's Atlantic Water Park, with waterslides, swimming pools and a beach just next door.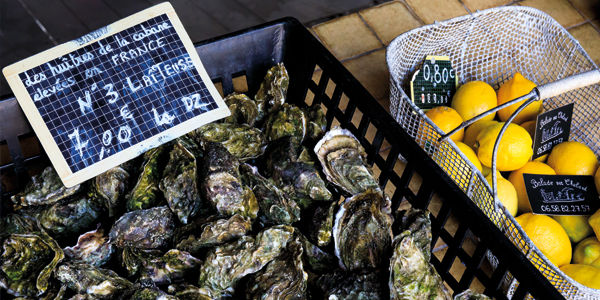 Sample fresh oysters
The freshest of fresh local produce has never tasted better than at the oyster shacks on the north shore of the lake in Hossegor. A chilled bottle of Sauvignon Blanc is the preferred accompaniment.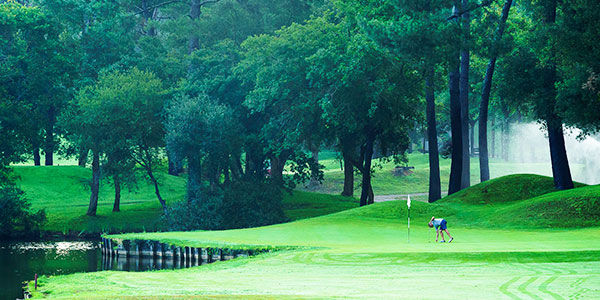 Go golfing
The clubhouse rather than the course is the jewel in the Golf d'Hossegor crown, one of the oldest course in France, but nearby Golf de Seignosse, set between forest, lakes and dunes, ranks in France's top 20. Visit www.golf-landes.com for details.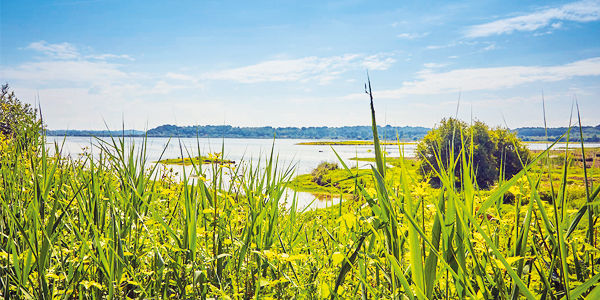 Visit the Marais d'Orx
This impressive 1,000-hectare protected wetland is crisscrossed with high-sided boardwalks which are safe for little ones. As well as turtles, frogs and fish, you can spot migratory birds from a hide. Peaceful, well-designed and completely free!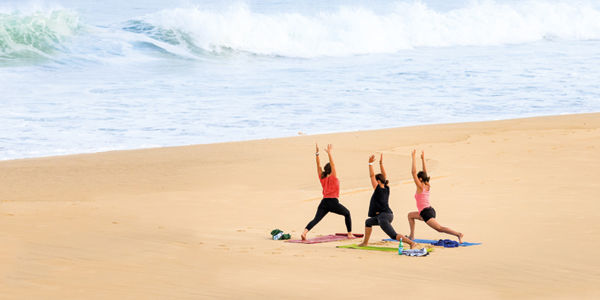 Practice yoga on the Beach
Still your mind, stretch your limbs and let your spirits soar. What better place to practice yoga than on the beach, with the sound of the waves lapping gently on the shore.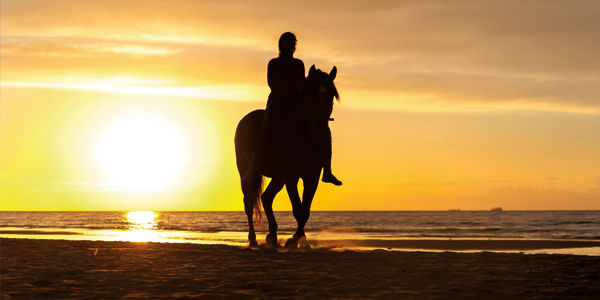 Go horse-riding on the beach
Saddle up and enjoy the magnificent Atlantic coastline on horseback; truly memorable by day, unforgettable at sunset.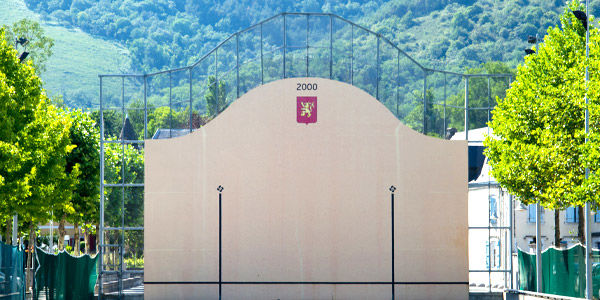 Watch a Basque pelote match
This traditional sport takes various forms, played on an outside court (fronton) or inside in a Jaï Alaï, when the game is known as Cesta Punta, but the high-octane spectacle remains the same. Catch a match in Hossegor's Jaï Alaï
(www.hossegorjaialai.fr).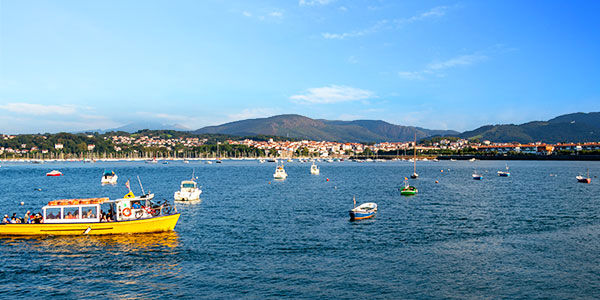 Take a boat to Spain
Catch the ferry from Hendaye, south of St Jean de Luz, and in just ten minutes, you'll be in Spain's colourful coastal town of Hondarribia: beautifully historic, bursting with pinxtos (tapas) bars and restaurants and offering a packed calendar of festivals.
Events
Throughout the summer
The Place du Landais behind Hossegor's Plage Central hosts a variety of events, from jazz to sports screenings.
What's on in May
End of April, beginning of May
The Fêtes de Bibi Beaurivage in Biarritz carries you from one event to the next: Basque dances to omelette competitions; farmers markets to a vintage car show.
What's on in June
Mid June
For fans of motorcycles, surfing and retro culture, Biarritz's Wheels and Waves has plenty of community spirit with races, concerts and exhibitions. Find out more at www.wheels-and-waves.com/en/ 
Mid June
The Fête de la Musique takes place in multiple venues across France, although, in this particular area, Bayonne takes the lead with a line-up of rock, pop, jazz, classical and hip-hop as well as traditional acts.
21 June
Amid a sea of black and red, the colours of the town's patron saint, the Fête de la Saint Jean de Luz is a lively celebration with concerts, street food, pelota basque and the toro de fuego (bull of fire).
What's on in July
14 July
Bastille Day commemorates the storming of the Bastille, a turning point in the French Revolution. Expect music, firework displays and plenty of food and wine.
End of July
The riotous five-day Fête de Bayonne is the largest city celebration in France and a lively celebration of local traditions with music and dancing. Wear red and white!
What's on in August
Mid August
Capbreton's August of Jazz is actually three days of live music from morning 'til night in various locations around town.
Mid August
The Dax Feria is a five-day celebration of history and heritage, with food, folk music, horse shows and the bloodless bullfights known as Course Landaise.
End of August
The Latinossegor Festival in Hossegor's Place du Landais draws the crowds with live music and dancing that makes the most of the balmy evenings.
What's on in September
End of September
The QuikSilver and Roxy Pro international tournament rolls into town and stays for about ten days: a chance to watch the world's best surfers in action.
The Road Less Travelled
Sunset drinks at a beach shack
The Sud Landes beaches do a nice line in beach shack bars, offering a variety of tempting dishes on the side. Choose your shack for tapas, pizza, oysters or local seafood and wash it down with a glass of Sauvignon Blanc as the sun sets over the yardarm.
Discover your own beach
Whether it's on foot or VTT (vélo tout terrain), one of the joys of Aquitaine is to take a chance on a forest trail connecting the D79 main road to the never-ending beaches of Sud Landes. Try the forest just to the north of Casernes, but remember to respecter la dune and stick to the designated footpath.
Rise early for the fish market
On the south side of the marina is Capbreton's celebrated fish market where you can watch the morning catch as it's sold directly to local restauranteurs. And if you've culinary aspirations of your own, take some fresh fish back to your villa and indulge your inner-chef.
Back to nature
Leave the bustling coastline behind for the day and hike along one of the many forest trails linking Hossegor & Seignosse Ocean to the nature reserves of ÉtangBlanc and Étang Noir. Pack some local produce for a lakeside picnic or enjoy a fixed price lunch menu at one of the auberges at ÉtangNoir.
Get in the zone
A retail village for discounted swim and surfwear from all the big brands, La Zone Pédebert near Hossegor has the prerequisite bars and restaurants, but also a number of artisan stores, breweries and a wine merchant so you can stock up for the week.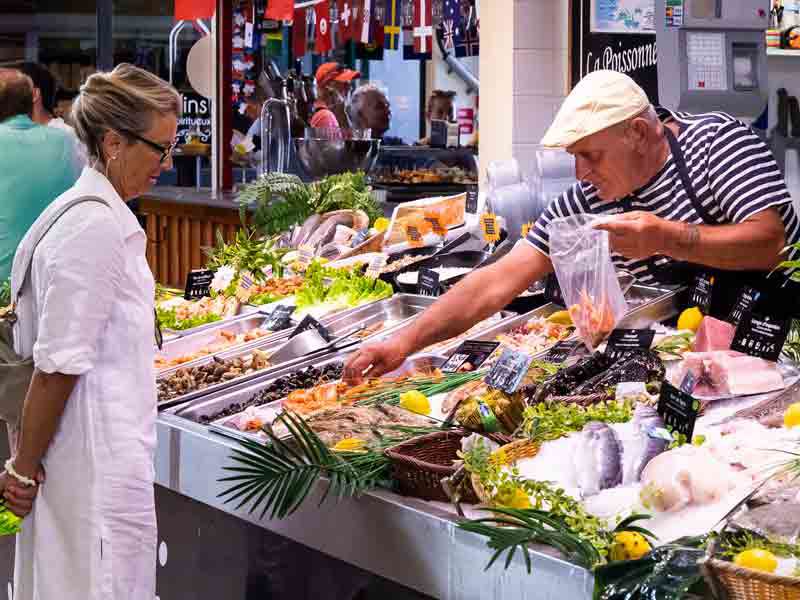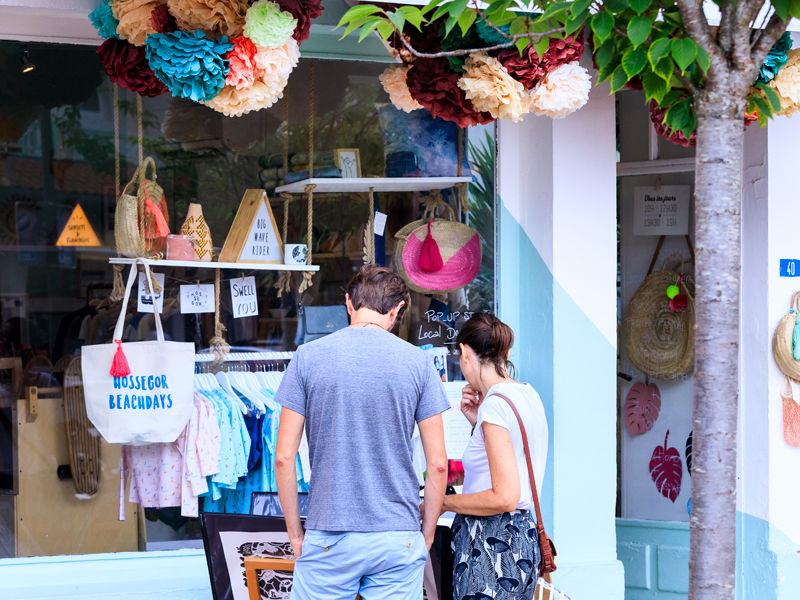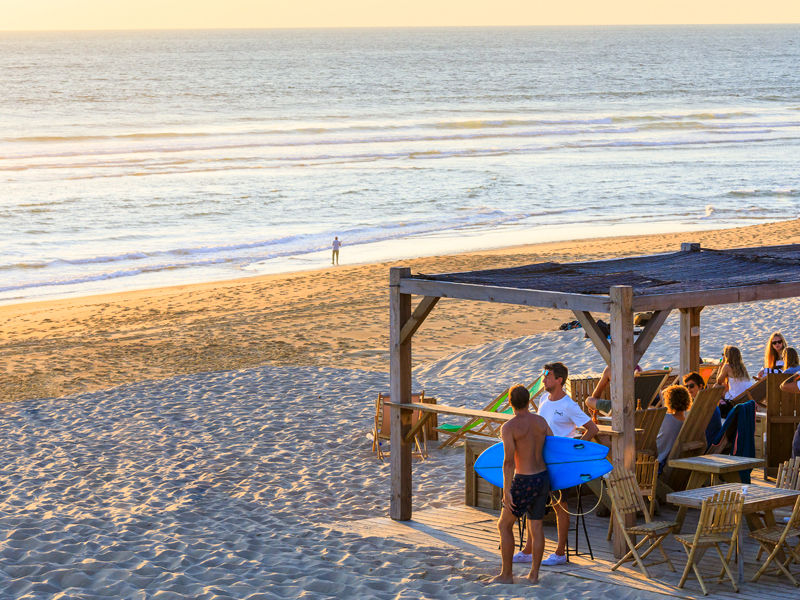 Towns & Villages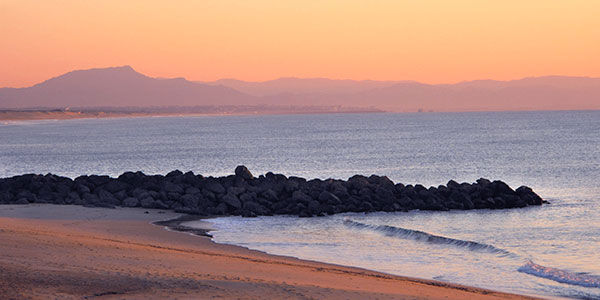 Capbreton
10 minutes

Hossegor's less well-known twin has plenty to commend it, with its own share of surfing beaches and a calm swimming lake for those less keen on the Atlantic rollers. It's also the more authentically French of the two towns, renowned for excellent quality food and restaurants serving the catch of the day. Capbreton is very much the locals' choice, proud of its whaling heritage but not shy of enticing 21st century visitors with its lively marina, beaches and bustling fish market.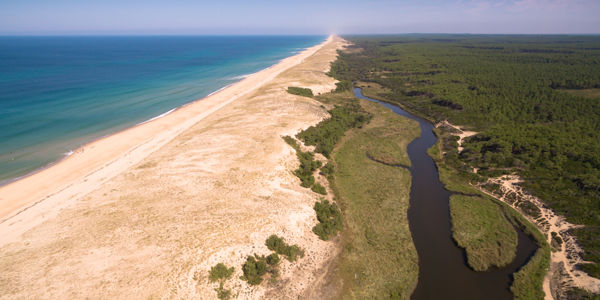 Moliets-et-Maâ
30 minutes
Tucked between pine forests and with two lakes that are also protected nature reserves, Moliets comes with a host of walking, riding and cycling trails, as well as a seemingly endless, surfer-friendly beach, its bars and restaurants an exuberant counterpoint to the surrounding tranquillity. The village itself is actually a few kilometres from the coast, with a square of dappled sunshine and weekly markets, while the local 18-hole golf course is one of the most beautiful in France.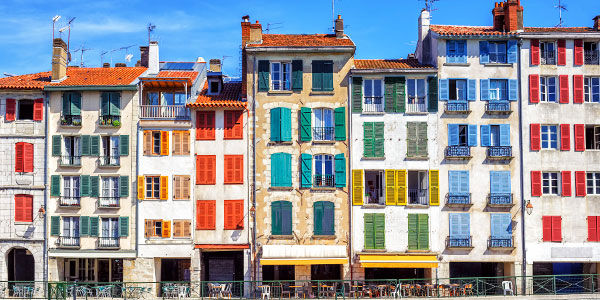 Bayonne
30 minutes
It may host France's largest festival, July's boisterous Fête de Bayonne, but the 'chocolate capital' slips curiously below the tourist radar – and that only makes it lovelier. Built around two rivers, it divides neatly into three: the Quartier Esprit, a former Jewish ghetto; Grand Bayonne, home to the old barracks and the Basque and Fine Art Museums, and Petit Bayonne, where pretty streets fan out around a distinctive twin-spired cathedral, its jewel-coloured interiors a spectacle in their own right.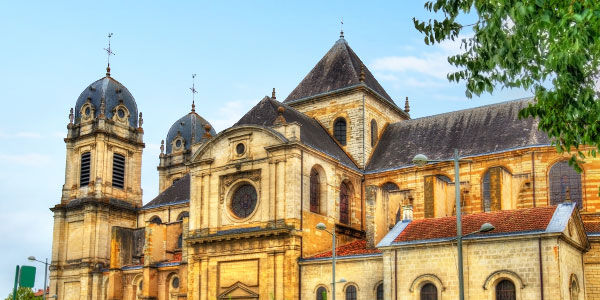 Dax
35 minutes
France's oldest spa town has been soothing weary travellers for centuries, so it's not surprising that it's a historical gem too; the past embodied most beautifully in its grand cathedral and the formal elegance of its 'Remarkable' Parc du Sarrat gardens. Dax is also the starting point for La Voie Verte de Chalosse, a 41km hiking and biking trail, and host to the three-day Motors 'n' Blues festival, as well as the Dax Feria, a lively celebration with parades and parties.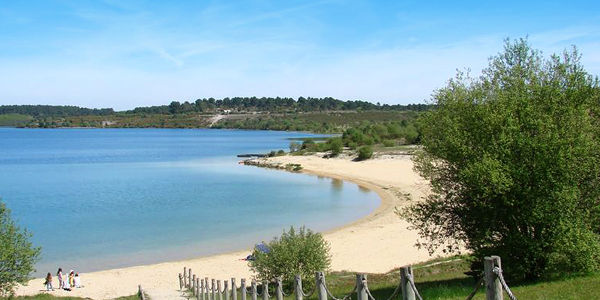 Léon
35 minutes
Just a ten-minute drive from Moliets, traditional Léon, with its timbered, terracotta-rooved buildings and morning markets, advocates a lazier pace – and the nearby Courant d'Huchet, a beautiful nature reserve, only confirms the value in slowing down. From the Lac de Léon, where you can swim, enjoy the tree-top adventures of La Haut Aventure Park and hire a pedalo, there's also the option to kayak or SUP your way down to the coast through scenery described as the Amazon of Les Landes. In a region rich in lakes, Léon really shines for its sheer size and beauty.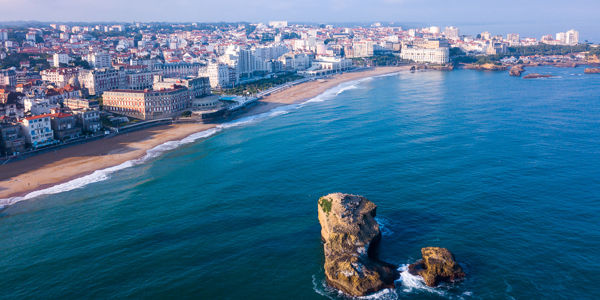 Biarritz
40 minutes
Tradition wears a glamorous mantle in Biarritz, a darling of the Belle Époque where the sea remains a vibrant part of the collective consciousness. Surfboards are as commonplace as designer shopping bags and the picturesque coastal walk between the lighthouse and the Côte des Basques remains the most romantic way to get your bearings. But despite the 19th-century opulence of the Hotel du Palais and the striking art deco casino, it's the golden Grand Plage that remains the centre of attention.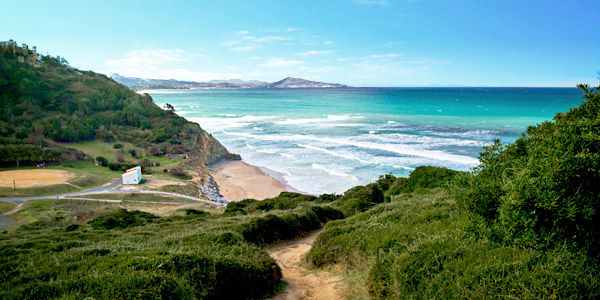 The Basque Coast
40 to 45 minutes
Sharing the world-renowned Parlementia surfing beach between them, Bidart and Guéthary are a chic reimagining of the traditional seaside town, generously provisioned with upmarket little bars and eateries. Bidart's twice-weekly markets in July and August are a reason to pop by as much as the Basque architecture, whilst Guéthary's rugged coastline, tamed into terraces and Art Deco flourishes, is the place to watch the waves.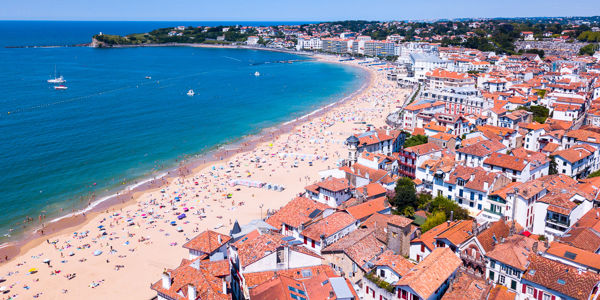 St Jean de Luz
45 minutes
A playground for the 19th-century French and Spanish aristocracy, St Jean de Luz is celebrated for its rich architectural history, complemented by luxury boutiques and tempting bistros. For families, it's the horseshoe-shaped Grand Plage that's the real jewel in the crown.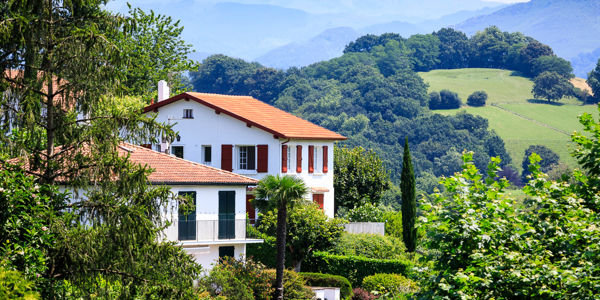 The Basque Villages
50 to 60 minutes
In the foothills of the Pyrénées and temptingly close to the Spanish border, these pretty villages reflect the pride of an ancient people. Each pristine, half-timbered, chalet-style house is painted dark blue, green or oxblood red, without deviation, and whether you find yourself in Ascain, Sare, Ainhoa or Espelette, the natural, simple order of things is clear: a town hall, bars, restaurants, and a
fronton
for games of traditional Basque pelote, the fastest, most ferocious, ball game in the world!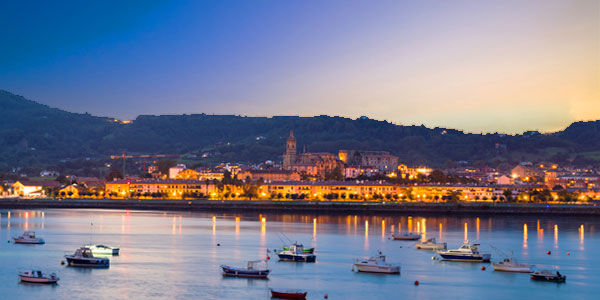 Hondarabbia
1 hour
Across the border from Hendaye, Hondarrabia is beautifully historic, bursting with pinxtos (tapas) bars and restaurants and offering a packed calendar of festivals.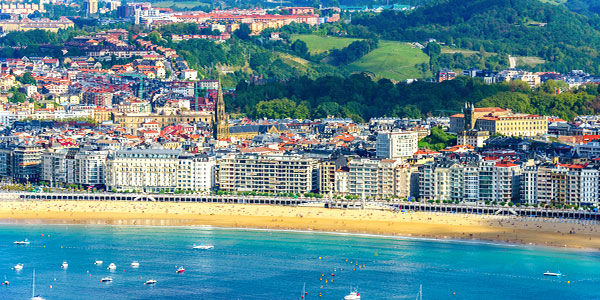 San Sebastián
1 hr 20 minutes
A
dazzling array of Michelin stars
and award-winning
pintxos
 bars provide mouthwatering memories to savour, but
San Sebastián's
Art Nouveau flair, beautiful parks and much-loved La Concha beach ensure all tastes are satisfied
, before it sweeps you up in its vibrant social whirl. This includes September's glittering International Film Festival – but if that's a little overwhelming, take a wander through the Old Town and up to Monte Urgull instead, for views that put it all in glorious perspective.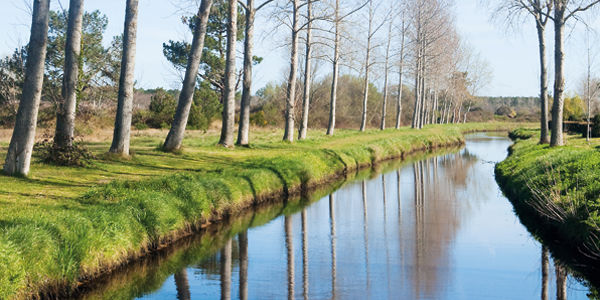 Vieux Boucau les Bains
20 minutes
Vieux Boucau les Bains and neighbouring Port d'Albret may lack the sophistication of chic Hossegor but it's the child-friendly lagoon that's the main draw. With its safe, sandy beaches and water sports, this is a fabulous playground for kids. There's excellent surf & body-boarding too – head to Soustons Plage just south of the lake. And throw in the spectacle of the course landaise, the ancient (and kindest) art of bull runnning, for an unmissable day out.