Explore holidays in Cap Ferret & The Arcachon Bay
Chic Cap Ferret alone would be enough to satisfy the most discerning beach seeker, but there's so much more to unwrap. An afternoon wandering the enchanting oyster villages, marvelling at the opulence of Arcachon's Ville d'Hiver or treating little ones to an afternoon at the aquapark make this a uniquely unforgettable holiday experience. Take in a sunrise from the top of the magnificent Dune du Pilat or add a boat trip around the bay and the routine of normal life will seem far, far away.    
Visit our collection of handpicked villas in Cap Ferret and Arcachon Bay to complete your luxury holiday on the Aquitaine Coast. 
A selection of our holidays in Cap Ferret & The Arcachon Bay
*Prices shown are for a seven-night stay at the lowest accommodation-only rate
Our guide to Cap Ferret & The Arcachon Bay
Introduction to Cap Ferret & The Arcachon Bay
The lie of the land
The Cap Ferret Peninsula is the epitome of carefree elegance, from its quaint oyster-farming villages to chic Cap Ferret village – and with all the unspoilt coastlines and fragrant pine forests in between. On its west side, a 22km sweep of pale golden sand catches the tumbling surf of the Atlantic, whilst its east coast, with more inviting beaches to explore, forms one side of the triangular-shaped Bassin d'Arcachon: a large tidal bay famous for its oyster beds. Arcachon swells out into the base of this triangle, a sprawling town that blossomed in the 19th century under the appreciative eye of Napoleon III who fell in love with it. Two wheel transport is by far the best way to get around; there are hire shops everywhere, and the slower pace adds to the wonderfully relaxed feel that pervades the entire area.
Two sides of the sea
At low tide, the Bassin d'Arcachon is reduced to just a quarter of its original volume and, as the waters recede, they reveal an expanse of tranquil sand banks, mud flats and salt meadows, where boats lie quietly slumbering on their sides, migratory sea birds like itinerant dreams floating above them. The beaches around the bassin are perfect for little ones. They have none of the white horses of the Atlantic coast, although even on the peninsula's wilder side, when the tide goes out, it often leaves shallow lagoons perfect for paddling. And wherever you lay your towel, east or west, the sand is as smooth as silk.
A delicacy that changes everything
Without oysters, the Cap Ferret peninsula could be considered just another upmarket beach destination, but with them, it stands apart. From humble beginnings in the 1860s, the local oyster farms now produce up to 10,000 tonnes a year and villages ostréicoles such as Claouey, L'Herbe and Le Canon grew up to accommodate the farmers, their families – and curious visitors. Their narrow streets invite exploration: tiny wooden cottages sitting shoulder to shoulder, terraces draped with vines and bougainvillea, and, between them, glimpses of blue sea and the spindly wooden stakes marking out the oyster beds. And there are plenty of opportunities for dégustation (tastings) too, with views across the bay.
The City of Four Seasons
Founded by imperial decree in 1857, Arcachon soon became a wellbeing centre for the well-to-do, thanks to its therapeutic, pine-scented air, 7km of lovely beaches (including the much-photographed Pereire) and the glitterati's new-found fondness for sea swimming – and, as it grew, it evolved into four distinct areas. The aptly named Spring Town is home to the source of Abatilles mineral water and Autumn Town, made up of Saint-Ferdinand and Aiguillon, is best known for yachting and fishing. But it's La Ville d'Éte (Summer Town) embracing the seafront and newly-rebuilt town centre, and La Ville d'Hiver, an opulent architectural showcase of immaculate villas, that will vie for your attention.
For tots, teens and in betweens
The coast is a playground that starts with sandcastles and vintage carousels and ends with surfing lessons. There are beach clubs too, such as Cap Ferret's Club Mickey du Phare, with trampolines and supervised fun for ages three to 12. A gentle bike ride through pine forests with a picnic is everything a family holiday should be or rest your legs and take the 'little trains' of Cap Ferret and Arcachon. The local tourist offices are excellent with special rates when you book through them, making attractions such as the Zoo du Bassin d'Arcachon, the waterslides of Aqualand or the Bassin Aventures adventure park even more appealing.
At a glance
Currency

Euro (€)

Flight Time

1h40

Time difference

+1 hour

Language

French

Visa required

Not for UK citizens
Food & drink
A taste of Cap Ferret
This being France, restaurants can be tourist attractions in their own right, not least Chez Hortense in Cap Ferret and Philippe Starck's curiously named La Co(o)rniche in Pyla, but there's no shortage of waterfront venues, sophisticated menus complemented by sea views and informal service. This is a region famous for its seafood – oysters in particular – which you can sample in the cabanes and restaurants of the villages ostréicoles. Piraillan, L'Herbe and Le Canon are among the most well-known, but there are others, including Claouey where the local fishmongers are renowned for offering unpretentious advice.
Cap Ferret has both a chic outdoor market and a fabulous fresh food hall. Loud and lively, it's an unbeatable place for people-watching as well as shopping, with mouth-watering aromas guiding you round its colourfully chaotic aisles. Stalls selling organic produce pop up in Le Moulleau from the first Tuesday in July to the last in August and in Piraillan and Arcachon, there are covered food markets, Les Halles, brimful of local produce. You can also stop there for coffee or a tasty lunch. And, of course, there are pastries galore: try canelés, traditionally made with the egg yolks left over from the port and wine-making process, or dames blanches, gorgeous little choux pastries with cream, icing sugar & sugar crystals.
Cap Ferret tipples
Being near Bordeaux, producer of some of the finest wines in the world, brings a certain je ne sais quoi to the wine lists, although you can try wine tasting with a couple of local producers around Arcachon. For oysters, a glass of the local crisp Sauvignon Blanc is a delicious accompaniment, although bubbles are a popular alternative or even stout. If you're planning to barbecue, grab a bottle or two of clairet rosé: summer in a glass.
For evening drinks with atmosphere, choose one of the lifeguarded beaches on the Atlantic coast which have summer beach shacks serving sundowners – a pleasure for parents in particular who can watch their offspring playing on the sand nearby.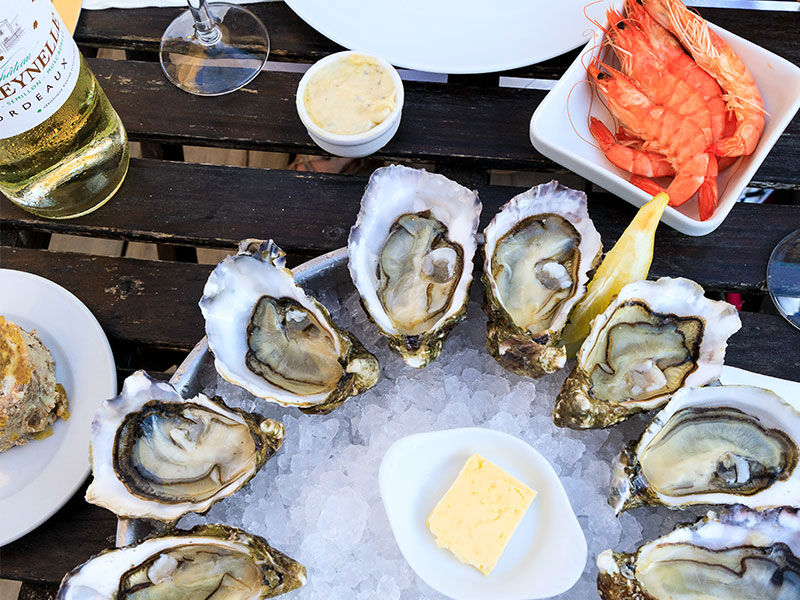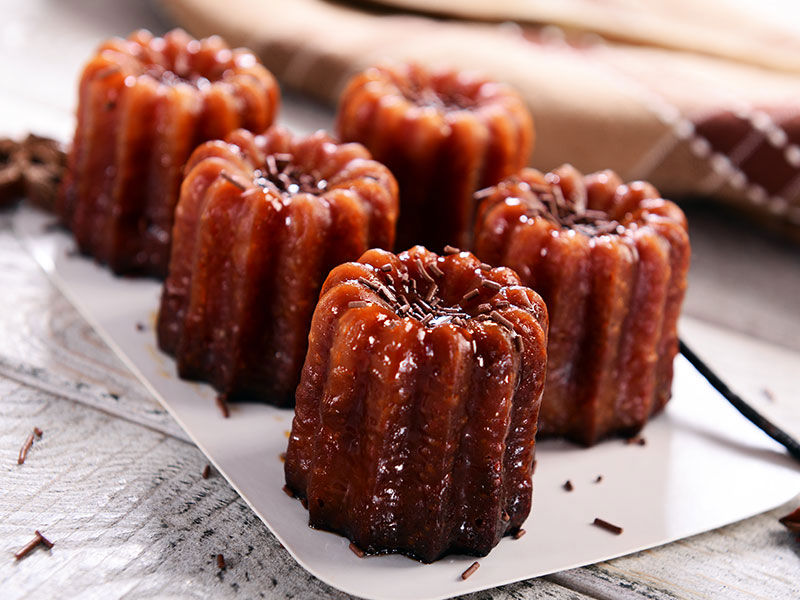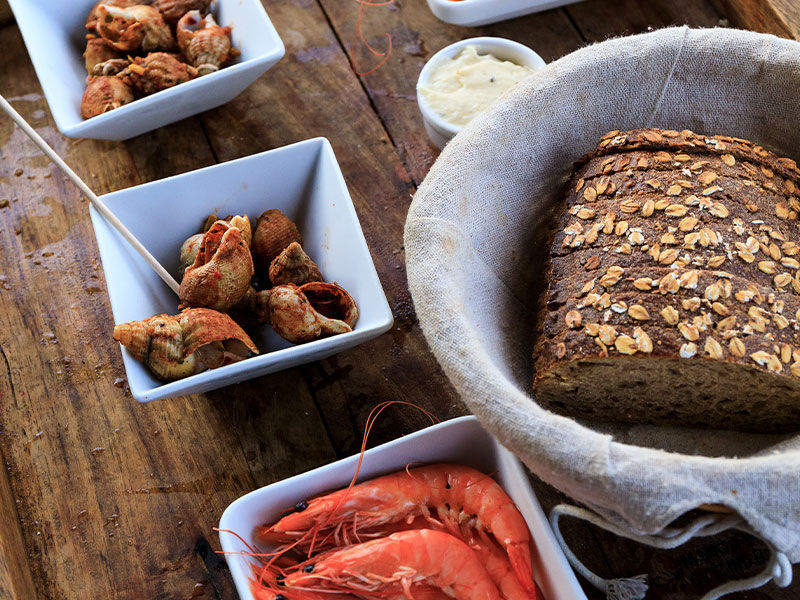 Beaches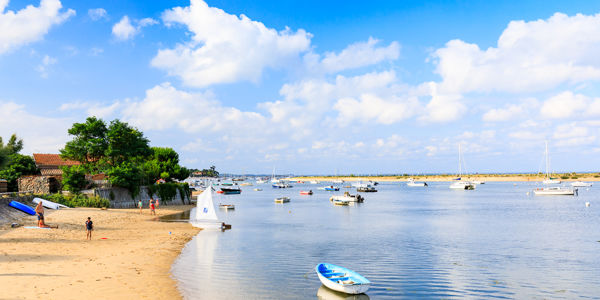 Cap Ferret
Lined with oyster cabanes and home to the ever-popular Club Mickey du Phare, full to bursting with games and activities for children aged three to 12, you can spend a day effortlessly on this family-friendly beach.
Getting there…
Head towards Cap Ferret's Boulevard de la Plage.
Footnotes… 
For a slightly less lively stretch of sand in Cap Ferret, try the smaller Plage des Americains.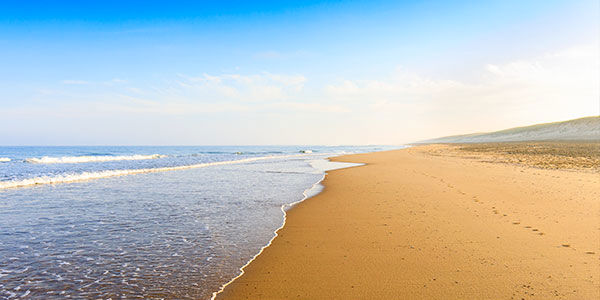 Plage de l'Horizon
The peninsula's west coast is blessed with one uninterrupted, unspoilt stretch of golden sand, with lifeguards present from June to September on three named beaches. This is the nearest of the three to Cap Ferret.
Getting there…
A five-minute drive from town, it's accessible via a boardwalk over the dunes in typical Aquitaine style – or take the child-friendly 'little train' from Cap Ferret jetty. 
Footnotes… 
Indulge in a sunset picnic, watching the surfers catching a few final waves with the evening light sparkling on the sea.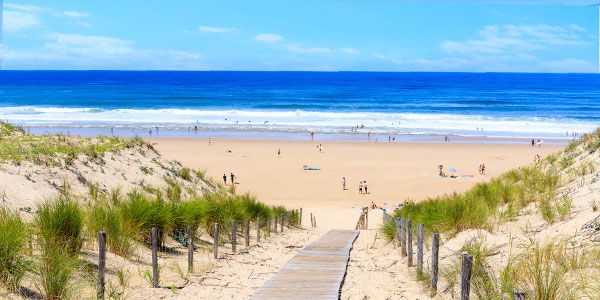 Plage du Truc Vert
The second of the west coast's lifeguarded beaches and, at low tide, families have the pleasure of a toddler-friendly tidal pool in addition to the surfer-friendly waves, considered some of the area's best.
Getting there…
Near Piraillan and a ten-minute drive from Cap Ferret, the beach is accessible via the Avenue du Truc Vert, along a lovely forest walk up and over the dune.
Footnotes… 
After an invigorating dip, you can buy all the necessary refreshments from the popular café-cabane on the beach.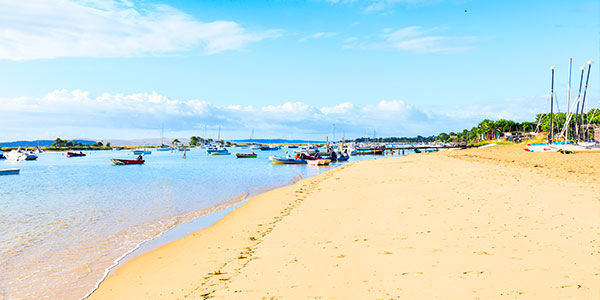 Plage de Bertic
Being next to the oyster village of Claouey, with its shops and daily market, this child-friendly stretch has the added advantage of fresh seafood lunches a short stroll away, as well as its own cafés.
Getting there…
Plage de Bertic is a 20-minute drive from Cap Ferret.
Footnotes… 
From July to September, children can enjoy the pine-shaded play space of the beach's Club Baloo, with its swings, trampolines, games and workshops, plus a heated pool for swimming lessons.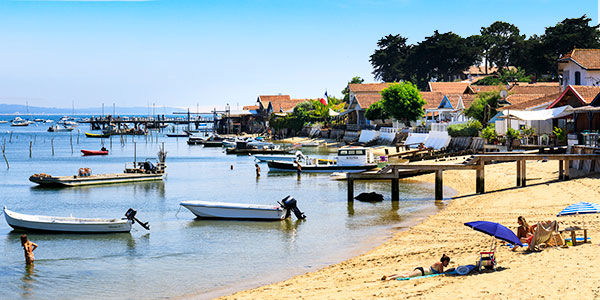 L'Herbe
Visit in the morning to see the splendid beachfront villas bathed in sunshine. This is also the perfect beach hangout once you've explored the colourful oyster village.
Getting there…
You'll find easy access through the village, which is about 10 minutes by car from Cap Ferret.
Footnotes… 
Don't miss the waterfront Chapelle de la Villa Algérienne at the southern end of the Boulevard de la Plage, built for both Muslims and Christians.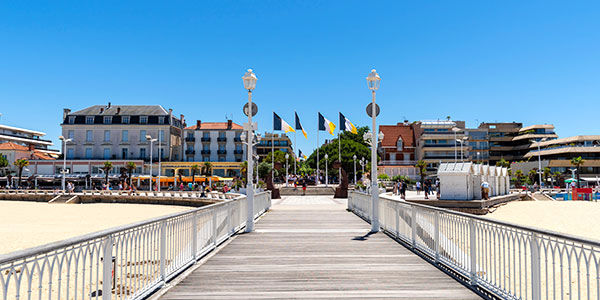 Plage Thiers
Divided in two by the retro-style Thiers pier, a popular sunset spot, this is Arcachon's main beach and a section of the 7km of fine sand on offer to local sun worshippers.
Getting there…
Extending along the Boulevard de la Plage, between piers Eyrac and Thiers, the beach is right in front of the town itself.
Footnotes… 
There's plenty to do if you get beach fatigue, with the Palais de Congres, a casino, Château Deganne and the Aquarium Museum nearby.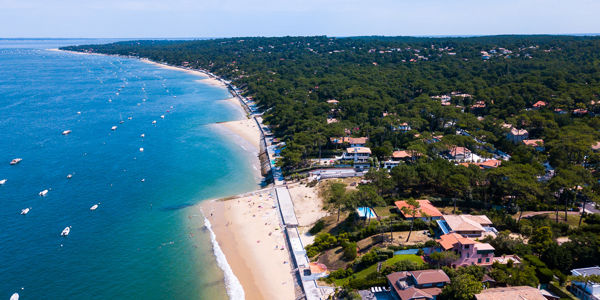 Plage Abatilles (Pereire)
A dream for tiny tots and bordered by a pedestrian promenade, this picturesque 3km beach has blissfully calm waters and sand banks for play at low tide, as well as sea breezes fit for kite and wind surfing at the southerly end.
Getting there…
About a five-minute drive from Arcachon centre, the beach stretches from the town to the jetty at Le Moulleau.
Footnotes…
The centre of the beach backs on to the Parc Pereire for shady walks out of the hot summer sun.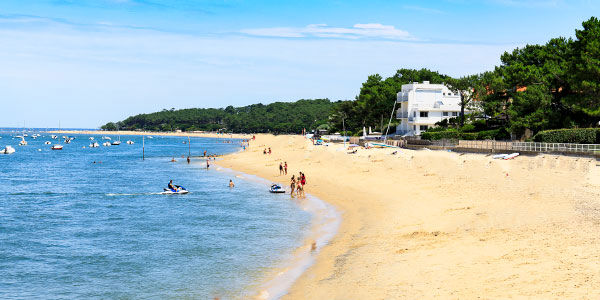 Plage du Moulleau
For little feet, the soft white sand and paddling potential make this beach an excellent choice, that's made even better by the trampolines, toys and games of the children's club.
Getting there…
The beach runs the length of Moulleau. You can get a boat here from Cap Ferret.
Footnotes…
Waterfront restaurants, boutiques and cafés make this a chic and vibrant spot to slip fully into holiday mode, with boat trips also on offer from the jetty.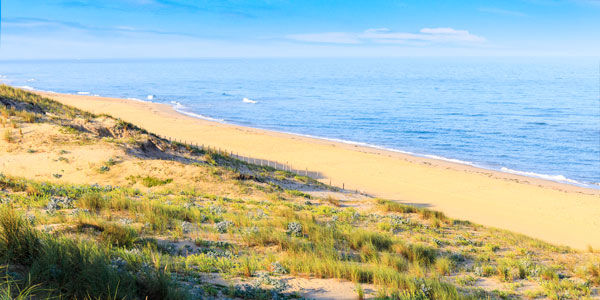 Le Petit Nice
Corniche beach lies at the foot of the majestic Dune du Pilat, but to the south, opposite the Banc d'Arguin, is this lovely tucked-away alternative with several restaurants and a picnic area.
Getting there…
The drive is about 90 minutes from Cap Ferret or 20 minutes from Arcachon and you can also get a boat to the dune from both.
Footnotes…
French fries rarely taste as good as in this idyllic spot and if there's any diet-related guilt, work off the excess with a climb to the top of the dune for sunset.
Things to do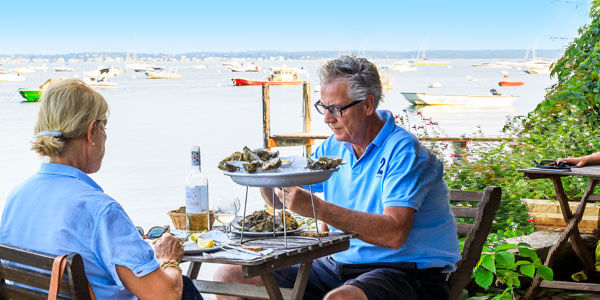 Go oyster tasting
The oyster beds are passed down through the generations and if you visit one of the farming villages for a tasting, you may well be served by one of the family. Informal cabanes and more upmarket restaurants set the scene for these fresh-from-the-sea delicacies.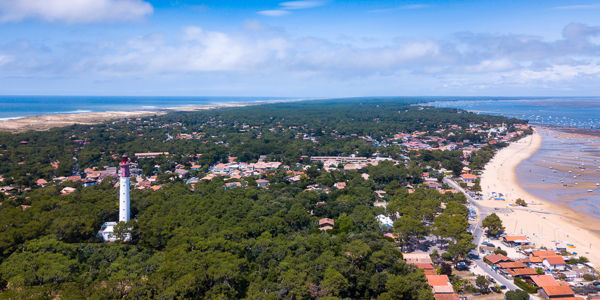 Climb the lighthouse
Get your bearings from the top of the Phare du Cap Ferret: 258 steps of time well spent for the views across to the Banc d'Arguin wildlife reserve and Dune du Pilat. On summer weekend evenings, it's also an atmospheric venue for free outdoor concerts.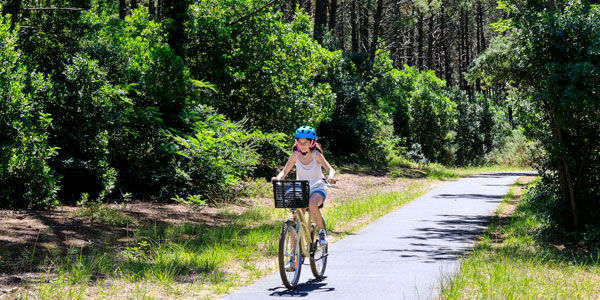 Take to the cycle trails
Two wheels can take you all the way from Cap Ferret to Arcachon – 190km along the coast – but shorter forays along the pine forest trails offer welcome respite from the sun and hiring a bike, electric or otherwise, is never a challenge.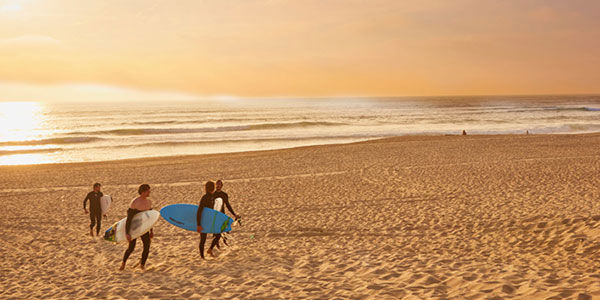 Learn how to surf
South of the Dune du Pilat near Arcachon, and along stretches of the Atlantic coast, the impressive waves offer an open invitation to surfers and bodyboarders. Lessons and equipment hire can be arranged in Cap Ferret.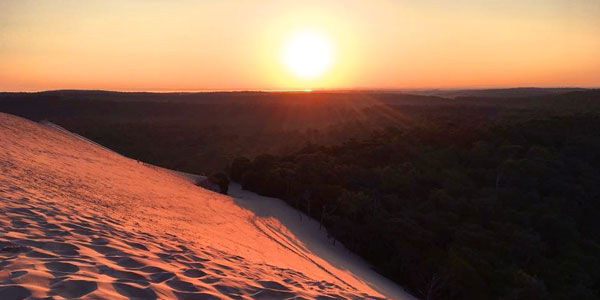 See sunrise over the Dune du Pilat
In 1855, Europe's largest sand dune was 35m high; now it's 110m. Steps take you up to the summit of this otherworldly landscape, overlooking dense forests and the sand island of Banc d'Arguin that seems to float above the water. At dawn it's magical.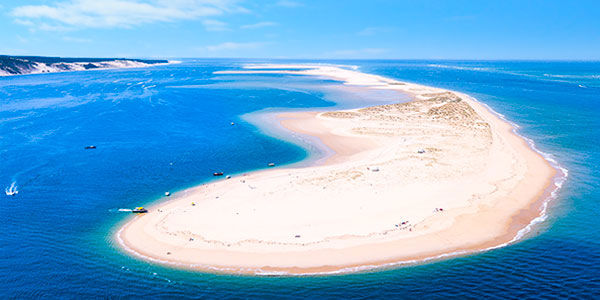 Picnic on the Banc d'Arguin
In July and August boat trips from Cap Ferret or Arcachon will whisk you away to this protected nature reserve, a sand bank that's constantly changing shape due to the wind and currents. Take food, shade and sun block and leave only footprints.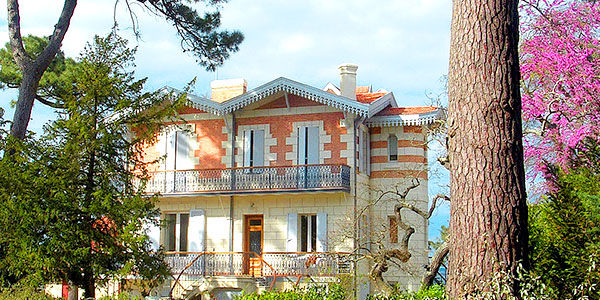 Tour Arcachon's Ville d'Hiver
See how the other half live in this luxurious melting pot of Moorish, Neo-Gothic and Colonial-style architecture, built in the 1800s to allow residents to benefit from the therapeutic air. A little train or guided walking tour will take you around.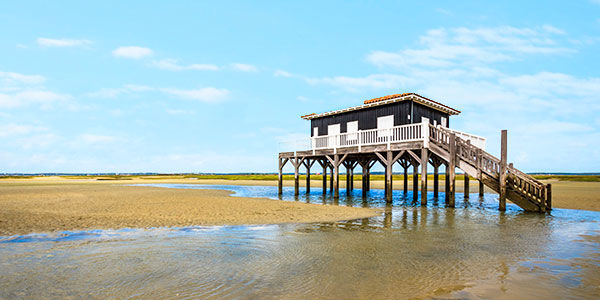 Sail around 'Bird Island'
This fascinating boat trip from Arcachon includes L'Île aux Oiseaux, a feeding ground for migrating sea birds, and the famous cabanes tchanquées, two picturesque wooden houses on stilts above the water, once used by oyster farmers.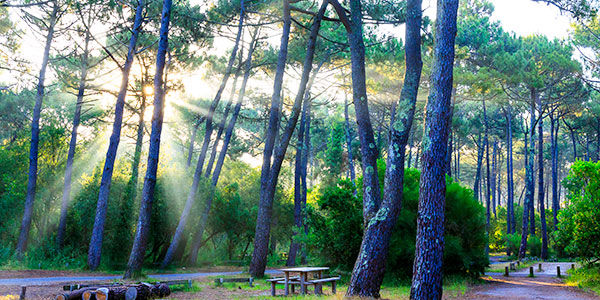 Go adventuring together
Bassin Aventures near Arcachon is a gift for families with climbing walls, tree-top walkways, zip wires and playgrounds for all ages – and you can stay all day with a well-stocked café 
(www.bassinaventures.com). Alternatively try the accrobranche high ropes centre in Petit Piquey on the Cap Ferret Peninsula.
Events
Throughout the summer
Les Soirées du Phare
Organised by the Culture Minister, these free open-air concerts at the Cap Ferret lighthouse are an easy way to catch the summer vibe every Saturday and Sunday evening.
What's on in June
Jumping des Sables, Arcachon
The best riders in the country battle it out on the sand with jumping and races at low tide. Visit the town tourist office for details.
Fête de la Musique, 21 June
Celebrated in 100 countries, this festival began in 1982 and brings together many different genres of music, from jazz and soul to pop and rock. 
What's on in July
The Cap Ferret Music Festival plays host to internationally renowned virtuosos of classical music, performing in beautiful open-air venues, including Le Canon village. For dates visit www.capferretmusicfestival.com.
14 July: Bastille Day commemorates the storming of the Bastille, a turning point in the French Revolution, this public holiday is enthusiastically celebrated across France, with fireworks, music and plenty of food and wine.
Fête de La Presqu'Ile, 3-5 August
Held in Claouey's Place de Bertic, this weekend oyster festival comes with live music and a firework display on the Sunday evening.
Les Fêtes de la Mer, Arcachon, 14 & 15 August
In a region inextricably linked to the sea and its maritime traditions, this is a lively event that includes religious ceremonies as well as banquets and fireworks. Take a yellow scarf!
Fête de l'Herbe, dates vary
A particularly child-friendly option with beach games, competitions and fairground attractions, as well as music and fireworks as the grand finale. For details, visit the tourist office in Claouey.
What's on in September
Festival Cadences d'Arcachon, dates vary
Flamenco, hip hop, ballet and contemporary dance performances take to the stage at this annual festival, in various indoor and outdoor venues. Visit www.arcachon.com/festival_cadences.html for details.
Journées Européennes du Patrimoine, 15 & 16 September
Across France every year, around 17,000 monuments and private buildings open their doors to the public. Visit the local tourist office for details and journeesdupatrimoine.culture.gouv.fr
Cap Ferret Cup 2, 22 September
A surfing and bodyboarding competition (the first of the year is held in May) that's open to everyone and held on Cap Ferret's Plage de l'Horizon from 9am to 5pm.
The Road Less Travelled
A table with a view 
Chez Hortense is a Cap Ferret institution – the place for ultra-fresh, perfectly-prepared seafood; accompanied by copious quantities of frites and a little drop of what you fancy. The best chance of a table is a visit at midday. The views across the bay to the Dune du Pilat are to die for and the impeccable table manners of the French children will leave you weeping into your rosé.
Sweet local treats 
In the Arcachon Bay they like to do things a little differently, and for sugary tea-time beach snacks, the locals have a few delicate treats up their sleeve. Macaroons are taken to a new level of colourful artistry, whilst the tiny caramelised custard canelés are utterly exquisite. And for a taste of heaven try the Dunes Blanches unique to Chez Pascal - little clouds of choux pastry, filled with whipped cream and topped with icing sugar and sugar crystals.
Live by the rhythm of the tides 
Every 12 hours or so an astonishing 400 to 800 cubic metres of water passes in and out of the Bay of Arcachon. Oyster-farmers go with the flow, allowing tide tables to guide their daily activities and we think living by the rhythm of the tides is the perfect way to plan a day here. On the ocean side, low tide is a time for pottering in the flats, building sandcastles and playing in the tidal pools. Bay-side, high tide is the time for swimming, paddle-boarding and oyster-tasting at a beach-side shack with the water lapping at your feet. 
Two Notre Dames and a Moorish Chapel
The Bay boasts two Notre Dames, both with breath-taking stained-glass windows yet architecturally entirely different. Arcachon-style Notre Dame des Passes above Le Moulleau gazes over to the modernist masterpiece of Notre Dames des Flots on the opposite shore in Cap Ferret. The Villa Algérienne in l'Herbe is a delight, both for its colourful architecture and its unique story as a place of worship for Christians and Muslims alike.
Life in the Autumn Town 
Arcachon is well known for its Ville d'Hiver, a district of ornate late 19th century mansions, while the beaches and seafront restaurants of its summer town, the Ville d'Eté, are never overlooked. But for a taste of local life, head over to the Ville d'Automne and its chief district l'Aiguillon. This charming port-side area, favoured by locals for its boutiques and authentic bistros, is a wonderful spot to enjoy the menus du jour - ridiculously good value for lunch - and afterwards take a stroll around the marina and marvel at the luxurious yachts and cruisers.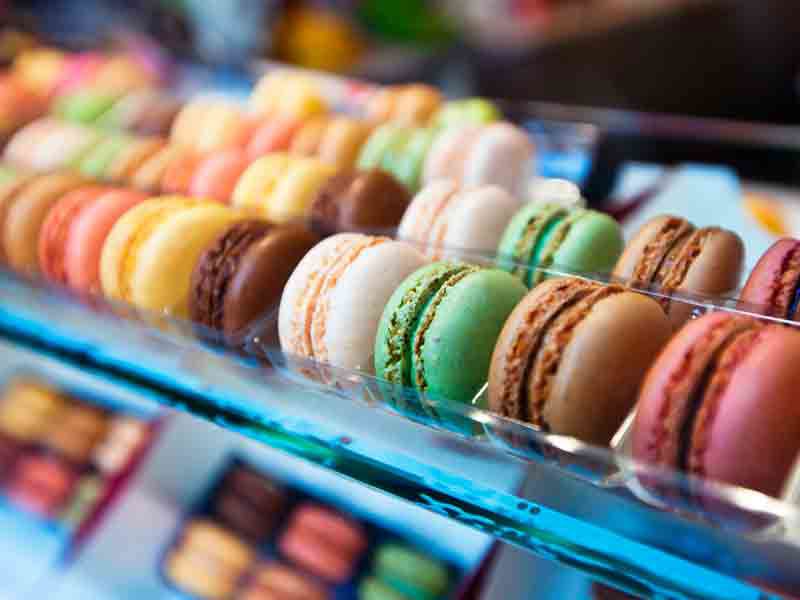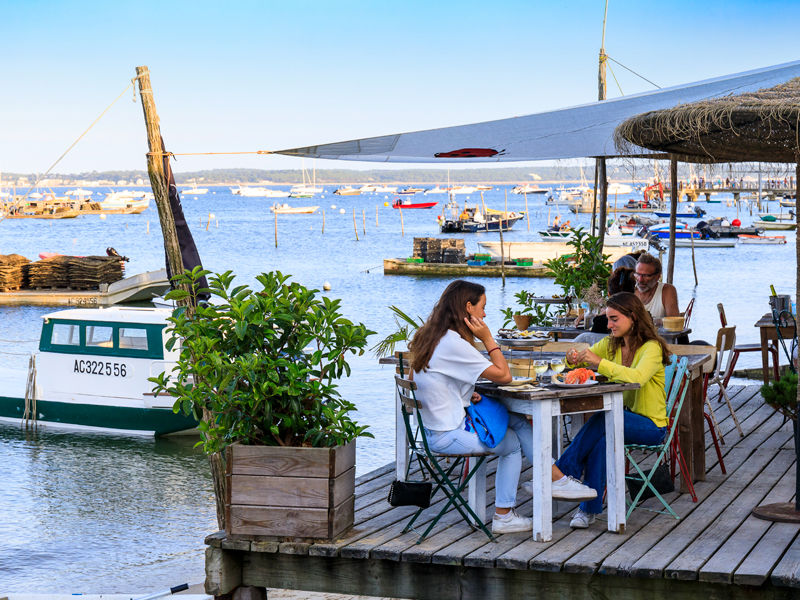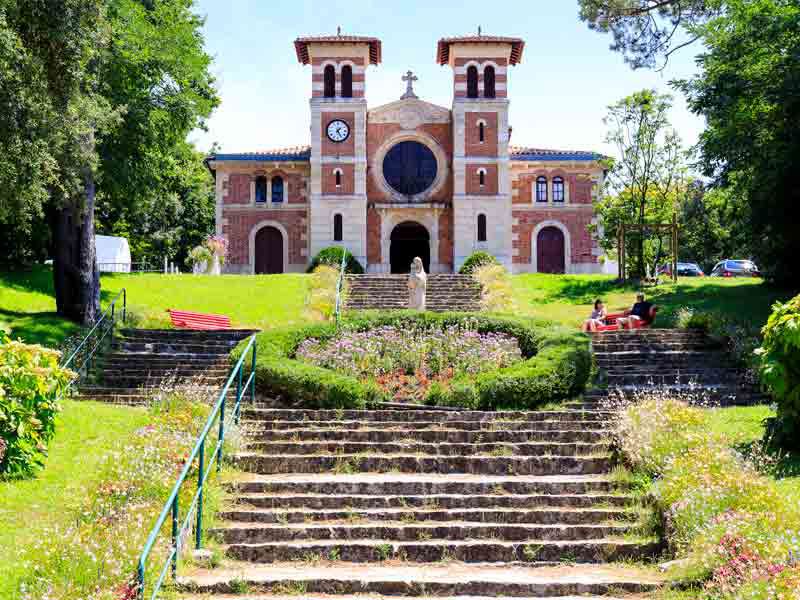 Towns & Villages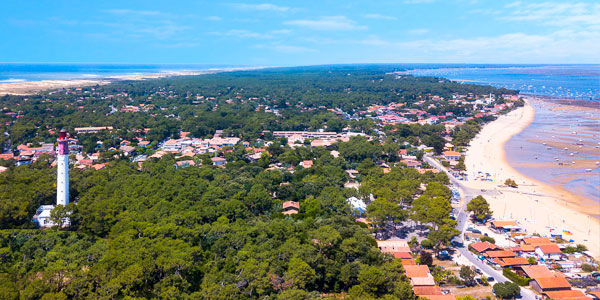 Cap Ferret
The epitome of beach chalet chic, Cap Ferret is an authentically French resort. Elegant home accessories stores and 'be seen in' cafés sit alongside the boutiques, surf school and bike rentals of the main Boulevard de la Plage and restaurants are signposted on every corner. You'll also find treats at the daily market, fresh oysters in the quartier ostréicole and a fine layer of sand in your hire car when it's time to leave, because this is laid-back beach life at its finest.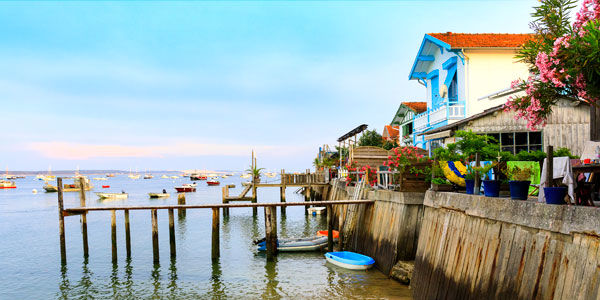 Piraillan
10 minutes from Cap Ferret
In addition to a thriving oyster port and 'les réservoirs' nature reserve, where a guided walk can be a fascinating way to spend a few hours, Piraillan, is an excellent stop-off for shopping. From June to September, its daily market sells everything from hats to furniture, with an abundant harvest of local produce in its covered food hall. Walk along the beach, divided neatly by wooden breakwaters, and you can also window shop the impressive holiday homes along the waterfront.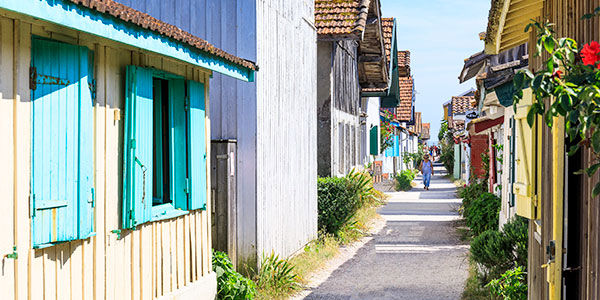 Le Canon & L'Herbe
10 minutes from Cap Ferret
Two of the most high-profile villages ostréicoles, and close neighbours, the presence of farming machinery as well as flowers and stylish waterfront restaurants testify to the fact that these beautiful villages have function as well as form. Le Canon's oyster quarter is blessed with a particularly photogenic main street, while L'Herbe is a UNESCO World Heritage Site, which features the grand Hotel de la Plage, a fine example of Cap Ferret architecture, with a casual outside seating area for drinks.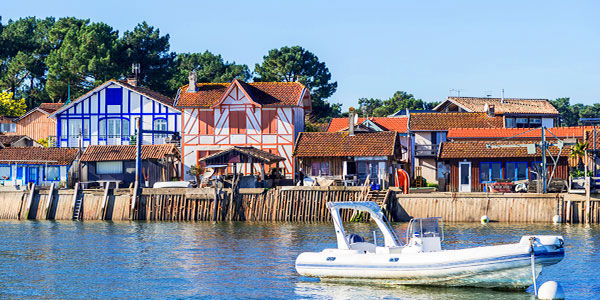 Claouey
30 minutes from Cap Ferret
Near the Arès Salt Marshes, an excellent spot for turtle and lizard spotting, this thriving oyster village has the toddler-friendly Plage de Bertic right on its doorstep, home to the children's club Baloo. With little ones entertained, an indulgent massage at the nearby Domaine du Ferret Balnéo & Spa becomes an inviting option – if a walk along the coastal path, tennis or a SUP session don't distract you first. On a practical note, you'll find the peninsula's largest supermarket here too.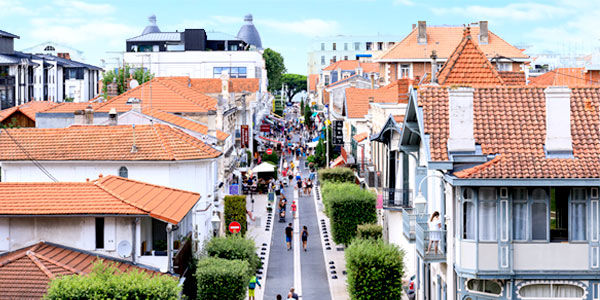 Arcachon
90 minutes from Cap Ferret (30 minutes by ferry or water taxi)
Variety is the spice of life in Arcachon, from the Ville d'Hiver's magnificent quirkiness to the vast 1960s marina, with a waiting list for moorings of 30 years. The Thiers jetty is a social focal point and the starting point for boat trips, whilst the recently modernised shopping district has its own selection of bars and restaurants. From there, you can also take the lift to the peaceful 19th-century Park Mauresque, its observatory designed by Eiffel and offering impressive views across the bassin.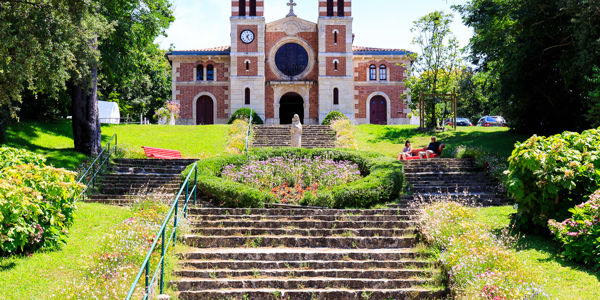 Pyla & Le Moulleau
90 minutes (30 minutes by ferry or water taxi)
Although they're considered part of multi-faceted Arcachon, these two areas have their own identity, the former known best for the towering Dune du Pilat and various exclusive, leafy neighbourhoods. Smart Le Moulleau, built around a cross roads, is a popular night spot with a bijou collection of bars and restaurants. It's presided over by the impressive Notre Dame des Passes church, but you may prefer to turn your devotions towards the organic food market, ice-cream parlours, upmarket boutiques or a surf school.