The grace of Gordes
With its film-star good looks and impressive history, the ancient, caramel-coloured town of Gordes is one of the most desirable addresses in the region. Taking a break from villa inspections last summer, we enlisted the help of a local friend to discover the full extent of its appeal.
We visited Gordes early in the morning, during that quietly industrious hour when window boxes are watered, table cloths are straightened and glasses are polished in anticipation of a connoisseur's lunchtime scrutiny. This is a place that knows it's queen of the realm, and makes no apology for it amongst the 100K sports cars and gourmet restaurants that stake their claim on narrow cobble-stoned streets where property prices are as high as Paris. Gordes welcomes all its many visitors equally however, and there are certainly plenty of reasons to come here.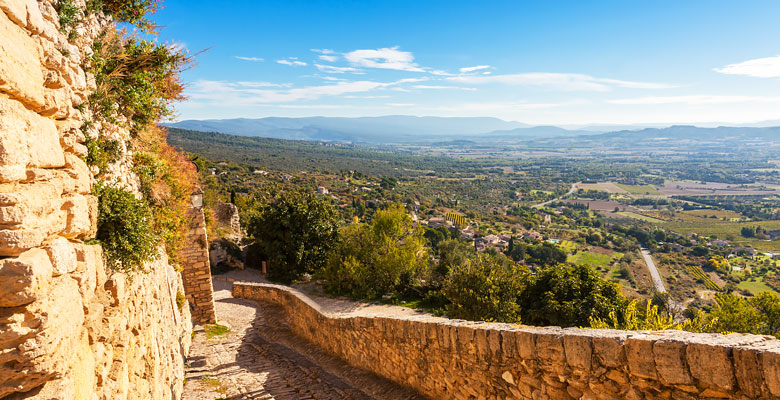 Foodies and photographers
Camera phones have made photographic artists out of all of us, and you'll find endless inspiration here, starting with the view across the town as you approach from below. The pale golden buildings seem organically rooted into the steep hillsides, and the logic of building in such a spot is abundantly clear. The nearby Abbaye de Sénanque (5km) is irresistibly photogenic, especially if you arrive when the lavender is in bloom between mid-June and early August. You will almost always eat well in Provence, but the produce here is exceptional, with local honey and olive oil featuring heavily on menus and in shops. There are restaurants to suit most budgets, but this is a place where fine food is revered and chefs compete to add their own unique touch to classic local cuisine. Booking is always recommended.
If you're more of a picnic person, the Tuesday market is the place to shop for sun-warmed strawberries, nectarines and melons, field-fresh salads and a bewildering array of salamis and cheeses that you'll be enthusiastically invited to sample. For other tasting opportunities, there are vineyards all around, including the celebrated Château Lacoste, around 30 minutes from Gordes. Pick up a bottle of two of local rosé for your picnic and cancel your plans for the rest of the day!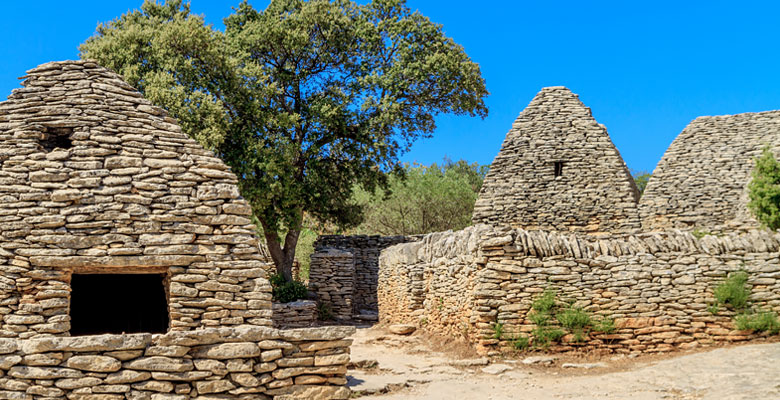 2,000 years of history
This unassailable site has been inhabited since prehistoric times. Close to Gordes you can visit the Village des Bories, a fascinating open-air museum of domed, dry-stone buildings created using a technique that dates back to Neolithic times. The museum provides an interesting glimpse of ordinary life from the 7th century, with stables, barns, dwellings and bread ovens all carefully preserved. There are Roman remains in Gordes itself, and an impressive 11th-century castle.
Gordes is perhaps better known for its more recent history however: this strategic stronghold was a centre for the French Resistance movement during WWII, and the local inhabitants were horribly punished by the occupying Germans for their support of the Maquis fighters. The entire village was awarded the prestigious Croix de Guerre medal in recognition of their bravery and resistance.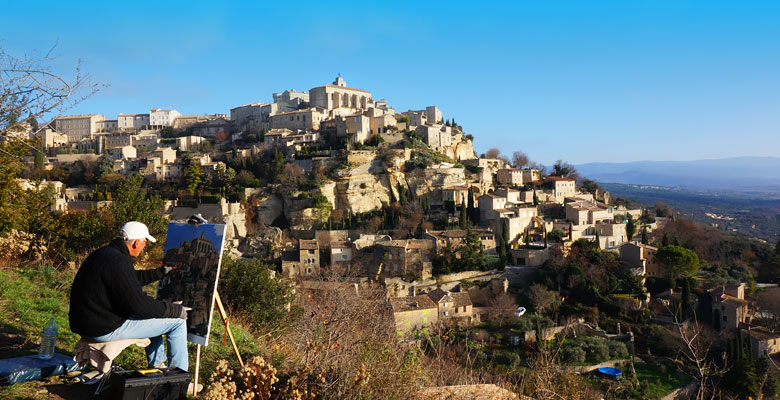 Artists impressions
Author Peter Mayle branded Gordes as "the most spectacularly beautiful" of all the villages in the region, and it has inspired great names such as Marc Chagall and Cubist André Lhote. Gordes continues to host a thriving artistic community today, with a wealth of studios and galleries where you can admire and buy watercolours, oils and sculpture inspired by the surrounding landscapes.
---
Where to stay: Maison de Gordes, Mas de la Borie and Mas des Cyprès are all within comfortable walking distance of Gordes centre.