A North to South guide to Corsica's beaches
A North to South guide to Corsica's beaches
Wondering where to stay to make the most of Corsica's fabulous array of stunning beaches? The choice is yours with our handy North to South guide of the best of the best.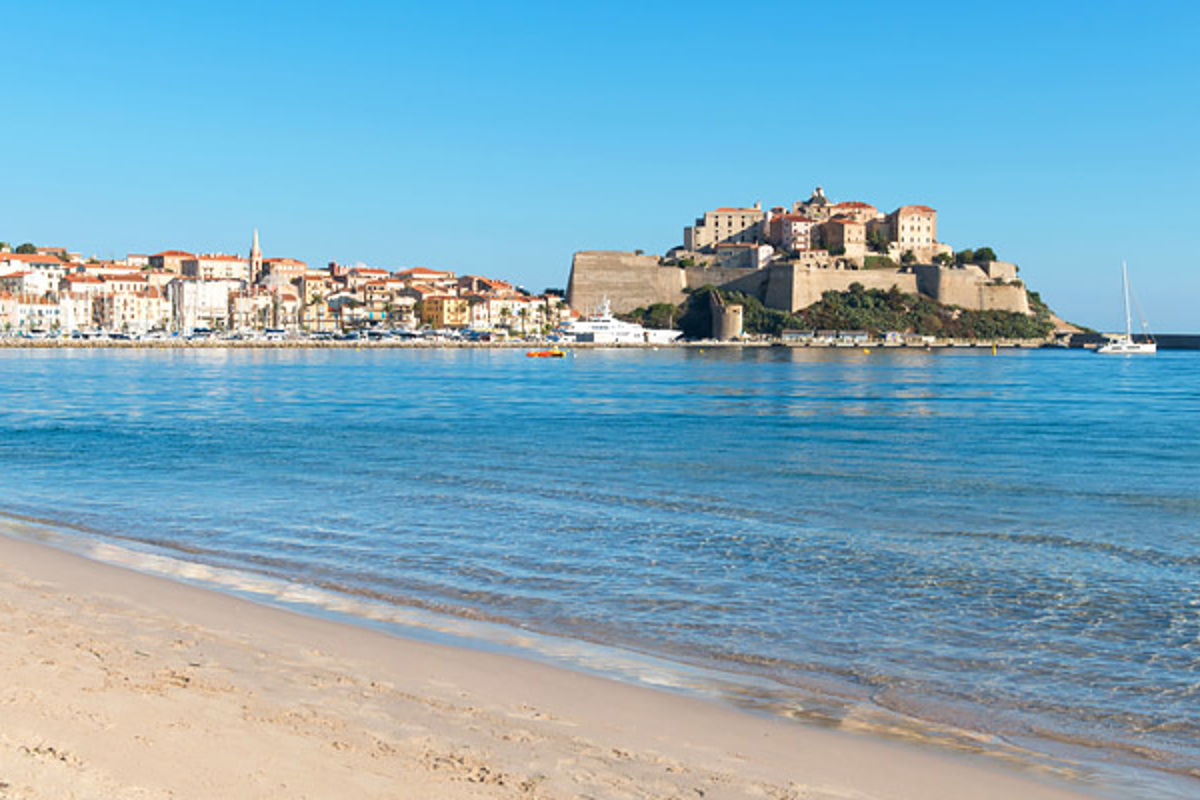 Calvi beach: the queen of the North
The main beach of this charming resort is an impressive five miles of soft golden sand, dominated by a fortified citadel with a further back-drop of distant snow-capped peaks. Calvi is the largest and probably the most photographed resort on Corsica, but there's always space on its huge beach even in the height of summer, with the added benefit of excellent places for coffee, lunch or a full-on French gourmet dinner nearby.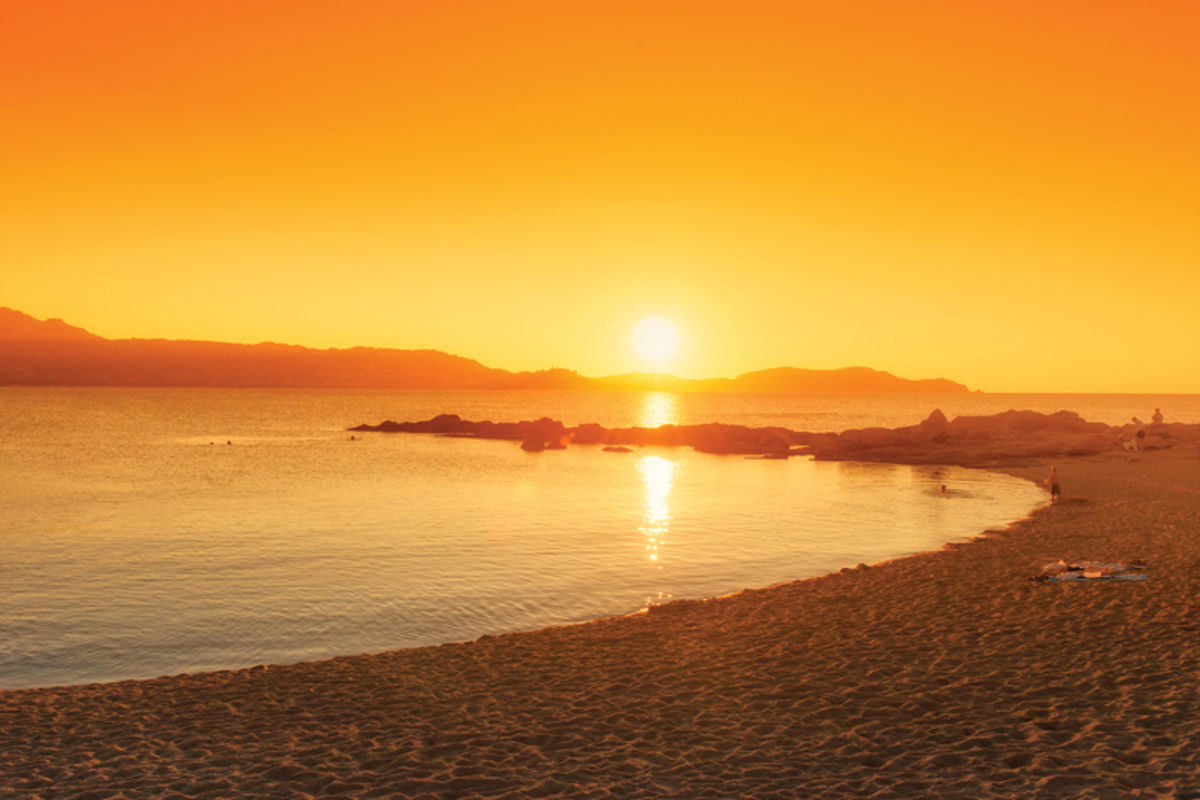 Arinella beach: spectacular sunsets
Enclosed by flat rocks which are brilliant for adventurous little ones to scramble over, this sandy beach nestles below the village of Lumio, with distant view to Calvi citadel. It faces west, which means day-long sunshine and spell-binding sunsets. If you'd like to linger here with a bottle at sun down, take the handy train from Calvi and alight at the "Plage Arinella" stop. Lumio, meaning 'light', is one of the loveliest of all the Balagne villages.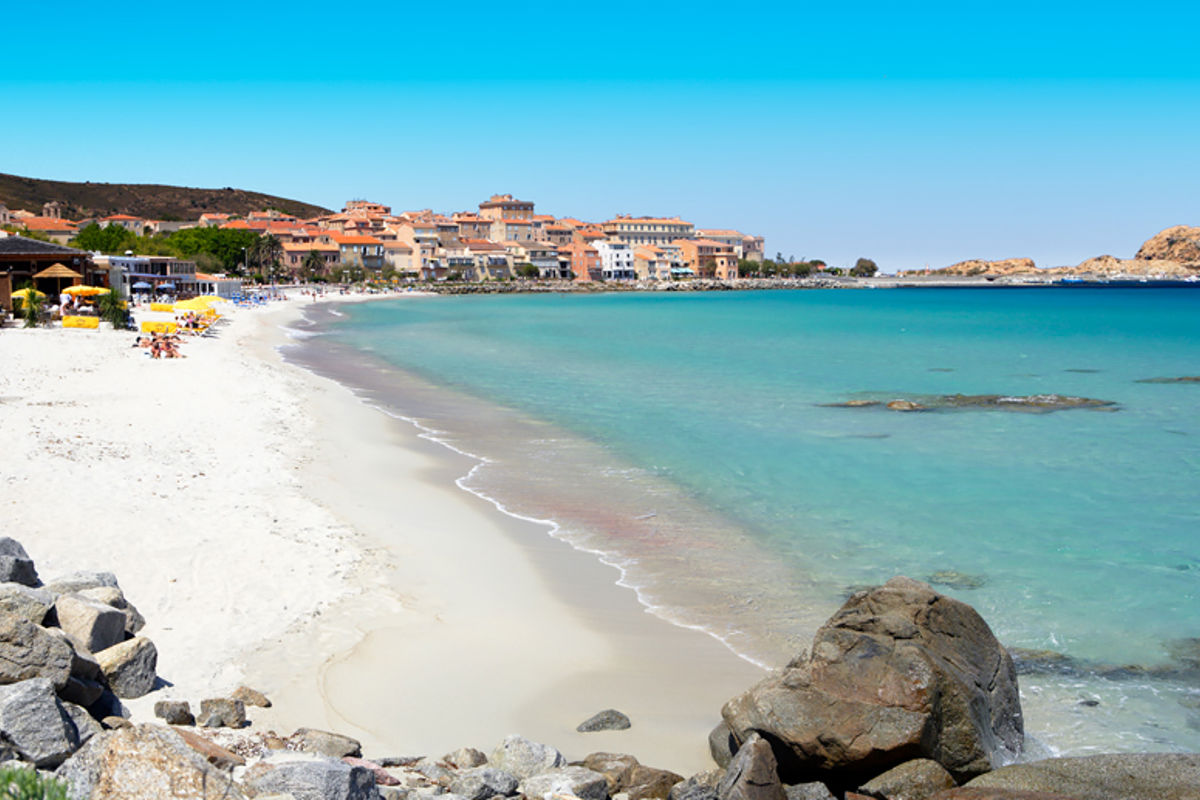 Île Rousse: old-world sophistication
The town of Île Rousse – literally the Red Island – takes its name from the distinctive red rocks which are such a feature of this coastline. Its beach is a chic spot to sunbathe with spotless sand, bright, clear water and historic buildings lining the promenade. Île Rousse has the bustling yet laid-back atmosphere of a classic Provençal town, filled with traditional small shops, cafés and bars which cater happily to visitors and locals alike.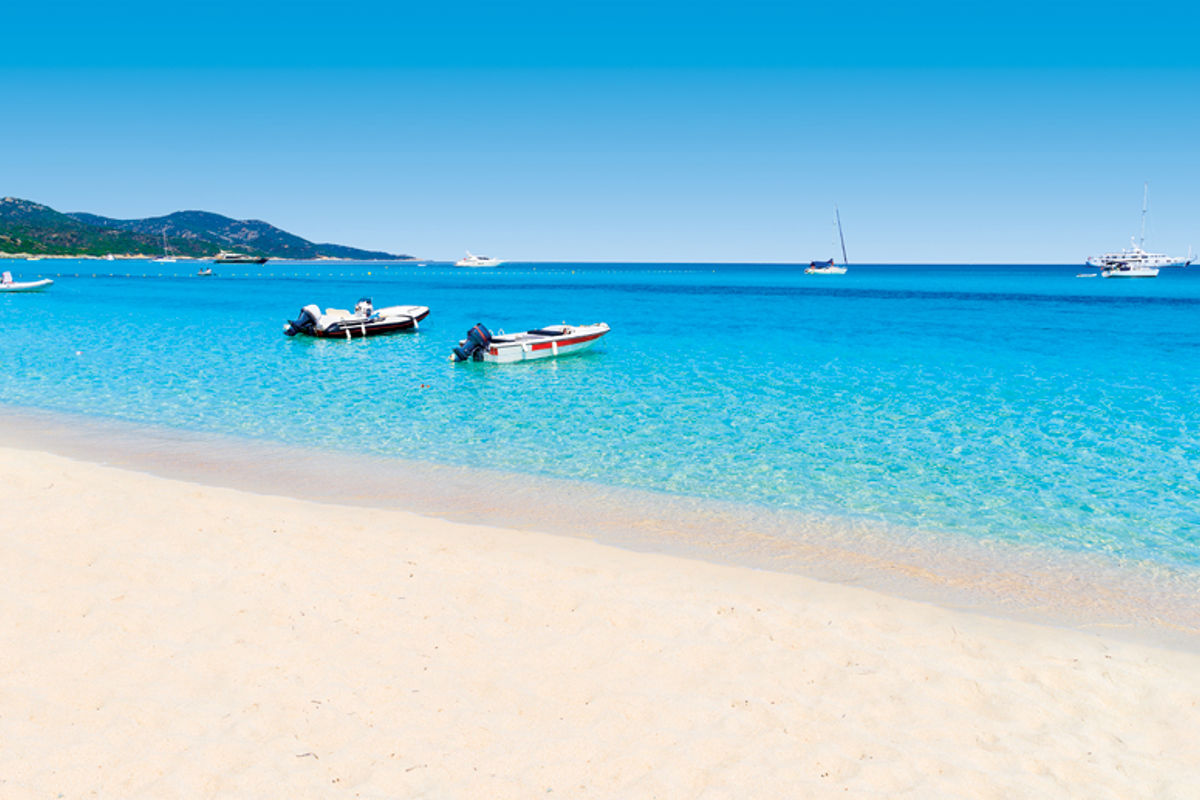 Saleccia Beach: 1000m of pristine white sand
Situated west of St Florent and accessible only by boat or 4x4, this wild beach was featured in the film The Longest Day. The untouched landscape which attracted the film-makers will appeal to couples and anyone looking to escape the crowds in high season, and a day trip here makes a good contrast to the comparative sophistication of nearby St Florent. There are no beach facilities and little shade however, so do come prepared.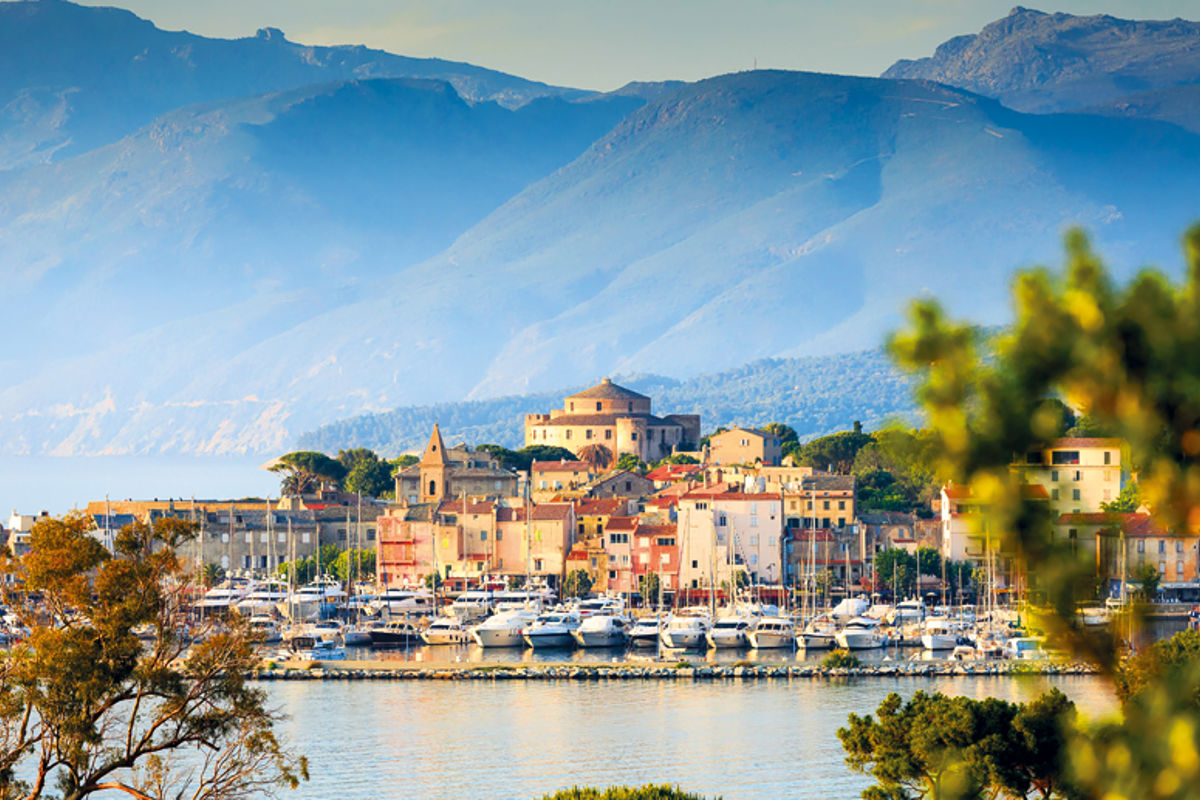 La Roya: St Florent's handy town beach
Cap Corse has some spectacular beaches, especially the more isolated ones, but sometimes it helps to be somewhere with all the facilities easily to hand. La Roya can be reached on foot from St Florent town, ideal if you have younger children or just want an hour or two on the sand. There are plenty of watersports available, including sailing, windsurfing and various motorised options. The beach is very family-friendly and therefore does get busy in July and August.
Southern Corsica's top ten beaches


A recent Tripadvisor vote named three of southern Corsica's beaches – Santa Giulia, Palombaggia and Petit Spérone – on their Best Beaches in France list. Here's our guide to these special spots, plus a few others you might not have heard of.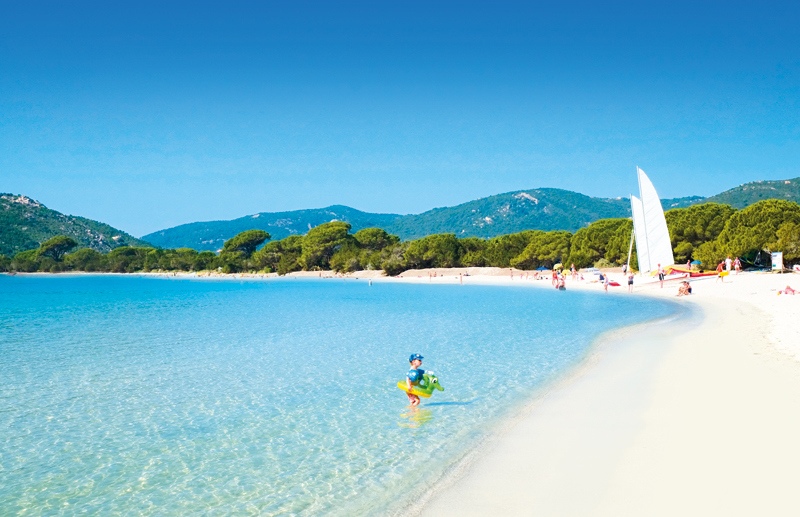 Santa Giulia

Fall in love with… The crystal clear water and fine white sand. Pretend you're in the Caribbean – the photos won't suggest otherwise.
The beach experience… This long, horseshoe-shaped bay has a 'lagoon' feel, with calm waters and shallows that are perfect for paddling – and during peak season there's a lifeguard on duty too. You'll also find a variety of restaurants, cafés and bars, with loungers and parasols to rent at the Bar de la Plage. Most watersports are available here and, in August, the beach ups the ante with the Porto Vecchio Music Festival.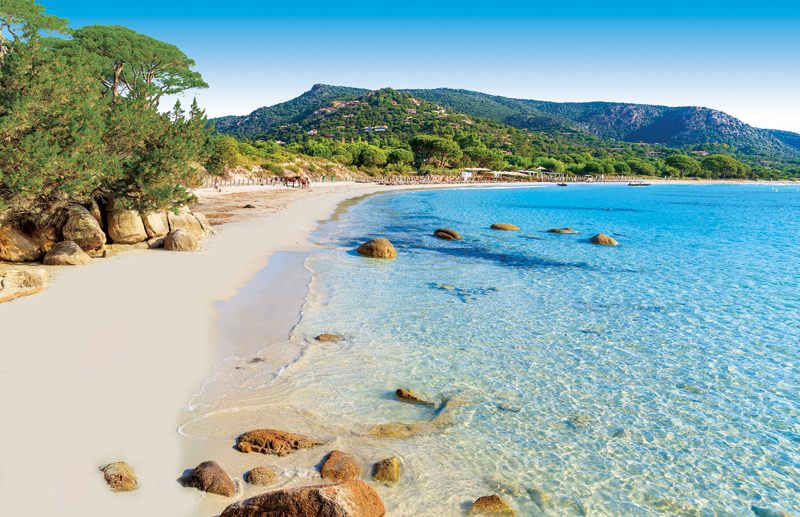 Palombaggia

Fall in love with… the high life. This is the place to be seen, with beach clubs, waiters bringing drinks out to your sun lounger and on-beach massages and manicures.

The beach experience… The most famous beach on Corsica, Palombaggia also echoes the Caribbean with its pale sand and clear, shallow waters, making it particularly child-friendly. Pine trees provide shade and the red-hued rocks are a haven for sea life. Asciaghju (or 'Acciaju'), the western-most cove, is the quietest. Come evening, you can sit and listen to live music, Corsican style, in one of the romantic beach-side restaurants.
Petite Sp

é

rone

Fall in love with… the peace and quiet.
The beach experience… It's more remote, but this beautiful cove is worth the effort. You'll pass Golf de Spérone, the Robert Trent-Jones-designed course, and walk along Piantarella Beach, which is also the departure point for the boat to the private island of Cavallo. Petit Spérone itself is further on, past some Roman ruins. It's small with a backdrop of hills, fine white sand and deeper water for swimmers. There are no facilities here, so don't forget water and a picnic.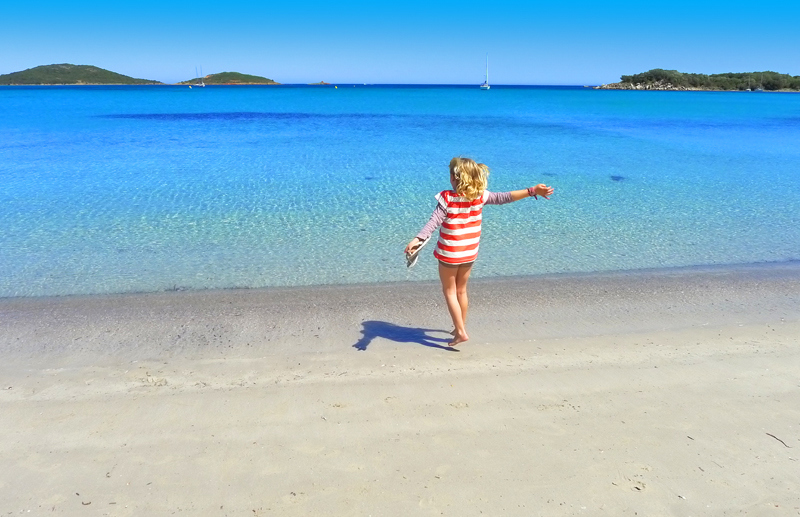 St Cyprien

Fall in love with… miles of fine sand, with restaurants and watersports at one end.

The beach experience… St Cyprien is a beach of two halves, extending several kilometres around a sheltered bay. At the southern end you'll find restaurants, watersports and a few village shops, while at the northern end, away from the parking areas, the feeling is much wilder. As it's a little further from Porto Vecchio than the other popular beaches, it tends to be a little less busy.
Pinarello

Fall in love with… the family-friendly, laid-back atmosphere.

The beach experience… Generous shallows made for paddling, over a kilometre of fine, soft white sand and plenty of shade make this sheltered gem a lovely spot for a relaxing day with little ones. Pinarello also has a small water sports school which offers sailing lessons in high summer, or you can rent a little motor boat to putter around the bay. The attractive and surprisingly sophisticated village has a small selection of tempting places to eat and drink.
Campomoro

Fall in love with… the tranquillity and sunset views.
The beach experience… Located on the South Coast of the Valinco Gulf and backed by the small sleepy seaside village of Campomoro, this secluded bay is one of the most peaceful in Corsica. Its warm, shallow waters and soft, golden sand make it an ideal spot for younger children, and outside of July and August there are hardly any tourists to be seen. In the cool of the evening, take a walk to the Genoese tower for sweeping views and stunning sunsets.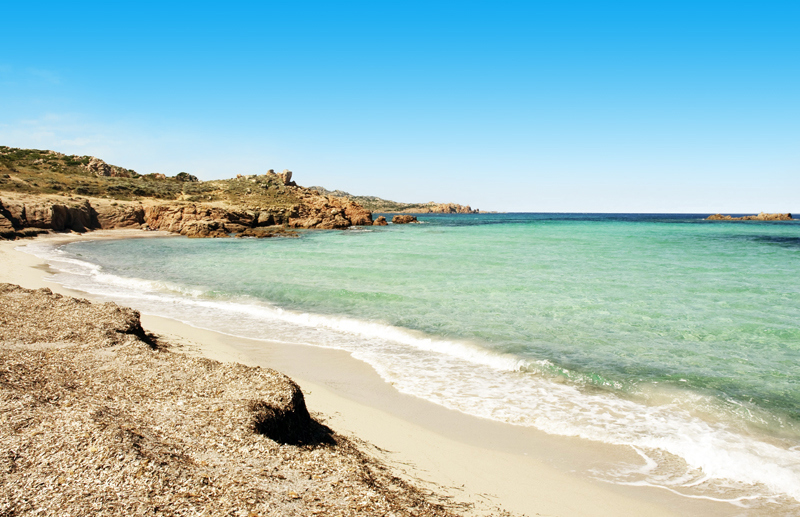 La Tonnara

Fall in love with… the adrenaline rush.

The beach experience… A beach very different from the others, it's surrounded by rocky outlets and windswept maquis. Pretty but wild, La Tonnara is one of the best places on the island for kite-surfing and windsurfing, and watching it is almost as thrilling as actually taking part. There's a smart seafood restaurant here open in high season.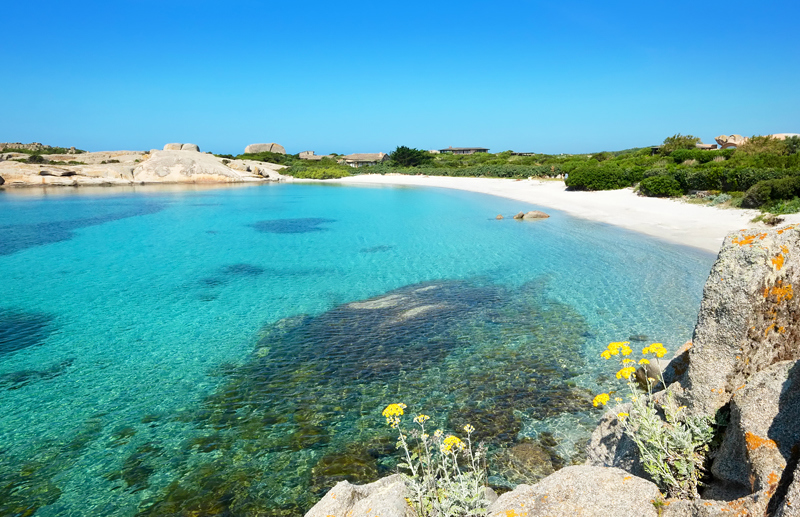 Lavezzi Island

Fall in love with… the snorkelling.

The beach experience… The boat from Bonifacio lands on Lavezzi Island, an unspoilt nature reserve. It's one of the Îles Lavezzis, an archipelago of tiny boulder islets scattered amid the straits – and it's teeming with sea life. Wade in with your snorkel and mask from one of the little bays and look out for the shoals of friendly grouper fish. As it's a nature reserve there are no facilities, so don't forget to pack whatever you need for your day out.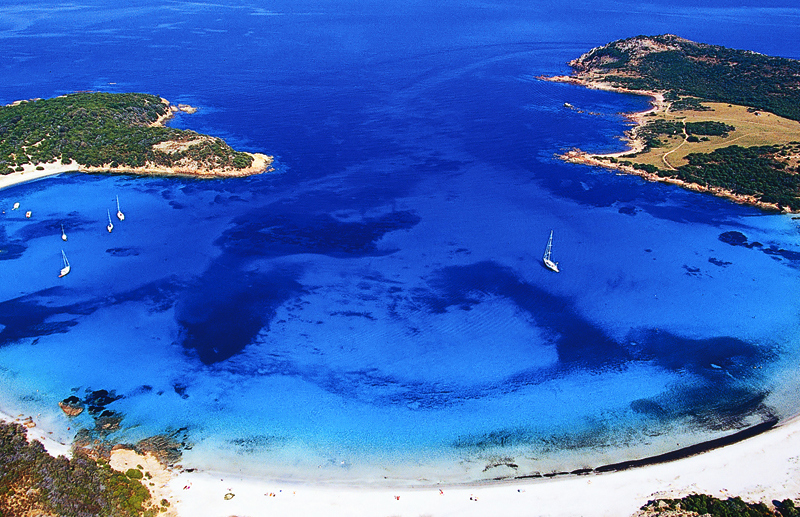 Rondinara

Fall in love with… the beautiful natural environment, ideal for families.

The beach experience… In the Bouches de Bonifacio Nature Reserve, this rugged-looking, uniquely shell-shaped beach lies between Porto Vecchio and Bonifacio. Sheltered from the wind, the lovely turquoise waters are calmer and the gently shelving shoreline make this beach ideal for little ones. If you want to stay for the day, there's also a restaurant and, in high season, a small snack bar which hires out sun loungers and parasols.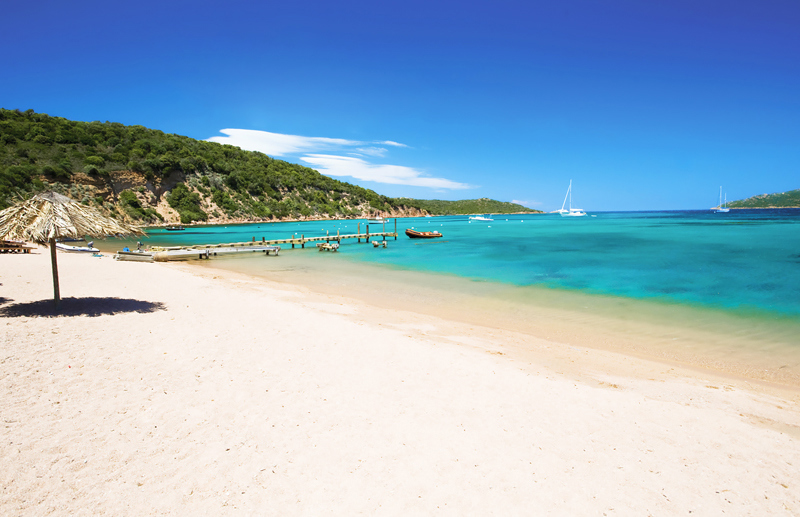 Maora

Fall in love with… the laid-back lounging, perfect for couples.

The beach experience… Still relatively undiscovered, in peak season you'll find a relaxed beach bar and restaurant for ambient evenings of chilled-out music and big cushions to sink into. Make a date there for an aperitif or two. Set amongst red rocks, the sand isn't powder-soft white but slightly coarser with a pinkish hue and there are parasols for shade.