Things to do in Tuscany: Getting out and about
Things to do in Tuscany: Getting out and about
It's known and loved for its fine architecture and fabulous views, but there 's more than one way to experience Tuscany's iconic countryside. Get out and about and you'll discover its hidden depths…
---
There's a cinematic beauty to Tuscany that has earned it a starring role in many big screen productions, and the scenery here invites you to sit back and absorb it all, with the sun on your face and glass of good wine in hand. However, if you feel like being even a little bit active, there are many ways to get a different view of these lovely landscapes.
Walking in Tuscany: celebrated vineyards and hilltop villages
Naturally we're going to suggest walking. There's no better way to get into the real heart of the countryside, and of course, all that delicious pasta and wine tastes even better when you feel you've earned it. Trekking hotspots include Garfagnana, Lunigiana, Casentino and the Florentine hills, and if you'd like to learn a little along the way, you can book a guide to go with you. The Brunello Trail takes you through some of the world's most famous vineyards and ends in Montalcino or, if you're a movie buff, you can follow in the footsteps of Russell Crowe in Gladiator (Val d'Orcia), Ralph Fiennes in The English Patient (the countryside around Pienza), Daniel Craig in Quantum of Solace (Siena) or Diane Lane in Under the Tuscan Sun (all over Tuscany, from Arezzo to Montepulciano).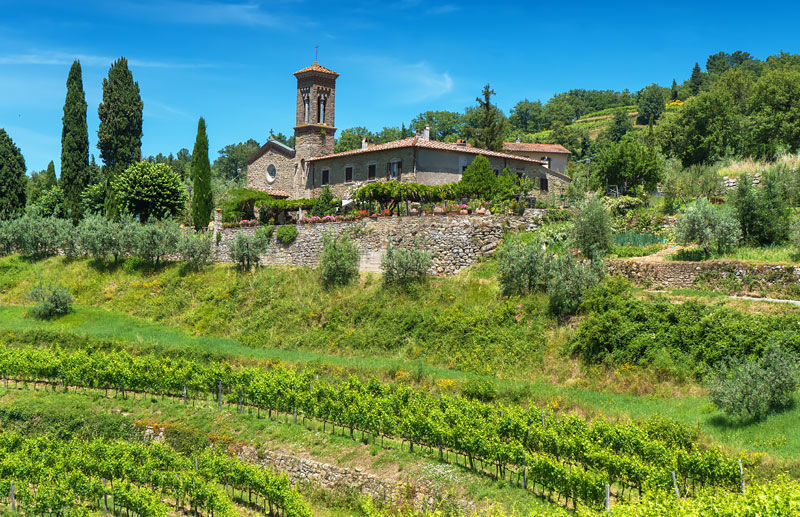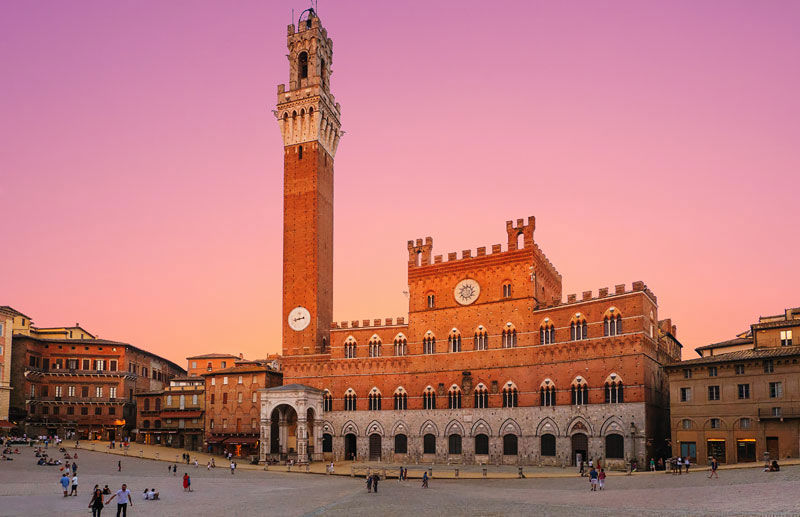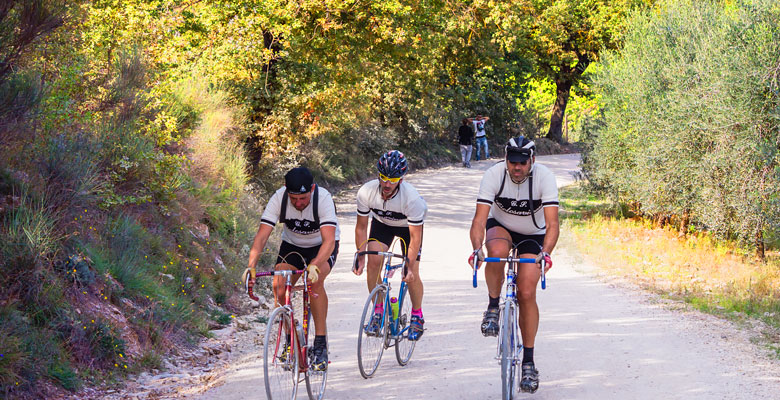 Biking in Tuscany: experience L'Eroica
Referred to by fans as 'a poem written with a bicycle' L'Eroica is an institution. With routes around the world, it's a celebration of clean, green two-wheeled machines (and the cyclists who love them) and even if you don't take part in the official event, which takes place in October in Tuscany, the route is so well sign-posted you can follow it whenever you fancy. It starts in Gaiole in Chianti, following white roads (unpaved, gravel tracks known as strade bianche) in a rough figure of eight. Go the whole distance and it's 200km, but you can jump on and off and go at whatever pace suits you. It will take you into some truly off the beaten track corners of Tuscany, as well as delivering some of the classic highlights such as medieval Siena. The route snakes past Montalcino, famous for its olive oil, wine and honey, through the stunning countryside around Val d'Orcia and on to Crete Senesi, home of the coveted white truffle.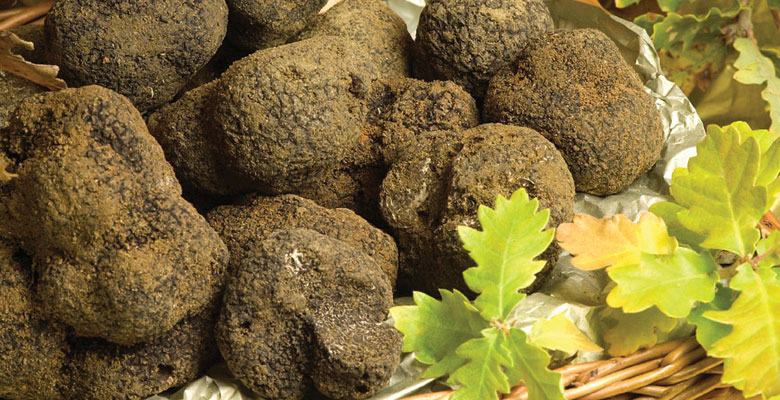 Tuscan truffle hunting
Black truffles are the most common, white truffles are rarer and sell for about £115 per 25g. Sotheby's recently auctioned the "world's largest" truffle for a staggering $61,250 to a phone bidder in China. Reason enough to get on the trail. Make your quest for this elusive underground fungus your reason for getting out in the great outdoors, and experience the luxury end of Italy's culinary traditions. You can join a certified truffle hunter and their dog on an expedition to see how it's done and enjoy a cookery class afterwards.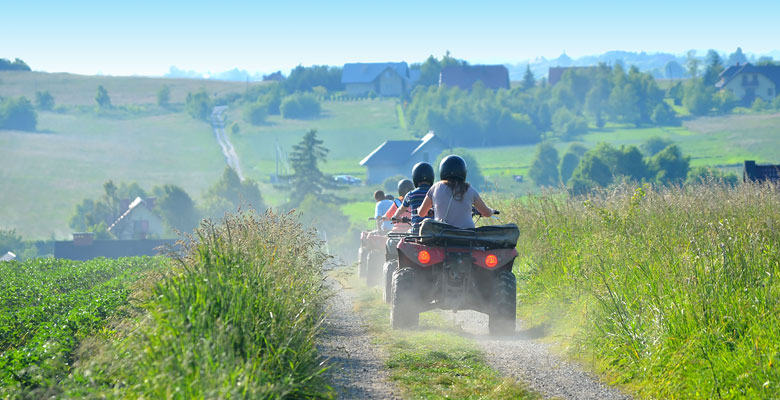 Quad-biking in Tuscany: choose your pace, it's not a race!
Spend a few hours or an entire day bouncing through hills and valleys, forests and vineyards, rivers and streams, quarries and olive groves on a guided quad-bike excursion. You may be able to choose when you set off, to fit the experience into your day, and it's suitable for nervous drivers and adrenaline junkies alike. You can also expect a cheese, wine and salami stop-off en route – or even a full wine-tasting experience. Night drives are also an option, setting off at dusk. Keep your eyes open for wild boar, foxes and deer. To drive a quad bike, you must have a valid driving licence for either a car or a motorcycle. Helmets are mandatory and a change of clothes for after the ride is recommended!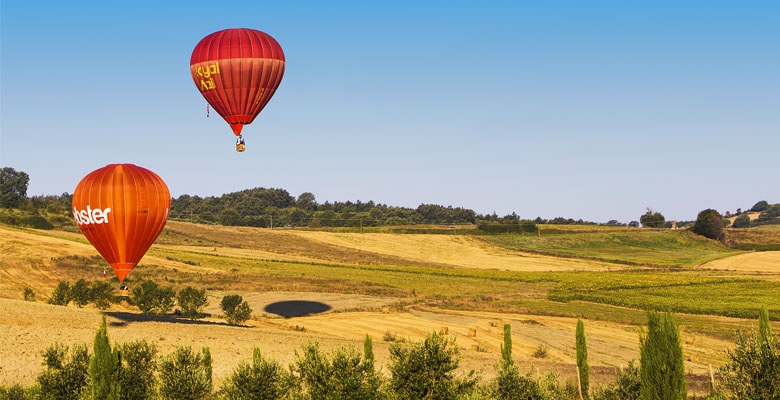 Ballooning in Tuscany: an unforgettable pleasure
Visitors to Tuscany describe it as a highlight of their stay and ballooning remains a great way to take in that landscape in its epic entirety. There are various qualified organisations, operating the impeccable service and safety standards you really want when you're floating up to 3,000 feet above the ground. With baskets able to accommodate up to 16, you can make it a family adventure – a wonderful way to start the day of a big celebration. Trips usually last about an hour and include breakfast. Check the age limits, as younger children may not be allowed to accompany you. Good companies will be insured for public and third-party liability, but it's wise to check your own cover before you fly.