Crete's mini islands
Crete is the largest of the Greek islands, but did you know that there are a host of smaller islets just offshore, each with an interesting story to share? Read on for a discovery tour of Gramvousa, Spinalonga and Elafonisi.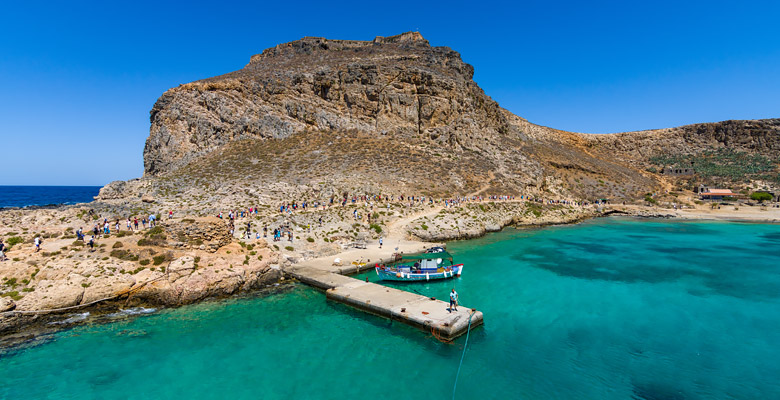 Gramvousa, Western Crete
The tame pirate island
"The name Gramvousa actually refers to two islands: Imeri (Tame) Gramvousa and Agria (Wild) Gramvousa. The first is closer to the shore, topped by the remains of a Venetian fort which was built in 1579 as part of the Cretan defences against Ottoman Turks. The Turks eventually took the island but the fort remained under Venetian control as a strategic base on the Mediterranean trading route. You can still walk around the old fort today and it's a trip I often recommend to friends with children as they enjoy clambering all over the walls and playing pirates. In fact, during the Greek War of Independence, Cretan rebels inhabited the island pirate-style, surviving by looting passing ships and creating a fearsome reputation for themselves. An old ship-wreck, part buried on the beach, helps to fire the kids' imagination still further.
Natural beauty
"Even if you feel you've outgrown Captain Jack, a trip to both Imeri and Agria Gramvousa is well worth it; both islands are uninhabited, and while plenty of people do visit by boat, the white beaches and shallow turquoise waters are irresistible to photographers. You might want to bring some binoculars too, as the islands are home to almost 100 different species of birds, with protected seals and turtles making regular appearances off shore. From May to October there are daily boat trips to Gramvousa from Kissamos port, which is around 40km west of Chania Town. As an extra bonus, the boat excursions will usually include a stop at the spectacular Balos Lagoon and beach, another family-friendly spot with shallow pale turquoise water and shell-pink sand.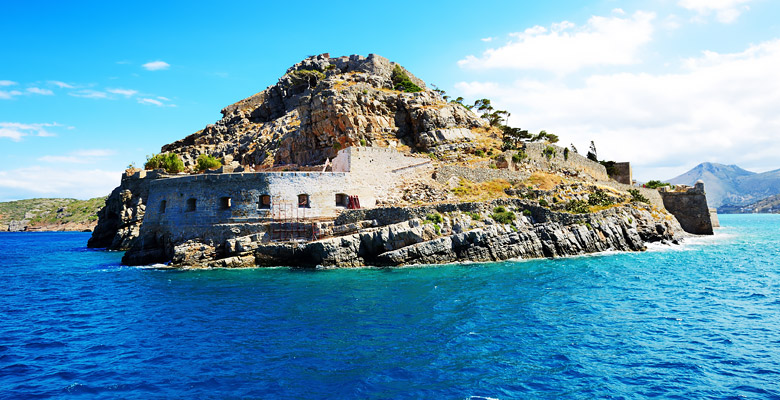 Spinalonga, Eastern Crete
A history of human suffering
"Spinalonga has become known to thousands for its history as a leper colony, as told in Victoria Hislop's bewitching novel The Island. However, what most people don't know is that Spinalonga is in fact man-made: under Venetian occupation the island was quite literally carved out of the coast for defence purposes and a fort was constructed. Like Gramvousa, this fort soon became vitally important in the war against the Ottoman Turks, and was a refuge to many Christians who were trying to escape persecution. Today it is one of the most popular places to visit in Eastern Crete, second only in importance to Knossos, yet despite the numbers and its melancholy past, it is a serenely beautiful place to enjoy.
Quick hop or leisurely cruise
"You can reach the island on a boat trip from Agios Nikolaos, Elounda or Plaka – personally I prefer Plaka as the shortest and therefore the cheapest crossing. The longer trips tend to include a lunch on board, but with so many good and inexpensive tavernas around, you can often find something more authentic on land. Be warned however: there are no facilities on Spinalonga, so pack plenty of water and anything else you might need while you're there.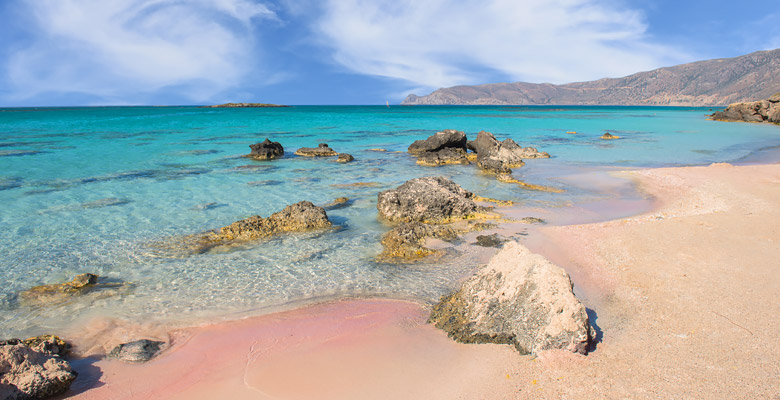 Elafonisi, Western Crete
A savage attack
"Like Spinalonga, Elafonisi has a sad story to tell. At the highest point on the island you'll find a plaque commemorating a massacre that took place on Easter Sunday in 1824. Around 600 Greeks, mainly women and children, were hiding on Elafonisi, awaiting rescue from a ship that was due to take them to safety on the Ionian Islands. However, the Ottoman troops who were camped on the opposing beach discovered the defenceless group, and it is believed that around 600 were either killed or sold into slavery in Egypt.
Walking on water
"In the far west of Crete, some 75km from Chania town, lies Elafonisi island. The waters that surround it are so shallow that it's possible to walk across from the mainland when the weather is fine. What I really love about this place is the contrast to the mainland; once you're across on the island you leave the big car parks, sun beds and beach bar behind and you find yourself in the unspoilt landscape of a protected nature reserve. You're unlikely to have the place to yourself as it's a popular family spot in the high summer months, but if you walk a little way along the mile length of Elafonisi you'll find plenty of smaller coves for a peaceful paddle and a picnic."