Explore holidays in Zakynthos
Edgar Allen Poe described Zakynthos as 'the flower of the Levante' and today, nearly 200 years later, this multi-faceted destination remains among the least developed of the larger Greek islands. The north in particular retains a timeless feel, thanks in part to its more rugged landscape that makes travel a little slower but infinitely more rewarding. There's beauty and drama in towering cliffs and forest-clad mountains, but also hours of family fun on golden sandy beaches. From sleepy Agios Nikolaos in the north to the vibrant capital Zakynthos Town, you'll find luxury villas and romantic honeymoon suites in some of the island's most idyllic locations.
A selection of our holidays in Zakynthos
* Prices include seven nights' accommodation, flights and transfers/car hire, based on the lowest rate for maximum occupancy.
Our guide to Zakynthos
Introduction to Zakynthos
Into the blue
Cobalt to peacock, sapphire to turquoise, the waters around Zakynthos tempt at every turn. The south has its well-known resorts, turtle nesting grounds, protected maritime park and stunning Marathonisi island, which is many people's first thrilling view of Zakynthos as the plane dips low over it on the way in to land. At the southern tip of the island, Gerakas Beach is one of the most important conservation areas in the Mediterranean and synonymous with the Caretta Caretta turtle. Head north however and the beach names become less familiar: Xigia, where the bright blue water is meant to have healing powers, or the more family-friendly sands at Alykes, Alykanas and Psarou. The further north you go the more discreet the treasures, with gems like Climati and Kremidi ideal for swimming and snorkeling in deep crystalline water yet devoid of any of the usual resort trappings. If you can cope with a bit of a clamber, the clear sea off Filipoi beach is well worth the effort, while boat hire brings more into reach, whether you hire your own or join a cruise to the much-visited but still magnificent Blue Caves and Shipwreck Beach.
A breath of fresh air
Head into the interior of the far north east of the island and the landscape becomes almost Alpine, with cooler air, fragrant pine forests and quietly traditional villages like Volimes that seem entirely untroubled by the march of time. The coastal villages also have a different character in the north, with harbours like Agios Nikolaos reminiscent of a time before mass market tourism existed. Look closer around this area and you'll find the green shoots of a new, quality-orientated approach, with upmarket restaurants offering a modern twist on classic Greek cuisine, and luxurious, fully serviced accommodation designed to meet the highest expectations. From yacht charters to personal training, helicopter tours to private dining, the north east Zakynthos is a place that takes your enjoyment very seriously indeed
Go to town
Zakynthos Town is a vibrant port and the island hub, where old sits contentedly with new. Bookended by the harbour and the ancient church of Agios Nikolaos tou Molou, the thriving heart of town beats down by the waterfront. Fisherman still land the daily catch here, and if you're not up early enough to buy direct, you'll find fresh mullet and sea bream on the local menus by lunchtime. For other zero food-miles options, check out the fruit, veg, honey and olive oil at the colourful farmer's market three times a week. There's lots for shoppers, with silver jewellery a speciality and a wide pedestrian section where you can browse to your heart's content. There are a few low-key cultural offerings too; the Venetian fort is just a ruin following the 1953 earthquake but the views from the site make the climb worthwhile, and the Zakynthos museum hosts an astonishingly rich collection of religious art and friezes rescued from earthquake-damaged churches, now preserved for all to see in a rather beautiful building overlooking the port.
Family friendly
If your little ones have had their fill of beaches and boat trips, Tsilivi water park is a reliable crowd pleaser for all the family. For something a little different, Askos Stone Park in the north is a green and peaceful spot, with lots of pint-sized animals to see including goats, Shetland ponies and even Vietnamese pigs. It might look touristy, but the little Trainaki train takes you from Alykanas into the Zante hinterland, crossing olive groves and passing through various small villages with lovely coastal views. For older kids, horse-riding and watersports are widely available. And like everywhere in Greece, younger guests are warmly welcomed and often generously spoilt.
At a glance
Currency

Euro (€)

Flight Time

3 hours 30 minutes

Time difference

+2 hours

Language

Greek

Visa required

Not for UK citizens
Food & drink
A taste of Zakynthos
As is the Greek way, food in Zakynthos is prepared with locally sourced, seasonal ingredients, many organic, using simple recipes with exquisite results. Hot and cold starters are generally shared, in preparation for a feast of slow-roasted meat – lamb, calf, pork or chicken – or grilled fish. Stuffed rabbit cooked in wine is an island favourite and look out for skordostoumbi melitzana (made with aubergine and garlic) and ladotiri, an oiled cheese unique to Zakynthos, as well as the local olives, capers and wine.
Dessert isn't usually served in restaurants – at least not to the locals. Instead, a sweet treat grabbed from a bakery or ice cream shop passed on the way home is the done thing. Island specialties are recognisable for their almond bias and, if you've got a sweet tooth, bougatsa (filo pastry stuffed with creamy custard and covered with icing sugar and cinnamon) and pasteli (bars of caramelised sesame seeds with home-produced honey) deserve some attention.
Zakynthian tipples
The regional wine of Zakynthos is Verdea, which has been in production here since around 1800. A blend of various grapes, this white table wine is amber in colour, spicy in taste and more than a little punchy in alcohol volume.
Eating locally
Zakynthos Town boasts some excellent fish tavernas and freshly caught and served with a sea view is the best way to enjoy the popular Ionian sea bream, which makes the waterfront eateries around the port a great choice.
For waterside dining you can luxe it up at several new upmarket restaurants tucked into the coastline along the road to Agios Nikolaos, or keep it authentic and tradtional at one of the tavernas by the harbour there.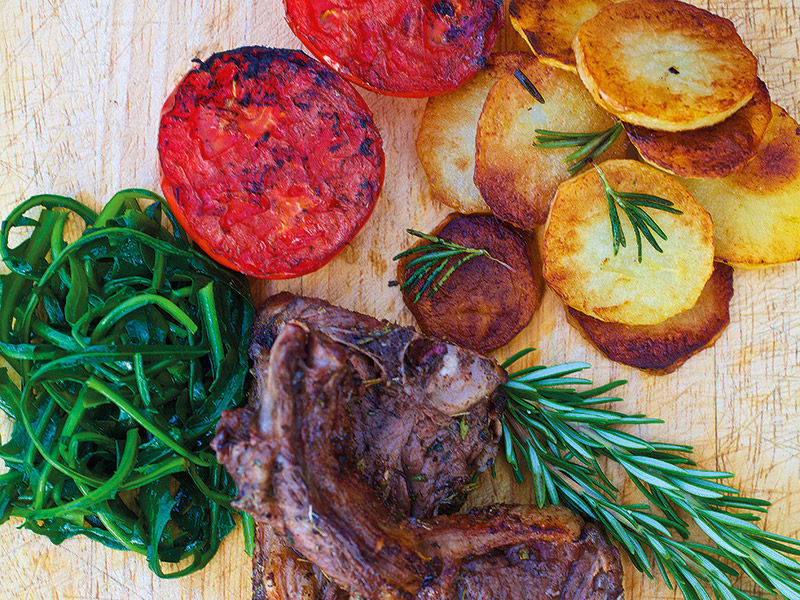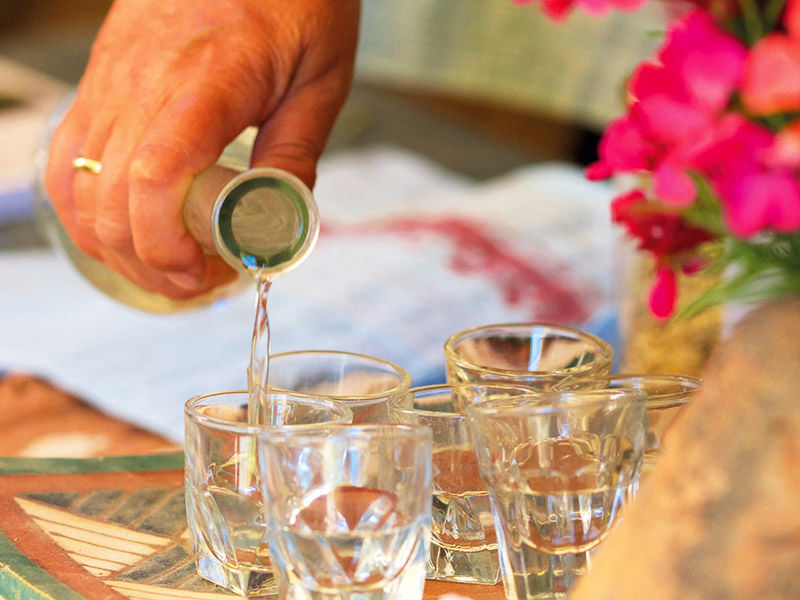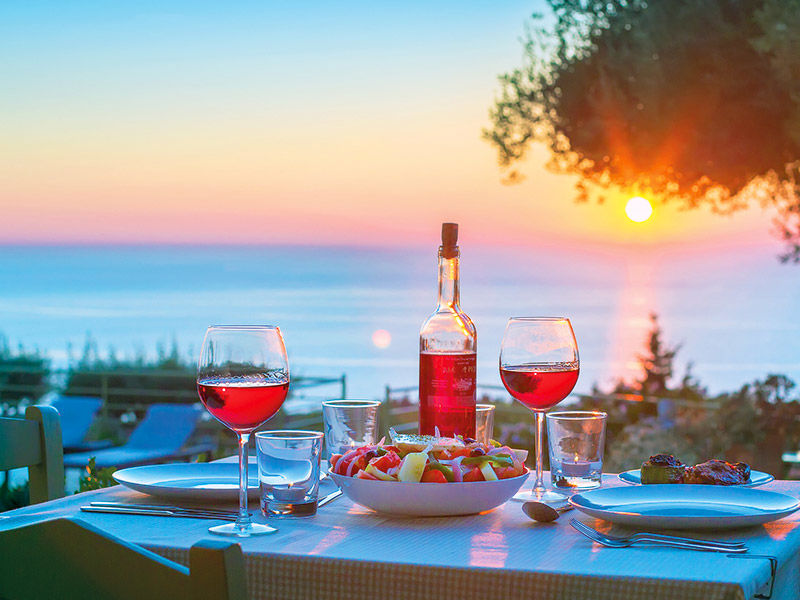 Beaches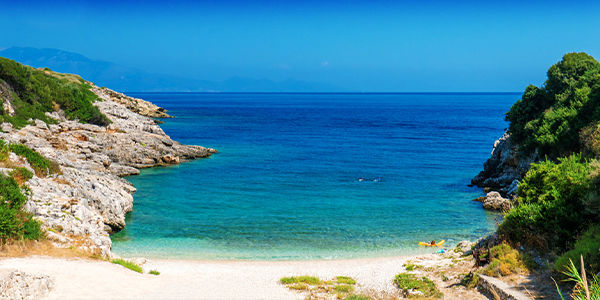 Climati
A pebble cove with brilliantly clear water, this one shelves quite steeply so best for confident swimmer and snorkelling.
Getting there...
Access is via a short but steep and rough path, around a 15min walk from Yiameli Villas. Some parking spots available on the road.
Footnotes...
A great choice if you like your beaches natural and uncrowded, generally very peaceful as there are no facilities at all.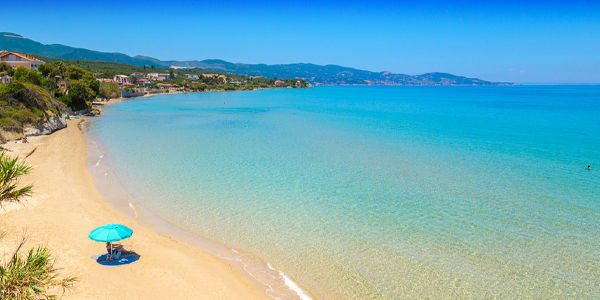 Psarou
Tucked between Ammoudi and Tsilivi, Psarou is a sandy, gently shelving Blue Flag beach, largely undeveloped and ideal for younger children.
Getting there...
The beach is just beyond Kavos Psarou port, with car parking spaces on the road. 
Footnotes...
There are several tavernas in the countryside behind the beach, with more choice as you get closer to Ammoudi.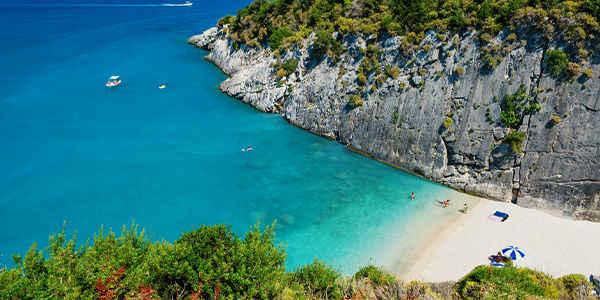 Xigia
Pebbly Xigia is famed for its healing, sulphurous waters, which are slightly opaque and incredibly bright blue.
Getting there...
There are actually three Xigia beaches; the most accessible is clearly signed from the coast road north of Alykanas.
Footnotes...
There's a taverna and a large car park at the top and a steep path down; just follow your nose!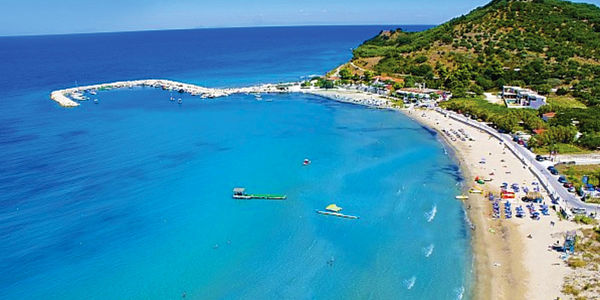 Alykanas
This long, narrow stretch of sandy beach close to the low-key resort of Alykes is fully serviced, with tavernas, cafés and many watersports centres.
Getting there...
The beach begins at Alykanas harbour and is easy to find from the main coast road.
Footnotes...
The water here is generally very calm and clear, a great spot for swimming or paddle boarding.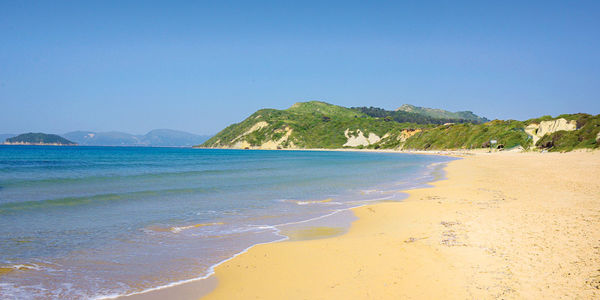 Gerakas
Spanning 2km of gently-shelving golden sand and turquoise sea, Gerakas is part of a protected marine park and nesting ground for loggerhead turtles.
Getting there...
Head to the south east corner of the island and approach the beach by way of the marine park hut.
Footnotes...
There are some sunbeds and parasols for hire, and tavernas on the road behind the sand. Some areas may be roped off in nesting season.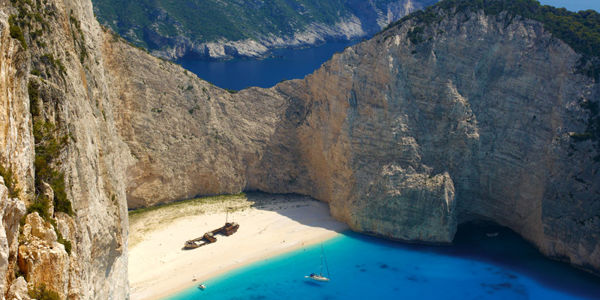 Shipwreck beach
Also known as Smuggler's Cove and Navagio Bay, this spectacular horseshoe bay is encircled by dramatic cliffs, with a half-buried shipwreck in the fine white sand.
Getting there...
Accessible only by boat from Porto Vromi or St Nicholas Port. The view point is easily reachable by car.
Footnotes...
There are no facilities at Shipwreck. Very busy in high season, when a visit to the viewpoint above is probably more rewarding.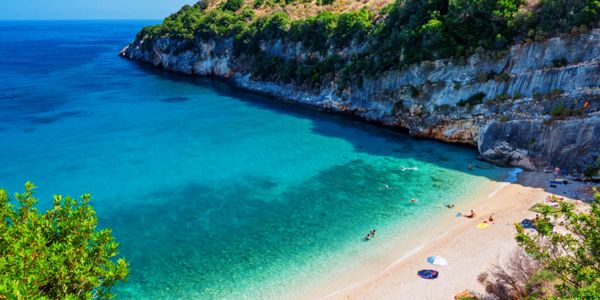 Makris Gialos
A beautiful pebble beach with clear, deep water for excellent snorkelling. The beach is backed by cliffs and sea caves for added scenic appeal.
Getting there...
Located on the north east coast, midway between between Alykes and Agios Nikolaos port.
Footnotes...
It's possible to swim into some of the sea caves; deep water makes this one less suitable for young children.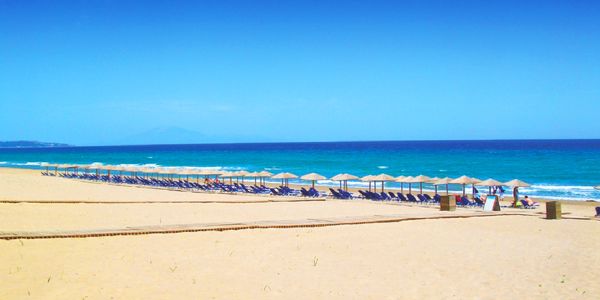 Banana
The longest beach in Zakynthos, this endless stretch of soft sand and pebbles is backed by trendy caf s. The young and carefree descend in the evenings, lending the beach its reputation as the 'Greek Ibiza'.
Getting there...
An easy ten-minute drive from Zakynthos Town.
Footnotes...
Free parasols, watersports and clear, calm water.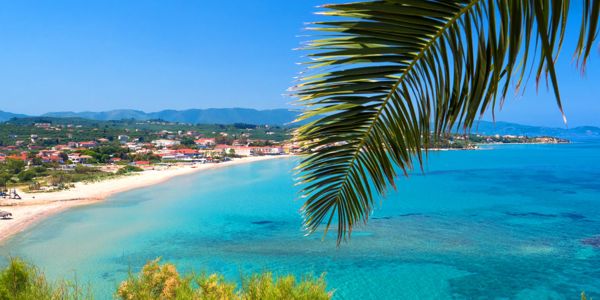 Tsilivi
The liveliest beach on the island, catering for the throng of tourists who flock to the town. The high-season party atmosphere isn't to everyone's taste, but families are very well catered for.
Getting there...
A 40-minute drive from Agios Nicolaos, or just 10 minutes from Zakynthos Town.
Footnotes...
The nearby water park offers a fun change of scenery.
Things to do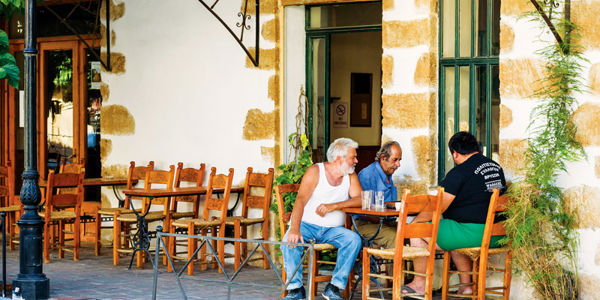 Head for the hills
Zakynthos' wild side offers some beautiful vistas far from the madding crowds. The narrow lanes of traditional hill villages like Exo Hora and Volimes offer welcome relief from the midday sun, as does the Anafonitria Monastery where St Dionysius, the island's patron saint, spent his final years.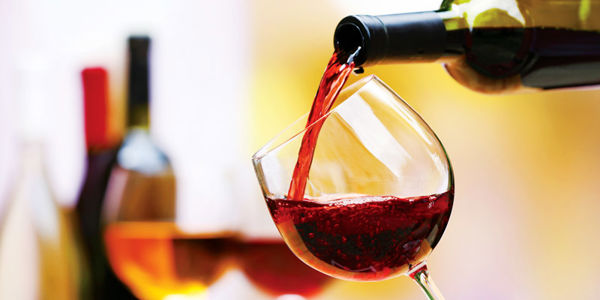 Visit a winery
There are 110 different varieties of grape grown in Zakynthos – across 19,000m2 of vineyard. A visit to a local winery, such as Oenolpi near Macherado, comes with a bonus peek at some of the few remnants of Venetian architecture on Zakynthos.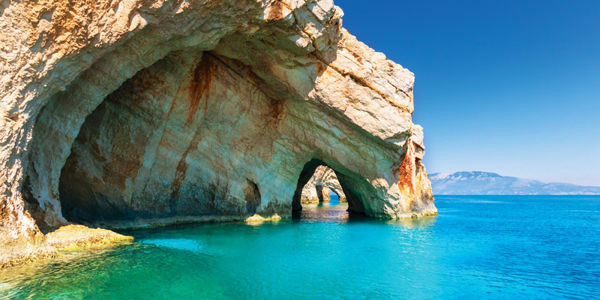 Experience the blue caves
A speedboat ride to the limestone caves beside Shipwreck beach is an invigorating start to the day – arrive early to increase the likelihood of having this magical place to yourself. Beyond the caves' entrance, the waters are perfectly translucent, creating mesmerising patterns on the ceiling above.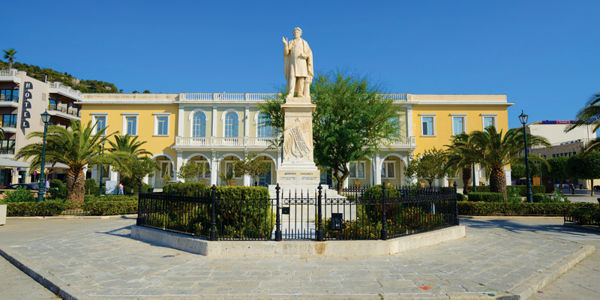 Explore Zakynthos Town
The island's biggest, most historic town has plenty to offer the beach-weary visitor and those in search of a little cosmopolitan chic. After a coffee in the perfect people-watching spot of Solomos Square, why not treat yourself at one of the nearby boutiques?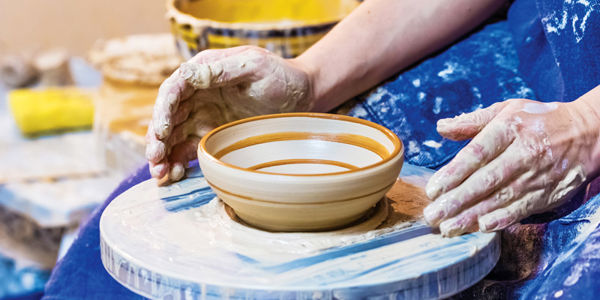 Get fired up
Several studios on the island offer hands-on pottery sessions where you can play with clay and be guided through the process of making your own fired ceramic pot to take home. A great family experience.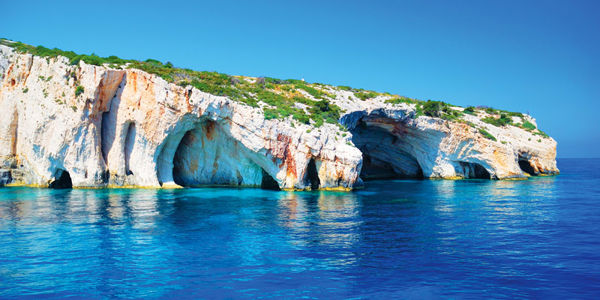 Visit Keri village
The ancient stone houses and narrow streets of this pretty village are one of the few glimpses of pre-quake life on Zakynthos. Perhaps the cliff-top that's been guiding ships round the headland for over a hundred years served as Keri's lucky omen in 1953.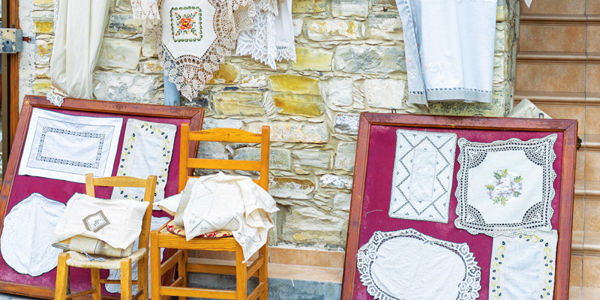 Help preserve a way of life
The women of Kiliomenos village are famed for selling handmade and organic products using traditional recipes and techniques. Buying virgin olive oil, wine, honey, handmade lace and handcrafted jewellery direct from the producers is a heartwarming act – and keeps the island's artisan spirit alive.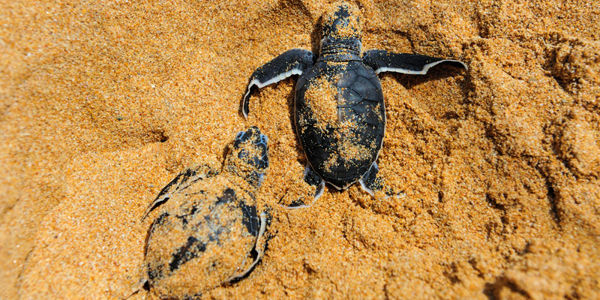 Encourage a turtle into the sea
Gerakas, the most southerly of the island's beaches, is also its most beautiful – and a nesting site for the endangered loggerhead turtle. Seeing a tiny hatchling climb into sunlight and make for the waves is an emotional experience and one you'll never forget.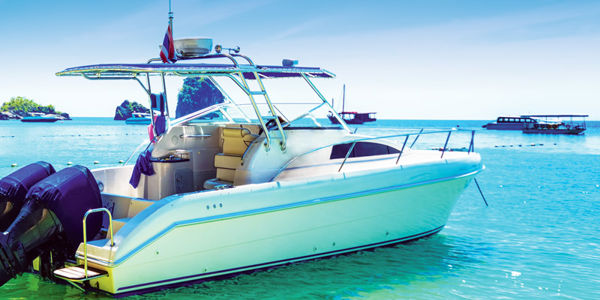 Hire a speed boat
Secret coves and secluded bays are often the island's most idyllic spots. Why not head off in search of your very own secret cove from which to swim, snorkel or even fish? Those in the north of the island are furthest from the bustling beaches.
Events
Easter is the biggest event on the Greek calendar, marked by traditional processions, masses and feasting. The date changes each year and is often later than in the UK.
What's on in May
1 May
Labour Day is a public holiday, celebrated with picnics and the gathering of spring flowers. Many shops close but restaurants remain open.
3 May
Feast of Agia Mavra, Maherado, marked by a night of prayer in the village church.
21 May
The Ionian Islands commemorate their official unification with Greece which took place in 1864.
What's on in August
15 Aug
Assumption of the Virgin Mary (Apokimisis tis Panagias) celebrated in and all over the island.
24 Aug
Feast day of Agios Dionysios, patron saint of Zakynthos, celebrated with fireworks and grand processions.
End Aug/early Sep
Wine festival in Zakynthos Town.
What's on in September
8 Sep
The Virgin Mary's birthday (Genisis tis Panangias) is celebrated throughout Greece with religious services and much feasting.
What's on in October
28 Oct
'Oxi' Day ('No' Day) celebrates the Greek refusal of Italian occupation during WWII with marches, parades and much flag flying. 
The Road Less Travelled
We asked our local representatives in Zakynthos to share a few of their favourite experiences. Here are some of their suggestions…
Snorkel the wild west
Lovers of snorkelling and untamed beauty alike will find the island's west coast magnificent for swimming. Limnionas – better known as the Blue Lagoon – is one of many idyllic rocky coves here, complete with turquoise translucent waters and surrounded by impressive wild landscapes. A variety of fish can be seen in the waters – along with the odd boat's crew stopping by for a dip.
Chill out with a craft beer
There's nothing better than an ice cold beer on a hot summer day, and if you're looking for a truly local taste, pop into Levante Beers, Zakynthos's first micro-brewery, on the north east coast close to Xigia beach. They produce five distinctive varieties, from unfiltered pale lager to Bavarian-style wheat beer, all from authentic original recipes.
Witness a magical sunset
At 40-feet high, the stone cross of Kampi stands defiantly over one of the highest cliffs on Zakynthos. It overlooks the Ionian Sea to the west of the island in commemoration of the soldiers of the Second World War who lost their lives during the occupation of the island. Choose to pay your respects here in the evening and you'll be treated to the island's most beautiful sunset.
Climb to an ancient monastery
Perched atop Mount Skopos sits the recently renovated monastery of Panagia Skopiotissa. This important historical treasure offers sweeping views of the island's lush green beauty all around. But be warned; the twisting, turning road up to the top comes with sharp bends and steep drops: certainly one that's best enjoyed on foot.
Meet Zakynthian animals
A stunning valley in the pine-clad north of the island is home to Askos – a stone park with stables and basins cut into the rock for the many animals who live there. Visitors are greeted by deer and peacock, which roam free within the grounds, along with goats and wild hawks. A beautiful walk in one of the island's most picturesque spots.