Explore holidays in Ile de Ré
Described as the Pearl of the Atlantic, Ile de Ré has long since been on the radar of upmarket Parisians, sailors and sophisticates, famed for the beauty of its contrasting landscapes and the refined elegance of its towns and villages. The island's ease of access and well-marked cycle trails afford a realistic opportunity for a car-free holiday and with 100km of glorious unspoilt coastline, a micro-climate that makes it one of the sunniest regions in France and a way of life that celebrates nature and conservation, this chic little island is an enchanting destination for beach-lovers, foodies and anyone looking to embrace the great outdoors.
Explore our collection of villas in Ile de Ré and discover why everyone's talking about the Pearl of the Atlantic.
A selection of our holidays in Ile de Ré
* Prices shown are for a seven-night stay at the lowest accommodation-only rate.
Our guide to Ile de Ré
Introduction to Ile de Ré
A modern way to live
Known for its lovely climate and authentically French, almost Mediterranean feel, Ile de Ré's world-class beaches and ease of access are no small part of the appeal. Close to La Rochelle airport or less than three hours from Paris by train, it's as realistic a possibility for a long weekend away as it is for a two-week summer holiday. With so much to do when you're there (and absolutely no pressure to do any of it!) the island really does offer something for everyone: 100km of coastline, 110km of cycle and walking trails, watersports ranging from paddleboarding to kitesurfing, boat trips, tours and a fantastic choice of restaurants, shops and markets. There's plenty of car-free holiday potential in Ile de Ré too; an opportunity to reconnect with nature and enjoy a simpler way of life that feels as thoroughly modern as it does traditional. Ile de Ré is a little island with a big heart.
One island, ten villages
Chic yet unpretentious, sophisticated yet informal; the ten harbour towns and villages that make up this exquisite island destination are straight out of the pages of a lifestyle magazine. Wooden shutters painted in a picture postcard palette of misty blues and earthy greens adorn pretty pebble-white houses with secret walled gardens and aged timber gates. Even the street signs and door knockers are beautiful in Ile de Ré, a reflection of the island's highly artistic and creative air. In 2012 it became France's first island to join the country's celebrated regions of art and history and wandering the pedestrianised streets of the ten village centres is a highly civilised affair; a unique feast of historical monuments, artisan boutiques, colourful markets and excellent restaurants. As you might expect, seafood is a particular speciality and the locally produced oysters are an obsession, but the island also takes ice-cream very seriously, with whole menus given over to design-your-own-flavour combinations and tempting sundaes. And this being France, you can rely on an excellent selection of wines by the glass wherever you go.
A pearl of the ocean
This sophisticated little island has a loyal following. Just 30km long, with a width ranging from 70m at its narrowest to 5km at its widest, it has a remarkable diversity of flora and fauna, boasting some exceptionally rare species of birds and butterflies, some of which are unique in France. In Roman times it existed as an archipelago of three smaller islands but over the centuries, the human harvesting of salt and the resulting silting has led to the reclamation of land to unite them as one. The impressive bridge linking the island to the mainland (nearly two miles long) was built in 1988 and to protect Ile de Ré's natural beauty and the unique habitat of its wildlife, a green tax is payable for all who use it. The importance of protecting the significant biodiversity of the island is in evidence wherever you roam. No wonder then that its well-to-do inhabitants place such high importance on the humble bicycle as a means of transport. With an extensive network of cycle trails criss-crossing the island through fields and vineyards, woodland and salt marshes, cycling is in the DNA.
At a glance
Currency

Euro (€)

Flight Time

1h30

Time difference

+1 hour

Language

French

Visa required

Not for UK citizens
Food & drink
A taste of Ile de Ré
Cultivable land may be scarce on this salty little island, but Ile de Ré has risen to the challenge, farming oysters regarded as the best in the world, producing honey with its own 'protected origin' status and rebranding sea-salt from a kitchen staple into something altogether sexier.
Salt is harvested from the marshes in the west of the island. Fleur de sel, the extra fine top layer, adds a seaside tang to everything from crèpes to the highly addictive salted caramel ice-cream. Quality ice-cream is something of an art-form here, with gourmet palates and intense local competition driving ever more imaginative flavours: look out for the cherry-camembert and oyster-caviar combos!
You really can't escape oysters here, and while a waterfront meal in Saint Martin or La Flotte is definitely a holiday highlight, locals pluck them straight from the sea. There are lots of oyster huts along the Ile de Ré coast; follow the dégustation signs and enjoy with a glass of chilled local white for a fraction of the restaurant prices. The other way to stay à la mode and dine like the locals is to shop at one of the colourful markets. The three biggest are La Flotte, Le Bois Plage and Saint Martin, where you'll find everything from high quality fresh ingredients to fully prepared dishes, ready to take home for dinner or straight to the beach.
Ile de Ré Tipples
Ile de Ré has several vineyards, but all the island's harvest is processed at the Cellier des Vignerons at Bois Plage; it's well-worth scheduling a stop-off here for a tasting. They make a highly quaffable selection of rosés, whites and reds, plus local favourite Pineau, a fortified wine and cognac blend drunk variously as an apéritif, a cocktail, to accompany cheese and pâté, or in half a melon as a potent dessert. And when the temperature rises and a cold beer's in order, you'll find locally brewed Sainte-Marie ales served across the island.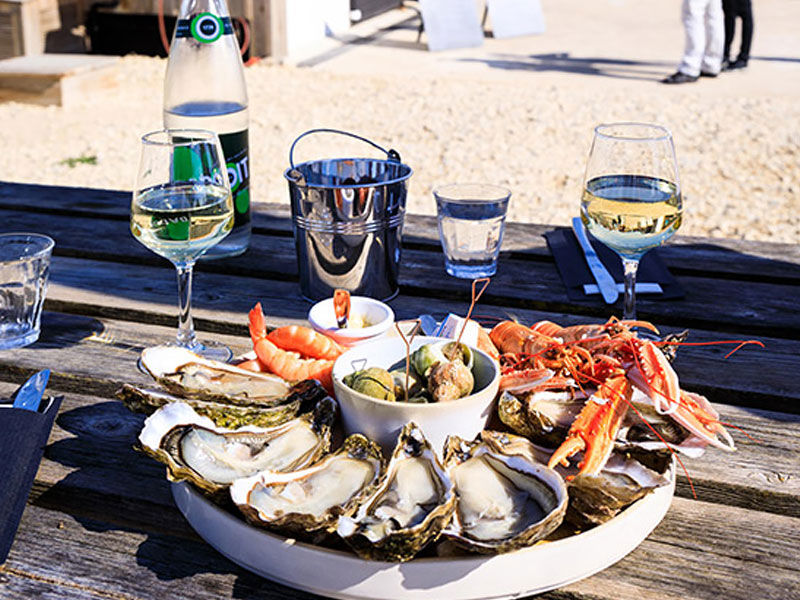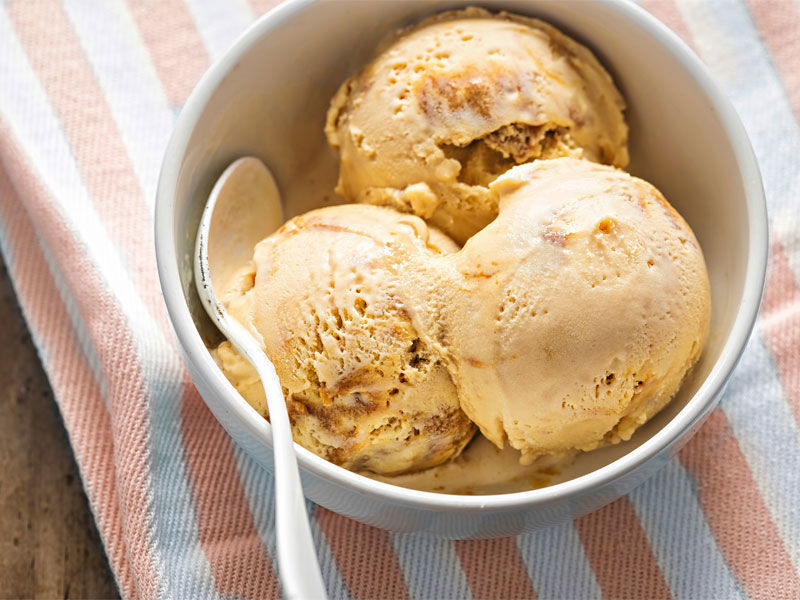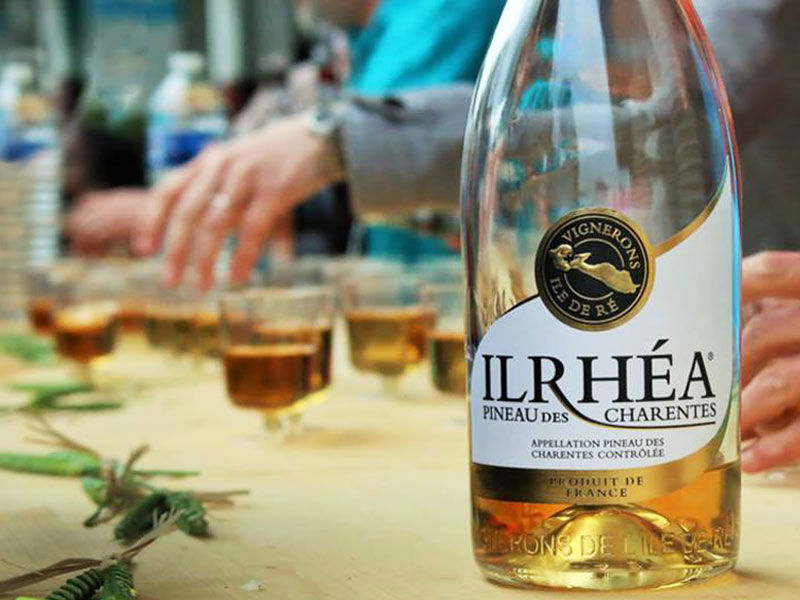 Beaches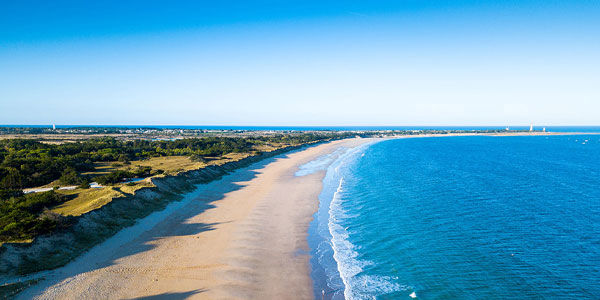 Plage de la Conche
This magnificent expanse of pine-fringed beach sits between the lighthouse in Saint Clément and Les Portes. The wide, 3km stretch of immaculate golden sand feels wild and remote, with crystal clear water that draws you in.
Getting there…
Walk along from the lighthouse or access the beach from one of the cycle paths that run parallel through the woods.
Footnotes…
Supervised in July and August. Popular with kite surfers.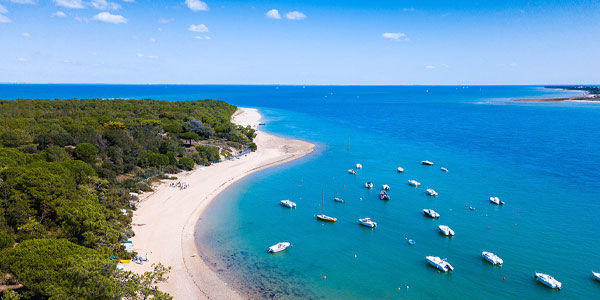 Plage de Trousse Chemise
Exceptionally lovely, Plage de Trousse Chemise is a locals' favourite, reminiscent of La Pointe on Cap Ferret. Pristine sand and transluscent water give the beach a heavenly desert island feel and the woodland behind is blissful for a picnic.
Getting there…
Head for the tip of the island and carry on past Les Portes until you see signs off to the left.
Footnotes…
A touch of paradise, well worth the drive round the tip of the island.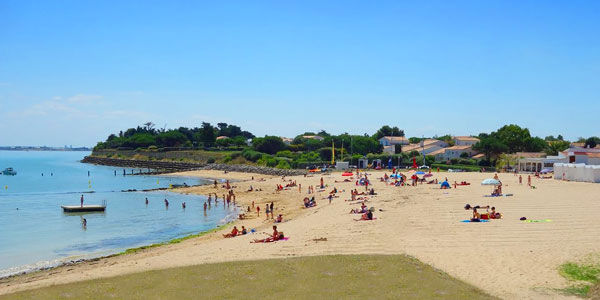 Plage de la Cible
Close to the harbour in Saint Martin, this family-friendly beach has a popular restaurant, sailing school and a series of beach huts available for hire. It's close to the town centre, making it easy to combine a little shopping and sightseeing too.
Getting there…
Head into Saint Martin from the East and park directly behind the beach.
Footnotes…
The beach is supervised in summer but can get crowded.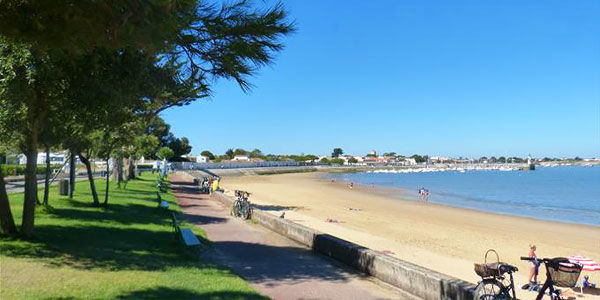 Plage de l'Arnérault
Set along a lovely bay beside the promenade in La Flotte, the gentle shelf and calm waters here are popular amongst families with young children. Windsurfing tuition is available and the sheltered spot makes it ideal for beginners.
Getting there…
There is limited parking on the road behind the beach but La Flotte car parks are well signposted.
Footnotes…
Good facilities and the beach is supervised in summer.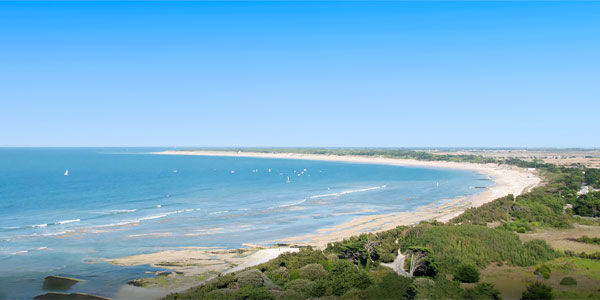 Plage Les Grenettes
Beautifully unspoilt and backed in part by woodland, this lovely beach is situated between Sainte Marie and Le Bois Plage. It's popular with body-boarders but there's always plenty of room to spread out and find a peaceful spot.
Getting there…
Head from Sainte Marie to Le Bois Plage and take a left after La Noue. There's a small car park at the end of the forest track.
Footnotes…
There are no facilities here, so remember to pack a picnic.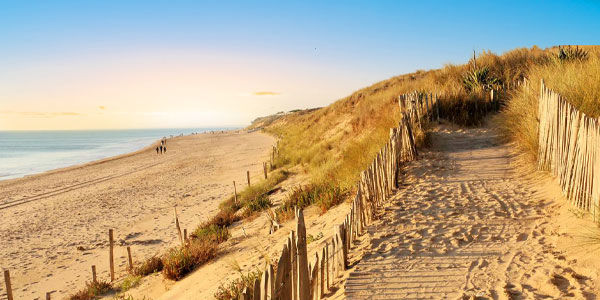 Plage des Gollandières
The most popular island beaches are found on the sandy south coast and Plage des Gollandières is one of them. With plenty of activities for children and an excellent range of watersports available, Gollandières has a real summer holiday buzz.
Getting there…
Head for Le Bois Plage Village and follow the signs.
Footnotes…
Supervised in July and August, with kids' clubs on the beach.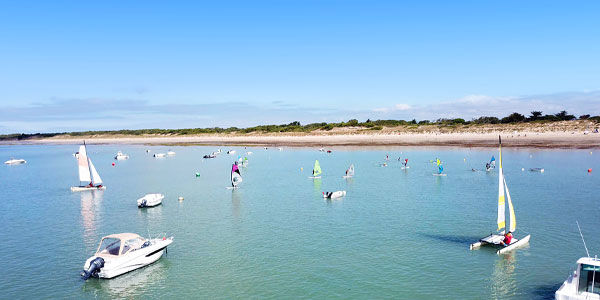 Plage du Peu Bernard
In between the seaside villages and busier beaches of Le Bois Plage and La Couarde, Peu Bernard is a quieter alternative, accessed on foot or by two wheels only. With clear waters and fine sand, it's the perfect spot for a little rest and relaxation.
Getting there…
Head north from Le Bois Plage and find a path through the forest and over the dunes.
Footnotes…
A little more off the beaten track; remember to bring a picnic.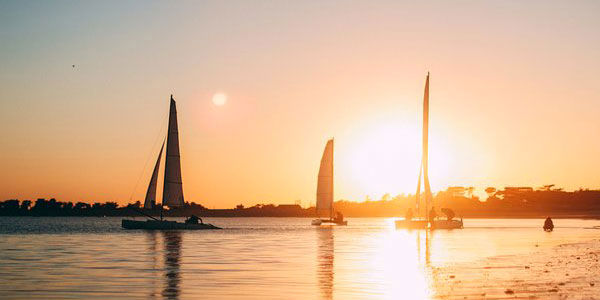 Plage des Prises
The long stretch of coastline between La Couarde and Ars-en-Ré is superb, rivalling many of the best beaches in Aquitaine. Plage des Prises is backed by beautiful natural woodland and emerging onto the fine golden sand is truly breathtaking.
Getting there…
Take the Chemin des Brardes out of La Courade and enter the forest Bois Henri IV.
Footnotes…
A quieter alternative to the serviced beaches in La Courade and Le Bois Plage.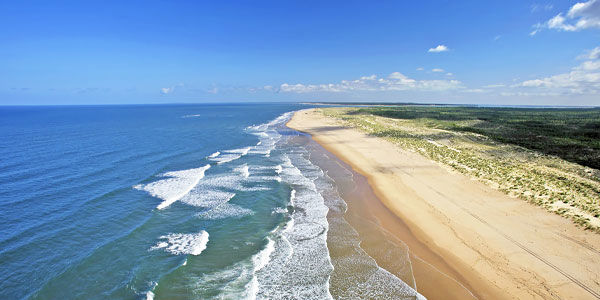 Plage de la Côte Sauvage
Between Ars-en-Ré and Saint Clément, this magnificent stretch of beach faces due west. With very few facilities it feels wonderfully off the beaten track, perfect for a leisurely picnic or a sunset swim.
Getting there…
Access the beach in Saint Clément or through the woodland north of Ars-en Ré.
Footnotes…
Feels wild and remote, even in the height of summer.
Things to do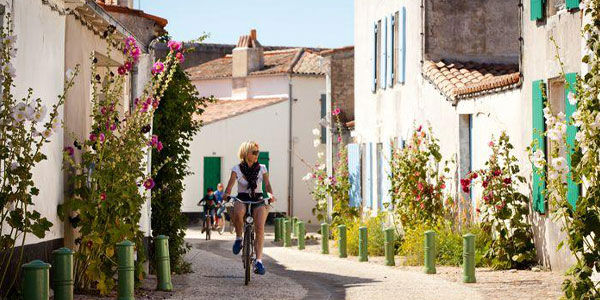 Get on your bike
Cycling is a huge part of life here and there are many well-used trails crossing the island between villages. Hire shops are plentiful, stocking a good selection of standard and electric bikes, with child-friendly options readily available. A particularly nice trail from Saint Martin to Loix winds through the salt marshes passing several oyster bars – a very civilised part of the Ile de Ré experience.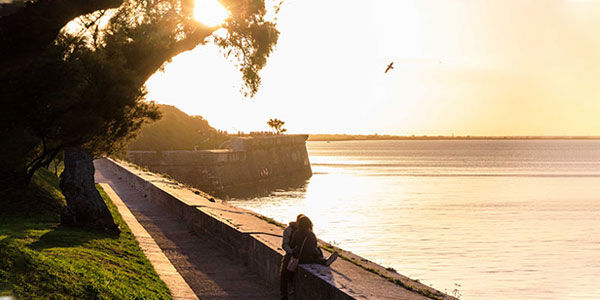 Discover Saint Martin
There's lots to see and do in the island capital, whether you're after culture, cuisine or leisure. Explore the UNESCO listed fortifications around the attractive harbour, wander the pretty cobbled backstreets, enjoy a dip at the beach or return to the harbour for a sundowner and a bite to eat in one of the many appealing bistros.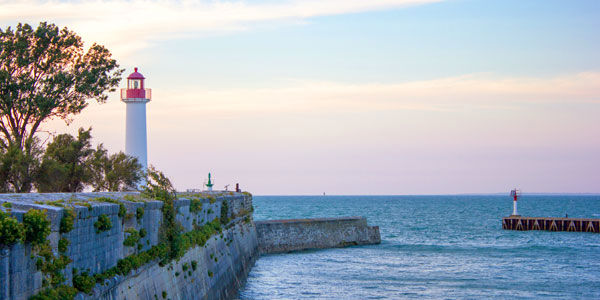 Keep a lookout
Phare des Baleines is the island's famous lighthouse at Saint-Clement-des-Baleines. There are 257 steps to the top but the views are more than worth the effort. Combine a trip here with some time on the glorious north coast beach (Plage de la Conche) and make a day of it.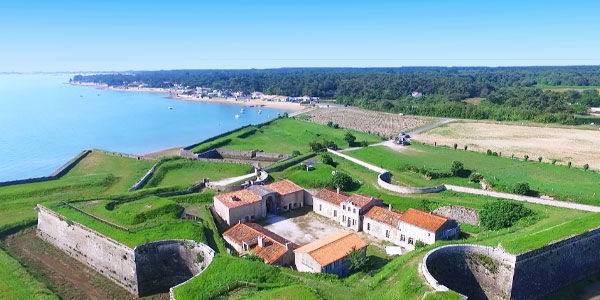 The oldest fort
Between La Flotte and Rivedoux-Plage, Fort La Prée is the oldest example of the island's impressive fortifications, built in 1625 during the reign of Louis XIII. It was restructured at the end of the 17th century to become the sister fortress to the citadel in Saint Martin. Well worth a visit.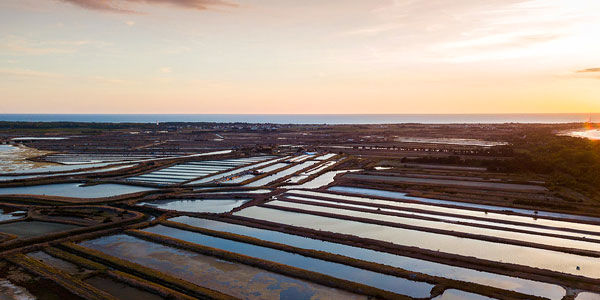 Explore the salt marshes
The salt marshes around Loix are very distinctive, and a trek across the reclaimed land between island and peninsula is a great addition to any hike or cycle ride. Or hire a kayak and discover the varied wildlife in the Lilleau des Niges nature reserve that borders the salt marshes in the north.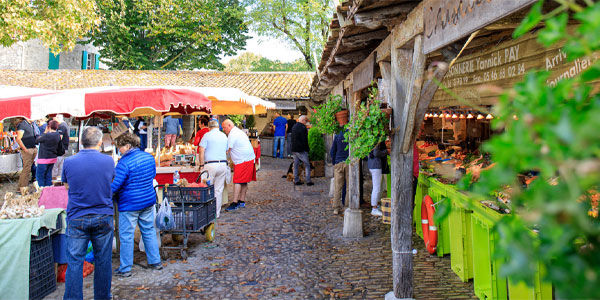 Shop 'til you drop
Markets are a big part of life on the island and in the peak season each village hosts its own. Bois Plage is the biggest, the medieval market in La Flotte has a more artisan atmosphere, Saint Martin prides itself on its colourful food hall and La Courade is great for families. There are also lots of little boutiques around the island selling Rétais (distinctive homewares); a unique part of the holiday experience.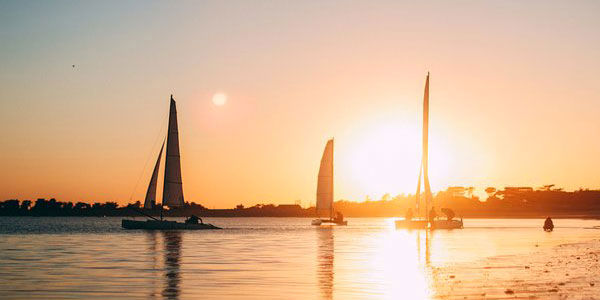 Take to the water
Watersports are available all over the island. The south and west-facing beaches tend to be more focused on bodyboarding, surfing and kitesurfing whilst the north and east facing beaches have calmer waters, great for windsurfing and learning to sail.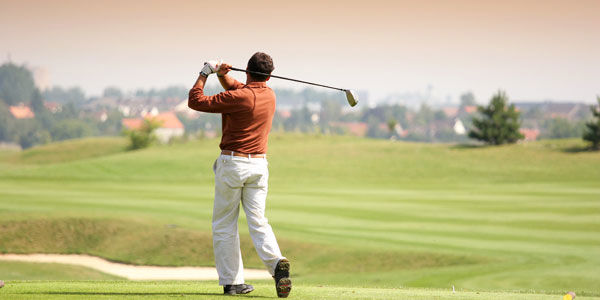 Up your game
There are a number of tennis clubs and a fine golf course on the island. Whichever your passion, you can up your game with a little tuition or simply go along for the fun. There are tennis clubs in Loix or Ars-en-Ré or head up to the tip of the island for a seaside round of golf in beautiful Trousse Chemise.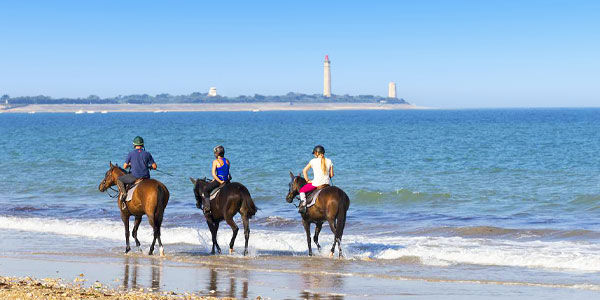 Go horseriding
The Moulin Moreau riding school near La Flotte enjoys a charming setting amongst vineyards and forest, just a 15-minute hack from the beach. Everyone is welcome, with lessons available for children, adults and beginners; a ride along the coast is a must.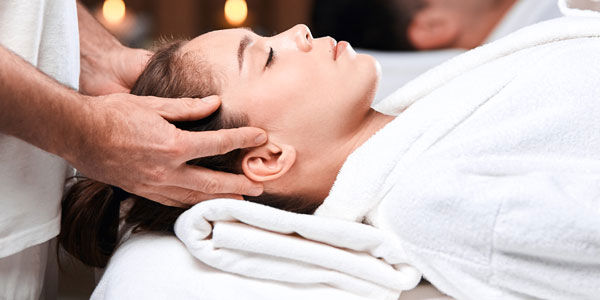 Treat yourself
If you're in need of a little extra pampering, there are some excellent well-being and spa treatments available at some of the hotels on the island; in particular at Thalasso Atalante in Sainte Marie and La Baronnie Hotel and Spa in Saint Martin.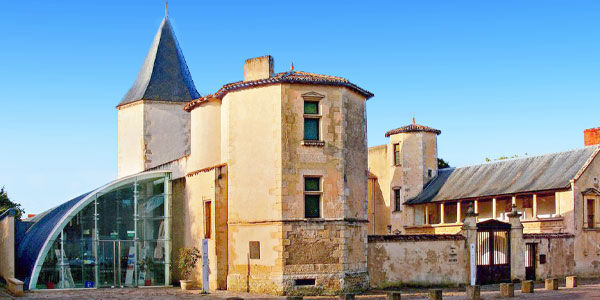 Ernest Cognacq Museum
This fascinating museum in Saint Martin charts the island's history. Follow the developments and learn how the harvesting of salt connected an archipelago of three small islands to form Ile de Ré as we know it today and how the salt and wine trade shaped its maritime significance.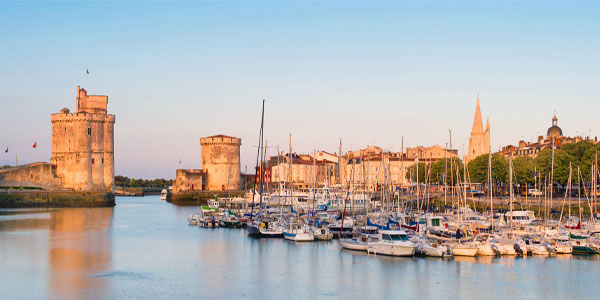 Visit La Rochelle
It's well worth spending a couple of hours walking around the historic port and attractive side streets of La Rochelle. There's a lovely up-town vibe in the city centre and an eclectic mix of high-end boutiques, bistros and cafés. Boat trips are available from Saint Martin and La Flotte.
The Road Less Travelled
The wines of Ile de Ré
Enjoy a tour of the co-operative wine cellar of Ile de Ré (Vignerons de l'Ile de Ré) and learn the secrets of the island's wine and Pineau production. A fortified blend of wine and cognac, Pineau is a local speciality – beware, tastings are included!
Go Bobo
Bobo is the French abbreviation for bourgeois-bohemian and nowhere is this more in evidence than at the Saturday morning artisan market in La Flotte. Local craftspeople and producers put on an avant-garde display that feels deeply traditional and dedicatedly chic in equal measure.
Loix at your leisure
Hiring a SUP is a wonderful way to explore the waterways around timeless Loix. Enjoy the varied wildlife of the salt marshes at your leisure and stop for a shaded picnic under the plane trees as you approach the village.
Try a little twitching
Bird watching tours are available in the Lilleau des Niges nature reserve and with 218 species recorded on the island, there will be no lack of variety. At the heart of the migratory route to Africa, Ile de Ré is an internationally recognised site for wetland birds.
Enjoy some traditional savoir-faire
Atelier Quillet in Loix is renowned for its work in the conservation, restoration and binding of ancient documents and books. Join a tour and observe the painstaking attention to detail that goes into this ancient craft and browse the wonderful bookshop for a more modern memento of your trip.
Visit Châteliers Abbey
The oldest religious building on Ile de Ré, Châteliers Abbey dates back to 1156 when it was built by the Cistercian monks who first inhabited the island. Though many of the stones were later used in the construction of Fort La Prée, it remains a site of significant historical interest.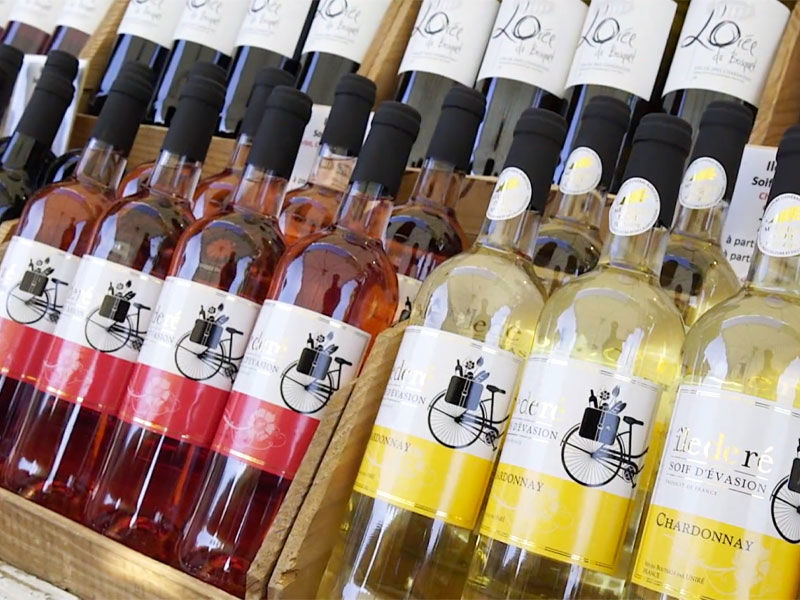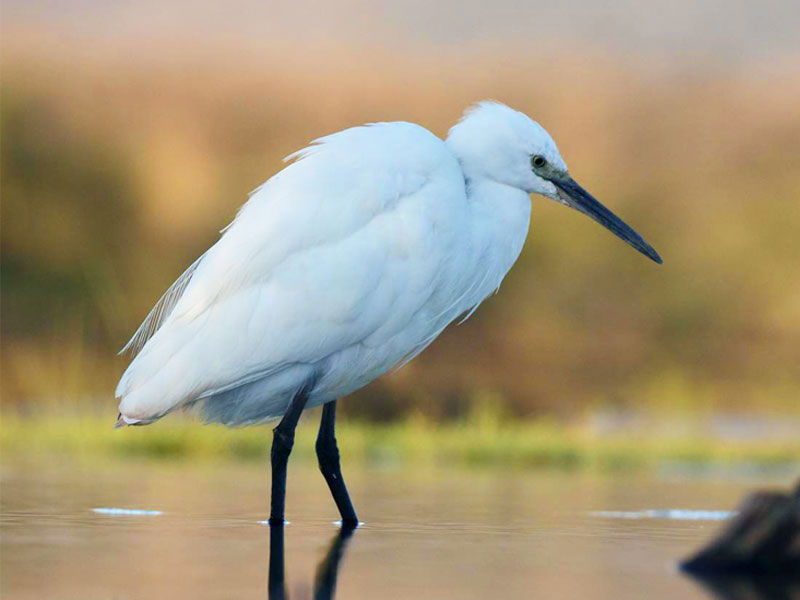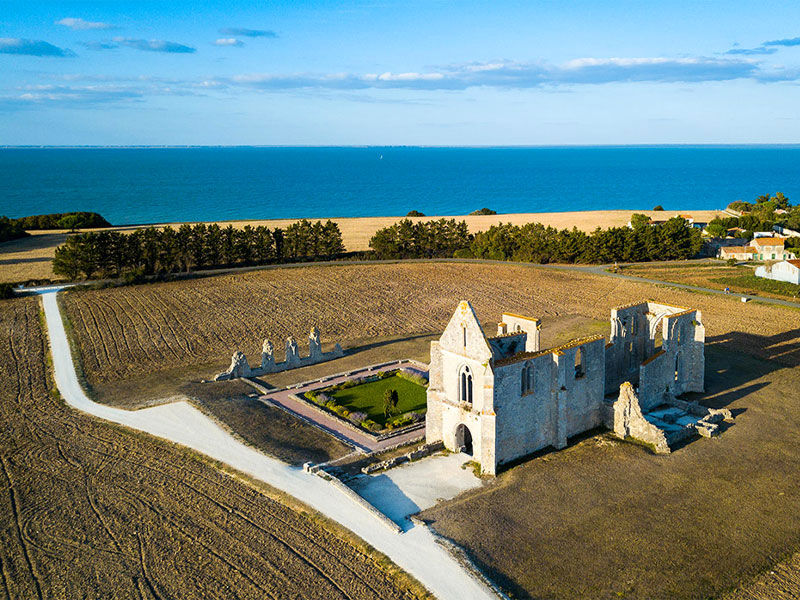 Towns & Villages
Saint-Martin-de-Ré
The capital of Ile de Ré presents a highly civilised blend of history, culture and style. The convivial atmosphere around the harbour, with its excellent selection of seafood restaurants, bistros and bars, is strikingly complemented by the UNESCO listed fortifications that surround it, offering an impressive nod to the island's military heritage. As you leave the waterside, the cobbled backstreets play host to a wonderfully eclectic array of shops selling local objet d'art alongside the town's fine collection of high-end boutiques and stylish cafés.
La Flotte
La Flotte has been named one of the most beautiful villages in France and you don't have to spend long here to see why. The picture-perfect streets in the pedestrianised Old Town are home to a collection of beautifully styled one-of-a-kind shops, artisan bakeries and chocolatiers whilst down by the harbourfront, French café society is at its best as islanders and visitors sit side by side and enjoy an ice-cream or glass of the local tipple.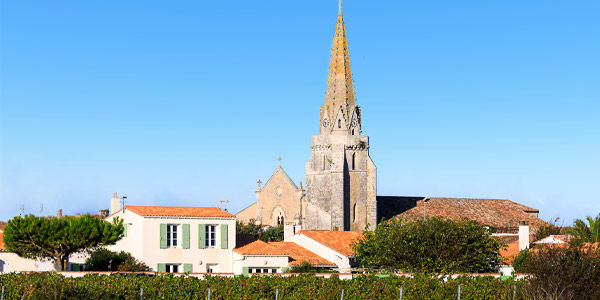 Sainte-Marie-de-Ré
The oldest of Ile de Ré's villages, Sainte Marie maintains its calm serenity even in the height of summer. Explore the lovely church with its dazzling altar intricately sculpted from the palest stone, wander through the vineyards down to the sea and along the bamboo-fringed coastal path towards the satellite village of La Noue with its pretty centre and well-regarded restaurants. Home to the island's brewery and biscuiteer, you'll also find a patisserie, grocer, butcher, restaurant, pizza delivery service and cycle hire outlet.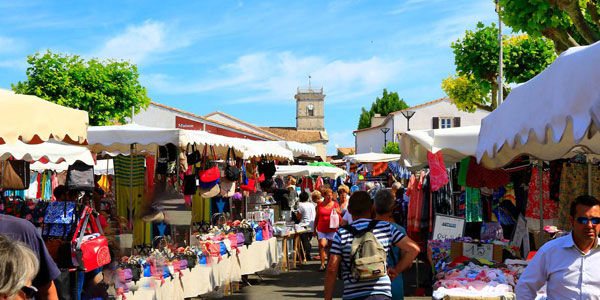 Le Bois-Plage-en-Ré
The area around Le Bois Plage is popular for camping and the excellent range of watersports and facilities on the Aquitaine-esque beaches give it a classic family-friendly, summer holiday vibe. Nevertheless, its heart is classic Ile de Ré, with all the requisite boutiques, cycle-hire shops and cafés and the daily market is a sight to behold. A mouth-watering education in local produce, fresh fish and the staples of French cuisine, it's the perfect place to buy your picnic before heading along to the beach.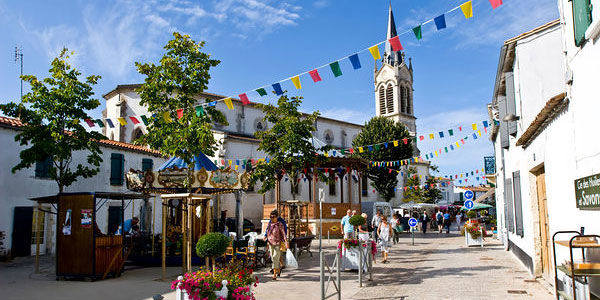 La Couarde-sur-Mer
The impressive church of Notre Dame de l'Annonciation and the island's last remaining bandstand add to the authenticity of this this very chic little village which has a distinctly artistic flavour, with a lovely selection of boutiques selling everything from antique linens to blown-glass jewellery. There is a popular open-air market in the central square (open daily in high season) as well as all the staples of upmarket French living; poissonnerie, charcuterie, gelaterie, boulangerie and patisserie.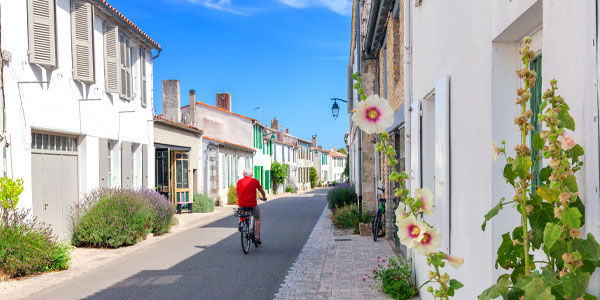 Ars-en-Ré
Ars-en-Ré also warrants a mention in the Most Beautiful Villages of France collection, with two distinct and equally delightful parts to explore. In the centre, the gorgeous main square is home to the church of Saint-Etienne, with its famous black and white steeple serving as a useful landmark for sailors and cyclists alike. Down by the bustling harbour (the largest on the island) there's a popular market and a good selection of restaurants serving the catch of the day by the water's edge.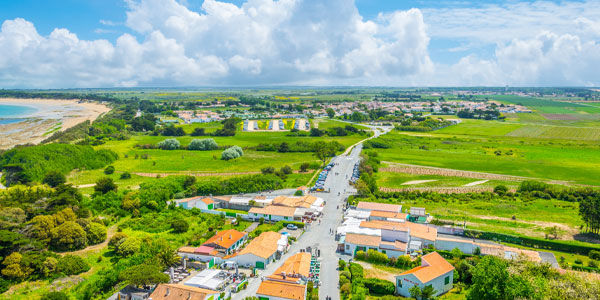 Saint-Clément-des-Baleines
This area is more an amalgamation of little villages than a distinct destination in its own right. At the furthest point stands Le Phare-des-Baleines (Lighthouse of the Whales), so-named because of its historic significance as a whale-watching post. From the parking area you can enjoy lovely walks along the coastline, explore the nearby villages or cross the salt marshes and discover the stunning beaches of the island's north west tip.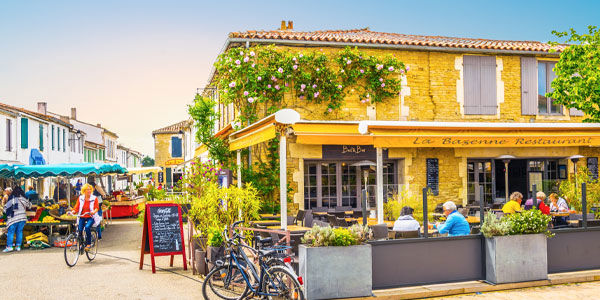 Les Portes-en-Ré
The VIP village of the island attracts a cool crowd, where quiet good taste and understated style are the order of the day. The attractive pedestrianised centre has some interesting shops and a couple of very buzzy little restaurants, but the real draw here lies away from the main square. A maze of immaculately painted houses with pretty walled gardens support a colourful array of honeysuckle, jasmine and wisteria; wandering through the narrow streets, it's impossible not to wish that life could always be so beautiful.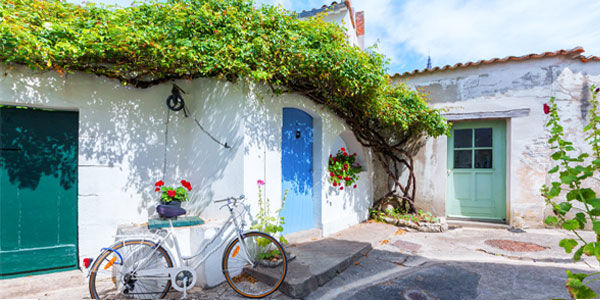 Loix
Loix is set on a peninsula, connected to the main body of the island by a narrow road that winds out across the salt marshes. It has a distinct identity from the other island villages, particularly in the old town square which could have been transported from rural mainland France. The luminous quality of the light in Loix has been inspiring painters for centuries and the last remaining tide mill is a reminder of the historic significance of this timeless maritime port.